What Is Enophthalmos?
Enophthalmos is when one eye is displaced deeper into the eye socket (posterior displacement) compared to the other eye. It is identified by increased depth and hollowing of the supratarsal fold, shortening of the horizontal facet of the palpebral fissure, decreased anterior projection of the globe, decreased canthal angles, and pseudoptosis of the upper lid. Enophthalmos is clinically visible if the anterior globe projection is less than 12 mm, or if the anterior globe projection differs by 3mm or less from the opposite side as measured with a Hertel exophthalmometer. Enophthalmos occurs due to orbital fat atrophy, fractures of the orbit, or in patients with breast cancer metastasis. Enophthalmos is often misdiagnosed and is a clinical sign of orbital disease.
Key Takeaways
Enophthalmos is the posterior displacement of the globe in the anteroposterior plane within the orbit.
Enophthalmos can be divided into two types: primary enophthalmos with a congenital cause and secondary enophthalmos which is acquired because of injury, tumors or infections.
The Hertel exophthalmometer is used to estimate the position of the eyes.
You brush your teeth,
moisturize your skin,
what about your eyes?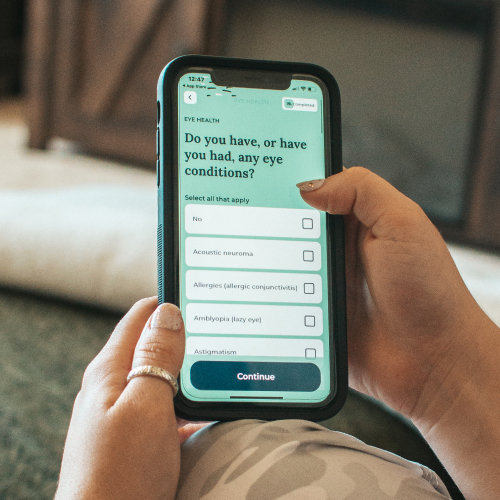 Understanding Enophthalmos
The cause of primary enophthalmos is unknown. Congenital relative enophthalmos or orbital retrusion may occur within utero maldevelopment (e.g. plagiocephaly or microphthalmos).
Secondary enophthalmos is acquired and is often due to trauma such as a blow-out fracture. Scarring may change orbital structure resulting in enophthalmos. Additional causes for enophthalmos may include:
Inadequate postnatal orbital cavity development
Bone growth arrest ie. ionizing radiation for retinoblastoma
Insufficient local tissue stimulation for orbital bone growth
Orbital cavity expansion
Surgical expansion of the orbital ie. thyroid orbitopathy
External beam irradiation
Silent sinus syndrome – spontaneous, asymptomatic collapse of the maxillary sinus and orbital floor
Orbital fat atrophy
Concussive trauma
Inflammation or infection
Scirrhous carcinomas (metastatic breast)
Association with wasting disorders, such as Parry–Romberg hemifacial atrophy or linear scleroderma
Symptoms Of Enophthalmos
Enophthalmos may be static and sudden, progressive or non-changing. Sudden clinical visibility of enophthalmos does not suggest sudden onset. In most cases of congenital deformities and trauma, enophthalmos is progressive. The associated swelling and inflammation following trauma may prevent complete repair. Congenital enophthalmos continue to progress as specific parts of the face develop and others do not.
Symptoms depend on the cause and severity but the most common are facial asymmetry and double vision due to restriction of the extraocular muscles. Other signs may include:
Superior sulcus distortion
Narrowed vertical eyelid groove
Loss in fullness of the fat bulge in the lower and upper eyelids
Hypoglobus may be evident
Complications Of Enophthalmos
Common complications may include:
Upper eyelid retraction if the diseased state is due to a cicatricial issue or hypoglobus
Reverse ptosis of the lower eyelid and ptosis of the upper eyelid
Ocular diplopia (double vision) and dysmotility due to extraocular muscle dysfunction
Ocular surface dryness and irritation due to excessive exposure of the eye or eyelid issues
Increase in tear lakes with insufficient tear mobilization along the lacrimal system, resulting in blurry vision and tearing
Diagnosis Of Enophthalmos
Neuroimaging is crucial for diagnosis, and additional testing may be needed depending on the suspected cause. For instance, a suspected orbital tumor can be diagnosed on neuroimaging, but also highlights the importance of systematic evaluation for metastatic disease and primary malignancy. In some cases, biopsy is also recommended.
The degree of enophthalmos is measured and managed using a Hertel exophthalmometer.
Enophthalmos Treatment
Treatment depends on the cause of enophthalmos, but almost always consists of performing surgery to rebuild the orbit, regardless of cause.