Millions of people wear eye makeup every day. If you're one of them, but also suffer from sensitive eye symptoms, it's important to take good care of your eyes. Read on to learn more about using eye makeup for sensitive eyes like yours!
Key points
Choosing safe eye makeup for sensitive eyes is important to avoid eye discomfort.
The ingredients in some eye makeup can cause irritation directly to the ocular surface, damage the meibomian glands, or cause eyelid inflammation.
If you already have eye symptoms, it may be best to start a good eyelid hygiene routine and find alternative makeup brands that contain safe ingredients for your eyes.
You brush your teeth,
moisturize your skin,
what about your eyes?
Taking the First Step
At CorneaCare, we believe that your eye health is just as important as your overall wellness. You eat well, practice good dental hygiene, have a skin care routine, exercise and avoid smoking.
But how often do you think about your eye health and wellness? After all, we use our eyes 24 hours a day, while awake and sleeping.
Just like with your overall health, eye health starts from within by eating a balanced diet rich in vitamins and minerals. What you put on and around your eyes and eyelids affects your eye health as well.
If you have sensitive eyes due to dry eye disease, allergies, or other conditions, it is important to consider eye makeup built for sensitive eyes that won't cause irritation.
When your eyes don't feel good, your mental, social and emotional health can suffer. The good news is, with lifestyle modifications, changes to the products you use, and good eyelid hygiene, you can take control of your eye health and enjoy the important things in life.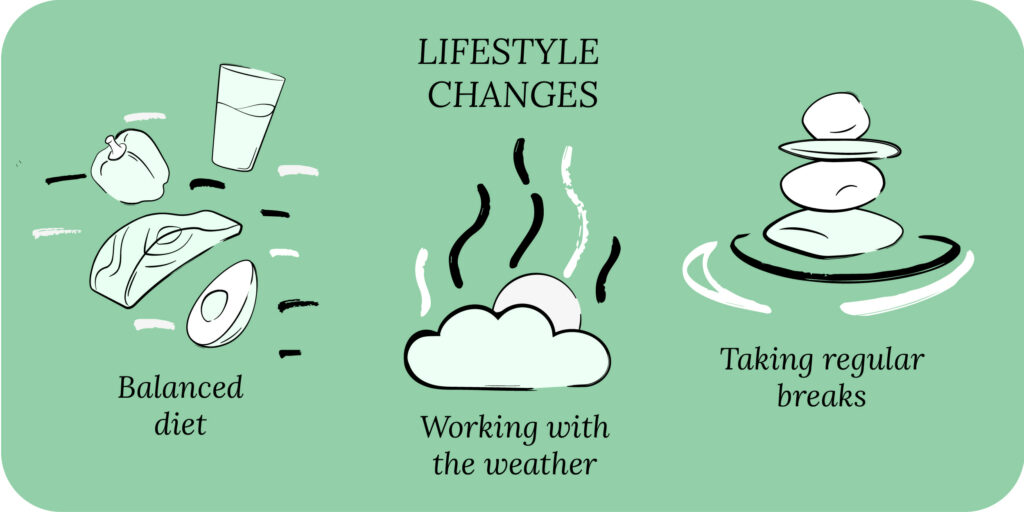 How the Eyes Work to Keep You Comfortable
Eye makeup can cause irritation or damage directly to the ocular surface. It can damage the meibomian glands within your tear film, or cause eyelid inflammation. Before understanding the types of eye makeup for sensitive eyes, let's review how the various parts of the eyes work together.
Good eye health allows you to feel comfortable, while poor eye health causes irritation or a state of dysfunction.
The Ocular Surface
The ocular surface includes the cornea, tear film, the conjunctiva, and the eyelids. The ocular surface plays a vital role in protecting your eyes. In fact, it experiences the most frequent injuries and infections due to its exposure to the environment.¹ The ocular surface keeps your eyes comfortable and helps you see clearly.
Tear Film and Meibomian Glands
Your tear film sits on top of the cornea, and is made up of three unique layers:²
Mucin layer – the "glue"
Aqueous layer – the "water"
Lipid layer – the "oil"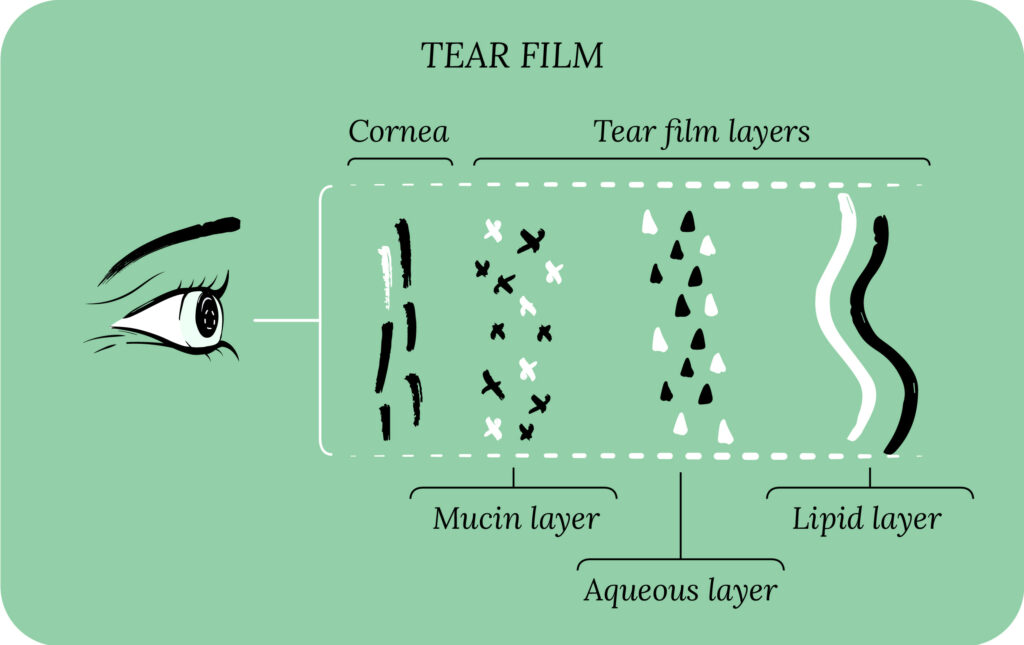 The mucin layer is secreted by cells in your conjunctiva, the clear film that lines the white part of your eye. The aqueous layer comes from the lacrimal gland and is the largest layer. The lipid layer is made up of oils secreted from your meibomian glands. These glands line the eyelid margin.
The mucin layer attaches to the cornea and the aqueous layer sits on top of the mucin layer. The lipid layer sits on the aqueous layer. All three of these layers work collectively to stabilize the tear film.
The Eyelids
The eyelids protect the ocular surface from external hazards, and help with stabilizing your tear film. Several medical conditions can cause eyelid inflammation, including meibomian gland dysfunction, blepharitis, dry eye disease, allergies, and contact lens wear.²
If your eyelids are not functioning properly, it can set off a cascade of problems to other parts of your eye. This can lead to sensitive, dry eyes.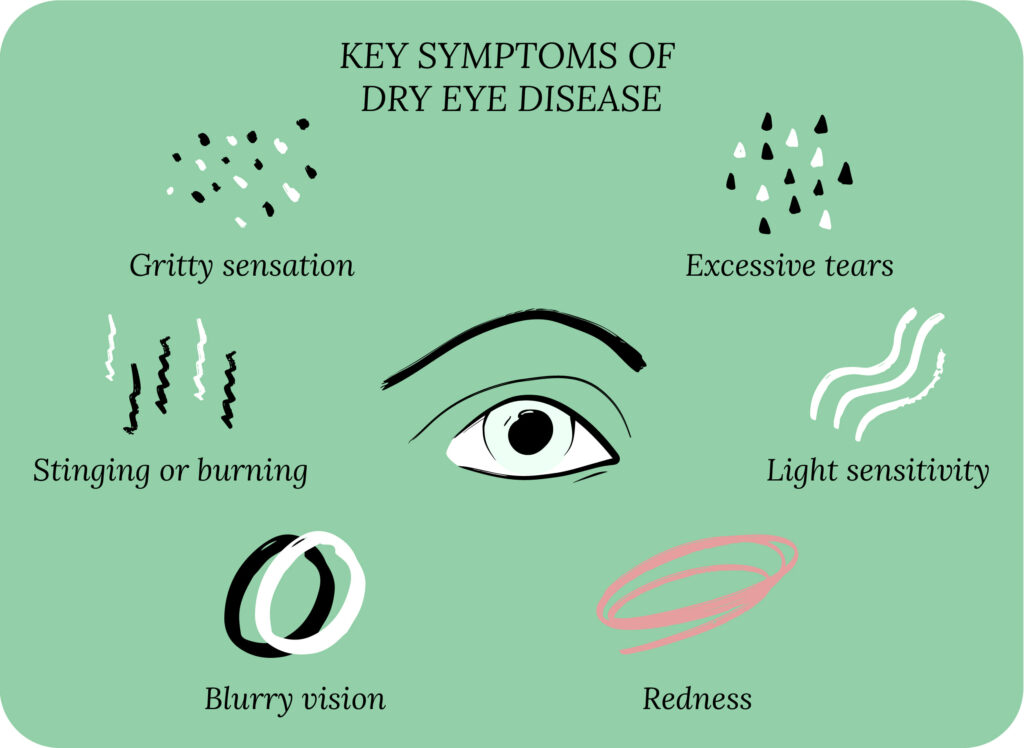 The common symptoms of sensitive eyes include burning, redness, dryness, itching, gritty sensation, pain, watery eyes and blurry vision. In addition to choosing safe eye makeup for sensitive eyes, adhering to an eyelid hygiene plan can improve meibomian gland function and reduce eyelid inflammation.
Types of Eye Makeup and Common Ingredients
Though it seems the beauty industry is evolving daily, there are still three common eye makeup products that most people use daily. These include mascara to coat the eyelashes, eyeliner to line the eyelid margins, and eyeshadow to add color.
Mascara
Beauty companies advertise mascara as lengthening, volume-boosting, waterproof or long-wearing. While each brand and type of mascara will have its own specific ingredients, there are some common ingredients you'll find in most tubes.
Mascara is typically formulated with pigments to darken lashes and synthetic polymers to coat lashes. Waxes or oils such as mineral oil, paraffin, castor oil, petrolatum, lanolin, carnauba, and candelilla wax are used for thickening. Preservatives are added to extend shelf life and prevent infection.
Waterproof mascara formulas are typically made without water. This makes them less likely to smudge or flake, but usually require a special cleanser to remove.
Mascara formulated with emulsions of oil and water are easier on lashes but may not last as long during the day.³ Keep in mind that mascaras come into contact with both your lash line and your eyelid. Mascara should be applied carefully to avoid contact with your ocular surface.
Eyeliner
Whether you go for a dramatic cat-eye or a more natural look, eyeliners help bring attention to the eyes. The problem is that eyeliner application occurs right next to your eyelid margin. We've learned how important it is to keep this area safe, especially if you have sensitive eyes. Eyeliner can be applied with a pencil or as a liquid or cream with a brush or soft tip.
Most eyeliners contain the same common ingredients: thickeners, pigments and film formers. Thickeners help the formula stick to your eyelid and are typically made with waxes, natural gums, and clays. Pigments create the eyeliner color and can be made from iron oxides, chromium oxide, titanium dioxide or ultramarine. Film formers help make application easier by depositing a thin layer of film on your skin.⁴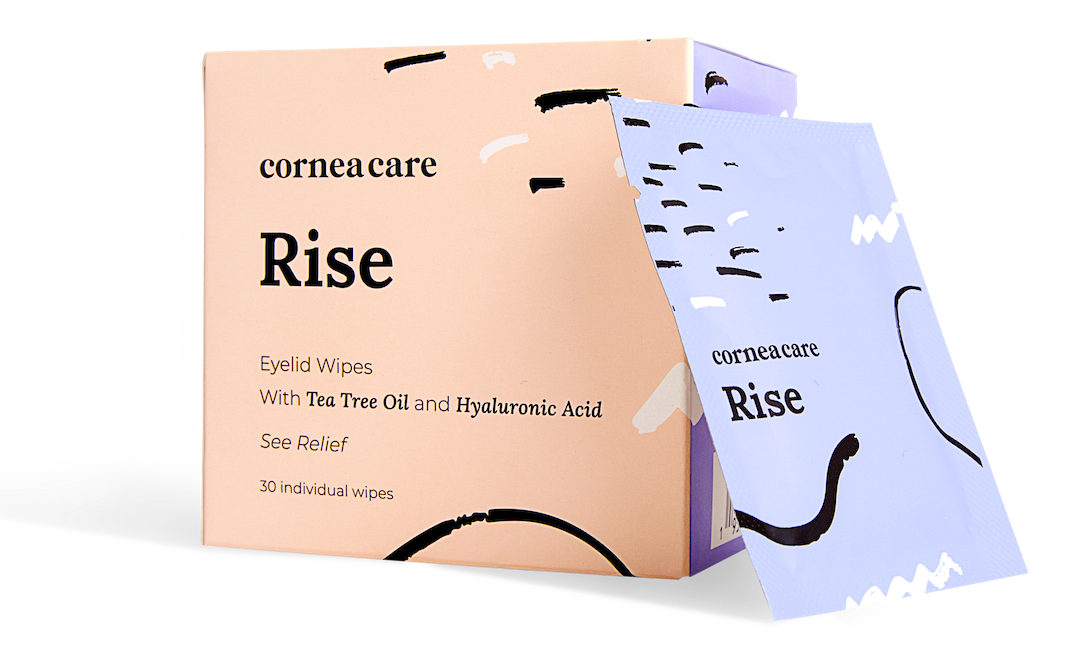 Perfect for eye dryness, itching, burning, and crusting/flaking of eyelashes. Free shipping 📦
Eyeshadow
There seems to be a never-ending supply of eyeshadow palettes. You can choose matte colors or shimmers with glitter. However, for people with sensitive skin and eyes, the ingredients in eyeshadow can cause more issues. This is because of the small particles that make up eyeshadow and their proximity to the ocular surface.
All eyeshadows are made up of a base filler, binders, and waxes or oils.⁵ Talc or mica powder are the main fillers used in eyeshadows but some formulas use kaolin clay.
The Environmental Working Group (EWG) warns that some talc powders contain asbestos, a carcinogen.⁶ This is concerning because of how tiny those particles are, and how easily they can get into your eye.
Binders are used to help the eyeshadow stick to your skin and are made up of zinc or magnesium. Some manufacturers include synthetic ingredients like nylon, silica, dimethicone, boron nitride or bismuth oxychloride so the powder will easily glide over the eyelid. Preservatives like glycol (alcohol) or tocopherol (vitamin E) are sometimes added to prevent bacteria from growing.
Liquid shadows often contain oils and waxes such as jojoba oil, castor oil, beeswax, shea butter or silicone. The eyeshadow tends to last longer because when the oils or waxes dry, they help it to bond to the skin.⁵
Best Makeup Products for Sensitive Eyes
If you suffer from sensitive eyes or a medical condition that causes sensitive eyes like dry eye disease, the best course may be to avoid eye makeup products until your condition improves. Also, consider starting a good eyelid hygiene routine and alternative makeup brands that contain safe ingredients for your eyes.
If you try new products to see if it helps with your symptoms, there are a few things to keep in mind.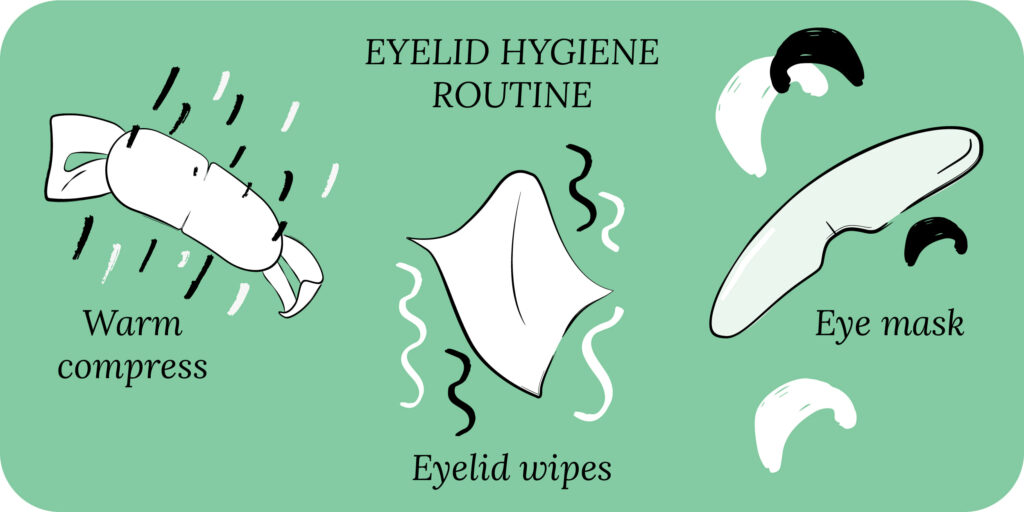 When choosing the best makeup products for sensitive eyes, it's best not to rely solely on advertising. Products are routinely marketed as "dermatologist-approved," "hypoallergenic," containing natural ingredients, "cruelty-free," and touted to be vegan and gluten-free.
While some of these claims could be beneficial and true, the product may still contain ingredients that irritate sensitive eyes.
Fragrance-free products and those made without parabens and phthalates are a good place to start in evaluating the best eye makeup for yourself.⁷ However, you should first take into account your skin type. You may also wish to consult your eye doctor (ophthalmologist and optometrist) or dermatologist for their recommendations.
Some of the most popular eye makeup brands include Almay, Maybelline, Tarte Cosmetics, Bareminerals, Physicians Formula, and Clinique. We recommend visiting the EWG's website to research these brands, and the current beauty products you use. Evaluate the ingredients they contain and their possible impact on your eyes and skin.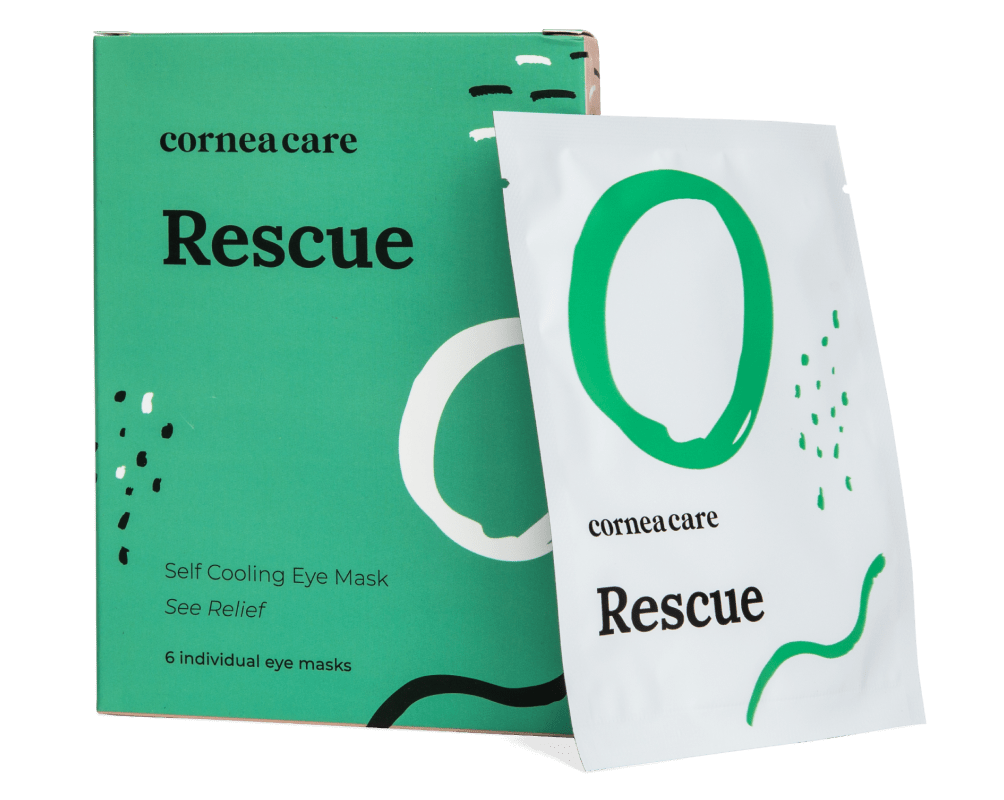 Perfect for sudden flare-ups of eye dryness, pain, burning, and swollen/inflamed eyelids. Free shipping 📦.
Eye Makeup Tips for Sensitive Eyes
No matter the brand or type of eye makeup you choose to use, we recommend the following tips to keep your eyes safe.
Remove eye makeup completely before bed using warm water or a gentle makeup remover. Be careful not to touch your eyes and use a soft cloth or organic cotton pads.
Clean your makeup brushes daily with a gentle cleanser and let them dry completely. This will ensure that bacteria and mold do not grow in your brushes and cause infection.
Practice good eyelid hygiene. Eyelid hygiene typically includes warm compress and eyelid cleanliness. You can make your own warm compress or try our Rest Self Heating Warm Compresses. For cleaning your eyelids, you can either use baby shampoo and a towelette, or buy pre-moistened eyelid cleansing wipes like our Rise Eyelid Wipes.
Use a cold compress on clean eyelids for an even more effective cooling effect for sensitive eyes. Our Hydrogel Cold Compresses are great to use after removing eye makeup
Stop using any makeup products immediately if eye irritation or allergic reaction occurs.

Perfect for eye dryness, burning, itching, grittiness, crusting/flaking of eyelashes and inflamed/swollen eyelids. Free shipping 📦.
Putting it all together
The beauty industry does a fantastic job at advertising its products. However, it is still a bit behind when it comes to safely formulating and designing products for people with sensitive eyes.
While there are eye makeup products that are safer for sensitive eyes, we suggest first understanding the cause of your eye sensitivity by consulting with your eye doctor or dermatologist. Then you can focus on finding eye makeup products that contain non-irritating ingredients.
Incorporating eyelid hygiene into your self-care and beauty routine will set the foundation for good eye health and wellness to preserve your eyesight and increase your daily comfort level.
Want to take care of your eyes but not sure where to start?
What's next
Want to learn more about eyelid hygiene? Take a look at this article and join our dry eye community to share your thoughts!