Key points
The eyes and eyelids work in union to maintain your tear film and protect your eyes.
The first step in dry eye treatment is eyelid hygiene.
Eyelid hygiene includes improving meibomian gland function and reducing eyelid inflammation.
No one taking your
dry eyes seriously?
Keywords
Blepharitis, Demodex, dry eye disease, eyelid hygiene, eyelid wipes, meibomian gland dysfunction
Taking the first step
An individual with dry eye disease (DED) can spend months self-treating before seeing an eye care professional. This means trying countless over-the-counter (OTC) eye drops, warm compresses, eyelid wipes, eyelid cleansers, gels, ointments and oral supplements, all the while suffering from symptoms of dry eyes. OTC treatments can certainly help, but only if they are tailored to your specific needs, used consistently, and fit within the context of your overall health and lifestyle.
Eyelid hygiene is foundational in dry eye treatment. Your eyes and eyelids work together to maintain your tear film, and protect your eyes. If you're having dry eye symptoms, the first place to start is eyelid hygiene.
A quick review of dry eye disease
Let's first review some basics before we dive into eyelid hygiene. DED is also known as dry eye syndrome, keratoconjunctivitis sicca and ocular surface disease.1 The classic dry eye symptoms are blurry vision, eye irritation, light sensitivity, itchy eyes, eye strain, dryness, watery eyes, stinging or burning, gritty sensation and eye pain.
There are several causes of dry eyes, but we break them down into two categories: aqueous deficient and evaporative. With aqueous deficient DED, your lacrimal glands do not produce enough natural tears to lubricate the surface of the eyes (the cornea and conjunctiva). With evaporative DED, your body makes enough natural tears, but they evaporate too quickly. In reality, most forms of DED are a combination of aqueous deficient and evaporative, leading to tear film dysfunction.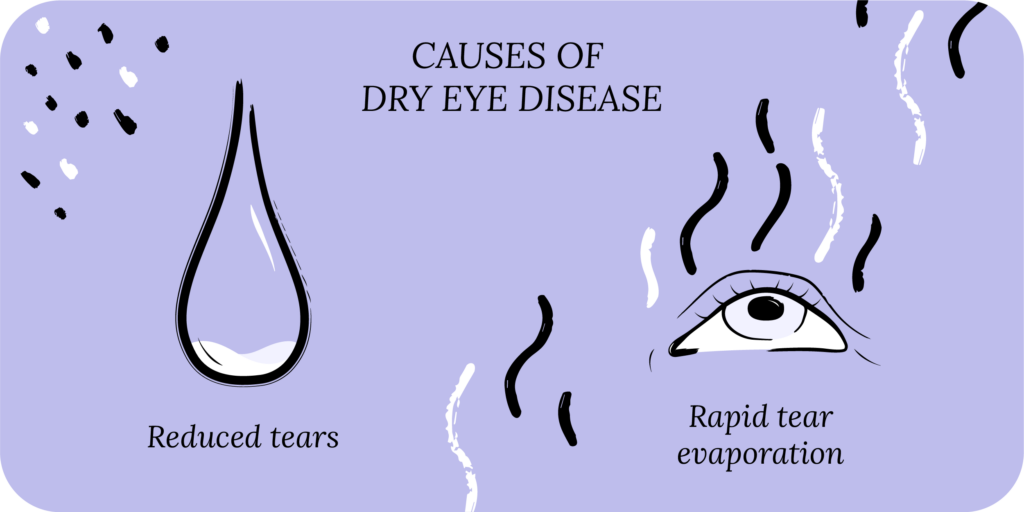 There are several environmental factors that can worsen dry eyes, such as low humidity (dry climate or dry air), high winds, air pollution, and air conditioning. Lifestyle risk factors include long hours on digital screens (phones, tablets and computer screens) and poor diet (low in vitamin A, minerals, and healthy fats and lipids).
DED can impact you on many levels, including physically, emotionally, financially and even socially. A good dry eye treatment regimen can give you symptomatic relief, and protect your mind, body and lifestyle.
The basics of dry eye treatment
One way to think about dry eye treatment is going back to the different causes of DED. In aqueous deficient DED, we want to supplement your tear film with lubrication. In evaporative DED, we want to prevent tear evaporation, and so we want to stabilize your tear film, which we address with eyelid hygiene. Typically, a good treatment not only lubricates and prevents tear evaporation, but it also addresses nutrition (your diet), the environment and your lifestyle (work and social life). What is good for your eye health should also be good for the mind and body.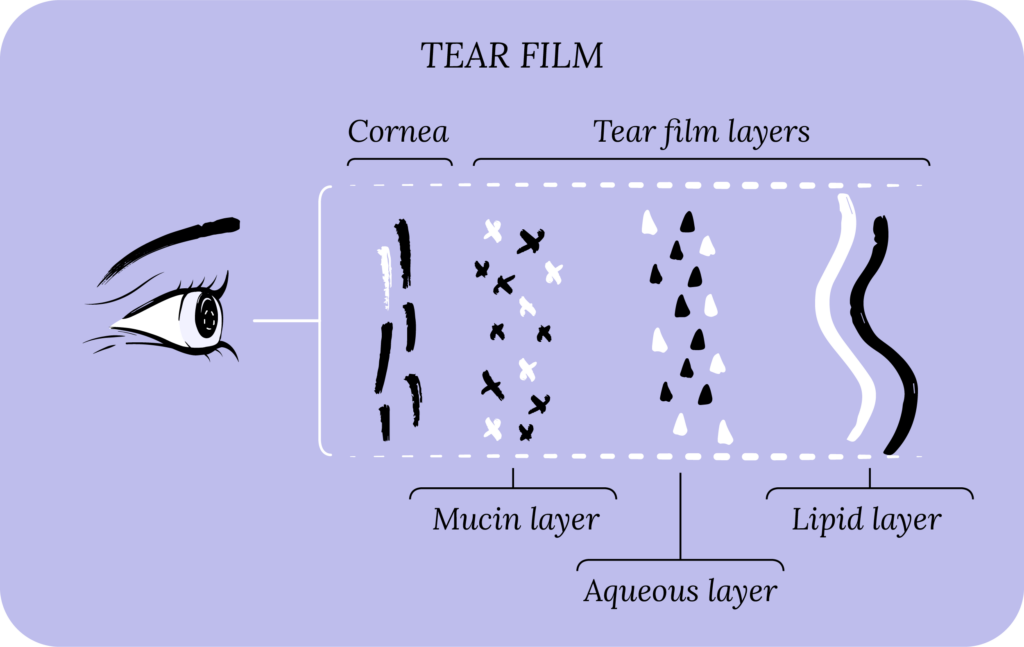 The treatment options for dry eye include OTC lubricant eye drops (artificial tears), gels, eye ointments and eyelid hygiene (warm compress and eyelid wipes). A humidifier and air purifier can also help, as can using an oral dry eye supplement. In addition to lubricating eye drops, a person may require dry eye prescription drops and ophthalmic procedures in an eye doctor's office (ophthalmologist and optometrist).
What is eyelid hygiene?
Eyelid hygiene, in a nutshell, is taking care of your eyelids.2 Taking care of your eyelids is the first step towards dry eye relief. Typically, eyelid hygiene includes warm compresses and lid scrubs. You can either buy a premade warm compress mask at your local drug store, online, or make one at home. Typically, a wet, moist or steamed warm compress works best for eyelid hygiene.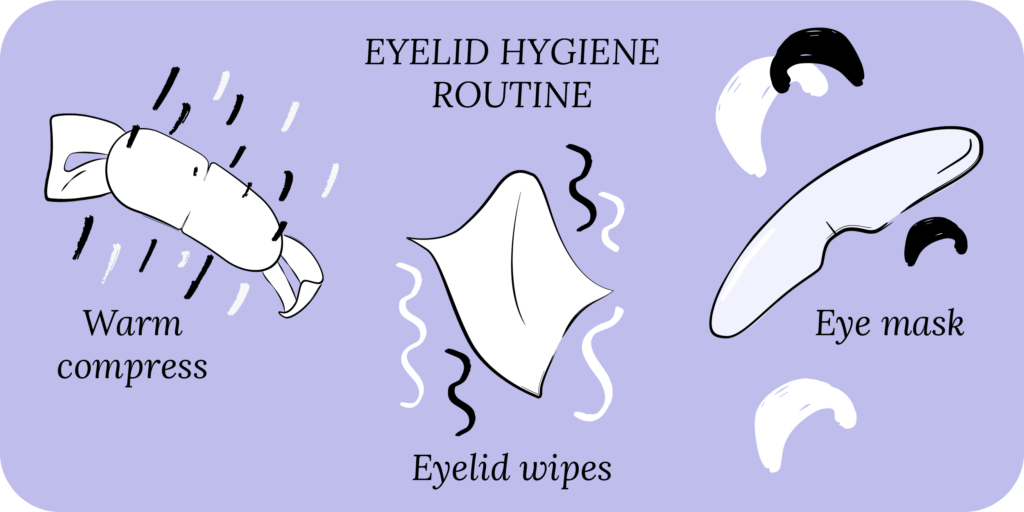 For lid wipes, you can either use baby shampoo and a towelette, or buy pre-moistened eyelid cleansing wipes. Some brands that carry pre-moistened pads include Ocusoft, MediViz, and Systane lid wipes.
There are several in-office procedures that also address eyelid hygiene. These include LipiFlow, intense pulsed light therapy, iLux, TearCare, BlephEx, Thermoflo and NuLids. These procedures are typically not covered by insurance, and not every eye clinic offers them, so their accessibility is limited.
Eyelid hygiene for blepharitis and meibomian gland dysfunction
We can break down eyelid hygiene into two buckets: getting your meibomian glands to function well and reducing eyelid inflammation (blepharitis).
The most common cause of evaporative DED is meibomian gland dysfunction (MGD).3 Meibomian glands line your eyelids and secrete oil which makes up the lipid layer in your tear film. The aqueous layer comes from the lacrimal gland and the mucin layer comes from the goblet cells.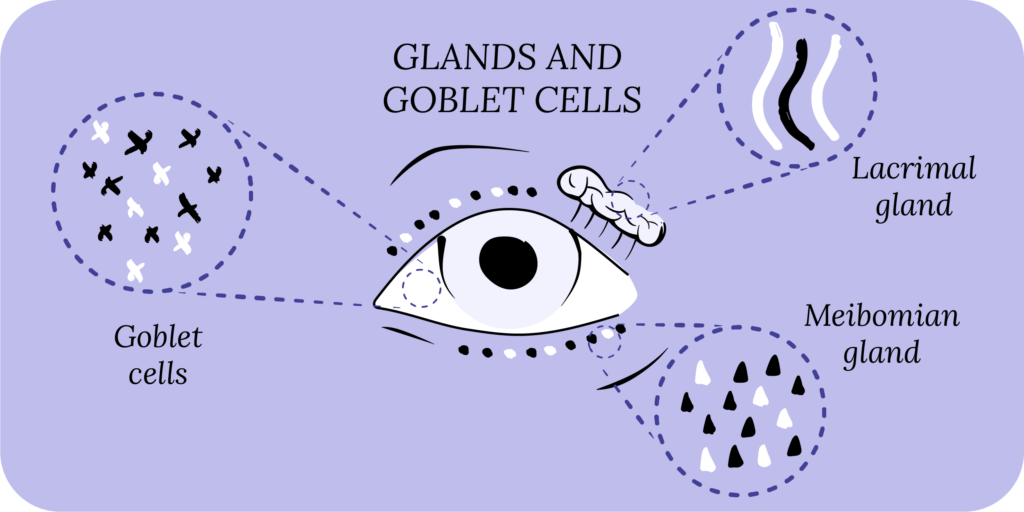 Meibomian glands sometimes stop working well, and instead of releasing oil into your tear film, the oil can build up on the eyelids or in the glands themselves. This can lead to "caking" or "crusts" on your eyelids, and ultimately cause eye irritation. MGD can happen for many reasons, but it's mostly related to your genetics, environment, age and gender.
When the meibomian glands stop secreting oil, your lipid layer in the tear film becomes deficient, which causes the remaining layers in your tear film to break up and evaporate quickly. Moreover, as the oil builds up on your eyelid margin or in the meibomian glands, you can get styes and inflammation of the eyelids, also known as posterior blepharitis. This creates a vicious cycle where MGD directly causes DED, leading to downstream conditions that worsen DED. Posterior blepharitis can also be caused by rosacea, an inflammatory skin condition affecting the face.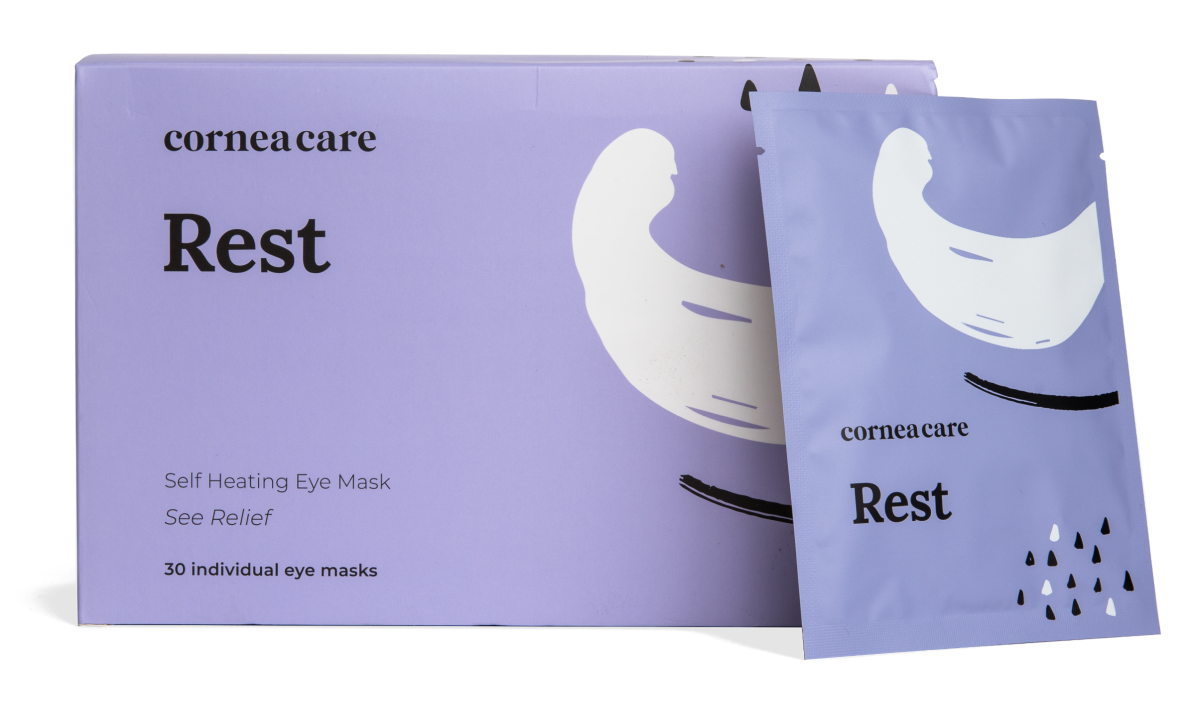 Perfect for eye dryness, fatigue, tearing, and puffiness of the eyelids. Free shipping 📦.
Anterior blepharitis can be caused by bacteria, mites (Demodex) and dandruff from your scalp and eyelashes (seborrheic dermatitis). Less commonly, allergies and contact lens irritation can also cause anterior blepharitis.
Eyelid hygiene prevents you from getting into this vicious cycle of MGD <–> blepharitis. Warm eye compresses, and eyelid wipes and sprays may curtail MGD, blepharitis or both. Moreover, eyelid hygiene makes your skin less inflamed, red and "puffy," which leads to healthy eyelids and vibrant eyes.
Common eyelid wipe and spray ingredients
Eyelid wipes and sprays contain several ingredients. If you're struggling with all the names and acronyms, you're not alone. A good way to think about the ingredients is to divide them up into the ten categories below. Please note that some of the ingredients play multiple roles, and this ingredient list is not exhaustive!4-6
Emollients: soften your skin and make it primed for hydration. Examples include: methyl gluceth-20, propanediol, glyceryl oleate, polyethylene glycol (PEG)-120 methyl glucose trioleate, and aloe vera.
Humectants: hydrate and moisturize your skin by attracting water. Examples include: methyl gluceth-20, propanediol, caprylyl glycol, panthenol, and hyaluronic acid.
Occlusives: create a barrier over your skin to prevent the water from evaporating away, and lock in the moisture. Examples include: mineral oil, lanolin, petrolatum (petroleum jelly) and coconut oil.
Cleansing agents/surfactants: trap dirt and debris, and remove it. Examples include: PEG-80 sorbitan laurate, decyl glucoside, coco-glucoside, glyceryl oleate, polyglyceryl-10 caprylate/caprate, disodium laureth, and PEG-120 methyl glucose trioleate.
Buffers: control the acidity of the product so it's gentle on your skin. Examples include: sodium bicarbonate, and sodium citrate.
Viscous agents: manage the thickness, stickiness, and "gooeyness" of the product. Examples include: sodium chloride, potassium chloride, calcium chloride, and polyglyceryl-10 caprylate/caprate.
Preservatives: protect the product from bacteria, molds, fungus, and yeast, and retain its freshness. Examples include: 1,2-hexanediol, and polyaminopropyl biguanide.
Skin repair/healing: aid in tissue healing and repair. Examples include: panthenol, tea tree oil, and hyaluronic acid.
Anti-inflammatory: reduce inflammation. Examples include tea tree oil.
Antimicrobials: help fend off pathogens, like Demodex (mites) and bacteria. Examples include caprylyl glycol, hypochlorous acid, and tea tree oil.
Perhaps most importantly, eyelid wipes contain lots of water, usually over 95%. Water lubricates and hydrates your eyes and eyelids. Hydrated skin leads to healthy, radiant skin. Hydrated eyes lead to healthy, natural tears. The water also cleanses any debris, flaking or discharge that builds up on the eyelashes overnight. This gets the eyes and eyelids ready for other ingredients.
The combination and dual-action of tea tree oil plus hyaluronic acid provide an excellent follow-up to the hydration from water.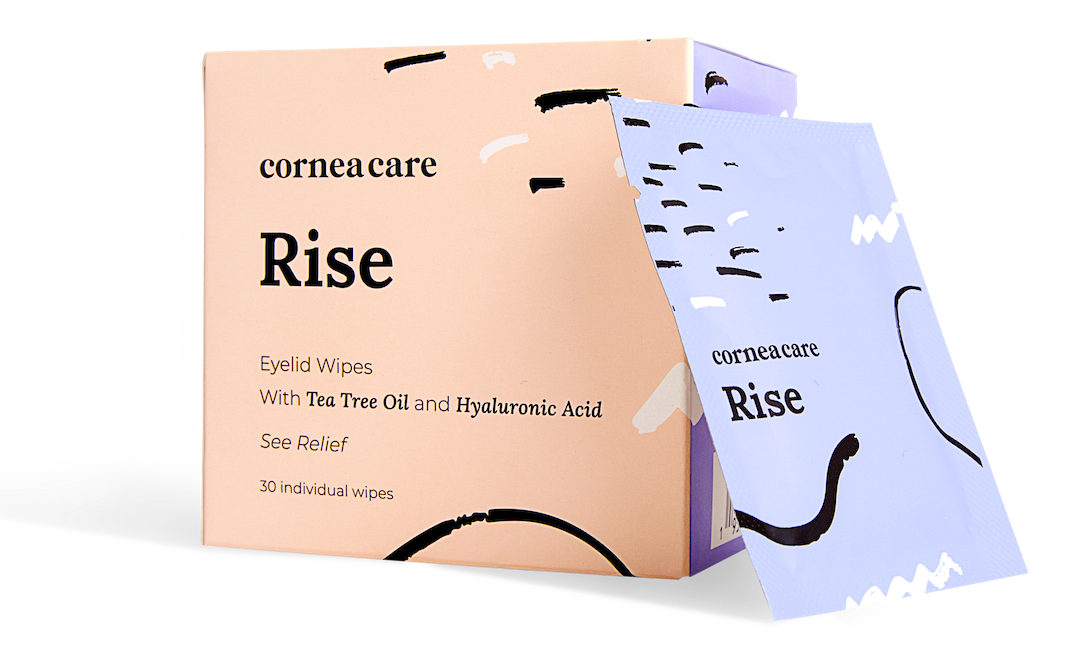 Perfect for eye dryness, itching, burning, and crusting/flaking of eyelashes. Free shipping 📦
Tea tree oil is derived from evergreen leaves of the Australian Melaleuca alternifolia tree. Tea tree oil has been used worldwide for hundreds of years in various health conditions. The key with tea tree oil is to use just the right amount to gently exfoliate and rejuvenate your eyelids. This helps fend off inflammation, infections and wakes up the meibomian glands in your eyelids to produce oil, which is essential to making a strong, stable tear film.
Hyaluronic acid retains high concentrations of water, locks in hydration and helps with tissue healing. Where the tea tree oil exfoliates, the hyaluronic acid heals and hydrates. Both work together to soothe and strengthen the eyes and eyelids.
Is tea tree oil bad for my eyes?
Tea tree oil has gotten some bad press recently, stating that it may be harmful to the meibomian glands, which are essential in maintaining your tear film. The study that claimed this was performed in a petri dish (i.e., not in real humans), and the meibomian gland epithelial cells were soaked in varying concentrations of tea tree oil continuously for five days.7 The study doesn't replicate real-life. Most people aren't walking around with a strip of tea tree oil on their eyelids 24/7. Moreover, just like with most things in life, the amount of tea tree oil really matters. You want to use just the right concentration, which offers all benefits of tea tree oil without any possible side effects.

Perfect for eye dryness, burning, itching, grittiness, crusting/flaking of eyelashes and inflamed/swollen eyelids. Free shipping 📦.
But what if my eyelid wipes have preservatives?
Preservatives are a tricky business for consumers and healthcare professionals. On one end, they can irritate the eyes and eyelids, especially if you have sensitive eyes. On the other hand, they prevent your products from getting infected with germs and help maintain their freshness.8
The important concept to consider here is the frequency of use. That is, preservatives really start to have negative effects if you're exposed to them more than 3-4 times a day on a long-term basis.9 For example, with artificial tears, you're typically putting in lubricant eye drops 4-6 times a day, so it makes sense that they should be preservative-free. However, eyelid wipes are meant for external use only and shouldn't come in contact with your ocular surface. Furthermore, you typically won't use eyelid wipes more than 1-2 times a day. That said, if you've tried eyelid wipes and had a bad reaction to preservatives, then you should certainly seek out preservative-free wipes. But the presence of preservatives shouldn't exclude most people from using eyelid wipes.
Unlike preservatives, exposure to allergens, even once, can cause a reaction leading to dry eye symptoms. Your eyelid wipes should certainly be hypoallergenic.
How to use eyelid wipes and sprays
This is pretty straightforward. For eyelid wipes, start by washing your hands and removing your contact lenses (if you wear them). With clean hands, open the packet, unfold the wipe, close your eyes, and gently clean your eyelids and lashes in a downward, sweeping motion. Fold the wipe and repeat the same movement on the other side. Repeat 2-3 times on each side. Rinse eyelids and lashes with water or cleanser, if desired.
For eyelid sprays, you want to spray the solution onto gauze or a pad, and once moistened, use gauze or pad to clean your eyelashes as described above.
Some, but not all, wipes and sprays can also be used as eye makeup removers, so be sure to read the instructions.
Putting it all together
Eyelid hygiene is the first step in dry eye treatment. Your eyes and eyelids work together to maintain your tear film, protect your eyes and preserve your eyesight. Eyelid hygiene all starts with warm compresses and eyelids wipes, with the goal of improving meibomian gland function and reducing eyelid inflammation. Eyelid wipes play a crucial role in the latter. A combination of hyaluronic acid and tea tree oil can work wonders to hydrate the eyes and eyelids, reduce inflammation and repair tissue.
Want to take care of your dry eyes but not sure where to start?
What's next
We really think everyone should take our Dry Eye 101 course. Find it here!
If you've already taken it, amazing! Check out more articles in the Continuing Education section below.