Ever Wondered What Happens if You Sleep with Contacts In?
If you wear contact lenses, you may be wondering what happens if you sleep with contacts in?
This article will explore what the experts say about sleeping (or napping) while wearing contact lenses, what issues can arise, and how to keep your eyes healthy every day while wearing contacts.
"Contact lenses can be a great option, especially for people who don't like wearing glasses," says Ophthalmologist Jovi Boparai, MD. "However, proper contact lens hygiene is critical; otherwise, you run the risk of complications, like infection and inflammation."
Key Points
Contact lenses are a convenient and safe alternative to eyeglasses when cared for correctly.
Sleeping in contact lenses can lead to eye infections, scarring and vision loss.
Know the do's and don'ts of contact lens wear to protect your eyes from damaging problems.
You brush your teeth,
moisturize your skin,
what about your eyes?
Taking the First Step
Chances are you fall into one of two camps. You're either part of the camp that abides by strict contact lens hygiene, never sleeping in your contacts nor wearing them longer than the recommended duration. Or, you are a bit more lax and sometimes doze off while your contacts are still in your eyes.
Maybe your contacts are so comfortable that you often forget to remove them. Or, you're chronically sleep-deprived and fall asleep before you can safely remove them.
Sleeping in contacts is a bad idea, but why? First, let's understand the function and types of contacts and how they affect the eye.
Understanding Contact Lenses
Contact lenses have come a long way since their invention over 130 years ago. We can only imagine that they must be much more comfortable than they were at that time!
Contact lenses are pieces of small, thin plastic that float on your tear film covering the cornea.¹ The goal of contact lenses (and glasses) is to correct your eyesight to 20/20 vision.¹
Depending on your overall eye health and lifestyle, your eye doctor will prescribe hard (gas permeable) or soft contact lenses. While most people find that soft lenses are more comfortable, hard contacts may be better for people with astigmatism (abnormal curvature of the eye) or keratoconus (abnormal outpouching of the cornea), which cause blurry vision.¹ This is because hard contact lenses are rigid and hold their shape better than soft ones.¹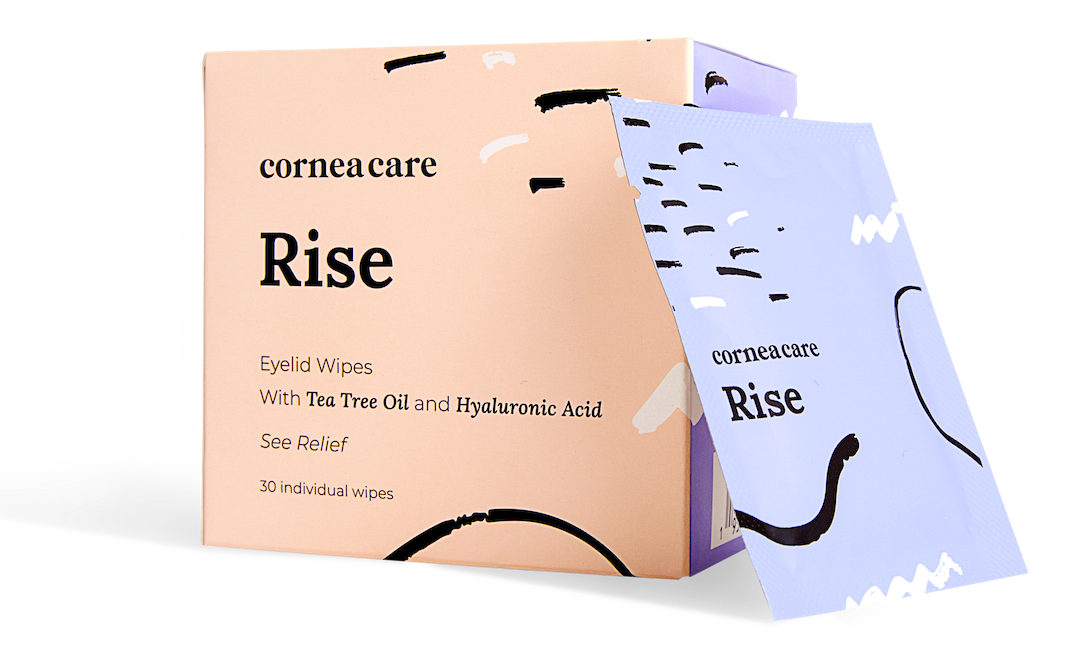 Perfect for eye dryness, itching, burning, and crusting/flaking of eyelashes. Free shipping 📦
You can buy soft contact lenses in daily disposable form (made with silicone hydrogel that helps lubricate and provide longer-lasting comfort) or extended wear lenses that last a few weeks. Your eye doctor (optometrist or ophthalmologist) will consult with you to find the best solution to your unique situation.
Who Says Sleeping In Contacts Isn't Safe?
The U.S. Centers for Disease Control and Prevention (CDC), that's who.
The CDC reports that sleeping in contacts is the most common mistake contacts lens wearers make.² Almost one-third of people who wear contact lenses report sleeping or napping while wearing them.²
These wearers are six to eight times more likely to experience eye infections than people who don't sleep in their lenses.² Eye infections can lead to corneal damage that requires surgery and, in some cases, causes vision loss.²
Sleeping in contacts is just one on a long list of "contact lens wear don'ts" provided by the CDC. That list also includes showering with contact lenses, swimming without taking them out first and cleaning contacts with tap water or, worse, saliva.³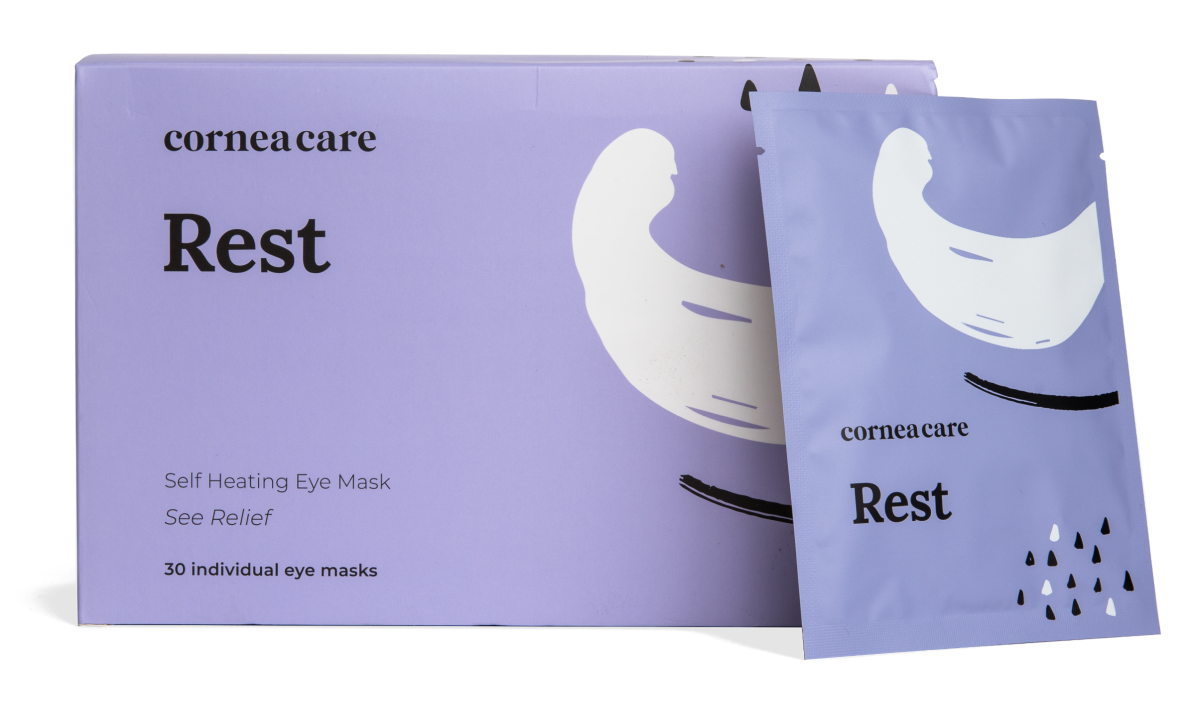 Perfect for eye dryness, fatigue, tearing, and puffiness of the eyelids. Free shipping 📦.
What About Contacts Designed for Sleep?
Contact lens companies market extended wear lenses as safe for sleep for a few weeks. They are even Food and Drug Administration (FDA) approved. However, you may want to reconsider before choosing convenience for your eyes.
Just like we need air to breathe, so do our eyes. Because contact lenses cover the entire cornea that receives oxygen, when you wear contact lenses, your eyes experience oxygen deprivation.⁴ Contacts do let some oxygen in, but not enough oxygen that warrants wearing them for longer than recommended.
When you sleep in contacts, the amount of oxygen they receive is even lower, thus increasing your risk of infection. Moreover, dust, debris, allergens and pathogens can become trapped under the lens, increasing the risk of overnight discomfort and complications.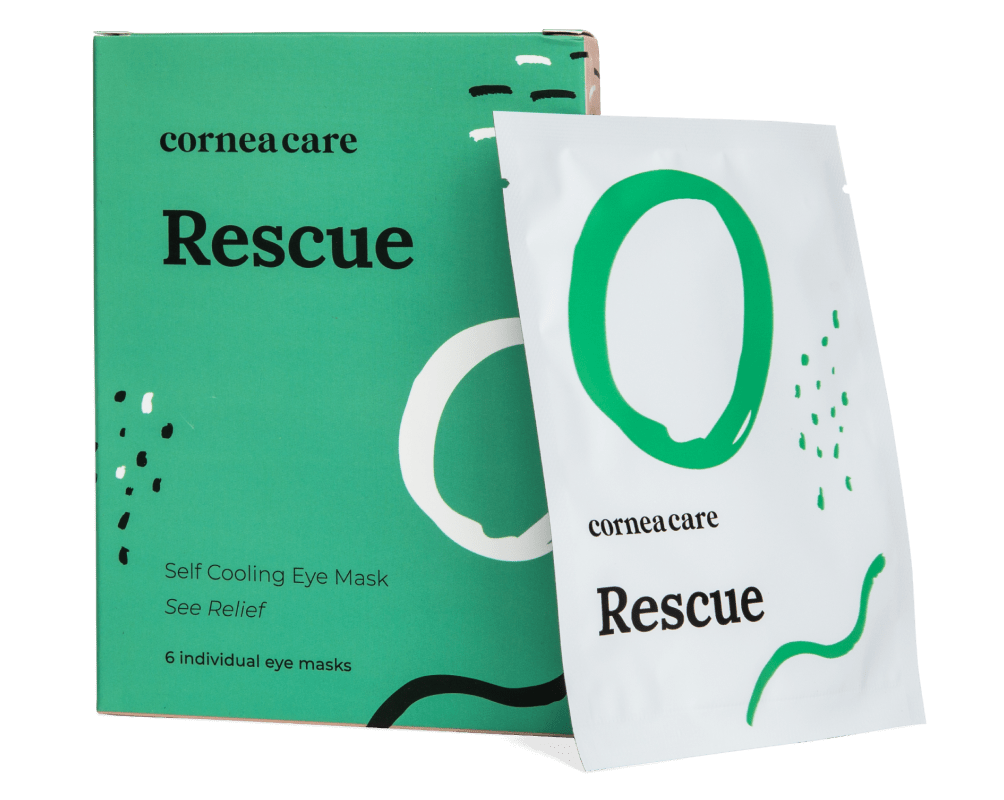 Perfect for sudden flare-ups of eye dryness, pain, burning, and swollen/inflamed eyelids. Free shipping 📦.
Sleeping in Contacts Leads to Serious Eye Problems
The most serious eye problem that results from sleeping in contacts is infection. Most people will first experience an infection before more serious damage occurs to the cornea.
If infections and corneal damage are not caught early and properly cared for, you risk permanent corneal scarring, needing complex surgeries and experiencing vision loss.
Eye Infections and Corneal Damage from Sleeping in Contacts
Several different eye infections result from sleeping in contact lenses.
Microbial keratitis (sometimes referred to as corneal ulcers) is an infection of the cornea that is typically caused by bacteria, and less frequently, by viruses and fungi⁵ It is the most common eye infection from contact lens wear.⁵ 
Symptoms of keratitis are similar to dry eye symptoms, but much more severe, like pain and soreness, red eyes, watery eyes, foreign object sensation, light sensitivity and blurry vision.⁵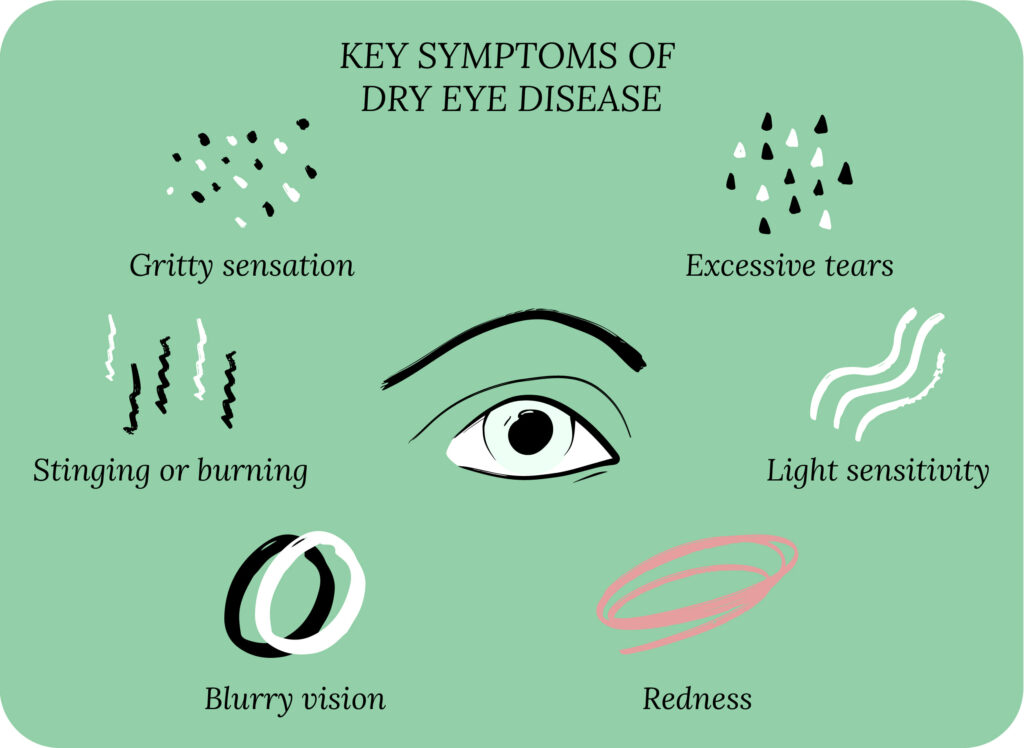 If you wear contacts and experience these symptoms, see your eye doctor immediately to start treatment before corneal scarring occurs.⁵
Acanthamoeba keratitis is a rare eye infection that primarily affects contacts lens wearers.⁶ 
Amoebae called acanthamoeba cause acanthamoeba keratitis. These microorganisms live in natural environments like bodies of water and soil and can make their way into the eye and under contact lenses, wreaking havoc on the eyes.⁶
You may not realize you are suffering from this type of infection because the symptoms are similar to other eye conditions like dry eyes.⁵
Again, it is best to see an eye doctor immediately when you start to experience symptoms. If left untreated, acanthamoeba keratitis can cause vision loss and blindness.⁵
A corneal abrasion is a common problem that contact lens wearers experience when they don't follow proper contact lens hygiene. 
A corneal abrasion is a cut or scratch to the cornea.⁶ While you can experience corneal abrasions from scratching your eye or trauma, foreign objects under a contact lens or a torn lens can also injure the cornea.⁶
You'll likely experience sharp pain, watering eyes, and light sensitivity if you have a corneal abrasion.⁶ Corneal abrasions are a risk factor for infections, so it's best to have an eye doctor examine the eye. Your doctor may prescribe antibiotic eye drops and suggest a cold compress for comfort.⁶
Tips to Keep Your Eyes Safe While Wearing Contacts
Contact lenses are a convenient way to see the world. They help athletes see without restrictions, they look great and are a relatively safe alternative to wearing eyeglasses. Only, of course, if you care for them properly.
Now you know what can go wrong if you sleep with contacts in. Aside from avoiding sleeping while wearing contact lenses, here are a few tips to keep in mind as part of your overall contact and eye care strategy:⁷

Perfect for eye dryness, burning, itching, grittiness, crusting/flaking of eyelashes and inflamed/swollen eyelids. Free shipping 📦.
Always wash your hands before handling contact lenses, cases and solution.
Gently rub your contacts while cleaning them with solution to remove debris.
Always use fresh contact lens solution to clean and store your lenses and never use tap water or other substances to clean or store contacts.
Always wear sunglasses and a wide-brimmed hat when in the sun as contact lenses can cause your eyes to be more sensitive to light.
Never shower, bathe, swim or use a hot tub while wearing contacts. Water, chemicals and soap can get trapped behind the lens and lead to infection.
If you experience dryness from contacts, use only contact-lens compatible artificial tears or remove lenses before applying eye drops.
Stay on top of your regular eye exams and talk to your eye doctor about any eye discomfort or concerns you have.
If you are away from home and can't safely store your contacts before sleeping, it's still best to remove them and find alternative transportation in the morning.
Putting It All Together
Your eye health is important to your overall health and wellbeing.
Taking care of your eyes while wearing contacts is an important component of eye health. Because eye infections from contact lens use are common and can happen quickly, it's best to take every precaution to avoid damaging your eyes.
When your eyes feel good, you can freely explore the world around you. Make eyecare a part of your daily wellness routine to continue to experience life comfortably!
Want to take care of your eyes but not sure where to start?
What's Next
Learn to love your eyes! Read more eye health and wellness tips on our blog.