Key Points
Ultraviolet rays come in natural and artificial forms and can cause damage to your eyes. 
Certain eye conditions are associated with too much sun exposure and can cause painful symptoms that an eye doctor should evaluate. 
Learn to protect your eyes from eye damage caused by the sun. 
Taking the First Step
If you've ever heard of "surfer's eye" and thought it was some cool California surf slang, you may be surprised to learn it's actually a condition caused by sun damage to the eye. The ultraviolet (UV) rays from the sun can be quite damaging to the eyes. Some conditions, like surfer's eye (pterygium), cause noticeable damage, while sometimes the sun's effects aren't immediately apparent.
So how do you know if you have sun damage to the eye?
Here we share some of the common signs and symptoms to look for. However, the best thing you can do for your eye health is to protect your eyes from sun exposure to prevent damage before it occurs.
You brush your teeth,
moisturize your skin,
what about your eyes?
Different Types of UV Light
When we talk about sun damage to the eyes, we really mean the damage caused by ultraviolet (UV) rays.
UV rays have shorter wavelengths than visible light and are thus invisible to the eyes.¹ UV rays appear in two forms: UVA rays and UVB rays. UVA rays may cause more damage, not just to the eyes but to the body overall (for example, they are the leading cause of skin cancer), because they penetrate deeper into the body.¹ When it comes to the eyes, they are more likely to reach the back of the eye and damage eyesight.¹
Eye Conditions Linked to Sun Damage
Who doesn't love being out in the sun? After all, it delivers high doses of pure Vitamin D, which is good for your bones, may help increase immunity, elevates your mood and helps to regulate sleep (which is also great for eye health!).²
Vitamin D is also helpful for eyesight.
It may protect against age-related macular degeneration, an eye disease that causes blurry and reduced vision from damage to the macula in the retina.³
However, overexposure to the sun can be harmful to your eyes because it can cause sunburn and inflammation of the cornea.⁴
Our eyes are supported by a delicate system of glands, ducts and tears that help protect our eyes, and provide clear, comfortable vision every day. We are only born with one set of eyes, so protecting them from damaging UV rays is a personal responsibility you shouldn't take lightly!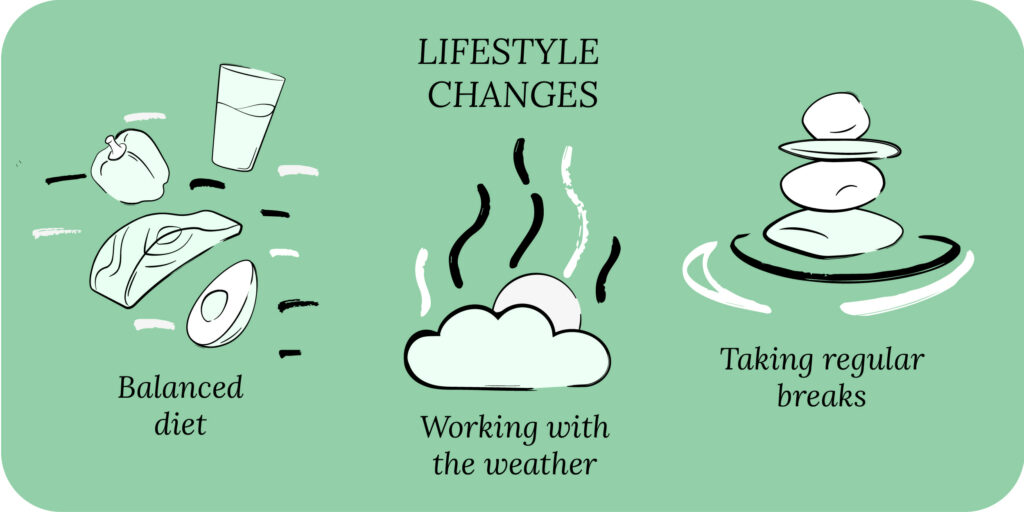 Pinguecula
Exposure to sun, wind and dust contributes to the common symptoms of pinguecula like redness and swelling of the conjunctiva, and dry eye symptoms like burning, grittiness, dryness and itchiness.⁵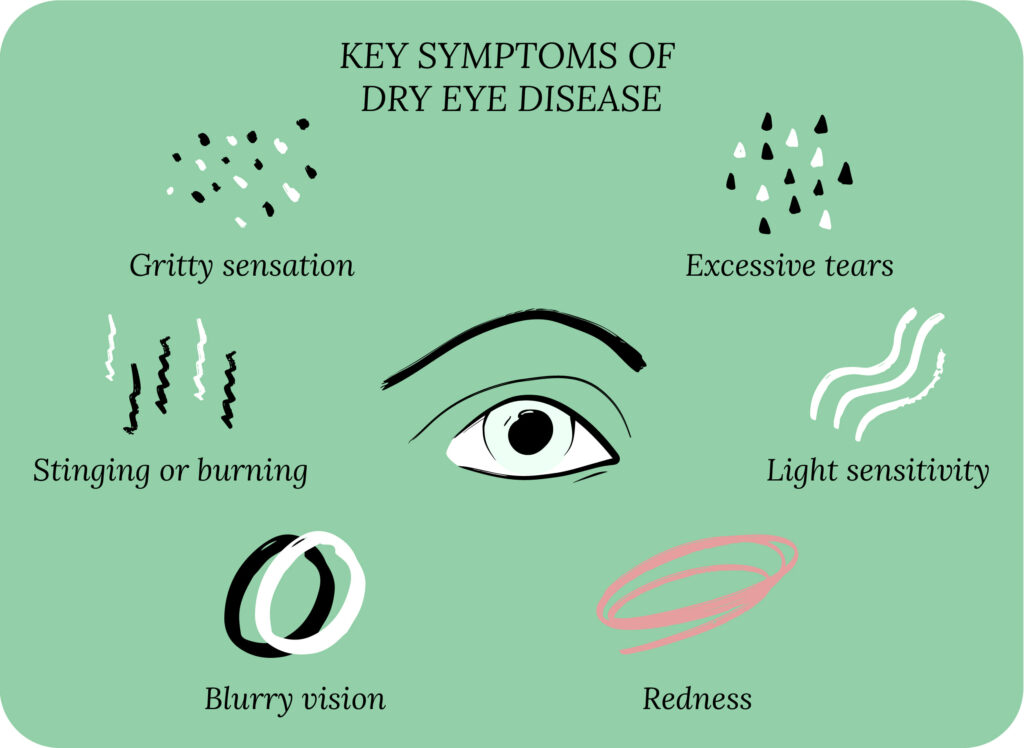 Pinguecula typically appear as yellow spots overlying the whites of your eye (sclera) to the left or right of the cornea. They may slowly increase in size over time, and if irritated or further exposed to UV rays, can cause focal inflammation.⁵
Pinguecula does not need to be treated if it is not interfering with your vision or causing inflammation. However, if you have symptoms or want to prevent pinguecula from worsening, eyelid hygiene and artificial tears will help relieve the feeling like there is something in your eye.⁵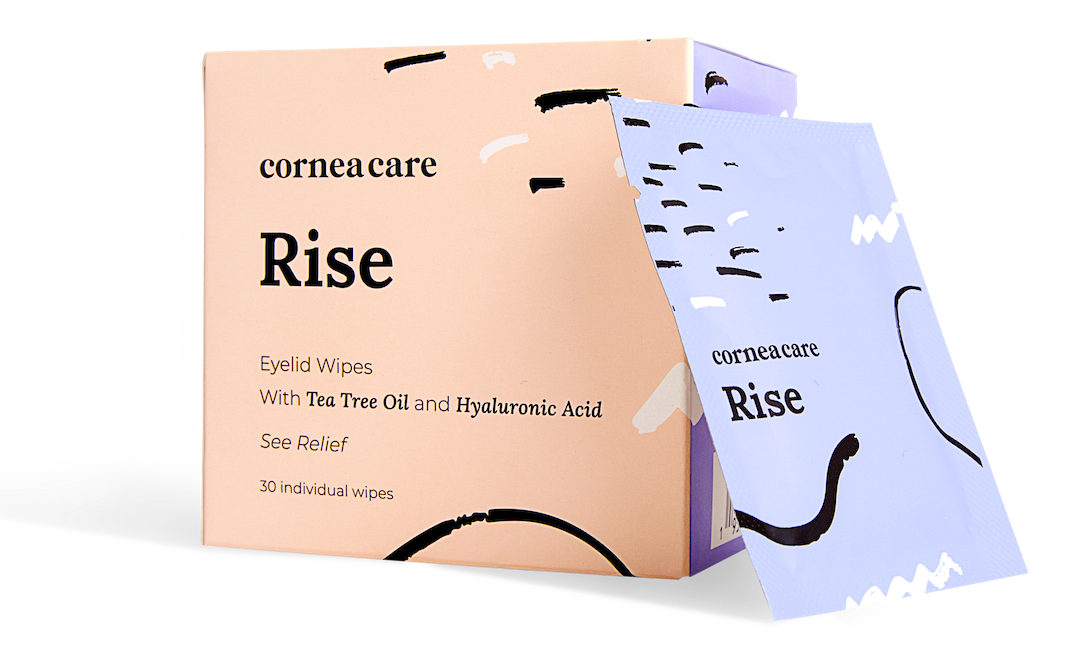 Perfect for eye dryness, itching, burning, and crusting/flaking of eyelashes. Free shipping 📦
Pterygium (surfer's eye)
So we know that surfer's eye (pterygium) doesn't mean you know how to catch a good wave. Unlike pinguecula, pterygium can grow from the conjunctiva onto the cornea, causing dry eye symptoms and astigmatism, which may affect your vision.⁵
Like with pinguecula, eyelid hygiene and artificial tears may help ease symptoms. Your eye doctor (optometrist or ophthalmologist) may also prescribe steroid eye drops to reduce swelling and redness caused by inflammation.⁵ If the growth becomes large enough that it interferes with your vision, surgery may be required to remove it.⁵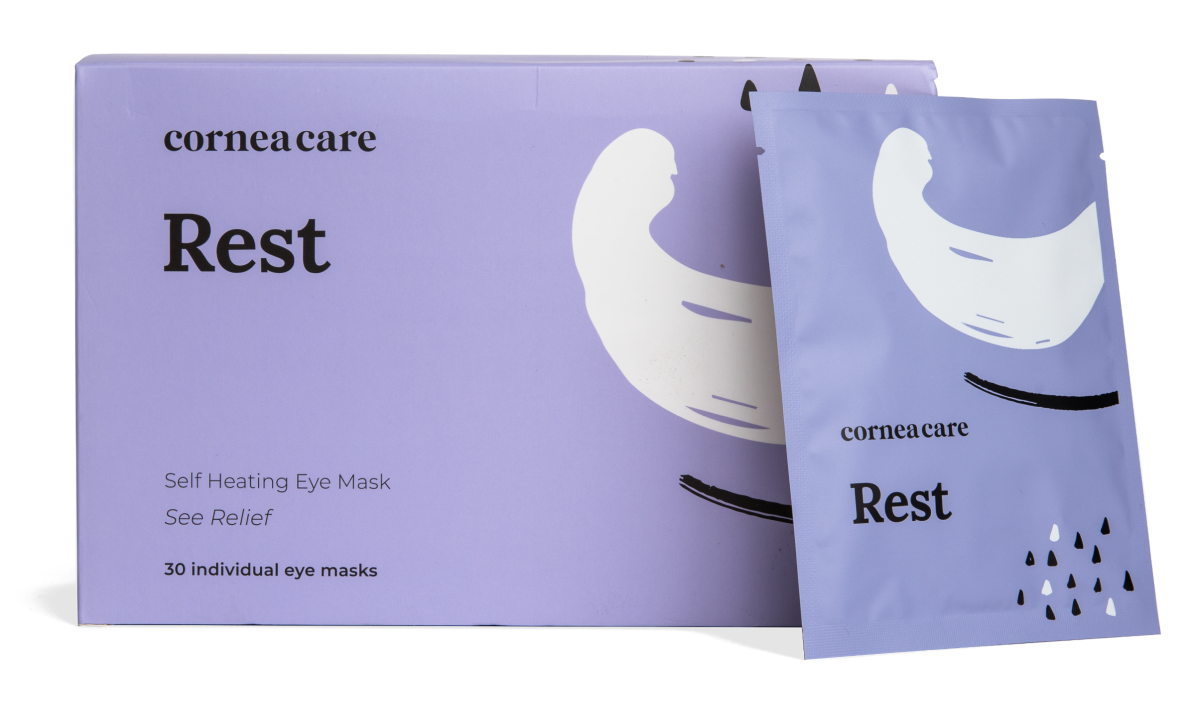 Perfect for eye dryness, fatigue, tearing, and puffiness of the eyelids. Free shipping 📦.
Photokeratitis
While you may think that warm climates with lots of sunshine pose the greatest risk to your eyes, UV rays reflected from snow into the eye and harmful UV rays from indoor tanning beds pose a threat to your eyesight as well.⁶
Photokeratitis is a painful eye condition caused by direct UV light penetration of the cornea and conjunctiva, leading to inflammation.⁶ When it occurs due to UV light reflection on snow and ice, it is sometimes referred to as "snow blindness."⁶
People who spend a lot of time outdoors in cold climates skiing, ice fishing, or hiking are at risk of snow blindness.
Symptoms of photokeratitis can occur anywhere from a few hours to a few days after exposure and include pain, redness, light sensitivity, headache, blurred vision, redness, and eyelid twitching.⁶ Because these symptoms are similar to those of other eye conditions like dry eye disease, some people do not catch them early enough.
If you know you've recently been exposed to intense UV rays and have developed symptoms, call your eye doctor for a consultation. Symptoms will likely go away on their own after a few days, but treatment may be required.⁶
You may find relief at home by applying a cold compress to your eyelids.
You can make a cold compress on your own with a wet washcloth or try our Rescue Self-Cooling Hydrogel Cold Compress, which uses naturally-derived plant extracts to relieve pain and cool the eyes.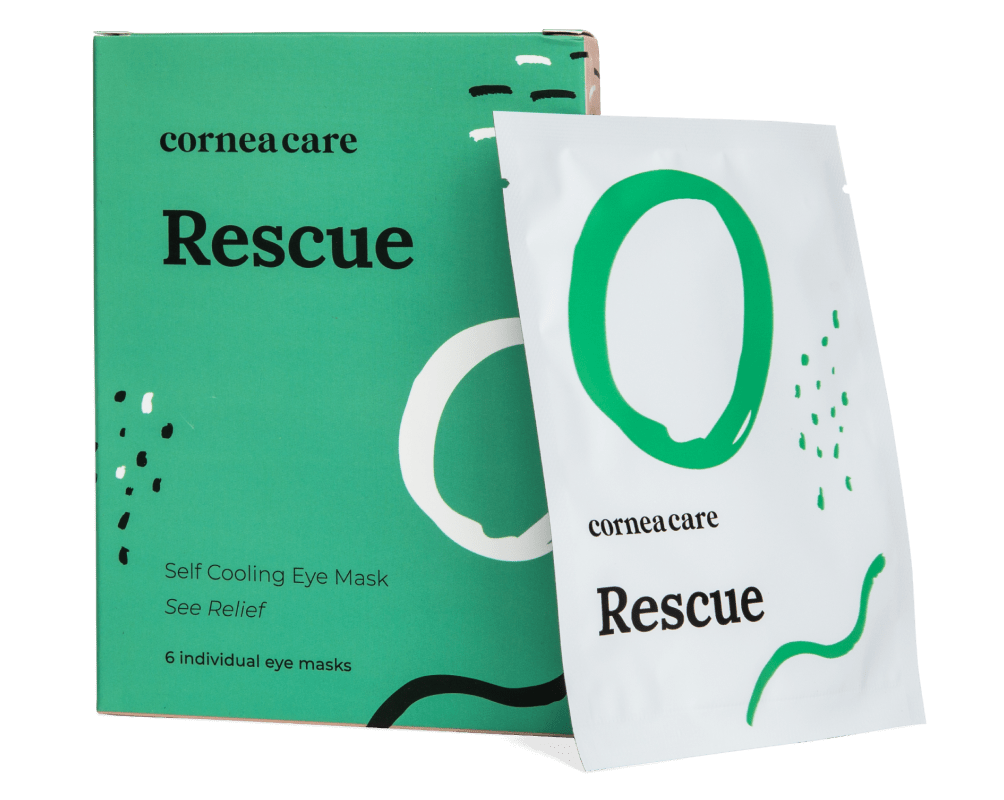 Perfect for sudden flare-ups of eye dryness, pain, burning, and swollen/inflamed eyelids. Free shipping 📦.
Cataracts and glaucoma
Research suggests that UV exposure can lead to the development of age-related eye conditions like cataracts.⁷ It is thought that UVA rays cause oxidative stress on the body, and the eyes, leading to cell damage of the eye lens.⁷
When oxidative damage occurs, the molecules in the eye start to lump together, causing light to scatter rather than be transmitted for sight, leading to the formation of cataracts.⁷
While researchers aren't certain if UV rays contribute to the development of glaucoma, the glare from the sun can definitely exacerbate eye symptoms.⁸ People suffering from glaucoma should be careful to avoid exposure to natural and artificial UV rays, and discuss this with their eye doctor.
How To Prevent Sun Damage to the Eye
Preventing sun damage to the eye is important year-round, especially during high UV-index days (when UV radiation is high). You can find the daily UV index for your city by visiting the Environmental Protection Agency's (EPA) website.
Here are a few ways to protect your eyes and keep them safe long term.
Wear sunglasses that offer UV protection and wear special eye protection prescribed by your eye doctor if you suffer from an existing eye condition.⁴
Wear a wide-brimmed hat to keep your eyes shaded from the sun.⁴
Avoid tanning beds. Artificial UV rays are just as harmful as natural sunlight.
Never look directly at the sun or the sun reflecting off of sand, snow or ice.
Get regular eye exams. Your eye doctor will be quick to identify any damage that may have recently occurred or damage that has been building from too much sun exposure over time.
Wear sunscreen to protect the skin around your eyes from skin cancer (while you're at it, apply it to the rest of your body as well – Dermatologists, you're welcome for the plug!).
Practice good eyelid hygiene!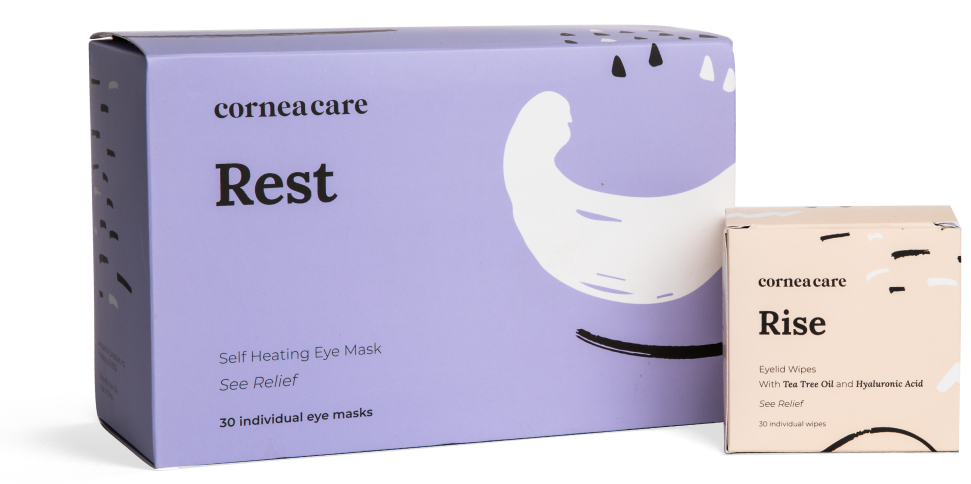 Perfect for eye dryness, burning, itching, crusting/flaking of eyelashes and inflamed eyelids. Free shipping 📦.
Putting It All Together
Eye health is an important piece of your overall well-being.
Sun damage to the eye can cause short-term and long-term damage to your eyesight.
While you may experience only mild symptoms, your eyes are not to be taken for granted. When your eyes feel good and you can see the world around you, you live a more fulfilling life.
Want to take care of your eyes but not sure where to start?
What's Next
To learn more about keeping your eyes healthy for life, visit our Eye Health & Wellness Blog.