Sjogren's syndrome is an autoimmune disease most prevalent in women over the age of 40. Sjogren's syndrome and dry eyes with dry mouth are the most common symptoms.
Symptoms of dry eye disease may lead you to a visit with your eye doctor. However, your eye doctor (optometrist or ophthalmologist) may also consider whether you have an underlying medical condition causing or worsening your dry eye symptoms. Sjogren's syndrome is associated with both dry eyes and dry mouth.
Key Points
Sjogren's syndrome is a common autoimmune condition that affects mostly women above 40 years of age.
The most common symptoms of Sjogren's syndrome are dry eyes and dry mouth.
Treatment options include lifestyle changes, eyelid hygiene, medication, and sometimes surgery.
No one taking your
dry eyes seriously?
What is Sjogren's Syndrome?
Sjogren's syndrome is the second most common autoimmune rheumatic disease, with an estimated 3-4 million adults affected.1 Symptoms often first appear around 45-55 years of age, most commonly in women. Approximately half of all Sjogren's patients also have rheumatoid arthritis or lupus.2
Sjogren's syndrome is an autoimmune disorder. With an autoimmune disorder, your body's immune system attacks your own cells and tissues.
Sjogren's syndrome commonly occurs with other autoimmune conditions, most often lupus and rheumatoid arthritis.3
Like other autoimmune conditions, Sjogren's is associated with both genetic and environmental factors. Still, researchers have not discovered any one clear cause.2
If you have Sjogren's syndrome, your immune system starts damaging your tear glands and salivary glands first, leading to dry eye and dry mouth. Over time, Sjogren's syndrome can cause damage to other parts of your body including your joints, skin, nerves, thyroid, and major organs like your lungs, kidneys, and liver.
Symptoms of Sjogren's Syndrome
The most common symptoms of Sjogren's syndrome are dry eyes and dry mouth. Your eyes may feel itchy, burning, or as if there's something in them. You may experience dryness in your mouth as if it were full of cotton.
Years after the onset of Sjogren's, more than half of all patients also experience symptoms that affect other parts of the body. These may include:4
Joint pain
Muscle pain
Swelling of the salivary glands
Mouth ulcers
Skin rashes or dry skin
Vaginal dryness
Dry cough that lingers
Neuropathies such as numb hands and feet
Often, fatigue and depression will impact the quality of life of Sjogren's syndrome patients.5
With Sjogren's syndrome, you have increased risk factors for stroke, heart attack, arthritis, Raynaud's phenomenon, pulmonary fibrosis, and lymphomas.5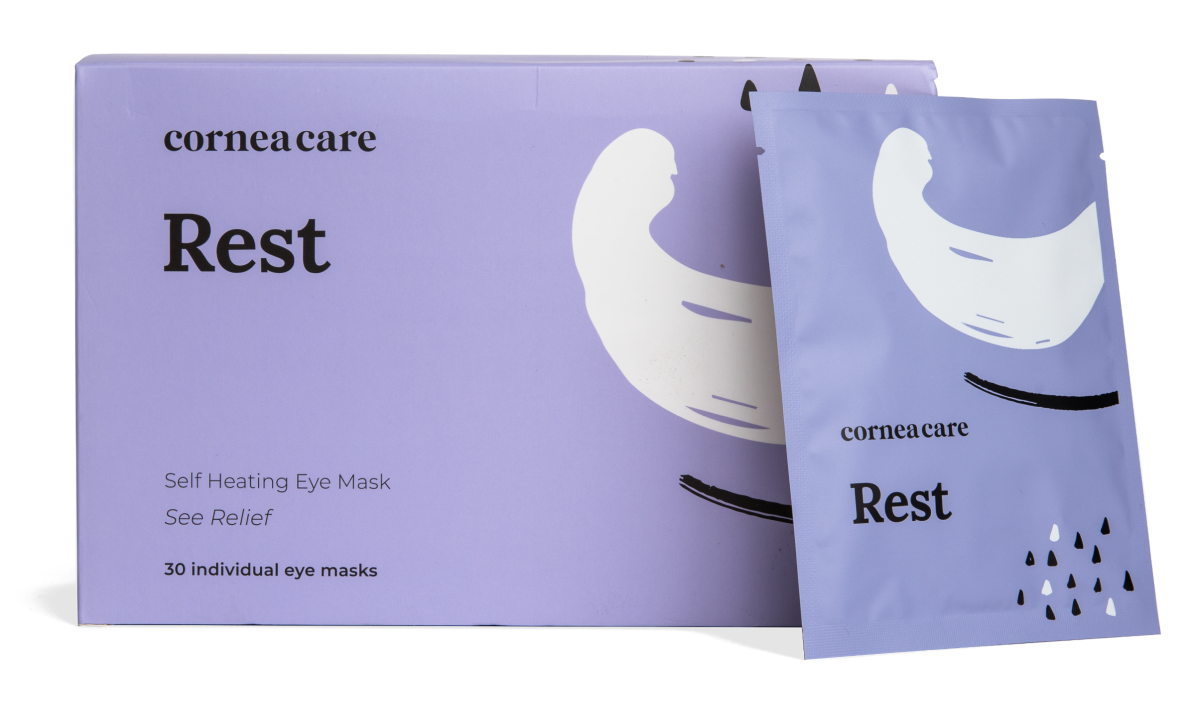 Perfect for eye dryness, fatigue, tearing, and puffiness of the eyelids. Free shipping 📦.
How Sjogren's Syndrome is Diagnosed
While Sjogren's can be difficult to diagnose, your eye doctor (optometrist or ophthalmologist) may run some tests, if warranted. The American College of Rheumatology (ACR), in conjunction with other organizations, formed guidelines to help doctors diagnose Sjogren's syndrome.5
It's common to find Sjogren's with dry eyes, as dry eye disease is considered a hallmark sign of Sjogren's syndrome. In fact, your ocular symptoms may often show up long before Sjogren's is diagnosed.
A good eye doctor will consider Sjogren's syndrome if you complain of both dry eyes and dry mouth during your exam. It's important to talk with your doctor about how these symptoms affect your quality of life.
Your eye doctor may present you with the Ocular Surface Disease Index (OSDI). This questionnaire helps your doctor understand the degree of your dry eye disease symptom on a range from normal to severe.4
If Sjogren's syndrome is suspected, your doctor may also examine your skin and tongue, in addition to your eyes.
In general, dry eye symptoms may include burning, redness, foreign body sensation, gritty feeling, pain and blurred vision.
A simple test, called Schirmer's test, can help your eye doctor diagnose dry eye disease. Schirmer's test measures your eye's tear production with and without topical anesthetic.6
Your tear film and conjunctiva may also be examined with a dye called fluorescein, which evaluates your eye's tear break-up time (TBUT).4
You may also be referred for a blood test that looks for biomarkers specific to Sjogren's syndrome. In particular, these biomarkers include anti-SS-A, anti-SS-B, and salivary gland protein-1.7 In that case, you'll be referred to see a rheumatologist if your bloodwork comes back positive for Sjogren's syndrome. You may also need a salivary gland biopsy to confirm the diagnosis of Sjogren's.
Treatment Options for Sjogren's Syndrome
Accordingly, your doctor will recommend treatment for Sjogren's syndrome depending on the parts of the body affected. While there is no cure for Sjogren's syndrome, it is possible to manage the most common symptoms of dry eyes and dry mouth.
If you have Sjogren's syndrome and dry eye symptoms that are mild, then simple lifestyle changes to your environment, habits, diet and supplements can alleviate symptoms. For example, you can avoid windy conditions, wear sunglasses outdoors, reduce your screen time, drink more water, and add CorneaCare eye vitamins and omega 3 supplements to your diet.
It's also best to begin practicing good eyelid hygiene including warm compresses and eyelid wipes, and avoiding contact lenses.4
If your Sjogren's syndrome and dry eye symptoms show little improvement with lifestyle changes, then artificial tears are a good next treatment option. Avoid over-the-counter eye drops containing preservatives, however, as these can be toxic and make your dry eye syndrome worse. Instead, try CorneaCare preservative-free artificial tears for soothing relief.
Specifically for dry mouth, sugar-free chewing gum, saliva substitutes, drinking more water, and medication may be advised.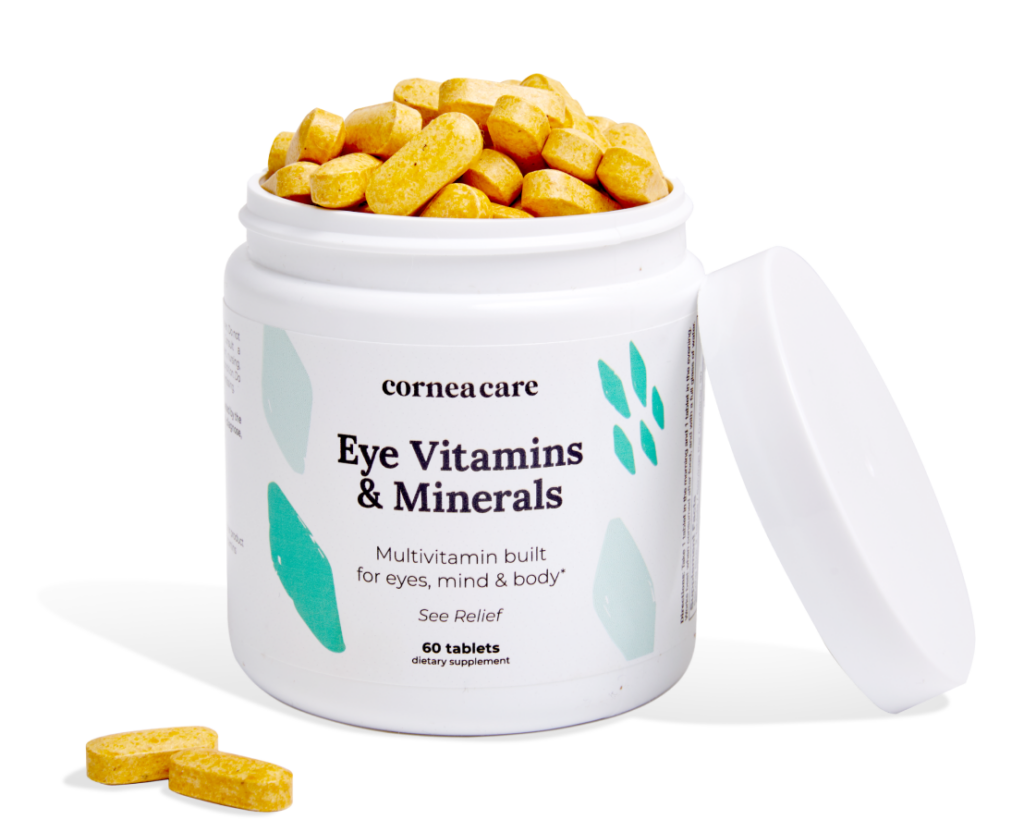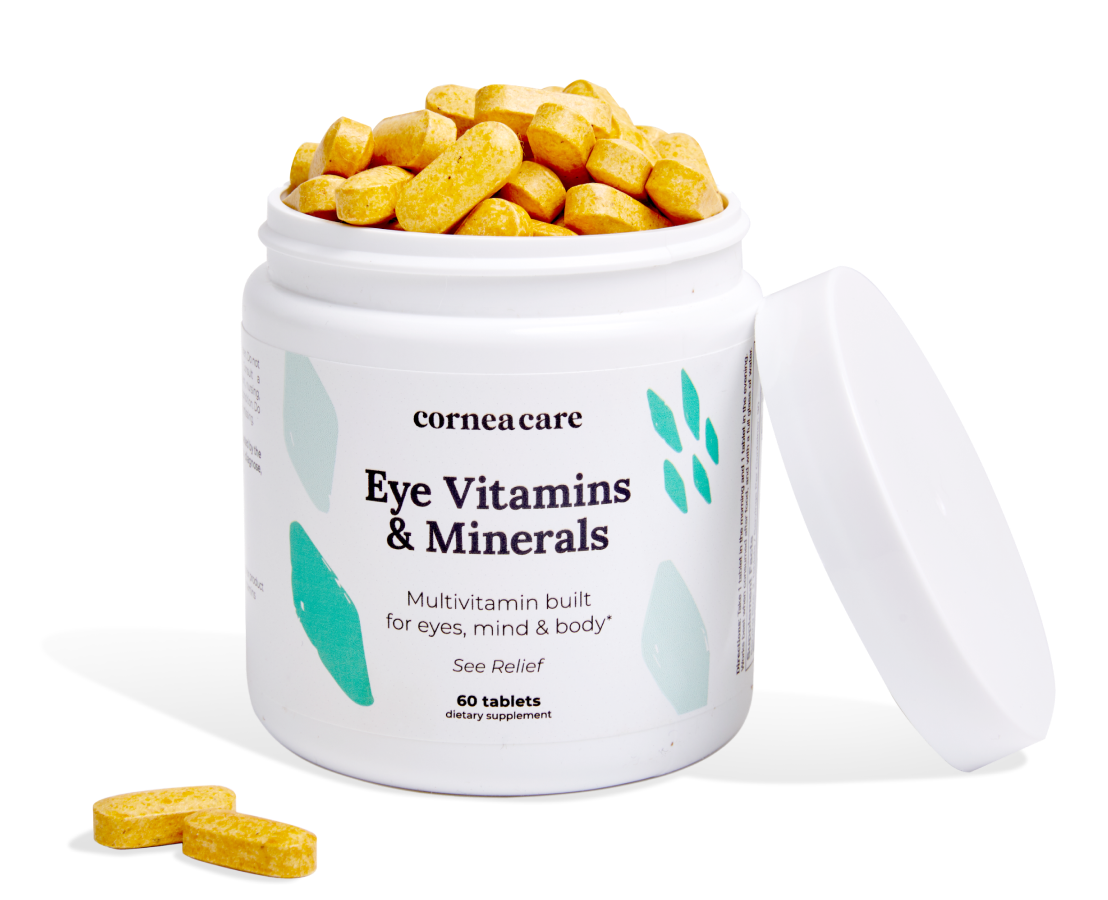 A single multivitamin to address the nutritional needs of your eyes, mind and body. 📦 Free shipping.
Medications
Your doctor will consider your symptoms and their severity before recommending medications that may include the following types:
Treating inflammation of the eye. Doctors prescribe medications in the form of eyedrops such as cyclosporine (Restasis) or lifitegrast (Xiidra) in cases of moderate to severe dry eyes. These drugs can help relieve inflammation in patients with Sjogren's syndrome and dry eyes.4 Studies report good results with the use of these prescription medications, including increased tear production and positive corneal signs.4 For some people, cyclosporine causes burning, relieved with a low-dose steroid at the start of treatment. Although corticosteroids may improve dry eye symptoms, long-term use is not recommended due to the side effects.4
Drugs to increase the production of saliva. Less commonly prescribed are medications such as pilocarpine (Salagen) and cevimeline (Evoxac). These drugs can increase the production of saliva from the salivary glands, and sometimes boosts production of tears from the lacrimal glands.4
Medications to treat arthritis or other symptoms. In some cases, you may experience arthritis symptoms, which can be treated with nonsteroidal anti-inflammatory drugs (NSAIDs) or other arthritis medications. If you develop a yeast infections in your mouth (thrush), your doctor will prescribe an anti-fungal medication.8
Drugs to treat systemic symptoms. A drug designed to treat malaria, hydroxychloroquine (Plaquenil), is used to treat Sjogren's syndrome.8 Other immunosuppressive drugs, such as methotrexate (Trexall), may be given as well.4
Surgery
Your eye doctor may recommend punctal plugs. A popular treatment option for treating dry eye disease, punctal plugs help to retain your natural tears in the eye longer.
This minor procedure seals the tear ducts that drain tears from your eyes (punctal occlusion) with collagen or silicone plugs.8
Putting it All Together
To properly manage and treat dry eye disease associated with Sjogren's syndrome, you'll need to work with your doctors. Because Sjogren's syndrome occurs with depression and fatigue in some, the prompt start of a treatment plan offers improved quality of life.
Your rheumatologist will help you manage your Sjogren's syndrome as well as the autoimmune diseases that occur alongside it, such as rheumatoid arthritis and lupus. You may also be prescribed anti-rheumatic drugs. In many cases, they are beneficial to Sjogren's syndrome patients.8
Your eye doctor will offer treatment options to you, as symptom relief of Sjogren's syndrome and dry eyes is important to improve your quality of life. These will likely involve lifestyle changes, regular use of artificial tears, good eyelid hygiene, and possibly prescription eye drops.
Want to take care of your dry eyes but not sure where to start?
What's Next
Take a deeper dive into dry eye disease with CorneaCare's Dry Eye 101 Course.