Key points
The average adult spends over seven hours per day in front of digital screens.
Computer Vision Syndrome (CVS) is caused by extended time spent in front of digital screens and can lead to eye strain, dry eyes, headaches, and neck and shoulder pain.
CVS is preventable and treatable with simple daily habits as part of your overall eye health and wellness plan.
Taking the first step
At CorneaCare, we believe that eye care starts with education. The more you know about your eyes, the better you can take care of them. Understanding how eye health and safety impacts your quality of life is one of the best things you can do for your overall wellbeing. After all, we use our eyes 24 hours a day, while awake, working and sleeping.
You brush your teeth,
moisturize your skin,
what about your eyes?
Eye care expands beyond just what you do at home. Taking care of your eyes at work is as important as what you do outside of work. Computer vision syndrome (CVS), also known as digital eye strain, is a medical condition caused by extended computer use. It causes discomfort and vision problems but extends to other areas of the body and can make doing your work miserable. If you understand what causes CVS, you can avoid severe symptoms and continue to enjoy your daily life without suffering.
How the eyes function for eyesight and comfort
First, let's do a quick review of the eyes. Understanding how the eyes work will help you learn how to care for them better.
The first thing that happens with eyesight is that light passes through the cornea (the front part of the eye). The cornea's dome-like shape bends light to help the eye focus. Light then enters the eye through the pupil (the black dot in the center of your eye). The iris (the part of your eye that gives you your eye color) controls how much light gets in through the pupil.
Next, light passes through the lens (a clear inner part of the eye), which works together with the cornea to focus light correctly onto the retina, the tissue in the back of the eye.
When light hits the retina, special cells called photoreceptors turn it into electrical signals which travel from the retina through the optic nerve to the brain. The brain then turns the signals into the images you see.¹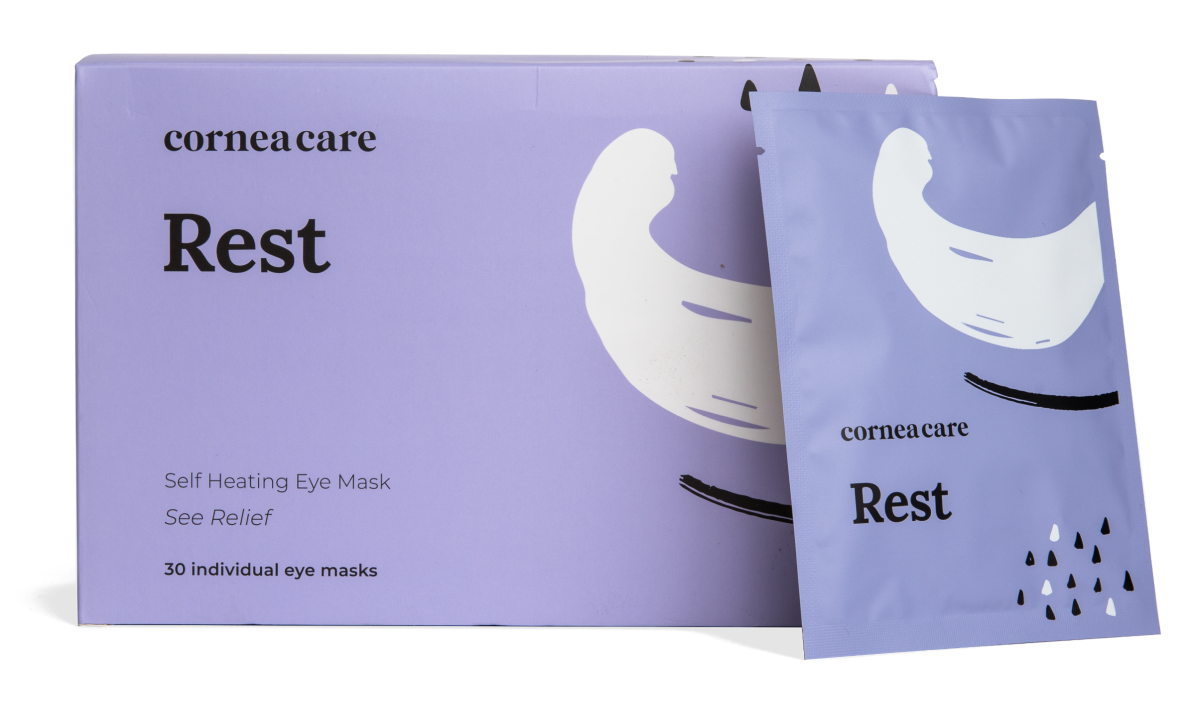 Perfect for eye dryness, fatigue, tearing, and puffiness of the eyelids. Free shipping 📦.
Your eyes also need tears to work correctly. Tears keep your eyes hydrated and lubricated and help focus light, along with the cornea and lens, so you can see images clearly. Every time you blink, a thin layer of tears called a "tear film" coats the surface of your cornea. When your eyes don't produce enough tears, or your tears don't work the right way, you can develop the classic symptoms of dry eyes.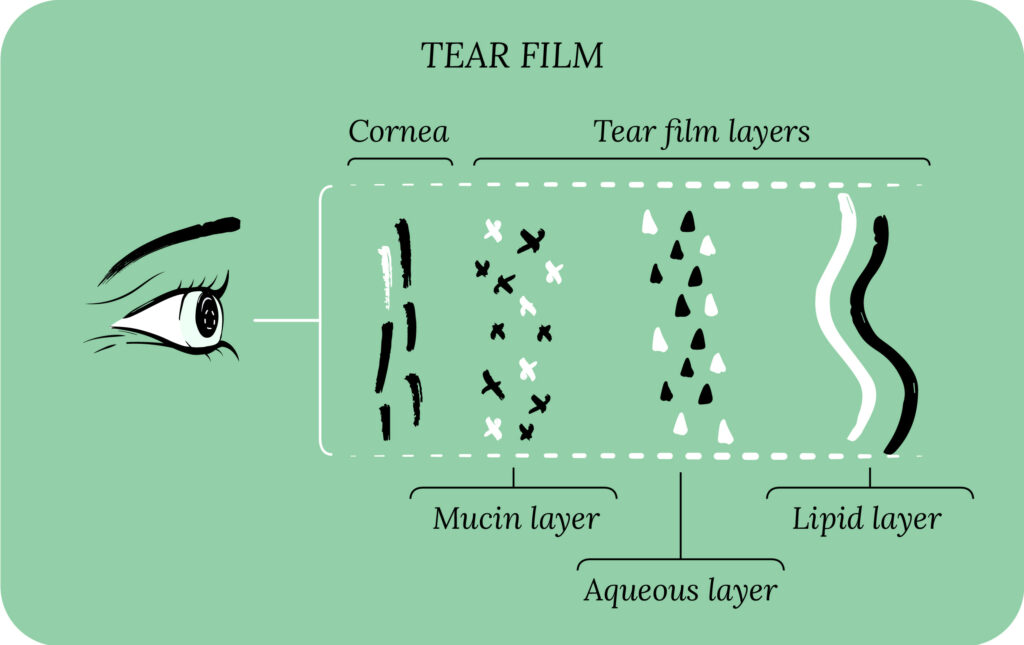 Think about it, anyone using a computer or phone screen for an extended period (basically all of us!), or doing tasks that require long focus without blinking like driving or housework, will invariably get dry eye symptoms.
Learn more about Dry Eye Disease in our Dry Eye 101 Course, and don't let the symptoms of dry eye disease (like burning, redness, grittiness, itching, foreign object sensation and watery eyes) interfere with your daily life.
What is computer vision syndrome?
The American Optometric Association (AOA) describes computer vision syndrome (CVS) as a group of eye and vision-related problems that result from prolonged use of computer screens, tablets, smartphones, e-readers and other digital devices.³ As you can understand, CVS can affect millions of people because we all use these devices for hours on end, every day. In fact, the most recent data surrounding screen time reports that Americans spend over 7 hours per day in front of digital screens.⁴
When we read text on a digital screen, the letters may not be as clearly defined as they are in print, and the contrast level of the letters to the background is reduced. The text may be smaller than what you're comfortable reading. Additionally, glare and reflections on the screen interfere with viewing function, causing further eye strain. Poor lighting and improper viewing distance and posture can also lead to CVS.
CVS can lead to other eye conditions such as dry eye disease. In fact, many of the classic dry eye symptoms are also present in CVS. Those who suffer from existing eye problems may experience more severe symptoms of CVS. For instance, people with dry eyes already have sensitive eyes, which can be worsened by CVS. The same is true for individuals with conjunctivitis, blepharitis and styes.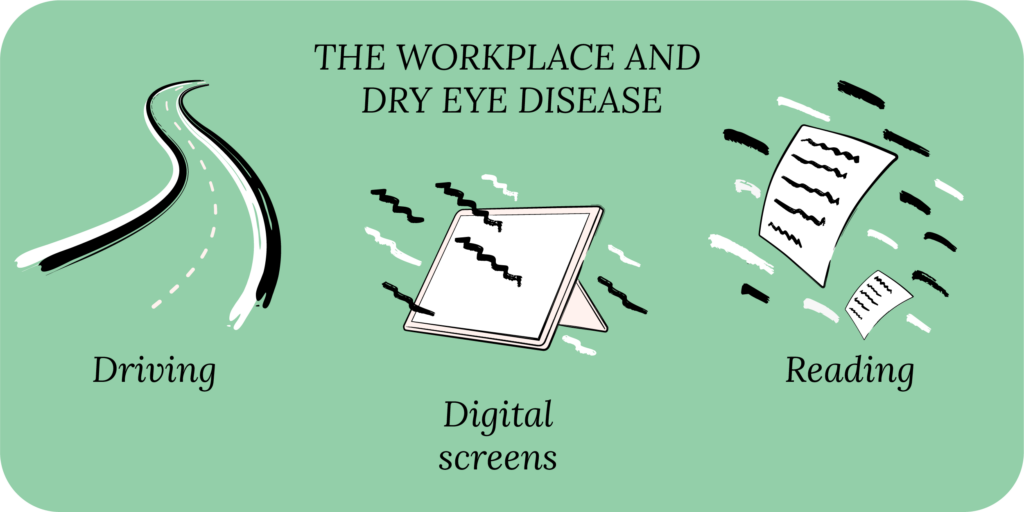 Individuals who spend more than two continuous hours looking at a digital screen every day are at the greatest risk for developing CVS.³ Check your most recent screen time use on your smartphone, and you may be surprised to learn you are at risk (and that doesn't include any computer time!).
What are the symptoms of computer vision syndrome?
Everyone experiences CVS differently, but the most common symptoms are:
Eye strain
Eye discomfort
Eye fatigue
Blurred vision
Red eyes
Neck and shoulder pain
Headaches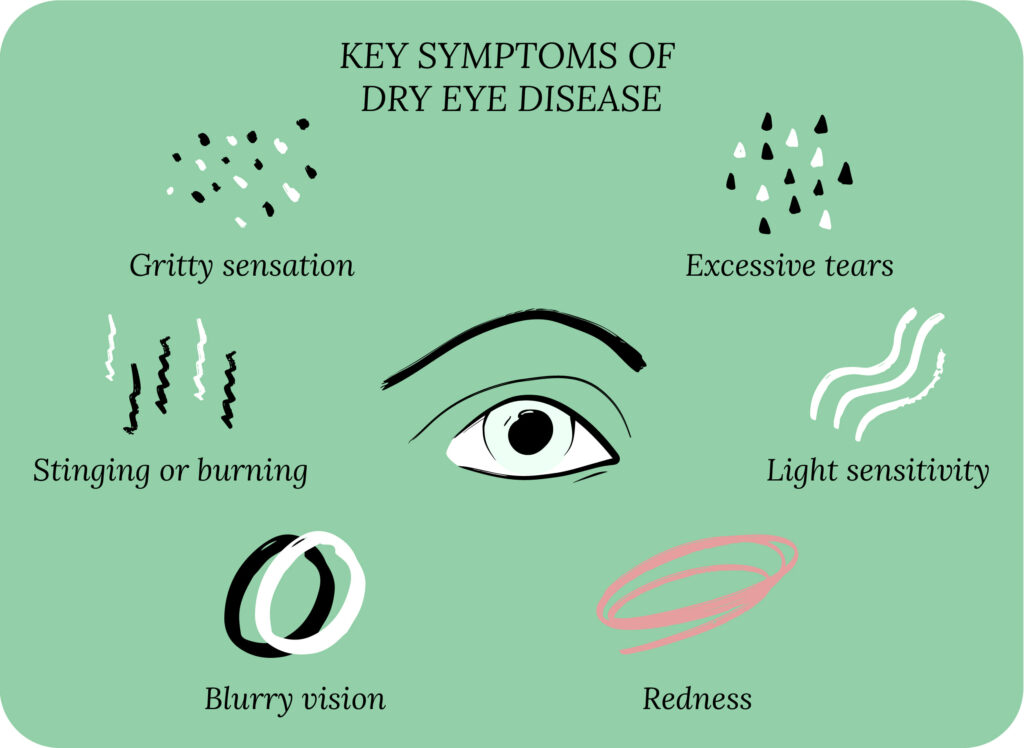 Vision problems such as myopia (nearsightedness but can't see far), hyperopia (farsightedness but blurry near vision), astigmatism (irregular curvature of the eye), and presbyopia (age-related reduced ability to see objects up close) can make CVS worse and lead to more severe symptoms.
Luckily, most visual symptoms are temporary and will decline once you understand how to take better care of your eyes while using screens.³
How to treat computer vision syndrome
Getting rid of screens entirely is not an option for most of the population. Our jobs require us to use computers, smartphones, and tablets, and outside of work, we rely on our devices to get us through airports, order groceries, and read books.
It's important to understand how to keep your eyes safe from digital devices because we live with them every day. Below are some environmental factors that contribute to CVS symptoms and how to manage them.
Be aware of environmental lighting
You may be subjected to overhead fluorescent lights if you work in an office or retail setting. While some people require brighter lighting to work better, it can overstimulate the eyes and lead to vision problems for many.⁵ If there's nothing you can do about the lighting, make sure you take proper rest breaks and try to match the lighting on your screen with that of your surroundings.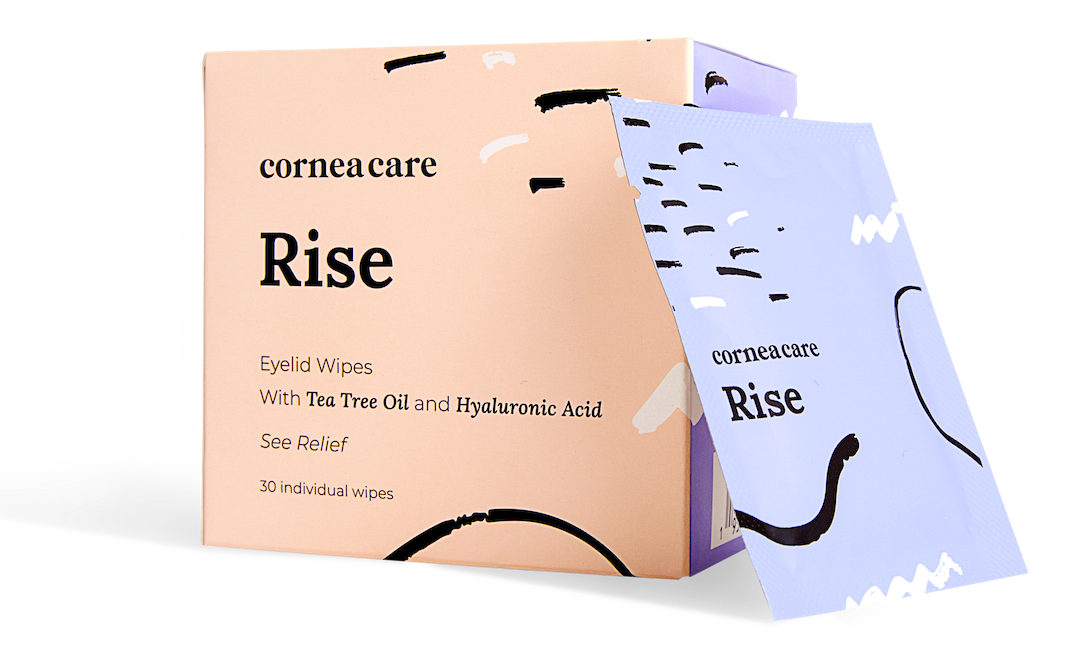 Perfect for eye dryness, itching, burning, and crusting/flaking of eyelashes. Free shipping 📦
Adjust your screen brightness
The brightness of your screen should be balanced with the light of the room. Ever work on a computer in a dark room or use your smartphone in bed at night and notice your eyes become tired, watery, and start to burn? This is because your eyes are in overdrive, trying to absorb a lot of concentrated light. Most smartphones, tablets and computers have "night shift modes" that filter blue light. During the day, make sure the brightness of your screen matches that of your surroundings and consider using a monitor with a glare filter.³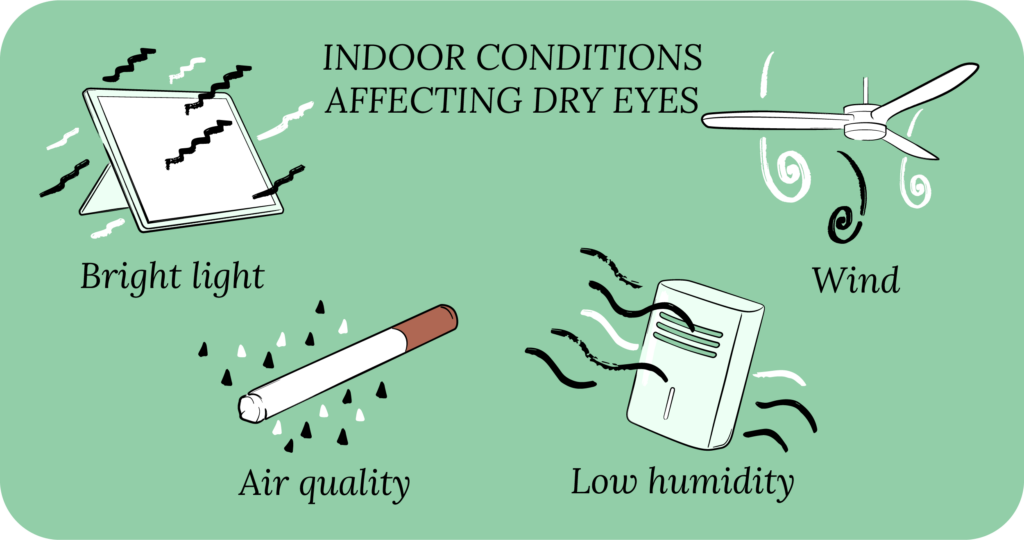 Correct your screen viewing distance
The American Optometric Association (AOA) suggests that computer screens should be about 4 or 5 inches below eye level (measured from the center of the screen) and 20 to 28 inches from the eyes.³ The same goes for smartphones, though holding them at that distance for too long may be uncomfortable and cause issues with neck and shoulder muscles. Your best bet for smartphone viewing distance is to simply limit the amount of time you must look at the screen continuously.
Follow the 20-20-20 rule
The 20-20-20 rule is simple and easy to remember and can be practiced by anyone using computers or smartphones throughout the day. Simply rest your eyes every 20 minutes by looking away for 20 seconds at a distance of about 20 feet away. Doing so gives your eyes a chance to readjust (and go ahead and blink a few times to replenish your tear film for good measure, too!).
Practice daily eyelid hygiene
Your eyes and eyelids work together to maintain your tear film and protect your eyes. Developing an eyelid hygiene routine that becomes second nature like brushing your teeth, can combat CVS symptoms. Learn more about eyelid hygiene.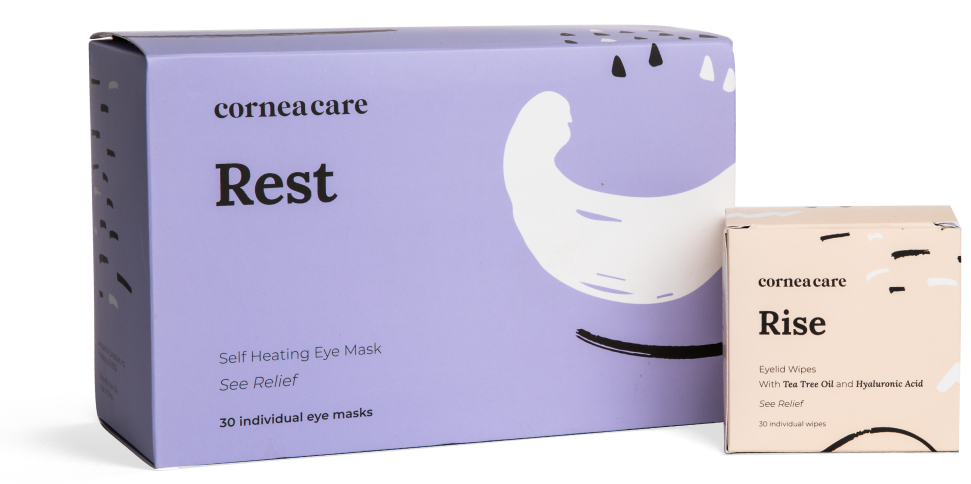 Perfect for eye dryness, burning, itching, crusting/flaking of eyelashes and inflamed eyelids. Free shipping 📦.
Use lubricating artificial tears
Using artificial tears (eye drops) can help replenish your tear film and keep your eyes lubricated and comfortable. Artificial tears are available over-the-counter, but discuss with your eye doctor (ophthalmologist or optometrist) to choose the best type for you.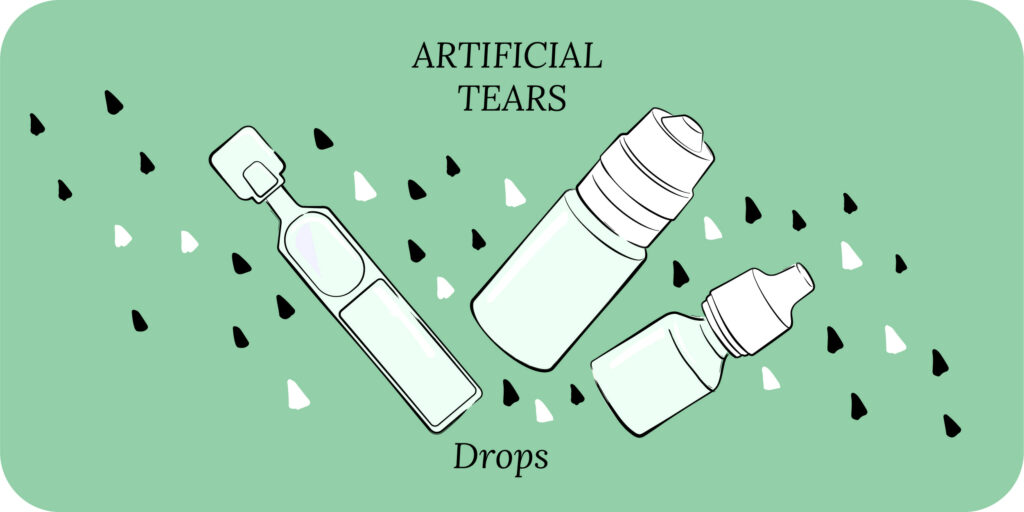 Get regular eye exams
Just like you see a dentist for regular teeth cleaning, you should visit your eye doctor every year for a regular eye exam. Uncorrected vision problems can contribute to CVS. Your eye doctor will not only make sure your eyeglasses and contact lenses are up to date, but can diagnose any problems that may be developing and discuss treatment options. If you do a lot of computer work, be sure to share that at your appointment.
Putting it all together
Taking care of your eyes to avoid computer vision syndrome should be a daily part of your overall wellness routine. Eating a balanced diet rich in vitamins and minerals, making certain lifestyle modifications and practicing good eyelid hygiene will help keep your eyes safe for years to come. While computer vision syndrome is treatable and generally short-term, the long-term effects of screentime are yet to be known. At CorneaCare, we want you to take control of your eye health to prevent long-term vision and eye problems so that you can live a healthy and fulfilling life.
Want to take care of your eyes but not sure where to start?
What's next
Want to learn more about keeping your eyes safe and healthy? Check out our articles in our Eye Health and Wellness section.