While you're on the job, eye safety in the workplace should always be taken seriously. Depending on your work environment, you may be exposed to all kinds of eye irritants. Whether it's airborne particles, chemicals, or extended screen use, this post will help you protect your eyes from workplace dangers.
Key Points
Eye injuries can occur in any workplace, including high-risk environments, offices and at home.
Understanding your work environment and taking preventative measures can help stop workplace eye injuries before they happen.
Practicing eye health and wellness at work and in your everyday life can ensure you stay healthy, happy and productive.
You brush your teeth,
moisturize your skin,
what about your eyes?
Eye Safety in the Workplace: Taking the First Step
Because of the amount of time spent at work, practicing eye safety in the workplace is a key piece of your overall eye health and wellness strategy. The best way to keep your eyes safe at work is to understand how the eyes can be affected by your work environment.
Take preventative measures to avoid eye injuries whether you work in a high-risk environment like a manufacturing floor or sit at a desk all day. Learning the basics of workplace eye safety can protect your eye health for the long term.
Understanding How the Eyes Work
Before diving into eye safety in the workplace, let's get to know our eyes better. At CorneaCare, we believe that understanding how the eyes work will empower you to keep them safe.
Your Eye's Ocular Surface
The ocular surface includes the cornea, tear film, the conjunctiva, and the eyelids. The ocular surface plays a vital role in protecting your eyes at work and in everyday life. Because of its exposure to the environment, the ocular surface experiences the most frequent injuries and infections.¹ The ocular surface also helps you see clearly and keeps your eyes comfortable. Both are important to your productivity on the job.
The Tear Film and its Layers
Your tear film sits on top of the cornea, and is comprised of three unique layers:²
Mucin layer – the "glue"
Aqueous layer – the "water"
Lipid layer – the "oil"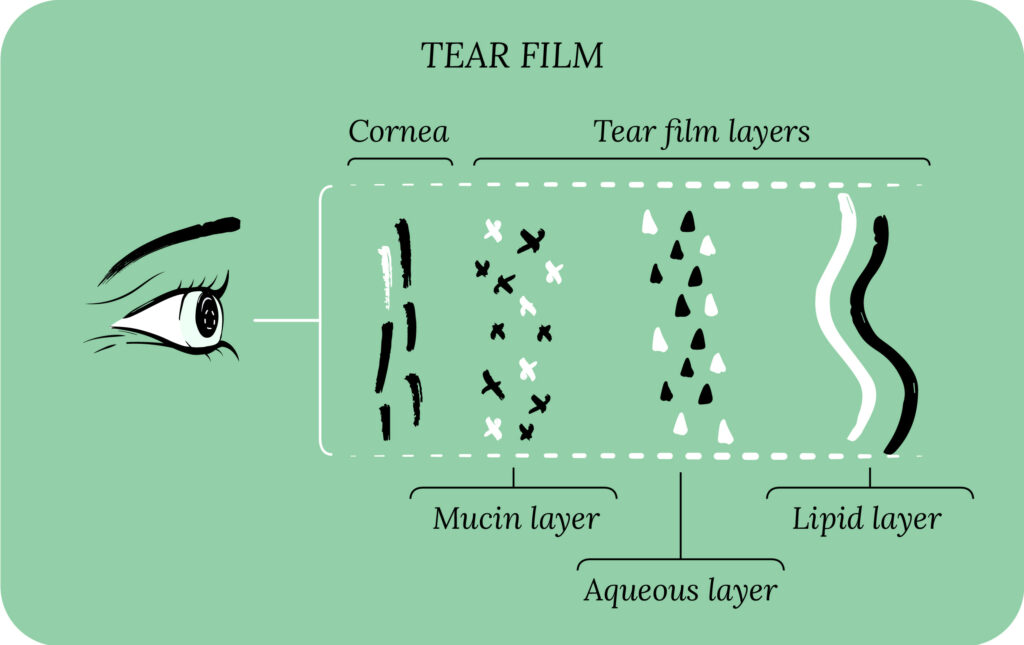 The mucin layer is secreted by cells located in your conjunctiva. The conjunctiva is the clear film that lines the white part of your eye.
The aqueous layer is the largest layer and comes from the lacrimal gland. The lipid layer is comprised of oils secreted from your meibomian glands which line the eyelid margin.
The mucin layer attaches to the cornea, the aqueous layer sits on top of the mucin layer, and the lipid layer sits on the aqueous layer. All three of these layers work together to stabilize the tear film.
When we look at computer screens for an extended period of time, our blinking decreases, which causes us to not adequately replenish our tear film. This can lead to the classic symptoms of dry eyes like burning, grittiness, redness, watering eyes, and itchiness.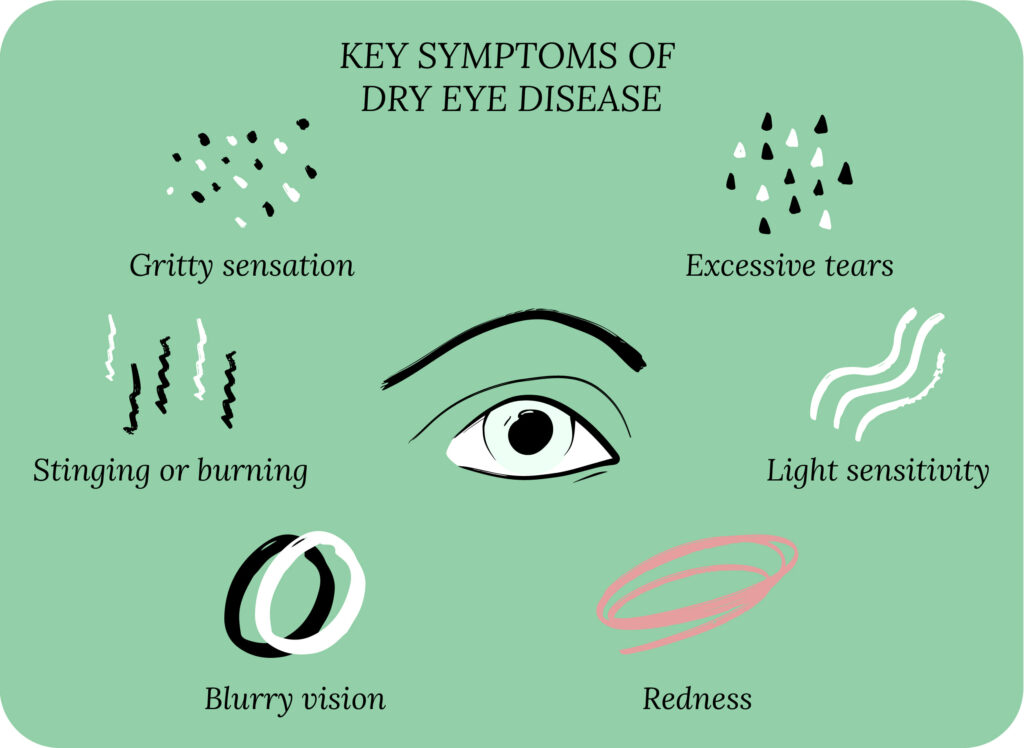 The Shield: Your Eyelids
The eyelids protect the ocular surface from potential eye hazards, and help with stabilizing your tear film. In addition to protective eyewear, practicing good eyelid hygiene can help keep your eyes safe and functioning properly.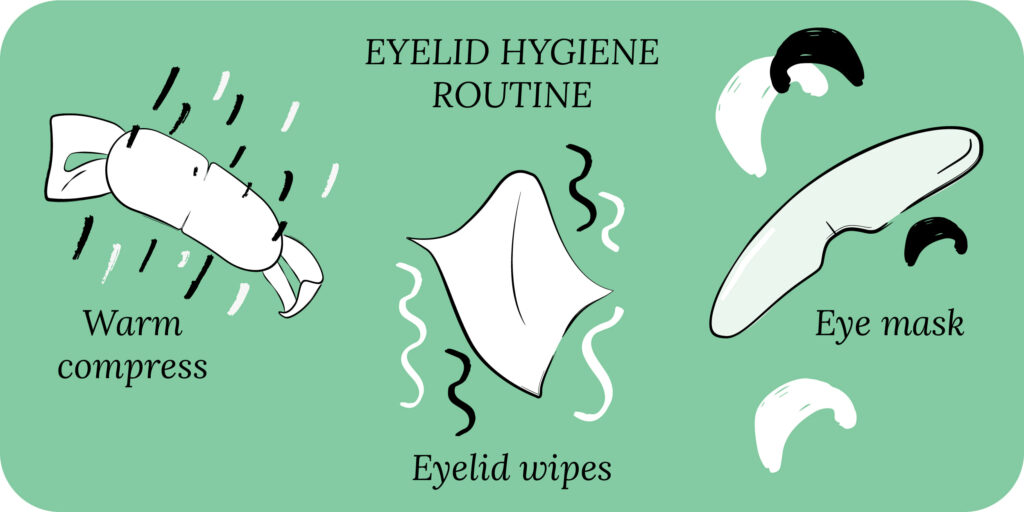 Common Workplace Eye Injuries and How to Prevent Them
There are very few, if any, jobs that don't pose some risk to the health and safety of your eyes. Most jobs require looking at screens, driving, working in hot or dry temperatures, exposure to chemicals, sitting under overhead lights, exposure to UV rays, or even just being in air conditioning. All of these elements can be potential irritants to the eyes.
Our environment affects eye health and since we spend most of our time working, our work environment directly impacts our eyes.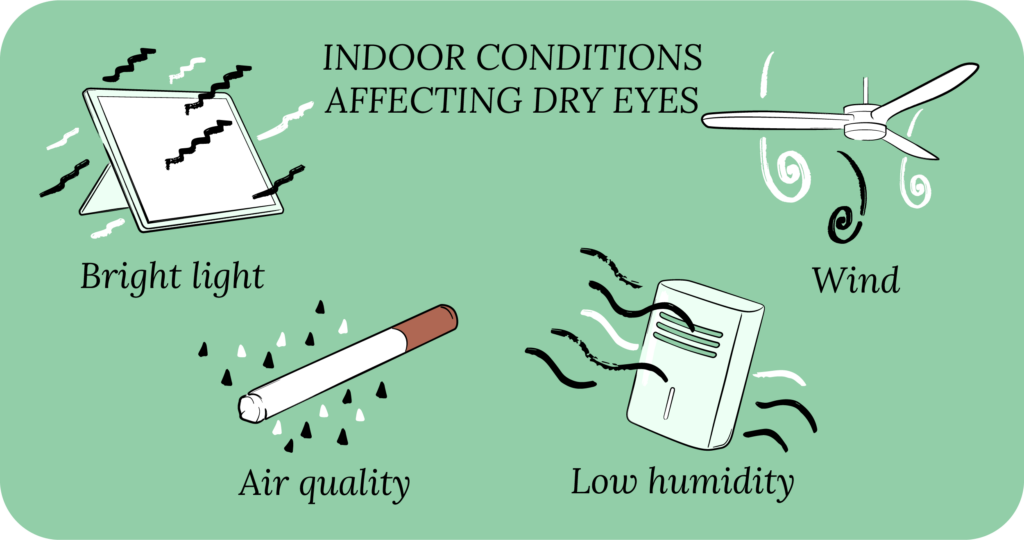 High-risk Environments
According to the Centers for Disease Control (CDC) and the National Institute for Occupational Safety and Health (NIOSH), each day about 2000 U.S. workers sustain a job-related eye injury that requires medical treatment.³ These injuries often result in lost wages and costly workers' compensation claims. This negatively impact both the employee and employer.
The good news is that employees can prevent most injuries by wearing:
safety glasses
face shields
full-face respirators
The most common workplace eye injuries occur in high-risk environments. In these spaces, workers are exposed to flying particles such as dust, debris or small pieces of metal or glass. If workers fail to wear appropriate eye protection, these small particles can strike or scrape the ocular surface. Even larger objects like tools can cause blunt-force trauma to the eyeball. Ouch!
Chemical splashes from cleaning products or industrial chemicals used in manufacturing can cause burns to the eyes. Building materials like wood, staples and nails can puncture the eye and lead to permanent vision loss.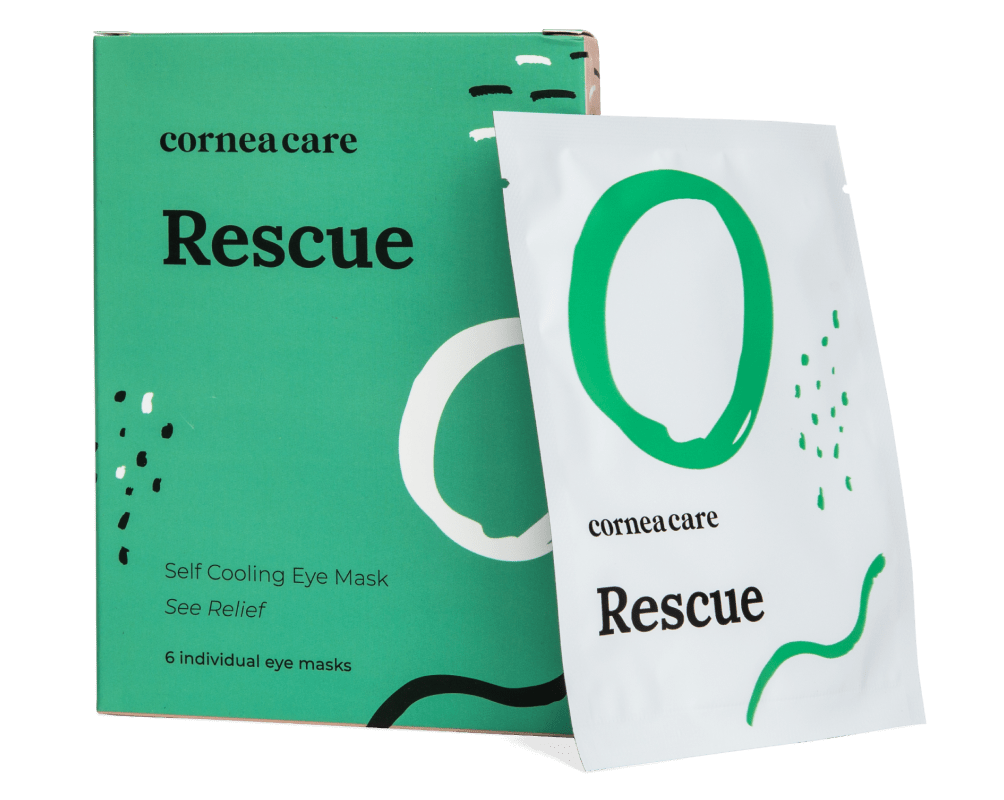 Perfect for sudden flare-ups of eye dryness, pain, burning, and swollen/inflamed eyelids. Free shipping 📦.
Protect Your Eyes in High-risk Work Environments
If your worksite poses a risk to your eyes, the steps below may help prevent work-related eye injuries:
Review the Occupational Safety and Health Administration (OSHA) eye hazard assessment to understand potential eye hazards at your worksite.⁴ Your employer should have signs posted clearly displaying any hazards. If you're unsure where to locate the assessment at your worksite, ask your supervisor or health and safety team.
Know where to locate the first aid kits and eyewash stations. Every second counts when it comes to treating your eyes after an injury. Be sure you know where to locate first aid and the eyewash station in an emergency.
Ensure the protective equipment you use for your eyes and face is in good condition, and make sure you wear it consistently. OSHA will recommend proper eye protection for your specific job.⁴ Personal protective equipment (PPE) should be provided by your employer and can include safety glasses, face shields, full-face respirators, and side shields. If you feel that your PPE does not safely protect your eyes or provide adequate face protection, discuss it with your supervisor or health and safety team.
Want to take care of your eyes but not sure where to start?
Digital Eye Strain
Office employees and even those who work from home are not exempt from practicing eye safety in the workplace. While you may not have to worry about flying objects or chemical splashes, there are steps you can take to protect your eyes from digital eye strain.
Digital eye strain, sometimes referred to as "computer vision syndrome," is caused by viewing digital screens for an extended time.⁵ If you work in front of a computer all day, you may notice your eyes feel dry after some time, and your vision gets blurry. You may even experience head, neck and shoulder pain from poor posture or straining to see the screen.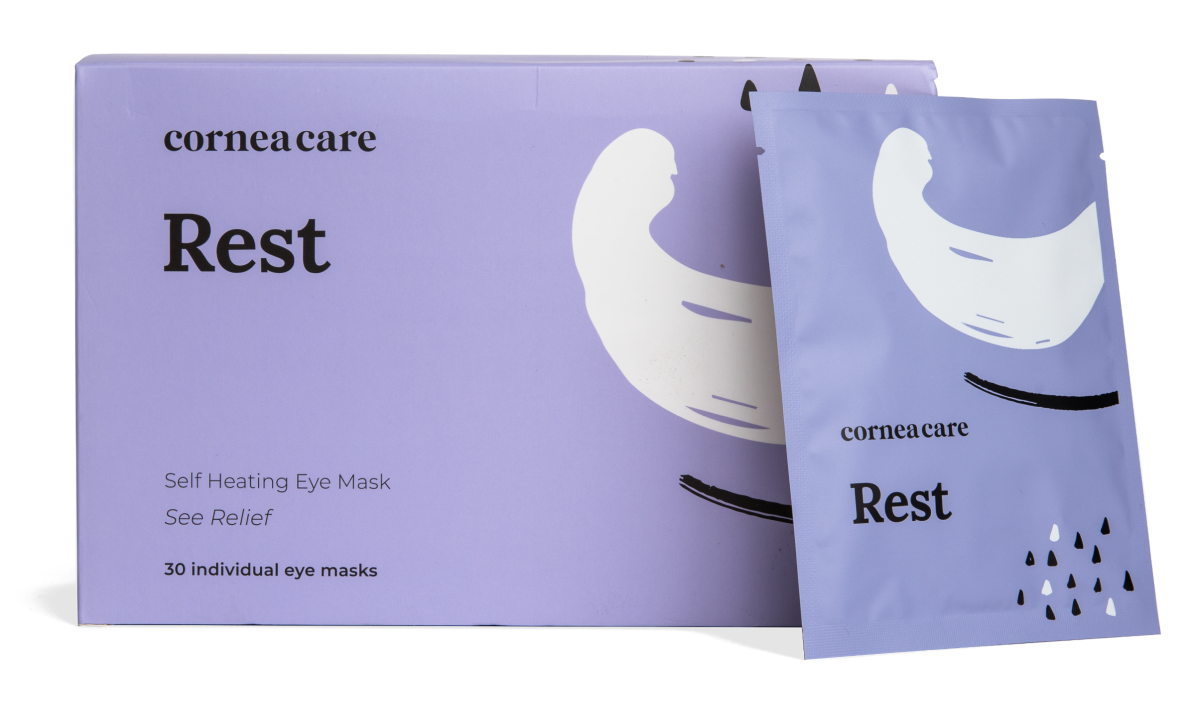 Perfect for eye dryness, fatigue, tearing, and puffiness of the eyelids. Free shipping 📦.
When you stare at a screen for too long, your blinking decreases. This causes the tear film that keeps your eyes feeling comfortable to lose hydration, causing discomfort.
Protect Your Eyes from Digital Eye Strain
There are some steps you can take to alleviate digital eye strain and even prevent it in some cases.
Adjust your computer screen height.
Try to position your screen about 4 or 5 inches below eye level and 20-28 inches away from your eyes. If your computer screen is higher than your line of sight, more of your ocular surface is exposed. This leads to dry eye symptoms. 
Follow the 20-20-20 rule.
After 20 minutes of looking at your screen, look into a distance about 20 feet away for 20 seconds to give your eyes a rest. 
Minimize blue light.
Utilize the blue-light blocking features on your computer screen or mount an anti-glare screen on your monitor to prevent eye strain. Non-prescriptive blue-light blocking glasses may also help. 
Start an eyelid hygiene routine.
Because your eyes and eyelids work together to maintain your tear film and protect your eyes, taking care of your eyelids is essential to keeping your eyes safe. Not sure where to start? Read more about eyelid hygiene. 
Use the right artificial tears.
Artificial tears, or eye drops, can be beneficial in replenishing your tear film and keeping your eyes lubricated and comfortable. Not all artificial tears are created equal, and the type you need will depend on your individual symptoms. Talk with your eye doctor (ophthalmologist or optometrist) to discuss the best type for you. 
Get regular eye exams.
Visiting your eye doctor for regular eye care is a great way to ensure your eyewear, whether glasses or contact lenses, are adjusted appropriately for your vision. If your prescription is off, you may end up straining to see your screen, causing further damage to your eyesight.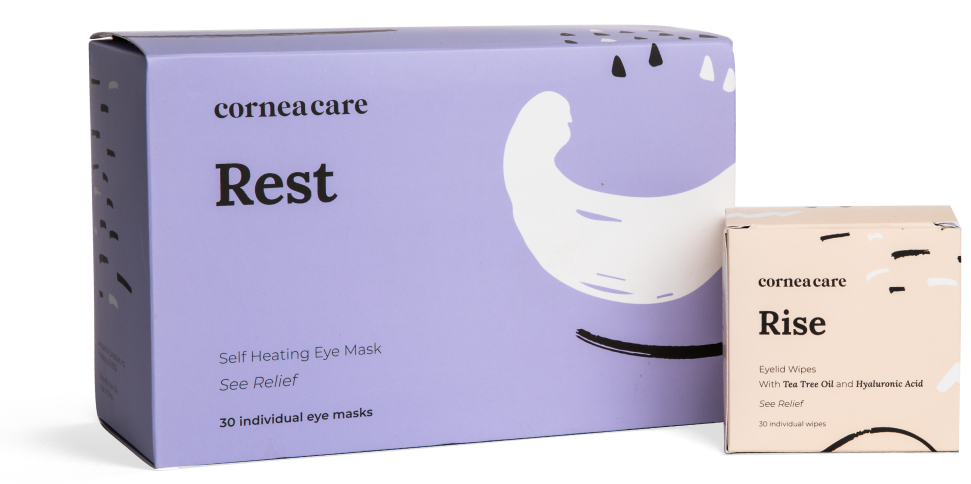 Perfect for eye dryness, burning, itching, crusting/flaking of eyelashes and inflamed eyelids. Free shipping 📦.
Putting it All Together
Our eyes are vulnerable to injury no matter what line of work we're in. When you drive, you wear a seatbelt to protect your body from injury in case of an accident. So why not protect your eyesight while working to prevent immediate and long-term damage?
The best way to prevent injuries is to understand the hazards that exist at your worksite (or at home). Be sure to wear protective eye and face equipment, take regular screen breaks, and practice good overall eye health and wellness.
Eye health and wellness also includes eyelid hygiene which can be a great addition to your overall self-care plan. Using cold or warm compresses and keeping eyelids clean with eyelid wipes can be beneficial to all occupations. At CorneaCare, we care about you as an individual, and we know firsthand how good eye health can positively impact your quality of life.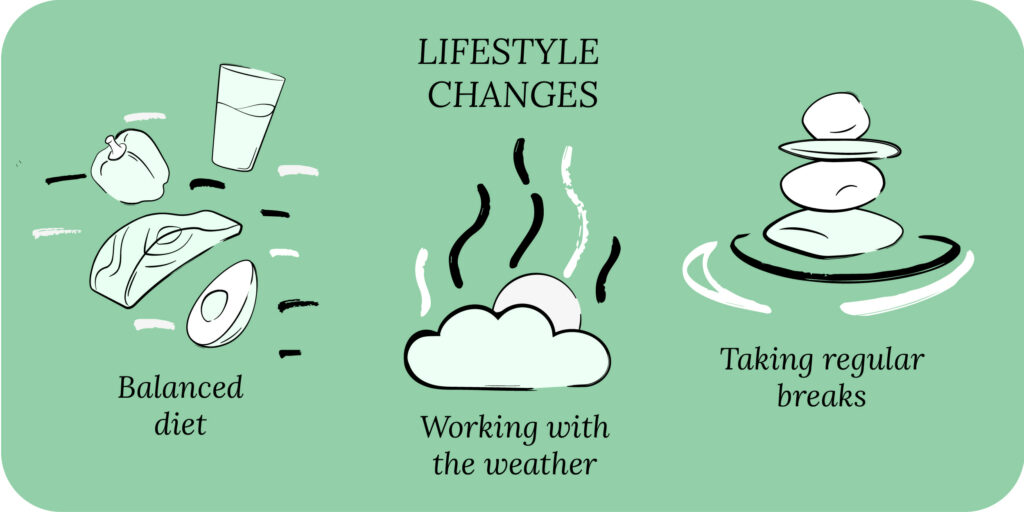 What's Next
To learn more about eye health and safety in the workplace and eye health and wellness in general, check out more articles in our Eye Health and Wellness blog.