Join us in raising awareness for Workplace Eye Wellness during Workplace Eye Wellness Month. It's important to take steps to avoid eye damage in the workplace.
Keeping your eyes healthy at work is an important step in your overall dry eye treatment plan.
Key Points
The Prevent Blindness non-profit organization declared March as Workplace Eye Wellness Month.
Because of the amount of time spent at work, taking care of your eyes at work is important in overall eye healthcare, as well as in your dry eye treatment plan.
Maintaining good workplace eye health and eye safety is crucial in optimizing productivity and having a good quality of life.
You brush your teeth,
moisturize your skin,
what about your eyes?
Taking the First Step
At CorneaCare we believe that dry eye disease (DED) is more than just dry eyes! As we've shared before, dry eye disease directly impacts your daily life. And as you've likely experienced, our jobs directly impact our quality of life.
Good eye health is crucial to being able to function at home and at work. We are happy to join others in the eye health industry in declaring March "Workplace Eye Wellness Month".¹ Because of the prevalence of blue light, digital screens and environmental factors in the workplace, eye safety at work is important in your overall dry eye treatment plan.
Our goal at CorneaCare is not just to help treat your dry eyes, but to treat the whole you, which includes your work life. We want to give you the tools and skills to be productive and happy at work and beyond.
A Quick Review of Dry Eye Disease
Before we explore how DED is connected to Workplace Eye Wellness Month, let's review some dry eye basics. DED is also known as dry eye syndrome, ocular surface disease and keratoconjunctivitis sicca.² The main causes of dry eyes are aqueous deficient (decreased tear production) and evaporative (rapid tear evaporation).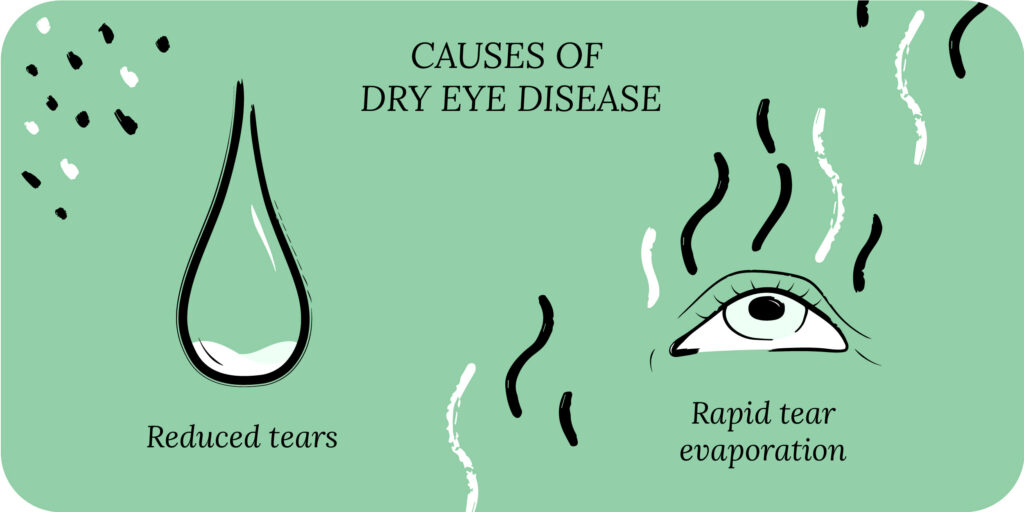 With aqueous deficient dry eye disease, your lacrimal glands don't produce enough tears to lubricate the eye surfaces (the cornea and conjunctiva). With evaporative DED, your body produces enough of your own tears, but they evaporate too quickly because your tear film is unstable.
Common dry eye symptoms include burning, pain, tearing or watery eyes, redness, grittiness, dryness, blurred vision, foreign body sensation, irritation, and eye fatigue. DED is a chronic condition.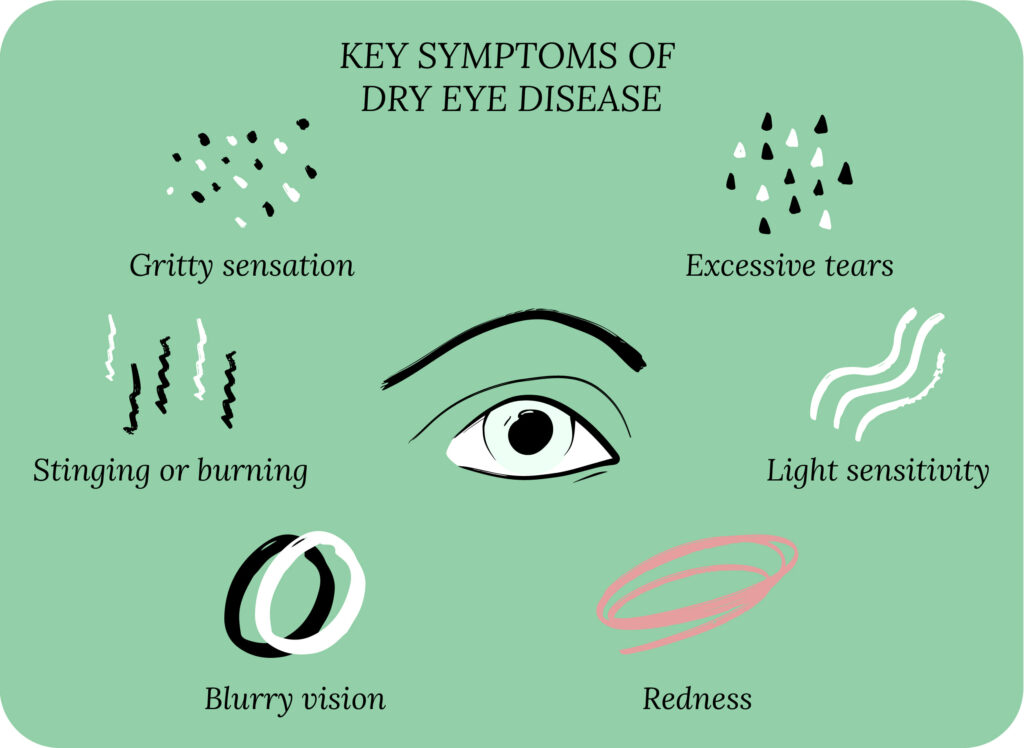 Your symptoms may get better or worse, but you will typically have dry eyes for life. Some environmental factors can exacerbate dry eyes, like living, working or traveling to dry climates, air pollution, indoor air conditioning and high winds. Workplace and lifestyle risk factors, like extended use of digital screens (laptops, tablets and smartphones) and poor nutrition (low in vitamin A, lipids, and healthy fats and minerals), can worsen dry eyes and lead to vision problems.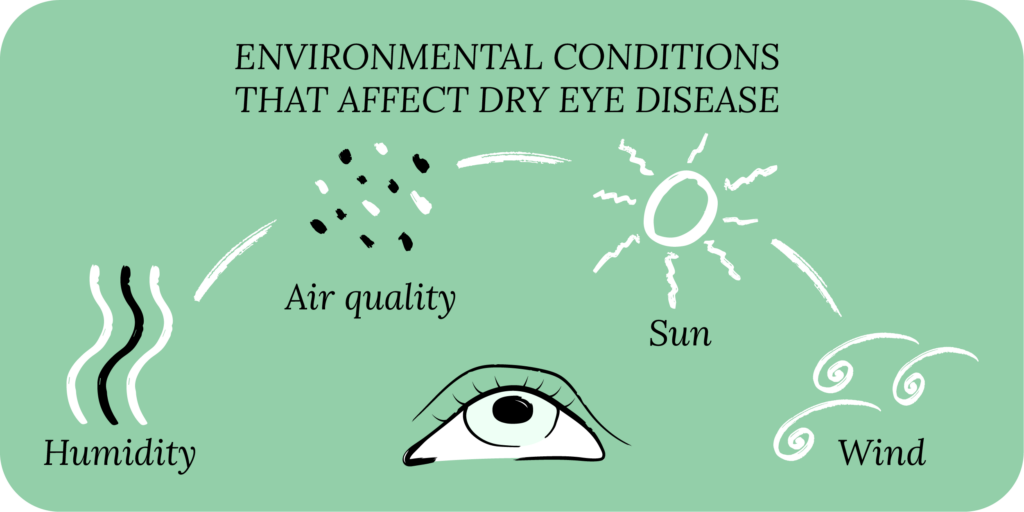 Even though dry eye disease does not cause vision loss directly, it increases the risk for many vision-threatening complications. Taking care of your eyes at work, and starting dry eye treatments sooner rather than later is important to avoid long-term damage.
There are various treatment options for dry eyes. These include over-the-counter (OTC) artificial tears, gels, or ointments, and eyelid hygiene, including warm compresses and eyelid wipes. Other OTC options include oral supplements (omega-3 fatty acids), humidifiers, and air purifiers. If the OTC options don't work, prescriptions and procedures for dry eyes are also available.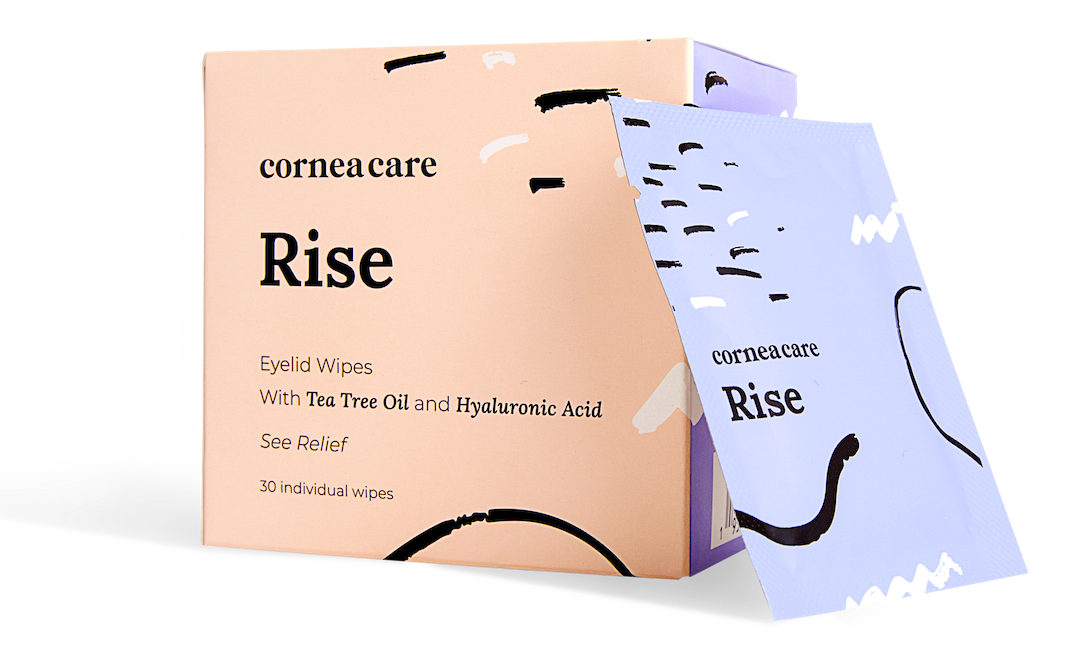 Perfect for eye dryness, itching, burning, and crusting/flaking of eyelashes. Free shipping 📦
DED is a complex condition with many causes and symptoms. The good news is you have several options for treatment. With the proper routine and support, you can thrive at home and at work with dry eye disease.
What is Workplace Eye Wellness Month
Companies across the US have joined together in declaring March "Workplace Eye Wellness Month". This movement aims to raise awareness of eye strain due to digital devices and provide tips on ways to minimize the harmful effects of increased time spent in front of screens.
Because the environmental factors present in the workplace can affect dry eye, we are happy to join others in bringing attention to eye health in the workplace. Not only can good eye hygiene and safety practices prevent blindness long term, but they contribute to an overall eye wellness plan to help employees enjoy their time at work and stay productive.
We all know the feeling of having tired, dry and burning eyes after staring at a screen for too long. With simple tips, you can alleviate the symptoms associated with eye strain and continue on with your important work.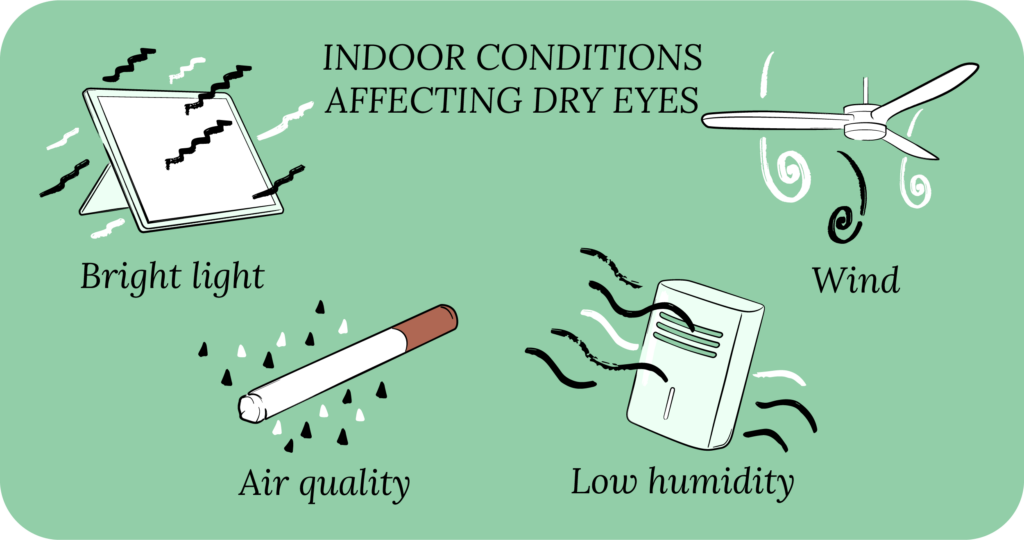 Even more, it's important to bring attention to serious hazards in the workplace that can lead to severe eye injuries. The first step in preventing eye injury and maintaining your eye health is being aware of the environment in which you work. Educated yourself about proper eye protection and when to seek medical attention.
Work-related Eye Injuries
According to the Occupational Safety and Health Administration (OSHA), thousands of workers are blinded each year due to workplace injuries.³ While Workplace Eye Wellness Month aims to bring awareness to eye damage caused by computer vision syndrome and digital eye strain, it's important to note that work-related eye injuries can occur in many occupations that don't require heavy screen time.⁴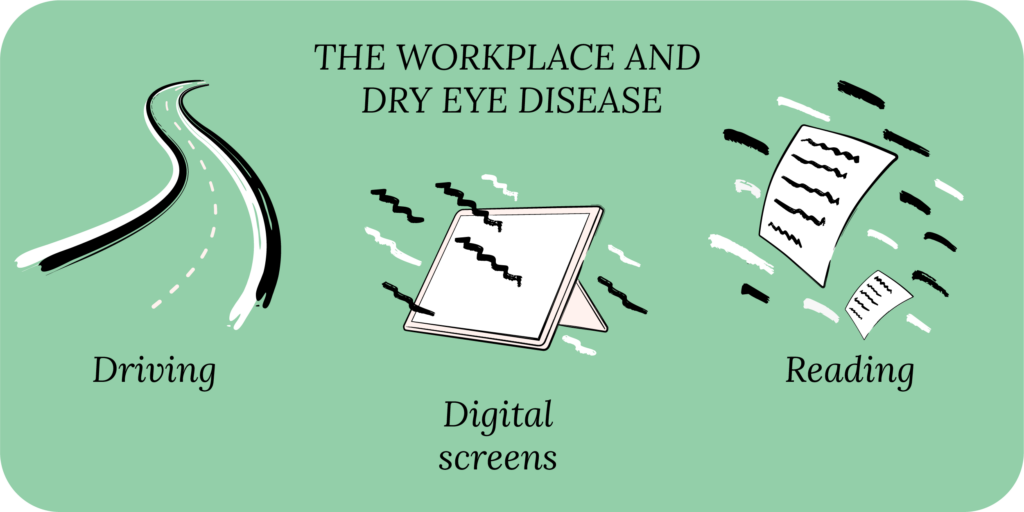 Construction workers, heavy machinery operators and manufacturing employees experience some of the highest rates of work-related eye injuries. The Centers for Disease Control (CDC) site that the most common causes of eye injuries in these fields include scrapes, burns and poking or penetration.⁵ Dust, debris, harmful radiation and building materials such as cement, wood and small pieces of metal can harm the eyes if employees do not wear proper eye and face protection.
For those of us who sit in front of a computer each day, eye injuries can be less abrupt, but just as damaging over time. Working on a computer often means their eyes don't get enough rest, tend to blink less, and may experience vision impairment over time. These can impact dry eye disease and contribute to or worsen dry eye symptoms.
Workplace Eye Safety Tips
Thanks to the organizations bringing awareness to workplace eye wellness, many eye injuries and damage can be prevented with a proper hazard assessment. Such an assessment helps employers understand the hazards that affect workers and plan accordingly.
Safely protecting your eyes from damage is one important step you can take to reduce the effects of dry eye disease and maintain your overall eye wellness. Remember, treating your dry eye disease affects your whole body, mind and daily quality of life!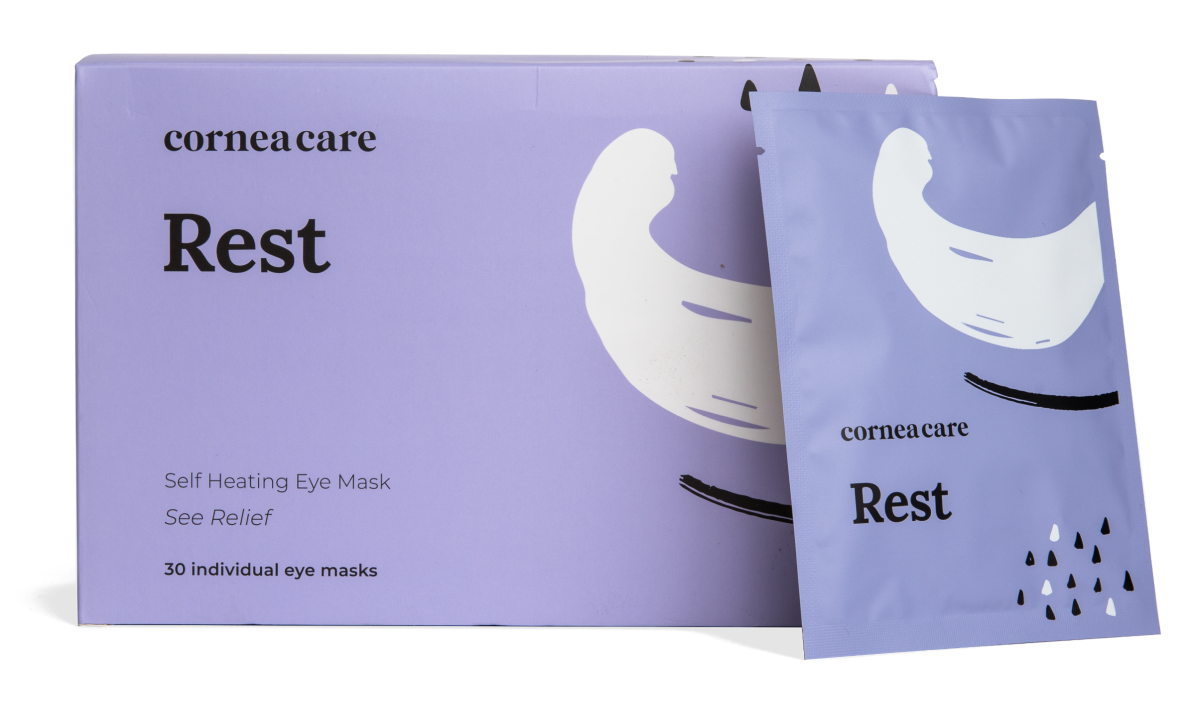 Perfect for eye dryness, fatigue, tearing, and puffiness of the eyelids. Free shipping 📦.
The American Academy of Ophthalmology (AAO) released updated guidelines for eye safety at work due to the increase in eye injuries during the COVID-19 pandemic.⁶ Because so many workers have gone into new workforces where they may be unaware of work-related eye injuries, it's more important than ever to ensure each workplace has an eye safety program put into place for eye injury prevention.
For especially-hazardous work environments, the AAO suggests face shields, protective eyewear, welding helmets, full-face respirators and goggles. These tools can help prevent flying debris and dust from irritating the eyes. Safety eyewear, including prescription safety glasses, should be worn anytime you are around flying objects, dust or small particles that can damage the eye.
Because blue light from screens can be an eye hazard, many specialists suggest wearing blue-light-blocking glasses. Available in prescription or non-prescription form, blue light glasses can prevent digital eye strain. While blue light glasses can help reduce eye strain and eye fatigue, you may still experience symptoms of dry eyes. A good eye hygiene plan is essential in managing your dry eye symptoms.
Taking timed breaks from digital screens and placing computer screens at or below eye level can make a big difference. Increasing font size and using the accessibility features on your devices can help reduce eye strain and eye fatigue.
Get regular eye exams to ensure your eyewear is adjusted correctly and your eyes are not overly straining to read, drive or perform essential functions of your job.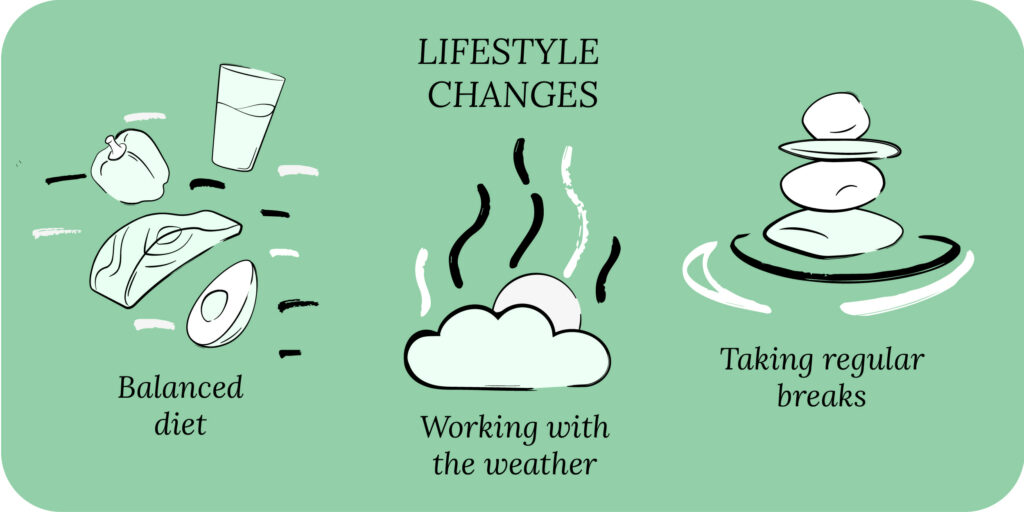 What to do if Your Eyes are Injured at Work
Although there are several ways to keep your eyes safe at work, unfortunately, accidents can happen. Injuries can range from minor to severe. As the patient, you may not know how bad your injury is. If you suspect or know that your eyes have been injured at work, it's important to seek help from an eye care professional who may recommend medical treatment.
Because dry eyes can worsen due to injury and long-term use of digital screens, we recommend working with an eyecare professional to diagnose any immediate issues and develop a plan to treat them. They should be able to help you develop a long-term strategy for taking care of your eyes.
A doctor-recommended strategy combined with lifestyle and hygiene modifications can significantly improve your eye health and dry eye symptoms.

Perfect for eye dryness, burning, itching, grittiness, crusting/flaking of eyelashes and inflamed/swollen eyelids. Free shipping 📦.
Putting it All Together
We hope that you'll join us in raising awareness for Workplace Eye Wellness during Workplace Eye Wellness Month. Your eyes can be exposed to dangers in the workplace, but there are ways to stay safe.
Talk to your employer if you are concerned about hazardous eye situations at work. Ask for help coming up with a solution for your eye health. If you do experience an eye injury at work, seek help right away from a trusted eye care professional.
Keeping your eyes healthy at work is an important step in your overall dry eye treatment plan. We want you to find joy in what you do every day, and that includes your daily activities and productivity at work.
Want to take care of your eyes but not sure where to start?
What's Next
Want to learn more about dry eye disease and overall eye health? We recommend taking our Dry Eye 101 course!
If you've already taken it, amazing! Check out more articles in the Continuing Education section below.