Grey Spot On White Of Eye
When you look in the mirror, you may notice a new gray or brown spot on the white of your eye that you haven't noticed before. Maybe it has been there for a period of time, but seems to be growing. A new growth or spot on the eye can be concerning and should be examined by an eye doctor.
Many conditions like a pterygium or pinguecula, are a result of UV exposure and may require treatment. Others can be deadly. According to rarediseases.org, ocular melanoma is the most common primary cancer affecting the eye and is estimated to be diagnosed in about 2,500 people in the United States each year.
You brush your teeth,
moisturize your skin,
what about your eyes?
Key Points
Growths on the eye can be congenital or acquired, benign or malignant.
If the growth changes in size, color, elevation or shape, an individual should seek medical attention.
Treatment can range from monitoring and managing the symptoms to removal of the lesion.
Parts of the Eye
Eye growths and eye spots most often affect the cornea and conjunctiva. They can be congenital or acquired. Acquired spots on the eye could be indicative of a more serious condition of the eye.
The eyeball can be divided into two parts: anterior and posterior segment. The anterior part of the eye includes the cornea, conjunctiva. The sclera, retina and optic nerve are important structures in the posterior aspect of the eye.
An understanding of eye anatomy can be helpful in determining which part of your eye is being affected by a lesion or spot.
Cornea
The cornea is the transparent layer forming the front part of your eye. The cornea is one of the most densely innervated parts of the body. The nerves found in the anterior segment regulate many aspects of eye function including the blink reflex, tear production, and tissue regeneration.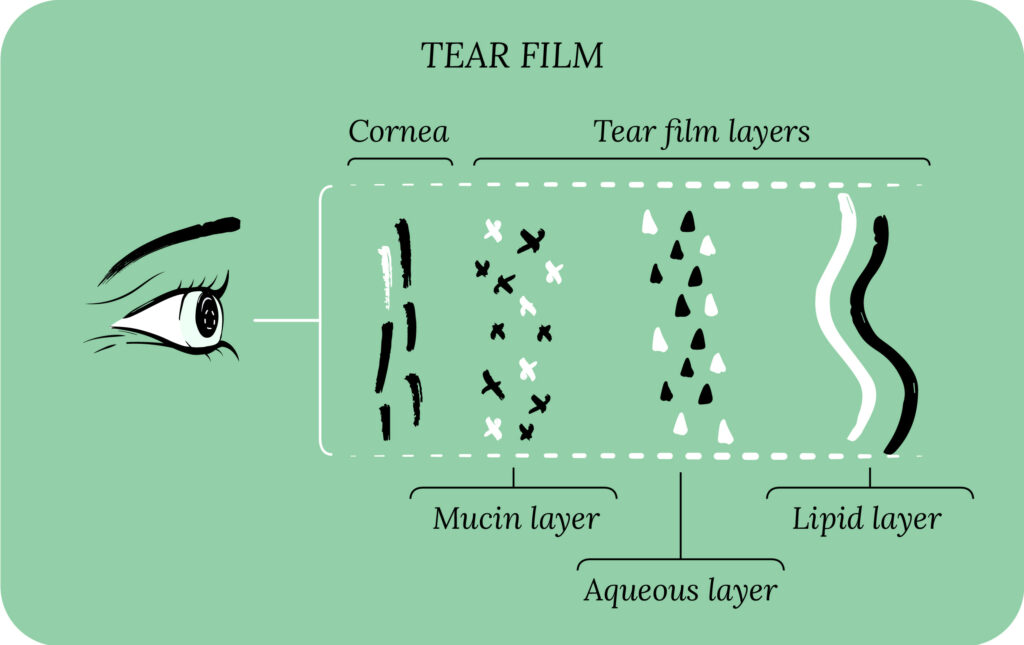 Conjunctiva
The conjunctiva provides protection and lubrication of the eye by producing mucus. It prevents microbial entrance and plays a role in immune protection. It lines the inside of the eyelids and covers the sclera. It is composed of many blood and lymphatic vessels.1
Sclera
The sclera is the white part of the eye which supports the structure of the eyeball. It helps maintain your eyeball's shape, and protects it from injury.
Retina
The retina is a layer composed of photoreceptors and glial cells inside the eye that captures incoming photons and transmits them along neuronal pathways as both electrical and chemical signals for the brain to perceive a visual picture. The retina is located in the posterior segment and forms the innermost boundary.2
Receive exclusive offers about eye health and wellness, courses, and more!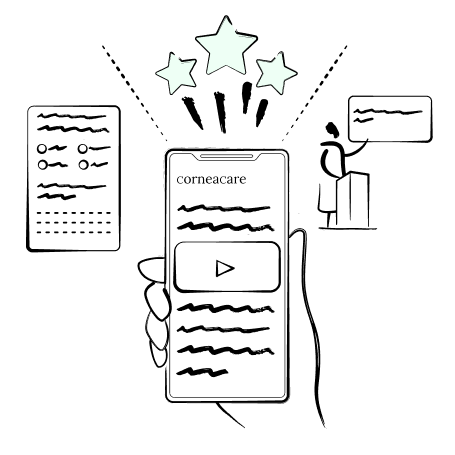 Optic Nerve
The optic nerve is the second cranial nerve (CN II) and is responsible for transmitting visual information from the eye to the brain. The optic nerves of both eyes meet at the optic chiasm and form the optic tracts which criss-cross before entering the brain. Damage to the optic nerve from a disease like glaucoma results in visual field defects and/or visual loss.3
Growth on the Eye
An eye doctor, like an optometrist or ophthalmologist, can determine the type of growth or discoloration on the eye, and if it is benign or if it needs medical attention.
Pterygium
A pterygium is a degenerative condition caused by the fibrovascular outgrowth of the conjunctiva over the cornea. Many factors may cause pterygium, but ultraviolet radiation is the most important. A pterygium is usually asymptomatic, but dry eye symptoms can present such as burning, itching, and/or tearing. As the lesion grows toward the optical zone (pupil margin), visual acuity can be affected and surgical treatment is required. The lesion can regrow, become more aggressive, and cause irregular corneal astigmatism. Surgery is aimed at lesion removal, but also at preventing a recurrence.4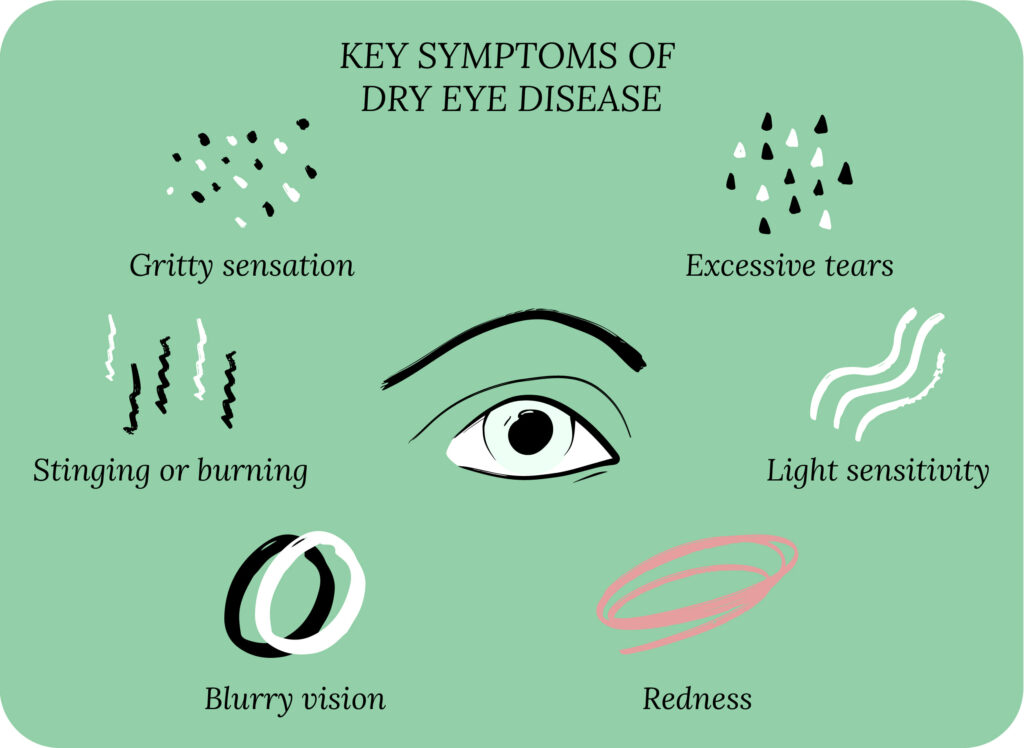 Pinguecula
A pinguecula is a benign, grey or white mass caused by degeneration of the conjunctiva. It occurs in patients exposed to wind, dust, ultraviolet light, and who work outdoors for a long duration of time. Patients may present with mild symptoms like a foreign body sensation and itching, but complaints are typically about its appearance. A pinguecula is often a precursor to a pterygium. An eye doctor will typically treat the symptoms and recommend UV protection.5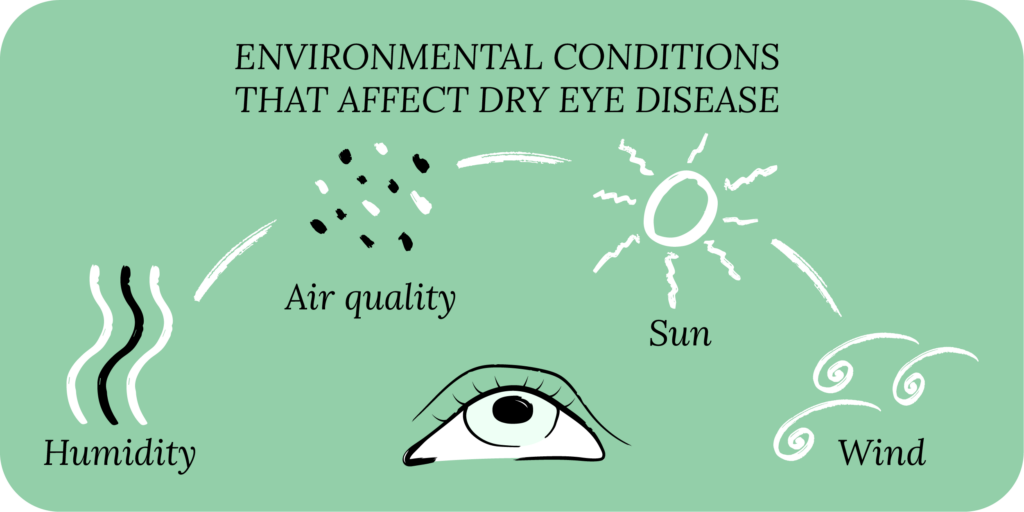 Blood Vessels
Sometimes blood vessels may appear more pronounced on the eye. The creation of new blood vessels is called corneal neovascularization and is major cause of vision loss worldwide, leading to corneal opacification and chronic inflammation.6 Corneal neovascularization can be caused by an infection, contact lens wear, trauma, chemical burn, immunologic diseases, degeneration or intraocular conditions such as uveitis, glaucoma, and pthisis bulbi.7
Spots on the Eye
Brown or grey spots on the eye may be benign or cancerous, congenital or acquired. A trained medical professional can identify these conditions and provide appropriate treatment.
Racial Conjunctival Melanosis
One cause of brown spots on the conjunctiva is called racial conjunctival melanosis and is present in 92.5% of blacks. Black patients have a lower incidence rate of melanoma due to the protective effects of melanin which can filter out twice as much ultraviolet-B radiation as in whites.8
Chat, share, and learn from our doctors, coaches and others like yourself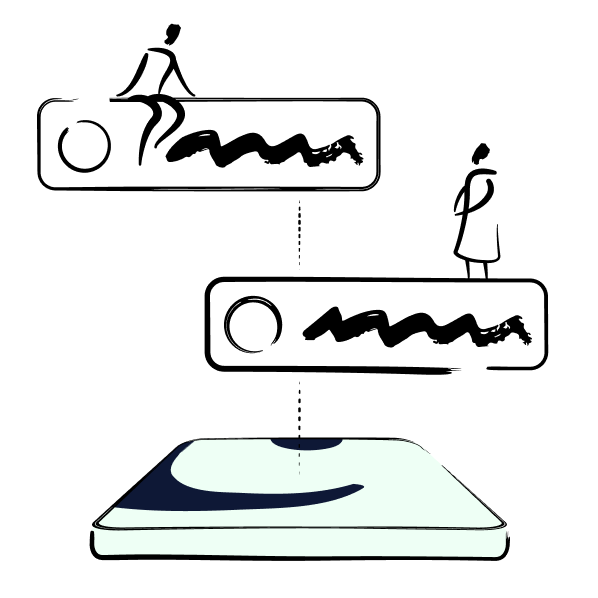 Melanocytosis
Congenital oculodermal melanocytosis is a unilateral accumulation of melanocytes in the episclera, sclera and uveal tract. This disorder is a risk factor for the development of uveal melanoma and chronic glaucoma. It may present with iris heterochromia, episcleral and scleral pigmented patches, dark pigmentation of the trabecular meshwork and the fundus.9
Senile Scleral Plaques
Senile scleral plaques are oblong, slate-grey spots found on the sclera posterior to the limbus, but anterior to the insertions of the horizontal rectus muscles. The grey color of the plaque is due to hyaline degeneration of the sclera, which causes the underlying uvea to become visible. Senile scleral plaques are most frequently seen in elderly persons above 70 years of age and are more prevalent in women. Scleral plaques are usually found on a routine eye exam because patients are typically asymptomatic, and treatment is not needed.10
Axenfeld Nerve Loop
Axenfeld nerve loops are loops of the long posterior ciliary nerves within the sclera, and are often found about 2.5-3 mm posterior to the limbus. They are a normal anatomic landmark and are present in all eyes. The loops may look like gray spots or white nodules on the bulbar conjunctiva and may be surrounded by pigment.11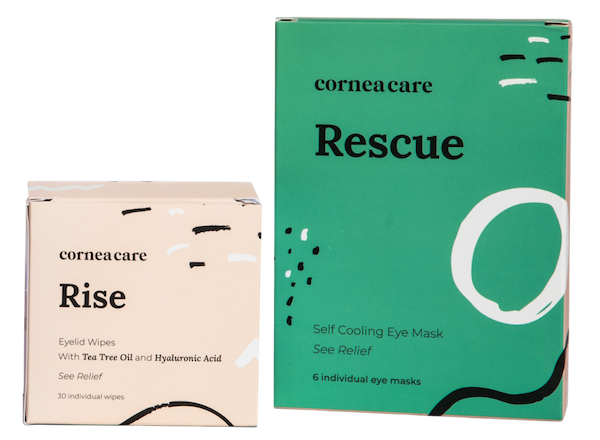 Perfect for eye dryness, burning, itching, pain, crusting/flaking of eyelashes and inflamed eyelids. Free shipping 📦.
Freckle or Nevus
A freckle or nevus is a cluster of pigmented cells which appears as a brown spot on the skin or the eye due to sun exposure. Freckles are caused by an overproduction of melanin. Freckles are not harmful, but should be carefully monitored to make sure they do not become malignant. If any change in color, asymmetry, diameter, elevation or new blood vessel growth is observed, the lesion should be examined by a doctor.12
Primary Acquired Melanosis
Conjunctival primary acquired melanosis (PAM) is an acquired flat, painless noncystic pigmented lesion of the conjunctiva. It occurs unilaterally in Caucasian, middle-aged individuals and accounts for 11% of all conjunctival tumors and 21% of all melanocytic lesions of the conjunctiva. It can be a benign or precancerous lesion. It can be difficult to document by clinical exam and photography; an anterior segment OCT has been proven useful for management.13
Ocular Melanoma
Intraocular melanoma of the ciliary body and choroid is the most common primary eye cancer in adults and the most common type of melanoma outside of skin cancer. Iris melanomas are a subset of uveal melanomas that tend to have a more benign course when compared to posterior uveal melanomas, and a lower incidence of metastases when compared to ciliary body and choroidal melanomas.14
The incidence of uveal melanoma increases with age, and is more common in males and light-skinned individuals. Sunlight is the most important risk factor for the development of ocular melanoma. Despite successful local control, study data suggests that up to 50% of patients with intraocular melanoma will have metastatic disease. The two most common treatment options for malignant melanoma are radiation therapy and enucleation.14
Symptoms of New Growths or Spots
Most spots or new growths do not have symptoms, but are cosmetically concerning. Others may have symptoms of dry eye like foreign body sensation, burning, and itching. Malignant conditions like melanocytosis and ocular melanoma require advanced treatments and may result in vision loss.

Perfect for eye dryness, burning, itching, grittiness, crusting/flaking of eyelashes and inflamed/swollen eyelids. Free shipping 📦.
Putting It All Together
Grey spots or brown spots on the white part of the eye can be several different medical conditions. Most lesions do not have any symptoms until they are more advanced. Any concerning spot or growth on the eye should be examined by a doctor to ensure it is not a malignant eye cancer.
Want to take care of your eyes but not sure where to start?
What's Next
Learn to love your eyes! Read more eye health and wellness tips on our blog.