Regular eye exams are a vital part of maintaining optimal eye health and detecting potential issues early. Just like any other part of your body, your eyes require regular care and attention. However, you may have wondered how long an eye exam is and how it fits into your busy schedule.
Your eyes are unique, and so are your eye health needs. Eye exams are not just about checking your visual acuity or determining whether you need glasses or contact lenses. They include a comprehensive evaluation of your eye health, assessing the various structures and functions of your eyes, and detecting any signs of diseases or conditions that could potentially impact your vision.
In this guide, we'll walk you through the different stages of an eye exam and look at the factors that can influence the duration of an eye exam.
Key Points
A comprehensive eye exam may take about an hour and will vary based on individual factors.
Have an eye exam every two years as an adult, annually after the age of 65, and more frequently if you have certain eye conditions or wear prescription lenses.
Regular eye exams are important for everyone, even if your vision is perfectly clear.
You brush your teeth,
moisturize your skin,
what about your eyes?
Understanding the Eye Exam Process
An eye examination consists of several stages, each serving a specific purpose in assessing and preserving your eye health. These steps typically include pre-exam procedures, visual acuity tests, refraction tests, and ocular health examinations. Let's take a closer look at each of these stages.
Pre-exam Procedures
Before your eye exam begins, you'll be asked to complete some paperwork and provide your medical history. Having this information helps your optometrist or ophthalmologist understand any pre-existing conditions or medications that may affect your eye health.
Your eye doctor will go over your medical history with you and ask questions about any family history of eye problems. This is important as certain eye conditions, like glaucoma, retinal degeneration, and cataracts, can have a genetic component.1
Visual Acuity Tests
Visual acuity tests evaluate your ability to see clearly at different distances. The most common vision test involves reading letters from a standardized eye chart. Your eye doctor will determine your visual acuity by assessing how accurately you can identify these letters.2
Refraction Tests
Refraction tests help determine if you have any refractive errors such as nearsightedness, farsightedness, or astigmatism. During this test, your optometrist will use a phoropter, an instrument containing different lenses, to refine your vision and find the optimal prescription for glasses or contact lenses.2
Ocular Health Examination
The ocular health examination is a crucial part of the routine eye exam. During this phase of your eye exam, your eye doctor carefully examines both the external and internal structures of your eye, including the retina and optic nerve, to detect any signs of eye diseases, conditions, or abnormalities. Your doctor may use a slit lamp to look closely at the front of your eyes and administer a quick puff of air to determine the pressure inside your eyes. Eye pressure can also be measured using an applanator or a digital hand-held device.
If you're at risk of eye disease or have a systemic health condition such as diabetes, high blood pressure, or high cholesterol, your eye doctor may request additional tests.
Additional Specialized Assessments
Depending on your specific needs and concerns, your optometrist or ophthalmologist may perform additional tests to assess certain aspects of your eye health. These tests can include evaluating color vision, assessing depth perception, measuring peripheral vision, or examining the functionality of your eye muscles.

Perfect for eye dryness, burning, itching, grittiness, crusting/flaking of eyelashes and inflamed/swollen eyelids. Free shipping 📦.
Types of Eye Exams
Different types of eye exams cater to different age groups and their specific needs.
Children's Eye Exams

Children's eye exams evaluate the eye health and visual development of infants, toddlers, and school-age children. It's important to have your child's eyes examined by an eye doctor if they are having vision challenges or are at risk of eye problems. Do not rely solely on the simple vision screenings conducted at schools, health fairs, and in the pediatrician's office.2
Children's eye exams take into account the unique visual needs of children and typically involve the following:2
Assessment of the child's ability to see clearly at various distances
Evaluation of eye alignment and coordination
Examination of the eye structures to identify any abnormalities or eye conditions
Screening for common childhood vision problems, such as amblyopia (lazy eye) or strabismus (crossed or misaligned eyes)
Discussion with parents regarding the child's visual development, any observed issues, or family history of eye conditions
Recommendations for managing and correcting vision problems, if detected
Children's eye exams are crucial for ensuring healthy visual development and identifying and addressing any potential issues that may affect their learning, social interactions, and overall well-being.
Eye Exams for Adults and Seniors
Adult and senior eye exams assess and monitor the eye health of individuals as they age. Adults should have a comprehensive eye exam by the age of 40. If you have diabetes, high blood pressure, or a family history of eye disease, don't wait until you're 40.2,3
Once you establish a baseline for your eye health, see your eye doctor every two years or more often if you wear corrective lenses or are at high risk for eye disease. After your 65th birthday, have your eyes checked annually.3
Exams for adults and seniors typically include the following:3
Visual acuity and refraction tests to evaluate the clarity of vision and determine the need for corrective lenses for astigmatism, hyperopia, myopia, or presbyopia and an eyewear prescription if needed
Ocular health examination to check for signs of eye diseases such as cataracts, macular degeneration, and diabetic retinopathy
Evaluation of eye movement, coordination, and muscle function
Assessment of your eye pressure
Examination of the retina and optic nerve
Discussion of any specific concerns such as symptoms of dry eyes
Regardless of your regular eye exam schedule, contact your eye doctor if you experience an eye injury, infection, eye pain, or sudden floaters or flashes of light.3
Contact Lens Exam
A contact lens exam is a specialized examination for individuals with a contact lens prescription. This exam is necessary to ensure safe and comfortable contact lens wear, minimize the risk of complications, and achieve the best visual outcome for those who prefer contact lenses over eyeglasses.4
A contact lens exam may include:4
Evaluation of eye health and suitability for contact lens wear, including a tear film test
Measurement of the cornea's shape and curvature to determine the appropriate contact lens fit
Assessment of visual acuity with contact lenses to ensure optimal vision correction
Instruction on proper contact lens hygiene, insertion, removal, and care to prevent eye infections
Factors Affecting How Long an Eye Exam Takes
The duration of an eye exam varies based on your eye health and visual requirements, but on average, you can anticipate spending up to an hour at your appointment. If you are at high risk for eye disease or you have other specific concerns, your optometrist or ophthalmologist may need to conduct additional tests to ensure a thorough assessment, which could extend the duration of the exam. A complex medical history or pre-existing eye conditions may also extend your eye exam.
If you're diligent about scheduling regular eye exams, the length of future exams may be shorter. Regular check-ups help establish a baseline, allowing your eye doctor to track changes more efficiently.
When it comes to eyeglasses or contact lenses, your eye doctor will dedicate more time to determining your prescription and the best lenses for your unique needs. Additionally, you'll have the opportunity to select your favorite frames, which adds extra time to your visit.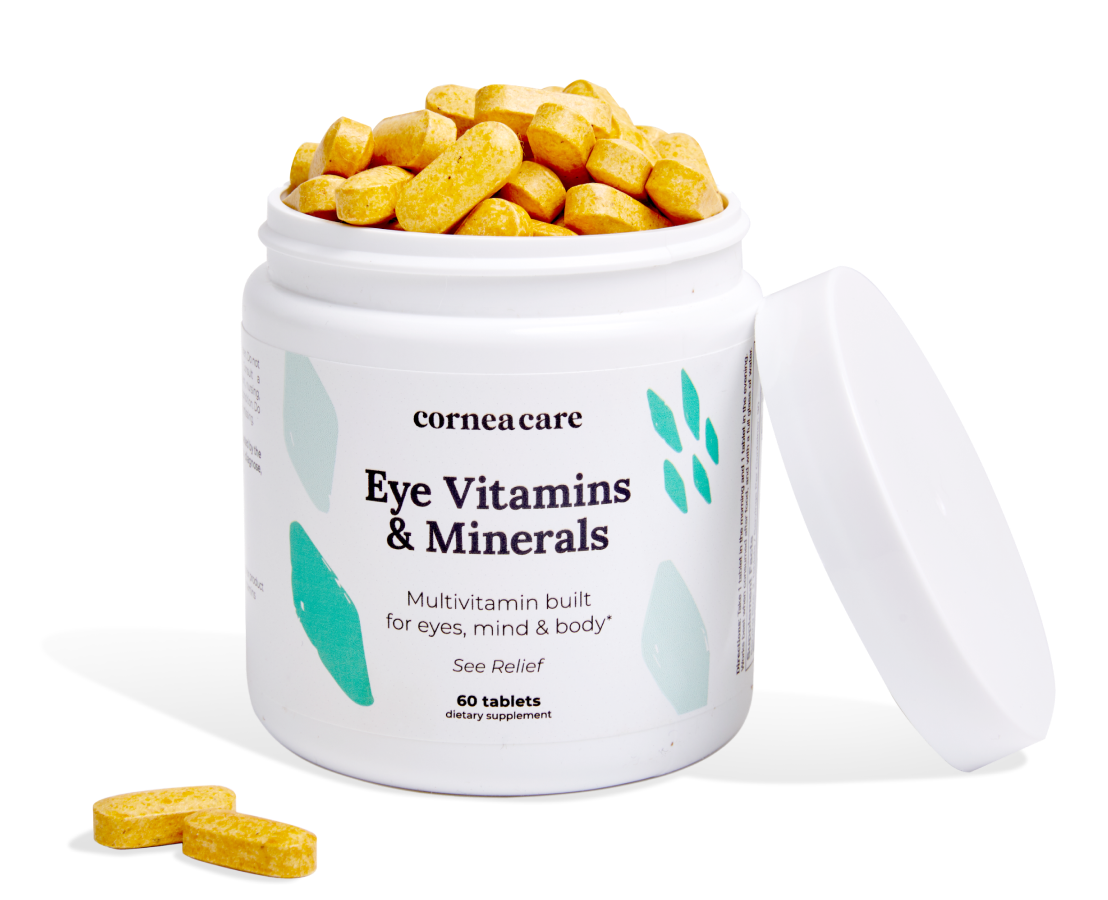 A single multivitamin to address the nutritional needs of your eyes, mind and body. 📦 Free shipping.
Benefits of Regular Eye Exams
Regular eye exams offer several significant benefits. Having clear vision does not mean you don't need eye exams, as the health of your eyes extends far beyond visual clarity.
Early detection of eye diseases
Comprehensive eye exams can detect early signs of eye diseases and conditions like glaucoma, cataracts, or macular degeneration. Certain eye diseases can harm your eyes without any early symptoms or changes to your vision. Early detection allows for timely treatment and management, potentially preserving your vision and preventing further damage.
Assessment of overall health
Eye exams can provide insights into your overall health. Systemic conditions like diabetes, hypertension, and autoimmune diseases can manifest signs in the eyes. By detecting these signs during an eye exam, your eye doctor may recommend further medical evaluation or coordinate with other healthcare professionals for comprehensive care.
Personalized eye care
Regular eye exams help your eye doctor establish a baseline for your eye health. They can then provide personalized recommendations tailored to your needs, lifestyle, and risks. This may include advice on eyelid hygiene, eye health supplements, preventive measures, visual aids like glasses or contact lenses, or suggestions for managing existing eye conditions.
Eye Exam FAQs
How long is an eye exam?
Routine eye appointments with your regular eye doctor often take around 30 minutes or less. However, for new patients, those experiencing symptoms, requiring a contact lens fitting, or undergoing pupil dilation, the appointment may be an hour or longer.
How often should I have an eye exam?
It is generally recommended to have an eye exam every 1 to 2 years as an adult, although the frequency may vary based on individual factors and specific eye health needs. If you wear contact lenses or glasses, see your eye doctor every year. After the age of 65, you should have a comprehensive eye examination annually. 
What happens during an eye exam?
During an eye exam, your eye doctor will perform various tests to evaluate your vision, check for eye diseases, assess your eye health, and determine the need for corrective measures such as glasses or contact lenses.
Putting It All Together
Annual eye exams are essential for maintaining eye health and detecting potential issues early. Your eye exam may take 30 minutes to an hour, based on individual factors. You can ensure an efficient and comprehensive examination by adequately preparing for your eye exam, communicating your concerns, and staying committed to regular check-ups.
Prioritizing your eye health today means preserving your vision and enjoying the beauty of the world around you for years to come. Schedule your next eye exam, take an active role in your eye care, and embrace a future filled with clear sight and optimal eye health.
Want to take care of your eyes but not sure where to start?
What's Next
At CorneaCare, we're on a mission to help you keep your eyes healthy for life. Read more now on the eye health & wellness blog!