Glaucoma and dry eye disease often occur together. Glaucoma is a serious eye disease and a leading cause of vision loss in adults.1 Dry eye disease is an uncomfortable and sometimes painful condition caused by tear film instability that can negatively impact your daily life.
Dry eye disease falls under the category of ocular surface disease (OSD) and often occurs with glaucoma.1
Eye drops used to treat glaucoma often have the side effect of dry eyes in many glaucoma patients. Glaucoma and dry eye have some risk factors in common, making it likely for the two conditions to develop concurrently.1
Research indicates that the prevalence of OSD in glaucoma patients worldwide is almost 60 percent. That is a rate much higher than what is found in people who do not have glaucoma.2
While treatment of these two chronic conditions presents some challenges, working together with your eye doctor to determine the right treatment options for you can preserve your vision and keep your eyes healthy for life.
Key Points
Glaucoma and dry eye disease often occur together, especially in older adults.
While glaucoma can be asymptomatic, dry eye causes redness, burning, itching, and other discomforts.
There are many treatment options for both glaucoma and dry eye disease, though finding the right combination can be challenging.
No one taking your
dry eyes seriously?
What is Glaucoma?
Glaucoma is a serious vision-threatening condition caused by damage to your optic nerve, often related to elevated pressure in your eyes. Without treatment, glaucoma is likely to result in blindness.
Glaucoma is a worldwide problem increasing every year. In 2020, studies showed that 76 million people over the age of 40 had glaucoma. Further, researchers predict that number will be over 100 million by the year 2040.3
Having no symptoms in the early stages, it is essential to have regular eye exams so that your eye care professional can detect signs of glaucoma early. With prompt treatment, it is possible to manage the condition and preserve your eyesight.
In a healthy eye, the clear fluid at the front of your eyes (the aqueous humor) flows through to the eye's drainage system. A balanced amount of fluid production and fluid drainage in the eye maintains a healthy inner pressure (intraocular pressure or IOP).4
In most cases of glaucoma, the drainage system of the eye becomes clogged and your eye pressure becomes elevated. Heightened IOP causes damage to the optic nerve resulting in vision loss over time.4 Your eye doctor will assess any visual field defects during a thorough eye exam.
Causes of Glaucoma
Studies point to genetic factors having a part in most types of glaucoma.4
In the most common form of glaucoma, primary open-angle glaucoma (POAG), no physical condition of the eye is a clear cause.5
Though we often think of glaucoma as a disease that affects older adults, there are types of glaucoma found in infants and young children. A top cause of blindness in children, primary congenital glaucoma (PCG), affects children from birth to 3 years of age.5
Glaucoma can affect people of all ages, from infants to adults. However, the most common risk factors include:
Age over 60 years
African, Asian, or Hispanic descent
Glaucoma present in family medical history
Being very nearsighted or far-sighted
History of using steroid medications
High intraocular pressure
Eyes with a thin central cornea
History of eye injury or surgery
Symptoms of Glaucoma
In most cases of glaucoma, drainage problems that cause fluid buildup and high eye pressure happen gradually over time. You wouldn't notice any pain, discomfort, or other symptoms.
Once your central vision is affected, the disease is already in its later stages. The first loss of vision to occur with glaucoma is usually of your peripheral (side) vision. Later, you lose your central vision making driving, reading, working on a computer, and other common tasks difficult, or even impossible.
There are less common types of glaucoma as well. With these, you may notice symptoms such as eye pain or hazy vision.

Perfect for eye dryness, burning, itching, grittiness, crusting/flaking of eyelashes and inflamed/swollen eyelids. Free shipping 📦.
What is Dry Eye Disease?
Dry eye disease is a common condition caused by a decrease in tear production or an increase in the evaporation of the tear film. In many cases, both low tear production and rapid tear evaporation are present in dry eye patients. Dry eye disease is very common, affecting over 30 million adults in the U.S. and over 300 million people worldwide.6
If dry eye is suspected with glaucoma, your eye doctor will conduct a thorough eye exam and present you with the Ocular Surface Disease Index (OSDI) symptom questionnaire to assess your symptoms.
Symptoms of Dry Eye Disease
Dry eye symptoms often include dryness, foreign body sensation, burning, redness, a gritty feeling in the eye, and sometimes excessive tearing.
Dry eye disease starts with mild symptoms that may not cause much trouble. However, you may find your symptoms of dry eye worsening as the condition progresses. Early detection and the prompt start of treatment are important to prevent serious damage to your eyes.
Without treatment, dry eye disease can be detrimental to your quality of life as well.
Causes of Dry Eye Syndrome
Dry eye disease is caused by tear film instability, which can mean low tear production, rapid tear evaporation, or, in most cases, a combination of both. Many factors can result in dry eye disease including, unfortunately for glaucoma patients, long-term use of glaucoma eye drops.
Other factors that lead to dry eyes include:7
Extensive use of computers, television, and other digital screens
Environmental causes such as low humidity, high winds, smoking, and excess indoor heat or forced air
History of eye surgery, eye injury, or eye infection
Autoimmune conditions such as Sjogren's syndrome, lupus, and rheumatoid arthritis
Antihistamines, oral contraceptives, steroids, antidepressants, and certain other medications
Blepharitis (eyelid inflammation)
Dry eye disease, like open-angle glaucoma, is more prevalent in aging adults. Studies have shown that approximately half of all glaucoma patients have dry eye syndrome, with women being more likely than men to have it.3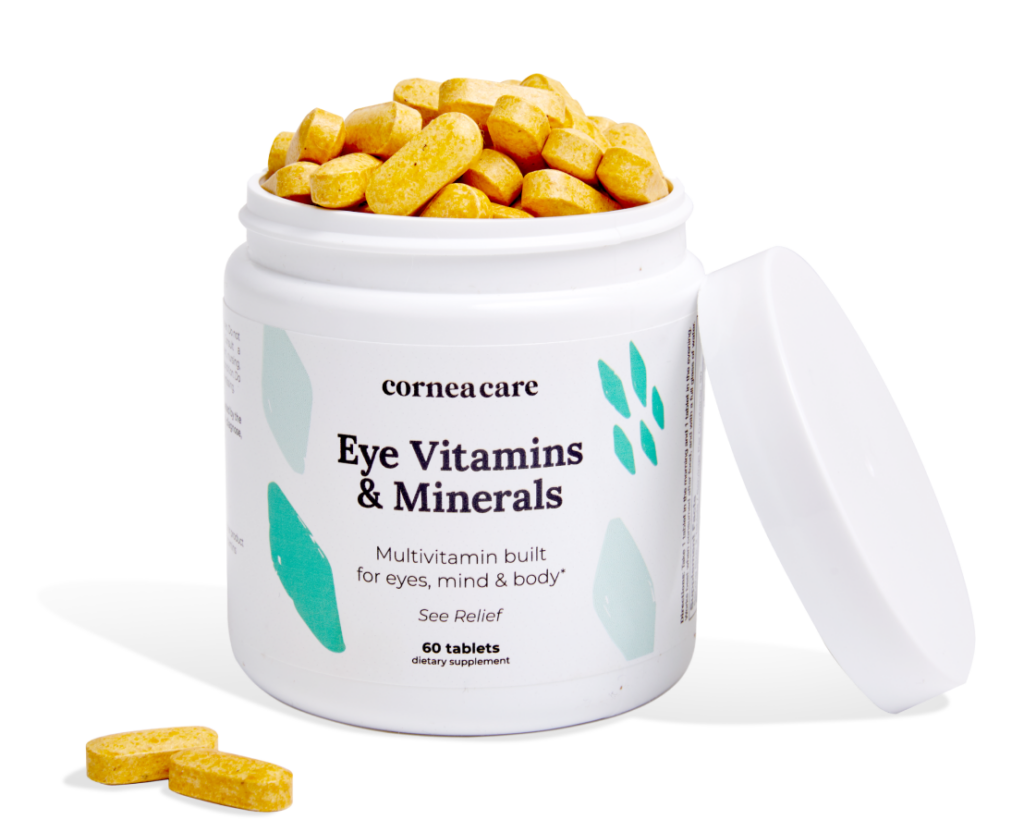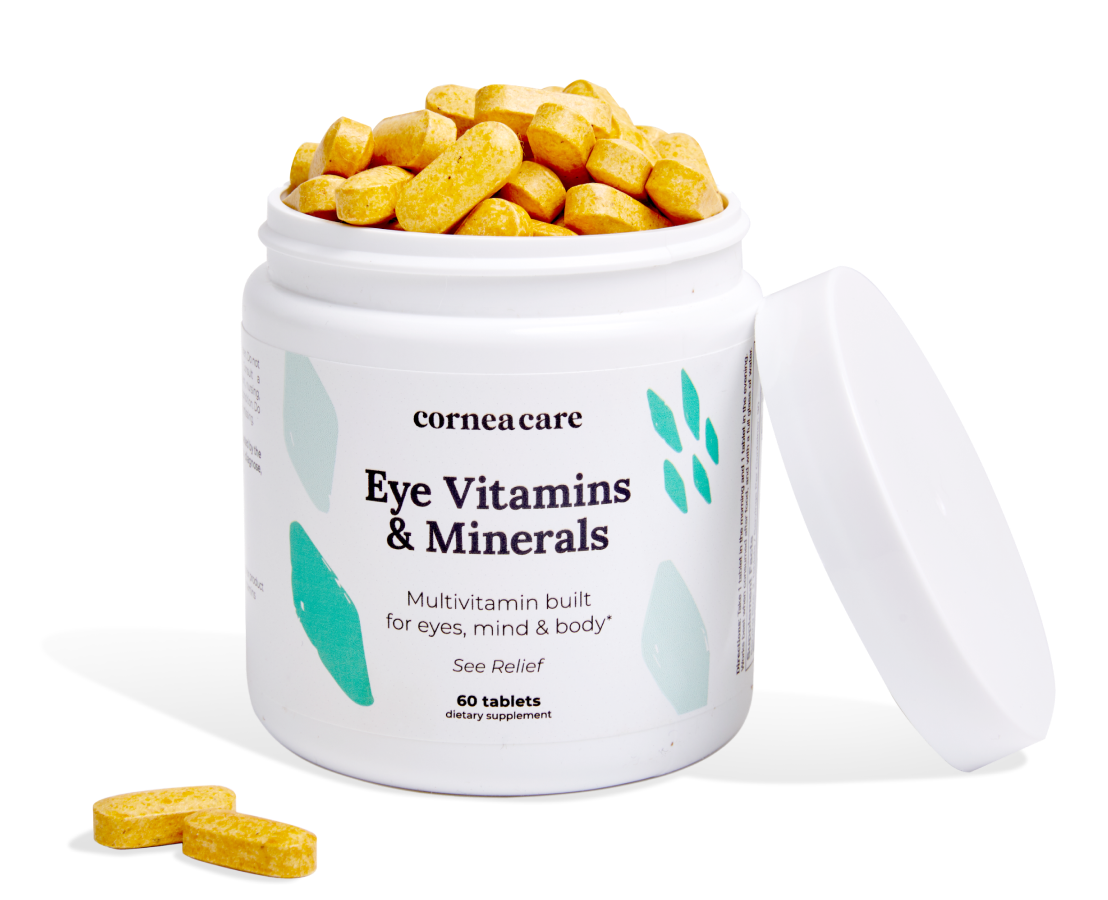 A single multivitamin to address the nutritional needs of your eyes, mind and body. 📦 Free shipping.
Living with Glaucoma and Dry Eyes
There are challenges with the treatment for glaucoma and dry eyes for both you and your eye doctor. Treating the symptoms of dry eye syndrome is important to improve your daily comfort and quality of life. It's also important to preserve the health of the surface of the eye.
However, because glaucoma can cause vision loss, even if you have both glaucoma and dry eye syndrome, glaucoma treatment will be prioritized over treating dry eye disease. Indeed, this will be the case even if your dry eye symptoms are causing you daily discomfort.
One challenge is that treatment for glaucoma often includes sustained use of prescription eye drops that lower intraocular pressure. However, the most common glaucoma medications contain a preservative called benzalkonium chloride (BAK). BAK has been found to cause corneal epithelial and conjunctiva damage, which leads to dry eye disease.8
Treatment Options for Glaucoma and Dry Eyes
Your eye doctor (optometrist or ophthalmologist) will likely try a combination of different treatment options for glaucoma and dry eyes to find what works best for you. There are a lot of different choices to evaluate.
Treatment options for glaucoma patients may include medications such as prostaglandins, laser trabeculoplasty, and surgery.
The first step in treating dry eye is beginning an eyelid hygiene routine. In addition, artificial tears can help hydrate the eyes. For best results, choose CorneaCare's preservative-free artificial tears.
Treatment with lubricants in the form of eye drops supports the health of your eye's tear film and keeps your eyes more comfortable.
Other dry eye treatment options include:7
Practicing good eyelid hygiene including warm compresses and eyelid wipes
Changes to your environment such as redirecting airflow away from eyes, using a humidifier indoors, avoiding smoke, wearing sunglasses outdoors, and taking regular breaks from screen use
Dietary changes and the addition of daily eye vitamins and omega-3 supplements
Switching to glasses instead of wearing contact lenses
Punctal plugs to allow tears to remain in your eyes longer
Topical medications in the form of eye drops such as cyclosporine to treat inflammation
Glaucoma treatments in patients with dry eye symptoms may differ from the norm. Your eye doctor may change your prescription to preservative-free glaucoma medications, from those containing harmful preservatives. Combination eye drops may also be recommended.
Putting It All Together
Glaucoma and dry eye disease are both chronic conditions that often occur together. Glaucoma is a serious eye disease that causes blindness, while dry eye disease is a debilitating disorder that affects your quality of life.
These conditions are not curable but can be managed by working together with your eye doctor to find the right treatment plan.
Want to take care of your dry eyes but not sure where to start?
What's Next
CorneaCare's free Dry Eye 101 course was designed with you in mind. Begin today to learn how you can take control of your dry eyes for good!