Healthy Eyes for Life: A Simple Plan
More people are taking preventative measures to protect their heart, brain, teeth and skin for the long run. But what about the eyes? If you want to have healthy eyes for life, you have to take care of them much like the rest of your body – with simple, everyday habits.
In this article, we'll explore five ways to make eyecare a part of your self-care. By taking care of your eyelids that protect your eyes, eating a healthy diet, avoiding sun and screen damage and getting regular eye exams, you can have healthy eyes for life.
Key Points
Having healthy eyes for life means preventing eye infections and eye disease, seeing clearly and comfortably and enjoying life without restrictions.
Eyecare should be a part of any self-care plan.
Ways to keep your eyes healthy include eating a balanced diet, practicing good eyelid hygiene, avoiding sun damage, limiting screen time, and regularly seeing an eye doctor.
You brush your teeth,
moisturize your skin,
what about your eyes?
Keywords
Dry eye disease, eye health and wellness, eyelid hygiene, nutrition
Taking the First Step
How often do you think about the longevity of your eyes? We all want to be able to see the world around us, and for as long as possible.
Healthy vision starts with basic eyecare and an overall wellness plan that includes your eye health and overall wellbeing. Typically, what's good for your eyes is good for your body and vice versa. For example, avoiding direct ultraviolet light from the sun is good for your eyes in preventing conditions like cataracts. Staying out of the sun is also good for your skin, limiting your risk of skin cancer.
Once you understand the basics of eye health and wellness, you'll see that incorporating eyecare into your self-care can be done easily and effectively.
Make Eyecare a Part of Your Self-Care
Everyone practices self-care differently. Some people take baths or meditate to keep stress levels low. Others find that a good exercise routine and making their favorite green smoothie everyday limit how often they get sick.
Whatever your self-care routine looks like, there's always room for ways to take care of your eyes.
"Eyelid hygiene" is a fairly broad concept with many different interpretations. One thing that most eye doctors (ophthalmologists and optometrists) agree on is that eyelid hygiene is the act of cleansing, massaging and/or compressing the eyelids. This keeps the eyelid glands functioning and the eyes safe from dysfunction, infections and some diseases.¹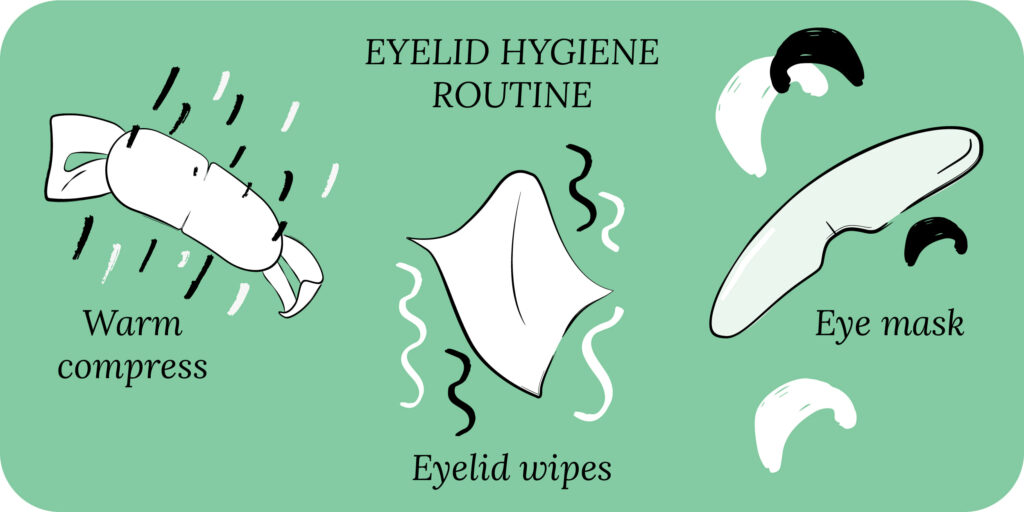 A simple daily eyelid hygiene routine includes:
Eyelid wipes in the morning to remove any buildup and debris from overnight. CorneaCare's Rise Eyelid Wipes use natural ingredients like hyaluronic acid and tea tree oil to cleanse, moisturize, and rejuvenate the eyelids. What a way to wake up!
Cold compress any time during the day that your eyes feel tired, inflamed or dry. You can make your own cold compress at home with a towel or washcloth and cold water, or try a convenient, premade cold compress. CorneaCare's Rescue Cold Compress is great for on-the-go, in the office or while traveling.
Warm compress at night before you go to sleep to wind down. Warm compress like CorneaCare's Rest Warm Compress can help with tired eyes, dry eye symptoms and styes. Plus, it stays warm longer than a traditional warm compress made with a towel and hot water, all without a microwave!

Perfect for eye dryness, burning, itching, grittiness, crusting/flaking of eyelashes and inflamed/swollen eyelids. Free shipping 📦.
Eat an Eye Healthy Diet
Eating the right food has so many benefits for overall health. Most people know that certain foods prevent diseases like diabetes and heart diseases, but are unaware of what foods can help their eyesight long-term.
The best "eye health diet" consists of whole grains, leafy greens, Omega-3 fatty acids and nuts and seeds. A balanced diet with these types of foods can significantly reduce the risk of certain age-related eye diseases, like macular degeneration.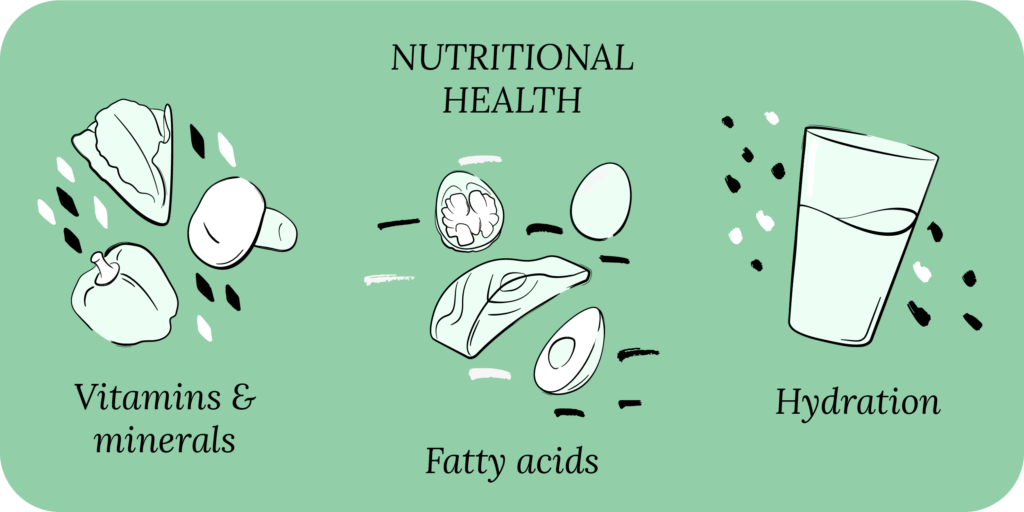 Macular degeneration occurs when the macula (the part of the retina most responsible for sight) thins over time as part of oxidation and the aging process, which leads to central vision loss and blurring. Eating foods rich in antioxidants lutein and zeaxanthin (think leafy greens, sweet potatoes and bell peppers) can help slow the eye aging process.²
In addition to antioxidants, a diet rich in healthy fats like Omega-3 fatty acids, can greatly improve symptoms of dry eyes from dry eye disease (dry eye syndrome).³ People with dry eye disease experience symptoms like redness, burning, itchiness, gritty sensation and watery eyes because there is an imbalance in the glands and ducts that produce tears. Adding more healthy fats from wild-caught fish, olive oil and sunflower seeds, for example, can help keep tears flowing, so to speak.³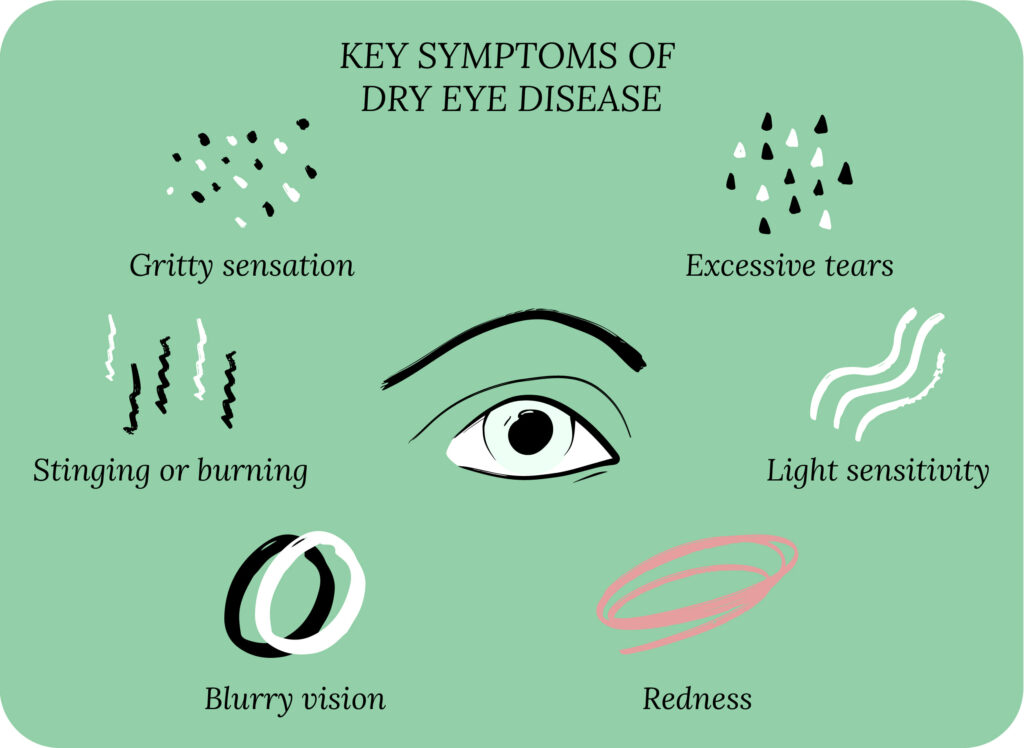 Supplementing with an eye-specific vitamin is also a great way to ensure you are getting the right mix of vitamins and nutrients to keep your eyes healthy for life.
Protect your eyes
Enjoying the sunshine is good for your soul. It delivers a hefty dose of Vitamin D that helps to regulate sleep, support immunity and reduce depression.⁴
However, just like with most things in life, too much of a good thing can be a bad thing. Overexposure to the sun's ultraviolet (UV) rays can cause eye problems such as sunburn and inflammation of the cornea.⁵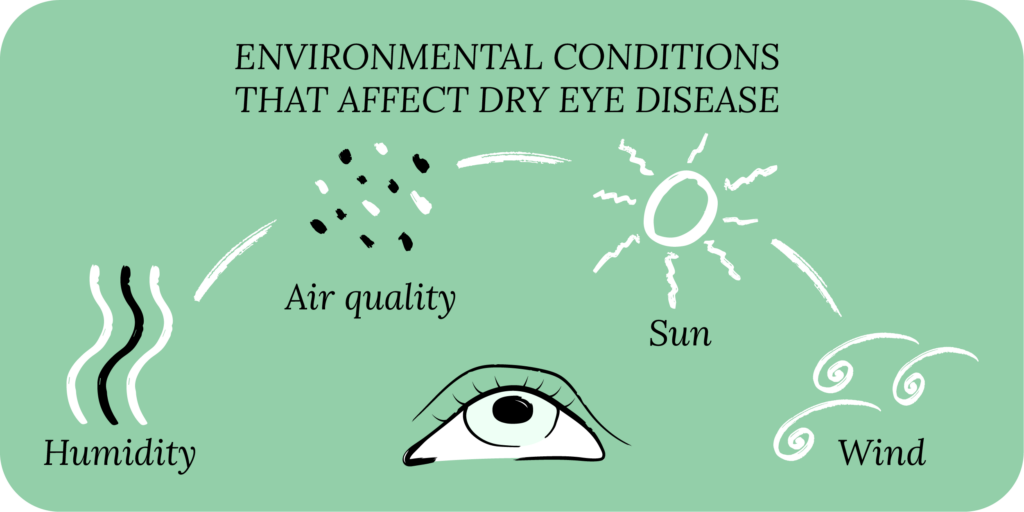 Over time, too much sun exposure, even from its reflection on sand, water or snow, may lead to vision-related eye conditions like cataracts and macular degeneration.⁵
The best way to protect your eyes from the sun is to wear sunglasses or specially prescribed eyewear every time you are outside, especially on high UV index days. You can check the UV index of your city here or use your mobile phone weather app. Wearing a wide-brimmed hat and applying sunscreen are other great ways to protect your eyes and the skin around your eyes.⁶
With the right eye protection, you can still safely enjoy some fun in the sun!
Practice Safe Screen Time
You are reading this article on a digital screen – either a smartphone, tablet or computer. Are you practicing safe screen time?
Digital eye strain (sometimes referred to as computer vision syndrome) is one of those modern-day terms that arose because of the amount of time people spend in front of digital screens. Too much screen time comes with eye strain and associated problems like headaches, dry eyes and even neck pain.⁷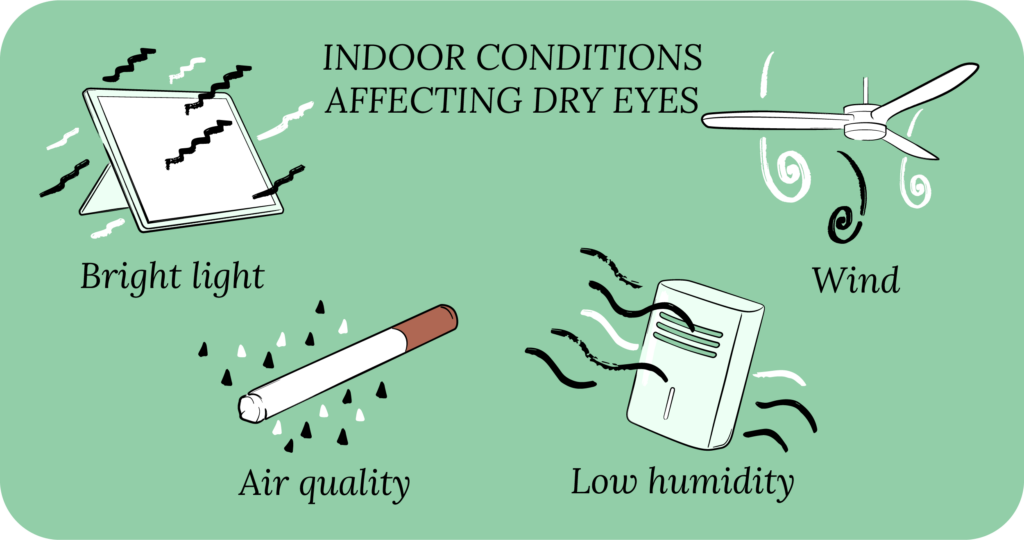 When we use screens, we tend to blink less, which leads to dry eye symptoms. Our tears don't replenish fast enough or dry up too quickly from the overexposure of the ocular surface to the environment.⁷
If you spend a lot of your day in front of a computer or smartphone, make sure you take care of your eyes to prevent chronic dry eye symptoms that can lead to dry eye disease.
Some ways to practice safe screen time include:
Use lubricating artificial tears throughout the day to replenish your tear film. There are many eye drops on the market, but the best eye drop is the one you use consistently and that works for you. You may have to try a few to find the perfect drop for you.
Follow the 20-20-20 rule. After working on a computer or looking at your phone for 20 minutes, look away for 20 seconds to a point about 20 feet away.
Remember to blink often!
Adjust your lighting on your screen and in your surroundings. The brightness of your screen and the lighting in your room should be in balance. When you work in a dark room on a bright screen, your eyes absorb a lot of concentrated light, making them feel "tired."
Start a daily eyelid hygiene routine, including eyelid wipes in the morning, warm compress at night and cold compress as needed throughout the day.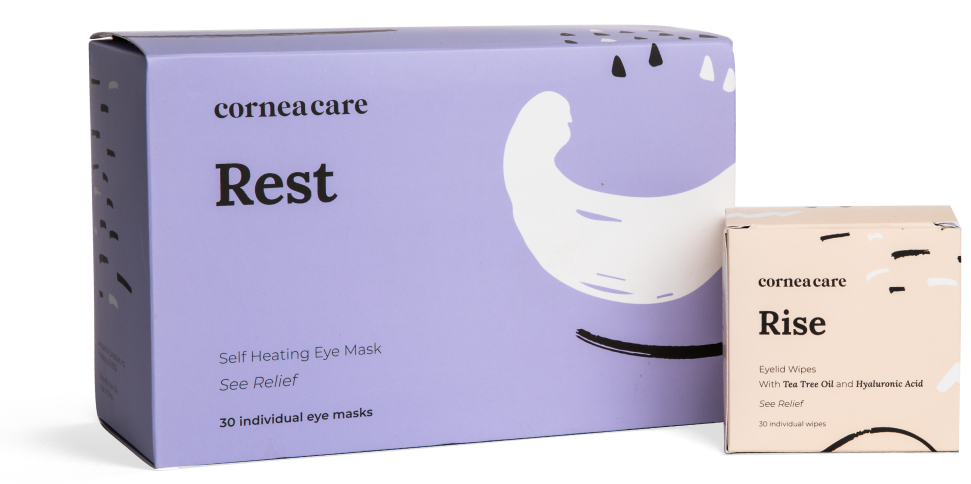 Perfect for eye dryness, burning, itching, crusting/flaking of eyelashes and inflamed eyelids. Free shipping 📦.
See an Eye Doctor
One of the best ways to keep your eyes healthy for life is to see an eye doctor for regular eye exams. Like you visit your dentist for a yearly cleaning and your family doctor for your regular checkup, visit your eye doctor to check in on your eyes.
Don't just visit your eye doctor when you have an eye injury!
Your eye doctor evaluates if you need a new prescription for eyeglasses or contact lenses, or referral for LASIK (refractive) eye surgery. Eye doctors (optometrists and ophthalmologists) will also check for signs of age-related vision problems such as cataracts, glaucoma, or macular degeneration.
If you suffer from other health problems like diabetes, your eye doctor can check for signs of diabetic retinopathy. With diabetes, excessive sugar in your bloodstream can damage your retina.⁸ Your retina detects and transmits light through a nerve called the optic nerve in the back of your eye.⁸
You may not experience any symptoms of diabetic retinopathy, glaucoma or macular degeneration early on, which is why regular exams are so critical.⁸
Putting It All Together
We all want to continue to enjoy life for as long as possible! Having healthy eyes for life is a big part of the equation for lifelong health and happiness.
When you can see the world clearly, perform daily functions comfortably, you are truly living.
Want to take care of your eyes but not sure where to start?
What's Next
Learn to love your eyes! Read more eye health and wellness tips on our blog.