Wearing Contacts with Dry Eyes
While you can wear contacts with dry eyes, a visit to your eye doctor (optometrist or ophthalmologist) is necessary to determine whether contacts are a good choice for you.
According to the CDC, over 45 million Americans wear contact lenses.1 For many patients who require vision correction, contact lenses are preferred because they offer more convenience than glasses.
However, contact lenses can be very uncomfortable for those who have or develop dry eye disease. One study found that contact lens wearers had a three times higher risk of developing symptoms of dry eye disease than those who do not wear contacts.2
In this article, you'll learn how to make the right choices if you wear contacts with dry eyes.
Key Points
Wearing contact lenses can increase your risk of developing symptoms of dry eye disease.
Symptoms of dry eye may include pain, redness, gritty feeling, foreign body sensation, and blurry vision.
Daily contact lenses may be the right choice for contact lens wearers with dry eye symptoms.
You brush your teeth,
moisturize your skin,
what about your eyes?
What is Dry Eye Disease?
To understand the potential link between your contact lens use and dry eye symptoms, let's get clear on what dry eye disease is.
Dry eye disease, also known as dry eye syndrome, is a common condition, affecting millions of adults worldwide. Women and aging adults are most commonly affected, though people of any age may have dry eye disease.3
Also known as keratoconjunctivitis sicca and ocular surface disease, dry eye disease is caused by an unstable tear film and inflammation.3
Causes of Dry Eye Disease
Dry eye happens when your tear glands fail to make enough tears or your tears evaporate too quickly.4
Some of the reasons for this to occur include:
Hormone replacement therapy
Sjogren's syndrome, lupus, and other autoimmune conditions
Dry, low humidity environments
LASIK eye surgery
Certain medications, including antihistamines, blood pressure medications, nasal decongestants, antidepressants, and oral contraceptives
Extended use of computers and other digital screens
Long periods of wearing contact lenses can also lead to dry eyes. Contact lenses may lead to dry eye disease when oxygen flow to the cornea is blocked. Lenses also absorb fluid from your tears, leaving your eyes dry and feeling uncomfortable. Lastly, contact lenses may impact the eyes' goblet cells, which are responsible for releasing mucin needed for tear film stability.
A number of studies have found that 50% of contact lens wearers develop contact lens-related dry eye. That's over 17 million people in the U.S. alone.5
In many cases, you can still wear contacts with dry eyes by treating the cause of your dry eye symptoms or switching to a different lens type better suited to your dry eyes.
Symptoms of Dry Eye Disease
Symptoms of dry eye disease will vary by person. You may notice more painful and uncomfortable symptoms when you wear contacts with dry eyes, especially over long periods.
Your dry eye symptoms could include:6
Dryness
Blurred vision
Burning or itchy eyes
Light sensitivity
Eye fatigue
Contact lens discomfort
Red eyes
Watery eyes
Gritty feeling
Foreign object sensation
Difficulty blinking

Perfect for eye dryness, burning, itching, grittiness, crusting/flaking of eyelashes and inflamed/swollen eyelids. Free shipping 📦.
Contact Lenses for Dry Eyes
Contact lens use may be the cause of your dry eye syndrome. If not the cause, wearing contact lenses may exacerbate your dry eye symptoms.
With the help of your eye doctor and a few changes, you may be able to wear contacts with dry eyes and experience less discomfort.
Here are a few considerations to keep in mind as you choose the right contact lenses for you.
Contact Lens Material
If you would like to wear contacts with dry eyes, it's a good idea to understand the different types of contact lens materials to choose from.
Soft contact lenses are produced from flexible plastic which allows more oxygen to reach your eyes. Rigid gas-permeable contact lenses also allow oxygen to reach the eye and are made of a harder, less flexible material.
Soft contacts can be made of hydrogel, containing water. There are daily disposable soft lenses that are worn for a day at a time, and then discarded.
There are also extended-wear soft lenses that are designed to be used over a period of 30 days.
However, choosing extended-wear contacts with dry eyes can lead to worsening symptoms due to a build-up of protein deposits on the contacts. Daily disposable contact lenses prevent this problem and may be a better fit for you if you wear contacts with dry eyes.
Another popular choice for people who wear contacts with dry eyes is silicone hydrogel contact lenses. In comparison to regular hydrogel lenses, silicone hydrogel lenses better retain lubrication and allow more oxygen to the eye, causing less dry eye symptoms and more comfort.
The Size of the Contact Lens
The average contact lens measures approximately 9 millimeters in diameter, covering just the iris. The iris is the part of your eye with color.
On the other hand, scleral contact lenses can measure 13 to 24 millimeters, extending to cover part of the whites of your eye. The white part of your eye is called the sclera.
For some dry eye patients, scleral lenses are preferred, as they allow more hydration of the eye's surface, resulting in less dry eye symptoms.7
Water Content of Contacts
When you shop for soft contact lenses, you'll notice they are categorized by the amount of water content they have.
Though it may seem counter-intuitive, you want to avoid contact lenses with high water content if you suffer from dry eye disease. Lenses with high water content actually dry out faster than the low water content variety, causing more dryness in your eyes.
Contact Lens Solution
Not all contact lens solutions are the same. If you're using a solution that contains preservatives, it may be causing dryness and irritation when you wear contacts with dry eyes.
Ask your eye doctor for a recommendation to be sure you are choosing the best contact lens solution for your eyes and the type of contact lens you wear.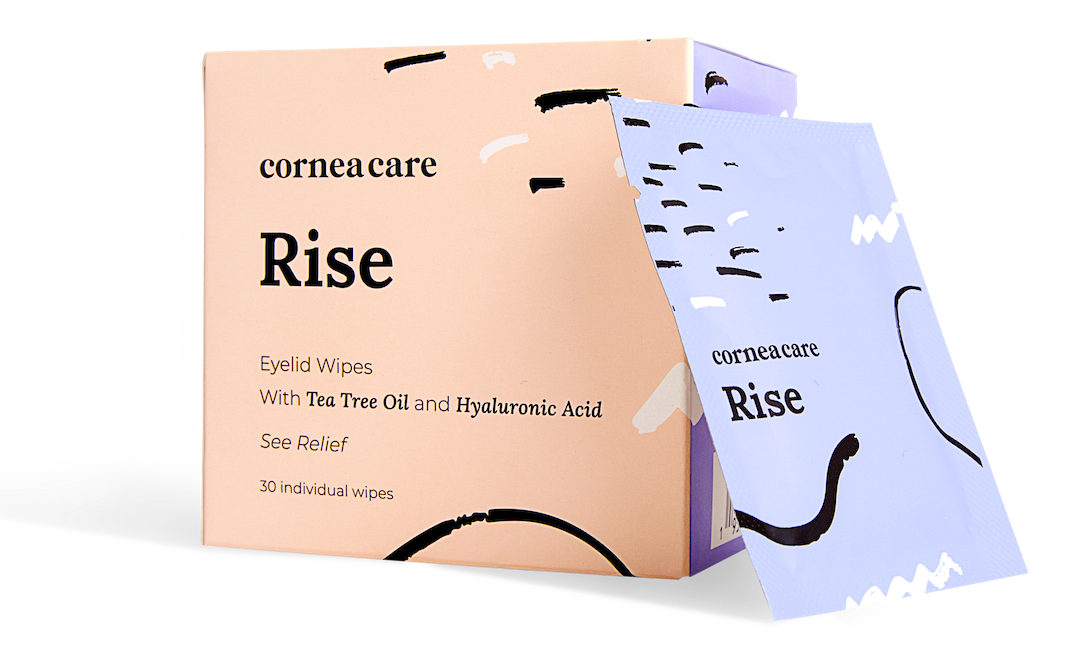 Perfect for eye dryness, itching, burning, and crusting/flaking of eyelashes. Free shipping 📦
Tips to Wear Contacts with Dry Eyes
Follow these suggestions for safe contact lens use with dry eyes. Poor contact lens care and handling can lead to serious eye infections, and even blindness.1
If you frequently experience dry eye symptoms, remove your contacts and reach out to your eye doctor before trying to wear contacts with dry eyes again.
Always wash your hands before touching your lenses to keep them clean
Store your contacts in a closed container
Use rewetting drops before you wear contacts with dry eyes
Follow the recommendations of your eye doctor (optometrist or ophthalmologist)
Avoid wearing your contacts longer than prescribed
Use preservative-free artificial tears throughout the day to lubricate your eyes
Try a different contact lens solution designed for your lens type
Tips to Improve Symptoms of Dry Eye Disease
The following steps can help you practice good eye care. These simple lifestyle changes may reduce your symptoms of dry eye disease.4
Eyelid Hygiene for Wearing Contacts with Dry Eyes
Your eyelids are an essential part of healthy eye function. Every blink replenishes the tear film covering your cornea. A good eyelid hygiene routine is foundational to dry eye disease treatment.
CorneaCare's Eyelid Hygiene products include a Self-Heating Warm Compress and refreshing Eyelid Wipes to soothe and relax your eyes.
Artificial Tears for Dry Eye Symptoms
Using lubricating eye drops such as CorneaCare's Recover preservative-free Artificial Tears can help replenish your tear film and supplement your natural tears.
Good Nutrition for Eye Health
Make changes to follow a healthy diet full of fruits, vegetables, whole grains, nuts and legumes, and fish. Drink plenty of water which will help to keep your eyes, skin, and hair well hydrated.
Supplement with CorneaCare Eye Vitamins and Omega-3 Fatty Acids to fill in any gaps in your diet, for good mind, body, and eye health.
Lifestyle Changes to Improve Dry Eye Disease
In addition to a healthy diet, and products to support dry eye disease treatment, there are other lifestyle changes you can make.
Wear glasses instead of contacts and take regular screen breaks during prolonged work on computers, watching TV, or reading online.
Avoid environmental risk factors such as high winds, low humidity, extreme temperatures, high UV index, allergens, air pollution, and cigarette smoke.
Redirect any fans, forced heat, and air conditioning in your home, workplace, or car away from your eyes. Don't sleep with ceiling fans or heaters blowing at your face.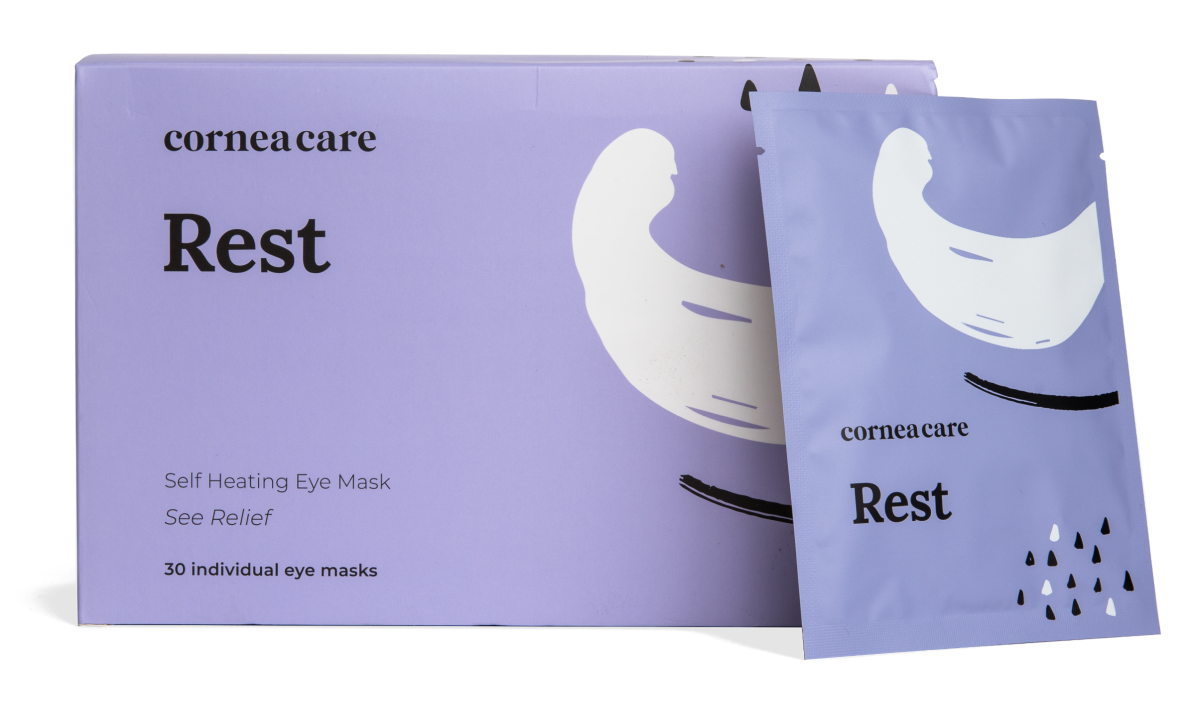 Perfect for eye dryness, fatigue, tearing, and puffiness of the eyelids. Free shipping 📦.
When to See Your Eye Doctor
If you're experiencing dry eye symptoms often, it's time to make an appointment to see your eye doctor (optometrist or ophthalmologist) for an eye exam. Your eye doctor can diagnose the cause of your dry eye symptoms and recommend treatment.
Your eye doctor can properly determine whether you are suffering from dry eye disease, and the type, or if your dry eyes are caused by contact lens use or an underlying medical condition.
Putting it All Together
If you wear contacts with dry eyes, be sure they are by prescription only and well-fitted by your eye doctor (optometrist or ophthalmologist). Avoid wearing lenses for prolonged periods and switch to glasses as needed.
Choose the right lenses and contact solution, and follow your eye doctor's advice, for the best results if you wear contacts with dry eyes.
Want to take care of your eyes but not sure where to start?
What's Next
We really think everyone should take our Dry Eye 101 course!
If you've already taken it, amazing! Check out more articles in the Continuing Education section below.