Key points
Lifestyle has a large impact on dry eye disease.
Digital screens, low humidity, air pollution, air allergens, intense sunlight and smoking can all worsen dry eye disease.
Small lifestyle changes can significantly improve your dry eye symptoms.
Keywords
Air pollution, allergens, digital screens, humidity, nutrition, smoking
Taking the first step
Dry eye disease (DED) is also known as dry eye syndrome, keratoconjunctivitis sicca and ocular surface disease. Lifestyle has a significant impact on DED.1 When we say lifestyle, we mean everything you do, how you live, and your surroundings. Lifestyle impacts all aspects of your life, including your eye health.2 Lifestyle is seldom addressed in DED, but it represents one of the easiest ways to improve your dry eye treatment and increase your overall quality of life. Having a discussion about lifestyle with your eye doctor (ophthalmologist or optometrist) is an important part of treating of dry eyes.
Mindfulness and dry eye disease
You may be wondering why we're talking about mindfulness in the lifestyle section?3 Well, it's difficult to critically look at one's lifestyle and identify DED risk factors. It requires paying attention to yourself and your surroundings, which is easier said than done. Many of us are used to a routine, and a routine by its very nature is difficult to perceive when we've done the same thing so many times over. It's similar to driving or walking in your neighborhood, where you get around without thinking about it. So the first step about learning how your lifestyle impacts your DED is to pay attention to your lifestyle. Start by being mindful of yourself and your behavior, then expand that to your surroundings, and then encompass your environment.
Receive exclusive offers about dry eye health and wellness, courses, and more!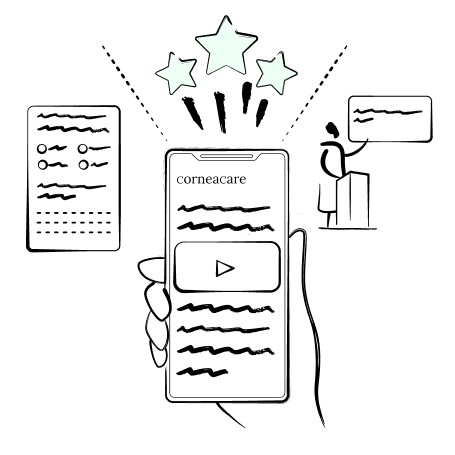 Impact of work life on dry eye disease
Most jobs these days require hours of work on computers and smart devices. When you stare at a computer screen, or any smart device, your blinking decreases significantly.4 Blinking helps replenish the tear film, which is essential for making your eyes feel comfortable, for protecting the corneal surface, and for giving you clear vision. So, when your blinking decreases, you essentially get dry eyes. You may often experience eye strain, blurred vision, burning, dryness and the need to squeeze your eyes tightly. Doing tedious work on a computer, like writing, working on an excel sheet, or doing accounting can be very challenging.If your work involves driving or other focused tasks like manufacturing or handiwork, you may also experience dry eyes. This is because when you focus, you may naturally blink less. With driving, not only are you focused on the road, but you may also have the car vents blowing air into your eyes, causing tear evaporation.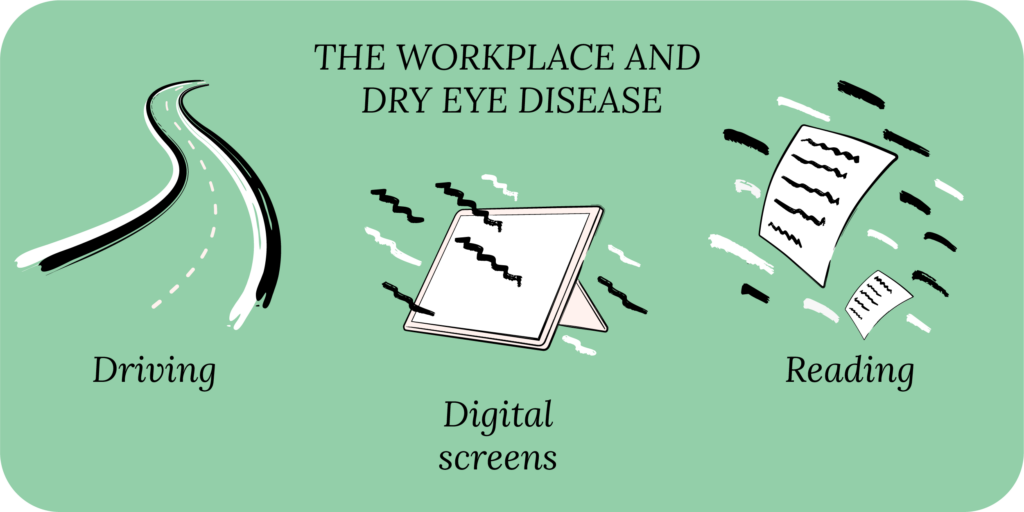 Of course, the impact of your work-life on your eyes has only gotten worse during the coronavirus (COVID-19) pandemic. This is because so much of our work now is remote, and requires countless hours of video calls! With office workers spending most of the workday on a computer, the prevalence of DED during the pandemic has likely increased.5
Social life and dry eye disease
Humans are social beings, and spending quality time with family and friends, or pursuing hobbies and interests, is a human necessity. Watching TV or online streaming is a major source of entertainment for us and our families. Just like with working on a computer screen, staring at a TV has the same effect: blinking less leads to symptoms of dry eyes.6 The same thing happens when you are watching a movie in a movie theater.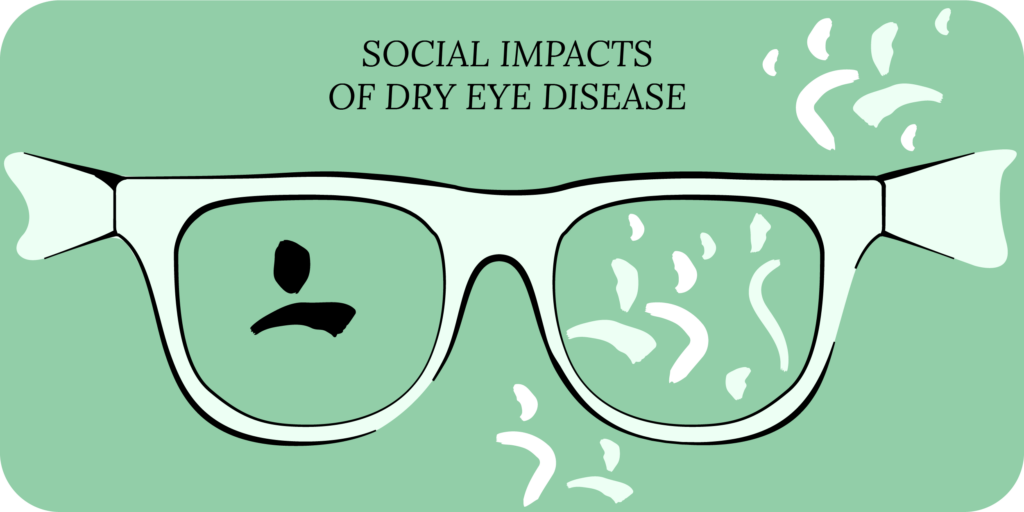 Doing household chores, such as cooking, doing finances, handiwork and yard work can all exacerbate dry eye symptoms. These tasks require you to focus, and may expose your eyes to irritants or allergens in the air. Even your hobbies and activities may affect DED. For example, if you enjoy outdoor activities, such as running, gardening, walking, tennis or golf, the changes in humidity, UV light exposure and air quality can worsen dry eye symptoms. Reading books or magazines, writing or painting all require focus, and therefore you may blink less, leading to an inadequate tear film and causing dry eye symptoms.
Chat, share, and learn from our doctors, coaches and others like yourself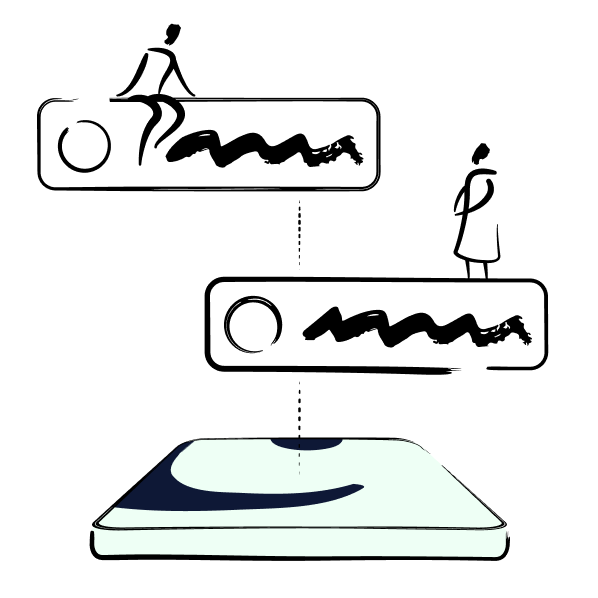 Even going to social events, such as concerts, bars and restaurants, can expose your eyes to irritants and other environmental conditions. Moreover, some individuals prefer to wear contact lenses when out in social situations. Contact lenses are an important risk factor for DED. Wearing certain types of make-up may lead to dry eye symptoms. During the COVID-19 pandemic, many of us have to wear masks while in social settings. Masks can lead to mask-associated DED, which results from the air that is directed from the mask towards the surface of the eye. It's similar to sleeping under a fan, or having your car vent blowing in your face.
Tobacco smoking and e-cigarettes can harm your body, and cause several eye problems, including chronic dry eyes. The smoke from tobacco and e-cigarettes is irritating to the eyes, may cause rapid tear evaporation (tears dry up too fast) or decreased tear production (not making enough tears), and directly cause inflammation on the surface of the cornea and conjunctiva.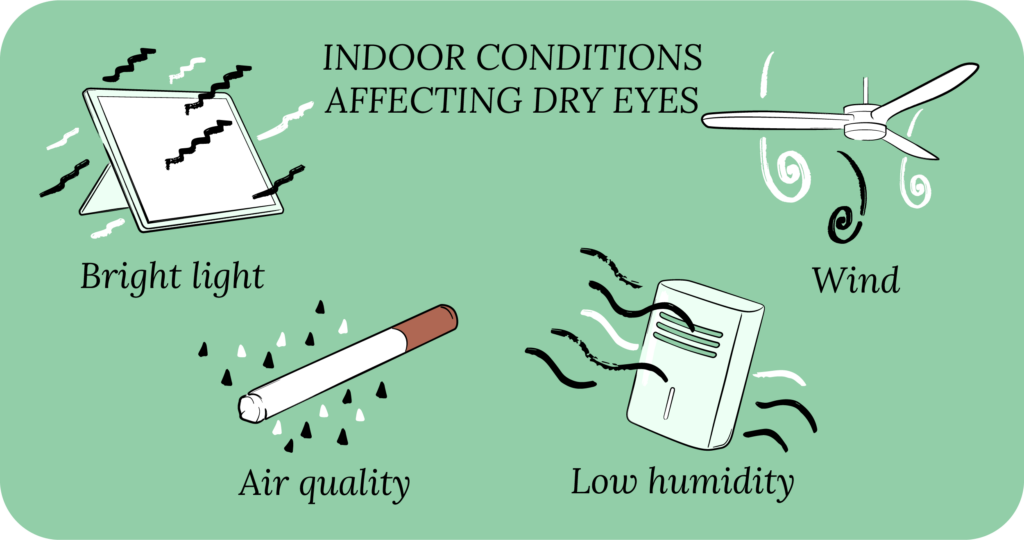 Impact of nutrition on dry eye disease
The importance of your diet cannot be overstated.7 Nutrition is the foundation of eye, physical and mental health, and plays an important role in eye care, and in managing several eye conditions. But let's face it, not many of us actually consume a balanced diet with protein, carbs, essential fatty acids, vitamins and minerals and drink enough water. We get it. It's very difficult to do this. But if you have DED, paying attention to your nutrition is key.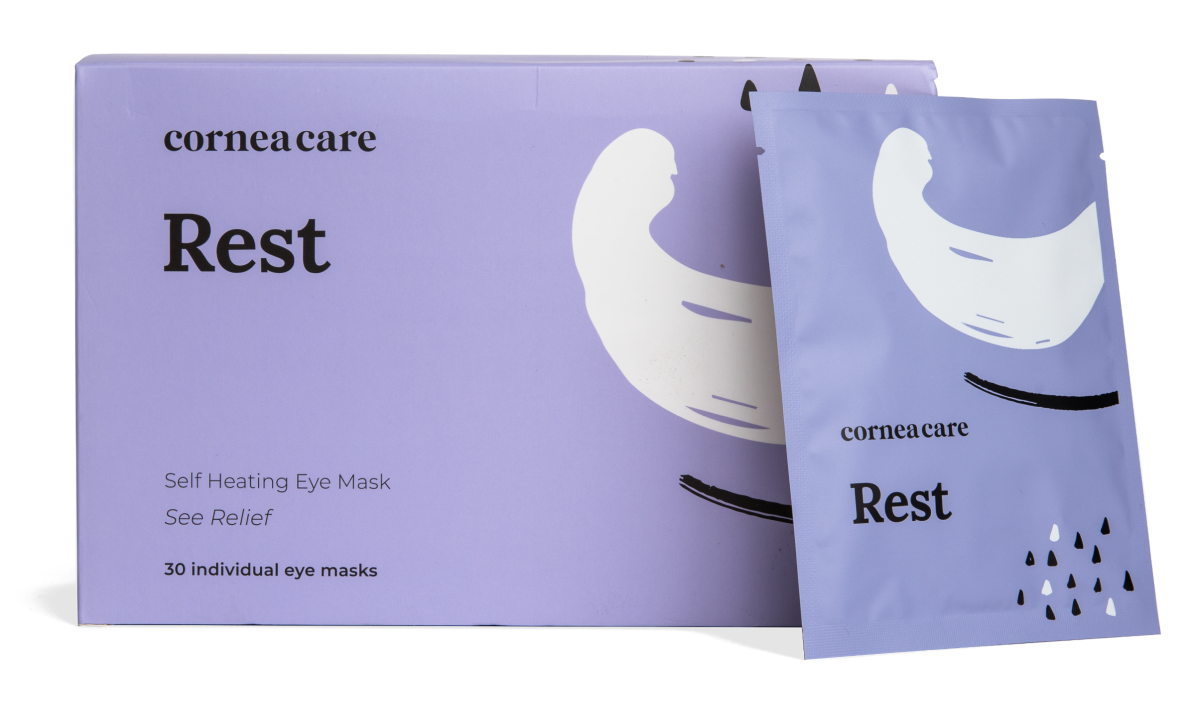 Perfect for eye dryness, fatigue, tearing, and puffiness of the eyelids. Free shipping 📦.
Not drinking enough water may cause dry eye symptoms. One of the signs of DED is having tears with high osmolarity, which basically means your tears do not have enough aqueous (water). An easy way to think about this is that not drinking enough water leads to dehydration for the body and for your tears.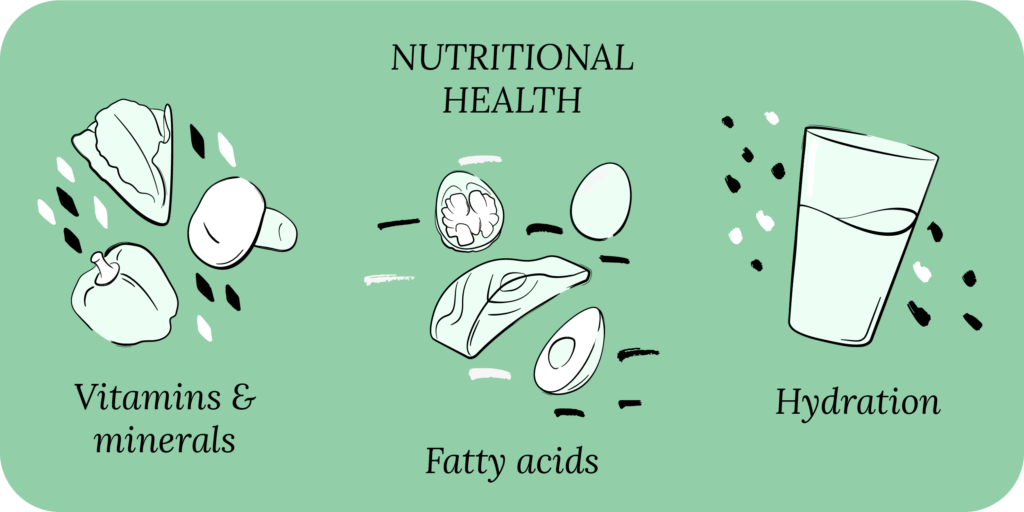 Essential fatty acids, specifically Omega-3 fatty acids, may be beneficial for DED. However, the average diet consists mostly of Omega-6 fatty acids (found in vegetable oil), with few amounts of Omega-3s. In fact, we consume 15 times more Omega-6s compared to Omega-3s. While Omega-6s are helpful in many ways, when you consume such a disproportionate amount compared to Omega-3s, it can actually cause inflammation. The other essential nutrients for DED include Vitamins A, B6, B12, C, D and E, coenzyme Q10, zinc, copper, selenium, lactoferrin and curcumin. You will typically find these in fish, meat, whole grains, leafy vegetables, fortified cereals, seeds, fruits and vegetables, legumes, and fish. Can you remember the last time you consumed all these on a daily, or even a weekly basis?
Environmental impact on dry eye disease
The environment has a significant impact on DED.8 The key environmental risk factors are high winds, low humidity, extreme temperatures, high UV index (intense sunlight), allergens, and pollution.9 High winds can cause rapid tear evaporation, which you may encounter outdoors or even inside your home (fan or air conditioner) or your car (vents). Low humidity in arid climates or in your home can lead to an unstable tear film. Airborne allergens such as pollen and air pollution can cause irritation to the eyes, leading to inflammation. Even the treatment for seasonal allergies (antihistamines) can worsen DED symptoms. Finally, extreme temperatures and intense sunlight can worsen dry eye symptoms.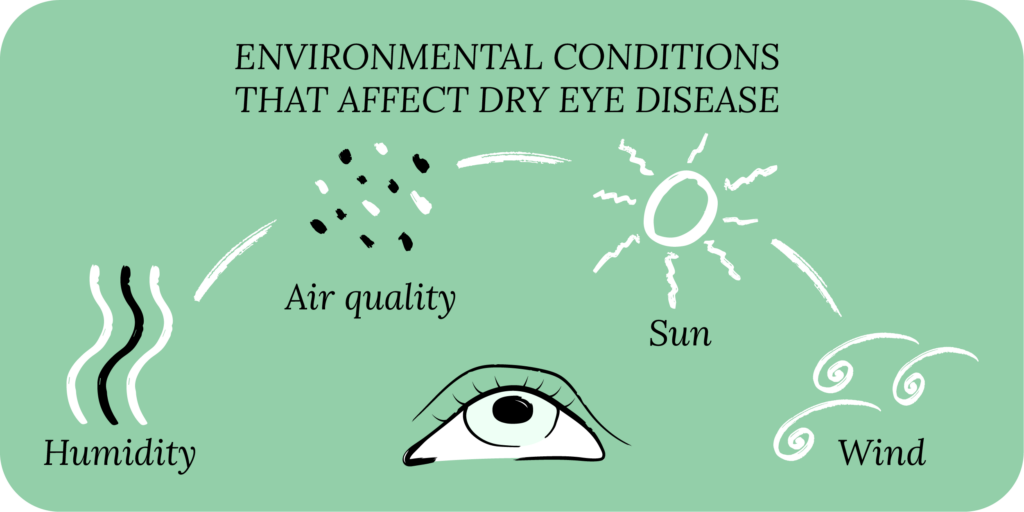 Physical and mental health linked to dry eye disease
Your overall physical and mental health are important in your lifestyle, and in your eye care.10 Several eye conditions can impact DED. For example, most currently available eye drops contain benzalkonium chloride (BAK), a preservative that prolongs the shelf-life of eye drops, but can be toxic to the ocular surface. You may be on eye drops for glaucoma, or for eye surgery. It's important to discuss the impact of drops on your ocular surface with your eye doctor, and explore alternative treatment options if needed.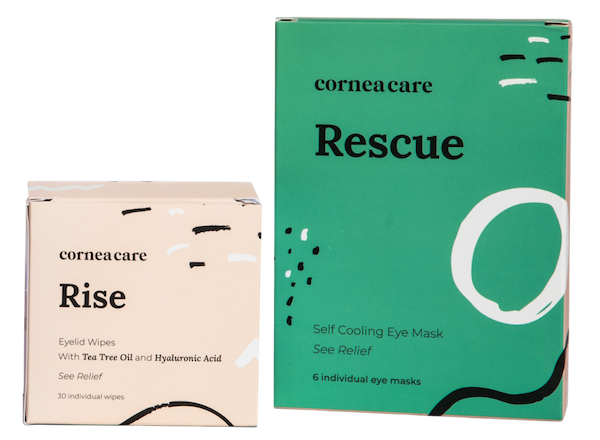 Perfect for eye dryness, burning, itching, pain, crusting/flaking of eyelashes and inflamed eyelids. Free shipping 📦.
Autoimmune conditions, such as Sjögren's syndrome, rheumatoid arthritis and lupus, are important risk factors for DED. Rosacea can cause meibomian gland dysfunction and blepharitis, leading to evaporative DED. Developing symptoms of dry eye is a notable side effect of several oral medications, like antihistamines, antidepressants, birth control pills, diuretics, decongestants, beta blockers, chemotherapy, and hormone replacement therapy. These are all important considerations in making lifestyle changes for your overall health and eye health.
Putting it all together
At CorneaCare believe that DED should not get in the way of you living your life! You should not have to fear the impact of your lifestyle on your DED. It would be exhausting if you were worrying about your DED every time you wanted to go outdoors, or read a book, or watch your favorite TV show.
If your lifestyle puts you at risk for dry eye symptoms, then coming up with a good treatment plan is a must. This includes having a daily regimen with a combination of over-the-counter artificial tears, eyelid hygiene, and nutrition. It also entails making small lifestyle interventions, such as buying a humidifier, or dimming the brightness on your computer screen, or taking a break from TV to relax your eyes. Making these small, but important, changes and sticking to them will let you get ahead of your DED, so that you can live your life how you want to!
Receive exclusive offers about dry eye health and wellness, courses, and more!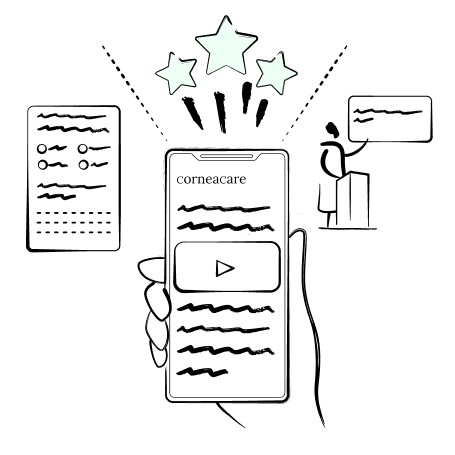 What's next
Finally, let's learn how to treat dry eye disease!