Key Points
Dry eye disease can lead to a significant reduction in work productivity.
People who have dry eyes are 2-3 times more likely to have depression and anxiety.
The typical dry eye patient can spend thousands of dollars a year on dry eye treatment.
No one taking your
dry eyes seriously?
Keywords
Anxiety, depression, out-of-pocket costs, surgery, work productivity
Taking the First Step
As we've stressed before, dry eye disease (DED) is not just about dry eyes. In addition to your eye health, it negatively affects your physical and emotional well-being and decreases your quality of life.1 Patients with DED are at risk for various eye complications, including dissatisfaction with surgery and increased risk for developing other eye problems. Patients with DED typically feel frustration and hopelessness, leading to anxiety and depression. They may also experience decreased work productivity. A typical patient can spend almost a year self-treating and upwards of $2000 a year on the treatment of dry eyes.
In this article, we will cover how DED can impact a multitude of things in your life. We do a deeper dive into each of these topics in subsequent articles.
The Impact of Dry Eye Disease On Ocular Health
DED is also known as dry eye syndrome, keratoconjunctivitis sicca and ocular surface disease. DED can lead to several direct and indirect complications with your eyes.2 In addition to symptoms, DED can predispose you to get abrasions (scratches) of the cornea, or lead to irregular healing of corneal tissue. DED can also lead to conjunctivitis by damaging the conjunctiva (a thin membrane that lines the inner part of your eyelids and covers the white part of your eye, the sclera). DED may lead to dissatisfaction after any eye surgery. For example, with cataract surgery, DED can negatively impact pre-operative planning and may lead to poor visual outcomes after surgery.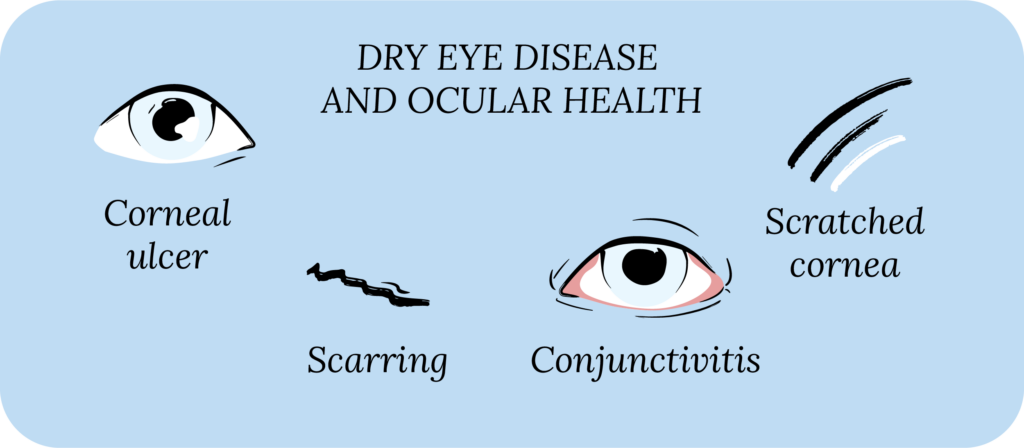 Having DED makes it difficult to treat other eye conditions. For example, glaucoma eye drops can worsen pre-existing DED. This is because most eye drops contain benzalkonium chloride (BAK), a preservative that prolongs the shelf-life of eye drops, but can be toxic to the ocular surfaces, including both the cornea and conjunctiva. Having DED may also prevent you from wearing contact lenses or from having refractive surgery (LASIK), both of which can worsen dry eye symptoms.
While DED does not directly lead to vision loss, it certainly increases your risk for developing vision-threatening conditions.
If left untreated, DED can cause permanent damage to your ocular surface. For example, if you have damage to the surface of the eye from DED, you are at a higher risk for developing corneal ulcers (eye infections). Even when well treated, such infections can leave a scar, leading to decreased visual acuity and visual function, and causing a marked decrease in vision-related quality of life. Luckily, initiating treatment early can help reverse some, if not all, of the ocular surface damage from DED.

Perfect for eye dryness, burning, itching, grittiness, crusting/flaking of eyelashes and inflamed/swollen eyelids. Free shipping 📦.
The Impact of Dry Eye Disease On General Health
In addition to eye care, you may have to consider DED when considering treatment options for your overall health care. Developing symptoms of dry eye is a notable side effect of several oral medications like antihistamines, antidepressants, birth control pills, diuretics, decongestants, beta blockers, chemotherapy, and hormone replacement therapy.
Autoimmune conditions, such as Sjögren's syndrome, rheumatoid arthritis and lupus, are important risk factors for DED. Sjögren's leads to inflammation of your lacrimal gland, causing decreased tear production and an inadequate tear film, known as aqueous deficient DED. In addition to not producing enough tears, Sjögren's can also affect your salivary glands, leading to dry mouth. Patients with pre-existing autoimmune conditions may have a higher prevalence of chronic dry eye. In addition to artificial tears and eyelid hygiene, these patients may require topical prescriptions (cyclosporines and lifitegrast) or procedures, such as punctal plugs to block the tear ducts so eye drops stay longer in your tear film.
Learn more about dry eye treatments here.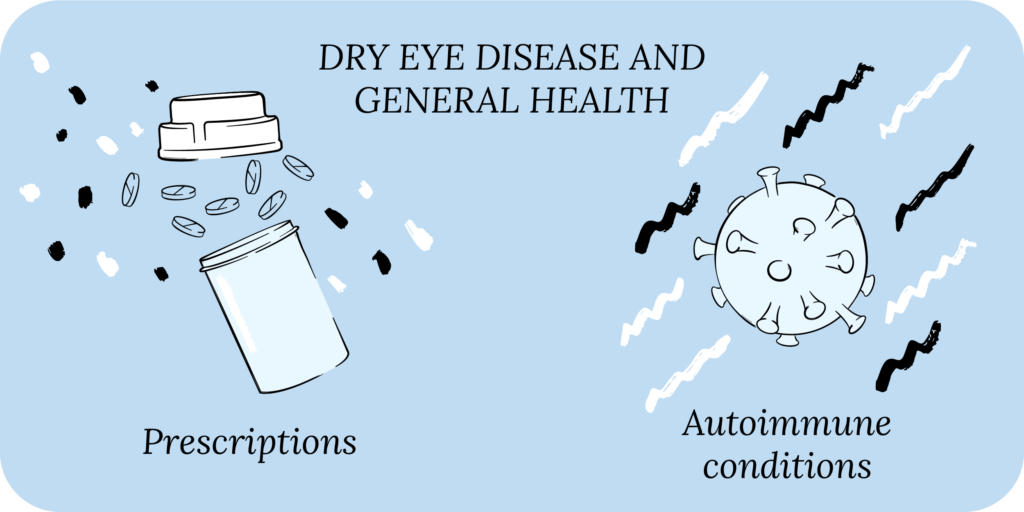 The presence of DED adds to the burden of systemic conditions, meaning you have to take care of both the general health problem and the dry eye symptoms. For example, the hormonal changes during menopause can lead to several health issues, including DED. Menopause and the associated body changes can be taxing on the mind and body. Now throw DED into the mix, and you create a very challenging situation for patients. Rosacea leads to skin changes on your face, and predisposes you to evaporative DED (rapid tear evaporation) by causing meibomian gland dysfunction (MGD) and blepharitis. Cancer and chemotherapy is associated with DED. Having to worry about concurrently managing dry eye symptoms and the treatment of cancer can be immensely difficult.
Chat, share, and learn from our doctors, coaches and others like yourself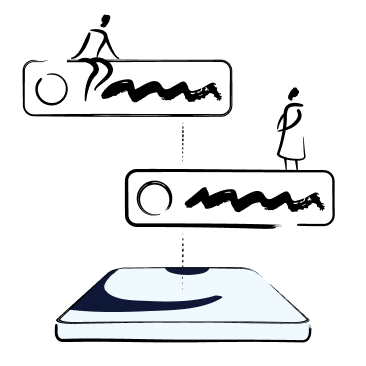 Psychological Impact of Dry Eye Disease
There is a well-documented link between DED and emotional health.3 We all get dry eyes once in a while; maybe after working on a computer for several hours, or watching TV for a long time. Most of us experience these symptoms intermittently, but a DED patient experiences them constantly. This has a significant impact on your daily activities and daily life overall. The constant grittiness, dryness, burning, foreign body sensation, light sensitivity, visual impairment with blurred vision and decreased visual function leave DED patients feeling hopeless and frustrated. The rates of depression and anxiety are 2-3 times higher in dry eye patients, resulting in decreased quality of life.4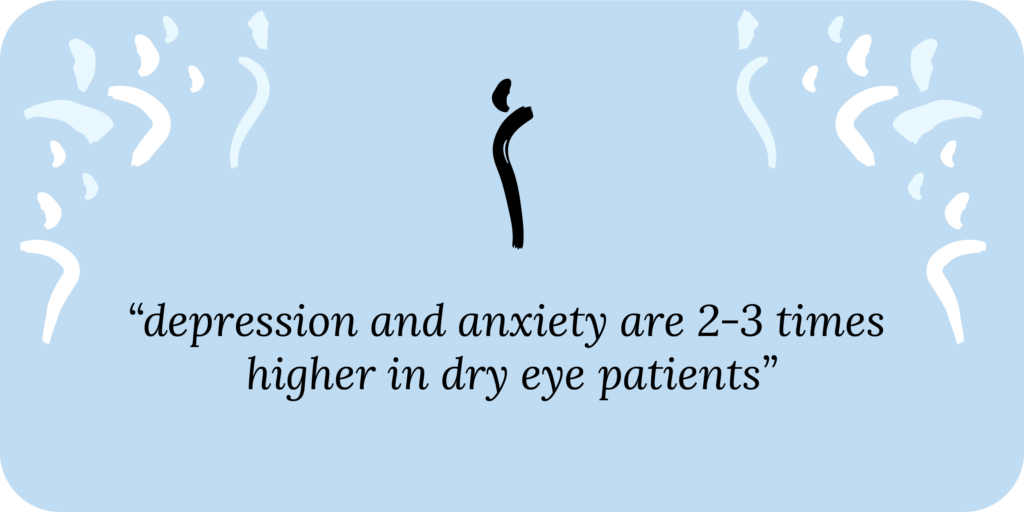 Social Impact of Dry Eye Disease
DED can make work and social life very difficult.5 Think about it. We spend most of our working life interfacing with digital monitors, including computers, smartphones and projectors. As you can imagine, the COVID-19 pandemic has made us more reliant on digital screens than ever before. All these smart devices can reduce your blinking significantly, leading to dry eye symptoms, and decreased work productivity.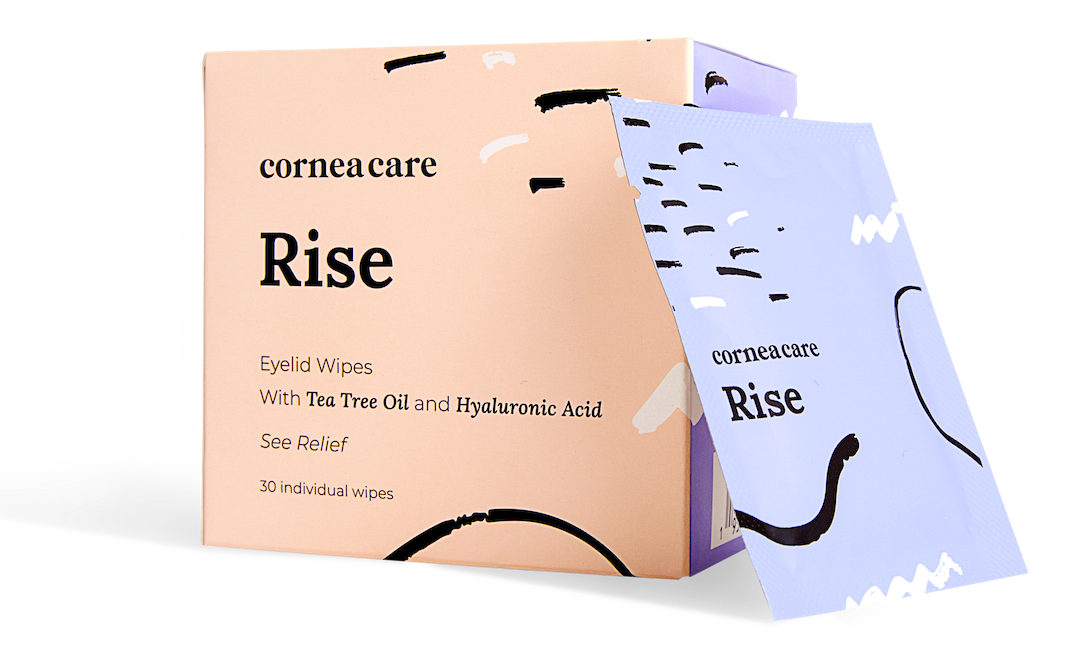 Perfect for eye dryness, itching, burning, and crusting/flaking of eyelashes. Free shipping 📦
When you have DED, you may feel anxious and nervous about going out with friends, especially if your friends want to do something outdoors, or watch sports on TV, or go to the movies. The common environmental factors that can worsen symptoms of dry eye include low humidity, high wind, intense sunlight, and air pollution. All of these things can worsen your dry eye symptoms, leaving your friends wondering why you cannot stop blinking or wiping your eyes, or why you are afraid to go outside. Unfortunately, your friends and family will likely not understand the extent to which DED is affecting you and your quality of life.6
Financial Impact of Dry Eye Disease
A typical patient will spend anywhere from $750 – $2,200 per year on over-the-counter treatment of dry eye, such as lubrication (artificial tears and other eye drops), eyelid hygiene (eyelid wipes and warm compresses), gels, ointments, and oral supplements (omega-3 fatty acids).7 Don't forget about lifestyle modification costs like humidifiers and air purifiers.
You may also decide to pursue costly out-of-pocket procedures to treat severe dry eye. The range for in-office procedures for dry eye is anywhere from $500 – $1500 out of pocket. Not to mention the co-pays for prescription medications and for seeing eye doctors (ophthalmologists and optometrists). Your insurance may cover your prescriptions and office visits, but you will still be on the hook for co-pays. The costs can really add up!8
Want to take care of your dry eyes but not sure where to start?
Putting It All Together
We are not sugar-coating it; DED can impact you on so many levels that it gets difficult to function. If you have DED, this "Why it matters" section will resonate with you, because you live it daily. While disappointing, we regretfully admit that there are no diagnostic tests or questionnaires in ophthalmology or optometry that can truly capture your experience with DED. This is why we want to hear from you, and empower you to take control of your DED.
What's Next
Lets see how your lifestyle impacts dry eye disease.