Dry eye treatment starts with daily eyelid hygiene, which is why we spent a great deal of time, effort and care perfecting our RiseTM eyelid wipes. We've thoughtfully handcrafted every part of RiseTM to create an experience, and not just a product.
Our box design exudes joy and tranquility. Our individually packaged eyelid wipes have a smooth finish and a calming color to ease you into your morning routine. Our fabric has an intricate pattern which allows it to capture dirt and debris, but also lends to greater surface area to deliver our therapeutic ingredients. And finally, our ingredients work synergistically to soften, exfoliate and hydrate.
Our wipes are an excellent way to start your day. Not only do they jumpstart your dry eye treatment, but they also make your eyes and eyelids feel fresh, awake, vibrant and ready to take on the day!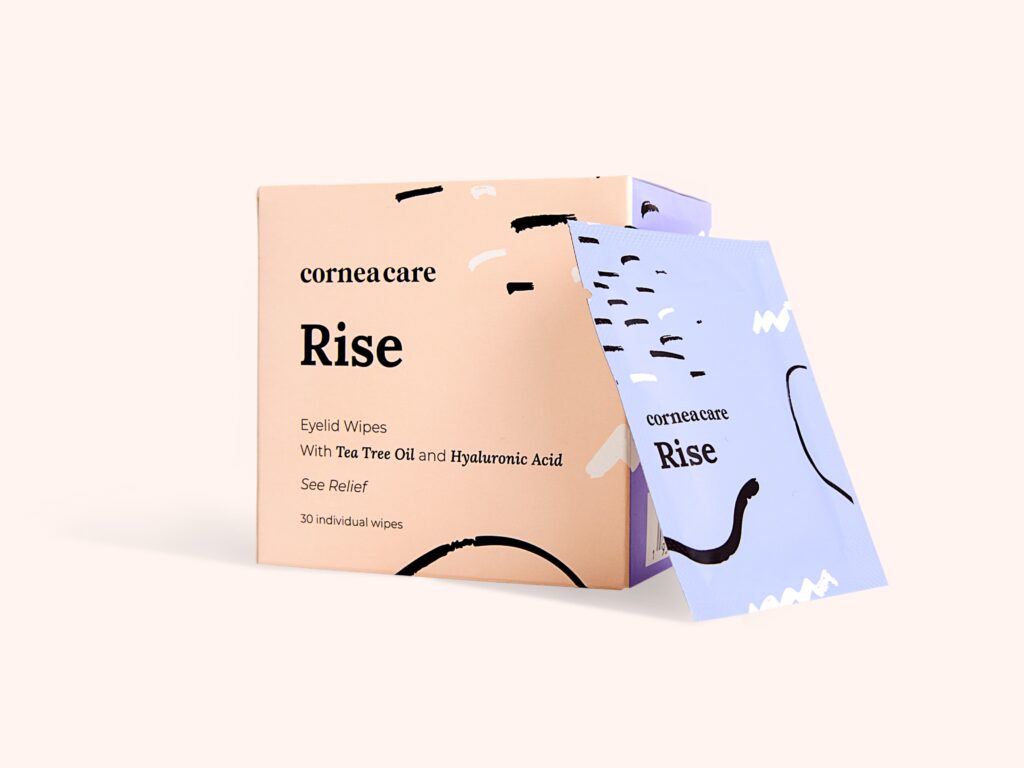 Dry eye disease and treatment
Dry eye disease (DED) is also known as dry eye syndrome, keratoconjunctivitis sicca and ocular surface disease.1 The classic dry eye symptoms are blurry vision, light sensitivity, itchy eyes, eye strain, watery eyes, stinging or burning, gritty sensation and eye pain.
The causes of dry eye can be broken down into two categories: aqueous deficient and evaporative. With aqueous deficient DED, your lacrimal glands do not produce enough natural tears to lubricate the surface of the eyes (the cornea and conjunctiva). With evaporative DED, your body makes enough natural tears, but they evaporate too quickly. In reality, most forms of DED are a combination of aqueous deficient and evaporative, leading to tear film dysfunction.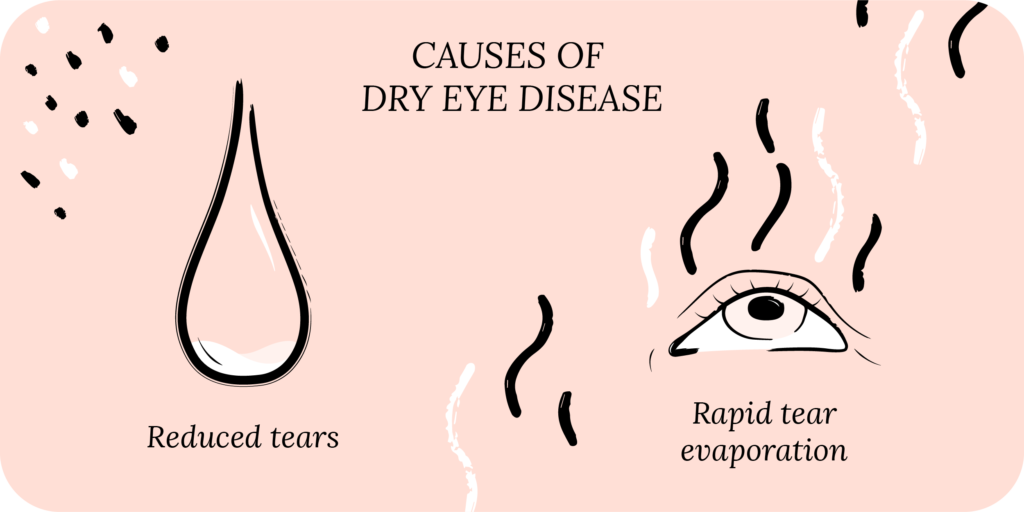 DED can impact your overall eye care and eye health, and predispose you to other eye conditions affecting the ocular surface. DED can also adversely affect your overall healthcare, including physically, emotionally and financially. Diagnosing DED early and starting treatment promptly can prevent long-term damage.
Dry eye treatment typically consists of ocular surface lubrication with eye drops (artificial tears) and eyelid hygiene (warm compress and eyelid scrubs). In addition to this, a treatment plan should also address nutrition (your diet), the environment and your lifestyle (work and social life). What is good for the eyes, should also benefit the mind and body.
Why we developed RiseTM eyelid wipes
Simply put, because your eyes matter! Eyelid hygiene is perhaps the most important part of dry eye treatment, and we want to make sure you get started right. Even if you don't have dry eyes, eyelid hygiene is an excellent way to start taking care of your eyes, and preserving your eyesight.
Eyelid hygiene is all about taking care of your eyelids.2 It typically includes warm compresses and eyelid scrubs. Eyelid hygiene helps treat meibomian gland dysfunction (MGD) and eyelid inflammation (blepharitis), the most common causes of dry eyes.3 Taking care of your eyelids is the first step towards dry eye relief.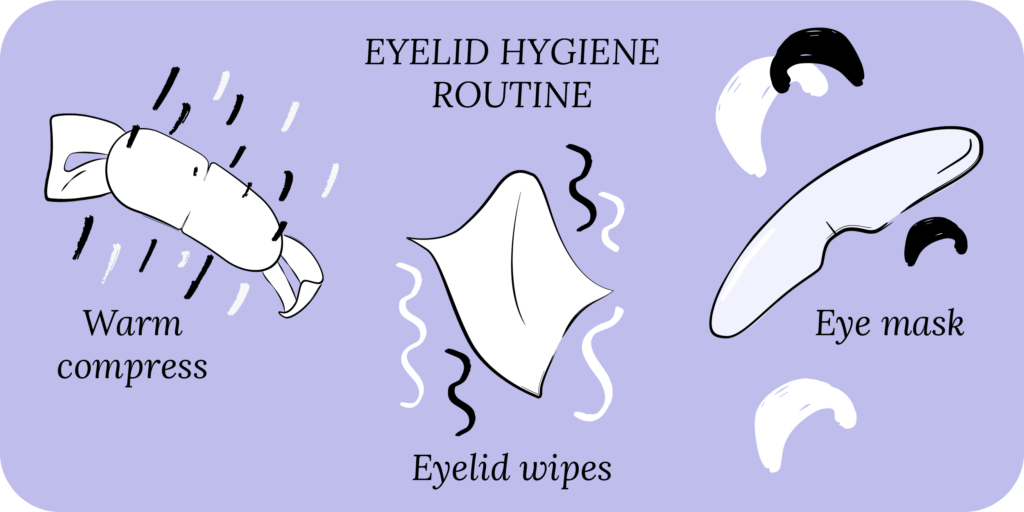 Meibomian glands are located at your eyelid margin, and secrete oil which helps stabilize your tear film. These oil glands can sometimes stop oil secretion, and the oil can build up on the lid margin or in the glands themselves. This leads to a deficiency in your tear film, causing your tears to evaporate too quickly (think evaporative DED), leading to symptoms of dry eye. Moreover, as the oil builds up in the glands, you can get styes (chalazion) and inflammation of the eyelids, known as posterior blepharitis. Anterior blepharitis, on the other hand, is caused by bacterial infections, mites (Demodex), and less commonly, by allergens and contact lens irritation. The classic symptoms of blepharitis include eyelash crusting, flaking or caking, eyelid redness and swelling, and itchy, irritated eyes.
Inflammatory skin conditions can also lead to blepharitis. These include rosacea, which affects the face and can lead to severe posterior blepharitis (ocular rosacea). Seborrheic dermatitis, which is a chronic form of eczema, and typically affects the scalp, but can also target eyebrows and eyelids. Seborrheic dermatitis leads to dandruff and inflammation, both of which can cause anterior and posterior blepharitis. Both rosacea and seborrheic dermatitis may cause chronic blepharitis, which can lead to chronic conjunctivitis (pink eye or red eye), and corneal damage.
MGD can create a feedback loop where it can directly cause DED, and lead to downstream conditions, such as blepharitis, that can worsen DED.  Eyelid hygiene prevents you from getting into this from happening. Warm eye compresses can help improve meibomian gland function. Eyelid scrubs with wipes and sprays can help with treatment of blepharitis.
For warm compresses, you can either make one at home by using uncooked rice and a tennis sock, or soaking a clean washcloth in warm water. Alternatively, you can buy a pre-made one from your local drug store or online. For eyelid scrubs, you can either use baby shampoo and a towelette, or buy pre-moistened eyelid cleansing wipes and eyelid sprays.
If you go see an eye doctor for MGD and blepharitis, the eye exam may show blocked meibomian glands and flaking/crusting at the eye lashes. Your eye doctor (ophthalmologist and optometrist) may attempt to express the oil from the meibomian glands using a cotton-tip applicator (cotton swab).
A good eyelid hygiene regimen with warm compresses and eyelid scrubs works in the majority of cases, if used consistently. If these don't work, your eye doctor may consider adding oral supplements (Omega 3 fatty acids), antibiotic ointment with steroids and oral antibiotics.
Eyelid hygiene prevents you from getting into the feedback loop of MGD <–> blepharitis. Warm eye compresses, and eyelid wipes may curtail MGD, blepharitis or both. Moreover, eyelid hygiene makes your skin less inflamed, red and "puffy," which leads to healthy eyelids and vibrant eyes.
We developed our RiseTM eyelid wipes to not only treat MGD and blepharitis, but also to help individuals prioritize their eyecare. If you already have an eyelid hygiene routine, then use our wipes to take your dry eye treatment to the next level. If you're looking to take the first step in protecting your eyes and preserving your eyesight, then start with our eyelid wipes. Your eyes deserve it and need it!
How to use RiseTM eyelid wipes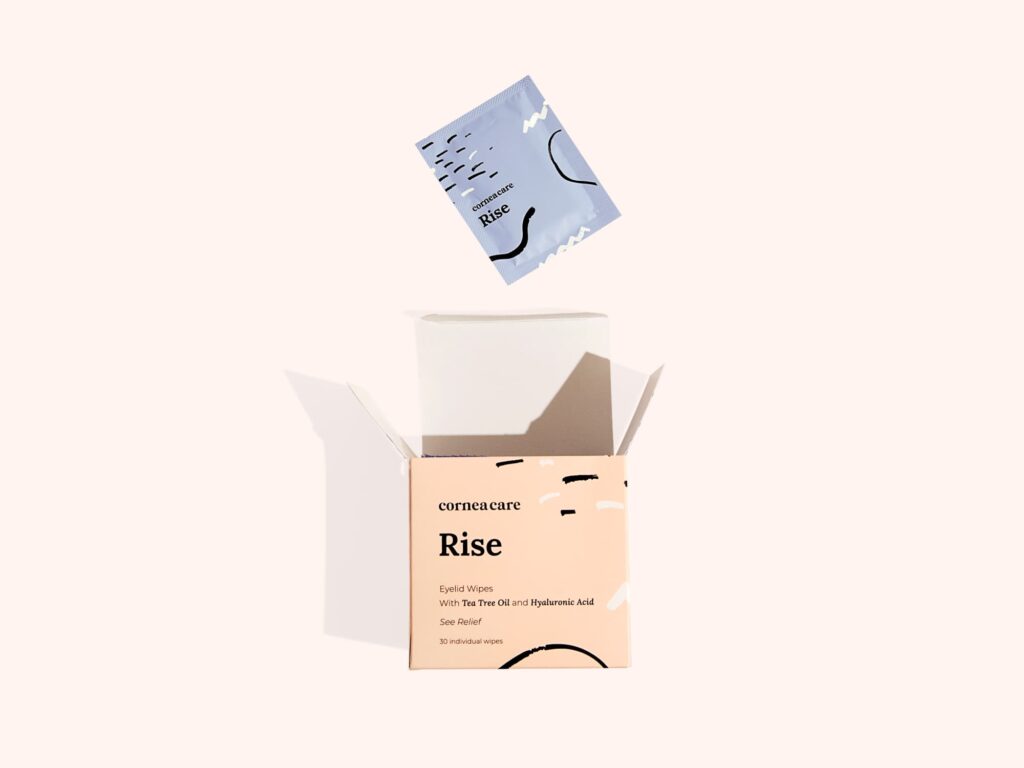 Use every morning prior to your usual routine.
After washing hands, open the packet, unfold the wipe, close your eyes, and gently clean your eyelids and lashes in a downward sweeping motion.
Fold the wipe and repeat the same motion on the other side.
Repeat 2-3 times on each side.
Rinse eyelids and lashes with water or cleanser, if desired, and then resume your usual morning routine.
Dispose in the trash after use; do not flush.
We do want to highlight that these wipes work best before your usual morning routine, but they can also be used any time throughout the day and at night. Also, you can use a cleanser afterwards if desired, but you don't have to. Lastly, these are meant to be used on your eyelids and lashes, so avoid touching your eyeball directly. If this does happen, don't worry, our ingredients are widely used in and around the eye. But, we do recommend gently rinsing out your eye, and then monitoring for any eye symptoms, likely redness, pain or vision changes.
How RiseTM eyelid wipes fit into our system
Dry eyes can impact you physically, emotionally and financially, leaving you feeling neglected, frustrated and hopeless. At CorneaCare, our singular goal is for you to be heard, listened to, and in control of your dry eyes. This is why we've put together our system. Our RiseTM eyelid wipes are informed by our education and community portals, and backed by our app (coming soon!). Our system works in harmony to bring you joy, tranquility and lasting dry eye relief.
What's in RiseTM eyelid wipes
We've carefully and methodically selected our ingredients so they are safe and effective. Let's highlight the main stars first:
Purified Water: Our wipes contain pure, medical-grade, sterile water which lubricates and hydrates your eyes and eyelids. Hydrated skin leads to healthy, radiant skin. Hydrated eyes lead to healthy, natural tears. The water also cleanses any debris, flaking or discharge that builds up on the eyelashes overnight. This gets the eyes and eyelids ready for the dual action of tea tree oil and hyaluronic acid.
Tea Tree Oil: Our tea tree oil is derived from evergreen leaves of the Australian Melaleuca alternifolia tree. Tea tree oil has been used worldwide for hundreds of years in various health conditions. We use just the right amount of tea tree oil to gently exfoliate and rejuvenate your eyelids. This helps fend off inflammation and wakes up the glands in your eyelids to produce oil, which is essential to making a strong,

stable tear film

.
Hyaluronic Acid: We use medical grade, cruelty-free and vegan-friendly, sodium hyaluronate (aka hyaluronic acid) created in the lab using the latest technology in synthetic biology. Hyaluronic acid retains high concentrations of water, locks in hydration and helps with tissue healing. Where the tea tree oil exfoliates, the hyaluronic acid heals and hydrates. They work together to soothe and strengthen the eyes and eyelids.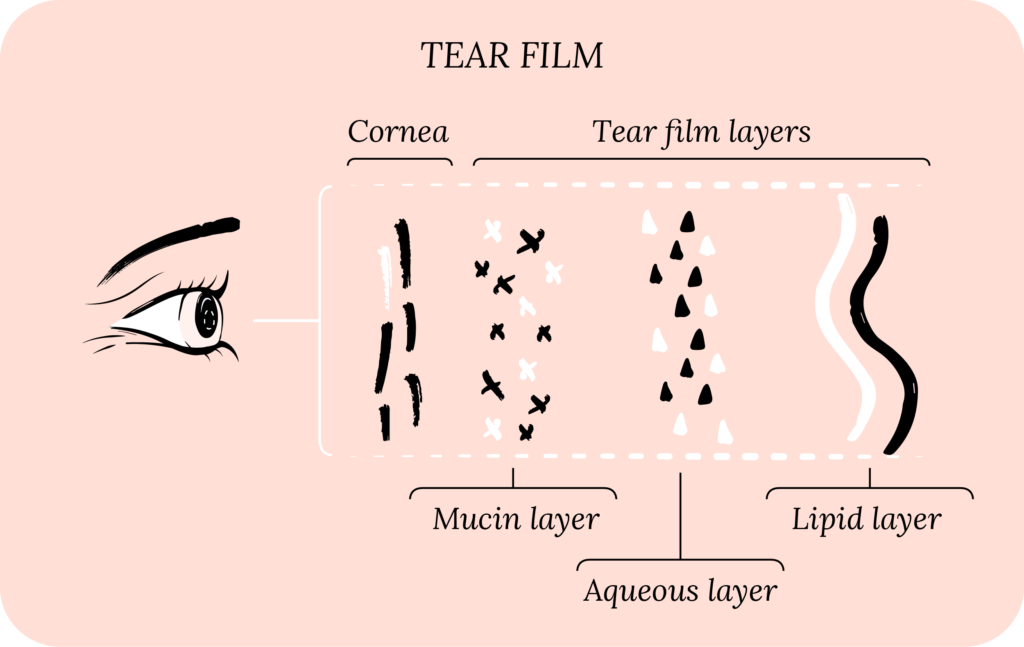 Now for the supporting cast! We've divided them up into categories so it's easy for you to understand what each ingredient does, including the ones above.
Emollients: soften your skin and make it primed for hydration. Examples include: methyl gluceth-20, propanediol, glyceryl oleate, and polyethylene glycol (PEG)-120 methyl glucose trioleate.
Humectants: hydrate and moisturize your skin by attracting water. Examples include: methyl gluceth-20, propanediol, caprylyl glycol, panthenol, and hyaluronic acid.
Cleansing agents/surfactants: trap dirt and debris, and remove it. Examples include: PEG-80 sorbitan laurate, decyl glucoside, coco-glucoside, glyceryl oleate, polyglyceryl-10 caprylate/caprate, disodium laureth, and PEG-120 methyl glucose trioleate. 
Buffers: control the acidity of the product so it's gentle on your skin. Examples include: sodium bicarbonate, and sodium citrate. 
Viscous agents: manage the thickness, stickiness, and "gooeyness" of the product. Examples include: sodium chloride, potassium chloride, calcium chloride, and polyglyceryl-10 caprylate/caprate.
Preservatives: protect the product from bacteria, molds, fungus, and yeast, and retain its freshness. Examples include: 1,2-hexanediol, and polyaminopropyl biguanide.
Skin repair/healing: aid in tissue healing and repair. Examples include: panthenol, tea tree oil, and hyaluronic acid.
Anti-inflammatory: reduce inflammation. Examples include tea tree oil.
Antimicrobials: help fend off pathogens, like Demodex (mites) and bacteria. Examples include caprylyl glycol, and tea tree oil.
More on tea tree oil and preservatives
Tea tree oil has recently gotten bad press. A single study claimed that tea tree oil is toxic to meibomian gland epithelial cells.4 This study was done in a petri dish (not in humans), and the cells were soaked in varying concentrations of tea tree oil continuously. This doesn't replicate real-life. Your eyelids and lashes are exposed to tea tree oil for a very brief period of time with our eyelid wipes. Moreover, using the right amount of tea tree oil makes a big difference in maximizing benefits while minimizing side-effects. We've used just the right concentration in our RiseTM eyelid wipes to offer you all the benefits.
Preservatives are a conundrum for consumers and healthcare professionals. On the one hand, they can irritate the eyes and skin. On the other hand, they prevent your products from getting contaminated with germs and help maintain their freshness.5 The important concept with preservatives is how many times you're exposed to them. Typically, preservatives start to have negative effects when you're exposed to them more than 3-4 times a day on a long-term basis, such as with artificial tears.6 For our RiseTM eyelid wipes, since you only use them 1-2 times a day and don't apply them directly to your eyeballs, the impact of preservatives may be negligible.
Unlike preservatives, exposure to allergens, even once, can cause a reaction leading to dry eye symptoms. CorneaCare's RiseTM eyelid wipes are hypoallergenic.
Our pledge
We're grateful that you've trusted us with your eyes, and we've channeled this trust into our responsibility and commitment to you. Our products are built with this sentiment, and adhere to our ethos of upholding your trust, protecting your eyes and preserving your health. You've trusted us with your eyes, and we take this privilege very seriously.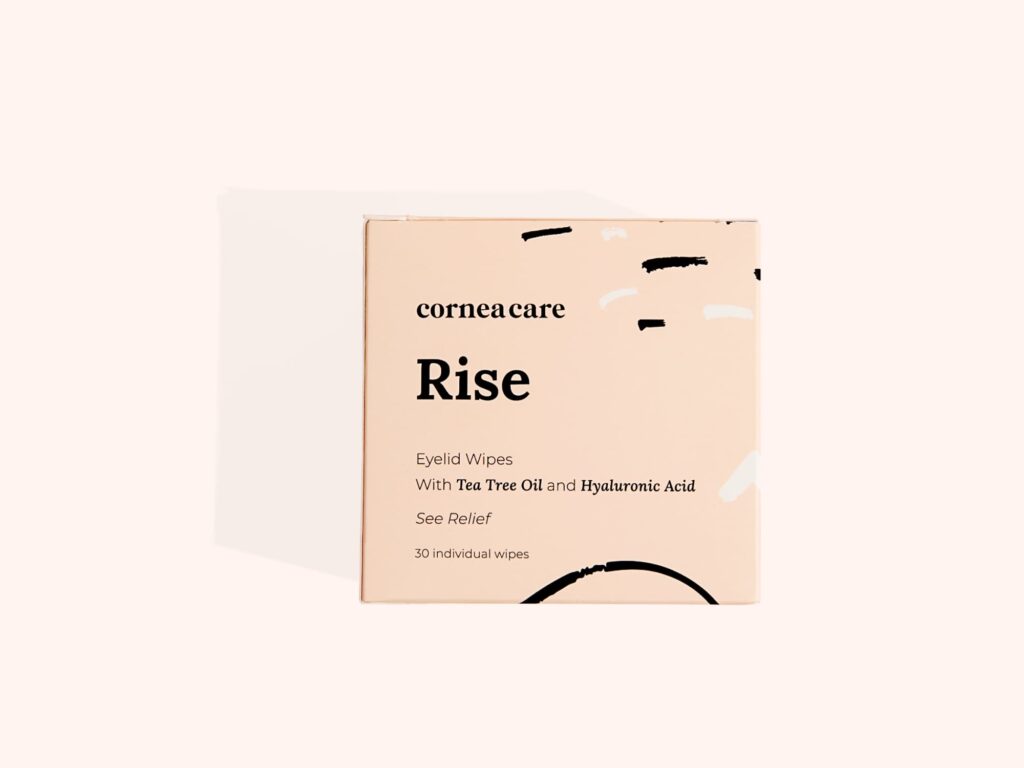 What's next
We really think everyone should take our Dry Eye 101 course. Find it here!
Want to discuss the RiseTM eyelid wipes with our community or experts, go here!