Eyelid hygiene is the first step in dry eye treatment and the foundation of overall eye health & wellness. Our RestTM self heating warm compresses complement RiseTM eyelid wipes, and deliver a convenient and effective eyelid hygiene routine. Dry eye disease (DED) can be frustrating and confusing, but the treatment doesn't have to be. This is why we kept the patient experience front-and-center when handcrafting our eyelid hygiene products. Our RestTM warm compress, RiseTM eyelid wipes and Rescue hydrogel masks provide an experience unlike anything else.
Our RestTM box comes with 30 individually packaged warm compress eye masks, enough for daily use for a month. Since RestTM is intended for the evening, we designed the product to help you relax and ease into your bedtime routine. Our box, individual sachets and the actual warm compress eye masks use a mellow color to provide a calm and tranquil experience. We use a matte finish on our packaging and a smooth medical-grade fabric on our eye masks to maximize comfort and minimize stimulation, which is essential as you wind down from the day.
RestTM self heating warm compresses have four simple ingredients that provide gentle, persistent and therapeutic heat to help you decompress, rebuild and recoup overnight. Finally, RestTM self-heats as soon as you put it on, which avoids the hassle of having to leave your bedroom to microwave a conventional warm compress.
RiseTM eyelid wipes, RestTM warm compresses and Rescue hydrogel masks provide a complete eyelid hygiene routine that's convenient, clean and effective.
Dry eye disease and treatment
Dry eye disease (DED) is also known as dry eye syndrome, keratoconjunctivitis sicca and ocular surface disease.1 The classic dry eye symptoms are blurry vision, light sensitivity, itchy eyes, eye strain, watery eyes, stinging or burning, gritty sensation and eye pain.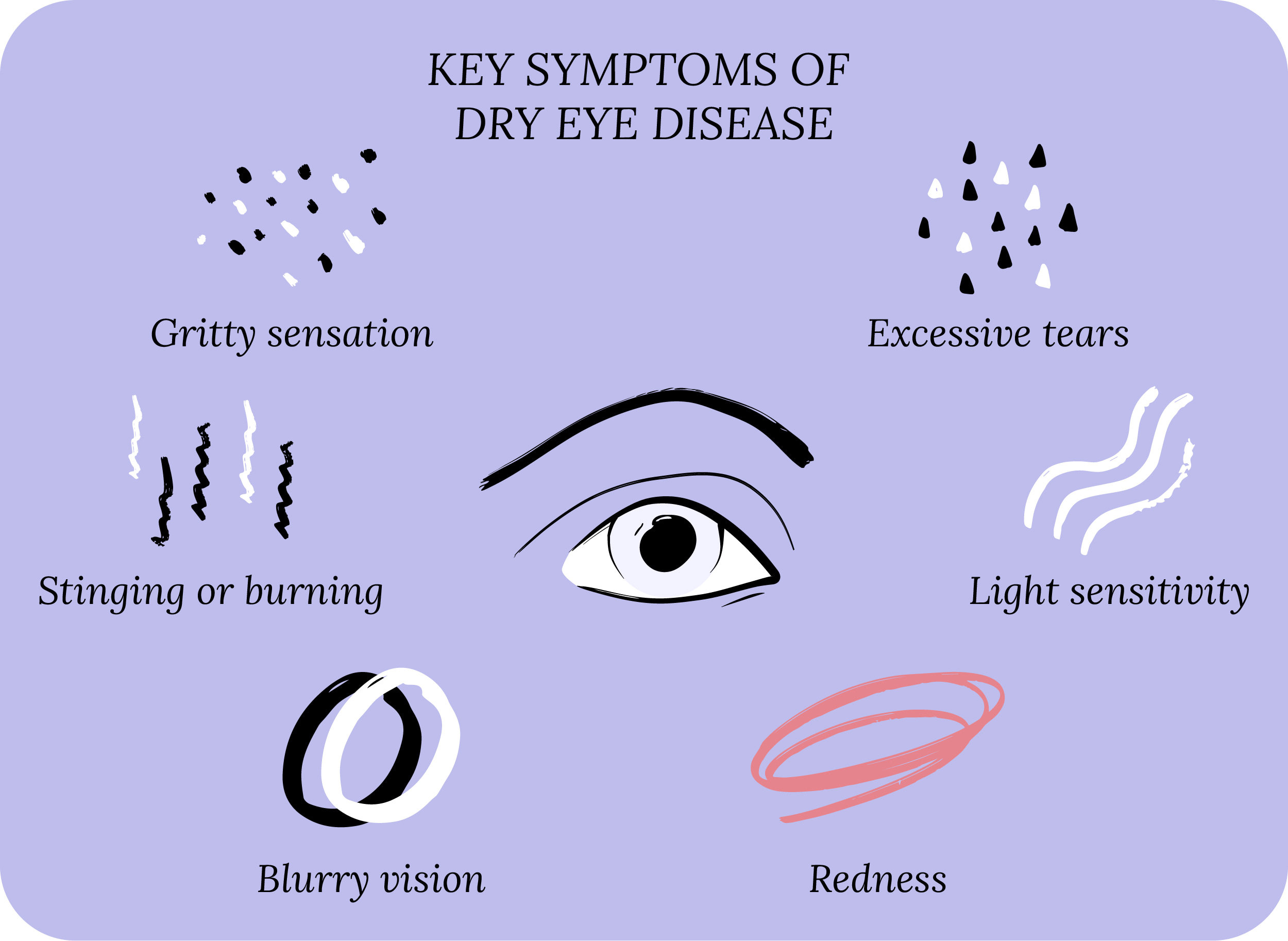 Dry eye causes can be broken down into two main categories: aqueous deficient and evaporative. With aqueous deficient DED, your lacrimal glands don't produce enough natural tears to lubricate the ocular surface (the cornea and conjunctiva). With evaporative DED, your body makes enough tears, but they undergo rapid evaporation. However, most patients typically have a combination of both aqueous deficient and evaporative, leading to tear film dysfunction.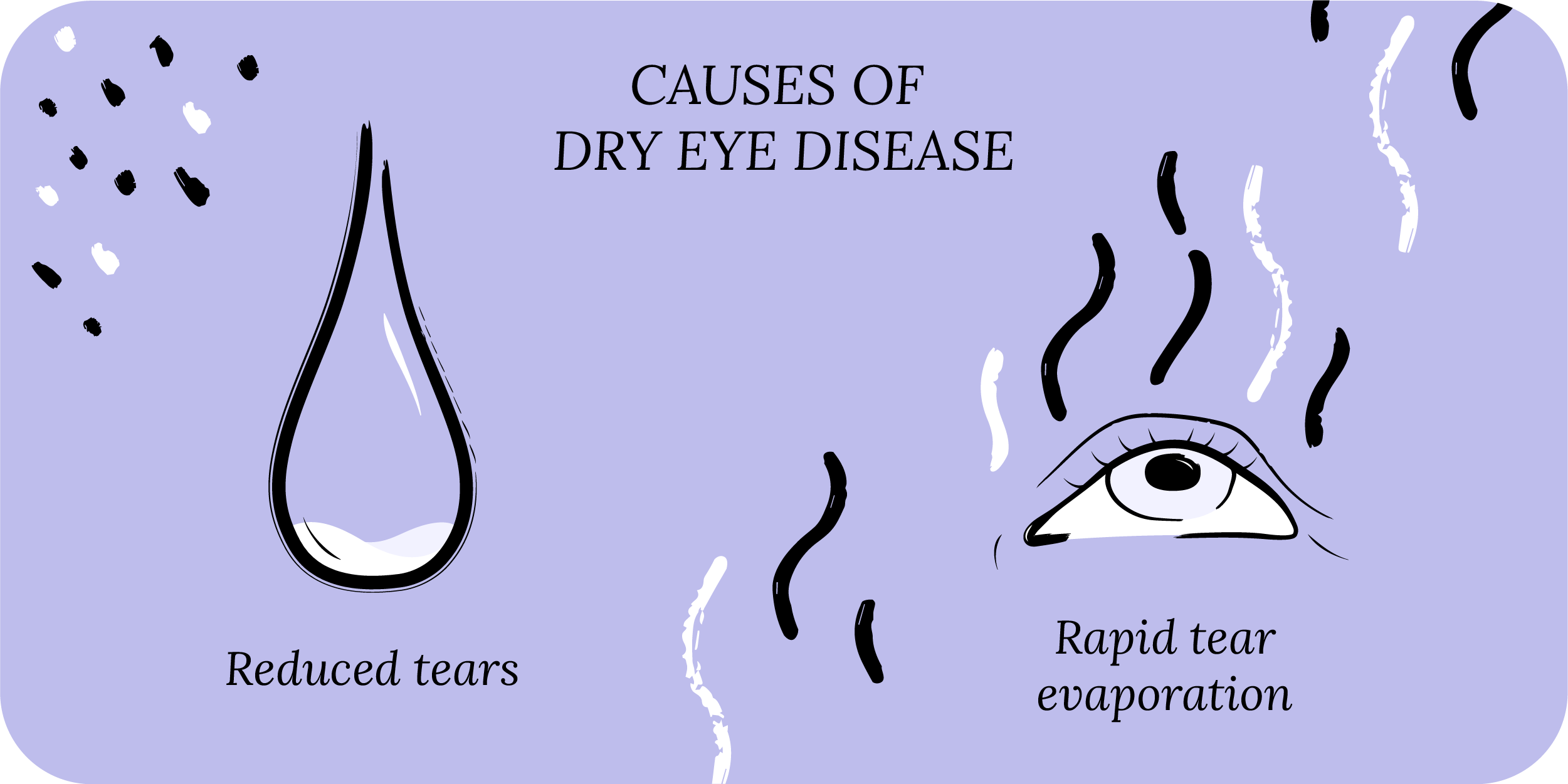 DED can impact your overall eye health, while also impacting you physically, emotionally, socially and financially. Diagnosing DED early and starting treatment promptly can prevent long-term damage.
Dry eye treatment options include eye drops (artificial tears) and eyelid hygiene (warm compress and eyelid wipes). In addition to this, a treatment plan should also address nutrition (your diet), the environment and your lifestyle (work and social life). What is good for the eyes, should also benefit the mind and body.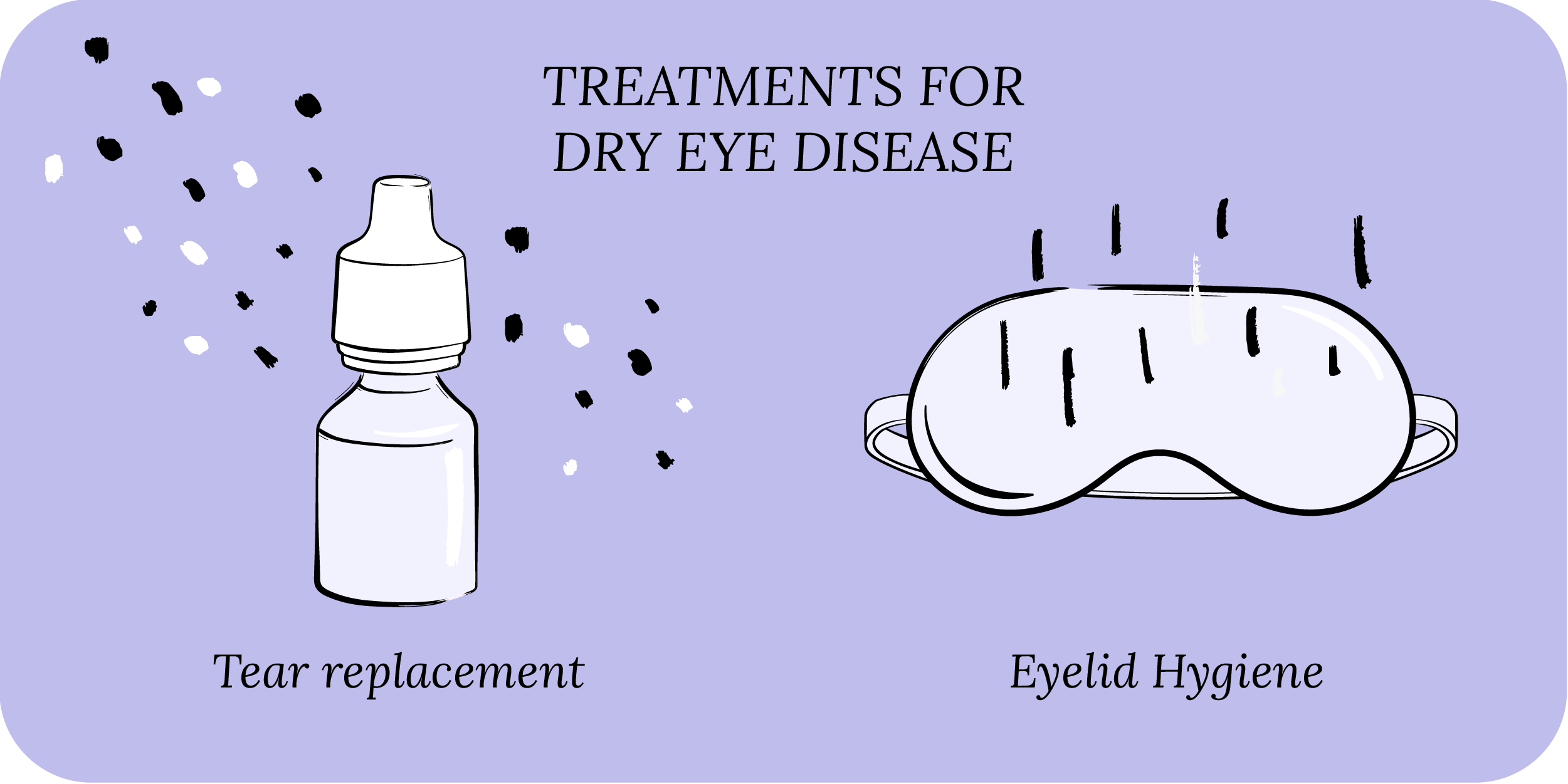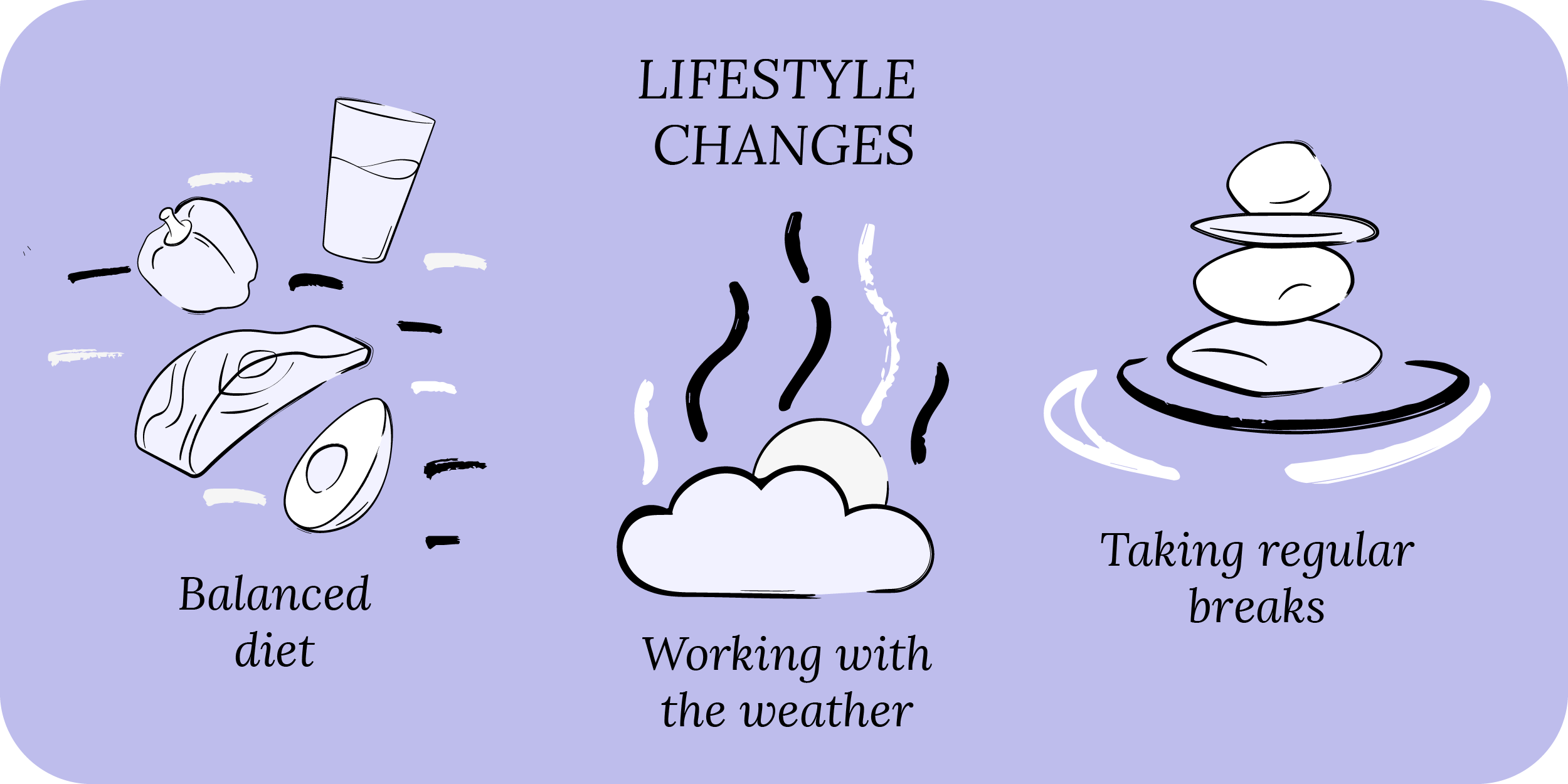 Why we developed RestTM self heating warm compresses
Eyelid hygiene is the first step in dry eye treatment, and without a good eyelid hygiene routine, other treatments aren't as effective.2 Even if you don't have dry eyes, eyelid hygiene is an excellent way to start taking care of your eyes, and preserving your eyesight.
Eyelid hygiene includes warm compresses and eyelid wipes. Eyelid hygiene helps treat meibomian gland dysfunction (MGD) and eyelid inflammation (blepharitis), the most common causes of dry eyes. Taking care of your eyelids is the first step towards dry eye relief.
Meibomian glands are located at your eyelid margin, and secrete oil which forms the lipid layer of your tear film and helps stabilize it. The mucin layer (from goblet cells) and aqueous layer (from the lacrimal gland) both sit under the lipid layer's protection.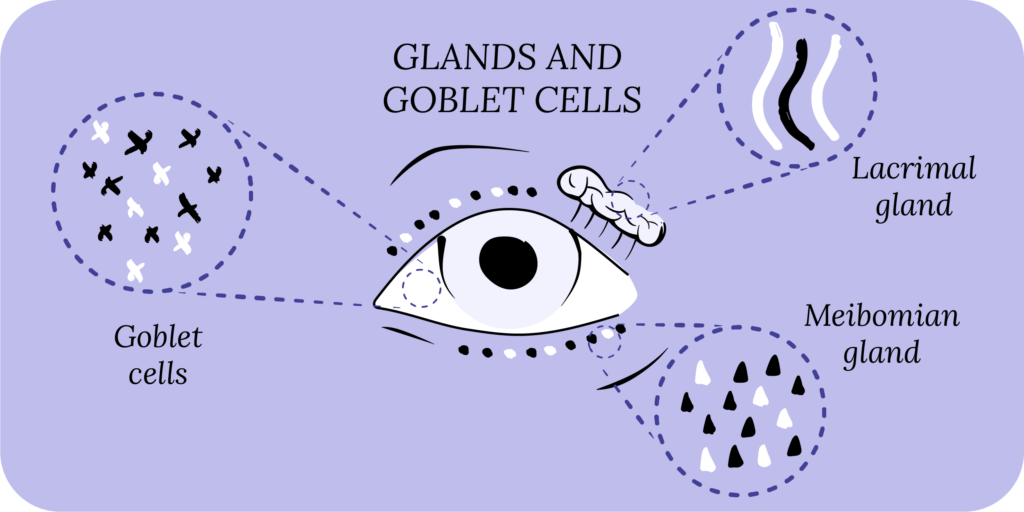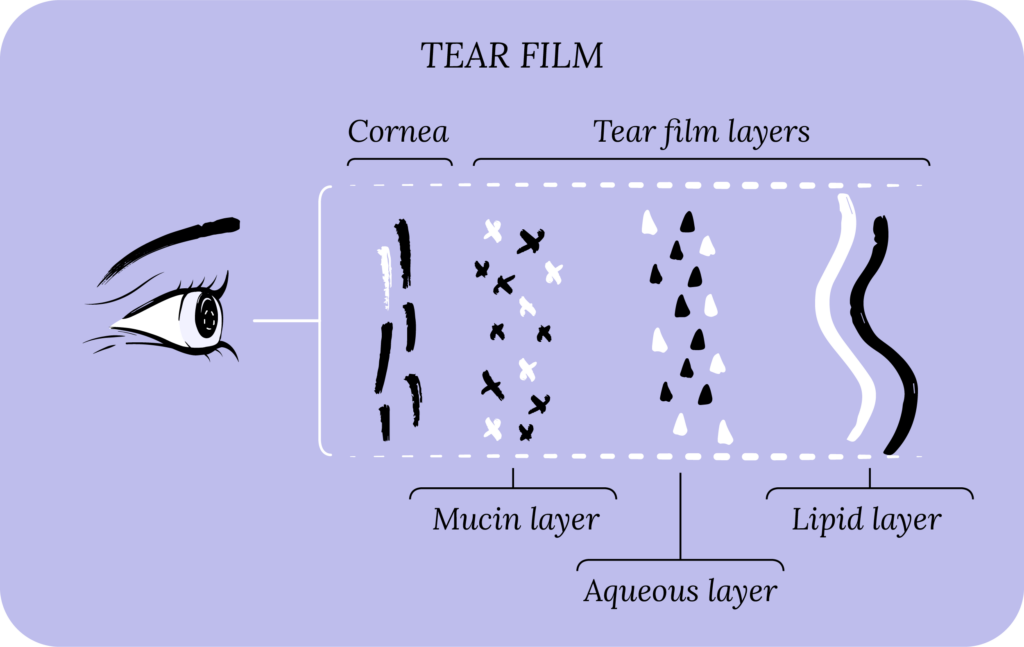 Meibomian glands can sometimes stop oil secretion, which leads to an unstable tear film that evaporates too quickly (think evaporative DED). The oil can also build up in the oil glands or on the eyelid margin, leading to styes (chalazion) and inflammation of the eyelids, known as posterior blepharitis. Anterior blepharitis, on the other hand, is caused by bacterial infections, mites (Demodex), and less commonly, by allergens and contact lens irritation. The classic symptoms of blepharitis include eyelash crusting, flaking or caking, eyelid redness and swelling, and itchy, irritated eyes. Chronic blepharitis can cause recurring conjunctivitis (pink eye or red eye), and corneal damage.
MGD and blepharitis treatment start with eyelid hygiene (warm eye compresses and eyelid wipes). The warm compress improves meibomian gland function, and promotes oil secretion. The eyelid wipes clear any debris from backed-up oil, fend off inflammation, and may have antimicrobial properties. Eyelid hygiene protects you from the vicious cycle of MGD <–> blepharitis, while reducing inflammation, redness and puffiness, which leads to healthy eyelids and vibrant eyes.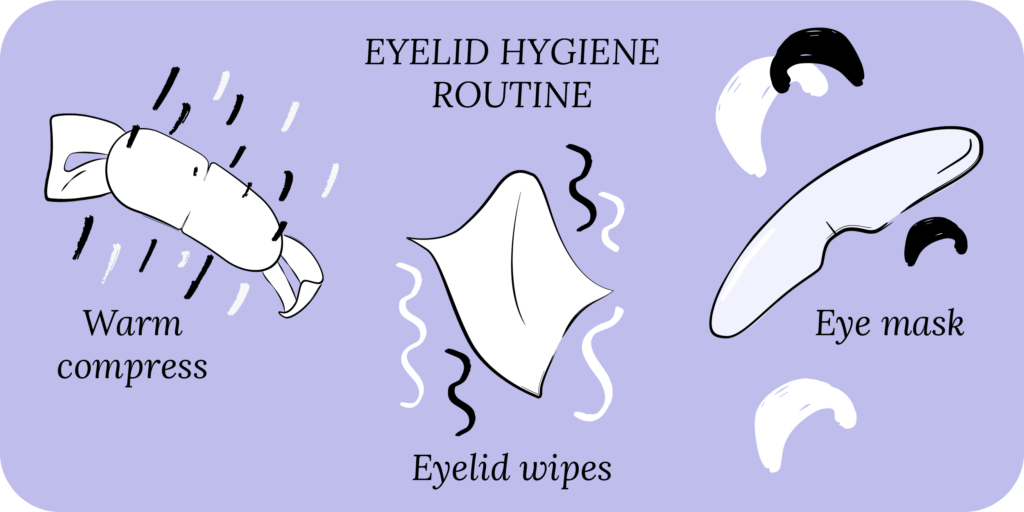 A good eyelid hygiene regimen with warm compresses and eyelid wipes works in the majority of cases if used consistently. If these don't work, your eye doctor may consider adding oral supplements (Omega 3 fatty acids), antibiotic ointment with steroids and oral antibiotics.
We developed our RestTM warm compresses and RiseTM eyelid wipes to not only treat MGD and blepharitis, but also to help you prioritize your eyecare. If you already have an eyelid hygiene routine, use our wipes and warm compresses to take your dry eye treatment to the next level. If you're looking to take the first step in protecting your eyes and preserving your eyesight, then start with our warm compresses. Your eyes deserve it and need it!
Warm compress and cold compress for eyes
Not all warm compresses are created alike. If not used properly, a warm compress won't work, and may actually be harmful. Safety is our foremost concern, and using anything in and around your eyes should always be done with great care and hygiene.
Most individuals have used hot compresses for non-eye conditions, such as muscle spasms, sinus congestion, sore muscles, ankle sprains, menstrual cramps and back pain. Heat therapy can be a good way to relieve pain and promote healing by increasing blood flow to the affected area. However, the skin and muscles at these non-ocular locations are much thicker than the skin and muscles around the eyes. For instance, using a heating pad, heat packs or hot packs and a hot water bottle may work for your back, but may be too coarse and hot for your eyes and eyelids.
For the eyes and eyelids, using softer materials and less intense, but prolonged moist heat is ideal. For a home remedy, you make a warm compress at home by using uncooked rice and a tennis sock, but this typically delivers dry heat. You can also soak a clean washcloth in warm water, but this only provides moist heat for a few minutes before needing more warm water.3 Alternatively, you can buy a pre-made reusable warm compress from your local drug store or online.
The currently available methods for doing a warm compress are either not suitable for the eyes, require too much labor, need a microwave or warm water, and may not be hygienic. Using the same warm compress for your abdomen is likely not safe for your eyes. Making a warm compress at home requires additional supplies, time and effort, which could be tedious and tiring at the end of the day. Lastly, using a reusable pre-made warm compress mask can build up debris and other pathogenic materials.
For these reasons and more, we made RestTM to be convenient and hygienic. Just simply open one of our individual sachets, put the mask on your eyes, and let it work its self heating magic. After use, simply discard. No microwave, no hassle, no germs, just relief!
A cold compress can also be helpful for the eyes, especially during an acute worsening of dry eye symptoms, aka flare-up.4 In these instances, a warm compress may be uncomfortable, and a cold compress may provide immediate pain relief. Similarly to warm compresses for non-ocular locations, the current ways of doing a cold compress aren't ideal for the eyes. For example, ice packs or cold packs in a plastic bag and cold water on a washcloth may be suitable first-aid for your ankle sprain, but not for the eyes. Using a gentler material and a less intense, but long-lasting cold therapy is key. Check out our Rescue hydrogel masks for convenient and clean cold compresses.
How to use RestTM warm compresses
Use every night prior to your usual routine.
No need to microwave!
After washing hands, sit in a comfortable chair or lie on your bed, open the packet, unfold the eye mask, free the loops, close your eyes, and place the mask on your eyes with loops around your ears.
Focus on relaxing your forehead and your eyelids while the mask self heats.
Leave the mask on for 10-15 minutes while listening to your favorite music, book or podcast.
Rinse with water or a cleanser after removing the mask, if desired, and then resume your nightly routine.
Dispose in the trash after use; do not flush.
Some expert tips!
While we suggest using our warm compresses in the evening, you can use them anytime during the day as needed.
You can use a cleanser after removing the mask, but it's not necessary!
You can add an eyelid massage to our warm compress by gently applying pressure to your eyelids while wearing the eye mask. While the moist heat livens the meibomian glands and liquifies oil, a gentle eyelid massage may help relieve any blockages in the glands themselves.
Lastly, these are meant to be used on your eyelids and lashes, so avoid touching your eyeball directly. If this does happen, don't worry, our ingredients are widely used in and around the eye. But, we do recommend gently rinsing out your eye, and then monitoring for any eye symptoms, likely redness, pain or vision changes.
How RestTM warm compresses fit into our system
Dry eyes can impact you physically, emotionally and financially, leaving you feeling neglected, frustrated and hopeless.5 At CorneaCare, our singular goal is for you to be heard, listened to, and in control of your dry eyes. This is why we've put together our system. Our RestTM eyelid wipes are backed by our experts, informed by our education and community portals, and supported by our app (coming soon!). Our system works in harmony to bring you joy, tranquility and lasting dry eye relief.
What's in the RestTM warm compresses
We've carefully and methodically selected our ingredients to be safe and effective. Our RestTM warm compresses are made with just four simple ingredients:
Purified water: Our warm compress masks contain pure, medical-grade, sterile water which lubricates and hydrates your eyes and eyelids. Hydrated skin leads to healthy, radiant skin. Hydrated eyes lead to healthy, natural tears. The water also combines with the other ingredients to provide moisture for a moist warm compress.
Activated charcoal: We use micronized charcoal that's activated by ambient air, and automatically warms when the mask is placed on the eyes. The heat combines with water to deliver a moist warm compress that nourishes the eyes and invigorates the eyelids.
Hydrated minerals: Our hydrated minerals, aka hydrous minerals, are essential minerals that contain water. They work with your body to initiate a natural catalytic reaction that powers the self-heating mechanism, and provides a sustained therapeutic warmth.
Inorganic salts: Inorganic salts play a vital role in bodily functions. Sodium chloride, aka table salt, is an inorganic salt. They work synergistically with hydrated minerals to promote ionic exchange, which prolongs the self-heating mechanism.
Our pledge
We're grateful that you've trusted us with your eyes, and we've channeled this trust into our responsibility and commitment to you. Our products are built with this sentiment, and adhere to our ethos of upholding your trust, protecting your eyes and preserving your health. You've trusted us with your eyes, and we take this privilege very seriously.
What's next
We really think everyone should take our Dry Eye 101 course. Find it here!
Want to discuss the RestTM eyelid wipes with our community or experts, go here!