Key points
What you eat can make a difference in how your eyes feel and possibly prevent eye problems like age-related macular degeneration, cataracts and dry eye disease. 
The worst foods for eyesight are highly inflammatory and contribute to age-related eye conditions.
You can make simple nutritional swaps to improve the health of your eyes and your physical health overall.
Taking the first step
You're likely aware that what you put into your body affects your overall health and wellbeing. The same goes for your eyes. Diet and nutrition significantly impact the health of our eyes. The worst foods for eyesight are actually common foods that should be limited or avoided for optimal health, and you'll probably feel much better without them in your diet! CorneaCare strongly encourages lifestyle modifications as part of your overall eye health and wellness strategy. One of the easiest places to start could be with food.
You brush your teeth,
moisturize your skin,
what about your eyes?
Why good nutrition is essential in overall eye health
First, let's understand why nutrition is essential to eye health and wellness. When it comes to good eye health, a strong diet should consist of nutrients lutein & zeaxanthin, Vitamin C, Vitamin E, omega-3 fatty acids and zinc.¹
Lutein and zeaxanthin are carotenoids (nutrients) with high antioxidant properties. They typically appear in richly colored foods like dark leafy greens and some fruits like tangerines. Increasing the amount of lutein and zeaxanthin in the diet has been shown to decrease the risk of age-related macular degeneration (AMD), a serious eye condition that can lead to blindness.²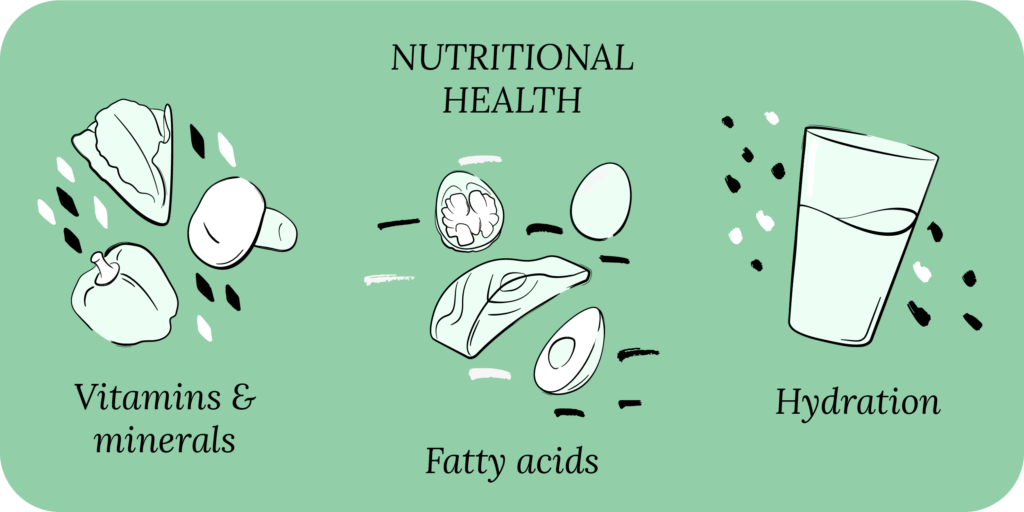 Vitamins C and E are important to include in any diet aimed to improve eyesight. Vitamin C (found in citrus fruits, bell peppers and tomatoes) may help lower the risk of developing cataracts (an age-related eye disorder that causes blurry vision). Vitamin E helps protect the eyes' cells from free radicals, which age healthy tissue in the eye. Vitamin E is found in nuts, sweet potatoes, pumpkin, and leafy green vegetables.¹
A diet high in omega-3 fatty acids has many benefits for the body overall. When it comes to eye health, omega-3 fatty acids, like those found in wild-caught fish like salmon and tuna, help reduce inflammation and enhance tear-film stability. Getting adequate amounts of essential fatty acids can greatly improve dry eye disease symptoms.³
While you may think of zinc as an immune-boosting mineral, it is also beneficial in preventing vision problems like poor night vision, AMD and cataracts. Zinc (found in red meat, nuts and seeds), helps bring Vitamin A from the liver to the retina to produce melanin, a protective pigment found in the eyes.¹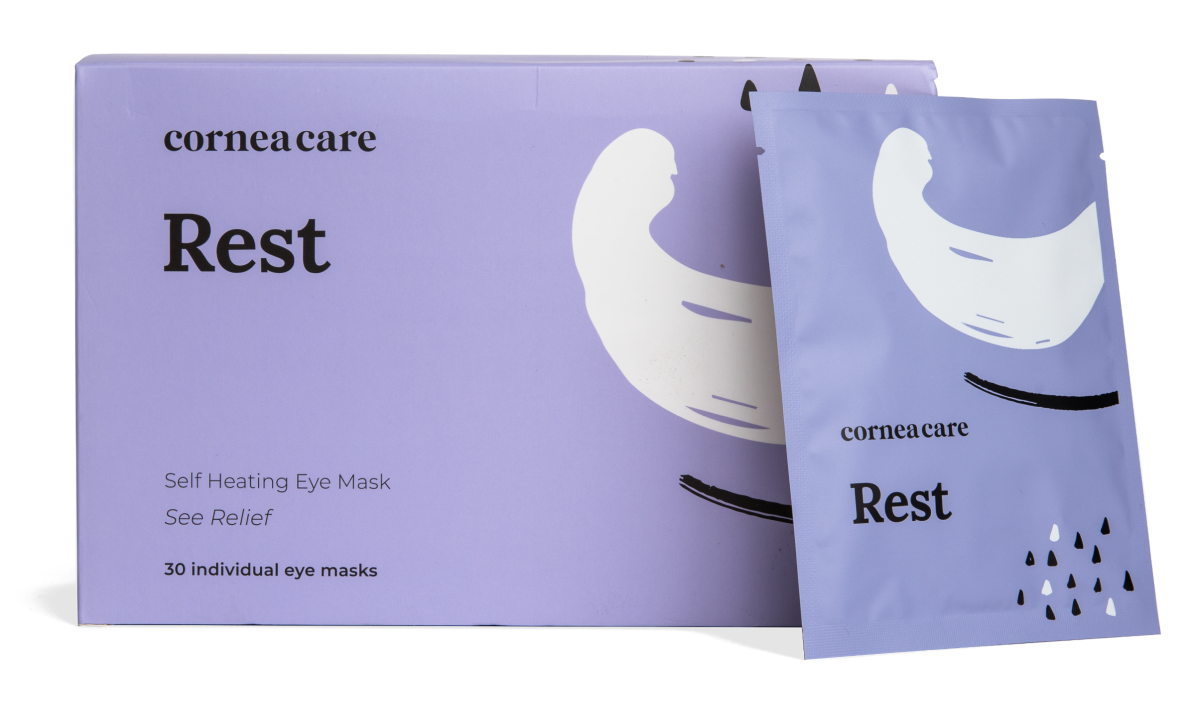 Perfect for eye dryness, fatigue, tearing, and puffiness of the eyelids. Free shipping 📦.
The three worst foods for eyesight
So now that you have an idea of some of the best foods to include in your healthy eye diet, let's review which ones you may want to reduce or avoid.
In general, any foods that cause inflammation can negatively impact your eyesight (and overall health). Inflammation prevents healing and can lead to a host of health problems, including heart disease, diabetes, asthma, cancer, arthritis and Alzheimer's disease.⁴ These chronic conditions can also lead to problems with your eyesight.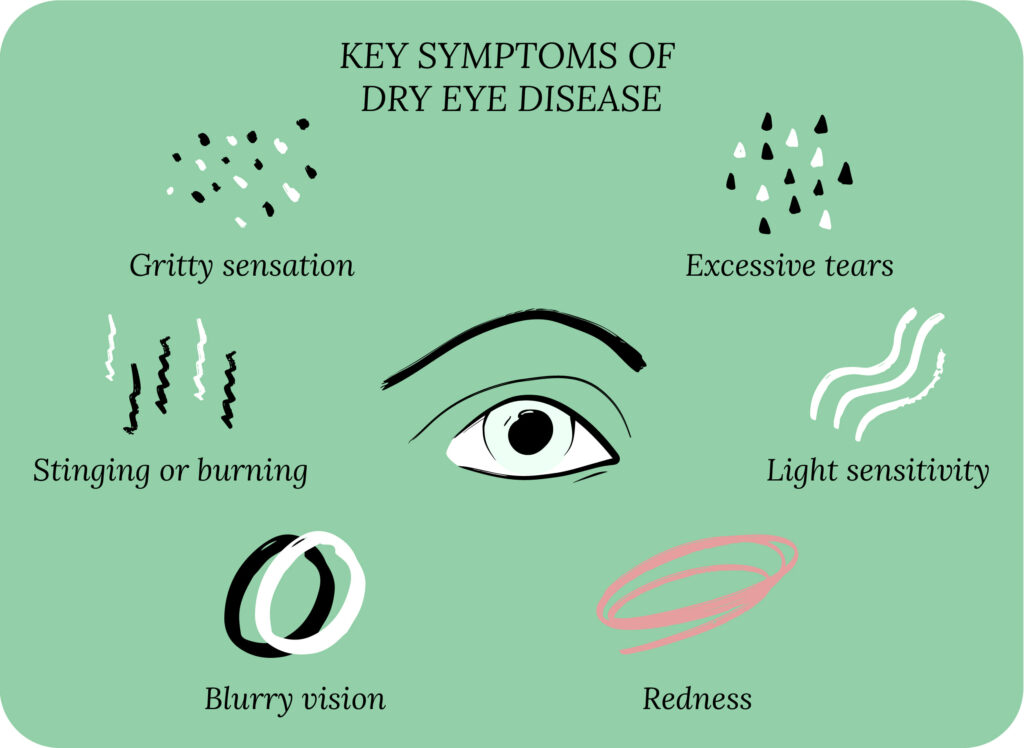 Let's cover some common inflammatory foods and ingredients so that you understand their effect on eye health.
Fried foods
You'll be hard-pressed to find an article touting the benefits of eating fried foods. Foods fried in unhealthy fats like trans fats aid in developing age-related eye diseases such as AMD.
A recent study linked the consumption of trans fats, particularly polyunsaturated fats, as a contributing factor to the development of AMD in a group of participants (women ages 50-79) over multiple years. Even when anti-inflammatory omega-3s were added to the participants' diet, the benefits of those healthy fats were diminished by the prevalence of the trans fats in their diet.⁵
We're not suggesting you never eat french fries again, but removing fried foods from your everyday food choices is a great way to start protecting your eyes. Some people have switched to air-frying their food at home, which gives you the same "crunch" that you might crave from fried food, but without the harmful oils.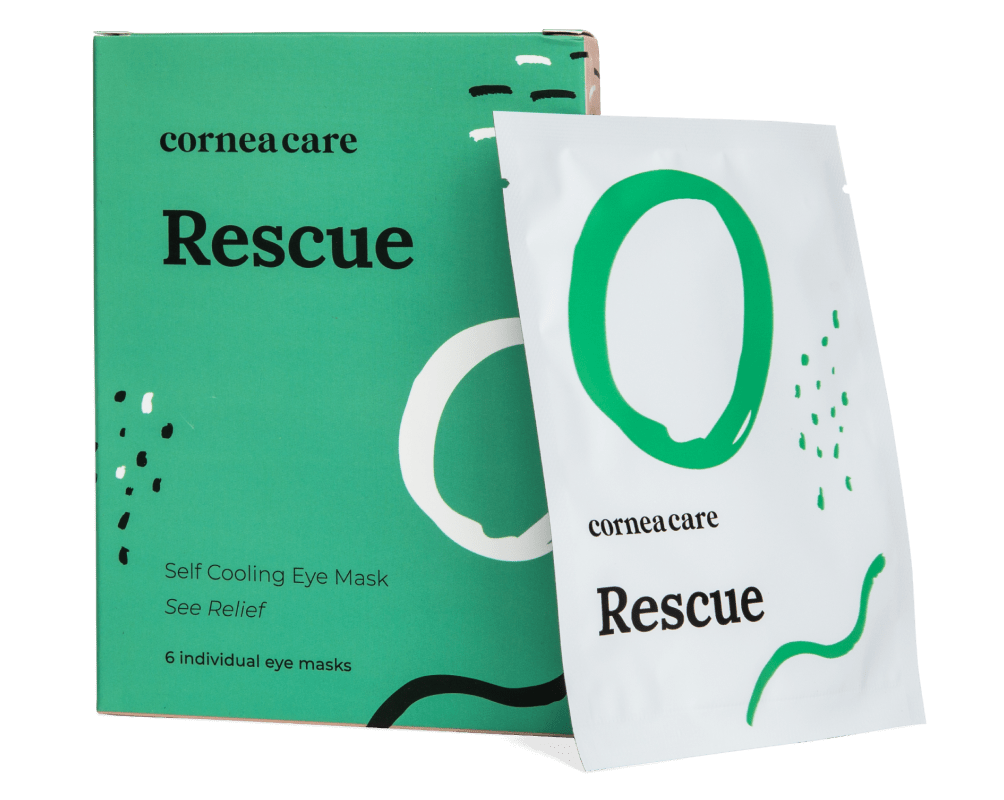 Perfect for sudden flare-ups of eye dryness, pain, burning, and swollen/inflamed eyelids. Free shipping 📦.
Processed foods
In today's modern world, many of us seek convenience when necessary. We get it, we live in a busy world and there's only so much time in the day. We jump in our car, order our coffee ahead of time on an app, and grab quick, packaged meals to eat on the run. Unfortunately, our health (and wallets) pay the price when consuming processed foods.
Processed foods, like traditional junk foods (chips, cookies, and candy) and even foods that you may not deem "unhealthy" like salad dressings and protein bars, often contain preservatives, unhealthy fats and inflammatory ingredients linked to some of the conditions mentioned above. What's more, these packaged foods often have little or no nutritional benefits.
A concern with packaged food is that it typically contains a high amount of sodium chloride (salt). A diet high in salt can lead to high blood pressure, damaging the blood vessels around the eyes and leading to blurry vision or vision loss.⁶
If you find that you reach for processed foods because you are often on the go, consider switching to whole foods like an apple and a handful of nuts, or a banana and hard-boiled egg. While it may take some practice and a bit more time to make healthy swaps, notice how you feel and know that you are protecting your eyesight in the long run!
Want to take care of your eyes but not sure where to start?
Refined carbohydrates
Refined carbohydrates, like white bread, sugary drinks, cookies, crackers, and candy, cause spikes in your blood sugar and contribute to health conditions like diabetes, heart disease and even cancer.
Refined carbohydrates have a higher glycemic index, which measures how carbohydrates are metabolized in the body. A higher glycemic index means that the carbohydrates are broken down too quickly in the body and cause rapid spikes in blood sugar. So what does this mean for the eyes? A study performed by Tufts University concluded that these refined carbohydrates damage the retina and the blood vessels around the eyes, and, along with risk factors like age and smoking, can lead to eye conditions such as glaucoma and AMD.⁷
While a carbohydrate-free diet may be impossible and unnecessary for most people, you can likely benefit from swapping out refined carbohydrates for more complex carbohydrates like whole-wheat bread, brown rice, and whole fruits and vegetables.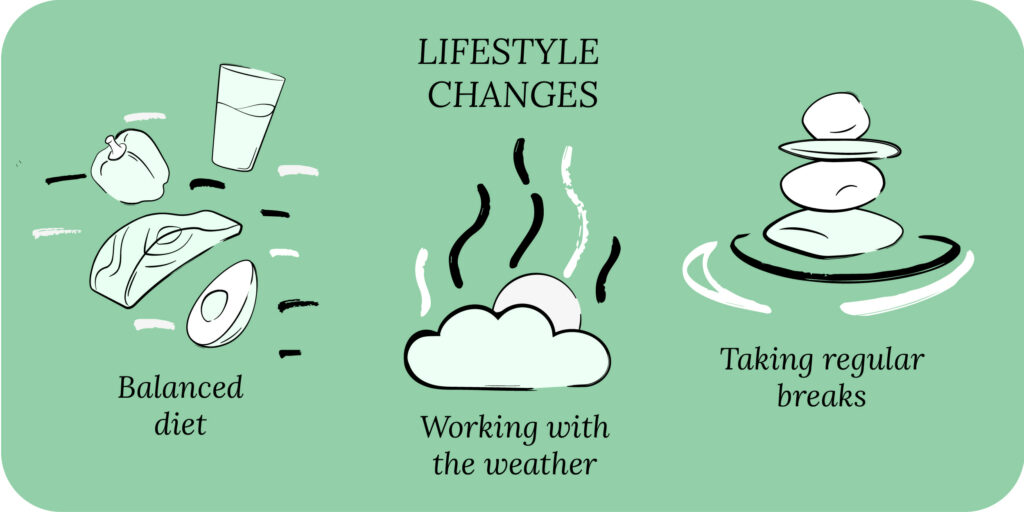 Putting it all together
By now, you may realize that the worst foods for eyesight negatively impact your health overall. Because eye health and physical health are closely connected, this makes sense. What's good for you is good for your eyes and vice versa. When it comes to caring for your eyes, making simple nutritional swaps and lifestyle modifications and adhering to a daily eyelid hygiene routine may be all you need to keep your eyes healthy and safe for years to come.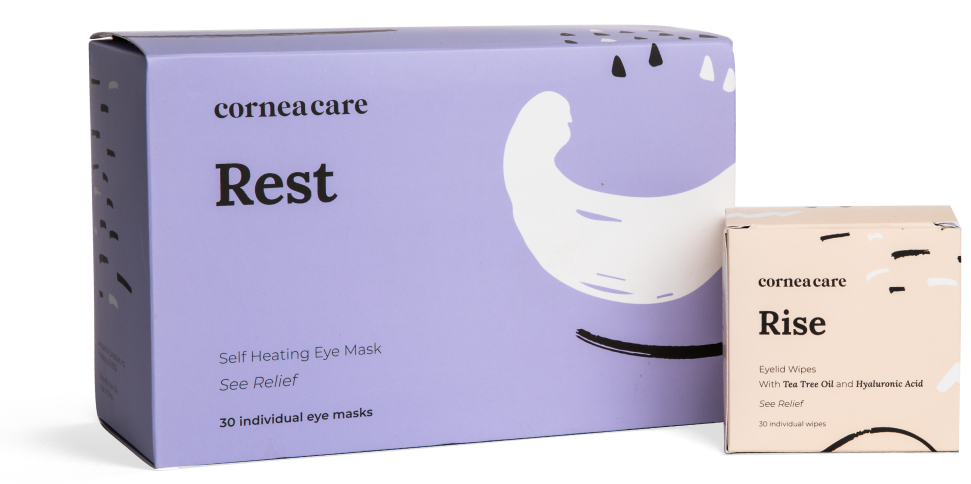 Perfect for eye dryness, burning, itching, crusting/flaking of eyelashes and inflamed eyelids. Free shipping 📦.
What's next
Explore more ways to keep your eyes healthy in our Eye Health & Wellness blog.