Key points
Dry eye disease can have a large impact on your eyes, mind and body.
Severe dry eye disease can lead to poor outcomes after eye surgery.
Dry eye disease adds to the burden of general health conditions.
No one taking your
dry eyes seriously?
Keywords
Autoimmune, allergies, cataract surgery, dry eyes, headaches, LASIK, lupus, Sjogren's, sleep
Taking the first step
At CorneaCare, we believe that dry eye disease (DED) is not just about dry eyes; it affects the whole body! Your vision is your most important sense, and if it becomes compromised, it can have a devastating impact on your physical and mental wellbeing. DED can increase the risk for several eye complications, while also draining your general and emotional health. Our goal at CorneaCare is not just to treat your dry eyes, but to treat the whole you. We want to give you the tools and skills to enjoy your vision and be physically and mentally strong.
A quick review of dry eye disease
Before we dive into how DED is linked to your physical and ocular health, let's review some basics. DED is also known as dry eye syndrome, keratoconjunctivitis sicca and ocular surface disease.1 The prevalence of DED is increasing due to a change in our demographic (aging population) and a change in our lifestyle (more computer screens). The classic symptoms of dry eye are blurred vision, redness, photophobia (light sensitivity), eye strain, dryness, watery eyes, stinging or burning, gritty sensation and eye pain.
There are several causes of dry eyes, but we break them down into aqueous deficient (decreased tear production and secretion) and evaporative (rapid tear evaporation).
With aqueous deficient DED, your lacrimal glands do not produce enough tears to lubricate the surface of the eyes (the cornea and conjunctiva). We typically see this with autoimmune diseases (Sjögren's syndrome, systemic lupus erythematosus (SLE), and rheumatoid arthritis), medical comorbidities (menopause, cancer and thyroid problems), and oral medication side-effects (antihistamines, decongestants and antidepressants). With evaporative DED, your body makes enough natural tears, but they evaporate too quickly because your tear film is unstable. We typically see this with contact lens use, refractive eye surgeries (LASIK), meibomian gland dysfunction (MGD – clogged up oil glands in your eyelids), blepharitis (eyelid inflammation), and other eye conditions (glaucoma).
The treatment options for dry eye include over-the-counter lubrication with eye drops (artificial tears) and eyelid hygiene (warm compress and eyelid wipes). A humidifier and air purifier can also help, as can using an Omega 3 supplement. Depending on the severity of dry eye, a person may require prescription drops (cyclosporines such as Restasis or Cequa, or lifitegrast such as Xiidra) and in-office ophthalmic procedures (such as punctal plugs).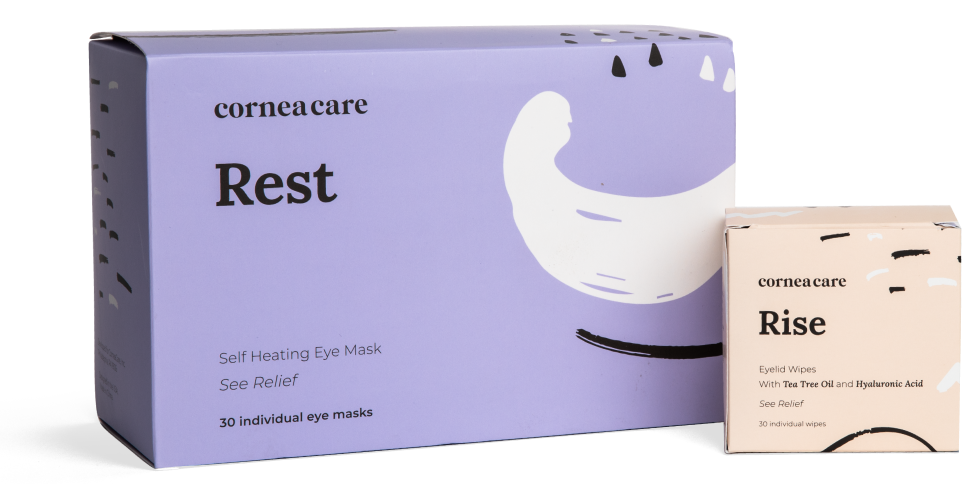 Perfect for eye dryness, burning, itching, crusting/flaking of eyelashes and inflamed eyelids. Free shipping 📦.
It's important to start dry eye treatment promptly. While it does not cause blindness, chronic dry eye puts you at risk for eye problems with vision-threatening complications, such as corneal infections and scarring. DED is a complex condition, and the resulting visual impairment can lead to significant mental and physical stress. Eyecare is a vital part of your overall healthcare.
Dry eye is more than eye pain and strain
Dry eyes can increase your risk for several eye conditions while making it difficult to treat others.2 Your tear film protects the surface of your eye. In DED, your tear film isn't working well, which means your cornea is at higher risk for injuries, such as corneal abrasions (scratches) and corneal ulcers (infections). Sometimes the ocular surface gets so beat up that it doesn't heal properly, leading to recurrent corneal erosions, where you can get corneal scratches that come and go randomly, causing severe eye pain.
If DED is present for a long time, it can cause damage to the corneal nerves. This can either make your corneal nerves very sensitive, where you experience severe symptoms like eye pain. Or, it can decrease your corneal sensitivity, which increases your risk for scratches, erosions, and infections, and decrease your ability to heal.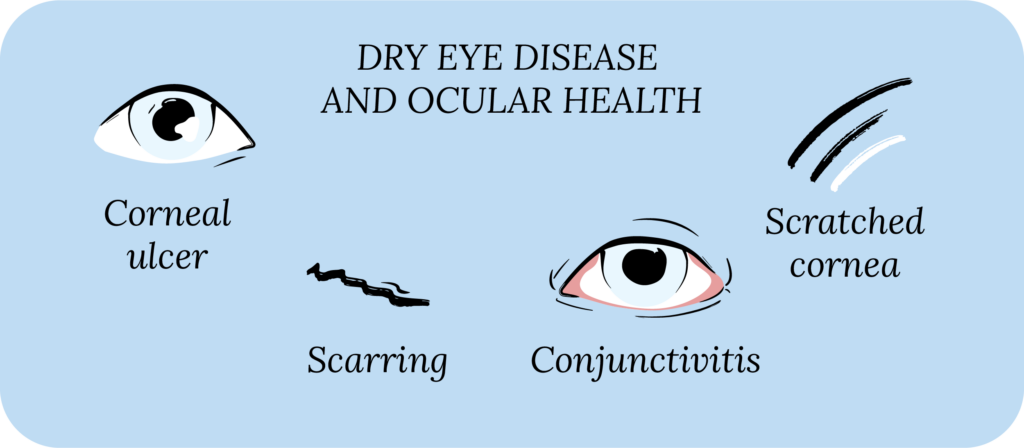 If you have DED, you may not tolerate the treatments for other eye conditions. For example, drops used to treat glaucoma can cause or worsen DED. Treatment for macular degeneration and diabetic retinopathy can also impact your DED. In fact, most drops used to treat eye conditions are not gentle on the ocular surface because they contain preservatives.
For those of us who enjoy wearing contact lenses, dry eyes can lead to contact lens intolerance. Meaning, if you have DED, wearing contact lenses for long periods can significantly worsen your symptoms. The reverse is also true: contact lens wear can lead to contact lens-related dry eye. If you have DED and are a contact lens wearer (soft contact lenses or rigid gas-permeable contact lenses), consistently using contact lens solution and rewetting drops (artificial tears) is crucial. If you develop dry eye discomfort while wearing contact lenses, you can try different types of contact lenses, different contact lens material, or switch to daily disposable contact lenses.
Dry eyes can lead to poor surgical outcomes
In addition to worsening existing eye conditions, the presence of DED can preclude you from certain eye procedures, and lead to poor surgical outcomes.3
Cataract surgery and refractive surgery (LASIK) are two of the most commonly performed eye surgeries. To perform these surgeries, your eye doctor (ophthalmologist or optometrist) does a thorough eye exam, and uses machines to take very precise measurements of the eye. The quality of these measurements depends heavily on the surface of the cornea. If you have dry eyes, the eye surface may be altered, which can jeopardize the quality of our measurements. This makes it challenging to plan for surgery and runs the risk of a poor surgical outcome. After cataract surgery or LASIK surgery, most patients expect significant visual improvement, and not being able to meet that expectation postoperatively is disheartening for the patient and surgeon alike.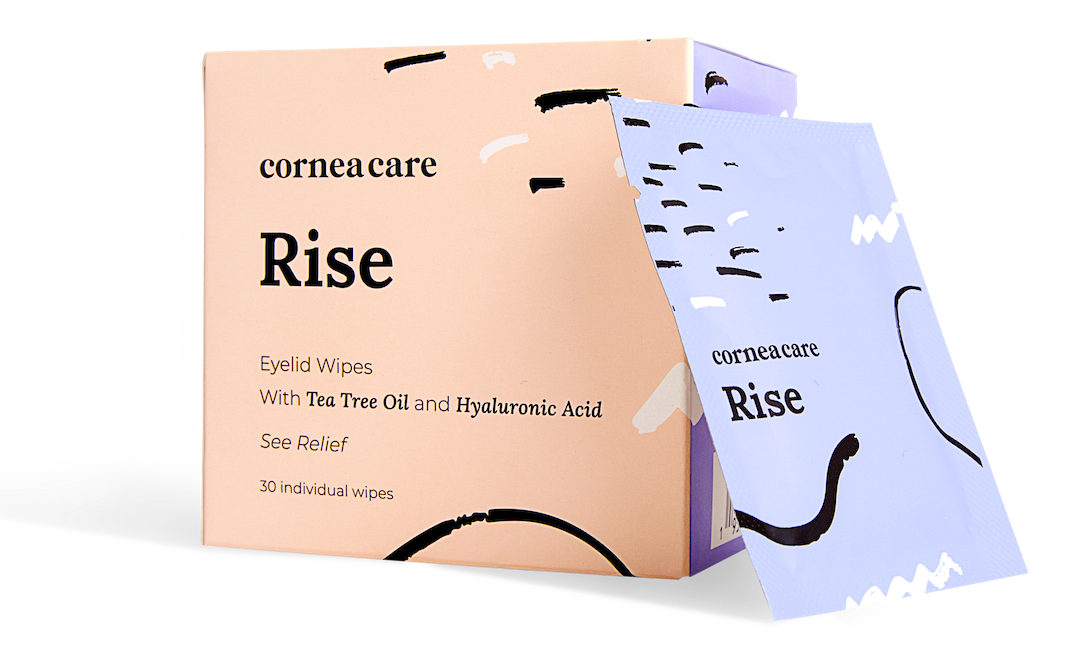 Perfect for eye dryness, itching, burning, and crusting/flaking of eyelashes. Free shipping 📦
Not only does DED lead to issues with preoperative surgical planning, but the presence of chronic dry eyes is also one of the leading causes of dissatisfaction after surgery. Any ocular surgery can lead to or worsen DED, and the risk of this happening is even higher if you have dry eyes prior to the surgery. Moreover, after most eye surgeries, we typically prescribe antibiotic and steroid drops, which contain preservatives, and can worsen the symptoms of dry eye.
Dry eye disease can add to the burden of health conditions
DED is associated with several medical conditions that affect your general health. These include autoimmune conditions (Sjögren's syndrome, lupus, rheumatoid arthritis and thyroid eye disease), high blood pressure, diabetes, poor nutritional status (diet with low vitamins A, B, C, D and E, and low omega-3 fatty acids), cancer, dermatitis, rosacea, menopause (hormonal changes), and many more.
Having dry eyes along with these and other medical conditions can add to the overall burden of disease.4 For example, cancer and chemotherapy are associated with DED. Having to worry about managing dry eye symptoms and the treatment of cancer at the same time can be immensely difficult. With autoimmune disorders, your immune system creates antibodies against your own tissue and starts attacking it. These conditions can have a variety of ocular manifestations, affecting nearly all parts of the eye, from the cornea to the retina and optic nerve. When autoimmune disorders affect the cornea, you develop dry eyes.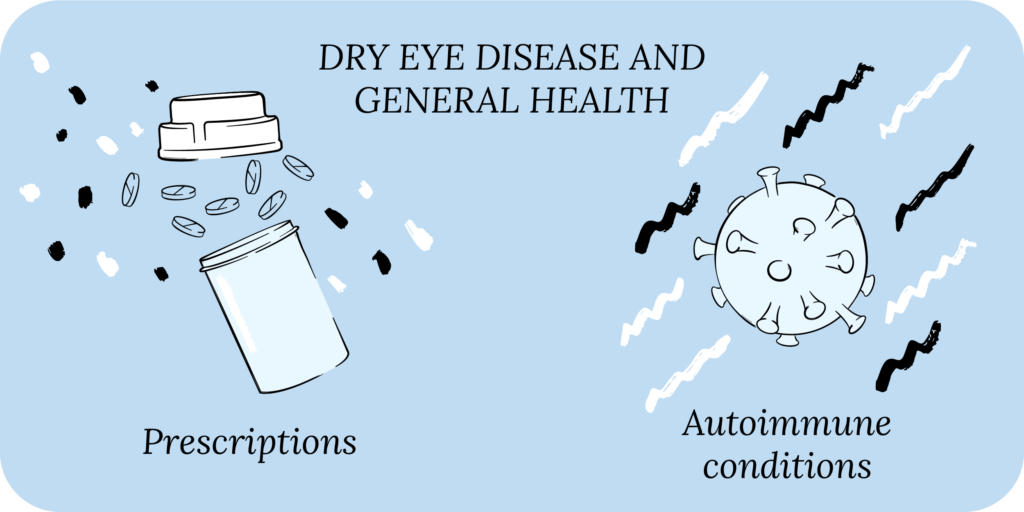 Experiencing symptoms from autoimmune disorders with dry eye symptoms can be challenging for patients. For example, lupus patients may experience joint pain, get a rash, while also getting eye pain, irritation and redness. Sjögren's patients may get dry mouth and dry eyes at the same time. Moreover, symptoms of autoimmune conditions and dry eyes can flare simultaneously.
You may have to consider DED when picking treatment options for medical conditions. Developing symptoms of dry eye is a notable side effect of several oral medications, like antihistamines, antidepressants, birth control pills, diuretics, decongestants, beta blockers, chemotherapy, and hormone replacement therapy.
Several of these medications are necessary. For example, if you have seasonal allergies, taking an antihistamine can make all the difference between a good and bad day. But taking an antihistamine can lead to dry eyes. The same is true for the other medications listed. Now, you certainly should not stop taking these medications if you develop symptoms of dry eye. It is, however, important to talk about dry eyes with your doctor when starting these medications. And if you've already started these medications and developed dry eye symptoms, treating the dry eye will help you better tolerate these medications.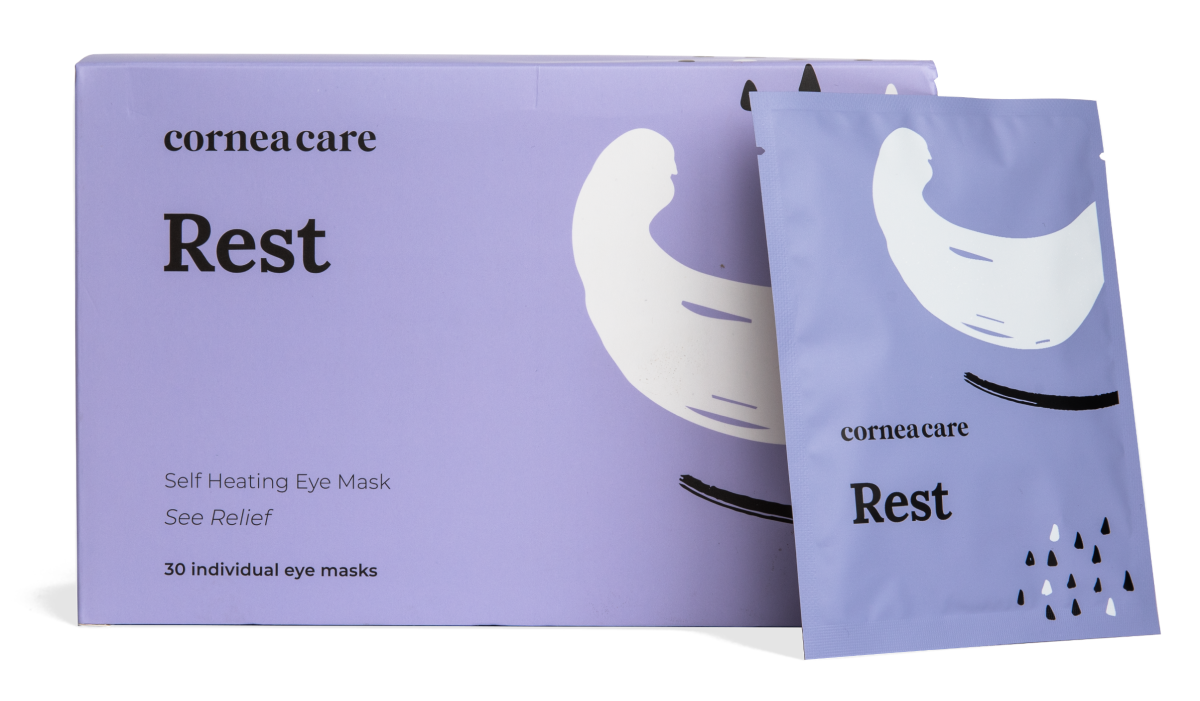 Perfect for eye dryness, fatigue, tearing, and puffiness of the eyelids. Free shipping 📦.
Waking up with dry eyes
Sleep is foundational to our overall health and wellbeing. Short duration and poor sleep quality are linked with many physical and psychological medical conditions, including heart disease, stroke, depression and anxiety. Almost 50% of patients with DED report sleep problems, and the incidence of DED is higher in people with poor sleep, and people with poor sleep tend to have DED.5
One reason for this could be that dry eye symptoms may worsen overnight, so you wake up with dry eyes. If you have nocturnal lagophthalmos (eyelids remain partially open when sleeping), you may develop tear film instability overnight, causing you to get dry eye symptoms. This may disrupt your sleep, even if it doesn't fully wake you up. The same could be true if you sleep under a fan, or have sleep apnea and wear a sleep mask for breathing. Environmental factors in your bedroom, such as low humidity, dust irritants, and allergens, could also contribute to dry eye symptoms.
Chronic migraines with dry eyes
In addition to various medical conditions and sleep, DED is also linked to chronic migraines. People with migraine headaches are 1.5-2x more likely to report symptoms of dry eye.6
While a causal link between DED and migraine headaches hasn't been established, the two share many similarities. Both affect females more than males, and are triggered by the same things (intense light, strong smells and extremes in temperature). Both are associated with abnormal activation of the trigeminal nerve, which provides sensation to the face, forehead and the cornea. DED and migraines are also associated with mood disorders (anxiety and depression), sleep abnormalities, and decreased quality of life.
Perhaps most convincingly, both migraine headaches and dry eye disease may be a manifestation of an underlying chronic pain syndrome.8 There are a cluster of medical conditions with chronic pain that tend to co-exist with DED. These are known as chronic overlapping pain conditions, and include chronic fatigue, irritable bowel syndrome (IBS), fibromyalgia/chronic widespread pain, chronic headache, migraine, and chronic low back pain.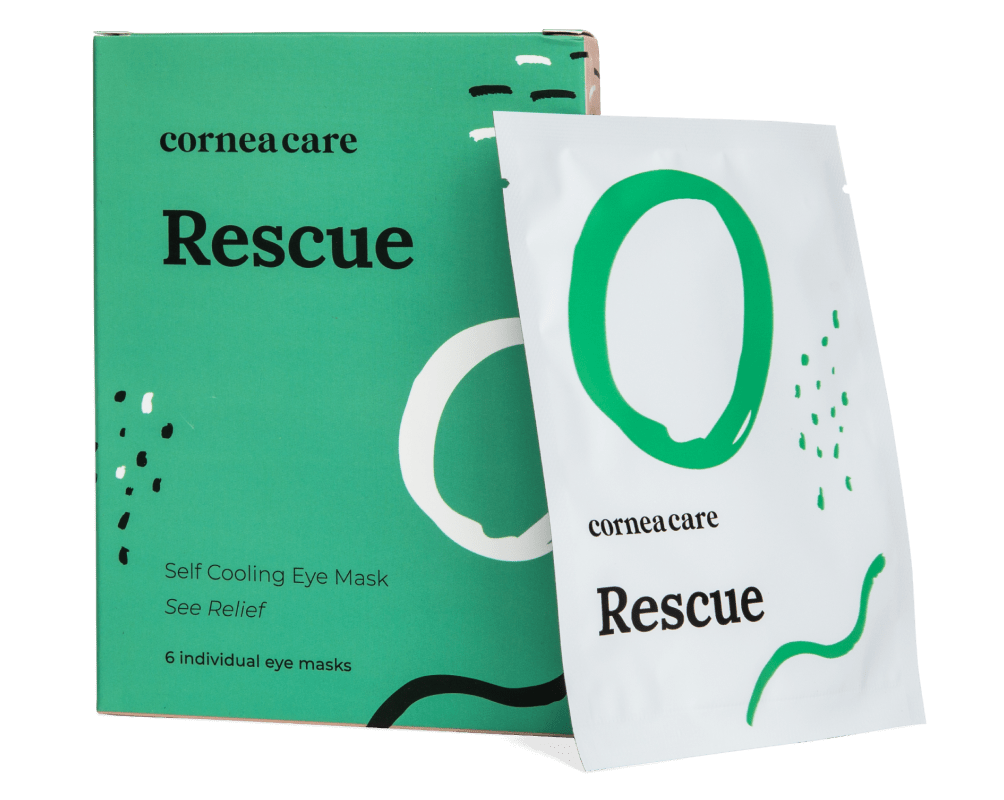 Perfect for sudden flare-ups of eye dryness, pain, burning, and swollen/inflamed eyelids. Free shipping 📦.
These conditions share genetic overlap, affect women more than men, and are believed to be caused by a central pain processing issue. Meaning, your nervous system doesn't process pain like it should, causing you to experience too much or too little pain. This is known as neuropathic pain, which is described as burning, shooting, decreased sensation, hypersensitivity and spontaneous pain; something that migraines and DED symptoms have in common.
With migraine headaches and dry eyes, you can experience intense symptoms and neuropathic pain without any physical cause or abnormal exam findings. Moreover, having dry eyes can significantly increase the severity and duration of migraine attacks.7 If you suffer from DED and migraines, treating your dry eyes may help with both.
Impact of dry eyes on mental health
People with DED are 2-3x more likely to have depression and anxiety than those without DED. Constantly experiencing the symptoms of dry eye is physically and emotionally exhausting. Not knowing when your symptoms may flare is anxiety-provoking and can lead to panic attacks. The link between dry eyes and your emotional wellbeing cannot be overstated.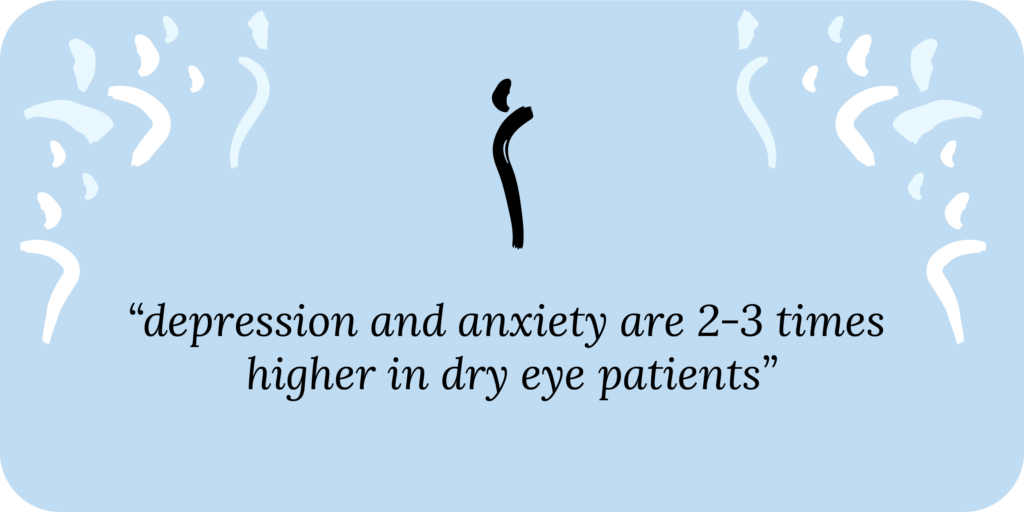 Putting it all together
DED is not just about dry eyes. It affects the whole body, from your eyes to your physical and mental health. We at CorneaCare believe that DED treatment should not only address your eyes, but also take into account your physical and emotional health. We want to treat the whole you, and only by doing so can we bring you real lasting relief. We believe that your eye health is essential to you living a happy fulfilling life!
Want to take care of your dry eyes but not sure where to start?
What's next
We really think everyone should take our Dry Eye 101 course. Find it here!
If you've already taken it, amazing! Check out more articles in the Continuing Education section below.