Key points
You can manage dry eye disease effectively with simple home remedies.
In addition to a good medical treatment plan, incorporating natural remedies into your eye care routine can significantly improve your overall health.
Develop home remedies that you can keep up with consistently for the best results.
No one taking your
dry eyes seriously?
Keywords
Dry eye treatment, home remedies, lifestyle factors
Taking the first step
If you experience symptoms of dry eye, you know firsthand how frustrating it can be to treat them.
Managing dry eye disease (DED) often requires a multifaceted approach for patients. Your eye doctor (ophthalmologist or optometrist) may recommend over-the-counter (OTC) treatments and prescribe medications or suggest medical procedures. But discussing the importance of lifestyle changes and home remedies for dry eyes is equally important. At CorneaCare, we approach any dry eye treatment plan with the patient in mind.
By incorporating simple home remedies for dry eyes, you can reduce inflammation in your eyes and significantly improve your symptoms so that dry eyes don't get in the way of your life.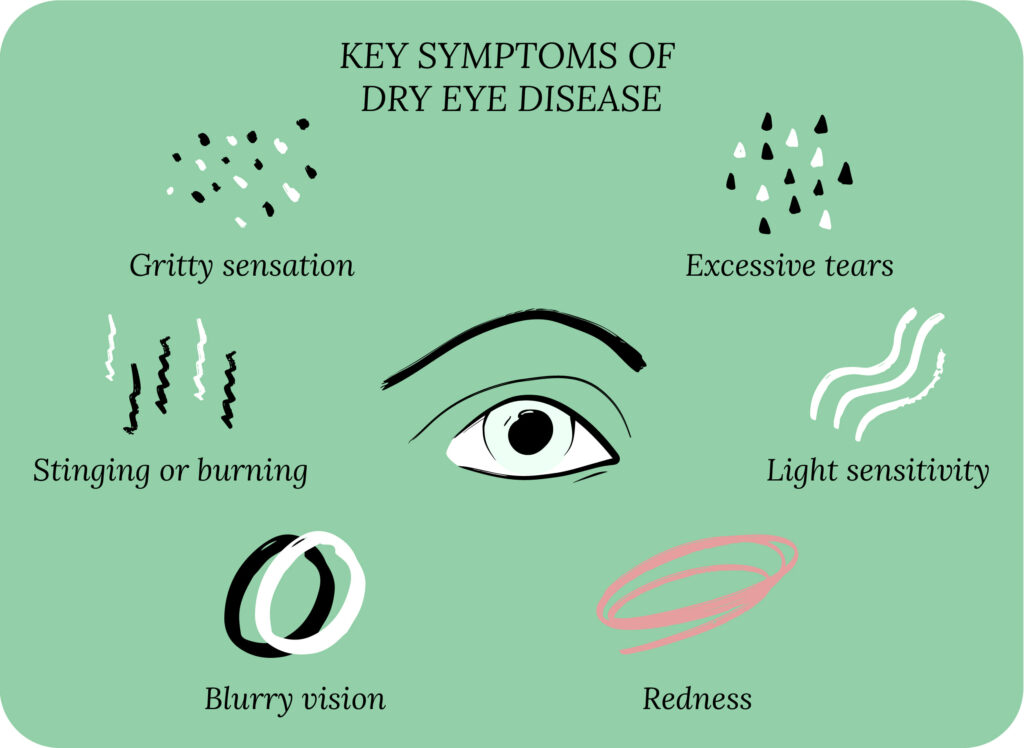 What is dry eye disease
Before we dive into some of the simple home remedies for dry eye disease, we want to provide you with an overview of DED causes and symptoms. Chances are, if you are reading this article, you may already be familiar with DED. We also highly encourage you to take our Dry Eye 101 Course to get an overall understanding of DED.
DED, or dry eye syndrome, is a chronic condition. The American Academy of Ophthalmology puts it simply: if your eyes lack proper tear production, it is called aqueous deficient dry eye.¹ Dry eye also occurs when your eyes do not make the right type of tears, or evaporation occurs too quickly (evaporative dry eye). Environmental factors, lifestyle choices, and medical conditions like Sjögren's syndrome, thyroid eye disease, blepharitis, cancer, diabetes, and even pregnancy and menopause can lead to these two main types of dry eye disease. Sometimes, people experience DED after refractive eye surgery (Lasik) because of the injury it can cause to the nerves of the cornea.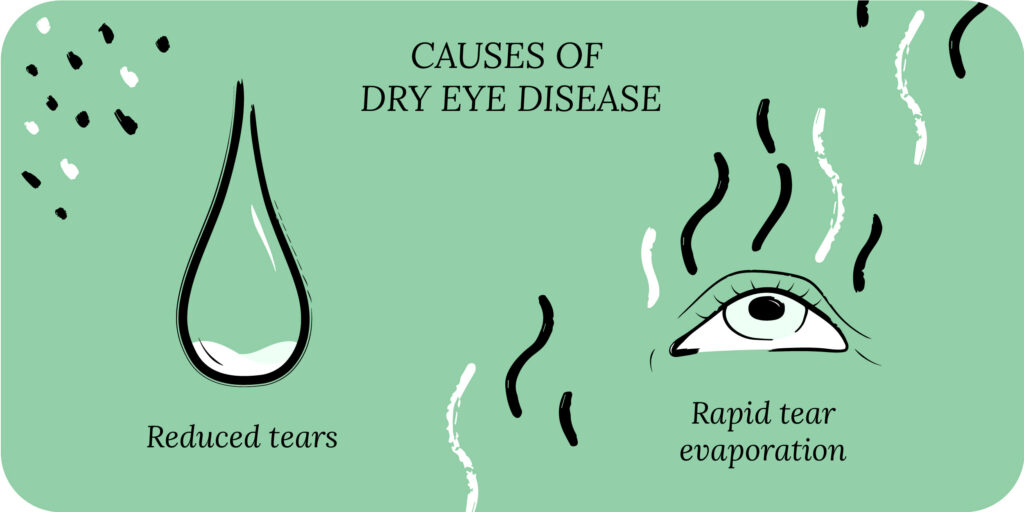 While the cause of dry eyes can vary, people with DED commonly experience symptoms ranging from mild to severe, which include eye pain, dryness, itchy eyes, blurred vision, stinging or burning, watery eyes, foreign object sensation and gritty sensation. You can imagine how living with these symptoms day in and day out could affect your quality of life.
While there are many medical and prescription-grade treatment options, at CorneaCare we believe in a holistic approach to treating DED. Many people cannot afford the expensive medical treatments and prescriptions and thus look for Do-It-Yourself (DIY) or home remedies to help treat their symptoms. While getting your yearly eye exam is important, DED often does not present on a standard exam and goes undiagnosed by many doctors.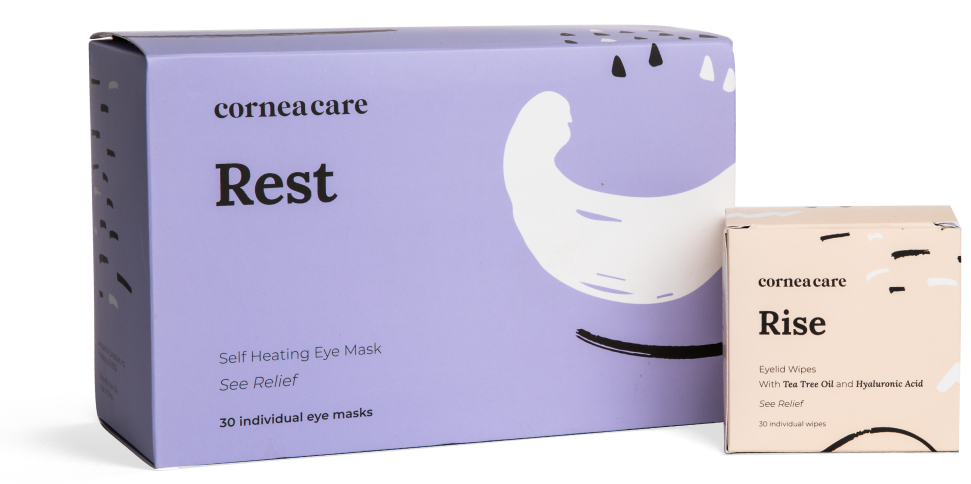 Perfect for eye dryness, burning, itching, crusting/flaking of eyelashes and inflamed eyelids. Free shipping 📦.
What are the best home remedies for dry eyes?
What works for someone else may not work for you in terms of home or natural remedies to treat dry eyes. There are hundreds of tips online for treating dry eyes at home. We have compiled a shortlist of easy and affordable ways to improve your DED. The key is staying consistent.
Have a home remedy that works especially well for you? Please share it in our Dry Eye Community! Inspiring others and sharing your dry eye stories are important components of CorneaCare's mission. Please join us!
Chat, share, and learn from our doctors, coaches and others like yourself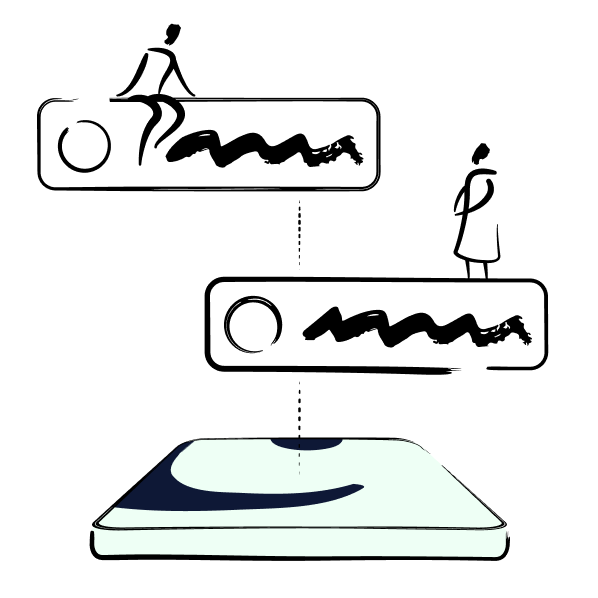 Use a humidifier
Environmental factors can contribute to dry eye disease. Many of us live in dry environments, even if our geography isn't necessarily arid. Air conditioners, heaters and even hair dryers in our home can make the air dry. Constantly living in dry air conditions can cause dry eyes and worsen dry eye symptoms.
One of the best ways to add moisture to your environment and possibly prevent dry eye is with a good humidifier. When choosing a humidifier, you'll want to consider the size of your room. Ideally, you'll want a humidifier in each room where you spend most of your time. The larger the room, the larger the size humidifier you may need to maximize its benefits. You'll also want to consider the type of mist your humidifier blows. Cool mist typically works better for dry eyes because warm mist can sometimes generate too much heat, which can end up causing more dryness. Equally important is finding a humidifier with a removable filter that is easy to clean. This prevents mold and other particles from filling the air, which can irritate the eyes. Typical costs for humidifiers range from $25-$75 but can cost up to $100 or $200 for an ultrasonic humidifier.²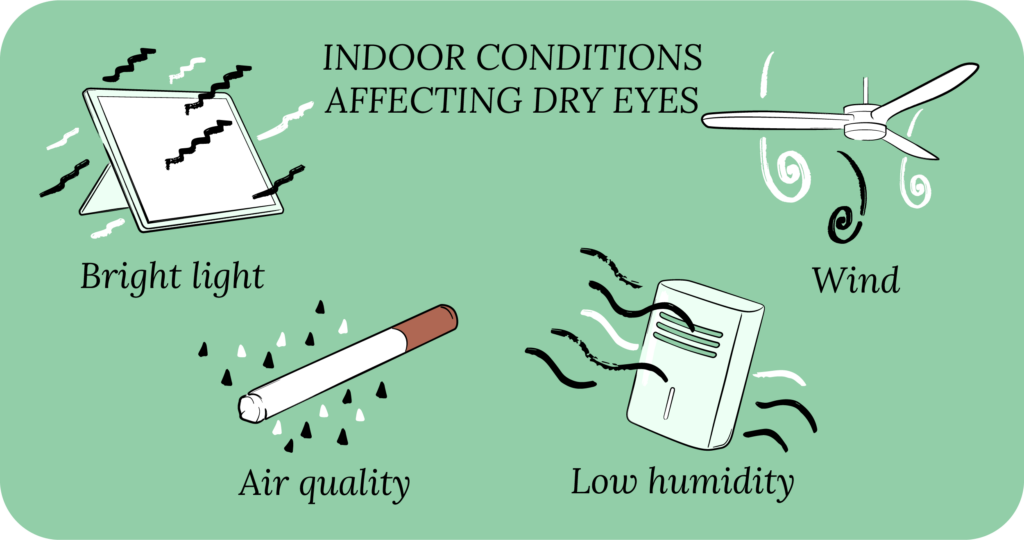 Use an air purifier
Air purifiers can be a great addition to a dry eye treatment regime at home. If your indoor air contains toxins, cigarette smoke, dust or dander, these can all impact DED symptoms. Of course, stopping smoking should be the first step in changing your lifestyle to benefit DED. Air purifiers typically contain a filter, and as air moves through filter, toxins and small particles are captured and purified before being released back into the air. While they are an effective way to clear the air for your eye health, the costs of maintaining air purifiers can add up. Typical costs for a good air purifier will run about $100, but filters, which need to be changed frequently throughout the year, can range from $25-$50/each.
Relax with a warm compress
If you suffer from DED, one of the most relaxing elements you can add to your eyelid hygiene routine is a warm compress. A warm compress is amazing for igniting your meibomian glands and increasing their function.³ Warmed meibomian glands release lipids (fats) that strengthen your tear film.
You can make a simple warm compress with just clean warm (not hot) water and a soft washcloth. Simply wet the washcloth with the water and ring out to get it just damp. Place the warm compress over your eyelids and relax for five minutes. Repeat a few times if you desire. Play some soft tunes or listen to a good audiobook to really experience all of the benefits of relaxation.
For a great on-the-go option or for daily use, try our Self Heating Warm Compress (no heating or water required).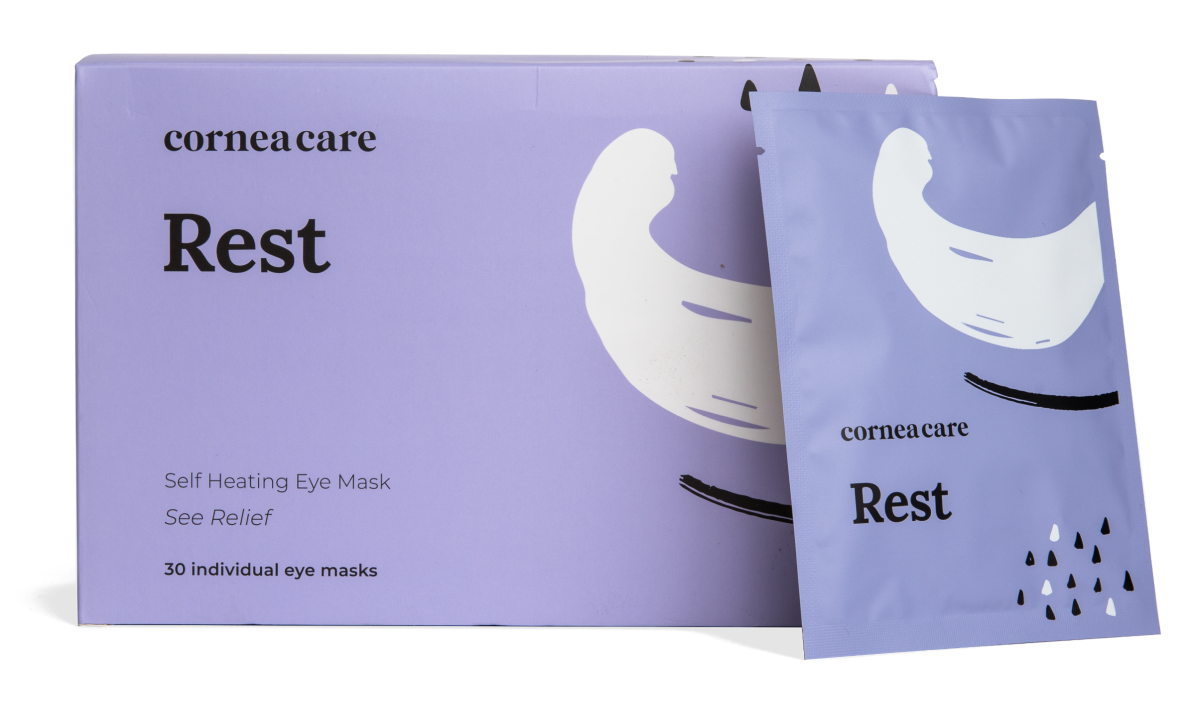 Perfect for eye dryness, fatigue, tearing, and puffiness of the eyelids. Free shipping 📦.
Optimize nutrition with omega-3 fatty acids
What you put into your body is just as important as what you put into your eyes when treating dry eye disease. Making a few tweaks to your nutrition can significantly impact your dry eye symptoms. Essential fatty acids, especially omega-3 fatty acids, are a great addition to any dry eye treatment plan.⁴ They have anti-inflammatory properties and improve the nerves and tissues surrounding your eyes (and the rest of your body parts). Flaxseed, some fish like sardines, tuna, salmon and trout, and fish or algae oil all contain omega-3s. If you supplement an omega-3 vitamin, go for a high dose such as 2000mg or more.
In addition to omega-3 fatty acids, we suggest a diet rich in all vitamins, especially vitamin A, B6, B12, C, and vitamin D, to optimize your eye health. While food sources will bring the highest nutritional benefit, it may be hard to hit all of the recommended vitamin doses, so we suggest supplementing where needed. Check out our Dry Eye Vitamins article for a deeper understanding of vitamins for dry eyes.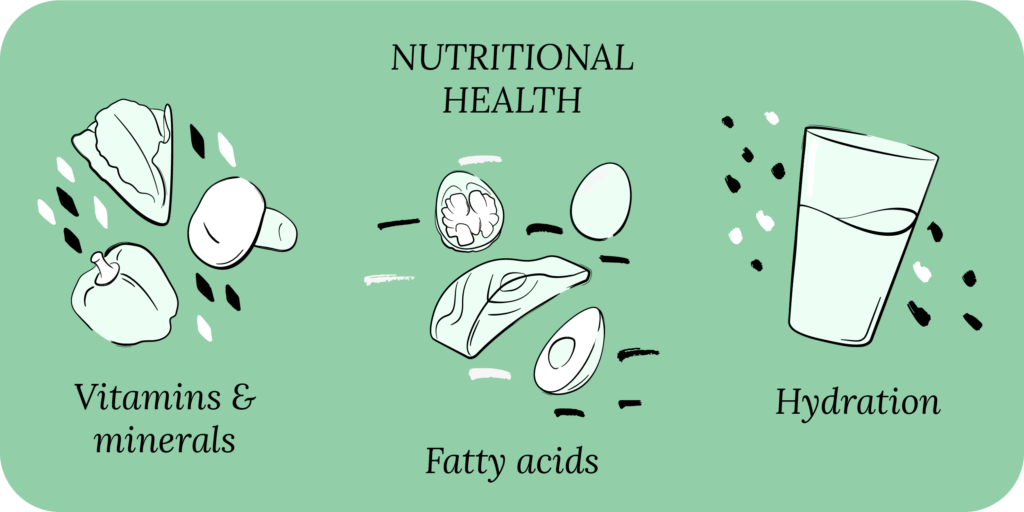 Of course, drinking the recommended glasses of water per day in addition to all of the nutritional improvements doesn't hurt either! Our bodies (and eyes) are mostly made up of water. A classic sign of dry eye is having tears with high osmolarity, which basically means your tears do not have enough aqueous (water). Staying hydrated is an easy way to ensure low osmolarity.
Watch where you sit and sleep
Sitting or sleeping under a fan or air vent, or in front of air conditioning or heat radiator can also lead to tear evaporation and dry eyes. An easy home fix can be as simple as repositioning your bed so that it is not directly under a vent or in front of your air conditioning unit. If you must use a fan to sleep as many people do, make sure it is not blowing directly toward you as you sleep, and use a humidifier on high power to counter the drying effects of the fan.
The same goes for where you spend your leisure time or if you work from home. Ensuring you are not sitting directly in front of air conditioners, fans and heaters is important in protecting your eyes.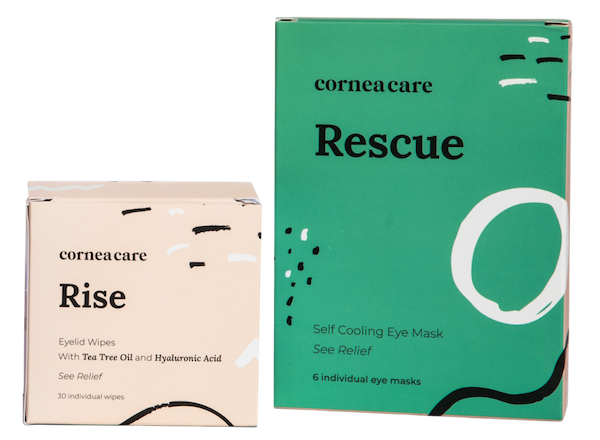 Perfect for eye dryness, burning, itching, pain, crusting/flaking of eyelashes and inflamed eyelids. Free shipping 📦.
Dim the lights
For those who spend a lot of time at home, pay attention to the lights you use while occupying spaces in your house. Dimming the overhead lights may help with dry eye symptoms, and dimming the light on your digital screen may help with less eye strain. If you have an office set up at home, use soft lighting or accent lighting and turn on any blue-light-blocking mechanisms on your computer screen. Review more key tips on digital eye health in our Workplace Wellness Month article.
Find the right eye drops for you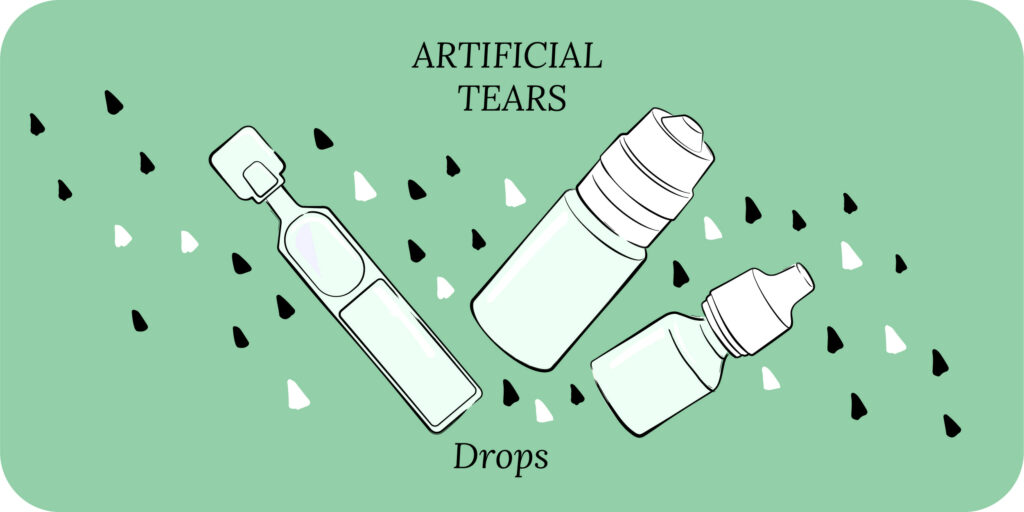 Although not considered a "natural" home remedy, developing a good eye drop routine at home can be very beneficial in treating dry eye symptoms. Most people with dry eye automatically assume that they need to use eye drops (artificial tears) to moisturize their eyes. The problem is that if you visit any drug store, you will encounter hundreds of over-the-counter eye drops. There are rewetting drops specifically for contact lens wearers, drops that cannot be used with contact lenses and drops containing antihistamines for allergies, to name a few. If you end up choosing the wrong eye drop, you may further contribute to your dry eye symptoms.
If used consistently, eye drops can be beneficial in replenishing your tear film. Your tear film is made up of three layers which include the Mucin layer (the glue), the Aqueous layer (the water) and the lipid layer (the oil). Artificial tear gels and ointments are alternatives to dry eye drops that may be more effective for some dry eye patients.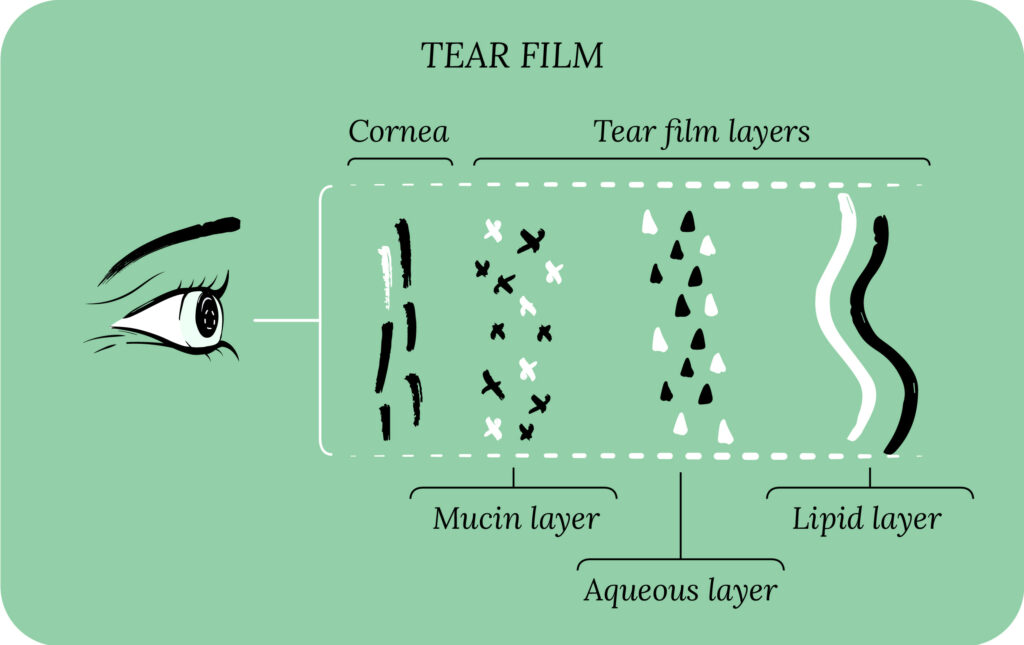 You may have heard that artificial tears can be made with preservatives or be preservative-free. Benzalkonium chloride (BAK) is the most common preservative found in eye drops. While, as the name implies, preservative eye drops make the artificial tears last longer on the shelf, they can cause eye irritation and damage the surface of the eye over time.

Perfect for eye dryness, burning, itching, grittiness, crusting/flaking of eyelashes and inflamed/swollen eyelids. Free shipping 📦.
Ultimately, like with most remedies, the best eye drops are the ones that you will use consistently. Most eye doctors recommend using eye drops 4-6x per day for 1-2 months before determining if you need to make a switch (unless, of course, you experience severe discomfort or pain).
Putting it all together
While medical interventions may be necessary to treat dry eyes in some cases, everyone can benefit from incorporating simple home remedies into their daily eye care routine. Home remedies can often help you save money in the long run in treating dry eye disease, but it's important to stay the course of the treatments to see maximum relief.
We understand how frustrating it is to have to make so many changes to your daily life, which is why we are here to help. At CorneaCare we believe that with the right education and support, we can change the narrative around dry eye and help DED patients live comfortably and happily.
Want to take care of your dry eyes but not sure where to start?
What's next
We really think everyone should take our Dry Eye 101 course. Find it here! Have you joined our Dry Eye Community yet? Stop in and say hello, ask questions and inspire others on their dry eye journey!
If you've already taken it, amazing! Check out more articles in the Continuing Education section below.