Key points
Dry eye disease is emotionally draining.
People with dry eyes are 2-3 times more likely to have depression and anxiety.
Dry eyes can lead to poor sleep quality.
No one taking your
dry eyes seriously?
Keywords
Anxiety, depression, dry eye disease, mental health, panic attacks, sleep
Taking the first step
Dry eye disease (DED) is not just about dry eyes. It affects your whole mind and body. If you're reading this article and have dry eyes, you know exactly what we're talking about. Your sight is your most important sense, and when it becomes compromised, it can be frustrating, disheartening, lead to dysfunction and a decreased quality of life. Your eye health is deeply linked to your general health.
If you have DED, as soon as you wake up, you start experiencing symptoms, such as pain, burning sensation, eye strain, dryness, foreign body sensation, watery eyes, blurred vision, and light sensitivity. These symptoms stay with you throughout the day while you're driving, eating, working on your computer, reading and watching TV. It's endless and exhausting, and it's real. All of this inevitably has an impact on your physical and mental wellbeing. We get it. We're here to listen to your story, and tell you that there is hope!
A quick review of dry eye disease
Before diving into how DED is linked to your mental health, let's review some basics. DED is also known as dry eye syndrome, keratoconjunctivitis sicca and ocular surface disease.1 There are several causes of dry eyes, but for learning purposes, we break them down into aqueous deficient (decreased tear production and secretion) and evaporative (rapid tear evaporation).
With aqueous deficient DED, your lacrimal glands do not produce enough tears to lubricate the surface of the eyes (the cornea and conjunctiva). We typically see this with autoimmune conditions (Sjögren's syndrome and rheumatoid arthritis), medical comorbidities (menopause, cancer and thyroid problems), and oral medication side-effects (antihistamines, decongestants and antidepressants).
With evaporative DED, your body makes enough natural tears, but they evaporate too quickly because your tear film is unstable. We typically see this with contact lens use, refractive eye surgeries (LASIK), meibomian gland dysfunction (MGD – clogged up oil glands in your eyelids), blepharitis (eyelid inflammation), and other eye conditions (glaucoma).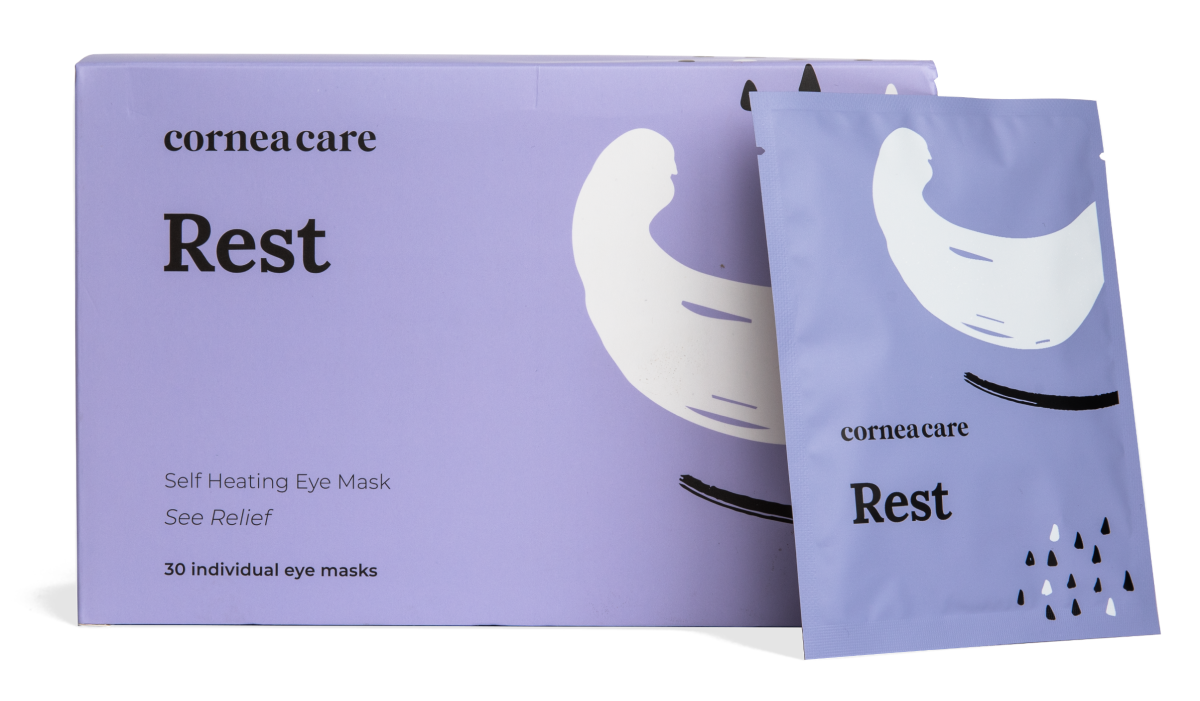 Perfect for eye dryness, fatigue, tearing, and puffiness of the eyelids. Free shipping 📦.
The environment and lifestyle can play a significant role in dry eye. Environmental risk factors, such as dry climate and high winds, can worsen symptoms of dry eye. Lifestyle choices, such as smoking and poor diet can lead to DED.
The treatment of dry eye usually consists of over-the-counter lubrication with eye drops (artificial tears) and eyelid hygiene (warm compress and eyelid wipes). Buying a humidifier and air purifier can also help. Depending on the severity of dry eye, a person may require prescription drops and in-office ophthalmic procedures. It's important to start dry eye treatment promptly. While it does not cause blindness, chronic dry eye puts you at risk for eye problems with vision-threatening complications, such as corneal infections and scarring. DED is a complex condition, and the resulting visual impairment can lead to significant physical and psychological stress. Statistical analysis from multiple cross-sectional studies show a significant correlation between DED and mental health.1-5 The incidence and prevalence of DED is increasing, and its link to physical and mental well-being extends beyond the eye clinic and into public health.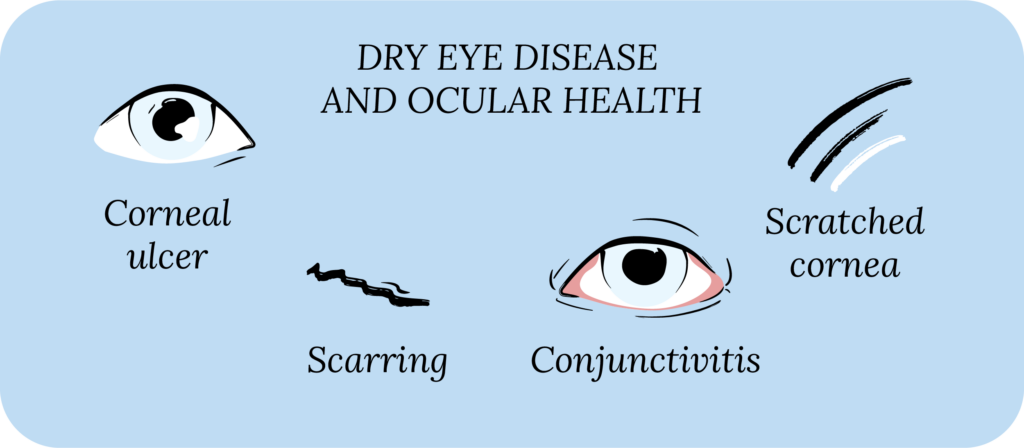 Depression and dry eyes
Dry eye patients are three times more likely to have depression than people without dry eyes.2 Constantly experiencing symptoms of dry eye is taxing on the mind. You feel distracted, and even when you try to focus, you find it difficult because you have blurry vision. This can really get in the way of your work and social life. Work often gives us purpose and our social life provides us with a sense of belonging. With DED, you may not experience these benefits in full.
The typical depressive symptoms include feeling hopeless, helpless and the inability to enjoy things. People also commonly have difficulties with sleep, appetite, decreased concentration, low energy and feeling restless. If you're experiencing symptoms of depression, there are several depression scales and questionnaires to help you assess your mood, and see if you have depression.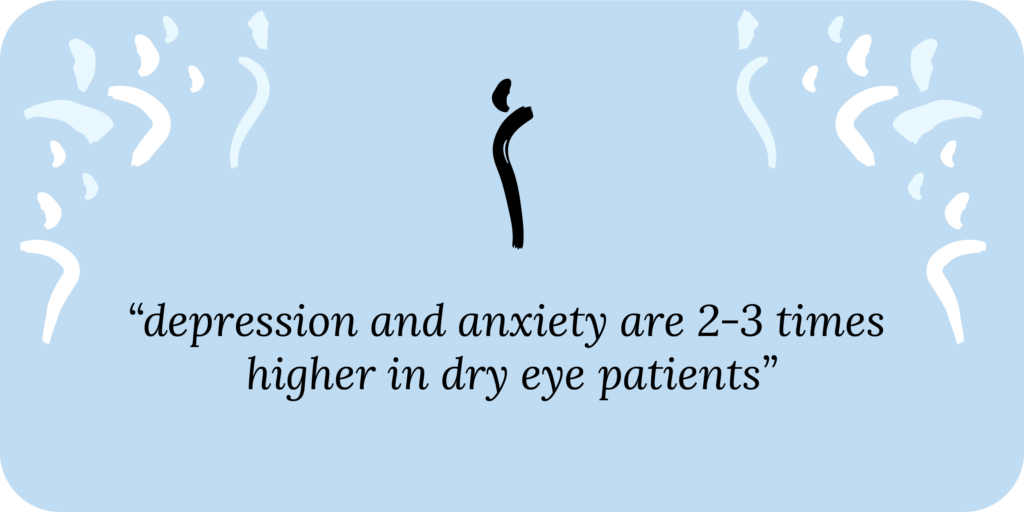 Depending on your symptoms and depression score, you may want to seek professional help, get therapy and start an antidepressant, such as a selective serotonin reuptake inhibitor (SSRI). It's important to note that antidepressants are associated with dry eye symptoms, but this shouldn't stop you from considering antidepressants. However, it may be worthwhile discussing dry eye treatment with your eye doctor (ophthalmologist or optometrist) before or while using antidepressants. Alternatively, if you start to note signs of dry eye, you can self-administer a dry eye questionnaire (such as the Ocular Surface Disease Index – OSDI) to better assess your symptoms.
In some cases of depression, people may have thoughts of hurting themselves or others. If you've felt this way, you need to call this number immediately and seek help.
Can anxiety cause dry eyes?
People with DED are two times more likely to have anxiety than people without DED.2 Constantly worrying about dry eye symptoms can occupy a lot of mental space. Moreover, feeling like you have no control over your dry eyes can leave you feeling anxious. When you have DED, you may also feel anxious and nervous about going out with friends, especially if your friends want to do something outdoors, or watch sports on TV, or go to the movies.
Anxiety disorder is described as feeling on edge, nervous, and unable to stop worrying. Some people also experience restlessness, get irritated easily, can't relax, and feel that something bad is going to happen. If you've felt these symptoms, check out this tool to see if you may be experiencing anxiety, and seek help as needed.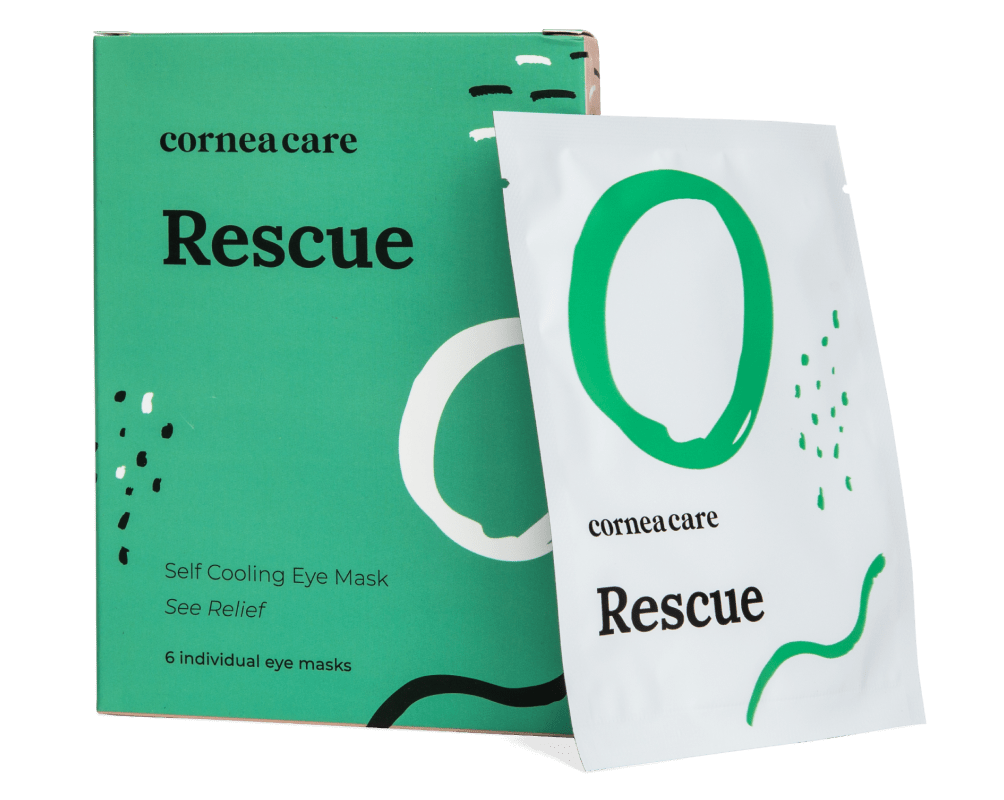 Perfect for sudden flare-ups of eye dryness, pain, burning, and swollen/inflamed eyelids. Free shipping 📦.
In many cases, depression and anxiety correlate and can occur simultaneously in the same demographic. This is important for patients and specialists alike in coming up with treatment options.
It's important to note that current eye studies only promote correlations and not causations between DED, depression and anxiety. While it's tempting to say "DED causes anxiety/depression" or "Anxiety/depression causes DED," the data does not support this. It's not to say that these correlations aren't important. In fact, they can help patients and specialists be on alert for symptoms of related conditions and help guide important treatment decisions.In some cases of anxiety, people may have thoughts of hurting themselves or others. If you've felt this way, you need to call this number immediately and seek help.
Getting panic attacks from dry eyes
Not knowing when your DED symptoms will flare is a terrible feeling. As we've discussed above, this can be associated with long-term depression and anxiety. But more acutely, not being able to control your dry eyes may lead to panic. 3
Panic attacks can come out of nowhere, and the typical symptoms are nervousness, sweating, chest pain, shallow breathing, trembling, numbness, tingling, off balance, chills, hot flashes and feeling like the world is crashing around you. We never ever want you to feel this way!
You can use this tool to see if you may have panic attacks, and call this number if you need to speak with someone right away.
Dry eyes when sleeping
Almost 50% of patients with DED report poor sleep!4 Sleep is foundational to our overall health and well-being. Short duration and poor sleep quality are linked with many physical and psychological conditions, including heart disease, stroke, depression and anxiety. The data shows that the incidence of DED is higher in people with poor sleep, and people with poor sleep tend to have DED.
One reason for this could be that dry eye symptoms may worsen overnight. If you have nocturnal lagophthalmos (eyelids remain partially open when sleeping), you may develop tear film instability overnight, causing you to get dry eye symptoms. This may disrupt your sleep, even if it doesn't fully wake you up. The same could be true if you sleep under a fan, or have sleep apnea and wear a sleep mask for breathing. Environmental factors in your bedroom, such as low humidity and dust allergens, could also be contributing.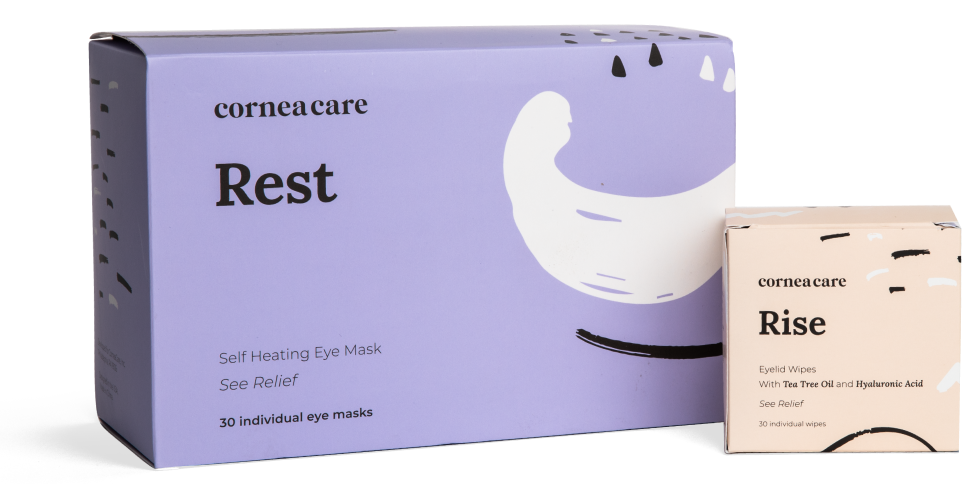 Perfect for eye dryness, burning, itching, crusting/flaking of eyelashes and inflamed eyelids. Free shipping 📦.
Dry eyes as subset of chronic pain syndromes
Recent literature has suggested that DED may be a part of neuropathic pain, where eye pain and symptoms are one of the many peripheral manifestations of a central pain processing problem.5 Let's unpack this a little. Basically, you may have an issue where your body does not process pain like it should. This leads to several chronic health problems, like stomach pain or lower back pain, and dry eye symptoms are just one of these manifestations.
Neuropathic pain is typically described as burning, shooting, decreased sensation, hypersensitivity and spontaneous pain. These symptoms may be present even when the exam is completely normal. These features of neuropathic pain do overlap with how dry eye patients experience symptoms.
A cluster of medical conditions with chronic pain tend to co-exist with DED. These are known as chronic overlapping pain conditions and include temporomandibular joint disorder, osteoarthritis, chronic fatigue, irritable bowel syndrome, interstitial cystitis, fibromyalgia/chronic widespread pain, endometriosis, chronic headache, migraine, and chronic low back pain. Like DED, these conditions are associated with mood disorders (anxiety and depression), sleep abnormalities, and decreased quality of life.
Putting it all together
Your mental well-being is essential to living a healthy, enjoyable and prosperous life. At CorneaCare, we take your mental health very seriously. We want to empower you and give you control over your DED so you don't feel anxious, depressed or have panic attacks. Our goal is to treat the whole you, and provide you with solutions that address the biological and emotional aspects of DED.
Want to take care of your dry eyes but not sure where to start?
What's next
We really think everyone should take our Dry Eye 101 course. Find it here!
If you've already taken it, amazing! Check out more articles in the Continuing Education section below.