The winter months are full of snowfalls, ski trips, and holiday celebrations. Those cold weather months can also be a time of painful dry eyes, annoying itchy eyes, and irritating watery eyes. Take steps to protect your eyes in winter and you'll be able enjoy the winter months so much more.
During the winter months, cold air and low humidity reduce the protective tear layer on the surface of your eyes. This leads to irritating symptoms including watery eyes in some people. While in others the cold temperatures and dry air cause dry eye symptoms or itchy eyes.
In this article, we'll show you 10 ways you can protect your eyes in winter and take good care of your eye health during the coldest time of the year.
Key Points
Cold winds, dry air, and sun glare off the snow are all hazards of winter months that can cause discomfort, and even damage, to your eyes.
Protect your eyes in winter with proper eye protection and good eye hygiene.
While indoors, take steps to add moisture to the air, lower the heat, and reduce screen time.
You brush your teeth,
moisturize your skin,
what about your eyes?
Use a Humidifier Indoors to Protect Your Eyes in Winter
Running a humidifier while you're indoors at home or work, can make the winter months a lot more comfortable. A humidifier adds moisture to dry winter air which can help keep your eyes healthy and hydrated.
Not only can a humidifier ease symptoms of dry eye, but it can also prevent skin and hair dryness, as well as cold and allergy symptoms.
Humidifiers can be used safely in your bedroom and other places you spend long stretches of time.
Wear Glasses instead of Contact Lenses
Grab eyeglasses and set your contact lenses aside in cold temperatures. The cold and wind of the winter months can make contact lenses uncomfortable to wear. Whether the cold, dry air causes dry eye symptoms or watery eyes for you, contact lenses are not ideal in those conditions.
If you suffer from winter dry eyes, wearing contact lenses can worsen symptoms such as redness, gritty sensation, or even pain.
When winter causes watery eyes, your contact lenses may shift around causing vision problems.
Wearing glasses can prevent discomfort and protect your eyes in winter from cold temperatures, dry winds, and allergens in the air that may cause itchy eyes.
Use Eye Drops to Lubricate Dry Eyes
Eye drops, also called artificial tears, can be helpful to ease dry eye symptoms during the winter months. Keeping your eyes lubricated will help them feel more comfortable in cold air or dry indoor environments.
If you're shopping for over-the-counter eye drops, be sure to choose preservative-free eye artificial tears. Try CorneaCare Preservative-free Artificial Tears to lubricate your eyes.
If you have dry eye symptoms that are having a negative impact on your daily life, see your eye doctor (optometrist or ophthalmologist) for an eye exam.
Your eye doctor can recommend options beyond eye drops to treat or prevent dry eye disease.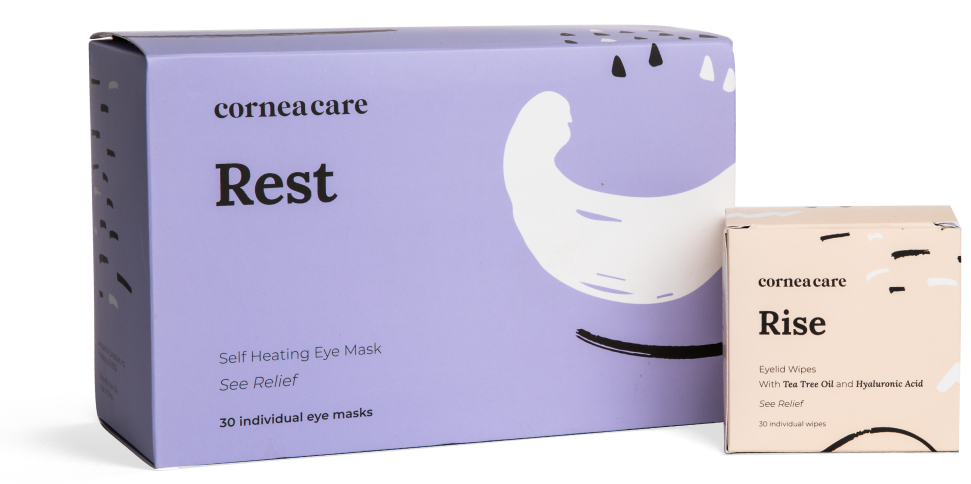 Perfect for eye dryness, burning, itching, crusting/flaking of eyelashes and inflamed eyelids. Free shipping 📦.
Lower the Heat at Home
As the cold temperatures continue to drop, you'll be tempted to continue raising the heat indoors. However, that dry hot air can lead to dry eye symptoms for you.
Outdoors, it's exposure to cold air and wind that impacts your eye health during the winter. Then you head indoors and your eyes are met with heated, dry air thanks to the use of heaters.
The warm, dry air hastens the evaporation of the tear film, a layer of moisture protecting the surface of your eyes. Symptoms of dry eyes include eye fatigue, blurred vision, foreign object sensation, and light sensitivity.
When you're at home, keep the heat as low as you comfortably can. Turn your heaters and heating vents away from your face and eyes, both at home and in the car. Don't sleep with heaters or fans directed at your face, to protect your eyes in winter.
Keep Away from Your Allergy Triggers to Protect Your Eyes in Winter
Most people think of springtime when worrying about allergens in the air. However, the winter months bring their own long list of allergy triggers.
As the cold weather sends you indoors, you spend more time around dust and pet dander, heated dry air, and smoke from fireplaces.
It can help to know what triggers your irritating itchy eyes, watery eyes, or dry eye symptoms and avoid them as much as possible. You can wear glasses to protect your eyes from smoke, ask others to do the dusting around the house, and avoid spending too much time around pets if you are allergic.
Replace air filters in your car and home, use an air purifier, and add moisture to the air with a humidifier. Lubricating eye drops can help relieve itchy eyes and dry eye symptoms caused by allergens.
Drink Water to Stay Hydrated
It's so easy to forget to drink enough water in the colder months. However, staying hydrated can help prevent or reduce dry eye symptoms, and keep you healthier overall.
As you go about your day, whether you're working indoors or enjoying outdoor winter sports, keep a bottle of water with you. Remember to drink plenty of water every day, at least 8 glasses, and your eyes will thank you.1
Staying hydrated can also keep your skin feeling more comfortable during the winter months. Include broths, herbal teas, fruits, and vegetables in your winter diet for more ways to stay well hydrated.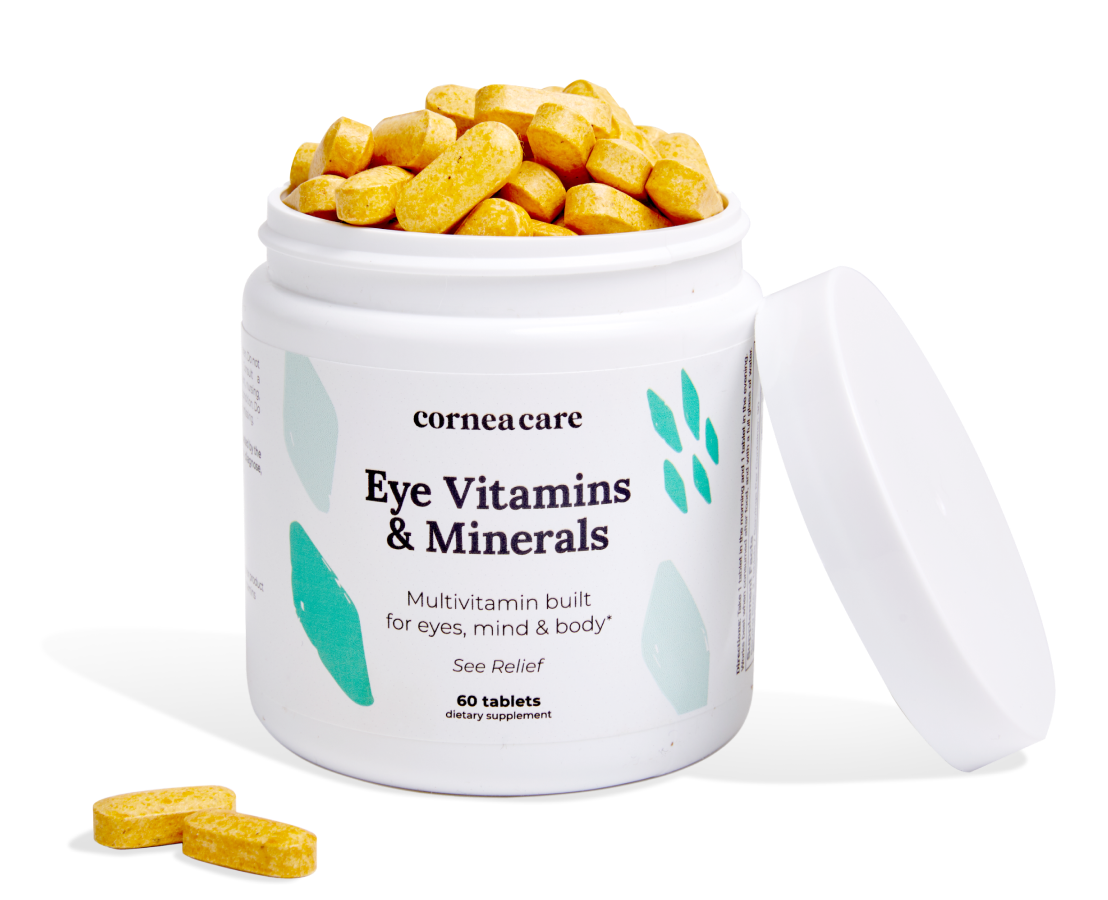 A single multivitamin to address the nutritional needs of your eyes, mind and body. 📦 Free shipping.
Avoid Touching Your Eyes to Protect Your Eyes in Winter
During the winter months, you may experience itchy eyes which can be very irritating and cause you to touch your eyes more often. The problem is, when you rub your itchy eyes, you may spread a virus or infection to your eyes.
There are many causes of itchy eyes, including dry air, allergens, colds, and flu.2
It's best to avoid touching your eyes. Wearing winter gloves outdoors may help keep you and your children from touching your eyes during the winter months.
Protect Your Eyes in Winter's Cold and Snow
Don't pack your sunglasses away when summer ends. Sunglasses are just as important in the cold weather to protect your eyes in winter.
Wear sunglasses to shield your eyes from the wind and cold. The lenses protect your eyes and may help reduce the risk of dry eyes and watery eyes.
Sunglasses can further protect your eyes in winter from the glare of the sun's powerful UV light reflecting off the snow.
Snow blindness, a form of photokeratitis, is a painful condition that can cause blurred vision, light sensitivity, and even temporary vision loss. Like a sunburn on the eye, photokeratitis is due to cornea damage by UV light from the sun.3
When exposed to glare from the snow over time, snow blindness can further lead to serious conditions such as cataracts and macular degeneration.4
If you enjoy skiing, snowboarding, or other winter sports, purchase the right eye protection along with the rest of your equipment. Non-glare coated sunglasses or snow goggles with 100% UV protection can protect against both UVA and UVB rays.5 They can also shield your eyes from snow and ice flying through the air.
Always wear sunglasses to protect your eyes in winter weather. Even on overcast days, the ultraviolet light from the sun can cause problems for your eye health.
Hoods, ski masks, and scarves can also offer some eye protection from cold temperatures and dry winds. Shielding your eyes in winter can reduce watery eyes, itchy eyes, and dry eye symptoms.
Reduce Your Digital Screen Time
One downside of all the time spent indoors during the winter months is increased screen time. Digital eye strain, also called computer vision syndrome, can lead to dry eye symptoms.
Set the brightness of your device's screen to match the lighting of the room you're in. This helps reduce eye strain whether you're using a computer, laptop, or smartphone.
Be sure to take regular screen breaks, and use the 20-20-20 rule. According to the American Optometric Association recommendation: "every 20 minutes, shift your eyes to look at an object at least 20 feet away, for at least 20 seconds."6
Consider other indoor activities to reduce the time you spend looking at screens and protect your eyes in winter. Play board or card games with your family, do puzzles or try a new hobby such as painting, wood carving, or knitting.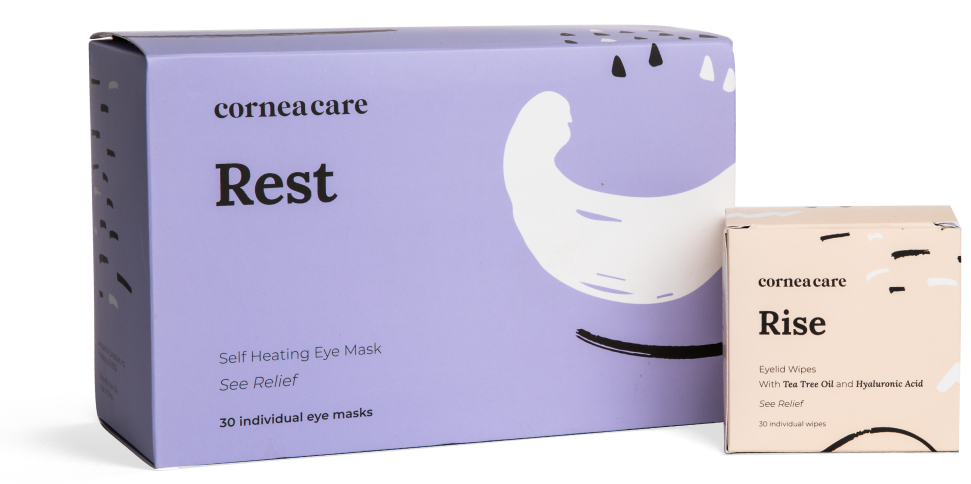 Perfect for eye dryness, burning, itching, crusting/flaking of eyelashes and inflamed eyelids. Free shipping 📦.
Prioritize Your Eye Health and Wellness
As the temperatures drop, a few simple lifestyle changes can keep your eyes healthy and comfortable through the cold weather of the winter months.
Putting it All Together
The best way to protect your eyes in the winter months is to be prepared and prevent cold weather problems. Use a humidifier indoors, eat a healthy diet, and drink plenty of water. Cover your eyes and try eye drops to soothe and protect your eyes in winter. Practice daily eyelid hygiene.
These tips can help you take care of your eyes and reduce itchy eyes, watery eyes, and winter dry eyes. However, if your symptoms persist, make an appointment with your eye doctor (optometrist or ophthalmologist) for an eye exam.
Want to take care of your eyes but not sure where to start?
What's Next
Want to learn more about keeping your eyes healthy? Check out more articles in our Eye Health and Wellness section.