Key points
An individual can spend months experiencing symptoms before getting a diagnosis of dry eye disease.
A patient can have severe dry eyes with a completely normal eye exam.
Dry eye symptoms are critical in making a diagnosis of dry eye disease.
No one taking your
dry eyes seriously?
Keywords
Matrix metalloproteinases-9 (MMP-9), Ocular Surface Disease Index (OSDI), Schirmer's test, tear-film break-up time (TBUT), tear osmolarity
Taking the first step
Dry eye disease (DED) is also known as dry eye syndrome, keratoconjunctivitis sicca and ocular surface disease. Many of us experience dry eye symptoms almost daily, but aren't paying attention to them. In fact, a person can go several months struggling with dry eye symptoms before realizing they have DED.1 Even after a patient with DED goes to see an eye doctor (ophthalmologist or optometrist), they may get misdiagnosed with other conditions that can mimic DED, like allergic conjunctivitis. Diagnosing DED is difficult for the clinician because a patient can have a seemingly normal eye exam, but still suffer from DED!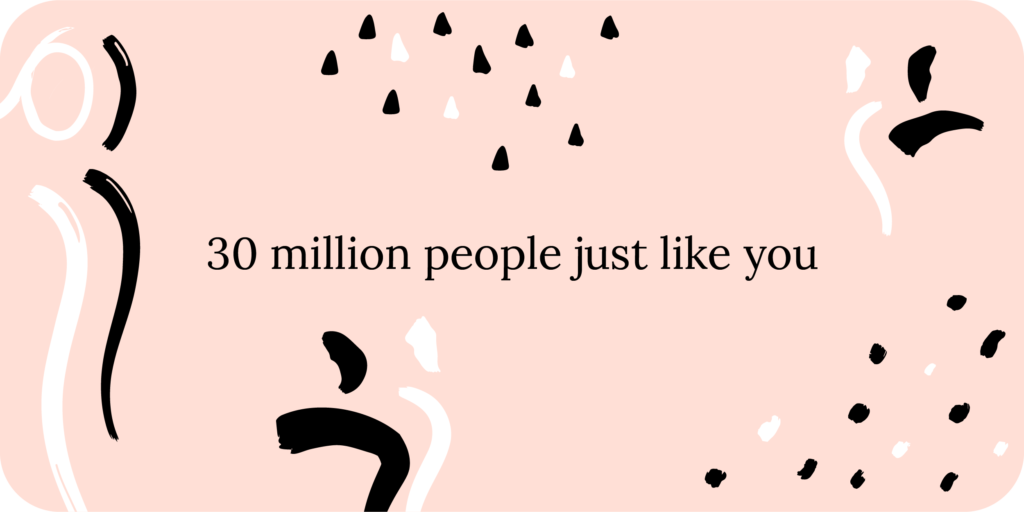 If you experience dry eye symptoms, the first step is to acknowledge that you have them. Pay attention to how your eyes feel. Recognizing these symptoms can prompt you to start treatment early, which helps in the long-run. Once you have DED, your symptoms may come and go, but you will typically have it for the rest of your life. While we can't "cure" DED, we can certainly manage it. We know this seems daunting, but with a good and consistent treatment plan, you can take control of your DED!
Assessing risk factors for dry eye disease
There are several ways to diagnose DED, but it all starts with listening to the patient. We begin by understanding the patient's eye health and how it fits into their overall eye care, healthcare, well-being and lifestyle. This helps determine the cause of dry eyes, and come up with a personalized treatment plan.
We then check for specific risk factors, such as contact lens use, prior eye surgeries (refractive surgery such as LASIK), prior eye infections (corneal ulcers), and other eye conditions that require prolonged use of eye drops with preservatives (allergic conjunctivitis and glaucoma).2 These risk factors alert us that the surface of your eye may be damaged, leading to tear film instability and rapid tear evaporation, known as evaporative dry eye.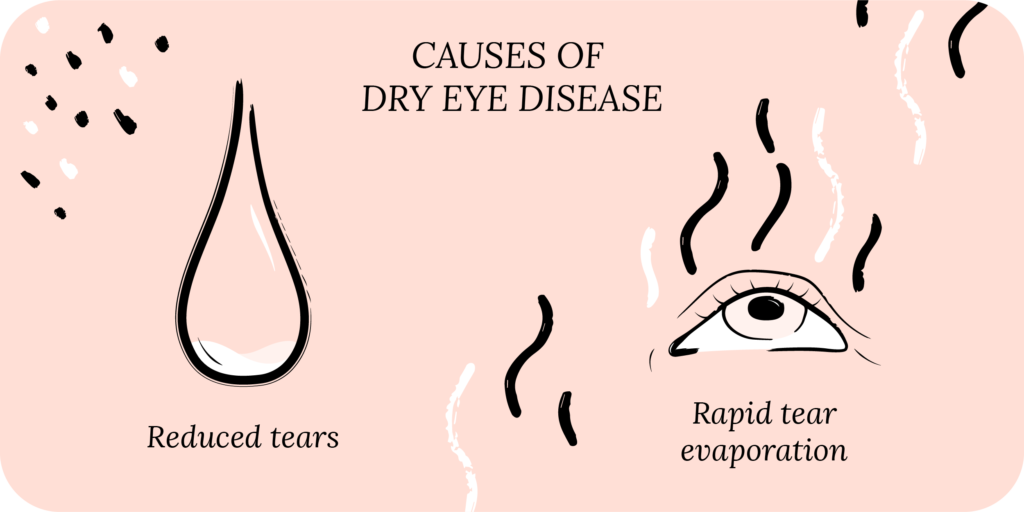 After getting to know your eye health, we move on to your general health. We want to know if you have autoimmune conditions (Sjögren's syndrome, rheumatoid arthritis and sarcoidosis), other medical conditions (menopause, hormonal changes, cancer and thyroid problems), or are using certain oral medications (antihistamines, antidepressants, decongestants, diuretics and birth control pills). These risk factors alert us that your lacrimal gland may not be producing enough aqueous tears to lubricate your corneal and conjunctival surfaces (the front part of the eyes), known as aqueous deficiency dry eye.
We then try to better understand your lifestyle (including your diet), whether you take any supplements (omega-3 fatty acids) and how much time you spend on digital screens. We also want to know if you live in a dry climate, are exposed to high winds, or sleep under a fan or in front of an air conditioner.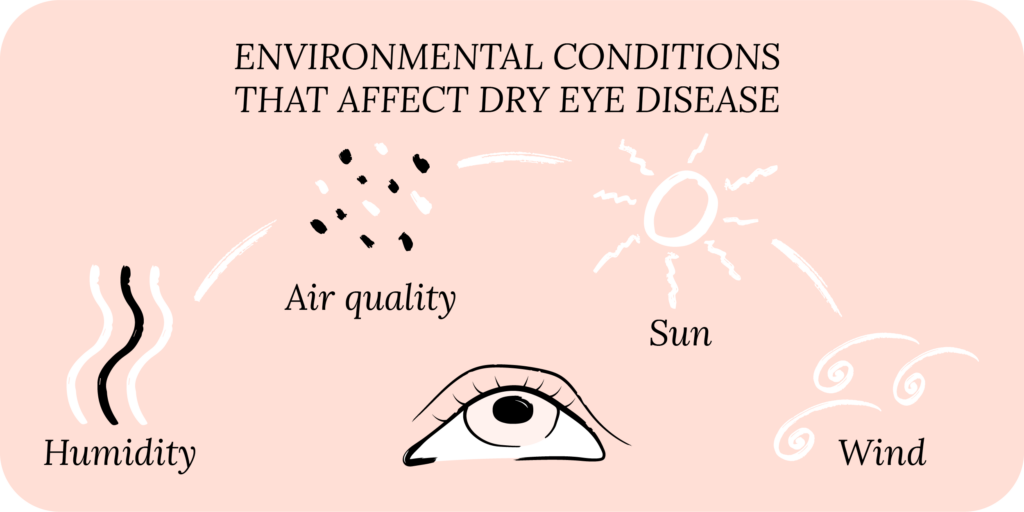 Lastly, it's helpful to know which treatment options you have already tried, including over-the-counter topical lubrication (artificial tears, gels and ointments), eyelid hygiene (warm compresses, eyelid wipes and eyelid sprays), prescription medications (cyclosporines such as Restasis and Cequa, or lifitegrast such as Xiidra), and any in-office procedures.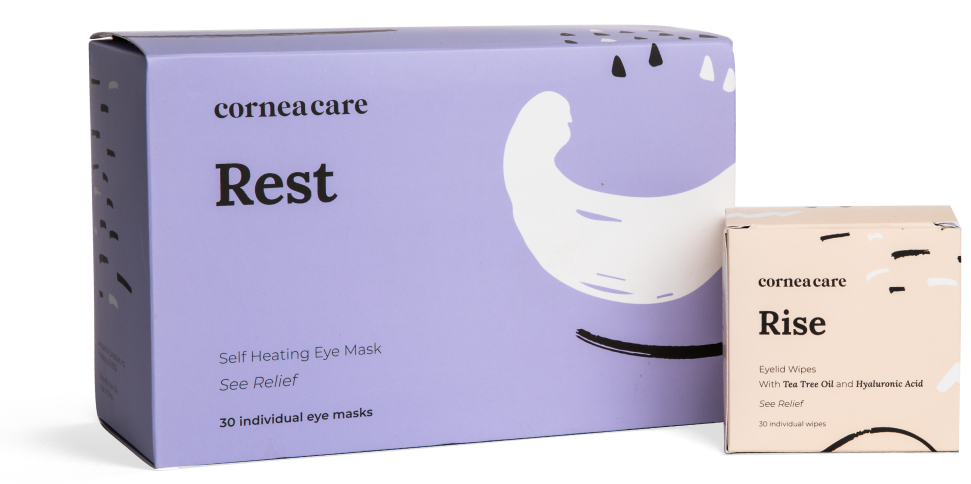 Perfect for eye dryness, burning, itching, crusting/flaking of eyelashes and inflamed eyelids. Free shipping 📦.
Symptoms of dry eye
After learning more about your story and experience with DED, we move onto the symptoms. DED can present with a variety of different symptoms. Some of the common symptoms include:
Redness

Pain

Runny or watery eyes

Excess tearing

Irritation

Dryness

Gritty, sandy or foreign body sensation

Blurred vision

Burning or stinging

Sensitivity to light

Eye fatigue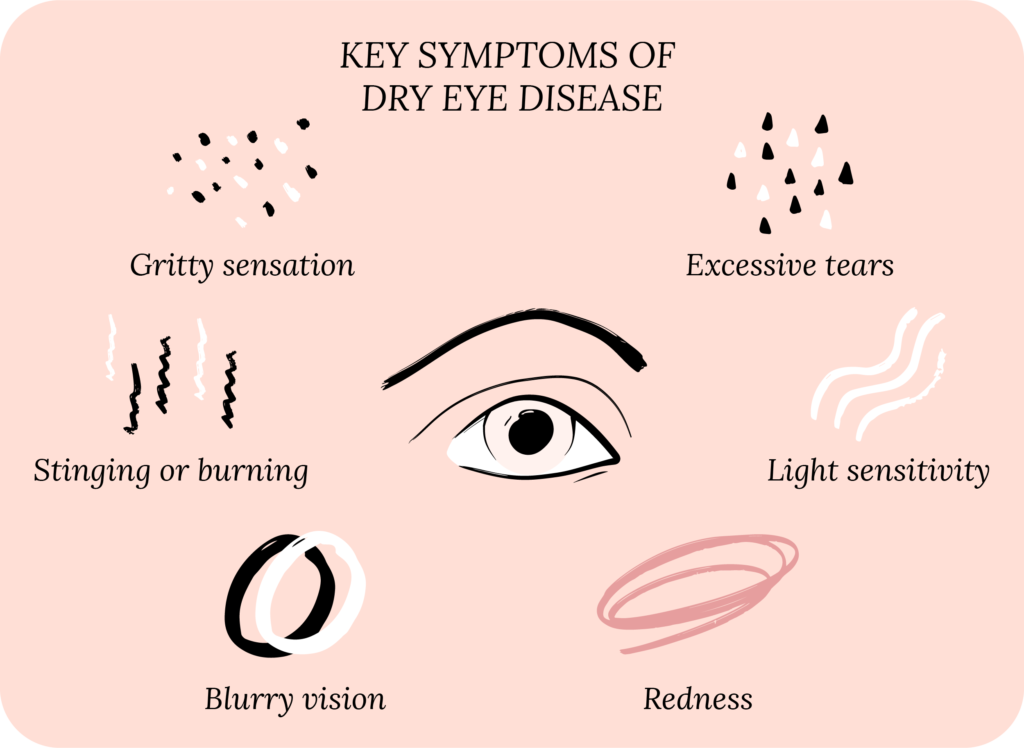 And the list goes on!
To better understand these symptoms and track them, we use several questionnaires, which essentially convert the patient's subjective experience with DED into objective, measurable data.3 Some examples are the Ocular Surface Disease Index (OSDI), the Standard Patient Evaluation of Dry Eye Questionnaire (SPEED), and the Dry Eye Questionnaire (DEQ).
The OSDI has 12 questions that assess dry eye symptoms, the impact of symptoms on a person's daily activities, and the impact of the environment on symptoms. The SPEED has 13 questions, of which 8 are dedicated to assessing the frequency and severity of symptoms. The DEQ has 19 questions that assess symptoms, treatment and risk factors for DED.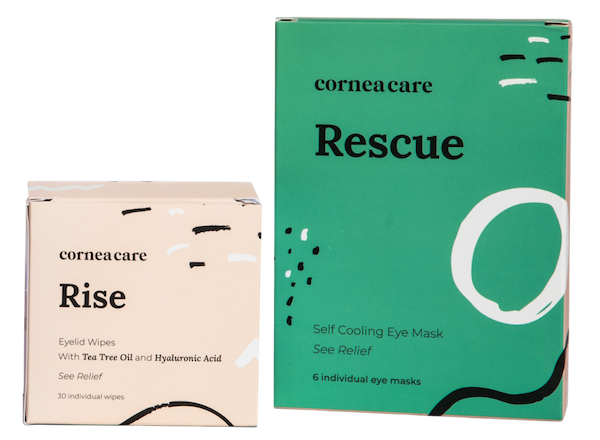 Perfect for eye dryness, burning, itching, pain, crusting/flaking of eyelashes and inflamed eyelids. Free shipping 📦.
There are several other questionnaires out there with their cool acronyms, such as the Canadian Dry Eye Epidemiology Study (CANDEES), Dry Eye Screening for Dry Eye Epidemiology Projects (DEEP), Impact of Dry Eye in Everyday Life (IDEEL), and many more.
These questionnaires can be great at quickly diagnosing and monitoring DED, but they have limitations. Namely, DED is a chronic condition, which can impact a person on many measurable and immeasurable levels, so these questionnaires are limited in capturing the whole picture. It all goes back to listening to you, the patient, and your entire experience with dry eyes.
Chat, share, and learn from our doctors, coaches and others like yourself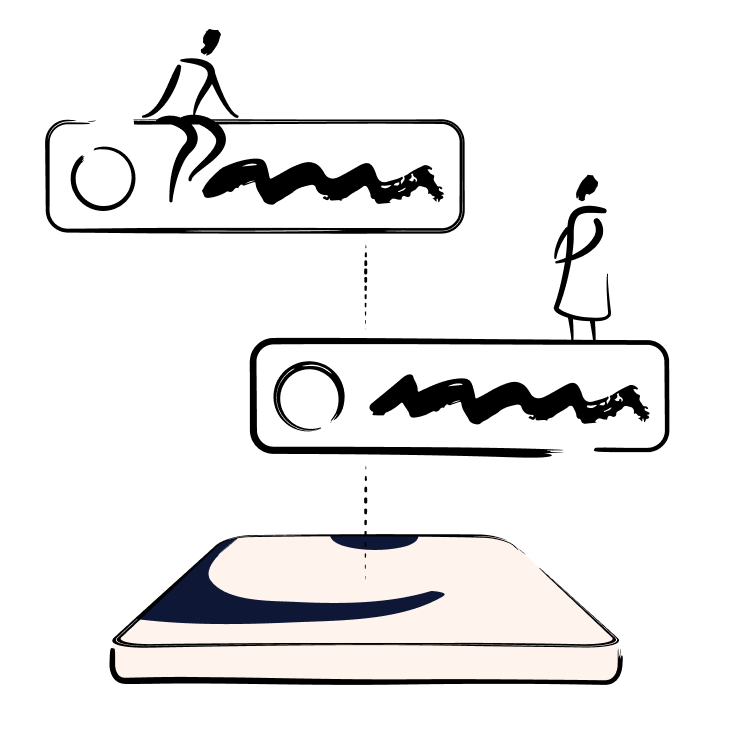 Typical exam findings and tests for dry eye disease
After understanding a patient's symptoms, it's time for an eye exam.4 But remember what we said above, you can have a normal eye exam, but still have DED! During the eye exam, we use a slit lamp (a microscope) to look at the skin around your eyes, eyelids, eyelashes, how you blink, and the surface of the eye, including the cornea (the clear part in front of your iris), the tear film, and the conjunctiva (a thin membrane that lines the inner part of your eyelids and covers the white part of your eye, the sclera).
We check for specific findings on our eye exam. For example, if the skin on your cheeks is red, it could be because of rosacea and so we look for blepharitis (inflammation of the eyelids). On your eyelids, we look at your upper and lower eyelid margin to see if you have meibomian gland dysfunction (MGD), which shows up as clogged meibomian glands. Your eyelashes may have crusting or flakes, which can be a sign of inflammation or Demodex infection. Examining your tear ducts helps us determine if you may be a candidate for punctal plugs.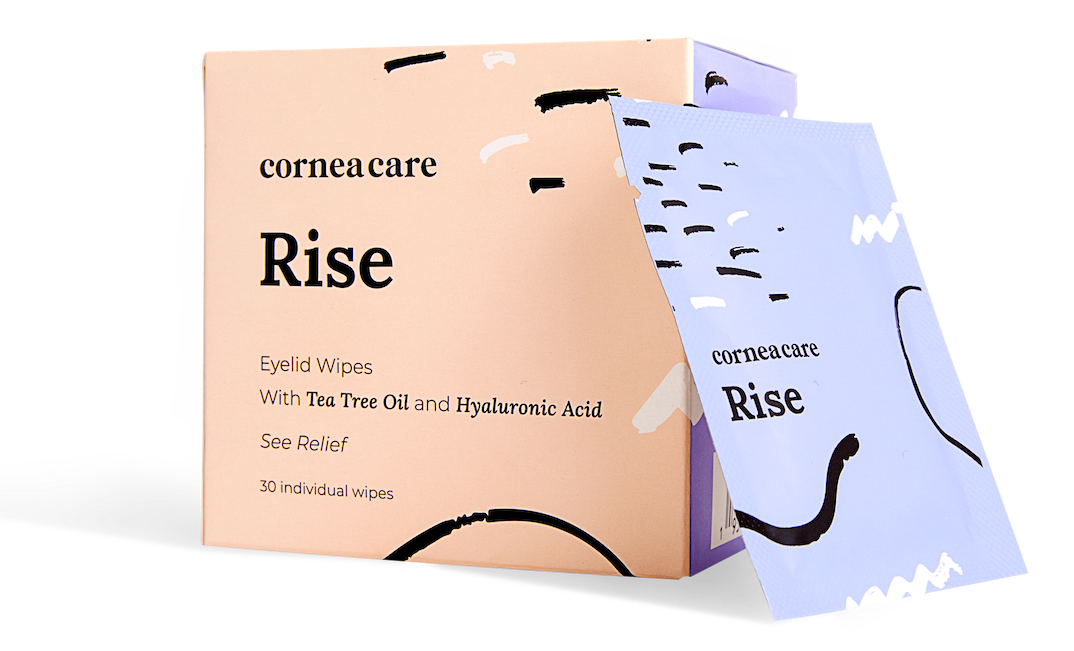 Perfect for eye dryness, itching, burning, and crusting/flaking of eyelashes. Free shipping 📦
We pay attention to your eyes when you blink – if you're blinking frequently or squeezing your eyes when you blink, or if your blink is incomplete. This means that a part of your eye is still exposed to the environment even when you close your eyelids.
On your cornea, we look for areas where the topmost layer of your cornea (the epithelium) has damage, which is called punctate epithelial erosions (PEE). If we see PEE, we get concerned that your tear film is not adequately protecting the cornea. We also test how sensitive your cornea is, typically using a cotton-tip applicator (q-tip), which lets us know if your cornea can sense when it is "dry" and tell your lacrimal gland to produce more tears.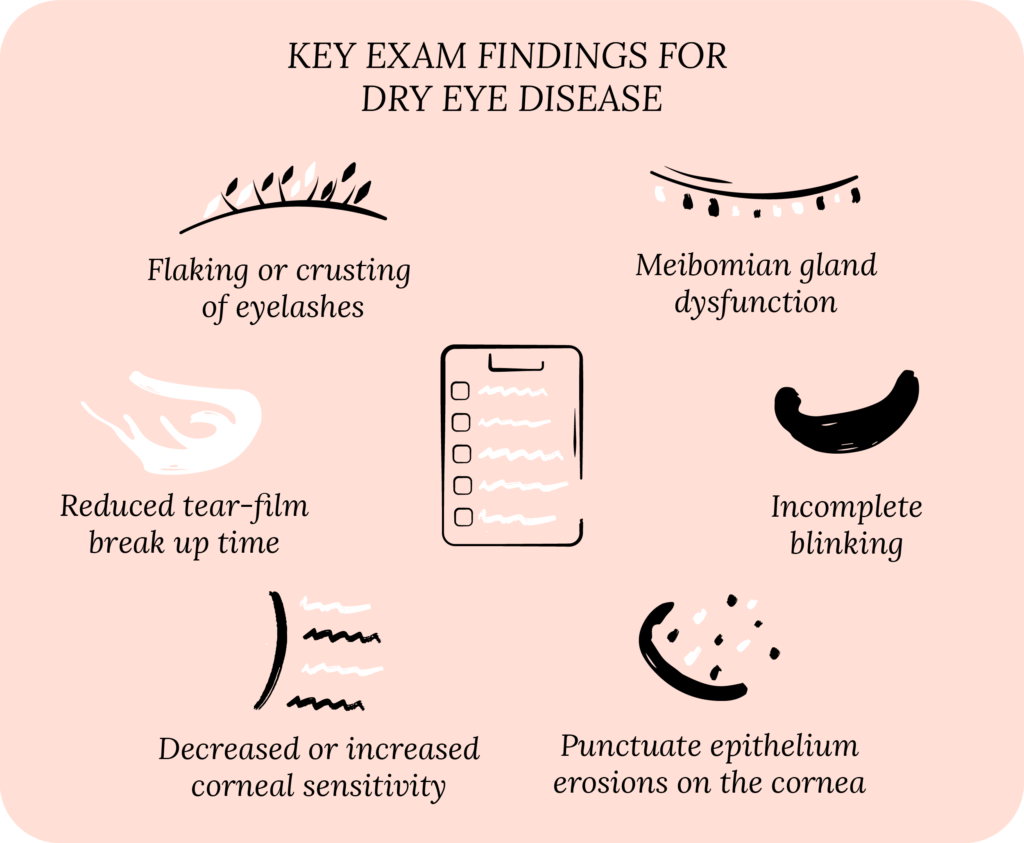 On your conjunctiva, we look for areas where the conjunctiva is redundant (called conjunctivochalasis), or areas where it is damaged. Remember that yellow stuff your eye specialist puts in your eyes? Well, that stuff is called fluorescein, and it can stain the surface of your cornea and conjunctiva, highlighting areas where the surface is loose, not as strong, or broken off.
For your tear film, we specifically look for how quickly it evaporates, known as tear break-up time (TBUT). By using fluorescein and blue light, we can see when the fluorescein in your tear film starts to break up after you blink, and we measure this in seconds. A rapid TBUT (typically less than 10 seconds) means your tear film is unstable, and it may be a sign of evaporative dry eye.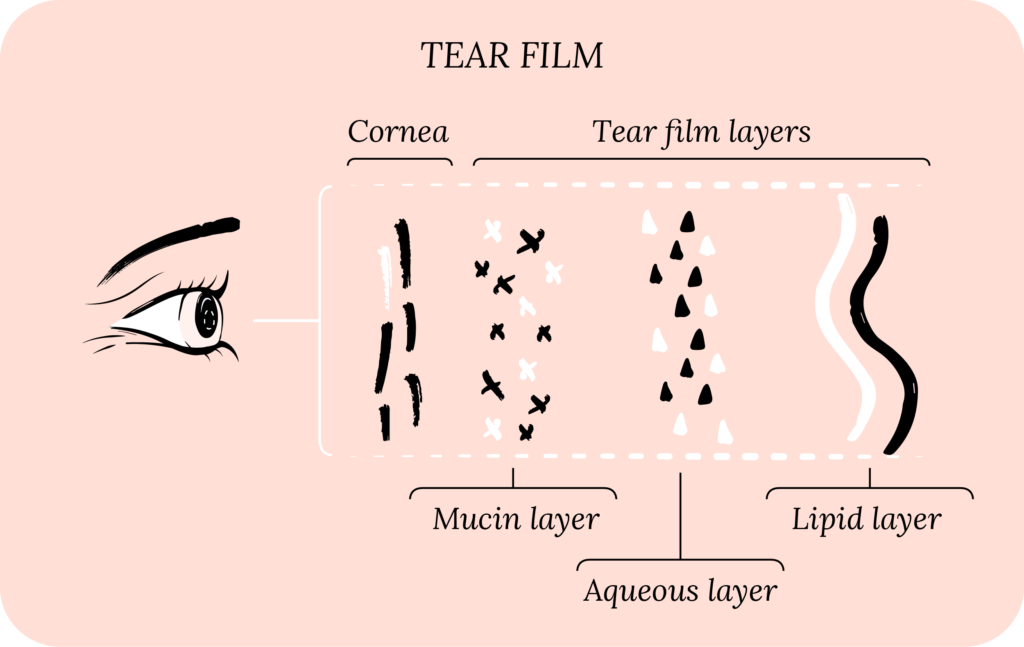 We also look for the height of your tear meniscus (right above the lower eyelid margin), which reflects your tear production and secretion. A low tear meniscus height may indicate aqueous deficient dry eye. Another test for aqueous deficient DED is the Schirmer's test, where we use a strip, placed gently on the inside of your eyelid, and we measure your tear production (tear volume) over 5 minutes.
Imaging used to diagnose dry eye
The exam and diagnostic tests listed above may be difficult to quantify, vary from specialist to specialist and fail to detect subtle abnormalities. Also, the above tests can be invasive, meaning that they require the eye doctor to place things in your eyes, which may cause discomfort. Therefore, several new, non-invasive imaging techniques have been developed to provide more objective, quantitative data.5
Non-invasive TBUT is measured with videokeratography, which projects light discs onto the cornea and looks for changes in the shape of the discs to indicate TBUT. Meibography uses infrared to highlight the meibomian glands. Anterior segment optical coherence tomography can very precisely measure tear meniscus height. Tear film interferometry can assess the layers of the tear film, with the potential to image the mucin, aqueous and lipid layers. Other imaging techniques include in vivo confocal microscopy, aberrometry, thermometry and tear film imager.
While all these imaging techniques are certainly exciting from a research and scientific standpoint, please note that not every eye doctor has access to them. Moreover, the link between the imaging and diagnosis, severity and treatment of DED is not always clear. Further research and clinical trials are needed.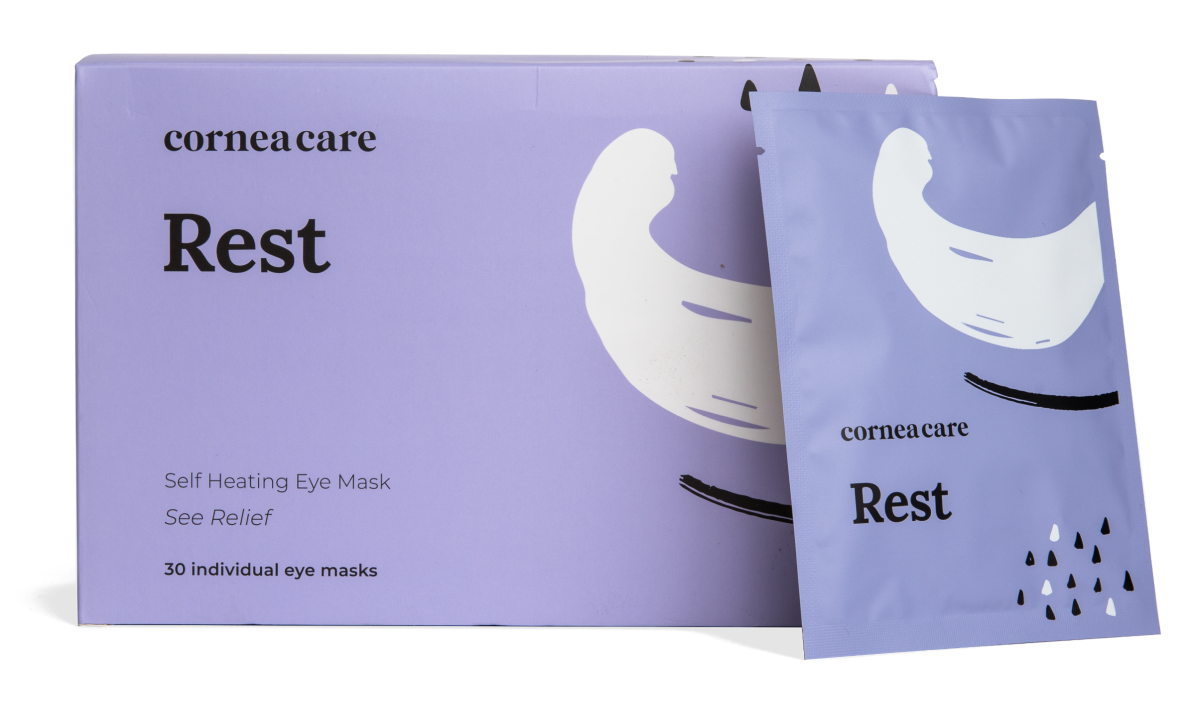 Perfect for eye dryness, fatigue, tearing, and puffiness of the eyelids. Free shipping 📦.
Biomarkers linked to dry eye disease
Just like how imaging can provide objective data to detect DED, certain biomarkers can accomplish the same thing.6 One key biomarker is matrix metalloproteinase-9 (MMP-9), which is an indicator of inflammation. Another biomarker is tear osmolarity, which reflects how concentrated your tears are, where a high osmolarity reflects decreased tear volume.
If you have DED and dry mouth, and other autoimmune diseases, it may be important to check for Sjögren's syndrome antibodies, which can diagnose Sjögren's disease, a specific cause of DED. Other biomarkers include interleukins, lactoferrins, lysozymes, phospholipase and many more.
Biomarkers have the same limitations as imaging for DED. Specifically, not every eye specialist has access to them, and using them to guide diagnosis and treatment isn't always clear.
How to tell dry eye apart from other conditions
Telling dry eye apart from other conditions can be tricky! However, there are some key differences that separate DED from other conditions that look like dry eyes. It's important to make this distinction because it guides dry eye treatment. Below we'll cover a few of the common conditions that can look like DED. Please note that these are broad generalizations and may not apply to every individual.
Allergies, or allergic conjunctivitis, can look like DED, but patients with allergies typically endorse eye itching as their main symptom.7 They can also have eyelid swelling and dark under-eye circles, called shiners. Allergic conjunctivitis patients may also have seasonal and other systemic allergies. Their symptoms typically worsen during allergy season.
Pink eye, or viral conjunctivitis, usually presents with symptoms in one eye that spreads to the other eye. The same viruses cause pink eye as the common cold, and so patients with viral conjunctivitis may have cold-like symptoms, or have been exposed to someone with cold-like symptoms. Most people with pink eye recover in days to weeks, often without treatment. With DED, your symptoms may improve on their own, but typically you will need treatment over the long run.

Perfect for eye dryness, burning, itching, grittiness, crusting/flaking of eyelashes and inflamed/swollen eyelids. Free shipping 📦.
Meibomian gland dysfunction (MGD) is a cause of DED. Meibomian glands line your eyelids and secrete oil which makes up the lipid layer in your tear film. These glands sometimes stop working well, and instead of releasing oil into your tear film, the oil can deposit on the eyelids or in the glands themselves. This can lead to eyelid inflammation called blepharitis, and styes.
Corneal scratches and infections are typically accompanied by sharp, stabbing pain and extreme sensitivity to light. Whereas with dry eyes, you may get a dull, achy pain, and the light sensitivity can be debilitating, but bearable. Often, corneal scratches tend to happen after eye trauma ("poked in the eye"), and contact lens use is a common culprit of corneal infections.
Uveitis is inflammation of the uvea, which is made up of the iris (the "colored" part located behind the cornea), ciliary body (located behind the iris, helps with focusing), and choroid (network of blood vessels that supply nutrients to the retina in the back of the eye). Uveitis typically leads to severe sensitivity to light, and sharp, throbbing pain. These patients may also have blurry vision that does not get better with blinking.
Putting it all together
Our questionnaires, exam, imaging and biomarkers are good at detecting and quantifying DED. But, they only capture a small glimpse of your total DED experience. DED, at its core, is unique to each eye patient and is multifactorial. You know this first hand if you have DED because it can affect you on so many levels. That is why we believe in truly listening to you and your whole experience with DED. We admit that there are limitations in ophthalmology and optometry to fully understand DED. Therefore, we turn to you to help us come up with better tools and treatment options!
Want to take care of your dry eyes but not sure where to start?
What's next
We really think everyone should take our Dry Eye 101 course. Find it here!
If you've already taken it, amazing! Check out more articles in the Continuing Education section below.