Have you noticed a strange bump on the white of your eye? If so, you may be wondering what it is and whether it's a cause for concern. While bumps on the white of the eye may cause worry, it's important to remember that they can have a range of causes, from benign growths to more serious underlying issues.
In this article, we'll take a look at common conditions such as pinguecula, pterygium, and limbal dermoid. By getting to know the potential origins of these bumps, you can empower yourself with the knowledge needed to take the appropriate steps for diagnosis and treatment.
Key Points
In most cases, a small bump on the white of your eye doesn't require any treatment.
Pinguecula and pterygium are growths that develop on the conjunctiva, which is the transparent membrane covering the white part of the eye.
Your eye doctor can determine the cause of the bump in the white of your eye with a proper eye exam.
You brush your teeth,
moisturize your skin,
what about your eyes?
What Does a Bump on White of the Eye Look Like?
A bump on the white of the eye may appear as a small, raised lesion or nodule. It can range in size and color, but it's typically white, yellow, or pink. The bump may be smooth or have a slightly raised surface. It can appear in a specific area or extend over a larger portion of the sclera (the white of the eye).
In other instances, the bump may be accompanied by other noticeable symptoms, such as redness, irritation, or discomfort in the affected area. Additionally, if an infection caused the bump, there may be discharge or crusting present around the eye.
Causes of a Bump on the White of the Eye
Several underlying causes can lead to the appearance of a bump on the white of the eye. Understanding these causes is important to determine the appropriate course of action for diagnosis and treatment.
Pinguecula
A pinguecula is a common condition characterized by a small, raised bump or yellow deposit on the conjunctiva. The conjunctiva is the clear tissue covering the sclera, the white of your eye. A pinguecula often appears on the side of the eye closest to your nose. It may be a yellow or white bump and often has a triangular shape. Pingueculae are typically bilateral, meaning they can occur in both eyes.1
Pingueculae can sometimes develop deposits of protein or calcium within the lesion, contributing to their appearance and texture. These deposits may give the pinguecula a more prominent or raised appearance.2
In most cases, pingueculae are benign and asymptomatic but they can cause discomfort if they become inflamed or irritated. Causes include prolonged exposure to UV radiation, dryness, dust, and wind. People who spend a lot of time outdoors or have extended exposure to these environmental factors are at a higher risk.
Treatment
Most pingueculae do not require treatment if they are not causing symptoms or affecting vision. Lubricating eye drops and protective eyewear can help alleviate symptoms.
Prevention and management options include:
Wear sunglasses with 100% UV protection and a wide-brimmed hat to shield your eyes from the light of the sun
Use lubricating eye drops to ease dryness and eye irritation
Minimize exposure to environmental irritants, such as dusty or windy environments
In rare cases where a pinguecula becomes particularly bothersome, causing persistent symptoms or significantly affecting vision, surgical removal may be considered.2 However, this is usually a last resort and reserved for severe or recurrent cases.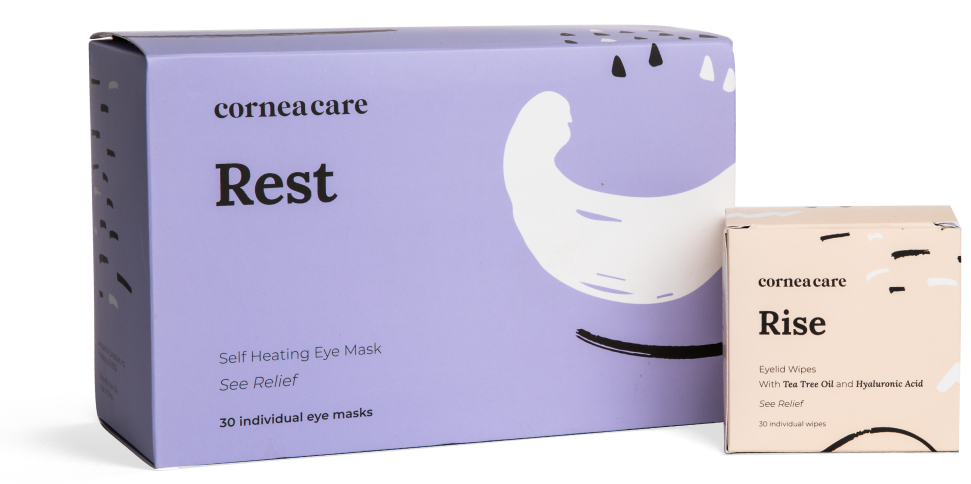 Perfect for eye dryness, burning, itching, crusting/flaking of eyelashes and inflamed eyelids. Free shipping 📦.
Pterygium
Similar to a pinguecula, a pterygium is a fleshy, noncancerous growth on the conjunctiva. It may extend onto the cornea and cause irritation. Pterygium, also known as surfer's eye, is caused by exposure to ultraviolet rays and environmental factors. Although the term "surfer's eye" suggests a connection with surfing, the condition can affect anyone exposed to excessive UV light from the sun, wind, dust, or other environmental irritants.3
Pterygia can cause redness, irritation, foreign body sensation, and, in some cases, vision problems if they encroach on the cornea.
Similar to pingueculae, pterygia can also exhibit calcium or protein deposits within the lesion.
The symptoms of surfer's eye can vary but often include:
Redness and inflammation of the affected area
Irritation and a gritty or foreign body sensation
Itchy or dry eyes
Blurred or distorted vision if the growth reaches onto the cornea
Treatment
If left untreated, surfer's eye can affect your vision and cause astigmatism or corneal irregularities. Therefore, it's important to seek medical attention if you suspect you have this condition.
Management options for surfer's eye depend on the severity of symptoms and the impact on vision. Mild cases may be treated with lubricating eye drops and protective measures such as wearing sunglasses. A wide-brimmed hat can also help shield the eyes from UV radiation. However, if the growth causes significant symptoms or affects vision, surgical removal of the pterygium may be recommended.3
You can try artificial tears, protective eyewear, and regular eye exams to manage the condition. Surgical removal may be necessary if the pterygium causes significant symptoms or affects vision.
Conjunctival Cyst
A conjunctival cyst is a fluid-filled sac that forms on the conjunctiva, the thin, transparent membrane covering the sclera. These cysts can occur due to various factors, such as blockage of the tear ducts or inflammation of the conjunctiva. These types of bumps vary in size and may cause mild to moderate discomfort, foreign body sensation, or blurred vision if they grow large or affect the cornea.4
Treatment
Treatment options include warm compresses, artificial tears, or possibly surgical removal if the cyst becomes uncomfortable or affects your vision.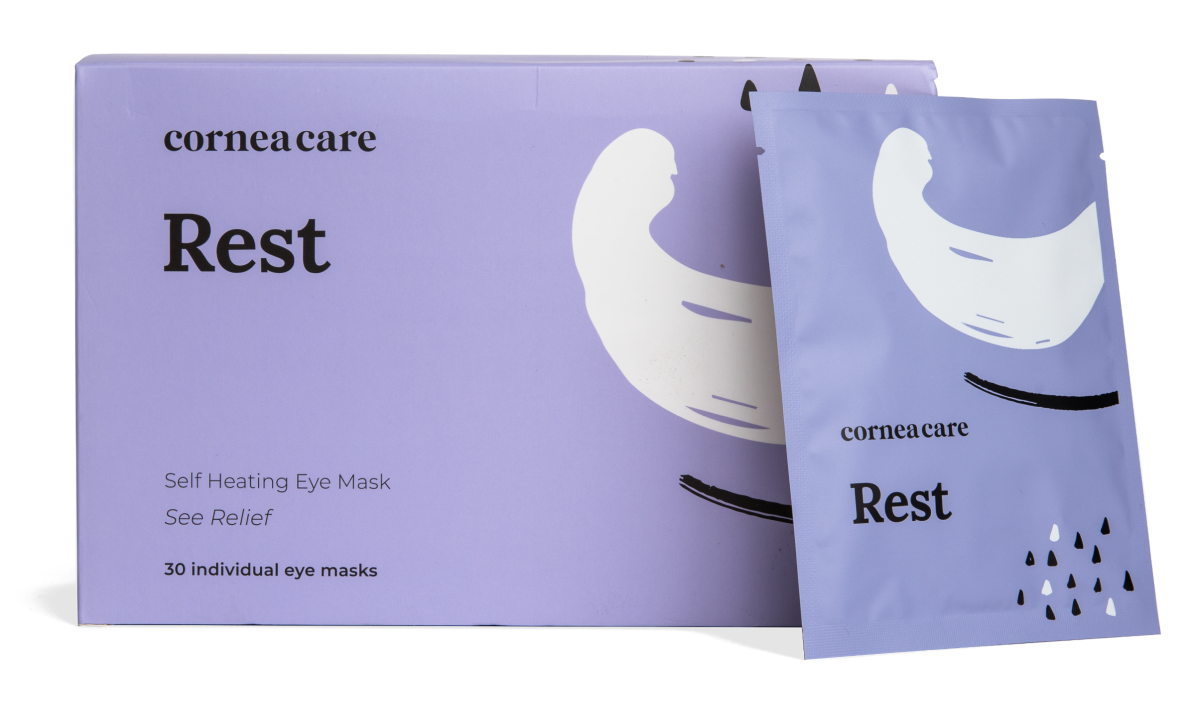 Perfect for eye dryness, fatigue, tearing, and puffiness of the eyelids. Free shipping 📦.
Limbal Dermoid
A limbal dermoid is a benign growth that usually occurs at the limbus. The limbus is the border between the cornea and the sclera. The growth is a mixture of tissues such as skin, hair follicles, and sweat glands. Considered a congenital anomaly, a limbal dermoid is usually present at birth or develops in early childhood.
Treatment
Limbal dermoids are generally nothing to worry about and may not require treatment unless they cause visual impairment or significant cosmetic concerns.
Episcleritis
Episcleritis is the inflammation of the episclera, a thin layer between the conjunctiva and the sclera. It can cause a red or pink bump on the white of the eye, sometimes causing mild pain.
Treatment
Steroid eye drops can help reduce inflammation and ease symptoms. The use of steroids in these conditions is often in combination with other treatments prescribed by an eye doctor.5
Prolonged use of steroid eye drops can lead to complications. These may include increased intraocular pressure (glaucoma), cataract formation, or even corneal thinning. Therefore, their use should always be guided by an eye care specialist who will assess the specific condition, risks, and benefits before giving steroid eye drops.
Scleral Nodule or Tumor
Rarely, a benign or malignant tumor originating in the sclera is the cause of a bump on the white of the eye. These tumors can vary in size, appearance, and symptoms.
A scleral nodule or tumor refers to an abnormal growth within the sclera. Scleral nodules or tumors can have various causes, including both benign and malignant conditions. Unlike limbal dermoids, scleral nodules or tumors are not often present at birth and can develop later in life.
Treatment
Treatment options for scleral nodules or tumors vary based on the specific characteristics of the growth and individual circumstances. Your doctor may monitor the nodules over time without immediate intervention. In other cases, they may advise topical medications, surgical excision, or radiation therapy.
When to See the Doctor
If you notice a bump on the white of your eye, it's best to visit your eye doctor. During the eye exam, your doctor may use a slit lamp to examine the bump on the white of the eye. The slit lamp is a special microscope used to examine the front structures of the eye, such as the conjunctiva and cornea, in detail. This can help your doctor identify any abnormalities, inflammation, or growths.
Bump on White of Eye FAQs
What causes a bump on the eyeball?
A bump on the eyeball can have various causes, such as pinguecula, a raised yellow or whitish bump caused by environmental elements like UV radiation and dust. Also caused by UV exposure and irritants, pterygium is a growth of fleshy tissue extending onto the cornea.

Limbal dermoid is a congenital condition characterized by a benign bump composed of abnormal tissue near the cornea. A conjunctival cyst is a fluid-filled bump on the conjunctiva, often due to blockage or trauma to the tear ducts.

It's important to consult with an eye care professional for a diagnosis.
Will bump on eyeball go away?
Whether a bump on the eyeball goes away on its own depends on its underlying cause. Pinguecula or pterygium may remain stable and not require treatment. Others may resolve on their own over time. However, it's important to consult with an eye care professional so they can assess the bump and determine the cause. Only then can they advise on the likelihood of it going away or needing treatment.
When should I worry about a bump on my eye?
You should seek medical attention for a bump on your eye that's causing severe pain or significant changes in vision. See your doctor if your bump is growing rapidly or changing in appearance.

If the bump on your eye is accompanied by redness, swelling, or discharge, call your doctor. Have a bump evaluated if it interferes with the normal function of your eye, such as blinking or closing the eyelid.
Putting It All Together
Any bump or growth on the white of the eye should be evaluated by your eye doctor (optometrist or ophthalmologist) for an accurate diagnosis. They can differentiate between types of growth and determine the appropriate course of action, whether it be monitoring, further testing, or treatment.
While bumps on the white of the eye can be a cause of worry, many of these conditions can be well managed. In some cases, they may even resolve on their own. By understanding the causes, seeking timely intervention, and partnering with your trusted eye care professional, you can navigate the path toward clear, healthy, and vibrant eyesight.
Want to take care of your eyes but not sure where to start?
What's Next
You might also be interested in reading Grey Spot on White of Eye and learning more about eye health & wellness!