How to Avoid Eye Bag Surgery Gone Wrong
If you see eye bags when you look in the mirror, you may wonder what's causing them and want them gone. Eye bag surgery, also known as lower eyelid surgery and lower blepharoplasty, is a popular surgical procedure.1 Like any surgery though, lower eyelid surgery has its risks. The poor outcome of an eye bag surgery gone wrong can damage not just your appearance but the function and health of your eyes.
While you may feel that having eye bags or dark circles give you an aged or tired appearance, they are usually harmless and require no treatment. However, some people choose to undergo blepharoplasty for droopy upper eyelids or under-eye bags.
This article will explore the causes of eye bags, treatment options to try, and how blepharoplasty surgery can remove eye bags. We'll cover the risks of lower eyelid surgery, possible complications of eye bag surgery gone wrong, and how to minimize them.
Key Points
Bags under the eyes can be caused by orbital fat deposits that bulge from sagging skin due to aging or genetics, and are usually harmless.
Home remedies and noninvasive treatments can reduce under eye bags, while blepharoplasty is a type of eyelid surgery that can achieve long-lasting results.
Choose an oculoplastic surgeon for the best results and to reduce the risk of complications such as lower eyelid refraction.
You brush your teeth,
moisturize your skin,
what about your eyes?
What Causes Eye Bags?
Eye bags may be caused by poor skin tone, changes in skin color, fat deposits, or natural shadowing. Puffy eye bags under the eyes are caused by orbital fat. As they are often genetic in nature, your parents or grandparents may have bags under their eyes too, even in their youth.2
In some people, eye bags begin to appear as they age. Naturally occurring fat around the eyes moves as your skin and muscles age and weaken, collecting under the eyes in bags. Another way eye bags form is when fluid gathers in the space between the eye socket and the cheekbone, creating a swollen or puffy appearance.
In addition to aging and genetics, your under-eye bags can be the result of:2
Not getting enough sleep
Too much salt in the diet causing fluid retention
Congestion due to allergies
Smoking
Medical conditions such as renal disease and thyroid eye disease
How to Get Rid of Bags Under the Eyes Without Surgery
You may not like the way they look, but under-eye bags are usually harmless and don't require medical intervention. Of course, if you experience pain or swelling around your eyes that persists for days or causes vision problems, make an appointment with your eye doctor (optometrist or ophthalmologist).
Depending on the cause of your eye bags, your doctor may suggest medication to ease allergy symptoms or refer you for diagnosis and treatment of thyroid disease or other medical conditions.
The best way to avoid the complications of an eye bag surgery gone wrong is to avoid surgery if possible. If your under-eye bags are not related to a medical condition, there are a number of home remedies and noninvasive treatments you could try to reduce or improve their appearance.
What You Can Do at Home
Start first with some home remedies and lifestyle changes that can reduce the swelling or fluid retention that causes under eye bags.
If you have puffy eyelids or bags under your eyes in the morning, these quick fixes may be all you need:2
Get 7-9 hours of sleep every night. Prioritizing a good night's sleep is one of the best things you can do for your health. It can also improve the appearance of your eyes, reducing dark circles and eye bags. Turn off digital devices early and relax with a CorneaCare self-heating warm compress as part of a soothing bedtime routine.
Try raising your bed slightly. Adding an extra pillow or lifting the head of your bed a bit can keep fluid from collecting under your eyes while you sleep. However, if this change of position makes it harder for you to sleep well, it won't be worth doing.
Start the day with a cool compress. A clean damp washcloth or chilled cucumber slices placed over closed eyes for a few minutes can help reduce under-eye puffiness in the morning. Cold black tea bags provide the added benefit of caffeine which constricts blood vessels, reducing puffiness. For a more convenient solution, try CorneaCare's self-cooling cold compress in the morning and as needed throughout the day to soothe your eyes and ease swelling.
Eat less salt. For some people, excess salt in the diet causes fluid retention. When you drink water or other fluids before bed, that fluid may collect and cause swelling around your eyes. Try reducing your salt intake and don't drink close to bedtime.
Quit smoking. Like getting enough sleep, quitting smoking can improve the appearance of under-eye bags while benefiting your overall health. Smoking speeds up collagen loss, weakening and thinning the delicate skin around your eyes. This can cause fat deposits to collect and bulge from under your eyes or dark circles to appear thanks to more visible blood vessels.
If you have prominent and permanent eye bags that don't respond to these suggestions, you might consider medical treatment.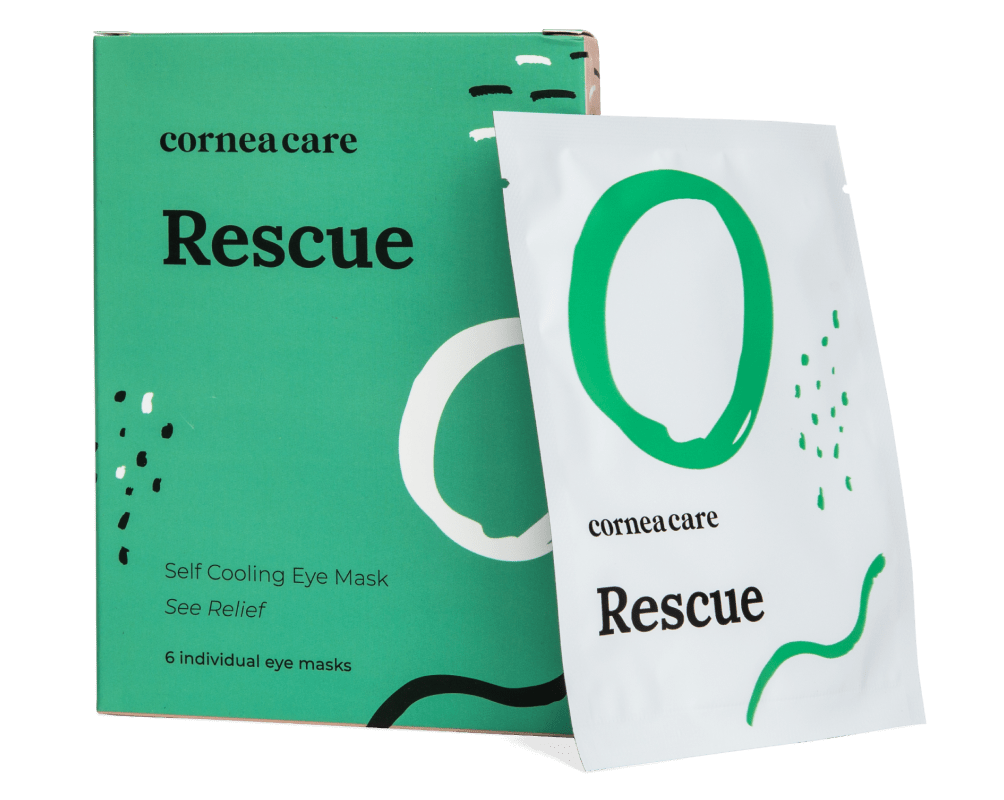 Perfect for sudden flare-ups of eye dryness, pain, burning, and swollen/inflamed eyelids. Free shipping 📦.
Noninvasive Treatment Options
There are different skin treatments and therapies available that can reduce puffiness and improve the appearance of under eye bags.
Designed to enhance tone and tighten skin, noninvasive treatments may give you the results you want without facing the risk an eye bag surgery gone wrong:3
Fillers are injected into the space under the eye and above the cheek to smooth and improve your appearance. Your doctor can perform this simple procedure under local anesthetic using a filler material such as hyaluronic acid. While the results are often satisfying, they may last less than a year and treatment would need to be repeated.
Laser resurfacing removes wrinkled skin layers under the eye while stimulating the growth of new collagen. Using lasers, this treatment results in firmer skin which can last years with proper skin care and sun protection.
Chemical peel is an in-office treatment that uses a chemical solution to remove a layer of old skin cells, including wrinkled skin under the eyes. As with laser resurfacing, depending on your skin type and sun exposure, the result may last years.
These noninvasive treatments can improve the appearance of your skin and reduce under eye bags for years at a time. However, the most effective and long-lasting solution for eye bags is lower eyelid surgery.
Lower Eyelid Surgery to Remove Eye Bags
Blepharoplasty is a type of eyelid surgery that can reduce under eye bags. During lower blepharoplasty, your eye surgeon removes or repositions the excess fat under your eye through an incision made beneath the lashes or inside the lower lid. In some cases, excess eyelid skin is also cut and removed. The incision is closed with very small sutures. Blepharoplasty is typically performed under local anesthesia or light sedation in an outpatient setting.2
Blepharoplasty is also used to repair droopy upper lids that may affect peripheral vision. This procedure can be done alone or with another plastic surgery, such as a brow lift or facelift.
Cosmetic eyelid surgery may be covered by insurance if the condition impairs your vision. If the procedure is performed to reduce under eye bags for your appearance, you will likely be responsible for all costs.
Before you decide whether to schedule blepharoplasty surgery to reduce under eye bags, speak with your eye doctor about the benefits and risks. Ask if you are a good candidate for surgery and get a referral to an oculoplastic surgeon (an ophthalmologist specializing in plastic and reconstructive surgery around the eyes).4
Potential Risks with Lower Eyelid Surgery
As with any surgery, eye bag surgery comes with risks and possible complications. These may include:4
Eye infection
Redness and scarring
Discoloration of the skin
Blurred vision or rarely, vision loss
In addition to these risks, eyelid surgery complications may require additional reconstructive surgery to repair lower eyelid retraction or other problems.
Complications from Eye Bag Surgery Gone Wrong
While eye bag surgery is one of the most performed cosmetic surgical procedures worldwide,1 complications after blepharoplasty surgery are possible. The anatomy of the eyelid is complex and intricate. Therefore, lower eyelid blepharoplasty is best performed by a skilled oculoplastic surgeon.4
Lower eyelid retraction is a common complication of eye bag surgery gone wrong. Lower eyelid retraction is when the lower eyelids sag downwards. The lower eyelids and lashes may also face outward (ectropion) or inward (entropion).
Depending on the degree of retraction, the eyes may appear more rounded than their original shape. Eyelid retraction can also cause eye irritation due to exposure. Another side effect of eyelid retraction is lagophthalmos, a condition where the eyelid fails to close completely while blinking or sleeping. This can lead to dry eye disease, poor sleep, and other eye problems.
The surgical technique most commonly used by surgeons to treat under eye bags is called transcutaneous blepharoplasty. In this procedure, an incision is made below the lashes in the lower eyelid. Through it, the surgeon can access the orbital fat causing the puffy bags. Risks of this surgical method involve impaired or weakened eyelid muscles leading to lower eyelid retraction. Removing too much skin can also result in eyelid retraction.

Perfect for eye dryness, burning, itching, grittiness, crusting/flaking of eyelashes and inflamed/swollen eyelids. Free shipping 📦.
Minimizing the Risk of Eye Bag Surgery Gone Wrong
Choose an oculoplastic surgeon to perform your lower eyelid surgery, rather than a general plastic surgeon, who may not be as familiar with the delicate nature of the eye's anatomy. This important decision can reduce your risk of lower eyelid retraction and other undesirable outcomes.
A more specialized surgical method called transconjunctival blepharoplasty preserves the support structures of the lower eyelid. With this procedure, the skin and muscles of the eye are left intact as this procedure requires no external incision. Instead, your eye surgeon removes the orbital fat from behind the eyelid reducing the risk of lower eyelid retraction.6
Post-Surgical Tips for Best Results
After surgery, your doctor may recommend applying ice packs to your eyes multiple times throughout the first day and night to help your healing process.4,5
Cool compresses can also soothe your eyes and reduce swelling. Elevate your head slightly while you sleep to allow fluid to drain away from your eyes.4
Avoid strenuous activities, smoking, and rubbing your eyes. Wear eyeglasses instead of contact lenses for about two weeks. While outdoors, wear sunglasses to protect your eyes from sun and wind exposure.4
Follow your eye surgeon's postoperative instructions carefully and keep all follow-up appointments.
Corrective Surgery for Eye Bag Surgery Gone Wrong
You may be referred to an oculoplastic surgeon for revision surgery if you had a poor outcome or complications after blepharoplasty. Your new surgeon will examine your eyes and create a plan focused on restoring your original anatomy. Reconstructive surgery can allow your eyelids to both function properly and look good.
To repair eyelid retraction, especially where too much eyelid skin was removed, tissue grafts and skin grafts may be used. Hyaluronic acid fillers may be injected into the space below the eye and above the cheekbone for a smooth appearance.
Putting It All Together
If you feel that under eye bags give you an aged or tired appearance, start with our home remedies to reduce puffiness. Before deciding on having a cosmetic procedure or lower eyelid surgery, talk with your eye doctor about the risks and benefits. Choose a skilled eye surgeon to get the best outcome and avoid the complications of an eye surgery gone wrong.
Want to take care of your eyes but not sure where to start?
What's Next
To keep your eyes looking and feeling good for life, read 5 Tips to Have Healthy Eyes for Life and check out more educational and informative Eye Health & Wellness articles too!