How to Prevent Dry Eyes When You're Sleeping
If dry eye symptoms are interrupting your sleep, or you wake up each day with irritated dry eyes, your sleep quality may be suffering. Poor quality sleep can lead to a number of medical conditions including obesity, cardiovascular disease, diabetes, and high blood pressure. Long-term sleep disruption is also related to increased stress, mood disorders, and reduced performance at work.¹ This article will help you learn how to prevent dry eyes when sleeping.
While dry eye is a chronic condition, it's very treatable, and in some cases preventable with a few lifestyle changes and good eye care routines.
Key Points
Poor sleep leads to a multitude of problems and dry eye can be the cause.
Preventing dry eye when sleeping requires a few environmental and lifestyle changes.
Dry eye disease is a chronic but treatable condition and CorneaCare is here to help.
You brush your teeth,
moisturize your skin,
what about your eyes?
Understanding Dry Eye Disease
Dry eye disease is a common condition that affects 344 million people worldwide.2 Also called dry eye syndrome, the symptoms of dry eye can be debilitating and cause problems for you professionally as well as in your personal life.
Dry eye disease is caused by inadequate tear production or rapid tear evaporation. In most cases, people with dry eyes don't have enough tears staying in their eyes to keep them lubricated properly.2
The symptoms of dry eye disease include a gritty feeling, redness, light sensitivity, blurred vision, discharge, dryness, and even excessive tearing. Dry eye treatment is focused on both increasing tears and preventing tear film evaporation.2
Causes of Dry Eye When Sleeping
Studies have shown that almost half of all dry eye sufferers report poor sleep quality, similar to patients with sleep apnea. This is just one way that dry eye has a significant impact on quality of life.3
There are many causes of dry eye disease, ranging from environmental factors to medical conditions.4 In this article, we'll focus on how to prevent dry eyes when sleeping while looking at related causes.
To dig deeper into the other causes of dry eye disease, read What Causes Dry Eye Disease?
Environmental Factors
Living in a dry, cold, or windy climate can contribute to dry eye symptoms. Sitting or sleeping under fans or with air conditioner vents blowing on your face can cause dryness on the surface of your eyes. Such conditions can irritate your eyes and disrupt your sleep.
If you smoke or spend time around smokers, the resulting poor air quality can dry your eyes. Similarly, if you live or work in an area that exposes you to high air pollution, you are at greater risk for dry eye disease.
Nocturnal lagophthalmos
Nocturnal lagophthalmos is a condition where your eyelids remain partially open when sleeping. The exposure can cause your tear film to become unstable and your eyes to feel dry when sleeping and when you wake.5
In addition to causing dry eye symptoms, nocturnal lagophthalmos can disrupt your sleep, so it's worth talking with your doctor if you suspect this may be a problem for you.
Medical Conditions and Medications
You may have certain medical conditions or take medications that can lead to dry eye symptoms. Of course, we do not recommend you stop taking your medications. You may wish to speak with your prescribing doctor about the side effects, however.
Some of the medical conditions that can cause dry eye symptoms include Sjögren's syndrome, rheumatoid arthritis, and diabetes. Eye conditions that increase the risk of dry eye disease include blepharitis, glaucoma, and meibomian gland dysfunction, as well as LASIK surgery. Contact lens use for vision correction can also cause dry eye.4
Hormonal changes during pregnancy or menopause can cause symptoms of dry eye. Also, over-the-counter medications such as antihistamines, decongestants, and diuretics can lead to dry eyes, especially with long-term use. Further, certain prescription medications such as antidepressants and glaucoma medications can also dry out your eyes.4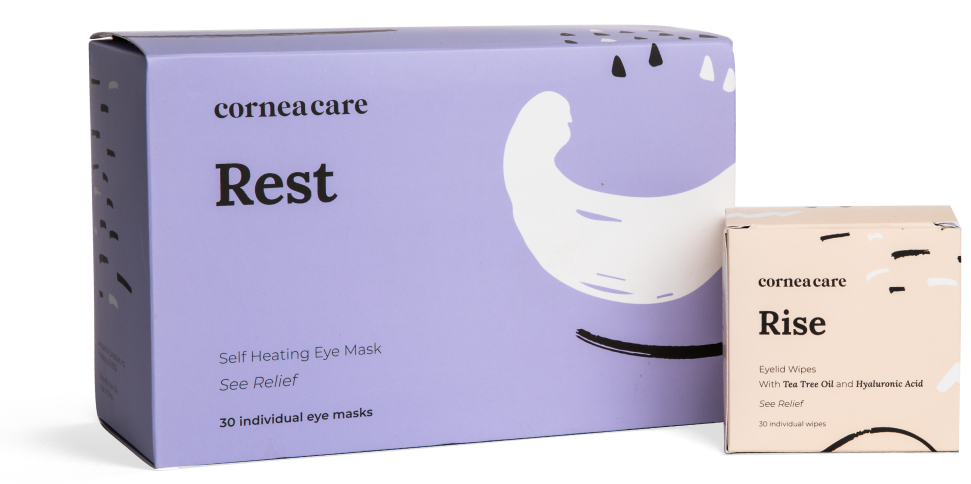 Perfect for eye dryness, burning, itching, crusting/flaking of eyelashes and inflamed eyelids. Free shipping 📦.
How to Prevent Dry Eyes When Sleeping
Nighttime dry eye can disrupt your sleep leaving you sluggish and irritable throughout the day. Poor sleep quality over time can wreak havoc on your overall health too. If dry eyes keep you up at night or you have morning dry eye symptoms, the following simple changes can make a big difference.
Turn on a Humidifier at Night
Running a cool mist humidifier in your bedroom can help prevent dry eyes when sleeping. You can also add humidifiers in other areas of your home where you spend time during the day to increase the overall humidity in the air.
Adding moisture to the air can really make a difference, especially in the cold, winter months or if you live in a place that's dry year-round.
Redirect the Fan
Sleeping in a cool room can help you sleep, however, you should avoid sleeping with fans or air conditioner vents pointed toward your face. Air flowing toward your eyes for hours will dry up your tears leaving your eyes dry and irritated in the morning. It may even disturb you while you're trying to sleep.
Make changes to keep your bedroom cool without having air blowing at your face. Do the same with air vents in your car while driving. Reducing the factors that contribute to dry eye symptoms during the day will help ensure your eyes are hydrated when you head to bed at night.
Use Eye Drops to Replenish Tears
Artificial tears can help replenish tears and make your eyes feel more comfortable. Usually, eye drops alone won't be enough to treat your dry eye symptoms, but they can be helpful if used consistently throughout the day and before bed.
It's important to avoid the preservatives in many brands of artificial tears, however, as they can damage the cornea when used long-term.6 CorneaCare's preservative-free artificial tears provide gentle lubrication to your eyes to ease dry eye symptoms without harmful ingredients.
Take Regular Breaks from Digital Screens
Whether on the job or for fun, staring at digital screens for hours each day can really take a toll on the eyes. While working at a computer, playing online games, or streaming your favorite show, you blink less causing eye strain and dryness.
When using digital screens, remember the 20-20-20 rule. Every 20 minutes, look at an object 20 feet away for at least 20 seconds to give your eyes a screen time break and your tear film a chance to rehydrate. Make an effort to blink frequently as well.
Before bedtime, turn off digital screens early allowing your eyes to recover from eye strain and prevent dry eyes when sleeping.
Avoid Allergens
Avoiding allergens in the bedroom can help prevent dry eyes when sleeping. These include dust mites, cigarette smoke, and synthetic fragrances. Even the laundry detergent and fabric softener you use on your bedding can be irritating to your eyes. Try switching to fragrance-free cleaning and laundry products.
Eat Well and Drink Plenty of Water During the Day
In addition to medical and environmental factors, your diet can significantly impact your dry eye symptoms. Eating a balanced diet with protein, carbs, essential fatty acids, vitamins, and minerals is beneficial for the eyes, mind, and body.4
CorneaCare's omega-3 fatty acid supplements and eye vitamins and minerals can help address any deficiencies in your diet to make sure you get the essential nutrients your body needs.
It's also important to stay hydrated by drinking enough water throughout the day. Even mild dehydration can lead to dry eye symptoms.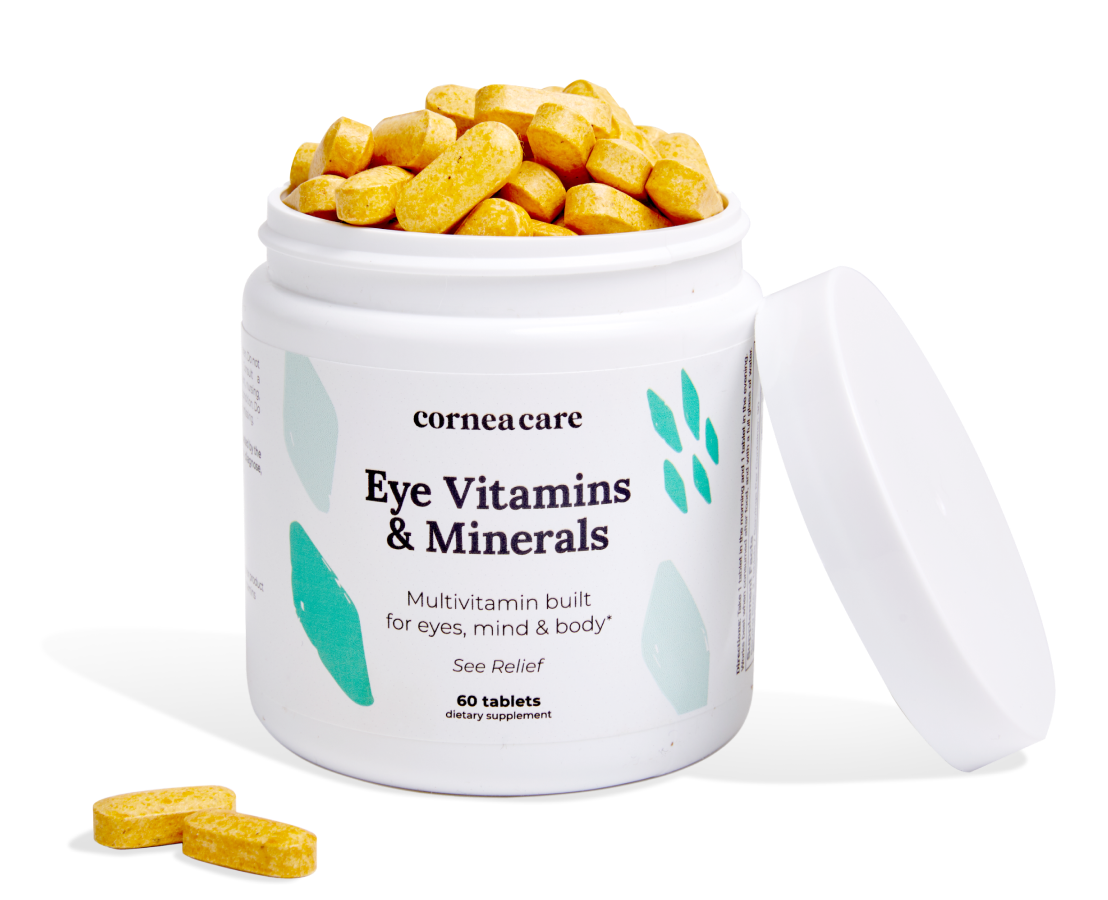 A single multivitamin to address the nutritional needs of your eyes, mind and body. 📦 Free shipping.
Remove Your Contact Lenses Before Sleeping
Even if your contact lenses are designed for overnight use, if you suffer from dry eye disease it may be best to remove them before sleeping. If you have sensitive eyes, you might get relief by removing your contacts early in the evening and wearing glasses instead.7
You might like to experiment and see if removing your lenses helps you prevent dry eyes when sleeping. Talk with your eye doctor about whether contact lenses are a good fit for you if you have dry eye symptoms. Also, read Can I Wear Contact Lenses with Dry Eyes? to learn more.
Find Relief with a Warm Compress
For some people, dry eye disease is caused by clogged meibomian glands. The meibomian glands secrete helpful oils to prevent rapid tear film evaporation. However, if they are not functioning properly the glands become clogged.
CorneaCare's self-heating warm compress can hydrate and provide gentle warmth to your eyes, helping to stimulate clogged glands. Our Rest™️ warm compresses are fragrance and preservative-free.
Each individually wrapped eye mask conveniently self-warms without the use of a microwave. Simply slip the loops behind your ears, close your eyes, and relax for 10-15 minutes while you enjoy your favorite calming music or podcast. Remove and discard when you're ready to drift off to sleep.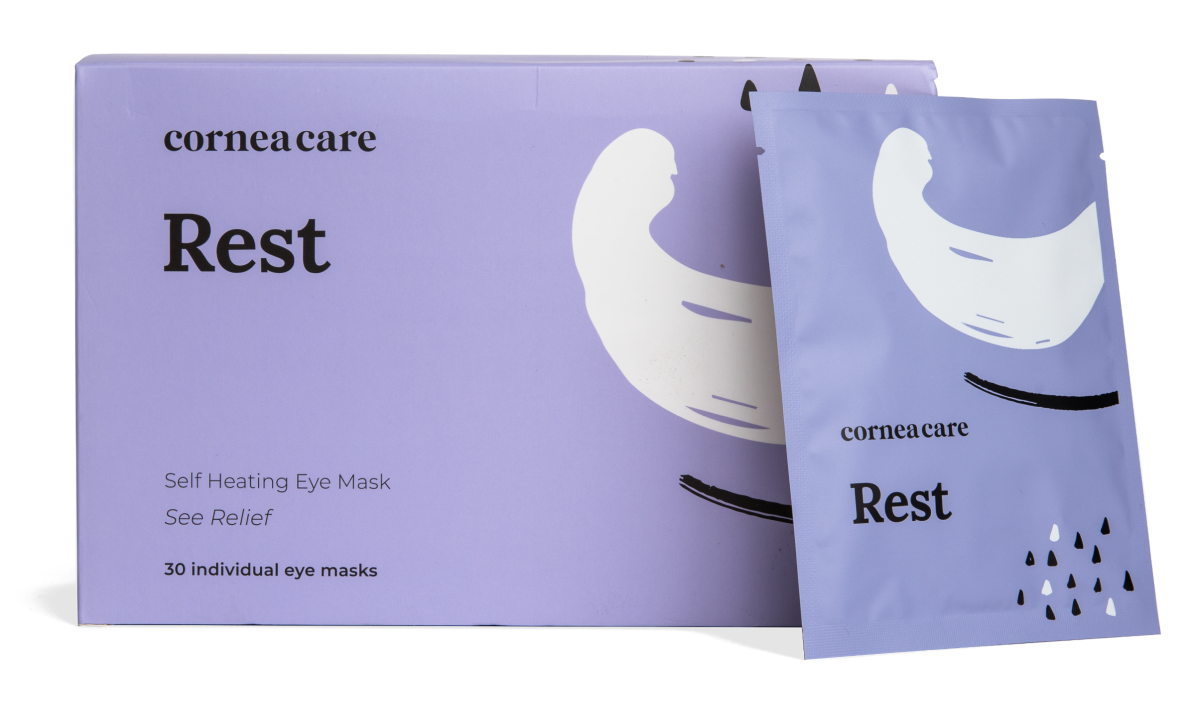 Perfect for eye dryness, fatigue, tearing, and puffiness of the eyelids. Free shipping 📦.
Treatment for Dry Eye Disease
Start with a visit to your eye doctor (optometrist or ophthalmologist) for an eye exam. Talk with your eye care provider about your dry eye symptoms and how they're impacting your sleep.
Your eye doctor will go over treatment options for your dry eye disease depending on your symptoms and how they impact your daily life. If you have a medical condition contributing to your dry eye symptoms, its management will also be important to your dry eye treatment plan.
Starting an eyelid hygiene routine is a good first step in the long-term treatment of your dry eye symptoms during the day and night.
In many cases, using artificial tears may also be required along with your eyelid hygiene routine. Further, treatment options for chronic dry eye include antibiotic eye drops, corticosteroids, or tear duct punctal plugs.4
Putting It All Together
A good night's sleep makes every day better and preventing dry eyes when sleeping is an important step in that direction.
While it's important to understand how to prevent dry eyes when sleeping, most forms of dry eye disease have multiple contributing factors. Treating your dry eyes with artificial tears is not enough. What you need is to create your own personalized therapeutic plan, make a few essential environmental and lifestyle changes, and be consistent.
Want to take care of your eyes but not sure where to start?
What's Next
At CorneaCare, we specialize in dry eye and invite you to check out our free Dry Eye 101 course to learn more about the condition and the many treatment options for your dry eye symptoms.