Key Points
Allergies and dry eyes share many of the same symptoms. It's important to know what is causing your dry eyes so that you can seek proper treatment.
Eye allergies are a common eye condition caused by indoor and outdoor irritants that cause a reaction to the cells of the eyes, triggering common allergy symptoms.
Treatment plans for eye allergies and dry eyes overlap, but each requires specific treatments to address underlying issues.
No one taking your
dry eyes seriously?
Keywords
Allergies, artificial tears, dry eye disease, eye allergies, histamines
Taking the First Step
For some people, springtime is a beloved season. It signals new beginnings, warmth and sunny days ahead. For allergy sufferers, springtime signals misery.
While seasonal allergies (which can also occur in the fall and summer) can lead to dry eye symptoms, allergens inside the home and the medicines used to treat allergies can also trigger dry eyes.
Understanding the link between allergies and dry eyes is the first step in learning to prevent and treat symptoms for both. The comfort of your eyes matters because when your eyes feel good, you feel good!
Receive exclusive offers about dry eye health and wellness, courses, and more!
What is Dry Eye Disease?
To understand how allergies and dry eyes may be connected, we start with the basics of dry eye disease.
Dry eye disease (DED), sometimes referred to as "dry eye syndrome," is a chronic condition caused by unstable tears. If you often suffer from dry eye symptoms such as redness, burning, itching, blurry vision, foreign object sensation, grittiness and pain, you may have DED.¹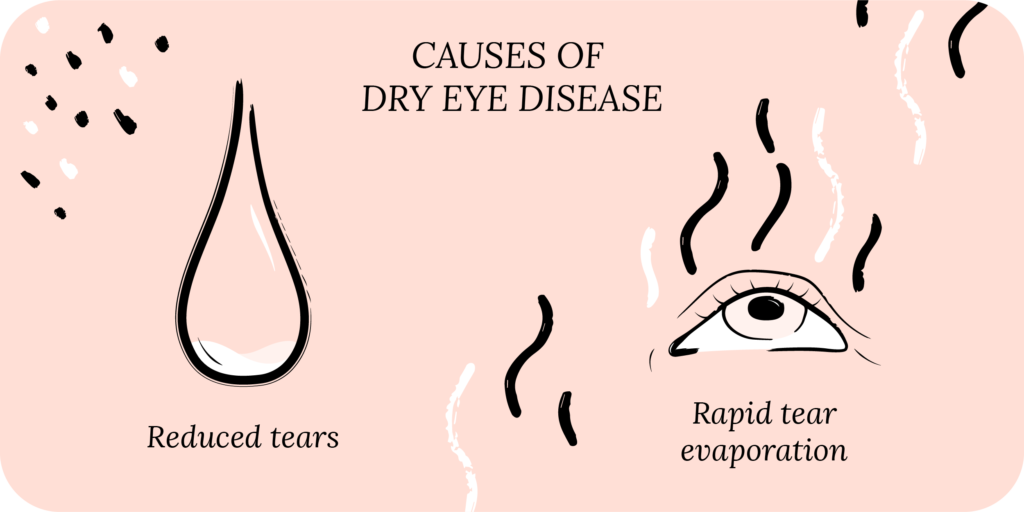 30 million people in the United States suffer from dry eye disease, and the number is growing.²
While DED is treatable, it is chronic. Once you have dry eyes, your symptoms may wax and wane, but you typically have them for life. Most people can find relief from dry eyes with a consistent treatment plan that includes an eyelid hygiene routine (warm and cold compresses and eyelid wipes), using the right eye drops (either over-the-counter to supplement your tears or prescription used to decrease inflammation and increase artificial tear production), lifestyle modifications (humidifying your home and safe use of digital screens), and optimizing nutrition (eating more foods with essential fatty acids and fewer foods processed with refined sugars and oils).¹

Perfect for eye dryness, burning, itching, grittiness, crusting/flaking of eyelashes and inflamed/swollen eyelids. Free shipping 📦.
An eye doctor (optometrist or ophthalmologist) can intervene with procedures and specialized products for some DED patients when the first-line treatments don't work. An eye doctor may insert punctal plugs to prevent tears from draining too quickly. They can also utilize eyelid thermal heating and use special eyelid cleaning devices to remove excess oil from clogged eyelid glands (meibomian glands).³
The difference between people who occasionally get dry eye symptoms and those who experience DED is that DED interferes with daily life. This interference can lead to emotional and mental health issues such as depression and anxiety and decreased performance at work.⁴
Eye Allergies
Eye allergies are sometimes called ocular allergies or allergic conjunctivitis and are one of the most common conditions of the ocular surface (surface of the eye).⁵ What's frustrating for many eye allergy sufferers is that although their condition is common, eye allergies are often under-addressed by healthcare practitioners because the symptoms are non-vision threatening.⁵
This lack of care can worsen symptoms or decrease patient quality of life, setting off a cascade of other health issues similar to dry eye disease like depression, decreased social interactions, and lower career performance.
Chat, share, and learn from our doctors, coaches and others like yourself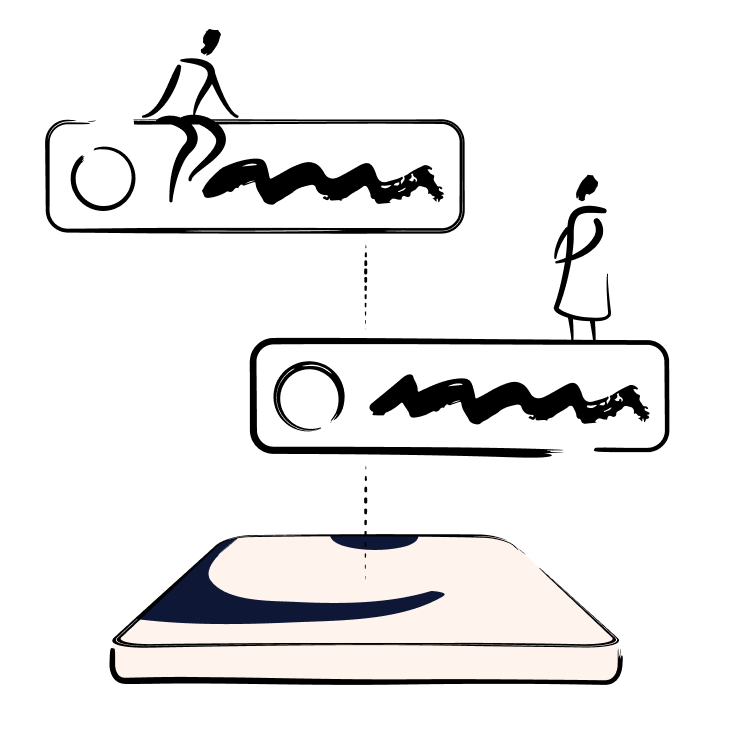 Common Symptoms of Eye Allergies
The first step in treating eye allergies is to be aware of your unique symptoms. This will help your eye doctor (optometrist or ophthalmologist) diagnose and properly treat your eyes.
Here are the most common symptoms of eye allergies:⁶
Redness
Itchiness
Burning sensation
Swelling around the eyes
Watery eyes
Foreign object sensation/grittiness

As you can see, the common symptoms of allergies are similar to DED symptoms. Moreover, eye allergies can lead to DED.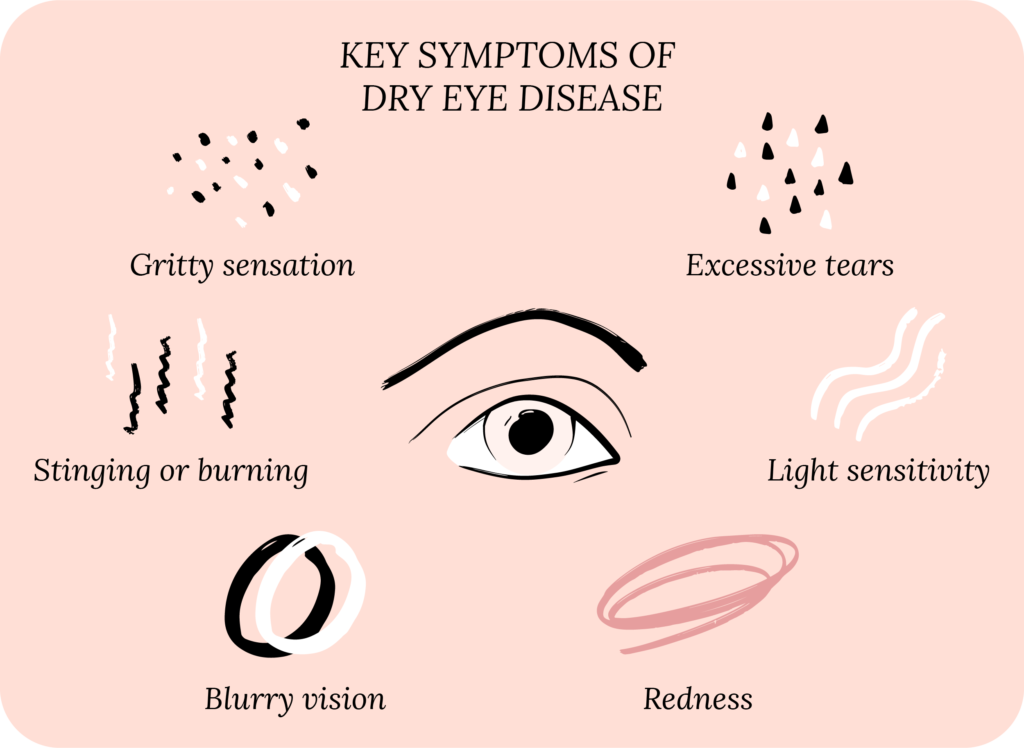 With eye allergies you may experience more itching than DED alone, but that's not always the case. Eye allergies may often be accompanied by systemic allergies and symptoms, like runny nose, sneezing and itchy throat.
Causes of Eye Allergies
It may be difficult for you to determine if allergies are causing your dry eyes or if something else is triggering an allergic reaction, causing you to experience the common symptoms of dry eyes.
Our bodies react to allergens entering our cells by triggering an immune response.⁷ In our eyes, the cells respond by releasing histamine, a chemical that causes the eyes to water, itch, swell and become red.⁷
Seasonal Allergies
Seasonal allergies, sometimes referred to as "hay fever" or "seasonal allergic conjunctivitis," are the most common allergens that affect the eye.⁷
The leading cause of seasonal allergies is plants shedding their pollen into the air, but mold and air pollution can also play a role.⁷
People can experience seasonal allergies in the fall, spring or summer, depending on what plants cause them the most allergic reaction.⁷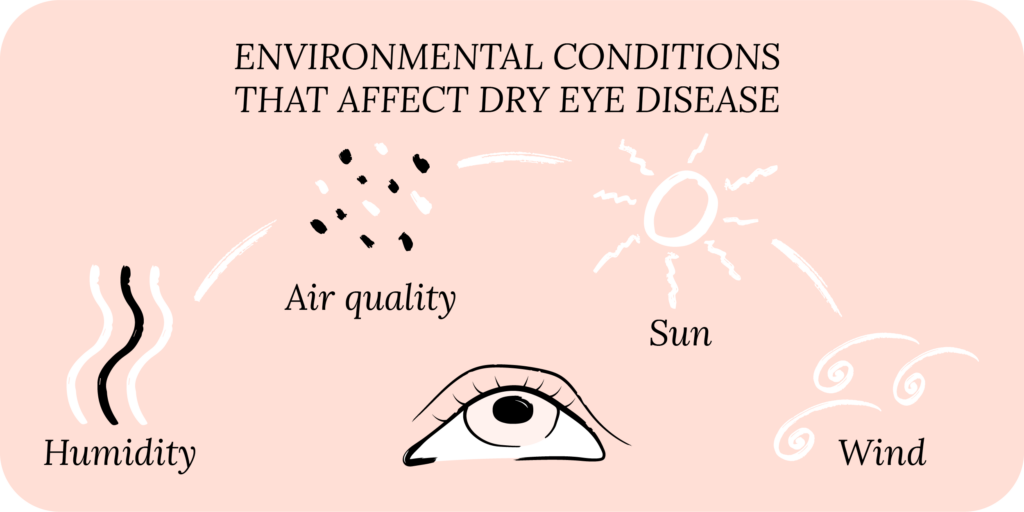 Indoor Allergies
It's not just the outdoors that you have to worry about when it comes to eye allergies. Allergens exist in homes, as well.
The common culprits of allergies inside the home are pet dander, dust mites, and mold.⁷ Some perfumes and personal care products such as scented lotion and hairspray can also trigger allergic reactions. If your allergies do not subside in the winter, these common allergens likely exist in your home.
Contact Lens Wear
While contact lenses themselves do not cause eye allergies (unless you're actually allergic to the contact lens material), they can make symptoms worse. If your contact lenses are not cleaned properly, small particles of pollen, dust, dander or mold can stick to them and irritate the eye.⁸
Contact lenses also dry out the eye.⁸ So, while you may be experiencing eye allergies, contact lenses may be further drying out your eyes, accelerating the development of symptoms.
Allergies and Dry Eyes
It may be difficult to tell if you are experiencing eye allergies or if you have dry eye disease. Both have similar symptoms.
The best way to find out if allergies are causing your dry eyes is to get an eye exam.
Your eye doctor will rule out the underlying causes of your dry eye symptoms and look for possible conditions such as meibomian gland dysfunction or blepharitis, caused by dysfunction with the glands that secrete oils in the eyelids and keep them lubricated.⁹
Relief from Eye Allergies
Finding relief for eye allergies is often frustrating.
Medications intended to treat allergy symptoms like oral antihistamines can dry out the eyes.⁹ While you may be able to treat symptoms like a runny nose or sneezing, taking these medications may worsen your dry eye symptoms.
You put eye drops in your eyes, but they only last a few minutes, and then you're back to itching your eyes again.
We get it – treating eye allergies and dry eyes can be exhausting! But you can find relief.
Like with dry eye disease, eye allergy sufferers can benefit from the same types of treatment, plus a few extra steps to avoid and remove allergens.
Practice daily eyelid hygiene.
Eyelid hygiene is a way to help stimulate tear production and find relief from dry eye symptoms.
A typical eyelid hygiene routine includes eyelid wipes in the morning, warm compresses at night and cold compresses midday or when you feel a flare-up of eye allergies or dry eye symptoms.
If you have eye allergies only without DED, you may find that cold compresses provide more relief than warm compresses.
Our line of eyelid hygiene treatments uses natural plant extracts to help eye allergy and dry eye sufferers find relief when and where they need it.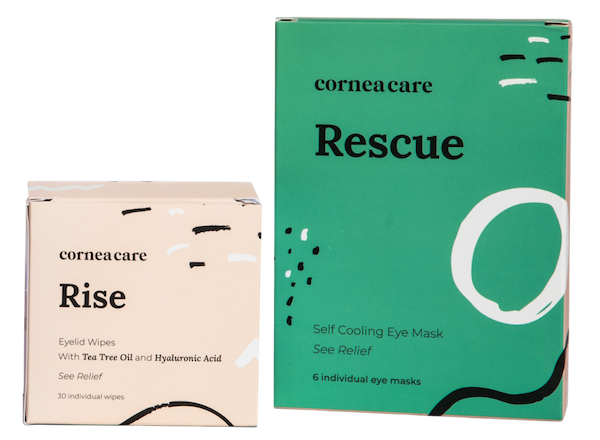 Perfect for eye dryness, burning, itching, pain, crusting/flaking of eyelashes and inflamed eyelids. Free shipping 📦.
Shield your eyes from outdoor allergens.
If you notice that your eyes are often irritated by external allergens such as falling leaves, blooming flowers or fresh cut grass, protect your eyes while outdoors. Wear sunglasses or moisture-chamber glasses and a visor or hat to shield your eyes as much as possible from airborne particles.⁹
You can also check the pollen count for any day by visiting pollen.com. The weather app on your phone may also have useful information in the air quality section. Try to avoid being outside for long periods when the pollen count is high.
Make your home an allergen-free environment.
If you suspect your home is causing your eye allergies, you can take steps to keep your indoor space relatively free from allergens.
Wash your bedding frequently; a few times per week is best. This includes any comforters or blankets, as these can trap dust, dander and outdoor allergens like pollen.⁹
Dogs and cats should sleep in a separate area to avoid bringing dander into the bed (we know, this one might be hard!).
Remove your shoes when coming inside, and hang up jackets immediately. You may find that changing your clothes after being outside for a long time will lessen the allergic load on your home.
Air purifiers may help, but a reliable, high-quality air purifier can get pricey. We recommend trying the other steps above first.
Control your body allergies.
If you suffer from eye allergies, it may be important to also control your body allergies, especially if you get systemic symptoms like runny nose, sneezing and itchy throat (in addition to eye symptoms). Work with your primary care physician to see if oral antihistamines, decongestants or other options are right for you.
Just remember that oral antihistamines and decongestants can also lead to dry eyes, so you may consider starting an eyelid hygiene routine while using oral treatments.
Consider allergy eye drops.
There are several over-the-counter (OTC) and prescription allergy eye drops, and they may provide some relief. Allergy eye drops can be used when symptoms flare-up (like antihistamine eye drops) or to prevent allergies from affecting your eyes (mast cell stabilizing drops).⁷ These may be a good option especially during peak allergy seasons like spring and summer.
However, most of these allergy eye drops contain preservatives, which can damage the ocular surface if used long-term, leading to dry eyes and actually worsening your symptoms. Using allergy eye drops as instructed (or prescribed), and only on days when your symptoms are very active may help prevent the damage from preservatives. Preservative-free artificial tears may be a good alternative. Be sure to discuss this with your eye doctor.
Use redness eye drops sparingly.
There are several OTC drops to address eye redness. However, it's important to remember that eye redness is a symptom of an underlying problem, such as eye allergies or dry eyes. Treating eye redness without addressing the underlying cause will only provide temporary relief.
Moreover, just like allergy drops, OTC drops that treat eye redness contain preservatives, which may actually worsen your symptoms in the long-term. Preservative-free artificial tears may be a good alternative, but discuss with your eye doctor.
Use lubricating artificial tears.
Artificial tears, in the form of eye drops, gels, or ointments, can be effective in relieving eye allergy and dry eye symptoms if used consistently. Preservative-free options are often better than those that contain preservatives.
Putting It All Together
Allergies and dry eyes have similar symptoms, but the underlying causes differ. It's important to recognize and seek treatment for your dry eye symptoms before assuming allergies are causing your discomfort.
You may need to take extra steps in your daily life and try different treatments, but you don't need to dread the changing seasons or live in your home in misery.
You can take control of your dry eye, whether allergy-induced or otherwise, and live a happy, healthy life.
Want to take care of your dry eyes but not sure where to start?
What's Next
Learn more about the causes of dry eye disease.