Key points
Constantly experiencing symptoms of dry eye can decrease your productivity at work and at home.
Dry eye disease can negatively impact your family and social life.
A good treatment plan should improve your functioning and quality of life.
No one taking your
dry eyes seriously?
Keywords
Computer screens, daily activities, environmental factors, work productivity
Taking the first step
As we've stressed before, dry eye disease (DED) is not just about dry eyes. In addition to your eye health, it negatively affects your physical and mental health, and decreases your quality of life.
We all have those days when your body just feels "off." Maybe you have a headache that's not going away, or seasonal allergies, or a lingering cold. When your body feels off, it's very difficult to do things, let alone do them well. That's what DED feels like. It is difficult to be productive, spend quality time with family and friends, and keep the house in order when your eyes and vision are jeopardized. Good health care, eye care, and visual function are necessary for nearly all daily activities and functioning.
A quick review of dry eye disease
Before we dive into how DED affects your daily functioning, let's review some basics. DED is also known as dry eye syndrome, keratoconjunctivitis sicca and ocular surface disease.1 There are several causes of dry eyes, but for learning purposes, we break them down into aqueous deficient (decreased tear production) and evaporative (rapid tear evaporation).
With aqueous deficient DED, your lacrimal glands don't produce enough tears to lubricate the surface of the eyes (the cornea and conjunctiva). We typically see this with autoimmune conditions (Sjögren's syndrome, rheumatoid arthritis and sarcoidosis), medical conditions (menopause, hormonal changes, diabetes, high blood pressure, cancer and thyroid problems), and oral medication side-effects (antihistamines, beta blockers, antidepressants, decongestants, diuretics and birth control pills).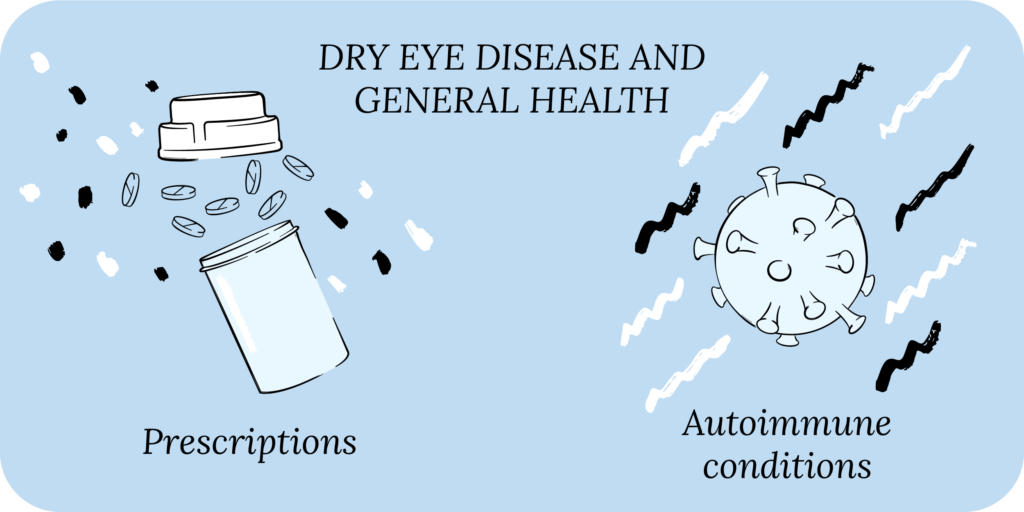 With evaporative DED, your body makes enough natural tears, but they evaporate too quickly because your tear film is unstable. We typically see this with contact lens use, refractive eye surgeries (LASIK), meibomian gland dysfunction (MGD – clogged up oil glands in your eyelids), blepharitis (eyelid inflammation), rosacea, eye infections (corneal ulcers), eye conditions (corneal transplant and glaucoma) and prolonged use of eye drops with preservatives that can damage the ocular surface.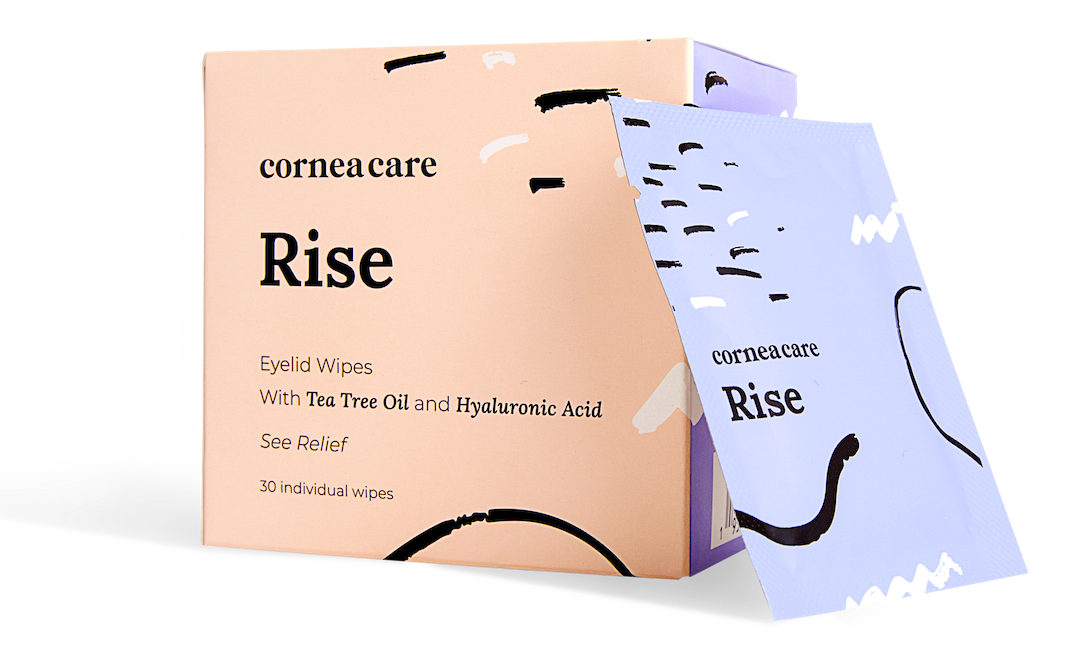 Perfect for eye dryness, itching, burning, and crusting/flaking of eyelashes. Free shipping 📦
There are several environmental factors that can worsen dry eyes, such as low humidity (dry climate or dry air), high winds, air pollution, and air conditioning. Lifestyle risk factors include long hours on digital screens (phones, tablets and computer screens) and poor diet (low in vitamin A, minerals, and healthy fats and lipids).
All of these lead to visual impairment and the classic dry eye symptoms: redness, blurred vision, pain, dryness, foreign body sensation, grittiness, tearing or watery eyes, irritation, burning and eye fatigue. DED is a chronic condition, and while your symptoms may come and go, you will typically have dry eyes for life.
DED typically does not cause blindness directly, but it does put you at risk for many vision threatening complications. It's therefore important to start dry eye treatment promptly to avoid long-term permanent damage. There are various treatment options for dry eyes. We first try over-the-counter (OTC) artificial tears, gels or ointments for lubrication of the surface of your eyes. We also do eyelid hygiene, including warm compresses and eyelid wipes.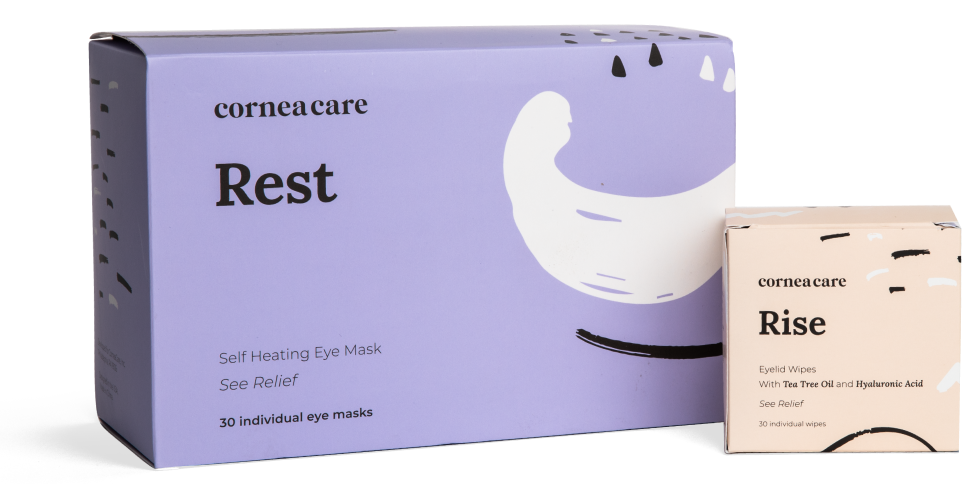 Perfect for eye dryness, burning, itching, crusting/flaking of eyelashes and inflamed eyelids. Free shipping 📦.
Other OTC options include oral supplements (omega-3 fatty acids), humidifiers and air purifiers. If the OTC options don't work, some eye doctors and clinicians (ophthalmologists and optometrists) may prescribe anti-inflammatory prescriptions (cyclosporines such as Restasis and Cequa, or lifitegrast such as Xiidra) or consider in-office diagnostic tests and procedures, such as punctal plugs to block your tear ducts.
As you can see, DED is a complex condition with many different causes, symptoms and treatments. It's no surprise that DED can impact you physically and emotionally, and get in the way of your daily life!
How home life is affected by dry eye disease
Home is where the heart is. Home is what gives you shelter, solace and serenity; it's your happy place. But maintaining a happy, healthy and functioning home is no easy task. The chores, the bills, the family, pets, the yard, fence, neighbors, changing the air filters, updating the appliances, and the list goes on. When you have DED, maintaining your home can become difficult, and instead of giving you joy, it can become a trigger point.2
Doing bills and reviewing your finances can be torture because your blurry vision prevents you from focusing. You may have difficulty cooking because the fumes or smoke can trigger your DED symptoms. Watching TV may cause you to get light sensitivity. Yard work and being outside might expose you to environmental factors, such as dust or pollen, which can also trigger your symptoms. Not getting household tasks done can be discouraging, because you may feel like you're not contributing to your family, and your loved ones may not fully understand what you're going through.
Chat, share, and learn from our doctors, coaches and others like yourself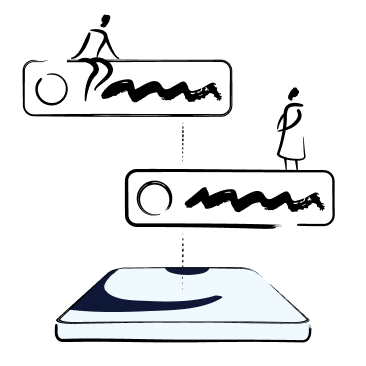 Impact of dry eyes on your family life
If home gives you solace and serenity, then family gives you support and strength. For many of us who have 9-5 jobs, being able to enjoy quality time with the family, and having the weekends can be a much-needed therapeutic retreat. But family life can also be hectic! Getting kids ready for school, seeing the parents and the extended family, going to the kids' sports games, having your family over, and the list goes on.
When you have DED, all the family things that give you joy can also bring you distress.3 Taking the kids to school, trips and games all require driving. When you drive, you naturally blink less, which can trigger DED symptoms. Outdoor activities, such as picnics, barbecues and the beach, can expose you to environmental triggers. Watching sports live or on the TV, or watching TV shows and movies can strain the eyes and worsen symptoms.
Not being able to spend quality time with your family can be disheartening because you may feel like you're not there for your family, or that your family is not there for you. Remember that most people don't understand what DED is and how much impact it can have on a person.
Work productivity with dry eyes
Aside from home and family, our work-life makes up a significant portion of our waking hours. For many of us, our work defines who we are (for better or for worse), and provides structure and purpose. However, our work has become centered around technology.
What does your typical workday look like? Get to work, log into your computer, and literally use your computer for everything from sending emails to managing projects. The typical person can spend 4-8 hours a day looking at computer screens, not to mention phones and tablets. The COVID-19 pandemic has only exacerbated this, where our in-person meetings have been replaced by video calls.

Perfect for eye dryness, burning, itching, grittiness, crusting/flaking of eyelashes and inflamed/swollen eyelids. Free shipping 📦.
When you have DED, working on a computer can be a nightmare. The screen is bright, the print is small, your eyes can't focus because your vision is blurry, and because you don't blink, your eyes start to burn, water and get irritated. Watching a presentation on a projector can be difficult, and your colleagues may think you're not paying attention. Moreover, ruminating over your symptoms is distracting, which makes it hard to perform tasks requiring attention. Your work performance drops, and your colleagues and bosses don't understand what's wrong.4
Dry eye disease gets in the way of your social life
In addition to home, family and work, maintaining a healthy social life is crucial. With so many cultural forces promoting isolation, the feelings of belonging and togetherness within a community are paramount to our wellbeing.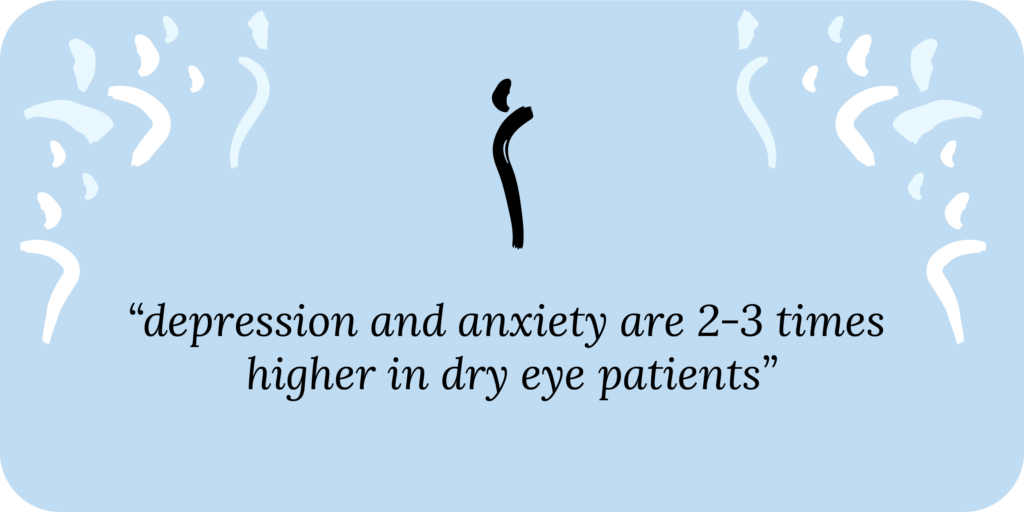 When you have DED, going to social events can be anxiety-provoking. Putting in eye drops at bars and restaurants may be difficult and even embarrassing. Your friends may wonder why you're constantly blinking or wiping your eyes, and why you have difficulty maintaining eye contact. Going to outdoor events, such as sports or concerts, can expose your eyes to various environmental triggers. Having to constantly say "no" to your friends' invitations can be tough, and cause strain on your relationships.5
Difficulties at school with dry eyes
For some of us, education and schooling can make up a large portion of our daily life. Much of education these days is done remotely on computer screens or tablets. While this has made education more accessible, it has also increased the burden on our eyes.
When we look at a screen, we blink less, and depending on where the screen is placed, more of the eye could be exposed to the environment. Even in-person classes are typically conducted using projectors, which have the same issues as computer use. Studying for exams or doing assignments requires reading small text for extended periods of time. Your peers and teachers may wonder why you appear distracted in class without understanding your struggle, and your class performance could suffer.
Putting it all together
It's really hard to function well when you have DED. It goes back to the basic principle that you need your eyes for living, and when your eyes are affected, everything is affected. You shouldn't have to suffer at home, work or school, and with your family or friends.
We want to tell you that with a good, consistent treatment plan and key lifestyle changes, you can control your DED, and prevent it from impacting your life. You should live your best self, and we're here to help you do that.
Want to take care of your dry eyes but not sure where to start?
What's next
We really think everyone should take our Dry Eye 101 course. Find it here!
If you've already taken it, amazing! Check out more articles in the Continuing Education section below.