How to Reduce Eye Strain While Gaming: A Guide
Video games have come a long way since their inception. Today's games are so life-like that gamers spend hours engaging with them, trying to win whatever challenge they are up against.
It's all fun and games, though, until your eyes start hurting.
Hours in front of televisions, computers, smartphones, and now virtual reality (VR) headsets, impacts the eyes, leading gamers to question how to reduce eye strain while gaming.
We explore how playing video games affects your vision and what to do to keep your eyes feeling good so that you can continue beating your opponent or trying to get to the next level!
Key Points
Playing video games for extended periods of time can cause eye strain.
Symptoms of digital eye strain include dry eyes, redness, blurred vision, and more.
You can take steps to protect your eyes from digital eye strain, such as adjusting lighting and distance from the screen.
You brush your teeth,
moisturize your skin,
what about your eyes?
How Playing Video Games Affect Your Vision
While this article focuses on the negative effects of video games on vision, like eye strain, some studies show that video gaming may improve vision in some cases. In one study, participants with an eye condition called amblyopia (also known as "lazy eye") played video games for 40 hours and noticed improvements in acuity and contrast.¹
The researchers believe that having the eye track rapid movements and focus on specific targets helped sharpen these participants' vision.¹ Although some doctors may prescribe this type of vision therapy for unique circumstances, you will be hard-pressed to find many medical professionals that recommend more screen time, especially video games.
For some people, playing video games for long periods leads to a condition called Computer Vision Syndrome (CVS). CVS, sometimes called Digital Eye Strain, occurs with extended screen time in front of digital devices.²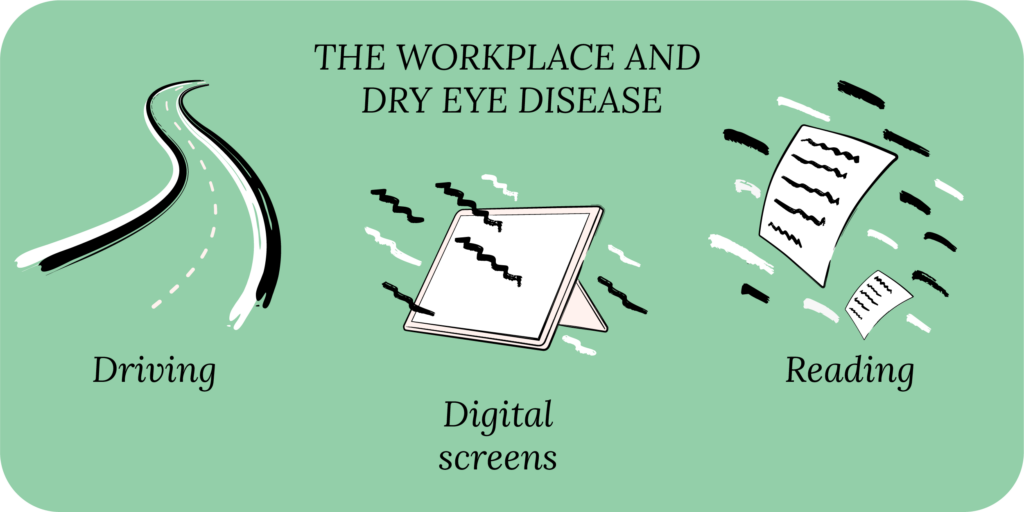 What is Computer Vision Syndrome?
People who spend more than two hours continuously looking at a digital screen every day are at the greatest risk of developing CVS.² For serious gamers and those who play competitive eSports, two hours in front of digital screens may be on the low end.
CVS also affects those who work jobs that require heavy use of computer screens and those who are on looking at smartphones for most of the day. 
While everyone experiences varying degrees of CVS and experiences different symptoms, the most common symptoms include:²
Eye strain
Eye discomfort
Blurry vision
Red eyes
Headaches
Neck and shoulder pain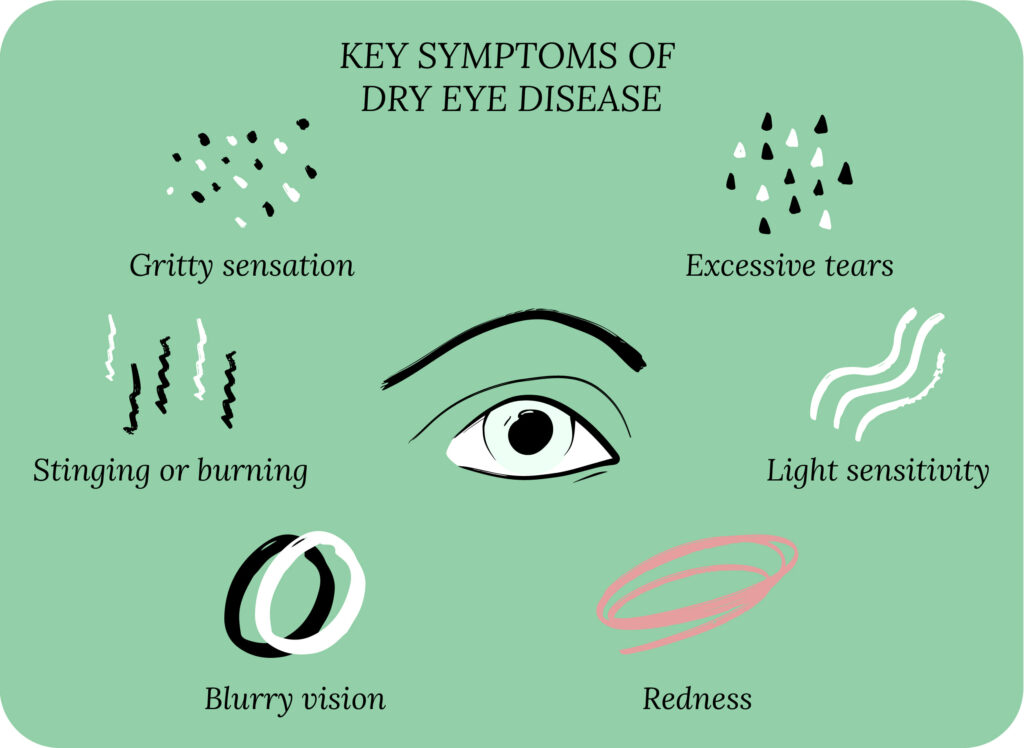 While most of these symptoms subside after the eyes have a chance to rest, symptoms can last longer or be more severe in some individuals. Vision problems, such as reduced visual acuity and, in some cases, double vision, can occur if symptoms go unchecked.
It's always best to consult with your eye doctor (optometrist or ophthalmologist) if you are concerned about any vision changes.
Preventing Digital Eye Strain While Playing Video Games
We are not here to tell you to stop playing video games! This type of entertainment (and a job for some) is important to many people. Knowing how certain ongoing activities affect your eyes is key to maintaining eye health throughout your life and being able to continue your favorite activities.
You can take some steps to prevent digital eye strain or at least lessen your symptoms while playing video games.
Here are a few that the American Optometric Association (AOA) recommends:²
Sit an arm's length away from the screen.
Most traditional gaming setups have the player sitting several feet away from the screen. And, during intense computer games, players tend to sit very close to the screen.
Position the screen (or yourself) so that you are looking slightly downward.
If your screen is above your line of sight, more of your ocular surface is exposed, leading to dry eye symptoms. Moving your screen downward, about 4-5 inches below the eyes, will help prevent these symptoms.
Adjust the lighting.
We know most gamers prefer to play in a dark room. However, the contrast of the bright screen with the darkness of the room causes your eyes to strain to see. Try to keep the lighting in the room balanced with your screen brightness.
Follow the 20-20-20 rule.
Give your eyes a rest every 20 minutes by looking away for 20 seconds at a distance of about 20 feet away. It may be hard to pull away from an intense game, but doing so gives your eyes a chance to readjust.
Remember to blink.
Blinking fully may be the most effortless adjustment to make, but for most is the hardest to remember! While you do subconsciously blink, when performing a task that requires a lot of focus, you may forget to blink fully, leading to decreased tear film replenishment.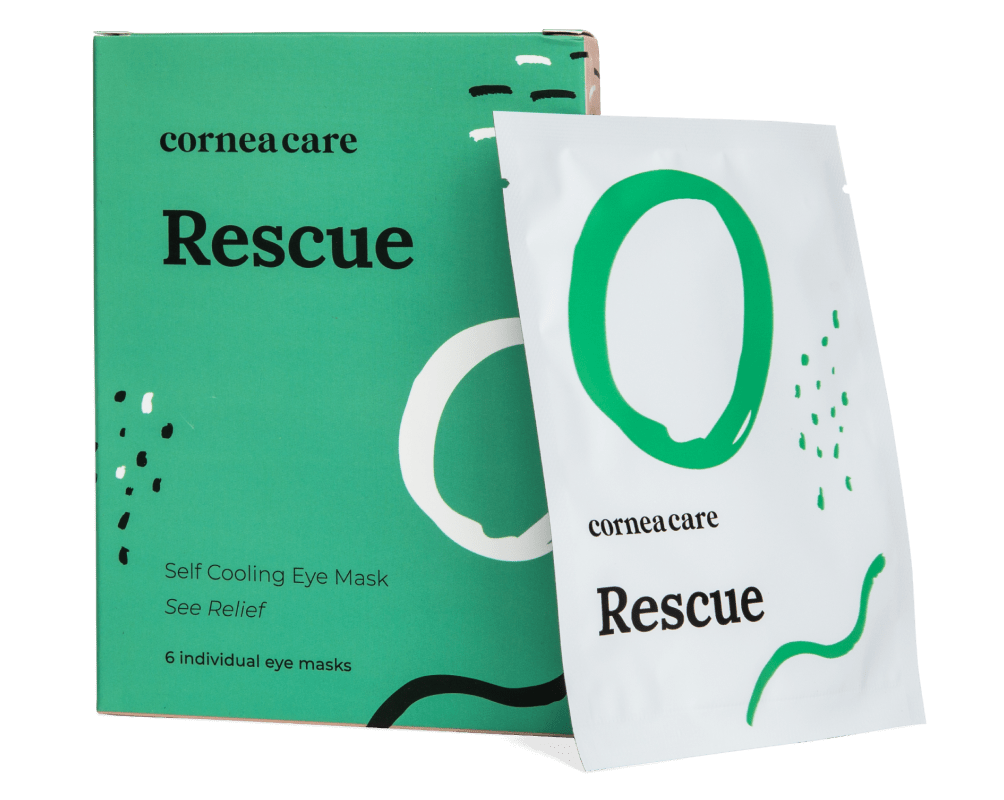 Perfect for sudden flare-ups of eye dryness, pain, burning, and swollen/inflamed eyelids. Free shipping 📦.
Should I buy Gaming Glasses?
You have likely seen advertisements or even received recommendations for gaming glasses with anti-reflective coating to prevent eye strain. However, the American Academy of Ophthalmology (AAO) does not recommend any special eyeglasses, like blue-light-blocking glasses, for computer use.³ 
Some studies show that wearing blue-light-blocking glasses before bed can help sleep because blue light from screens may interfere with circadian rhythms.
Gaming glasses will likely not help prevent eye strain, but you may find that wearing them enables you to sleep better.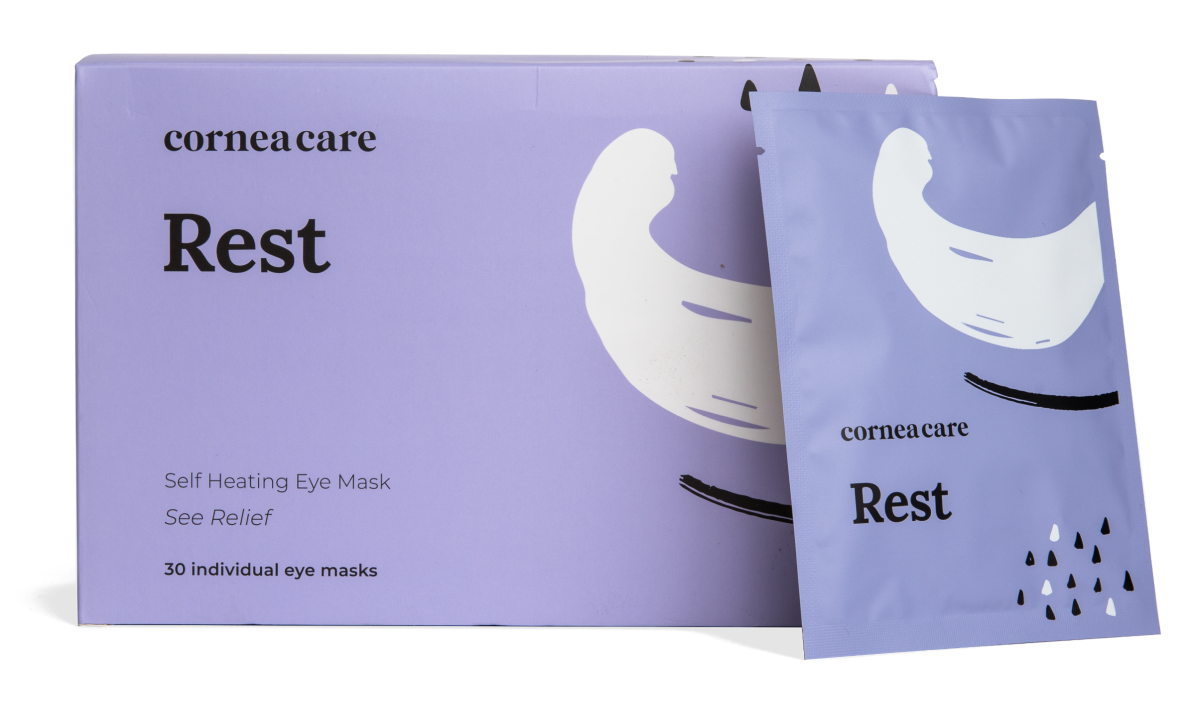 Perfect for eye dryness, fatigue, tearing, and puffiness of the eyelids. Free shipping 📦.
Treating Computer Vision Syndrome (Digital Eye Strain)
Luckily, treating eye strain from digital devices like those on which you play video games isn't complicated. The key is practicing the eye care steps below as often as you play video games so that you don't run into long-term problems.
Use lubricating artificial tears.
Staring at a screen for a long time can reduce your tear film, causing your eyes to feel dry. Artificial tears can counteract this by lubricating your eyes. There are many types of eye drops, so you may have to try a few to find a drop that works best for you.
Rest your eyes with a warm compress.
Whether made at home using warm water and a soft cloth or premade like CorneaCare's Rest Warm Compress Eye Masks, warm compresses are a dream for tired, strained eyes. Apply a warm compress before bed to wind down and rest your eyes.
Reduce inflamed eyes with a cold compress.
If your eyes are red and dry, a cold compress may feel wonderful. You can use an ice pack or cold water and a towel over your eyelids. Using a premade cold compress like CorneaCare's Rescue Hydrogel Eye Mask ensures that your eyes experience cooling comfort for a longer period of time than a traditional cold compress. Plus, it contains hydrating minerals to replenish dry eyes.
If your symptoms don't improve, make an appointment with your eye doctor to rule out any other conditions.

Perfect for eye dryness, burning, itching, grittiness, crusting/flaking of eyelashes and inflamed/swollen eyelids. Free shipping 📦.
Putting It All Together
Gaming can be a fun hobby, but just like anything done in excess, it can start to have adverse effects on your body.
Taking care of yourself also means taking care of your eyes. After all, how will you continue to play your favorite video games if you can't see clearly?
Continue to enjoy doing the things you love by loving your eyes as well.
Want to take care of your eyes but not sure where to start?
What's Next
Are you worried about the effect of digital screens on your eye health? Take a deeper look at computer vision syndrome.