Key points
There is a lack of scientific evidence that blue light blocking glasses help reduce symptoms of digital eye strain.
We are exposed to blue light from many sources, not just our devices. Some blue light during the day is necessary for daily functioning but can cause issues with sleep quality when we experience too much blue light at night.
Instead of relying on blue light filtering glasses to protect your eyes from digital eye strain, practice daily eyelid hygiene and lifestyle habits while using screens.
Taking the first step
It may come as no surprise that more people are in front of digital screens than ever before. Unfortunately, the pandemic has increased the amount of time we spend in front of screens.¹ We want to stay connected, and often that means using social media and checking news outlets on the internet. We do these things in addition to working in front of a computer all day and watching TV. If you can relate, you may notice that your eyes are tired and dry by the end of the day. Many attribute this to the blue light that our screens emit and wonder if blue light filtering glasses actually help ease their symptoms.
We're here to tell you that it's complicated and that several other factors are likely contributing to your eyes feeling strained when using screens. There's also no scientific evidence that blue-light-blocking or blue light filtering glasses prevent eye strain or improve eye health. In fact, the American Academy of Ophthalmology (AAO) does not recommend any special eyeglasses for computer use.² We'll share what blue light is, how blue light glasses work and other steps you can take to prevent digital eye strain, otherwise known as computer vision syndrome.
You brush your teeth,
moisturize your skin,
what about your eyes?
What is blue light and why is it harmful?
Did you know that blue light exists in nature (from ultraviolet rays from the sun) and in our homes and workplaces in the form of fluorescent and energy-efficient lighting, LED lights, laptop and computer screens, smart phones and televisions?³
Blue light exists all around us
So what is it, exactly? Blue light has a wavelength of 400-450 nanometers, which is a shorter wavelength than other colors on the light spectrum, but carries more energy per light photon. Interestingly, the blue light you receive from artificial sources is much less than the amount you receive from the sun.³ Blue wavelengths are actually beneficial during the day because they boost our attention and mood and help keep us alert.⁴ Our ancestors were exposed to blue light from the sun and it allowed them to hunt and tend to their fields, families and work.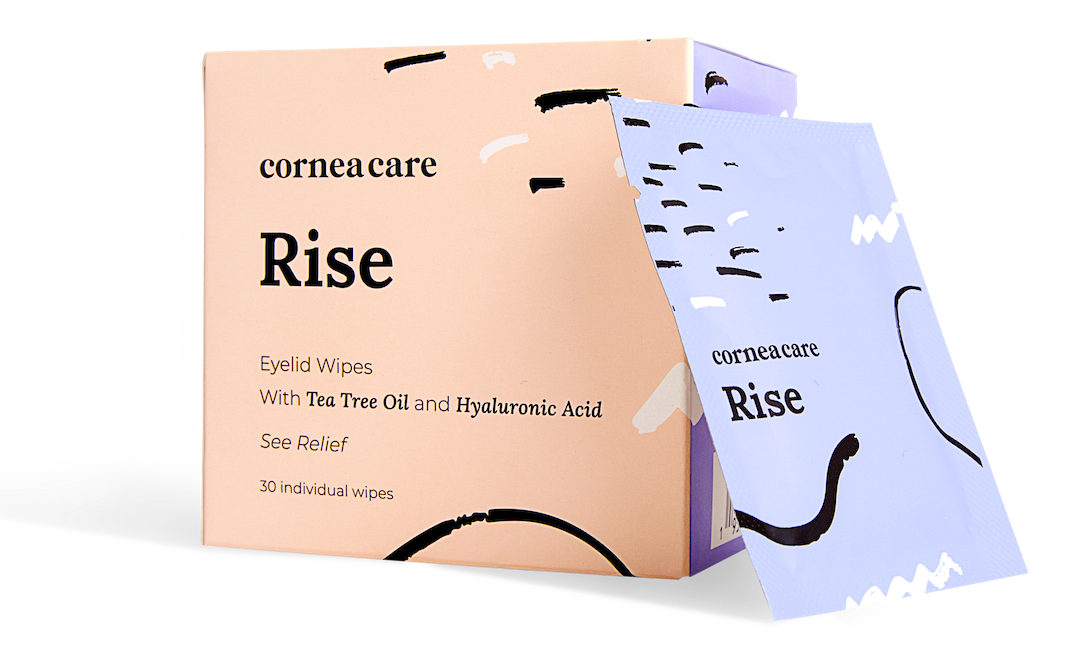 Perfect for eye dryness, itching, burning, and crusting/flaking of eyelashes. Free shipping 📦
Effects of blue light on sleep quality
The concerns around blue light are due to the concentration of energy in the light photons. This energy is higher than other colors and can cause damage when absorbed into our cells at high doses.³ Although blue light exposure during the day is normal and helpful, too much blue light exposure at night from artificial lighting and screens can interfere with your circadian rhythm, which regulates your sleep cycle. Some researchers believe that blue wavelengths suppress the secretion of melatonin, the hormone that regulates circadian rhythms.⁴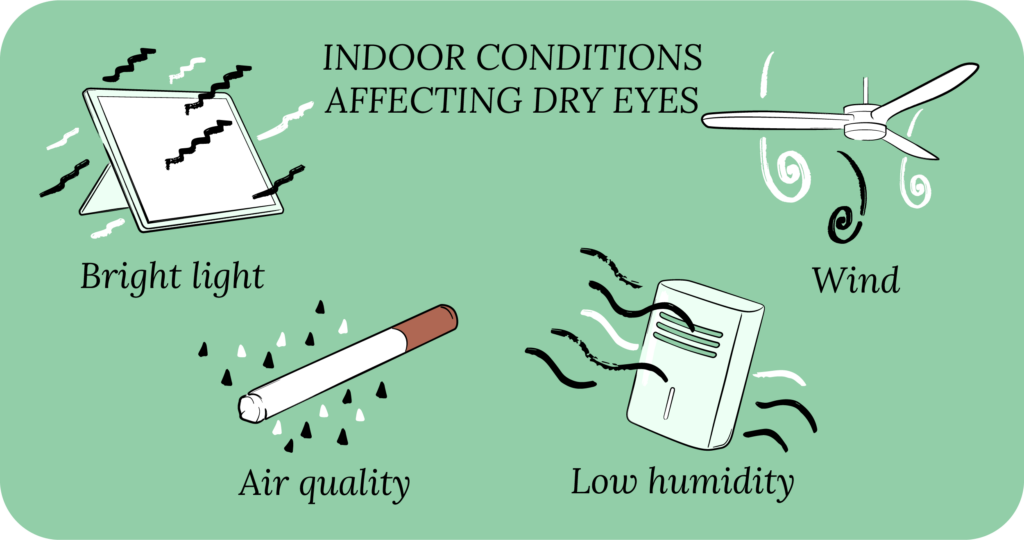 How does blue light affect eye health?
While blue light from everyday electronics can impact sleep quality, most researchers do not believe it contributes to digital eye strain or other eye conditions like cataracts, glaucoma, or macular degeneration.³
It is more likely that long-term exposure to the sun and its ultraviolet (UV) rays can cause damage to the eyes. The outside layers of the eye block and absorb most UV rays from reaching the retina; however, blue light passes through the cornea (the clear tissue in front of the eye and iris), and may damage the cornea and the light-sensitive tissues in the retina (the back part of the eye).⁵ If you are someone who spends a lot of time outdoors in sunlight, you may want to consider discussing UV-blocking glasses with your eye doctor.
How do blue light glasses work?
Although eye doctors don't typically suggest blue light blocking glasses to prevent digital eye strain, they may help minimize blue light exposure at night to improve sleep quality.
So how do they work? Most companies will claim that their blue light glasses block or limit blue light exposure from digital devices with special blue light lenses. These lenses are often yellow in tint but can be clear. However, a recent study published in the American Journal of Ophthalmology (AJO) concluded that subjects who received blue-light glasses did not experience less symptoms of digital eye strain.⁶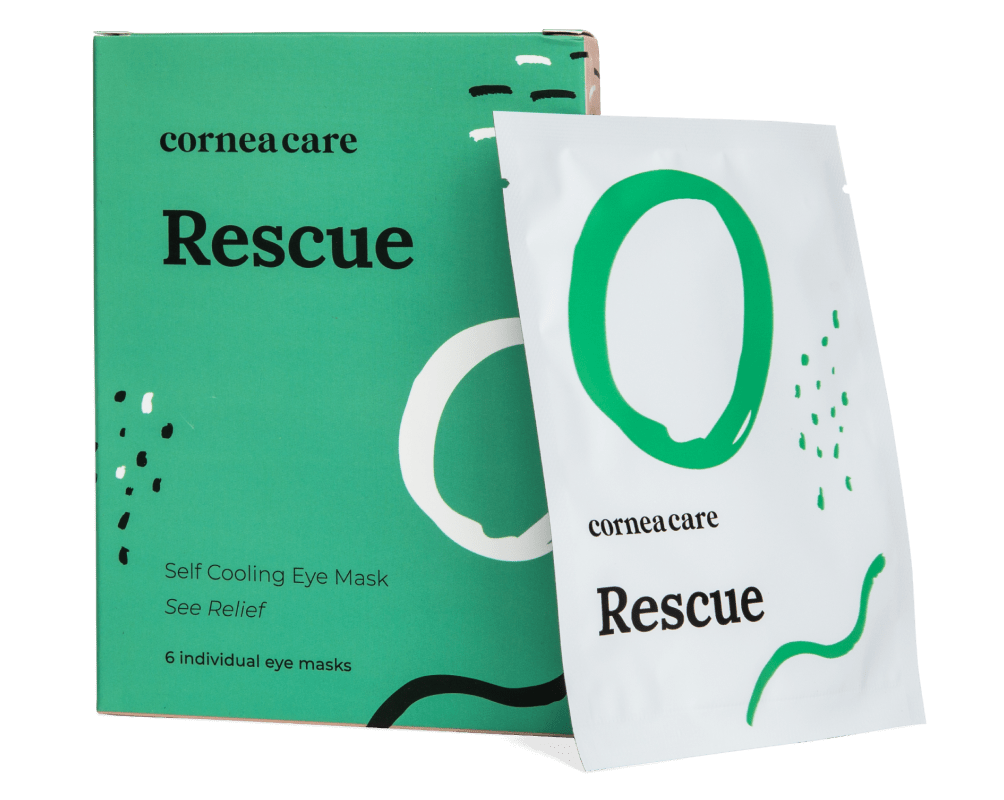 Perfect for sudden flare-ups of eye dryness, pain, burning, and swollen/inflamed eyelids. Free shipping 📦.
So why do my eyes feel strained after using a screen all day?
Okay, so if it's not blue light that's causing my eyes to feel strained, what is? Digital eye strain, or computer vision syndrome, is a group of related issues stemming from too much screen time.⁷ The main reasons we experience symptoms of computer vision syndrome are due to: blinking less, poor positioning of the screen, straining to view the contrast and small size of the text of the screen, and the light from the screen not matching the light around us.⁷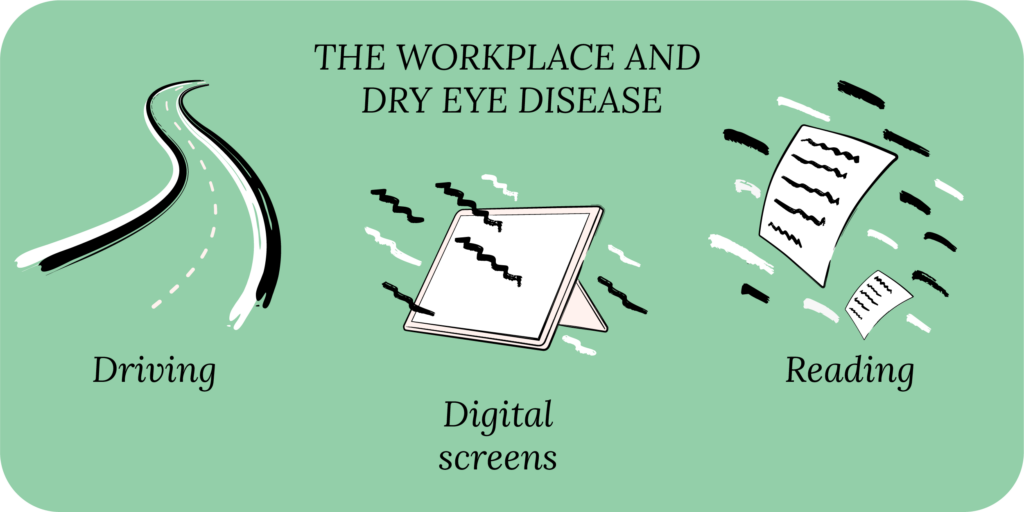 The common symptoms associated with computer vision syndrome are:
Eye strain
Eye discomfort
Eye fatigue
Blurred vision
Red eyes
Neck and shoulder pain
Headaches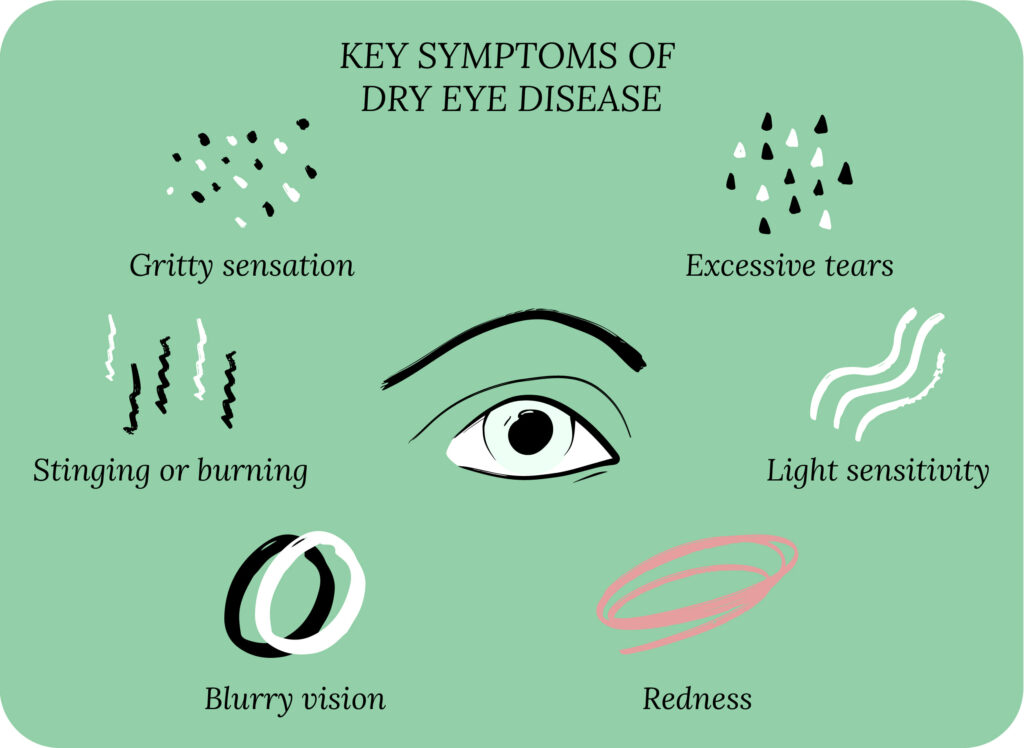 The good news is that symptoms related to digital eye strain are temporary and can be relieved with simple steps. Establishing a good eye health and wellness routine to keep your eyes safe and comfortable is key if you use screens for most of your day.
How to ease digital eye strain
At CorneaCare we believe that your eyesight is a vital part of your overall health and wellbeing. You may have realized the benefits of using a standing desk or a special chair to help with back pain while you work. Taking care of your eyes while working in front of a screen is just as important to your physical health. If you can minimize the effects of digital eye strain, you may notice your work productivity increases, you sleep better, and you feel less "run down" at the end of the day.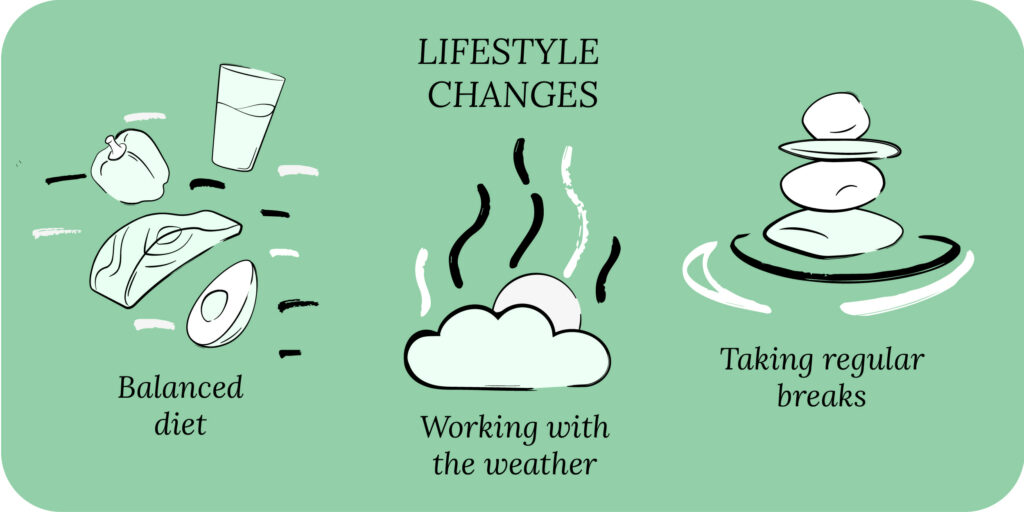 Adjust your screen and chair position
You can position your monitor or your seating (or standing) to achieve the appropriate length and height for optimal eye, neck and head comfort. The American Academy of Ophthalmology (AAO) suggests sitting about 25 inches away from your computer screen (about an arm's length).² You also want to make sure your gaze is slightly downward to prevent too much of your ocular surface from being exposed, which can lead to dry eyes.
You understand the importance of personal and dental hygiene. Your eyes and eyelids also require proper hygiene because they work together to keep your eyes safe and comfortable. One simple step you can incorporate is giving your eyes a break during the workday by applying a cold compress like our Hydrogel Cold Compress. You may also want to moisturize and rejuvenate your eyelids with eyelid wipes at the beginning of the day, or relax by applying a warm compress over your eyes before bed. To learn more tips about eyelid hygiene, click here.

Perfect for eye dryness, burning, itching, grittiness, crusting/flaking of eyelashes and inflamed/swollen eyelids. Free shipping 📦.
Remember to blink and follow the 20-20-20 rule
Blinking replenishes your tear film which is what helps keep your eyes lubricated.⁸ When we stare at a screen for too long, we often forget to blink or may not blink fully. Try to remember to blink as often as you can while using a computer screen, smartphone or tablet and follow the 20-20-20 rule. After 20 minutes of using a computer or smartphone, look at an object about 20 feet away for 20 seconds.⁹
Lubricate your eyes with artificial tears
Replenishing your eyes throughout the day with artificial tears can be beneficial in combating some of the symptoms of computer vision syndrome. However, you may be overwhelmed when you visit the store and see the options available for eye drops. Artificial tears can be made with preservatives or in preservative-free form and have emollients (fats or oils such as mineral, flaxseed or castor oil) or demulcents (water-soluble polymers) as active ingredients.¹⁰ Talk with your eye doctor (ophthalmologist or optometrist) to discuss the best eye drops for you.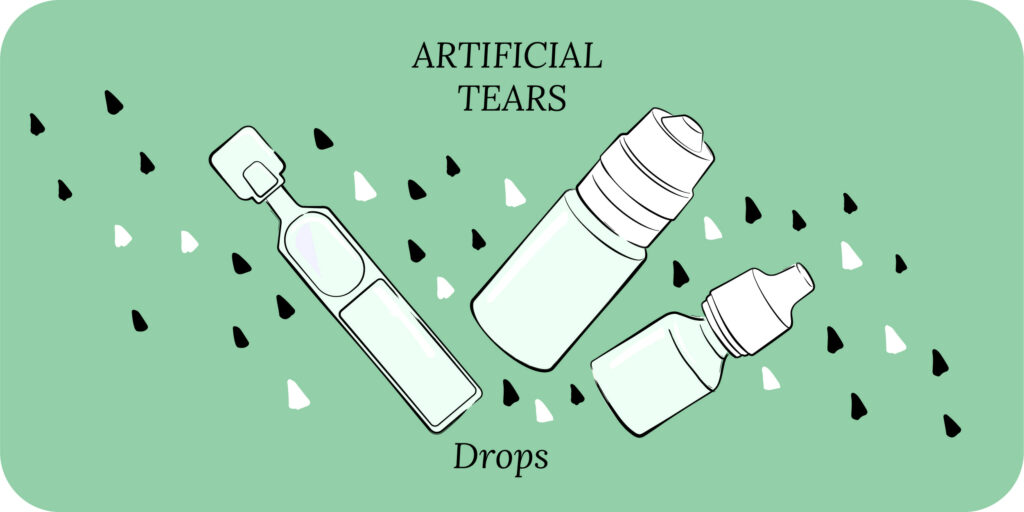 Keep your prescription current and get regular eye exams
Digital eye strain and computer vision syndrome symptoms can occur from straining to view the text on the screen. If your contact lens or glasses prescription is not up to date, it might be time for an eye exam. Your eye doctor can also check for and diagnose any additional eye conditions or eye diseases before they progress.
Putting it all together
While we can all agree that reducing screen time has many benefits for our overall health and wellness, blue light glasses alone will not prevent us from experiencing symptoms of digital eye strain and computer vision syndrome. Along with reducing the amount of time you spend in front of a screen during the day, remember to treat your eyes like you would the rest of your body, and give them proper rest, along with regular medical care and a comforting and refreshing eyelid hygiene routine.
Want to take care of your eyes but not sure where to start?
What's next
Learn why eye care should be a daily part of your self care routine by checking out some of our articles in our Eye Health and Wellness blog.