Key points
Eye fatigue can cause you to put off important tasks throughout the day.
Not all symptoms of "tired eyes" are caused by staring at a computer screen. Several other lifestyle factors contribute to eye fatigue.
Practicing good eyelid hygiene, giving your eyes and body proper rest and getting regular eye exams can help prevent your eyes from feeling tired all of the time.
Taking the first step
If your eyes feel tired, it's hard to motivate yourself to perform important work or even enjoy a night out. Many people assume that going about their daily lives with tired, dry eyes is par for the course when working at jobs that require long periods of looking at computer screens. While digital eye strain, caused by staring at digital screens for too long, may lead to your eyes feeling fatigued, it's not the only culprit. We'll explore other reasons why your eyes may be tired at the end of the day and how you can make small changes to feel more refreshed. At CorneaCare, we believe that eye health starts with evaluating your overall health and lifestyle and making small changes that not only impact your eyesight but significantly impact your quality of life.
You brush your teeth,
moisturize your skin,
what about your eyes?
What are the symptoms of eye fatigue
We have all experienced the feeling of heavy, tired eyes at some point. While each person experiences tired eyes differently, there are some common symptoms associated with eye fatigue:¹
Watery eyes
Blurred vision
Red eyes
Eye pain
Sensitivity to bright light
Headaches and migraines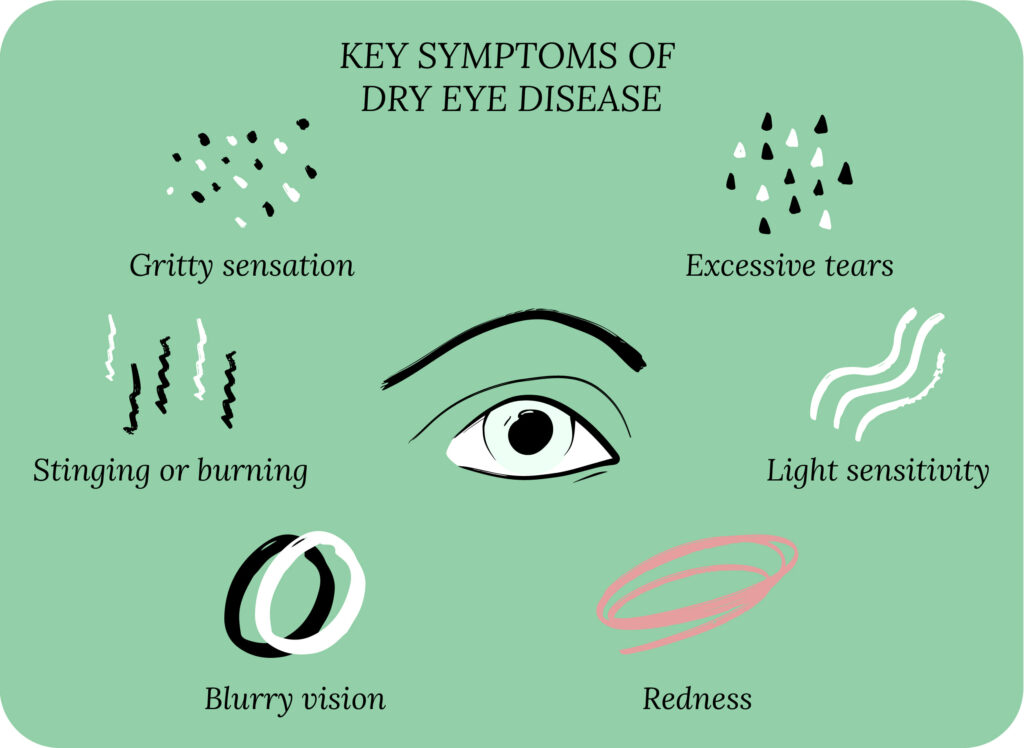 As you can see, eye fatigue symptoms can start to extend outside of just your eyes. If your eyes feel tired, you may tend to squint more, leading to headaches and even muscle pain in your face. The good news is that eye strain and eye fatigue symptoms are usually temporary and can be alleviated with simple adjustments at home and work.
Common causes of tired eyes
There are many reasons why your eyes may feel fatigued. You may see eye fatigue and eye strain used interchangeably, but tired eyes can result from factors outside of eye strain. Understanding what may be causing your eyes to feel tired helps identify the right approach to alleviating your symptoms.
Lifestyle & occupation
At CorneaCare, we believe that improving eye health starts with assessing your current lifestyle and making small changes that can lead to positive outcomes. Factors like lack of sleep and the work you perform at your job and at home can affect how your eyes feel.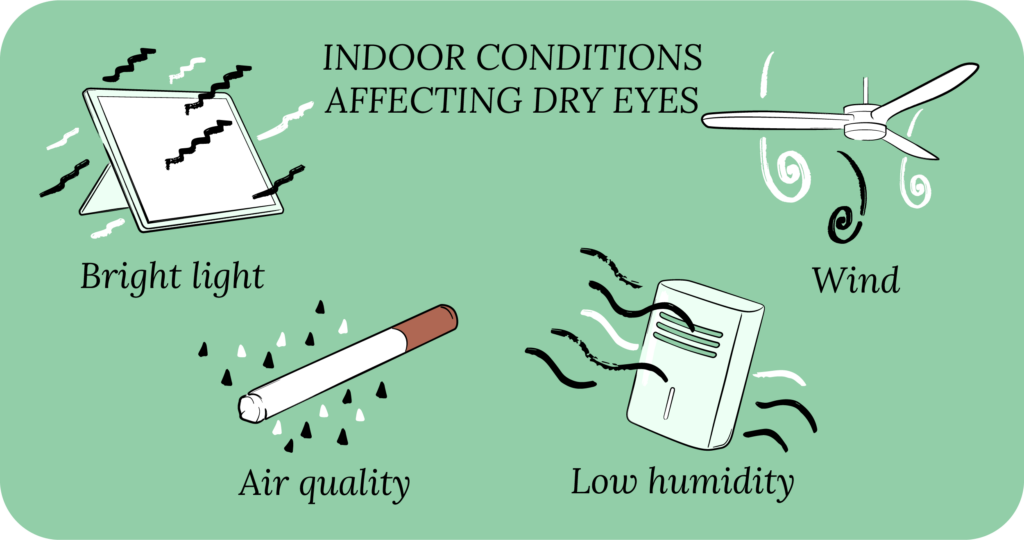 It may come as no surprise that lack of sleep contributes to eye fatigue. You're tired, and so are your eyes. They may be red and bloodshot and you may need a bit of undereye concealer to hide your bags. Unfortunately, it's not just appearance that's affected by lack of sleep. Your eyes actually need rest to replenish tears, so when you miss out on getting that restorative sleep, your eyes feel dry, itchy and burn.²
The work you do and your environment at your job may also cause your eyes to feel tired. While you may think eye fatigue only affects those who work in front of a computer screen for a long period of their day, it also affects workers who are outside in the sun and tend to squint more. Truck drivers and those on the road who need to see long distances and focus for hours on end may also suffer. Maybe your job requires you to work in dim light or darkness, which hampers the eye's ability to focus.³ We know you can't just up and leave your job to prevent eye fatigue, but there are some ways you can work with your environment and treat your eyes to the rest they deserve. Read more below.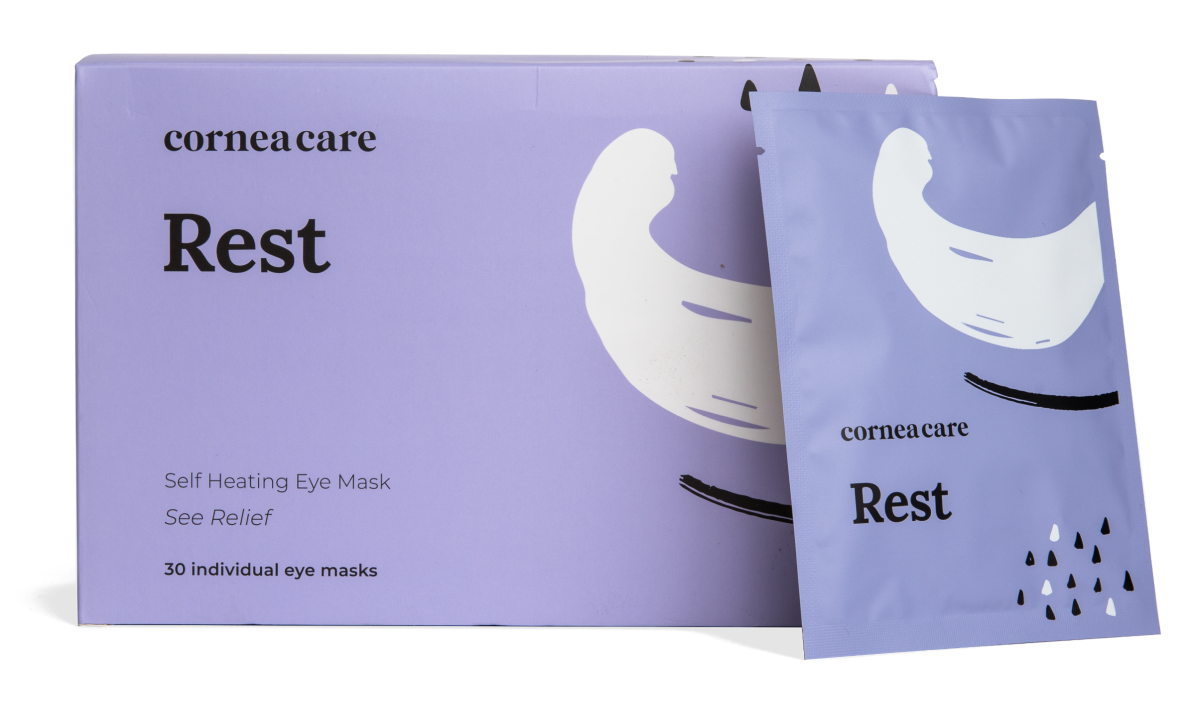 Perfect for eye dryness, fatigue, tearing, and puffiness of the eyelids. Free shipping 📦.
Digital eye strain
Digital eye strain, also referred to as computer vision syndrome, describes a group of eye and physical health-related problems stemming from intense use of computers, tablets, smartphones and TVs.⁴ Symptoms of digital eye strain occur due to lack of blinking, improper screen viewing distance and straining to see low-contrasted small text.
According to the American Optometric Association (AOA), those at greatest risk for developing computer vision syndrome symptoms are individuals who spend two or more continuous hours in front of a computer screen or digital device every day.⁴ Sound familiar? If reducing screen time is not in the cards for you, keep reading to learn how to take care of your eyes while using digital screens.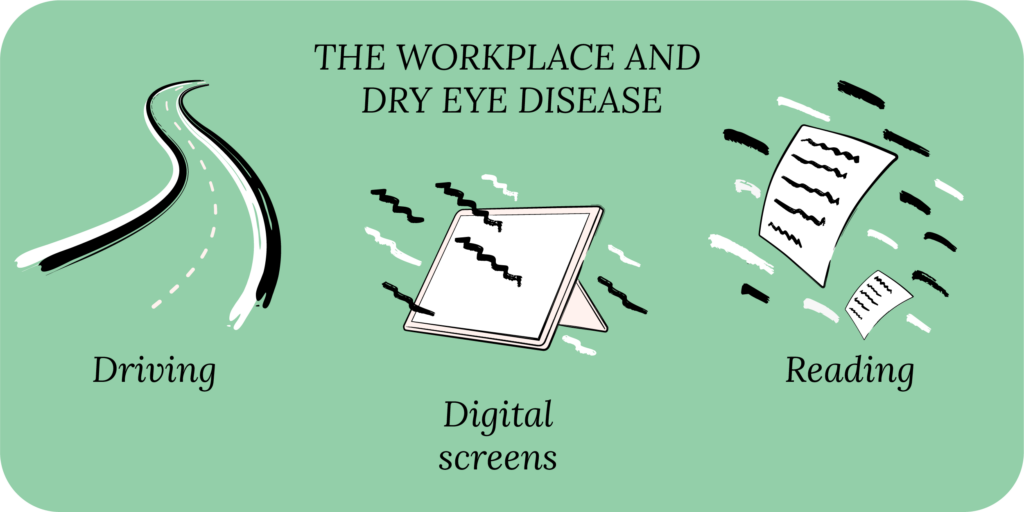 Uncorrected vision problems
If you experience frequent eye fatigue symptoms, it may be time to schedule an eye examination with your eye doctor (optometrist or ophthalmologist). Uncorrected vision problems lead your eyes to strain to perform tasks, causing them to fatigue easily.³ Your eye doctor will make sure your eye muscles are working properly and that your contact lens and eyeglasses prescription are up to date. He or she may also prescribe special eyewear for computer use. However, keep in mind that most eye doctors agree that blue light blocking glasses do not alleviate eye strain.⁸
Dry eye disease
Eye fatigue is a common symptom of dry eye disease. Dry eye disease (DED) is also known as dry eye syndrome, keratoconjunctivitis sicca and ocular surface disease. It is a chronic condition caused by unstable tears and inflammation and affects 30 million Americans. While some of us experience tired, dry eyes from time to time, people with DED experience symptoms daily and are typically severe enough to interfere with daily activities such as working, leisure and sleep.⁵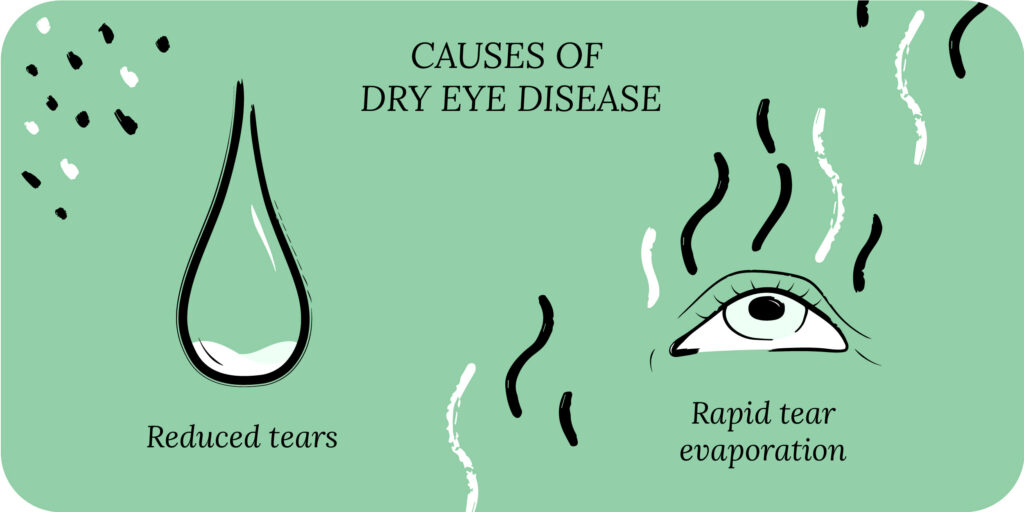 How to alleviate eye fatigue
Occasionally suffering from eye fatigue can be annoying but manageable. We've mentioned before how lifestyle can impact eye health. These small changes can make a big difference in alleviating eye fatigue symptoms. If your symptoms get worse, it's always best to schedule an eye examination and rule out any underlying causes.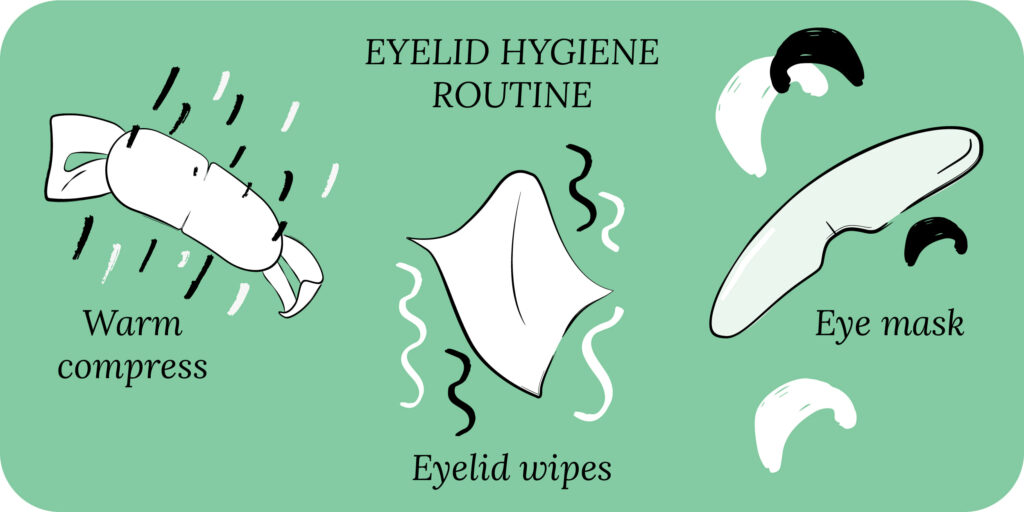 Our eyelids are the shield that protects our eyes from the outside world and from infections such as conjunctivitis and pink eye. You may have a great skincare routine and of course, pay attention to your dental hygiene, but what about your eyes? Tired eyes can benefit from a relaxing warm compress at night; refreshing eyelid wipes to wake up your eyes in the morning or even a cold compress if they feel inflamed during a long day. You can make your own wipes and compresses at home, or purchase pre-packaged versions. Everyone can benefit from establishing a daily eyelid hygiene regimen as part of their overall health and wellness.⁶

Perfect for eye dryness, burning, itching, grittiness, crusting/flaking of eyelashes and inflamed/swollen eyelids. Free shipping 📦.
Refresh eyes with artificial tears
If your eyes feel fatigued, you are likely experiencing eye dryness as well. Artificial tears, or eye drops, can be beneficial in replenishing your tears and increasing comfort throughout the day. Eye drops can be made with preservatives or in preservative-free form, and contain emollients (fats or oils such as mineral, flaxseed or castor oil) or demulcents (water-soluble polymers). You may need to try a few different eye drops before finding the one that works for you. It's also important to consistently use one artificial tear for a few weeks before trying another one.⁷ If you aren't sure of the best artificial tear for you, ask your eye doctor (ophthalmologist or optometrist) to suggest one for you.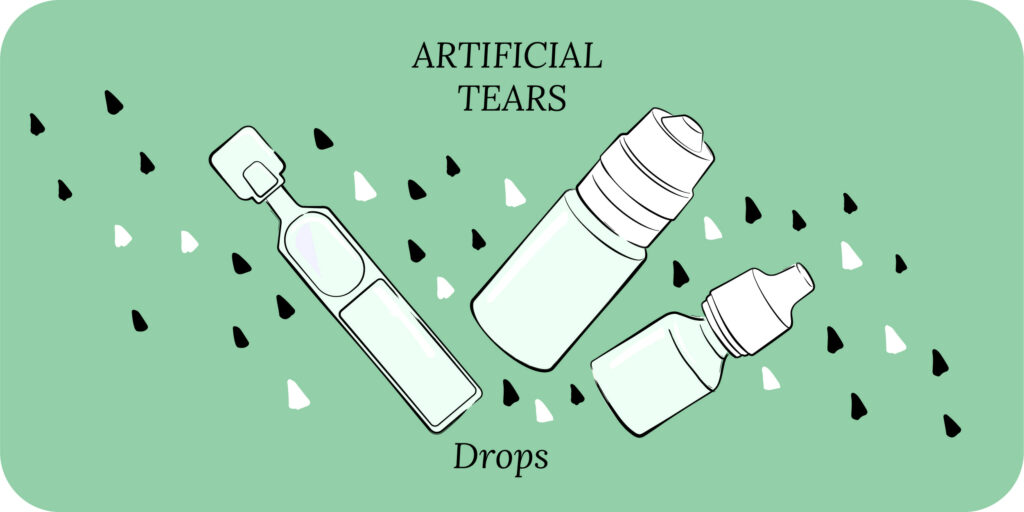 Give your eyes a rest
In addition to making sleep a priority, make sure to give your eyes proper breaks while working and performing tasks during the day. You've heard that standing every hour while working is good for your health. What about your eyes? Giving your eyes a break includes remembering to blink often and practicing the 20-20-20 rule. When you're working on a digital screen, remember to take a break after 20 minutes and look at something 20 feet away for 20 seconds.⁴ This allows your eyes to refocus. If you work outside or even drive for most of the day, you may want to consider sunglasses with ultraviolet (UV)-blocking lenses to prevent squinting.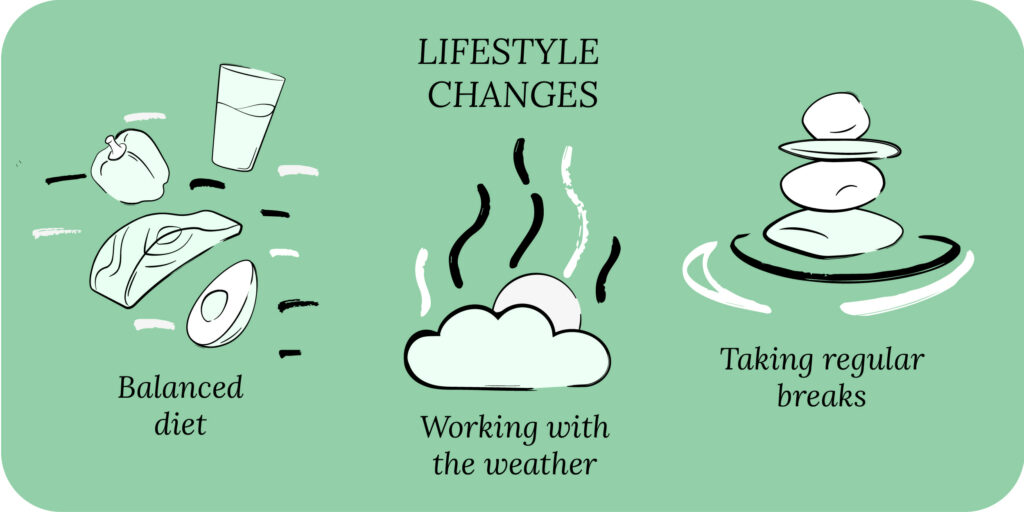 Putting it all together
Our eyes can feel tired for many reasons. Our daily habits and activities heavily impact our eye health. While many of us cannot avoid our jobs or put off household chores, we can practice simple steps like practicing good eyelid hygiene, using artificial tears, giving our eyes proper rest breaks and visiting our doctor for regular eye exams. Our goal at CorneaCare is to empower you to take control of your eye health. When your eyes feel good (and rested), you can focus on living a productive and happy life.
Want to take care of your eyes but not sure where to start?
What's next
Interested in other ways to expand your eye wellness routine? Check out more tips in our Eye Health and Wellness blog.