Ring lights are a popular accessory to light up your face for a virtual meeting, livestream, or video recording from your webcam or smartphone. That means ring light associated eye strain is also becoming more popular.
While these energy-efficient LED lights are easy to use, they may be harmful to your eyes when used excessively.
Read on to learn more about ring light associated eye strain and the simple steps you can take to prevent it, while still enjoying the bright lights for your next on-screen appearance.
You brush your teeth,
moisturize your skin,
what about your eyes?
Key Points
Prolonged exposure to the blue light and rapid flickering of LED lights can lead to ring light associated eye strain.
Take regular breaks from sources of LED light to practice good eye care and prevent eye strain.
You can learn to use ring lights safely to light your face during virtual meetings and video recordings.
What are Ring Lights?
Ring lights are LED lights designed in a ring and often placed with the camera in the center. They can also come in the form of LED panels.
LED (light emitting diode) lights are energy-efficient, using 75% less energy than incandescent lights. They also last up to 25 times longer, making them increasingly popular.1
Ring lights and other LED light sources are frequently used for live streaming, recording video content, or to light up faces in a virtual meeting.
Ring lights provide soft bright light to your face, helping you to look your best on screen.
However, they are often used for long periods which can cause ring light associated eye strain.
Ring light use has not specifically been well-researched. However, there are a number of studies showing the effects of prolonged exposure to LED lights.2
Additionally, there is research on digital eye strain3 which can often occur in conjunction with ring light associated eye strain. This is because most often you're using ring lights while also facing a computer screen or smartphone.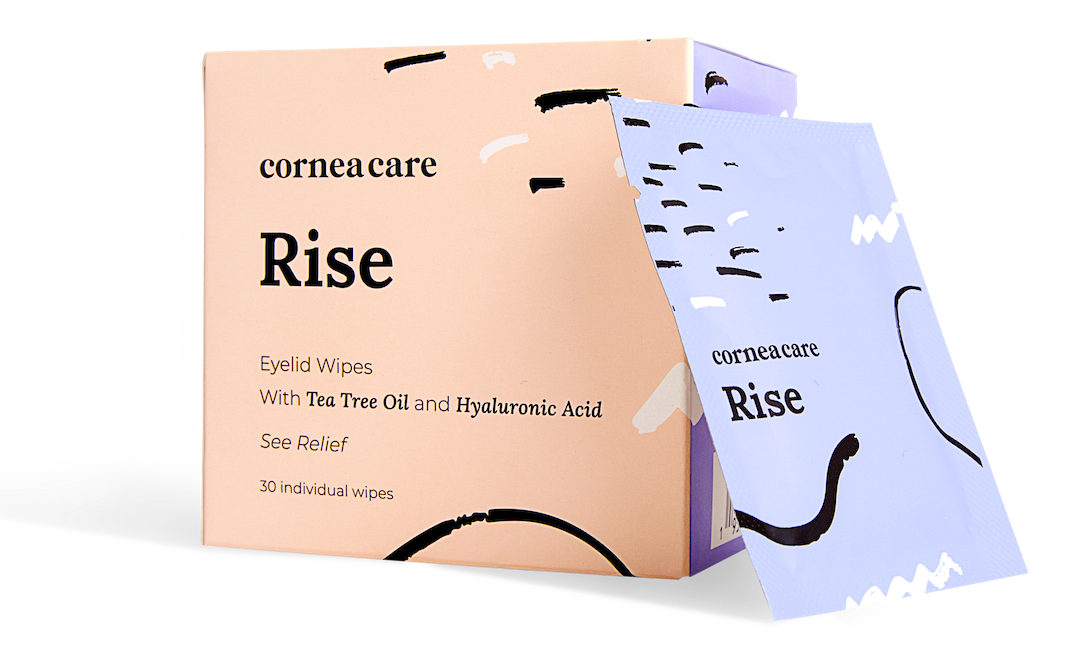 Perfect for eye dryness, itching, burning, and crusting/flaking of eyelashes. Free shipping 📦
Are Ring Lights Harmful to Your Eyes?
The good news is, ring lights will not cause blindness. However, ring lights may be affecting your eyes in a few different ways.
The LED light that's projected from a ring light is typically of a higher intensity than the light from the ambient environment and the light from your computer screen. This is going to lead to ring light associated eye strain.
Further, ring lights and other LED lights produce blue light that can interfere with your circadian rhythms and your sleep cycle if used too close to bedtime.4
Causes of Ring Light Associated Eye Strain
Eye strain can be described as tired and heavy eyes after prolonged reading, computer screen use, driving, or other focused activity. When eye strain occurs regularly, it can lead to more challenging symptoms that can interfere with daily life.
The symptoms of eyestrain may include:5
Sore, tired, burning or itching eyes
Dry eyes
Watery eyes
Headaches
Blurry vision
Sore shoulders, neck or back
Light sensitivity
Heavy eyelids
Blue Light and Eye Health
Ring lights are made of LED bulbs, which are a source of blue light. When blue light is compared to warmer lights, like reds and greens, blue light has shorter wavelengths. Short wavelengths equate with high-energy and greater brightness.
While blue light may be ideal for clear, bright videos, too much of a good thing can harm your eyes. As with other sources of high-energy light, including ultraviolet rays from the sun, blue light can be damaging to the lens and retina of your eyes.
As blue light exposure gradually causes damage to your retinas, you are at higher risk of developing retinal diseases such as age-related macular degeneration (AMD).6
In addition to the effects of blue lights on your eyes, research has also found that blue light can lead to sleep disturbances, throwing off your natural circadian rhythms and disrupting the production of the sleep hormone, melatonin.4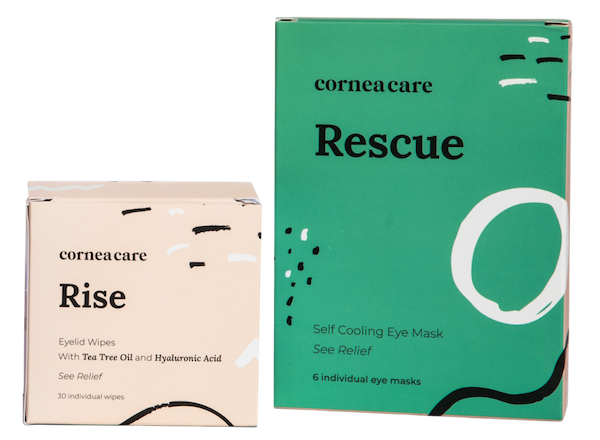 Perfect for eye dryness, burning, itching, pain, crusting/flaking of eyelashes and inflamed eyelids. Free shipping 📦.
Rapid Flickering Lights
LED lights also expose your eyes to a rapid flickering effect. Rapid flickering in LED light bulbs is more pronounced than in fluorescent lights, though it isn't noticeable to the naked eye.
Studies have found that the strobe-like flickering of certain LED lights can cause headaches and visual disturbances.4
Digital Eye Strain
In most cases, while you're using ring lights, you're also using the webcam on top of your computer screen or your smartphone to record videos or attend virtual meetings. Even without the added element of the ring lights, you can develop digital eye strain from prolonged screen use alone.
Research shows that digital eye strain, also known as computer vision syndrome, affects at least half of all computer users. According to the American Optometric Association, symptoms seen in digital eye strain sufferers includes headaches, blurred vision, dry eyes and pain in the neck and shoulders.7
Prolonged use of digital screens is associated with a decrease in blinking, especially complete blinking where the corneal surface is covered entirely by the upper eyelid.3
Digital eye strain can lead to other eye conditions such as dry eye disease. In fact, many common dry eye symptoms are also present in digital eye strain and may be seen with ring light associated eye strain as well.
Together all of these factors can lead to ring light associated eye strain with symptoms including headaches, migraines and vision problems.
How to Prevent Ring Light Associated Eye Strain
To protect your eyes, it's always best to avoid looking directly at bright lights. We all know to avoid looking directly at the sun, but prolonged exposure to the light of digital devices and bright LED lights, can also lead to eyestrain and even vision damage.
There are a number of simple steps you can take to minimize your risk of ring light associated eye strain.
Give Your Eyes a Break
The risk of developing ring light associated eye strain can be reduced by remembering to take regular breaks.
Follow the 20/20/20 rule to avoid eye strain. Every 20 minutes, look at something 20 feet away for about 20 seconds.7
When your meeting or recording ends, be sure to turn off your ring lights and take a break from your computer screen and other digital devices for at least a few minutes.
Don't leave your ring lights on longer than needed. Turn them off and use softer lighting further away from your eyes when you're doing other things.
Also make an effort to blink more often while using digital devices and ring lights, to lubricate your eyes naturally and reduce your risk for ring light associated eye strain.
The blue light emitted by ring lights and other LED lights can affect your circadian rhythms, causing poor sleep. Avoid using a ring light three hours before bedtime, and turn off all digital devices at least 30 minutes before bed.4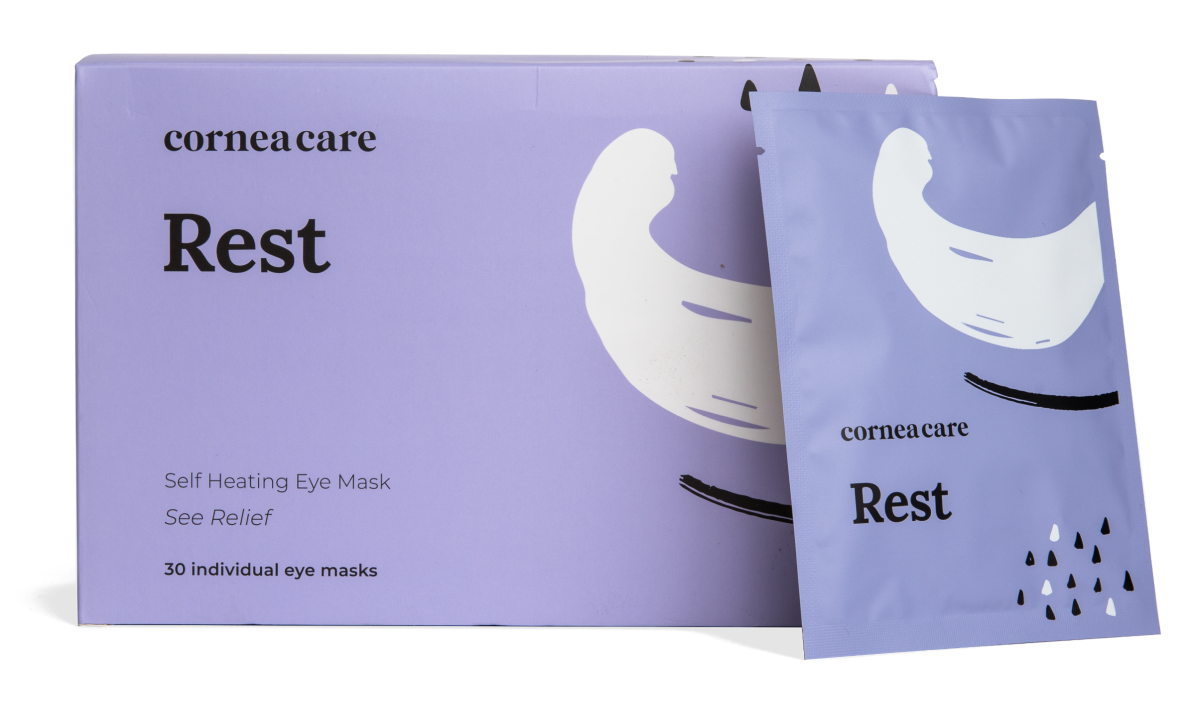 Perfect for eye dryness, fatigue, tearing, and puffiness of the eyelids. Free shipping 📦.
Double Up on Ring Lights
While it may sound counterintuitive to double up on the very lights that put you at risk for ring light associated eye strain, there is a benefit to using more than one.
The most common placement for a ring light is directly around your phone or webcam. This set up, however, gives you the greatest exposure of bright LED lights on your eyes, especially your retina.
Instead, use more than one ring light, placing each one at an angle to your left and right, from a height above you. With double the lights, you can lower the intensity of them both.
This is also a better set up if you wear glasses and want to avoid the distracting glare of ring lights on your lenses while recording videos or participating on virtual meetings.
Set Your Ring Lights at a Distance
When you follow the recommendation above to use more than one ring light, you will also benefit from keeping the ring lights at a healthy distance from your eyes. Setting your ring lights 4-6 feet away from your face may be best.
Another way to minimize direct exposure to your eyes, is to bounce the light off a wall. Set up your camera so that there is a light-colored wall behind it. Then aim your ring light at the wall instead of at your face. The bright light will bounce off the wall and light your face while protecting your eyes from the direct light.
Choose High Quality Ring Lights
Ring lights are available at every price point nowadays, and with varying quality. Look for the better quality ring lights that claim to limit eye strain and visual fatigue. They may be somewhat safer to use, however it's still best to avoid prolonged use of any ring lights or LED panels at maximum light levels for good eye care.
Use the Dimmer
Turn down the intensity of your ring light so it matches that of your digital screens and the ambient light in the room.
Choose dimmable ring lights and adjust the settings to minimize the risk of ring light associated eye strain.
Minimize Digital Eye Strain to Reduce Ring Light Associated Eye Strain
Take steps to reduce both sources of eye strain and your eyes will thank you. You may notice improved work productivity, better sleep, and overall more comfortable eyes.
To reduce digital eye strain, position your monitor or laptop for optimal eye, neck and head comfort. The American Academy of Ophthalmology recommends sitting at a distance of about 25 inches away from your computer screen (about an arm's length).7
You also want to make sure your gaze is slightly downward to prevent too much of your ocular surface from being exposed, which can lead to dry eyes.
Adjust the brightness settings of your computer screen or smartphone to more closely match the ambient light in the room you're in, so that your eyes don't have to strain to see.7
Begin an Eyelid Hygiene Routine
You understand the importance of personal and dental hygiene. Your eyes and eyelids also require proper hygiene because they work together to keep your eyes safe and comfortable. Good eyelid hygiene helps keep you looking camera-ready too!
You can give your eyes a break during the workday by applying a cold compress like our Hydrogel Cold Compress. You can moisturize and rejuvenate your eyelids with CorneaCare Eyelid Wipes at the beginning of the day, or relax by applying our Self-Heating Warm Compress over your eyes before bed.

Perfect for eye dryness, burning, itching, grittiness, crusting/flaking of eyelashes and inflamed/swollen eyelids. Free shipping 📦.
Lubricate Your Eyes with Artificial Tears
Replenishing your eyes throughout the day with preservative-free artificial tears can help reduce the risks and the symptoms of ring light associated eye strain.
CorneaCare's specially formulated artificial tears can nourish your eyes, fend off inflammation, promote anti-oxidation, and enhance hydration to optimize your visual comfort.
Get Regular Eye Exams and Keep Prescriptions Current
Digital eye strain can occur from straining to view the text on the screen. If your contact lens or glasses prescription is not up to date, it might be time for an eye exam.
Your eye doctor (ophthalmologist or optometrist) can also check for and diagnose any additional eye conditions or eye diseases before they progress.
Putting it All Together
Ring lights are becoming increasingly popular, and join the many LED lights already around you every day, including your computer screen and your smartphone.
The levels of blue light and rapid flickering they produce can lead to ring light associated eye strain and symptoms such as headaches, dizziness, blurry vision, and other vision problems.
Taking regular ring light and screen time breaks will benefit your overall health and wellness. And remember to treat your eyes like you do the rest of your body, with proper rest, regular medical care, and a comforting and refreshing eyelid hygiene routine.
Want to take care of your eyes but not sure where to start?
What's Next
Want to learn more about keeping your eyes safe and healthy? Check out our articles in our Eye Health and Wellness section.