Overview
Trips to the beach are exciting for families. The ocean draws adults and kids alike to its shores to play, relax and recharge. However, many parents worry that their little kids or babies will get sand in the eye while enjoying the beach.
Getting sand in your eye is annoying and can cause some pain. If you plan to spend a lot of time at the beach, or have little kids that enjoy playing in a sandbox or will be visiting the shore, this article will go over what to do if sand makes its way into the eyes.
Key Points
Getting sand in the eye is often not vision-threatening.
Sometimes a feeling of sand in the eye results from a foreign body sensation from other eye conditions.
Prepare your eyes for a trip to the beach by packing eye care essentials that can come in handy when you don't have access to a drug store.
You brush your teeth,
moisturize your skin,
what about your eyes?
Taking the First Step
As you continue to make eye care a part of your self-care, consider preparing your eyes like you would the rest of your body when venturing outside or somewhere new. You wouldn't take a trip somewhere sunny and not bring sunscreen or go on a hike without hiking shoes, right?
With your eyes, you'll want to consider the air quality, humidity, ultraviolet (UV) index, water exposure, and any small foreign objects that can make their way to your eyes. These environmental factors can affect your visual comfort and safety, ultimately impacting your trip or experience.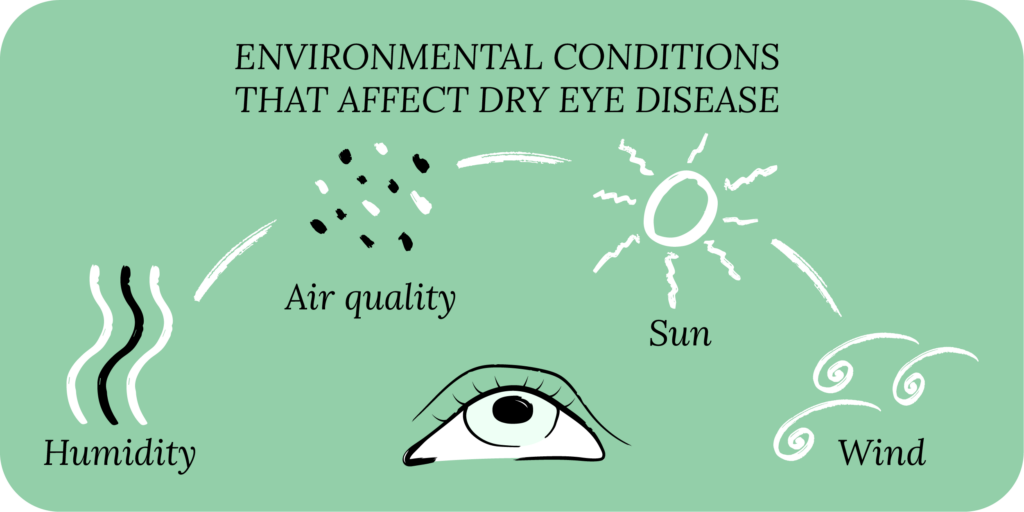 Sand, although seemingly harmless, can cause issues if it gets into your eye (or a child's eye) and is left untreated. While sand in the eye is not vision-threatening, it's still something to consider as you are preparing to visit a beach.
The first thing is to recognize symptoms for yourself and your kids so that you can take action immediately before any scratches or infections occur.
Symptoms of Sand in the Eye
You may immediately realize that you have sand in the eye, or it may take several hours to notice. One tiny, fine grain of sand can be as small as 0.02 mm.¹ While that seems insignificant, small foreign objects can easily disrupt the eye's intricate systems.
If you suspect you or your kids have sand in the eye, look for:²
Eye pain
Excessive tearing
Feeling like you need to keep your eye closed
Red eyes
Itching and irritation
You may experience these same symptoms with other foreign objects in the eye, such as an eyelash.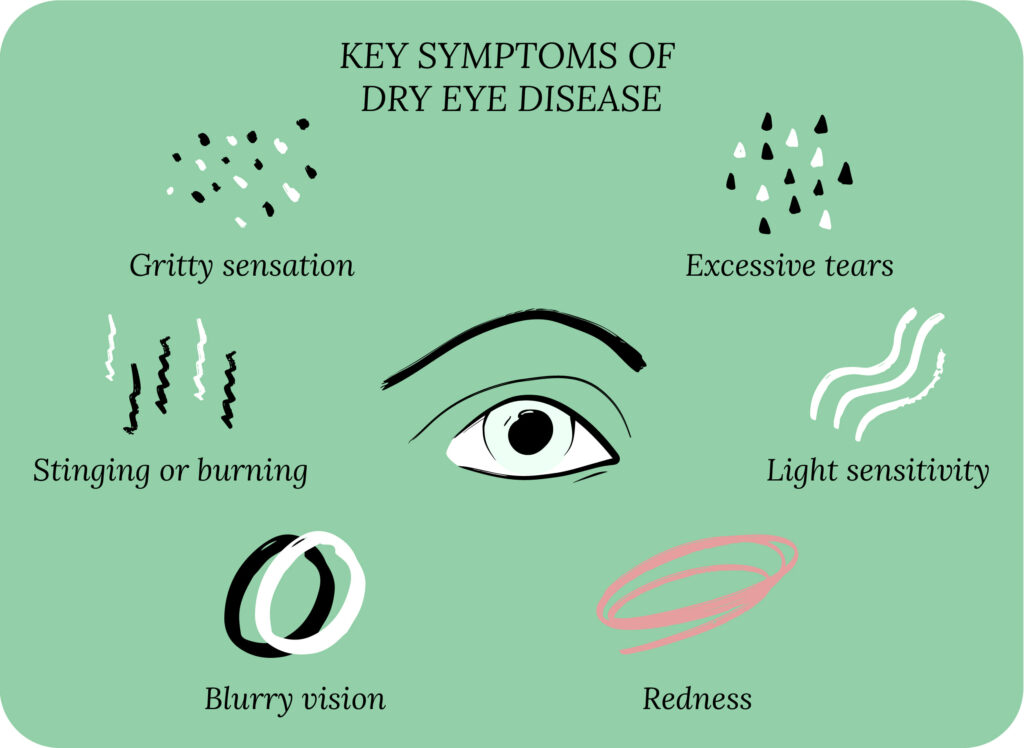 If the foreign object doesn't get out of the eye, it can scratch the cornea (the clear part of the eye in front of your iris) and cause a corneal abrasion. This may cause a significant worsening of your symptoms and put you at risk of developing an infection.
What to Do When Sand Gets in the Eye
Your eyes may flush out the small piece of sand on their own when you blink and produce tears.³ Still, the American Academy of Ophthalmology advises following a few simple steps (and shares what not to do) when you get sand or another small particle, like dust, debris, or an eyelash in your eye.³
Remember to always wash your hands before touching your eye.
First, remove your contact lenses (if you wear them).
Blink several times to try to flush the particle out naturally.
Avoid rubbing your eye, and do not use anything to try to remove the object (like tweezers or a cotton swab).
Gently pull your upper eyelid over your lower lid. This will allow your eyelashes to get to work and brush the object out.
If these steps do not work it out, you can use a saline solution, artificial tears, clean water (unopened bottled water), or eyewash to try to flush it out.
If you still feel the particle, you may need to see an eye doctor (optometrist or ophthalmologist) or go to the emergency room to rule out a corneal abrasion or other eye problem. The doctor will perform a simple eye exam and may send you home with antibiotic drops to prevent infection.³
When Kids Get Sand in Their Eye
Again, most of the time, the eye does a great job of flushing out small particles. However, kids may be more prone to panicking and won't be able to exert as much self-control to prevent rubbing their eyes.
If sand gets into your child's eye, instruct the child not to touch their eyes and to wash their hands.² If they are old enough to understand the eyelid trick, instruct them to gently pull the upper lid over the lower eyelid.
For toddlers and babies, you may want to just try flushing the eye yourself. You can use saline solution, artificial tears, eyewash, or small drops from an unopened bottle of water.
Gently tilt your child's head back and gently open their eye.² Squirt several drops into their eye to flush out the particle.²
Always seek medical attention from a healthcare provider if you feel that your child is still excessively blinking, tearing or rubbing their eyes after a day or so.
When it Might Not Be Sand: Foreign Body Sensation
If you've not been near a beach but still feel like you have sand in your eye, you may be experiencing foreign body sensation.⁴
Several eye conditions can lead to foreign body sensation. Often, other symptoms accompany the sensation. For example, dry eye disease causes a gritty feeling for some people, making them feel like something is in their eye. However, dry eye disease patients often experience symptoms like watery eyes, itchy eyes, redness, pain, and blurred vision, in addition to foreign body sensation.⁴
Other eye conditions that may cause foreign body sensation include:³⁴
Corneal abrasion: a scratch on the cornea from trauma or foreign object in the eye.
Sjögren's Syndrome: An autoimmune condition that also causes dry mouth and dry eyes
Ulcers: An open sore on the surface of the eye (cornea). You can develop an ulcer from infections. Corneal abrasions put you at risk for ulcers.
Blepharitis: Irritation and inflammation of the eyelids, leading to flaking and crusting on the lashes.
Conjunctivitis (pink eye): Inflammation of the conjunctiva that covers the cornea, typically caused by bacterial or viral infections or eye allergies.
Chalazion/stye: Clogged meibomian glands that form a lump on the eye, and can get inflamed.
Pinguecula and pterygium (surfer's eye): Yellow-colored growths on the eye that result from UV exposure, wind and dust.

Perfect for eye dryness, burning, itching, grittiness, crusting/flaking of eyelashes and inflamed/swollen eyelids. Free shipping 📦.
Preparing Your Eyes for a Beach Trip
The last thing you want to experience while visiting the beach is an eye problem. When your eyes are irritated, it's hard to enjoy your time outside and go sightseeing.
When you pack your bag for the beach, here are a few things to throw in your eye care bag (you have one, right?!).
Saline Solution, Eyewash and Eye drops
As we've learned, having something to flush out your eyes if sand gets in them is essential. You can find saline solution, artificial tears and eyewash at your local drug store. The sun, salt and sand can cause dry eyes. Eye drops will help replenish your tears and provide lubrication.
Eyelid Wipes
After a day at the beach, your eyelids may feel a little crusty from saltwater, sunscreen or even from a little sunburn (though we hope you are using eye protection!). You may also have fine sand trapped on your eyelashes that may fall into your eyes!
CorneaCare's Rise eyelid wipes are very travel-friendly! They come in individually-wrapped packs that you can take with you anywhere. Rise wipes gently remove eyelid buildup with plant botanical extracts like tea tree oil and hyaluronic acid to leave your eyes feeling refreshed and ready for another day at the beach.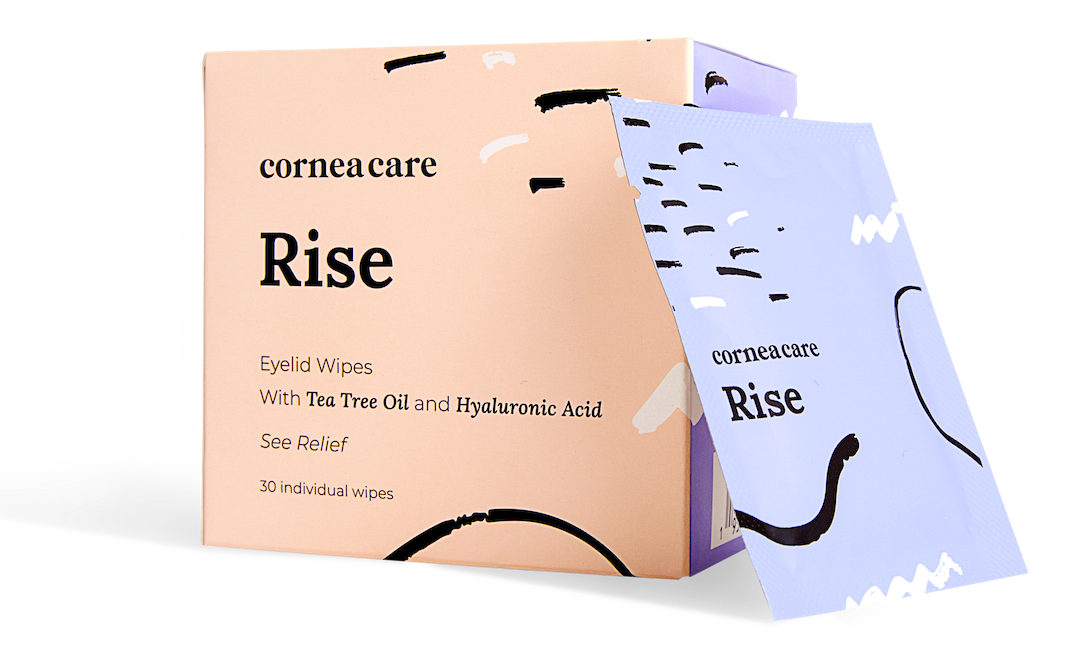 Perfect for eye dryness, itching, burning, and crusting/flaking of eyelashes. Free shipping 📦
Cold and Warm Compresses
Depending on your preferences and eye conditions, bringing disposable warm and cold compresses is an excellent idea.
While you may not want to use a warm compress on the beach, you may enjoy using it at night if you are still experiencing a gritty sensation or your eyes feel especially dry and irritated. CorneaCare's Rest warm compress eye mask is a great on-the-go option. There's no microwave needed and the compress stays warm for up to 30 minutes!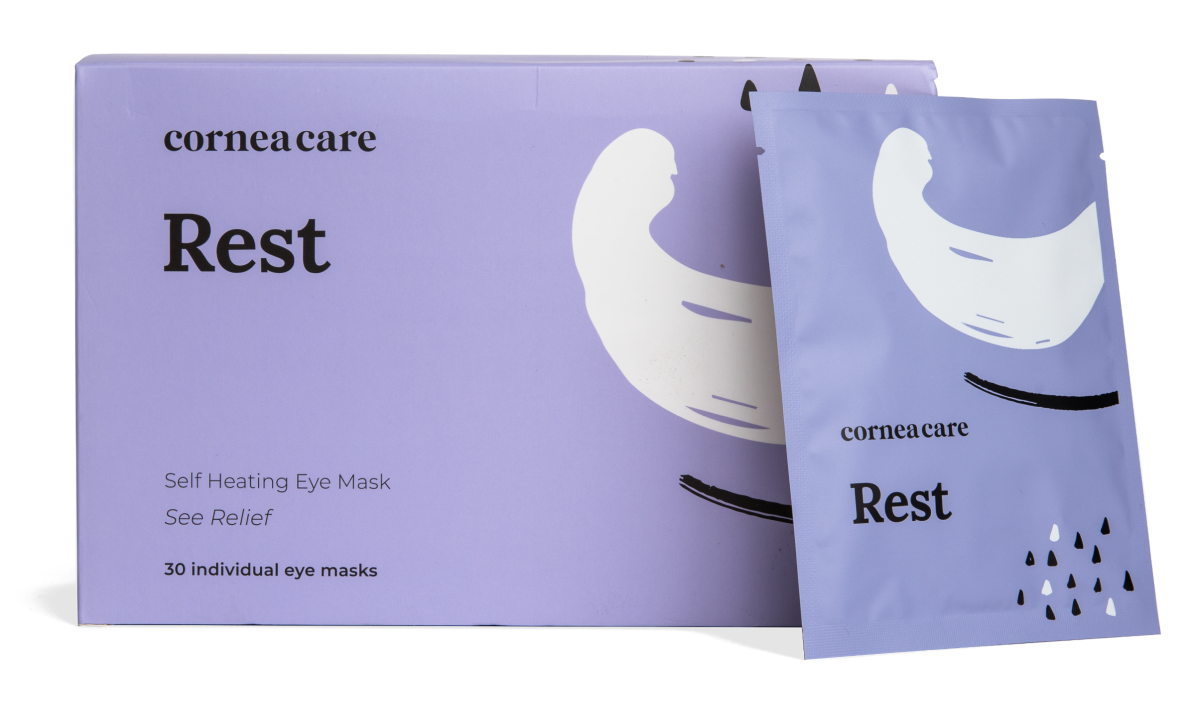 Perfect for eye dryness, fatigue, tearing, and puffiness of the eyelids. Free shipping 📦.
Cold compresses are great to use if your eyes need a break during a beach day or at night to soothe sunburnt or dry eyelids. However, it is tricky to keep a washcloth cold or prevent ice from melting on the beach! CorneaCare's Rescue hydrogel cold compresses are self-cooling and provide cooling for up to 15 minutes. They are also individually wrapped and made with plant extracts and menthol for instant soothing relief.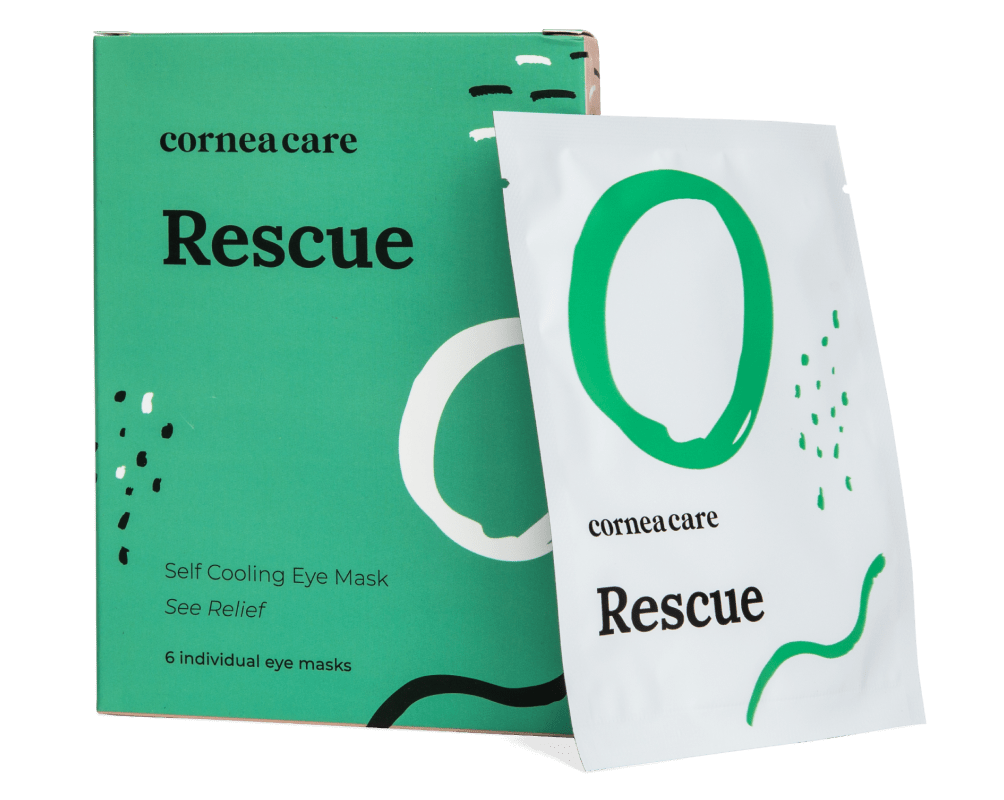 Perfect for sudden flare-ups of eye dryness, pain, burning, and swollen/inflamed eyelids. Free shipping 📦.
Sunglasses and Hat
Most people remember their sunglasses and hat before hitting the beach, but if you need a reminder, here it is! Shielding your eyes from ultraviolet rays is essential to long-term eye health. You'll also protect the skin around your eyes and face from sun damage, premature aging and skin cancers, a win-win!
Putting It All Together
While no one wants to get sand in their eyes, it happens. Luckily, your eyes are smart, and will take care of it on their own. By preparing your eyes for a beach trip, you can tackle a minor inconvenience like sand in the eye. Bringing some self-care tools for your eyes like wipes and compresses is great, too. After all, your eyes work hard and deserve a vacation as well. Now go have fun!
Want to take care of your eyes but not sure where to start?
What's Next