Your eyes are an essential part of your daily life, allowing you to see and experience the world around you. When your eyes feel sore, it can be a significant source of discomfort and frustration. Nearly everyone will experience eye pain at some point, and it's often temporary and easily remedied. However, if your eyes are feeling sore often enough to cause concern, a visit to your eye doctor for an eye exam is always a good idea.
In this article, we'll explore the common causes of eye soreness and provide effective remedies to help you alleviate discomfort.
Key Points
Eye soreness can have various causes, including dry eye disease, eye strain, allergies, eye infections, inflammation, and contact lenses.
Taking regular breaks from screen time, using lubricating artificial tears, and visiting your eye doctor, are all steps that may relieve eye soreness.
Dry eye disease is a common reason why your eye may feel sore, and you can begin to see relief with good eyelid hygiene.
You brush your teeth,
moisturize your skin,
what about your eyes?
Understanding Why Your Eye Feels Sore
Eye soreness refers to a general feeling of discomfort, mild pain, or irritation in the eyes. It helps to differentiate eye soreness from other eye symptoms such as itchiness or redness, as each symptom may indicate a different underlying cause.
Common symptoms associated with eye soreness include:
gritty sensation
increased light sensitivity
blurry vision
burning
mild pain
If you feel your discomfort is more than mild soreness, you might want to have a look at our article on Sharp Stabbing Pain in the Eye as well.
Identifying the underlying causes of eye pain and soreness is important for effective management and long-term relief. Rather than relying on self-diagnosis alone, it is recommended to see your eye care specialist (optometrist or ophthalmologist) who can accurately diagnose the cause and recommend the best treatment options for you.
Causes of Eye Soreness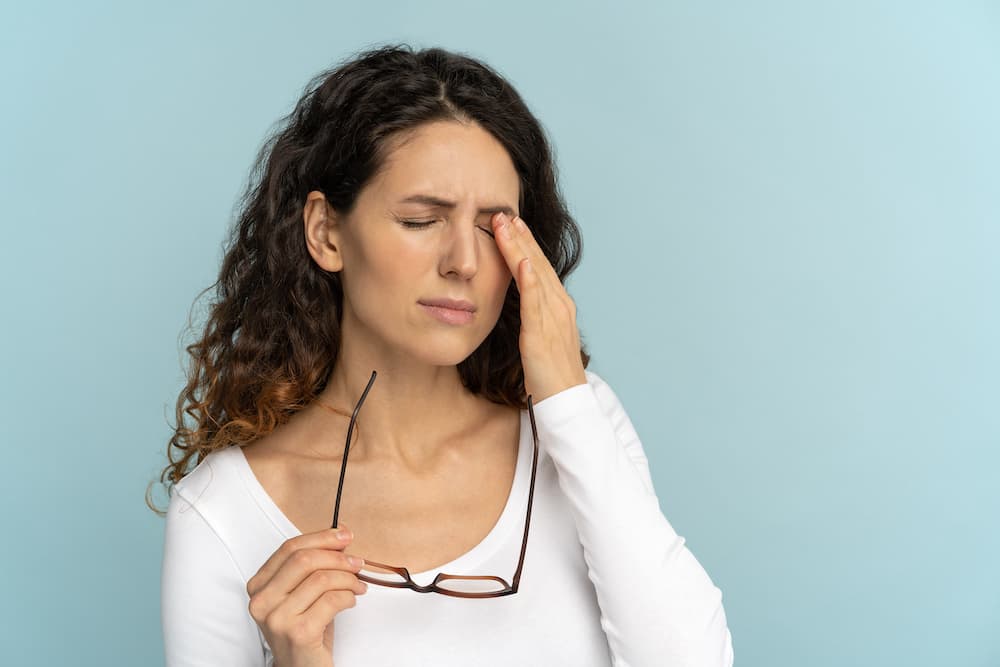 Dry Eye Disease
Also known as dry eye syndrome, this condition occurs when your eyes don't produce enough tears or when the tears evaporate too quickly, leading to dryness, irritation, and soreness. Factors contributing to dry eye disease include age, hormonal changes, certain medications, environmental factors (such as dry or windy climates), and medical conditions like autoimmune diseases. Additionally, modern lifestyle factors, such as prolonged screen use, can contribute to dry eyes.1
To prevent and manage dry eyes that feel sore, consider the following tips:
Use preservative-free artificial tears or lubricating eye drops to provide additional moisture and relief.
Stay well-hydrated by drinking plenty of water throughout the day.
Use a humidifier in your home or office to add moisture to the air.
Protect your eyes from harsh environmental conditions by wearing sunglasses or using protective eyewear.
Add eye vitamins and omega-3 supplements to your daily routine to fill any nutritional gaps in your diet.
To learn more about dry eye disease, including causes and treatments, take our free Dry Eye 101 course!
Eye Strain
Eye strain can be caused by various factors, including excessive screen time, reading for extended periods, poor lighting conditions, and improper ergonomics. Prolonged use of digital devices, such as computers and smartphones, or recording in front of ring lights, can put a strain on your eyes and contribute to soreness and discomfort.
To prevent and alleviate eye strain, consider the following tips:
Take regular screen breaks with the 20-20-20 rule: every 20 minutes, look away from your screen and focus on an object 20 feet away for 20 seconds.2
Ensure proper lighting and an ergonomic workplace to reduce eye strain.
Blink frequently to keep your eyes moist and reduce dryness, and rest with CorneaCare self-heating warm compresses over your eyes to restore moisture.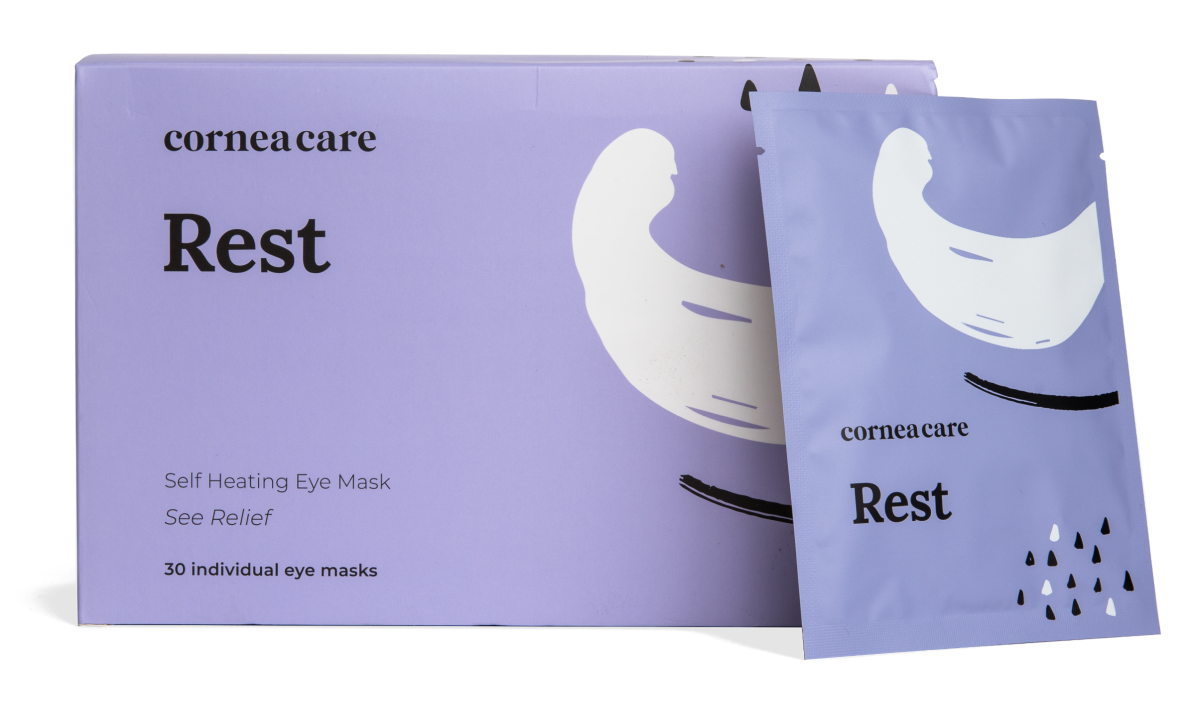 Perfect for eye dryness, fatigue, tearing, and puffiness of the eyelids. Free shipping 📦.
Allergies
Eye allergies, or allergic conjunctivitis, can cause eye soreness along with symptoms such as itching, redness, and watery eyes. Allergens such as pollen, pet dander, dust mites, and certain medications can trigger allergic reactions in sensitive individuals.3
The following tips can help manage and prevent eye allergies:
Identify and avoid allergens that trigger your eye allergies.
Keep your living environment clean by dusting and vacuuming regularly to minimize exposure to allergens.
Wash your hands frequently, especially after contact with allergens, and avoid rubbing or touching your eyes.
Try over-the-counter antihistamine eye drops to alleviate itching and discomfort.
Getting Something in Your Eye
Particles, dust, or chemicals coming into contact with the eye can cause soreness and discomfort. Foreign objects may scratch the surface of the eye or lead to irritation and inflammation. If your eye pain is significant, you may have a scratched cornea, also known as corneal abrasion. This can occur when the outer layer of the eye (cornea) is damaged by injury or foreign objects. Other symptoms of a scratched cornea may include red eyes, tearing, sensitivity to light, and blurred vision.4
If you have a foreign body in your eye, avoid rubbing it and rinse your eye gently with clean water. For help removing a runaway lens, read How to Tell if a Contact Lens is Still in Your Eye. If you suspect a scratched cornea, contact your eye doctor. Treatment options typically involve lubricating eye drops or ointments, and in some cases, a protective eye patch. Healing usually occurs within days, but larger abrasions may require more extensive treatment.
Eye Infections
Eye infections, such as conjunctivitis (pink eye), can cause your eyes to feel sore along with symptoms like redness, discharge, and itching. Pink eye is inflammation of the conjunctiva, the thin cover over the white part of your eyeball (the sclera) and inside your eyelid.5
Eye infections can be caused by bacteria or viruses. They can spread through direct contact, contaminated objects, or respiratory droplets. Visit your eye doctor for an accurate diagnosis and treatment, which may include prescription eye drops, oral medications, or other interventions.
Contact Lens Wear
If you wear contact lenses, you may experience eye soreness due to improper lens care, lens overwear, or allergic reactions to lens materials or cleaning solutions.
To prevent eye soreness and maintain healthy contact lens wear, consider the following tips:
Follow your eye doctor's instructions for proper contact lens hygiene and maintenance.
Avoid wearing contact lenses for longer durations than recommended, which can lead to irritation, discomfort, dry eyes, infections, and other eye problems.6
Replace contact lenses and lens cases as instructed by your eye care professional.
Avoid non-prescription colored contact lenses which can cause damage to your eyes.
If you experience persistent eye soreness or discomfort when wearing contact lenses, consult your eye care professional for evaluation and possible adjustments.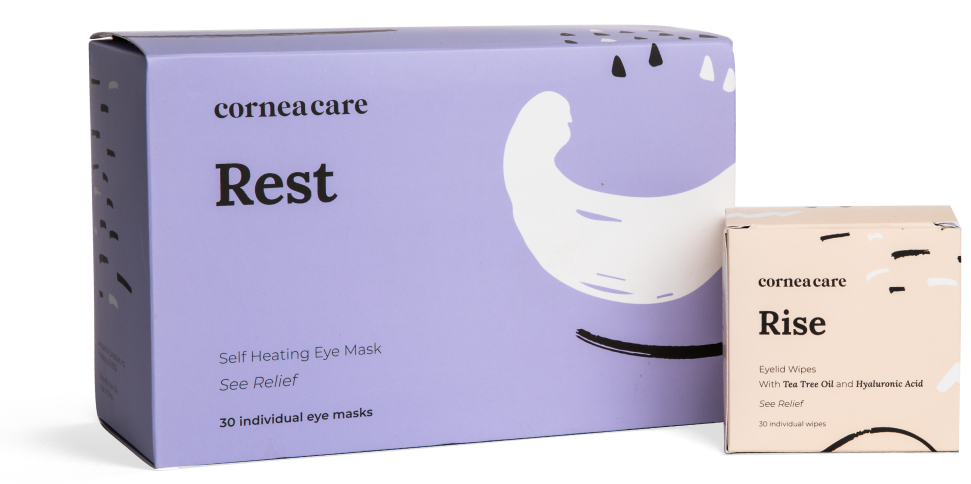 Perfect for eye dryness, burning, itching, crusting/flaking of eyelashes and inflamed eyelids. Free shipping 📦.
Stye
A stye is a common eyelid condition that can cause your eye to feel sore. A tender, red lump on the eyelid, a stye can develop due to infected or blocked oil glands in the eyelids. Apply a warm compress to the affected area multiple times a day to promote drainage of the oil glands and alleviate discomfort. Don't be tempted to squeeze or pop a stye, as this can worsen the condition or lead to further infection.7
Most styes will resolve on their own within a few days to weeks. However, if the condition persists, or causes significant pain or vision problems, contact your eye doctor.
Glaucoma
Glaucoma is a group of eye conditions characterized by increased pressure within the eye, which can cause damage to the optic nerve and potentially lead to vision loss if left untreated. Although glaucoma is often painless, it's possible it can cause your eye to feel sore. Other symptoms may include blurred vision, headache, and nausea. Glaucoma is typically a chronic condition and requires ongoing management to prevent loss of vision.8
A less common type, angle-closure glaucoma, can develop rapidly causing severe eye pain, intense headache, blurred vision, nausea, and seeing halos around bright lights. Angle-closure glaucoma is a medical emergency requiring immediate medical attention.8
Sore Eyes Caused by Inflammation
Conditions that cause inflammation can also cause your eye to feel sore along with other symptoms. Some possible inflammatory conditions that may be causing your discomfort include:9
Blepharitis: inflammation of the eyelids that can be caused by an overgrowth of Demodex mites. Blepharitis can cause eye soreness, redness, itching, and crusting along the eyelashes.
Iritis: inflammation of the iris, resulting in eye pain, redness, and blurred vision. It can be caused by infections, autoimmune conditions, or trauma and treatment may include steroid, antibiotic, or antiviral eyedrops.
Keratitis: inflammation of the cornea, typically caused by infections or injuries often related to contact lens wear. It results in eye pain, redness, sensitivity to light, and blurred vision.
Optic neuritis: inflammation of the optic nerve, leading to eye pain, blurred vision, and loss of color vision. It is often associated with multiple sclerosis or other autoimmune conditions.
Sinusitis: a sinus infection can cause eye soreness due to the increased pressure in the sinuses. It may be accompanied by facial pain, congestion, and nasal discharge.
Uveitis: inflammation of the uvea, the middle layer of the eye, can be caused by autoimmune disorders, infections, or eye injuries. Symptoms may include eye pain, redness, and sensitivity to light.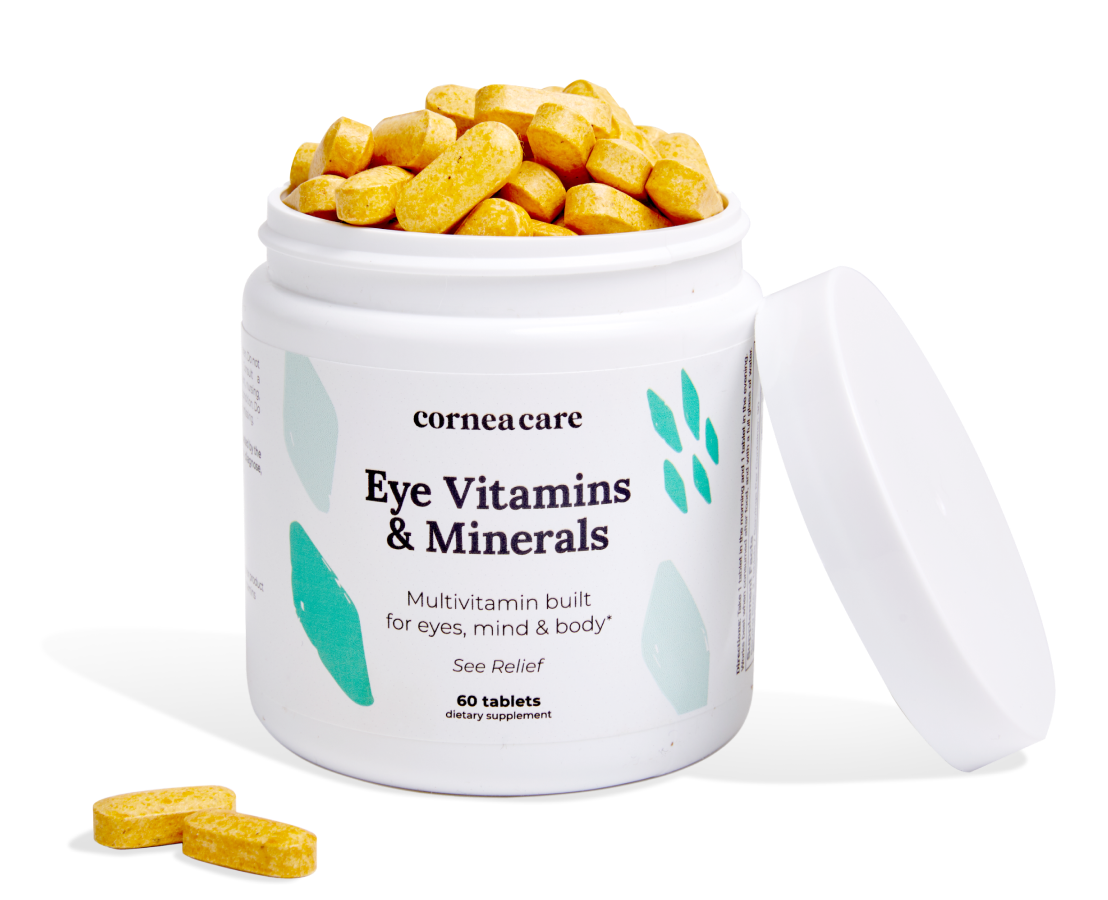 A single multivitamin to address the nutritional needs of your eyes, mind and body. 📦 Free shipping.
When to See Your Eye Doctor
While home remedies and lifestyle changes can often alleviate eye soreness, there are instances where professional help is necessary. Seek medical attention if you experience severe pain, sudden vision changes, persistent symptoms, or if your eye soreness is accompanied by other concerning symptoms. Only your doctor can provide a comprehensive evaluation, accurate diagnosis, and tailored treatment plan to address your specific condition.
Why Does My Eye Feel Sore FAQ
Why does my eye feel bruised when I rub it?
When you rub your eye vigorously, the delicate tissues of the eye can become irritated and result in a sensation of bruising. Rubbing your eye can apply pressure and friction to the surface, leading to temporary soreness or discomfort. Avoid rubbing your eyes forcefully as it can further irritate the tissues and potentially cause damage. Instead, try applying a warm compress to alleviate discomfort, and see your eye doctor if the soreness persists or worsens.
How do you get rid of eye soreness?
To get rid of eye soreness, there are a few steps you can take. First, it's essential to rest your eyes and take breaks from activities that strain them, such as excessive screen time. Additionally, applying a warm compress to your eyes can help soothe them and reduce inflammation. Using artificial tears or lubricating eye drops can provide moisture and relieve dryness, which may contribute to eye soreness. If the soreness persists or worsens, seek medical advice from an eye care specialist for a proper diagnosis and treatment.
Why do my eyes hurt?
There can be various reasons why your eyes might hurt. Eye strain is a common cause, often resulting from prolonged screen time or detailed work. Dry eye syndrome, which occurs when your eyes don't produce enough tears or the tears evaporate too quickly, can also lead to eye discomfort and pain. Allergies can cause itching, redness, and eye soreness.

Eye infections, like conjunctivitis, can result in eye pain as well. Other factors such as foreign objects or irritants in the eye, underlying medical conditions, or injuries can also contribute to eye pain. If your eyes hurt and the discomfort persists or worsens, it's important to see your doctor for an eye exam.
Putting It All Together
Eye soreness can be caused by various factors, including dry eye syndrome, eye strain, allergies, eye infections, and contact lenses. By understanding the underlying causes and implementing appropriate remedies, you can find relief.
Remember to see your healthcare professional when needed, and make proactive efforts to maintain healthy and comfortable eyes. Your eyes are precious, and with proper care, you can enjoy clear vision and more days free from sore eyes.
Want to take care of your eyes but not sure where to start?
What's Next
Explore more about keeping your eyes healthy for life on the eye health & wellness blog.