What is it: Blepharitis vs Stye?
When it comes to eye health, most people focus on the eyes themselves, but your eyelids also play a critical role in protecting and maintaining healthy eyes. Unfortunately, these delicate structures are susceptible to various conditions, two of which we'll explore in this article: blepharitis and styes. These common eyelid problems, though seemingly similar, have distinct characteristics, causes, and treatments.
Key Points
Blepharitis is eyelid swelling caused by factors like bacterial overgrowth and environmental influences with symptoms such as redness, itching, and crusty eyelashes.
Styes are red, painful bumps on the eyelid resulting from blocked oil glands or infection.
Preventive measures and treatment for blepharitis and styes include good eyelid hygiene and the use of warm compresses.
No one taking your
dry eyes seriously?
Understanding Blepharitis
Blepharitis is a common eye condition characterized by eyelid swelling, specifically the edges where the eyelashes grow. This inflammation of the eyelids can affect both the upper and lower eyelids.1 It can be a chronic (long-lasting) or acute (sudden and short-lived) condition, and is not contagious.2
Anterior and posterior blepharitis are two subtypes of the condition. Anterior blepharitis affects the front part of the eyelid near the eyelashes, leading to redness, itching, and eyelash base crusts. It may make the eyelids appear greasy and disrupt eyelash alignment.
In contrast, posterior blepharitis occurs along the inner eyelid and involves the meibomian glands responsible for tear film oil production. It often results in dry eyes, a burning sensation, and blurred vision due to poor tear quality.3
The primary culprits behind blepharitis include bacterial overgrowth, over-population of Demodex mites, issues with the meibomian oil glands, and environmental factors.1,2
Signs and Symptoms
The signs and symptoms of blepharitis can vary but often include:1,2
Redness and swelling of the eyelids
Itching and burning sensations
Crusting and scaling at the base of the eyelashes
Watery or irritated eyes
Light sensitivity
Grittiness or a feeling of having a foreign object in the eye
Blepharitis can be uncomfortable and, if left untreated, can lead to complications such as chronic dry eye, damage to the cornea, loss of eyelashes, or changes in the tear film that can cause blurred vision. Blepharitis can also lead to styes and chalazion.2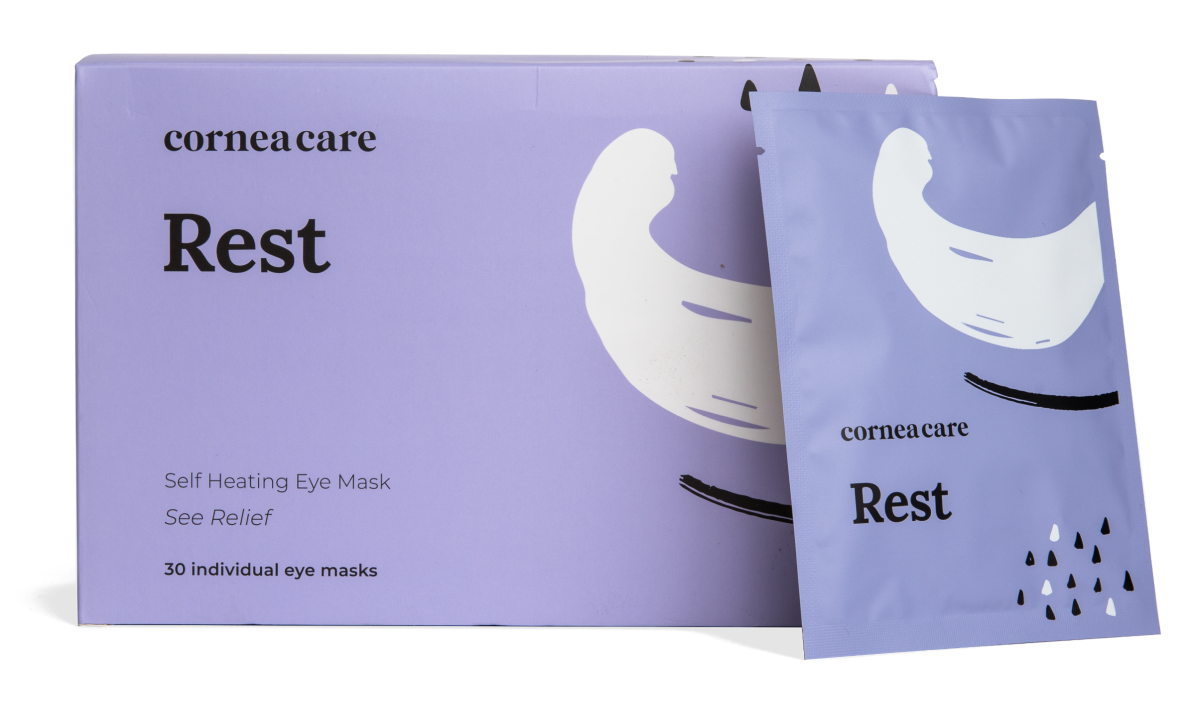 Perfect for eye dryness, fatigue, tearing, and puffiness of the eyelids. Free shipping 📦.
Treating Blepharitis
Your eye doctor (optometrist or ophthalmologist) can diagnose blepharitis through a thorough examination of your eyelids. Dandruff, rosacea, or oily skin are risk factors for blepharitis.1,2
Treatment options vary based on the subtype, cause, and severity of the condition, and may include:
Medications: Your eye doctor may prescribe antibiotic ointments or anti-inflammatory steroidal eye drops to manage bacterial overgrowth or inflammation. Artificial tears can ease irritation and redness.1,2
Lid hygiene practices: Proper eyelid hygiene is essential. Washing the lids with a gentle cleanser such as baby shampoo or CorneaCare eyelid wipes can be highly effective.2
Warm compresses: Applying warm compresses, such as a washcloth or CorneaCare self-heating warm compresses, helps open clogged oil glands and relieve symptoms.1
Control dandruff: Seborrheic dermatitis, a skin condition that can affect the eyelids, is associated with blepharitis. Using a dandruff shampoo or a medicated dandruff cleanser can help control this condition.3
Other interventions: In severe cases, in-office procedures such as Intense Pulsed Light (IPL) or Thermal Pulsation may be necessary to address blocked glands.4
It's essential to consult an eye care professional for an accurate diagnosis and appropriate treatment if you suspect you have blepharitis or are experiencing any of the associated symptoms.
Understanding Styes
A stye, also known as a hordeolum, is a common and often painful eyelid infection or inflammation. It occurs when one of the tiny oil glands (meibomian glands) at the base of an eyelash follicle becomes blocked. This blockage can lead to the development of a localized infection, typically caused by bacteria, most commonly Staphylococcus aureus.5
Signs and Symptoms
Here are some key characteristics of a stye:5
Pain and tenderness
Redness and swelling of the eyelid
Red, raised bump that resembles a small pus-filled pimple
Styes can develop on either the upper or lower eyelid and may occur in or near the eyelash line. An external stye is a visible red bump at the base of an eyelash follicle, where an oil gland becomes blocked and infected. An internal stye develops when an oil gland within the eyelid becomes blocked and infected. It may not be visible from the outside but can cause pain and swelling inside the eyelid.
Treating Styes
Styes are typically diagnosed through a straightforward examination by a medical professional. Avoid squeezing a stye, which can worsen the condition. Treatment options may include:5
Warm compresses: Applying a warm washcloth or CorneaCare self-heating warm compresses for 10 to 15 minutes throughout the day can help the stye drain naturally.
Antibiotics: Your healthcare provider may prescribe antibiotic drops or ointments to clear the infection.
Surgical drainage: In rare cases, a healthcare professional may need to drain the stye.
Most styes are not a cause for serious concern and tend to resolve on their own within a few days to a week with proper care and hygiene.

Perfect for eye dryness, burning, itching, grittiness, crusting/flaking of eyelashes and inflamed/swollen eyelids. Free shipping 📦.
Blepharitis vs Styes: Differences and Similarities
Now that we've explored blepharitis and styes, let's highlight the key differences and similarities between these two eyelid conditions.
Clinical Features
Blepharitis typically presents with a broader range of symptoms, including redness, eyelid swelling, itchy sensation, and crusting along the entire eyelid. Styes, on the other hand, often present as a localized, painful bump on the eyelid.
Causes
Blepharitis can be caused by bacterial overgrowth, meibomian gland dysfunction, dandruff, overgrowth of Demodex mites, or environmental factors. Styes, in contrast, are primarily caused by bacterial infections or obstructed oil glands.
Treatment
While warm compresses are beneficial for both conditions, blepharitis often requires a combination of medications, eyelid hygiene practices, and warm compresses. Styes also respond well to warm compresses, but may also require antibiotic treatments (oral or topical).
Preventing Blepharitis and Styes
When it comes to prevention, the two eyelid conditions have a lot in common. Preventing and managing both blepharitis and styes involves good hygiene practices and some simple lifestyle adjustments.
The following guidelines can help you reduce your risk:3,6
Hand hygiene: Always wash your hands thoroughly with soap and water before touching your eyes or eyelids.
Avoid sharing personal items: Don't share towels, washcloths, eye makeup, or contact lenses with others.
Proper contact lens care: If you wear contact lenses, follow strict hygiene practices, including thorough handwashing and disinfection of your lenses as prescribed by your eye care professional.
Manage allergies: Allergic reactions can lead to eye rubbing, which can contribute to eyelid conditions. Work with your healthcare provider to manage allergies effectively.
Avoid eye makeup: Give your eyelids a break from eye makeup and remove eyelash extensions, especially during flare-ups.
Replace eye makeup regularly: Eye makeup can harbor bacteria, so replace your eye makeup products, such as mascara and eyeliner, every few months.
Cleanse your eyelids: Incorporate regular eyelid hygiene into your routine. Use gentle CorneaCare eyelid wipes or warm water with a clean washcloth to gently clean the base of your eyelashes.
Warm compresses: Apply a warm, moist washcloth or a CorneaCare self-heating warm compress to the eyelids for 10 to 15 minutes. This helps to promote oil drainage and hydrate eyes.
Drink enough water: Proper hydration helps maintain the moisture balance in your eyes and eyelids, keeping them healthy.
Healthy diet: A diet rich in omega-3 fatty acids, such as those found in fish and flaxseed, may promote eye health.1 CorneaCare omega-3 supplements and specially formulated eye vitamins can help fill nutritional gaps.
Regular eye exams: Schedule regular eye exams with an eye care professional. They can detect and address any eye issues early, including styes and blepharitis.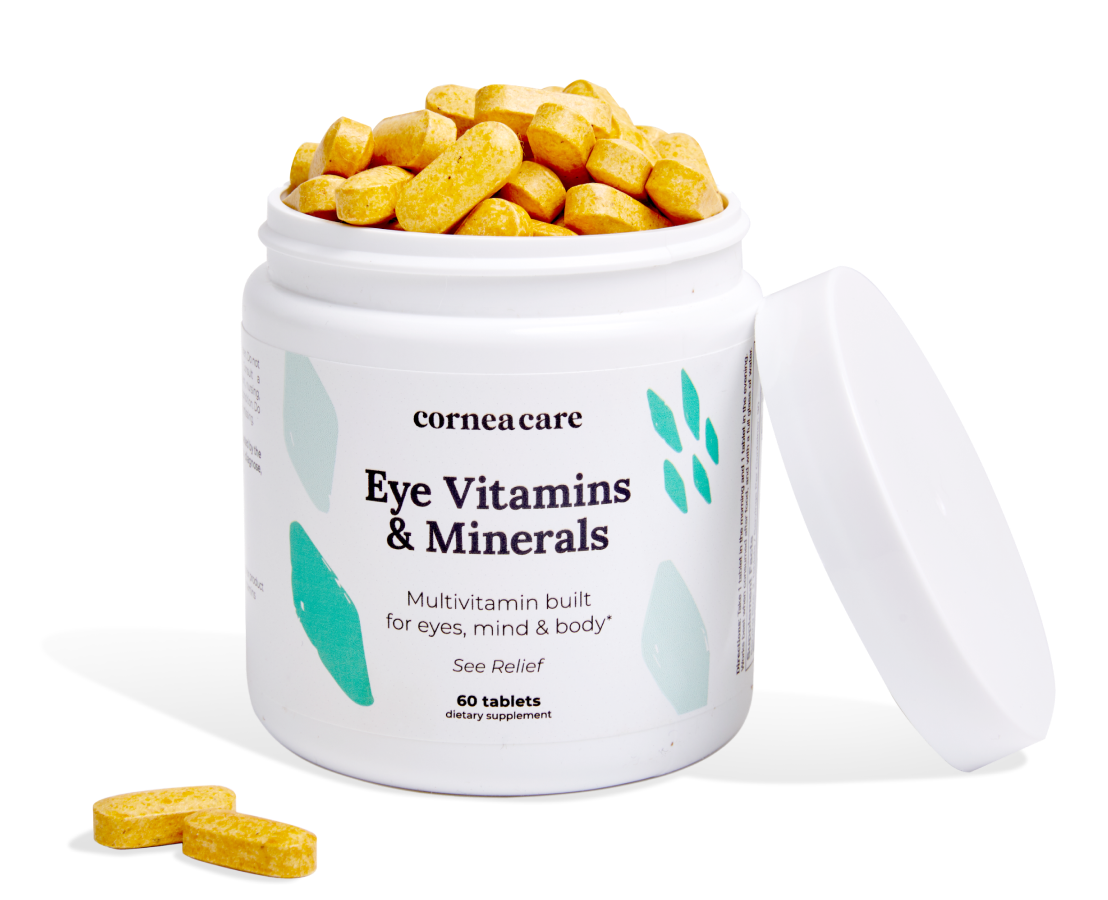 A single multivitamin to address the nutritional needs of your eyes, mind and body. 📦 Free shipping.
When to Seek Medical Attention
Knowing when to consult a healthcare professional is essential for both blepharitis and styes, as early intervention can prevent complications and ensure effective treatment.
Here are the signs and situations that should prompt you to seek medical attention:
Persistent or worsening symptoms
Severe pain or vision changes
Swelling spreads beyond the eyelid area to other parts of your face
Fever may indicate a more serious infection
Recurrent styes or a stye that enlarges
Recurrent or chronic blepharitis
Early diagnosis and treatment are essential for managing eye conditions effectively. If you're unsure whether your symptoms warrant medical attention, it's generally better to err on the side of caution and consult a healthcare provider. Your eye doctor can provide guidance, diagnose the issue accurately, and recommend appropriate treatment to help keep your eyes healthy.
Blepharitis vs Styes FAQ
Do you get styes with blepharitis?
Styes and blepharitis are related in that both involve the eyelids, but they are distinct conditions. While having blepharitis can increase the risk of styes due to inflammation and blockage of oil glands, they are not the same thing. You can have blepharitis without styes, and you can get styes without having blepharitis.
What aggravates blepharitis?
Blepharitis, a chronic inflammation of the eyelid margins, can worsen due to various factors and conditions. One significant aggravating factor is poor eyelid hygiene. Failing to clean the eyelids and eyelashes properly can allow debris, bacteria, and oily secretions to accumulate, further inflaming the eyelids. 

Additionally, allergies can exacerbate blepharitis symptoms, as allergic reactions can increase eye rubbing. Inadequate makeup removal can contribute to blepharitis by clogging the tiny oil glands along the eyelash follicles. Bacterial overgrowth, hormonal changes, certain dermatological conditions, and environmental factors like smoke or air pollution can also worsen blepharitis symptoms.
What is the difference between a stye and a blocked oil gland?
A stye is a localized, often painful infection or inflammation of an eyelash follicle, caused by a bacterial infection. It typically presents as a red, pus-filled bump on the eyelid.

A blocked oil gland, on the other hand, can be a component of various eyelid conditions, including blepharitis. It occurs when the meibomian oil glands become obstructed, leading to the accumulation of oil within the gland. This blockage can contribute to both blepharitis and the development of styes, especially if it gets infected or inflamed. Styes are typically more painful and visible, while blocked oil glands may not be as noticeable but can still contribute to eyelid discomfort.
Putting It All Together
Eyelid health is a fundamental aspect of overall eye health. Understanding the differences between blepharitis vs styes empowers you to take appropriate action when necessary. If you suspect you have either condition, don't hesitate to reach out to an eye care professional.
By practicing good hygiene and making necessary lifestyle changes, you can significantly reduce your risk of developing these bothersome eyelid issues. Remember, taking care of your eyelids is a vital step toward maintaining healthy, happy eyes. Your vision deserves the best care you can provide.
Want to take care of your dry eyes but not sure where to start?
What's Next
For more resources to help you make eye care a daily part of your self-care, read our Eye Health & Wellness blog!