Key points
A patient with dry eye disease can spend $750 – $2,200 per year on treatment.
Dry eye prescription drops often require prior-authorization from insurers and in-office procedures can cost anywhere from $500 – $1500 per procedure.
Being consistent with a simple regimen may be better than pursuing temporary prescriptions and procedures.
Keywords
Artificial tears, eye ointment, over the counter eye drops, prescription eye drops
Taking the first step
Dry eye disease (DED) can physically, emotionally, and financially affect you. People suffering from DED can spend hundreds to thousands of dollars a year on eye drops for dry eyes, office visits, in-office procedures, and dry eye prescription drops. Not to mention, the lost days of work and the cost of commuting to and from eye doctors (ophthalmologists and optometrists). We here at CorneaCare want to help you get dry eye relief, while keeping the cost of dry eye treatment in check. We make your eye care and eye health a priority.
No one taking your
dry eyes seriously?
A quick review of dry eye disease
Before getting into the cost of DED, let's review some basics. DED is also known as dry eye syndrome, keratoconjunctivitis sicca and ocular surface disease.1 The classic dry eye symptoms are blurred vision, light sensitivity, itchy eyes, eye strain, dryness, watery eyes, stinging or burning, gritty sensation and eye pain.
There are several causes of dry eyes, but we break them down into aqueous deficient and evaporative. With aqueous deficient DED, your lacrimal glands do not produce enough natural tears to lubricate the surface of the eyes (the cornea and conjunctiva). With evaporative DED, your body makes enough natural tears, but they evaporate too quickly. In reality, most forms of DED are a combination of aqueous deficient and evaporative, leading to tear film dysfunction.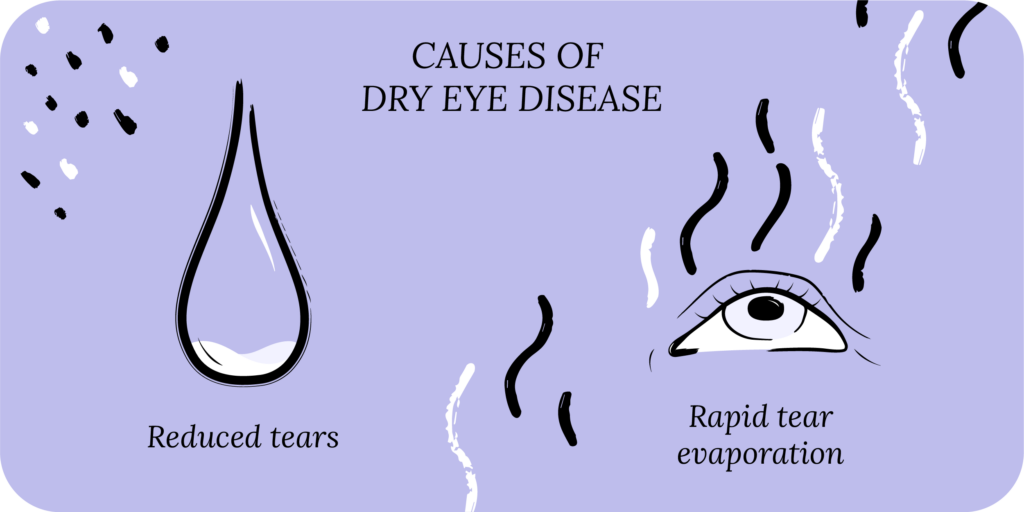 The treatment options for dry eye include over-the-counter (OTC) lubrication with eye drops (artificial tears), gels, ointments and eyelid hygiene (warm compress and eyelid wipes). A humidifier and air purifier can also help, as can using an oral dry eye supplement. In addition to lubricating eye drops, a person may require dry eye prescription drops and in-office ophthalmic procedures.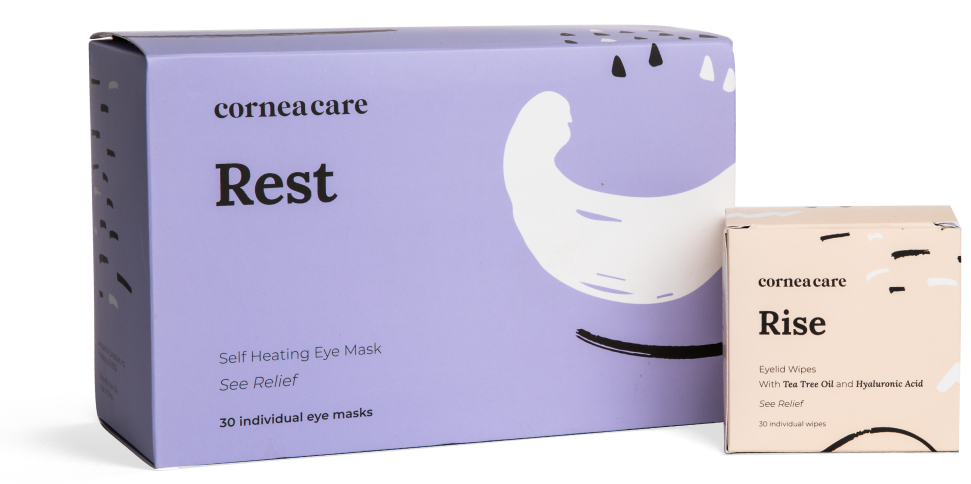 Perfect for eye dryness, burning, itching, crusting/flaking of eyelashes and inflamed eyelids. Free shipping 📦.
Over-the-counter eye drops for dry eye
Artificial tears are the most common eye drop for dry eyes. They come in two varieties: those with preservatives (most common), and those without preservatives, aka preservative-free. The most common preservative is called benzalkonium chloride (BAK).2 While preservatives make the artificial tears last longer on the shelf, they can have adverse effects on the surface of the eye. The typical artificial tears with preservatives can cost $6 – $16 for one bottle. Most preservative-free eye drops will typically range from $17 – $32 for a 30 day supply (single-use vials or bottles).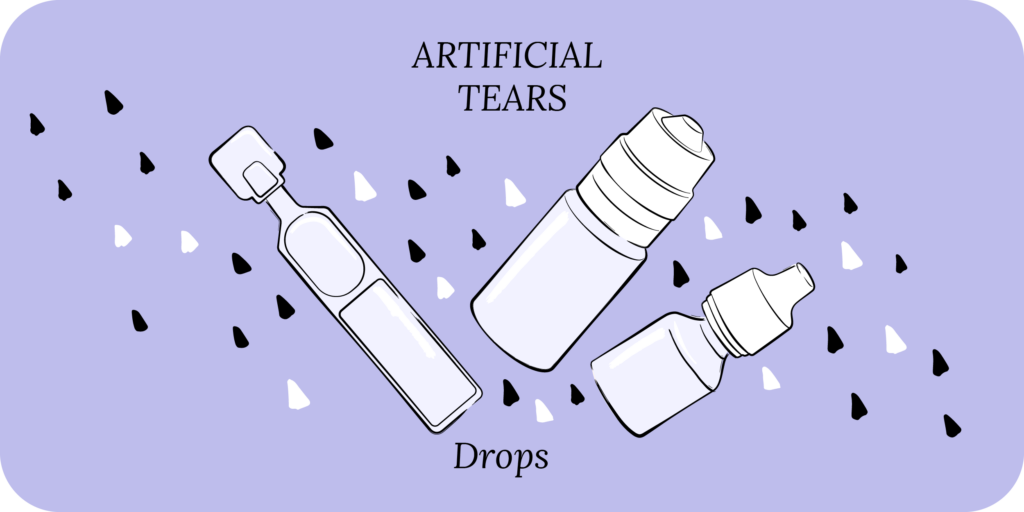 Other eye drops for dry eyes available over-the-counter include antihistamine drops (to reduce itchiness), "red eye" drops (to reduce eye redness), and drops containing menthol (to provide a cooling sensation). In general, most of these drops will contain preservatives, and can be harmful to the surface of your eyes in the long run.
The important thing to understand is that there is no "best eye drop" to treat dry eyes. Typically, using preservative-free eye drops is better for the eyes, especially if you're using drops more than 3-4 times a day. The "best eye drop" is the one that works for you, and is used consistently!
Gel and ointment for dry eyes
Eye gels and ointments can be an excellent option for individuals who wake up with dry eyes.3 You can develop dry eyes overnight for various reasons, and nightly gels and ointments can help prevent this. It's best to use them right before bedtime because they can significantly blur your vision. Ointments are thicker than gels, and will therefore blur your vision more. For individuals with severe dry eyes, we sometimes recommend gels and ointment during the day as well. Eye gels and ointments typically range from $8 – $20.
Dry eye warm compress and eyelid hygiene
In addition to lubricating the surface of your eyes with tears, gels and ointments, taking care of your eyelids is also an important eye treatment. In fact, the eyes and eyelids work together to maintain your tear film. Taking care of your eyelids typically requires warm compresses and/or eyelid wipes and sprays. You can either make a warm compress at home, or purchase a pre-made one for approximately $15 – $20. Alternatively, you purchase one-time use warm compress masks that are hygienic, don't require water or a microwave, but still deliver a therapeutic warmth. Eyelid wipes can cost anywhere from $10 – $20 for a 30 day supply, with higher quality wipes costing $25 or more. Eyelid sprays can range from $20 – $30.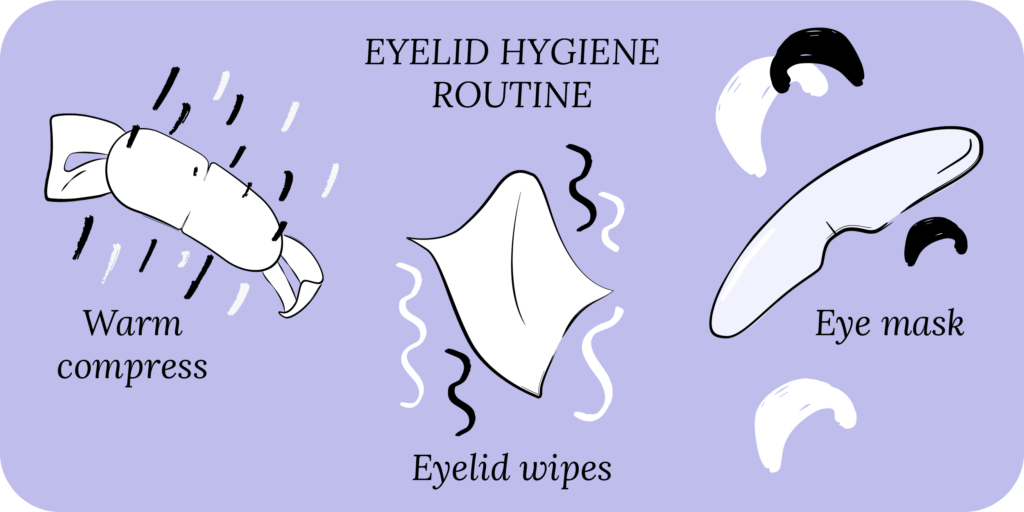 Dry eye prescription drops
When OTC treatments don't work, dry eye patients often turn to dry eye prescription drops.4 These include cyclosporine (Restasis and Cequa), and lifitegrast (Xiidra). These prescription drops work by improving tear production and reducing inflammation. In severe cases or during symptom flare-ups, we sometimes use loteprednol (Lotemax and Eysuvis), a low-strength topical steroid drop, to rapidly alleviate symptoms. Most recently, the FDA also approved a varenicline nasal spray (Tyrvaya), which increases natural tear production.
There are two main issues with dry eye prescription drops. One, it's important to realize that prescriptions are not a magic cure, and that they work best when used alongside an overall treatment plan. Two, many insurance providers will not cover dry eye prescription drops without prior authorizations, making it difficult to obtain coverage for some patients. The prior-authorization process can often take months.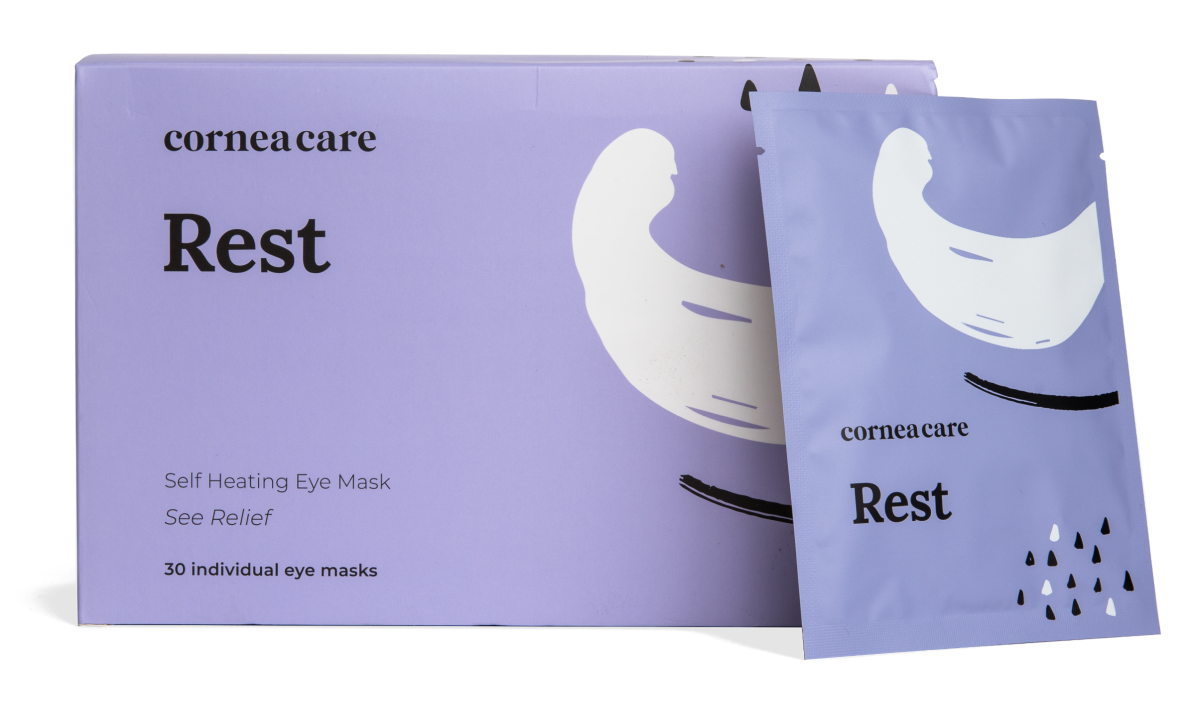 Perfect for eye dryness, fatigue, tearing, and puffiness of the eyelids. Free shipping 📦.
It's difficult to determine the costs of dry eye prescription drops because of the considerable variation in insurers and insurance plans. But typically, most come with a copay, which can range from $5 – $60. You may also have to pay for a portion of the prescription cost. And if your insurance doesn't cover the dry eye prescription drops, then the out-of-pocket expense is astronomical, upwards of $600 per month.
Dry eye supplements
Dry eye supplements can be a great addition to your overall treatment plan. Several key nutrients can help in dry eyes, including Omega-3 fatty acids, beta carotene (precursor for Vitamin A), coenzyme Q10, zinc and copper, vitamin E, vitamin C, vitamin B6, vitamin B12 and vitamin D. Most oral supplements for dry eyes range from $20 – $90, but typically don't contain all the necessary nutrients.
The environment plays a critical role in DED, and so other "supplements" include air purifiers ($50 – $250), humidifiers ($30 – $150), moisture chamber glasses ($35 – $100) and nighttime eye goggles ($30 – $75).5
Dry eye punctal plugs and other procedures
In cases where eye drops, gels, ointments, supplements and prescriptions don't cut it, some patients turn to in-office procedures.6 The most common approach is punctal plugs, which are placed into your tear drainage system in the eyelids. Punctal plugs block your tear drainage system, allowing for tears to stay longer in your tear film. Other procedures include different devices and gadgets to address your eyelids, and specifically the meibomian glands (oil glands that line the eyelid and are responsible for the lipid layer of your tear film). These procedures are intense pulsed light (IPL) therapy, LipiFlow, iLux, TearCare, BlephEx, Thermoflo and NuLids. In very severe cases, amniotic membranes can be placed on the ocular surface to reduce inflammation and assist in healing.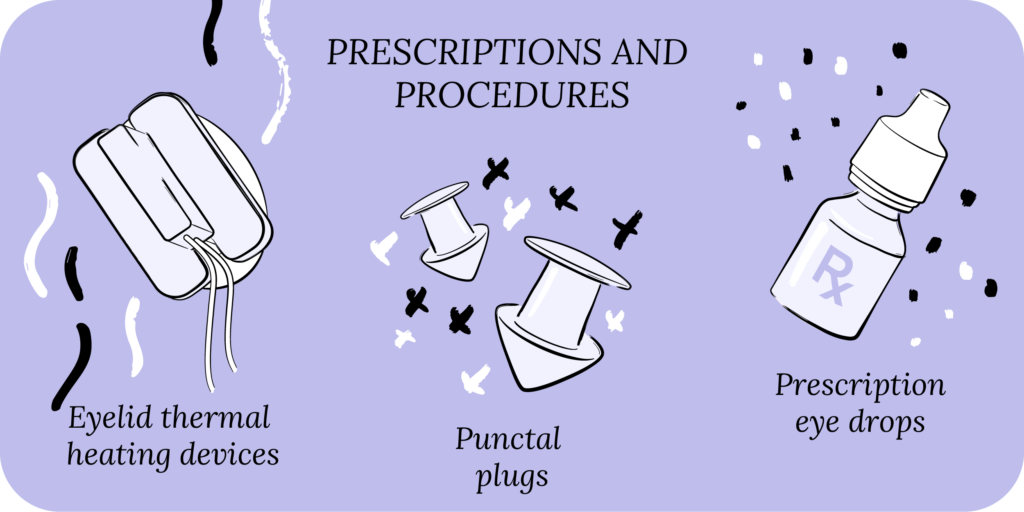 Aside from punctal plugs and amniotic membranes, most in-office procedures for DED are not covered by insurance. Therefore, you have to pay out-of-pocket, and the price can range from $500 – $1,500 depending on where you live.
While in-office procedures could be a good option, there are two issues with them. One is the lack of price predictability and transparency for these procedures. The price can vary dramatically depending on your location. The other is that these procedures are often marketed as quick fixes, but typically you need the procedure done multiple times. Moreover, just like with prescriptions, in-office procedures work best when used alongside a good overall treatment plan.

Perfect for eye dryness, burning, itching, grittiness, crusting/flaking of eyelashes and inflamed/swollen eyelids. Free shipping 📦.
Dry eye contacts
Wearing contact lenses can cause dry eyes, while DED can lead to what's called "contact lens intolerance" (the inability to wear contact lenses). Oftentimes, people who develop DED in contacts can try switching to daily contact lenses (discarded at the end of each day). However, this comes at an additional cost. While monthly contact lenses can cost $360 – $450 per year, daily contact lenses can cost $720 – $960 per year.7
In some cases, we may try scleral contact lenses, which are larger than your usual contact lenses. Scleral lenses cover a larger area over the cornea and provide a "moisture chamber" which prevents the ocular surface from drying out. Scleral lenses are typically custom-made and not covered by insurance. They can cost from $1,200 – $2,000.
Office visits for dry eyes
The average DED patient can have anywhere from 4 to 12 clinic visits a year! These are days when you might have to miss a half or full day of work. You also have the added stress and expense of traveling to and from the clinic. Depending on where you live, you may have to travel long distances to find an eye doctor, let alone a dry eye specialist. And when you finally get to the clinic, you have to deal with your co-pay, which can range from $10 – $100.
The cost of dry eye disease on the US healthcare system and society
Between office visits, prescription medications and procedures, the healthcare expenditure on DED is around $25 billion a year.8 Relatedly, the societal cost is nearly $55 billion a year, which includes lost wages, decreased work productivity, anxiety and depression associated with DED, traveling costs to and from clinic visits.
These are huge numbers, but they make sense. Nearly 30 million Americans suffer from dry eyes, and the related cost of dry eye treatment really add up.
Putting it all together
DED can impact you emotionally, physically and financially. The average dry eye patient can spend $750 – $2,200 a year on treatment to seek dry eye relief.9 However, this increased spending hasn't necessarily translated into better care. In fact, 50% of DED patients report that their providers underestimate their symptom severity,10 and between 50-65% are dissatisfied with their treatment.11 Oftentimes, a personalized regimen that relies on OTC treatments may be sufficient, if done consistently. Prescriptions and procedures can be a great addition, but only if used as part of an overall treatment plan. Let's come up with a treatment plan that addresses your physical and emotional needs, but also fits into your financial budget!
Want to take care of your dry eyes but not sure where to start?
What's next
We really think everyone should take our Dry Eye 101 course. Find it here!
If you've already taken it, amazing! Check out more articles in the Continuing Education section below.