Fake Eyelashes, Real Risks: Blepharitis from Eyelash Extensions
Eyelash extensions are a convenient way to beautify and lengthen the eyelashes. Instead of fumbling with self-adhesive drug-store false eyelashes and glue, you can see a professional who can apply them for you, and they last longer. The problem is that some people experience problems, like blepharitis, from eyelash extensions.
We hate to be the ones to rain on your beauty parade, but it's important to know the facts before considering any procedure that involves your eye area (and the rest of your body, too).
If you are thinking about getting eyelash extensions, read on. Learn more about blepharitis and why some people experience it after getting eyelash extensions. If you're already suffering from blepharitis from eyelash extensions, we'll share some ways to treat your eyelids.
Key Points
Eyelash extensions can be safe, but carry some risks to the eyelids, like blepharitis.
You can keep your eyes safe from complications by ensuring your lashes are applied by a professional in a proper setting.
Eyelid hygiene and other treatments are available if you develop blepharitis from eyelash extensions.
Want to take care of your eyes but not sure where to start?
Considering Eyelash Extensions
Before making any decisions that involve your eyes, eyelids or eyelashes, it's best to know the facts. You should never have to sacrifice comfort for beauty! Education is key in making informed decisions for your health.
If you are considering eyelash extensions, educate yourself on the procedure and the short and long-term risks. While we understand it's appealing to lengthen your lashes to achieve a glamorous look, this procedure may come at a price.
"Getting eyelash extensions is a personal choice, but take the necessary steps to avoid any eye complications, namely blepharitis," says Ophthalmologist Jovi Boparai, MD. "Be sure your salon uses the best ingredients that are safe for your eyes, and the procedure is done under sanitary conditions. Practicing good eyelid hygiene with eyelid wipes and warm compresses can also help treat and protect against blepharitis."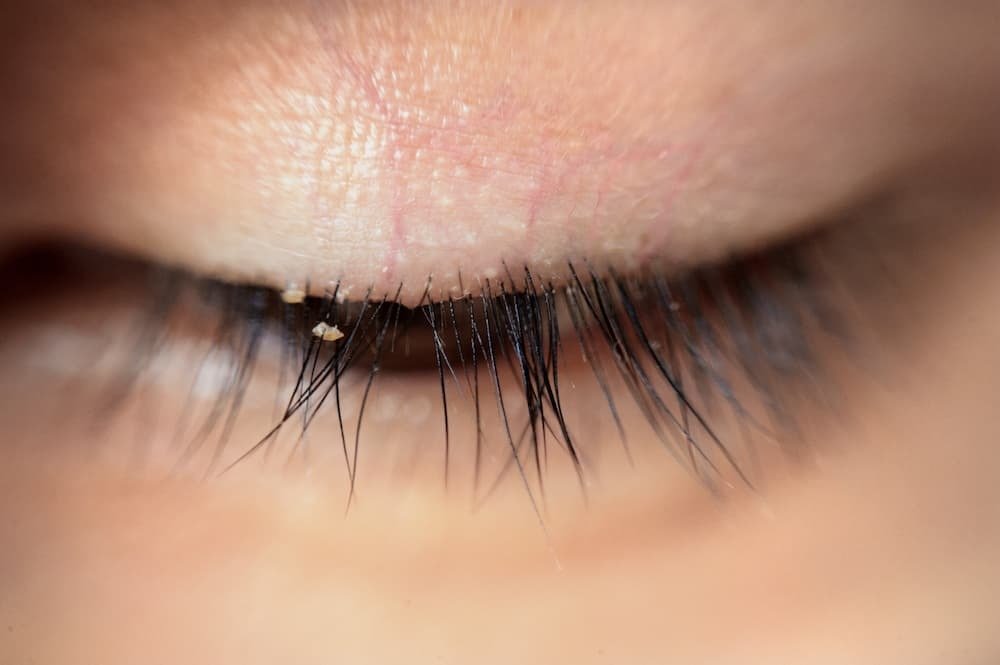 Understanding Blepharitis
Blepharitis is inflammation of the eyelids and is very common. There are various reasons why the eyelids become inflamed.
One form of blepharitis, anterior blepharitis, occurs because of bacterial growth.¹ Everyone has bacteria on the base of the eyelashes, but some people have excess. This excess bacteria can lead to infection and inflammation.¹
Anterior blepharitis can also happen because of Demodex, a microscopic mite that lives inside the eyelash follicles.² While Demodex lives naturally on our skin, in some individuals, they can over-populate. This infestation can lead to problems resulting in blepharitis.
Individuals experience posterior blepharitis from clogged oil glands (meibomian gland dysfunction).¹ People with rosacea and dandruff are more likely to experience posterior blepharitis.¹
Additionally, if you suffer from eye allergies (allergic conjunctivitis) or wear contact lenses, you are more likely to develop blepharitis.¹
Blepharitis is a leading cause of dry eye disease, a chronic condition caused by unstable tears. Dry eye disease is different from just occasionally experiencing dry eyes. With dry eye disease, symptoms are severe enough to interfere with daily life, like work and socializing. Over time, this contributes to mental health issues like depression and anxiety.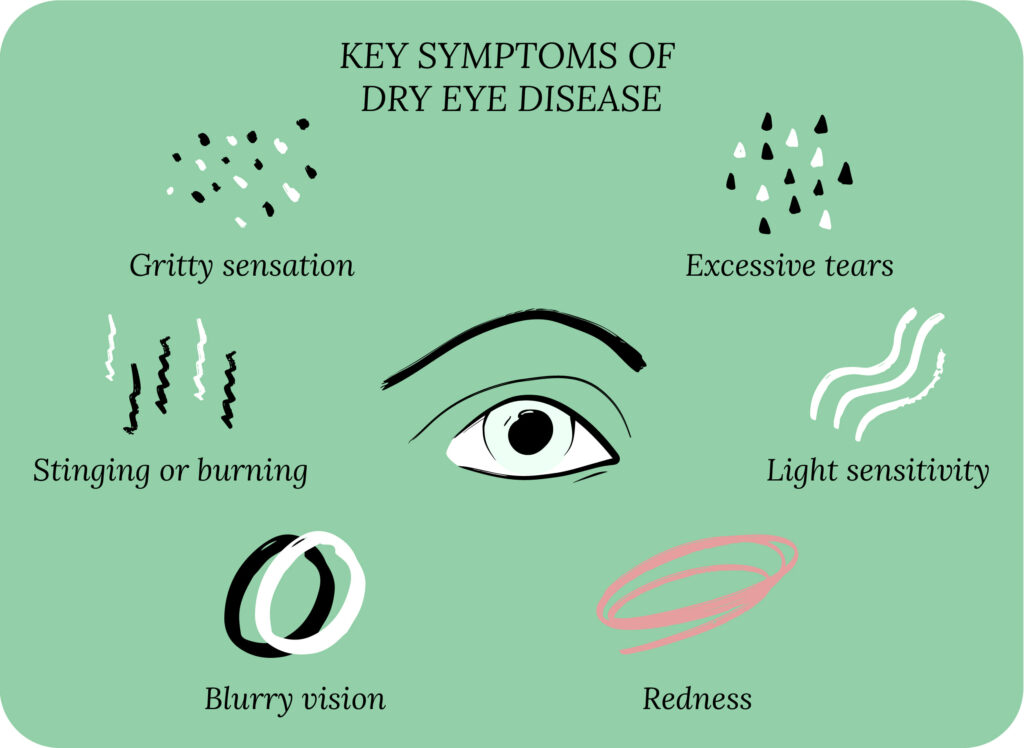 The comfort of your eyes affects your entire well-being, which is why it's important to know how to keep them feeling good.
Common Symptoms of Blepharitis
Blepharitis symptoms tend to be worse in the morning but can occur anytime during the day.³
Symptoms of blepharitis include:
Red, swollen eyelids
Dry eyes
Crusting eyelashes
Flaky skin around the eye
Flaking of the eyelashes
Itchy eyelids
Eyelids that "stick" together
Light sensitivity
Gritty or burning sensation
Blurry vision in some cases
Lash Extensions: What to Expect
Eyelash extensions can come in synthetic, silk or mink and in various sizes, shapes and thicknesses.⁴ Avoid materials that are allergens for you.
Only a licensed technician in a clean salon should apply lash extensions. They'll use sterile tweezers and special glue for application on the skin. The whole procedure can take up to two hours where you'll remain lying down with your eyes closed.⁴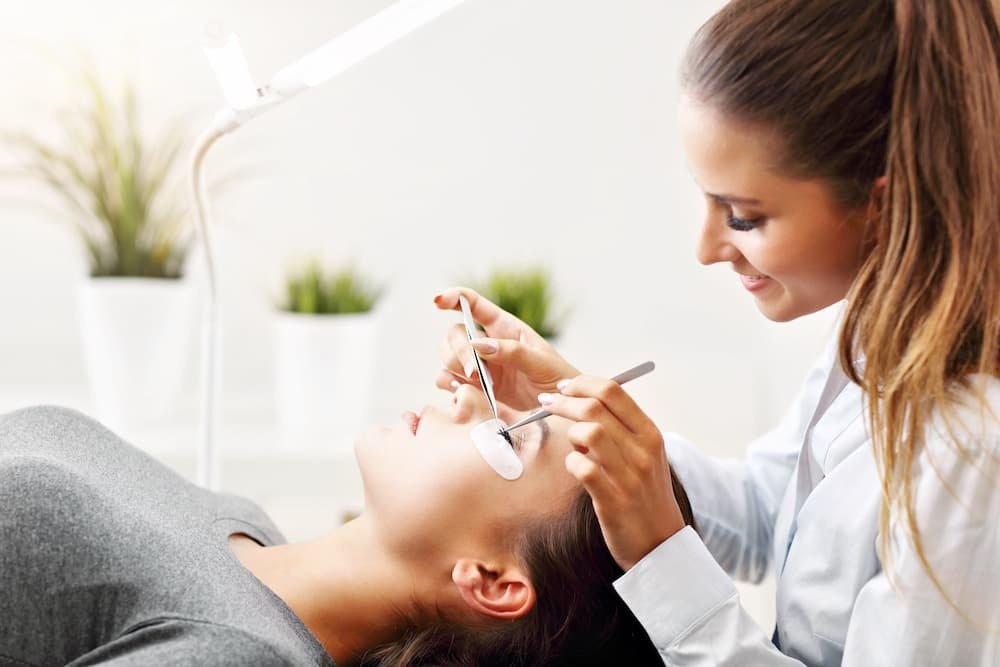 Eye Complications from Lash Extensions
In medical research on eyelash extensions, blepharitis accounts for 79% of complications after the procedure.⁵ Most of the complications from lash extensions are due to the glue that technicians use to apply the lashes to the eyelid follicles. However, infections can occur due to hygiene issues of the technician, tools or environment where the procedure is taking place.⁴
Most eyelash extension salons say that they use "safe" glue. However, the U.S. Food and Drug Administration (FDA) does not regulate eyelash glue.⁴
The glue adheres the lash extension to the natural lash at the base. It contains chemicals like cyanoacrylate, latex and ammonia.⁵ Formaldehyde is a by-product of these chemicals. Studies show that formaldehyde and the above chemicals can cause mild to severe contact dermatitis (allergic reaction on the skin), keratoconjunctivitis (inflammation of the cornea and conjunctiva), and blepharitis.⁵
Other complications can arise because of poor eyelid hygiene following the procedure. It may be difficult to properly cleanse the eyelids and remove eye makeup, especially mascara and eyeliner. Makeup can build up in the hair follicles and lead to infections and symptoms of blepharitis.⁵
You brush your teeth,
moisturize your skin,
what about your eyes?
Eyelash Extensions Best Practices
The best way to prevent blepharitis from eyelash extensions is to do your research, observe the salon environment and follow eyelid hygiene post-procedure.
Check reviews – what do other customers say about their experience?
Observe the room or environment for any noticeable hygiene issues. The technician should sanitize any tools that will touch your face.
Technicians should have a cosmetic license (required in most states in the U.S.).
Technicians should wear gloves or wash their hands immediately before touching your skin.
Ask for an ingredient list for the glue and any other products that will touch your skin. Check for any allergens.
Cleanse your eyelids daily using a safe lash cleanser or wipe. CorneaCare's Rise Eyelid Wipes are the perfect addition to your lash extension journey. They contain rejuvenating plant-based ingredients like hyaluronic acid and tea tree oil. Rise wipes gently remove build-up and leave the eyelids refreshed.
Apply a warm compress to your eyes nightly following the procedure. A warm compress, like CorneaCare's Rest Self-Heating Warm Compress, will help keep the oil (meibum) in your eyelid glands soft. This will help prevent build-up or clogged ducts.
Remove contact lenses before the eyelash procedure.
Do NOT remove lashes on your own, even if a reaction occurs. You could damage your eyes. See an eye doctor (optometrist or ophthalmologist) immediately.
Treating Blepharitis from Eyelash Extensions
We're here to tell you that if you contract blepharitis from eyelash extensions, you can typically treat symptoms at home.
Practicing good eyelid hygiene is the key to keeping blepharitis symptoms at bay. Eyelid hygiene includes eyelid wipes in the morning to remove build-up, a cold compress throughout the day when you experience flare-ups and a warm compress at night to wind down and relax the eyelid glands.⁴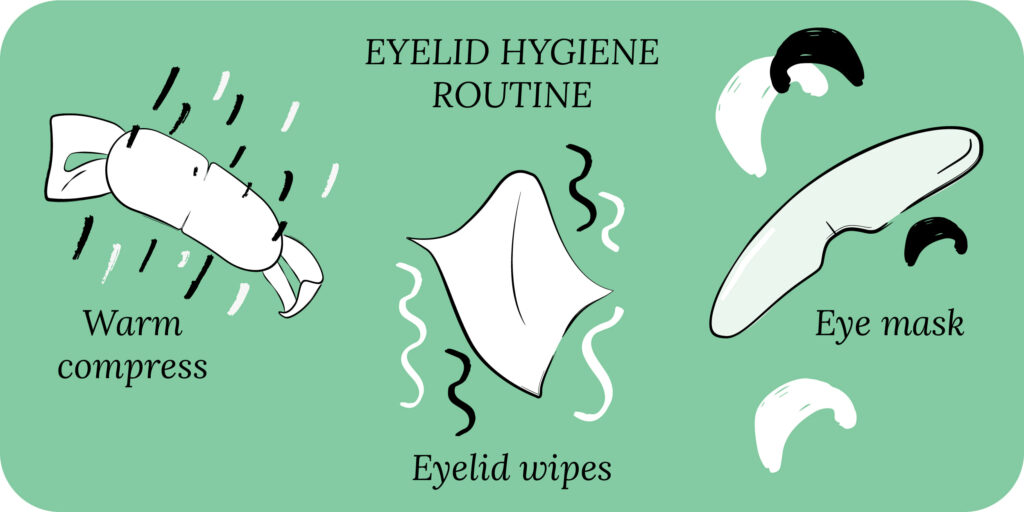 Your eye doctor may prescribe an antibiotic ointment, eye drops or oral medicine to treat the bacteria.⁴
Eyelid Wipes for Blepharitis
Eyelid cleansing is important for anyone, not just those suffering from blepharitis. We mentioned it is good to cleanse your eyes after eyelash extension application to prevent build-up. While your eyelash salon may recommend using baby shampoo to cleanse lashes, most eye doctors don't recommend that.
If you do end up experiencing symptoms of blepharitis, cleansing your lids with a safe wipe is a convenient and efficient way to remove build-up and reduce inflammation.
CorneaCare's Rise Eyelid Wipes use hyaluronic acid and tea tree to combat blepharitis, leaving your eyes hydrated and radiant.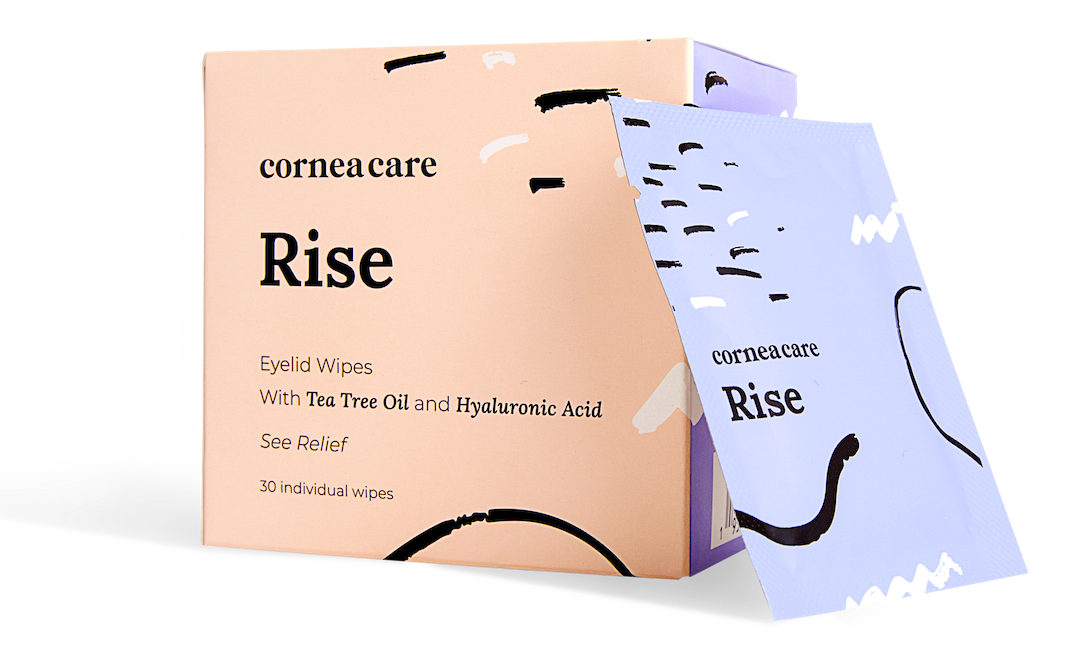 Perfect for eye dryness, itching, burning, and crusting/flaking of eyelashes. Free shipping 📦
Cold Compress for Blepharitis
If you experience blepharitis symptom flare-ups, your eyes probably feel inflamed. A cold compress is a great way to soothe and cool the eyes to feel some relief.
CorneaCare's Rescue Self Cooling Hydrogel Cold Compresses are formulated with natural plant extracts and provide immediate cooling relief for 15 minutes. No freezer needed!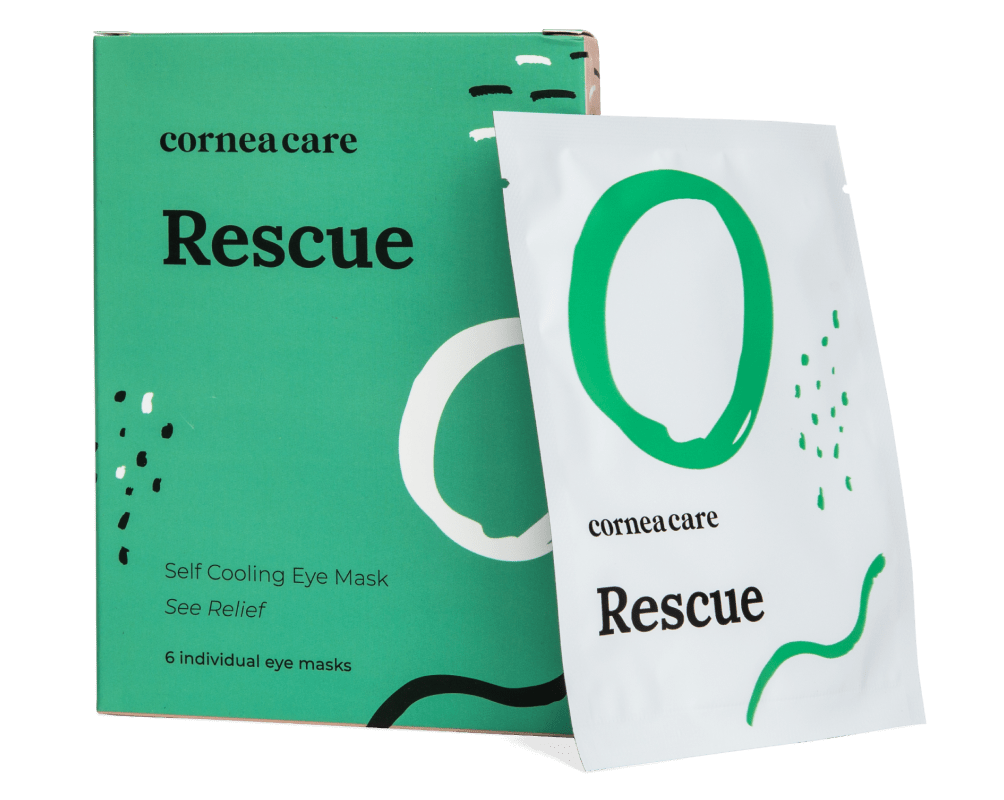 Perfect for sudden flare-ups of eye dryness, pain, burning, and swollen/inflamed eyelids. Free shipping 📦.
Warm Compress for Blepharitis
A warm compress is a great way to treat blepharitis symptoms because it will help to loosen the meibum in the meibomian glands that line the eyelids.⁷ This helps the glands to open and allows for a smoother passage of oils, which leads to less build-up.⁷
As an alternative to microwaving a sock filled with uncooked rice, or wetting a cloth with hot water, you can choose to use a premade warm compress. CorneaCare's Rest Self-Heating Warm Compress is a great way to wind down at night, wherever you are. Each compress is individually wrapped and stays warm for up to 30 minutes. No microwave needed!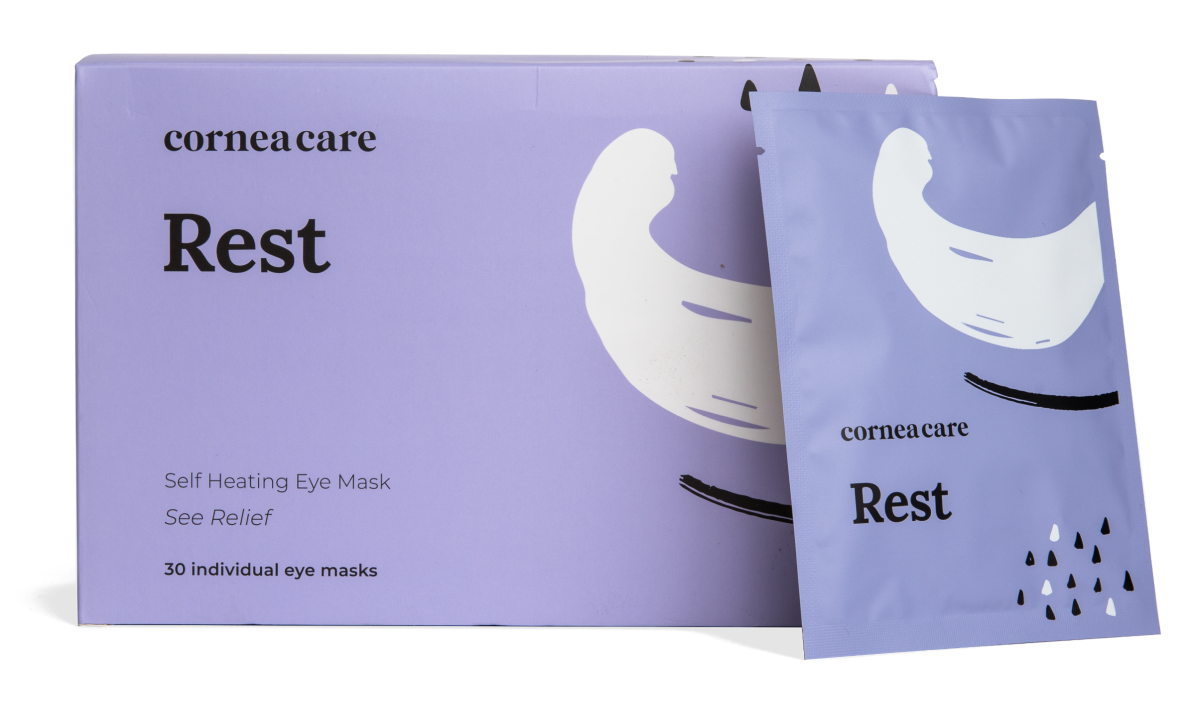 Perfect for eye dryness, fatigue, tearing, and puffiness of the eyelids. Free shipping 📦.
FAQs
Does blepharitis go away?
Experts say blepharitis never completely goes away. However, you can reduce symptoms and treat flare-ups with simple at-home solutions including cleansing the eyelids daily and using artificial tears as needed. Cold compresses can ease flare-ups during the day and a warm compress in the evening can improve symptoms.
Can you get blepharitis from eyelash extensions?
Blepharitis is a common condition with symptoms including red, swollen eyelids and crusty flakes in the eyelashes. Getting eyelash extensions can lead to blepharitis due to poor hygiene practices or an allergic reaction to the glue used. Reduce the risk by practicing daily eyelid hygiene and choosing a licensed aesthetician.
How do you treat blepharitis from eyelash extensions?
At-home treatments can help a mild case of blepharitis. Cleanse your eyelids daily with a gentle eyelid wipe. Use cold compresses for flare-ups and a warm compress over your eyes in the evening. Avoid wearing make-up and contact lenses with blepharitis. For severe symptoms, see your eye doctor for treatment which may include antibiotic ointment or eye drops.
Can you get lash extensions if you have blepharitis?
Getting eyelash extensions with an active case of blepharitis is not recommended. Treat first with eyelid wipes, artificial tears and a warm compress until symptoms clear. To reduce the risk of complications, see your eye doctor.
Can I get eyelash extensions with dry eye syndrome?
If you have dry eye syndrome, eyelash extensions may increase your risk of complications, including blepharitis, meibomian gland dysfunction and worsening dry eye symptoms. You can minimize these risks by first addressing your dry eye syndrome with good eyelid hygiene, preservative-free artificial tears, and eye-healthy lifestyle changes.
Putting It All Together
Ultimately, the choice to get eyelash extensions is yours. Yes, there are risks, but you have to decide if those risks outweigh the benefits of having beautiful, long lashes. However, we think your eyes are beautiful just as they are!
No matter your decision, making eyecare a part of your self-care should be a priority. We are born with only one set of eyes and we use them every day to do every single task (yes, even sleep!).
Practicing good eyelid hygiene is a tool you can use to prevent and treat many common eye conditions to help you live a happy and fulfilling life.

Perfect for eye dryness, burning, itching, grittiness, crusting/flaking of eyelashes and inflamed/swollen eyelids. Free shipping 📦.
What's Next
Curious what else you should be doing to care for your eyes? Learn more by visiting our Eye Health and Wellness blog.