Key Points
Dry eye disease is a chronic condition that affects 30 million Americans.
While some dry eye patients use baby shampoo for dry eyes, there are more effective ways to combat symptoms of dry eye disease.
Practicing eyelid hygiene and using artificial tears are safer and more effective ways to treat dry eyes.
No one taking your
dry eyes seriously?
Keywords
Baby shampoo, blepharitis, dry eye disease, eyelid hygiene, meibomian gland dysfunction
Taking the First Step
The cost of taking care of your dry eyes can really add up. While it may be tempting to use cheaper alternatives for treatment options like baby shampoo for dry eyes, you may not experience the same relief as you would with products made specifically for the eyes and eyelids.
Using baby shampoo as part of an eyelid hygiene routine to treat dry eye disease may not be the best solution. Instead, it's best to understand what's causing your dry eyes in the first place, and learn ways that you can make lifestyle modifications and practice safe, daily eyelid hygiene that works to relieve symptoms. While dry eye disease is a chronic condition, it is treatable with consistency and patience. CorneaCare is here to help you on your treatment journey!
What Causes Dry Eye Disease?
Dry eye disease (DED), also known as dry eye syndrome; keratoconjunctivitis sicca; and ocular surface disease; is a chronic condition caused by unstable tears and inflammation. DED leads to symptoms such as watery eyes, burning, redness, irritation, gritty sensation and blurry vision.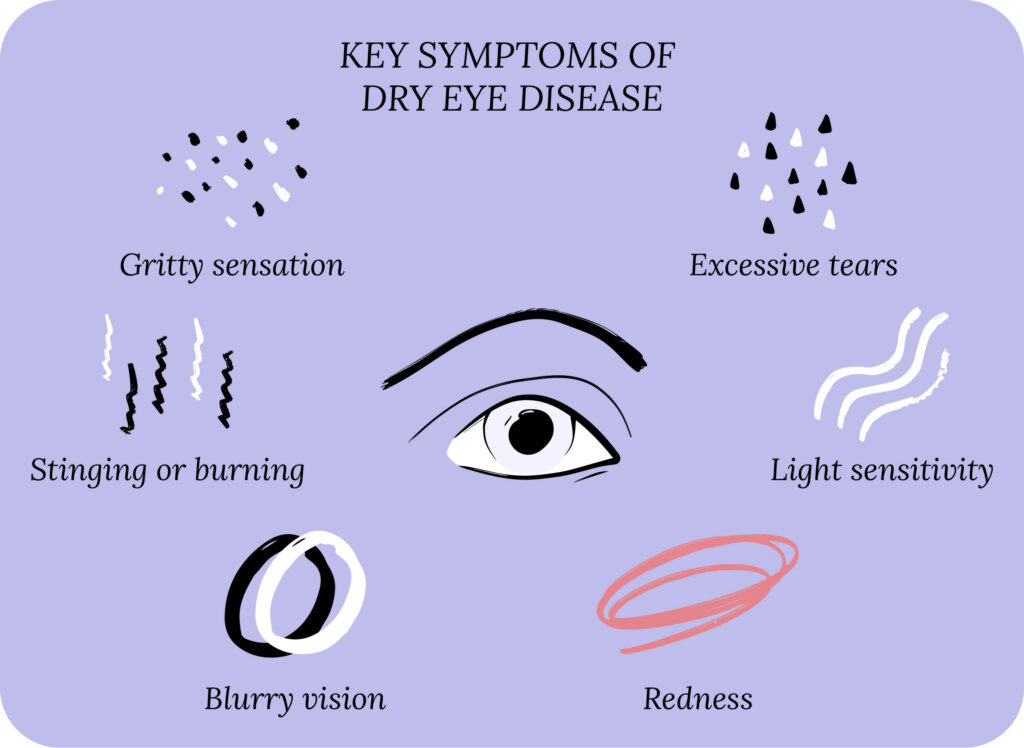 In addition to the physical symptoms, DED affects your emotional, social and mental health. 30 million Americans suffer from DED, so you or someone close to you is likely experiencing symptoms.
Two Types of DED
DED has two main types: decreased production of tears (aqueous deficient) and rapid evaporation of tears (evaporative).¹ Most DED patients have a combination of the two types.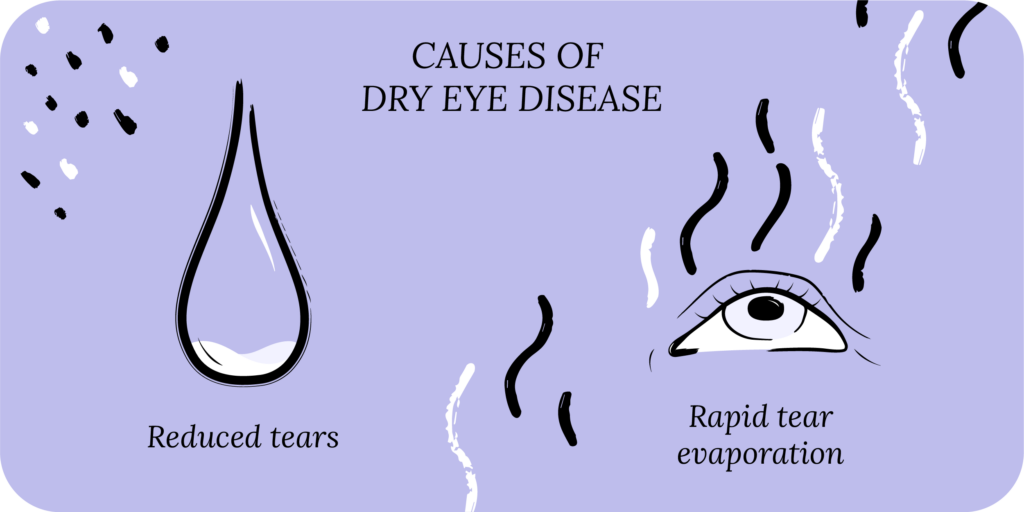 Let's cover aqueous deficient dry eye first. The lacrimal gland naturally produces tears. The lacrimal gland can malfunction due to infection, illness or inflammation, leading to decreased production of tears. Another reason tear production may decrease is due to a disruption in the link between the cornea and lacrimal gland. When the cornea is dry, it signals the lacrimal gland to produce more tears. If this communication loop is disrupted, tear production may decrease.²
In addition to decreased tear production, you could have increased tear evaporation, leading to DED symptoms. Your tear film is made up of three unique layers: the mucin layer, the aqueous layer and the lipid layer. The mucin layer is made up of molecules that allow it to bind to the cornea's surface. The aqueous layer then sits on top of the mucin layer, and the lipid layer sits on top of the aqueous layer.²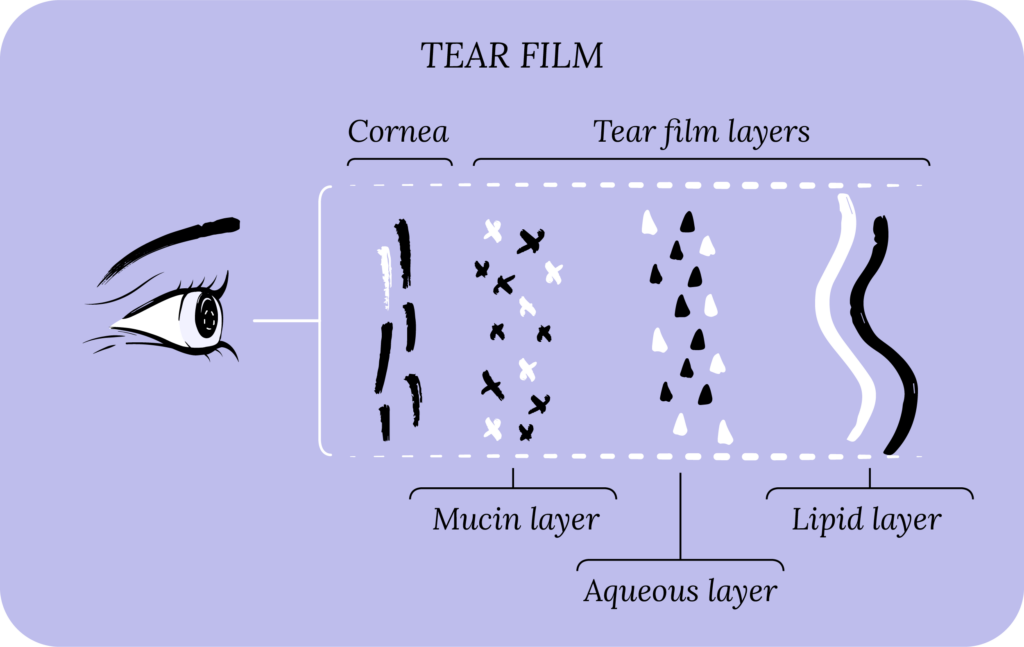 All three layers work in harmony to stabilize the tear film, and prevent tear evaporation. It makes sense that if the surface of the cornea is damaged, it may not bind to the mucin layer. Or, if there is a decrease in oil production for the lipid layer, your tear film may not be stable.²
Eye Conditions Like Blepharitis and Meibomian Gland Dysfunction (MGD) Can Cause DED
Blepharitis is a painful eye condition that causes inflammation of the eyelids. Symptoms of blepharitis include red and itchy eyelids crusted with tiny dandruff-like scales.³ Blepharitis can be located on the interior of the eyelid (posterior blepharitis) or exterior (anterior blepharitis). Anterior blepharitis is caused by bacteria, dandruff on the scalp or eyebrows, or mites (called Demodex), while posterior blepharitis is caused by meibomian gland dysfunction, which can also lead to bacteria proliferation.³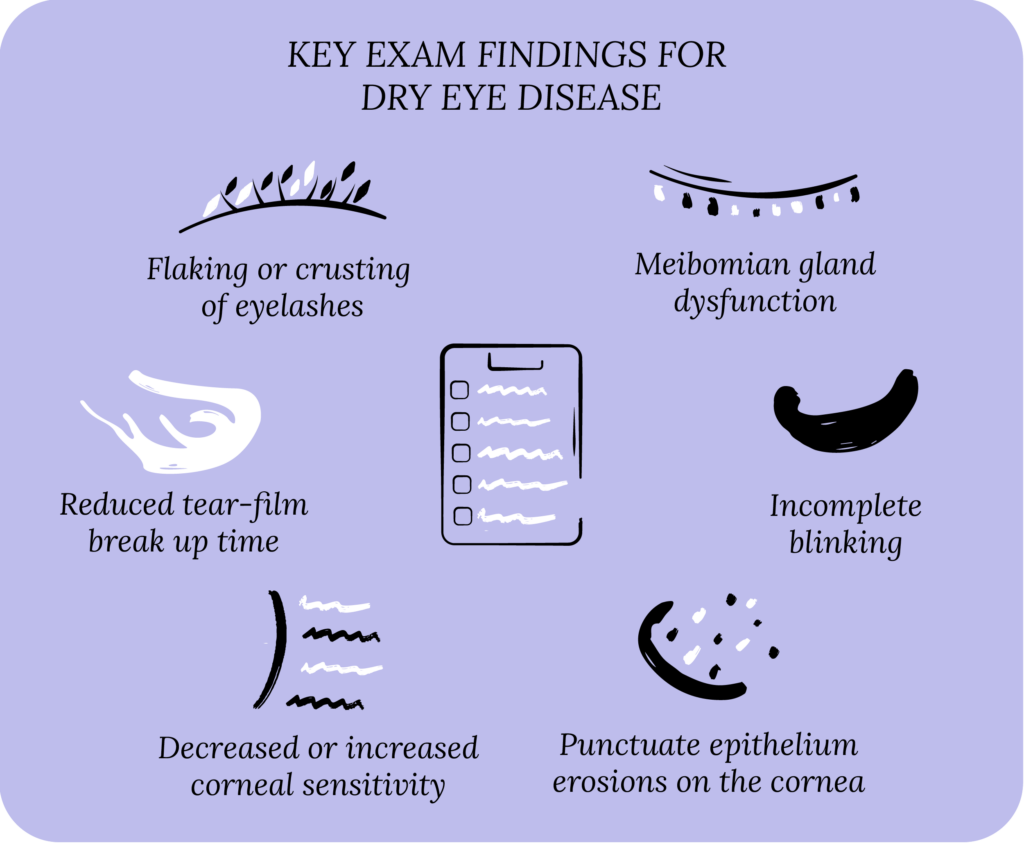 Meibomian gland dysfunction (MGD) is another eye disorder caused by a disruption in the meibomian glands located in the eyelid. Meibomian glands produce meibum, a mixture of lipids (oils) and some proteins, which make up your lipid layer in the tear-film Meibum is delivered to the eyelid margin and then spread across the ocular surface when you blink. The lipids in the meibum help slow down the evaporation of tears, which keeps your eyes moist. Signs of MGD are similar to typical DED symptoms like burning, itching, grittiness, and foreign body sensation. n eye doctor (ophthalmologist or optometrist) can use specialized equipment to closely inspect the meibomian glands and identify atrophy.⁴ If left untreated, MGD can lead to DED and blepharitis.
Medical Conditions and Medications Associated with DED
Were you aware that health conditions can cause dry eyes? Rosacea, dermatitis, cancer, diabetes, high blood pressure, pregnancy and menopause are just a few of the many medical conditions that lead to dry eye symptoms. Autoimmune conditions, such as Sjögren's syndrome and rheumatoid arthritis are associated with DED. Thyroid problems leading to thyroid eye disease can cause dry eyes.
Several oral medications have side effects that cause dry eyes by decreasing tear production or causing tear film instability. These medications include antihistamines, beta blockers, antidepressants, birth control pills, isotretinoin (Accutane), diuretics, decongestants, chemotherapy, and hormone replacement therapy.⁵
Wearing Contact Lenses and DED
Contact lens wear is another common cause of DED. It is likely that you or someone you know wears contact lenses because 45 million people in the US use them.¹⁰ Many people do not follow good contact lens hygiene and often sleep or shower in their contacts. Poor contact lens hygiene can lead to DED and other injuries to the cornea.
How Lifestyle Affects DED
Where and how you live may play a key role in the development of your dry eye symptoms. People living in dry (low humidity) or windy places can develop DED. Very sunny places with high ultraviolet (UV) indexes can worsen dry eye symptoms. Your inside environment also plays a role in DED. Low humidity in the house may destabilize your tear film. Sleeping under an air vent or in front of a fan will cause tears to evaporate too quickly.⁶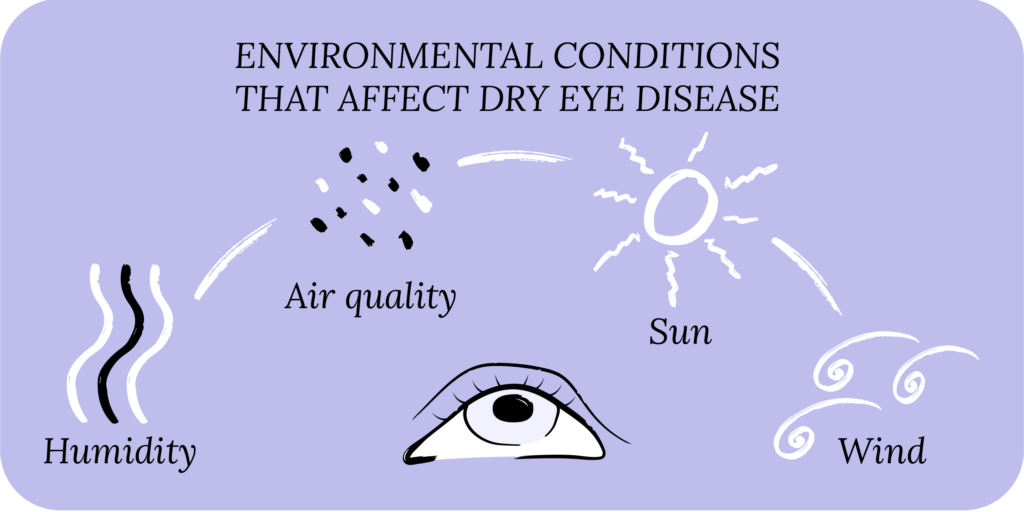 Poor nutritional health from a diet low in essential vitamins, minerals and omega-3 fatty acids can trigger dry eye symptoms, as can not drinking enough water. And, it goes without saying these days, smoking cigarettes or too much exposure to cigarette smoke can cause DED.
Is Baby Shampoo for Dry Eyes Safe?
You might be thinking, "What could be safer for the eyes than a cleanser used on sensitive baby skin?" Baby shampoo may not be the most effective solution for inflamed eyelids and can cause eye irritation in some individuals. There are a few reasons for this. The first is that baby shampoo is not manufactured to be used on the eyes. While some of it gets into the eyes when bathing a baby (even when we try so hard not to let it!), it still isn't an eye product. For people experiencing dry eye symptoms, it's best to have specific products that work in harmony with your eyelid glands to promote healthy tear production. Second, while baby shampoo contains mild detergents, these detergents still contain ingredients like sulfates and synthetic fragrances that can cause dermatitis (inflamed skin leading to redness and itchiness) in some individuals.⁷ As if your DED hasn't caused enough of those symptoms on its own!
Other Ways to Get Relief from DED
There are safer and more effective alternatives than baby shampoo for dry eye symptoms. Practicing good eyelid hygiene, along with finding an artificial tear that works for you should help relieve your symptoms.
Eyelid Hygiene
You brush your teeth, moisturize and cleanse your skin and file your nails, but what about your eyes? One of the best ways to care for your dry eyes at home is with an eyelid hygiene routine. Practicing eyelid hygiene as part of your self-care is a great way to relieve dry eye symptoms.
Common eyelid hygiene practices include eyelid cleansing with eyelid wipes, warm compresses, and cold compresses. These practices are at your disposal anytime during the day, depending on your situation and your unique symptoms.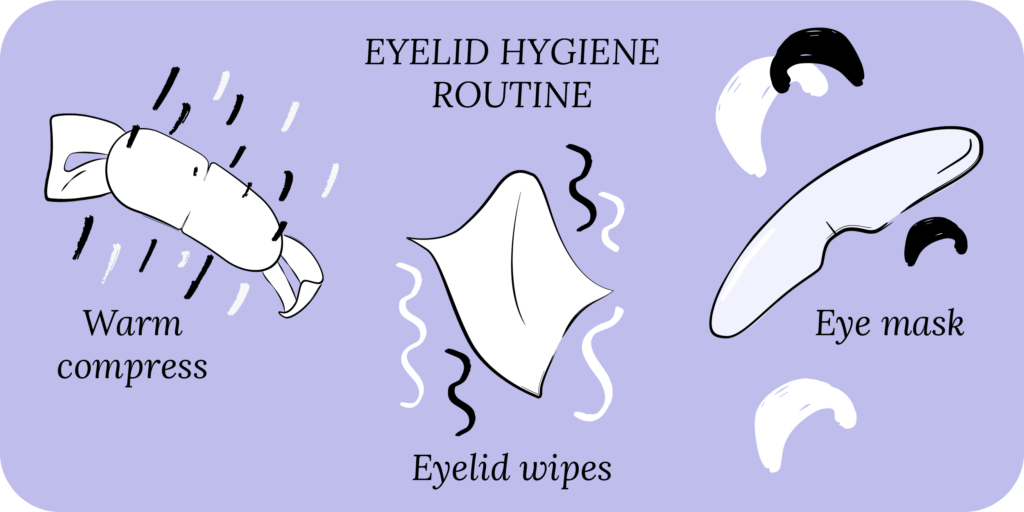 Warm Compress
Many DED patients enjoy relaxing at night with a warm compress on their eyelids. Warm compresses improve meibomian gland function and promote oil secretion, which helps to stabilize your tear film and prevent rapid tear evaporation.⁸ You can make a warm compress at home the same way you would a cold compress (but with warm water and a washcloth). For a more convenient option, try CorneaCare's Rest Self-Heating Warm Compress which doesn't require water, a washcloth or a microwave.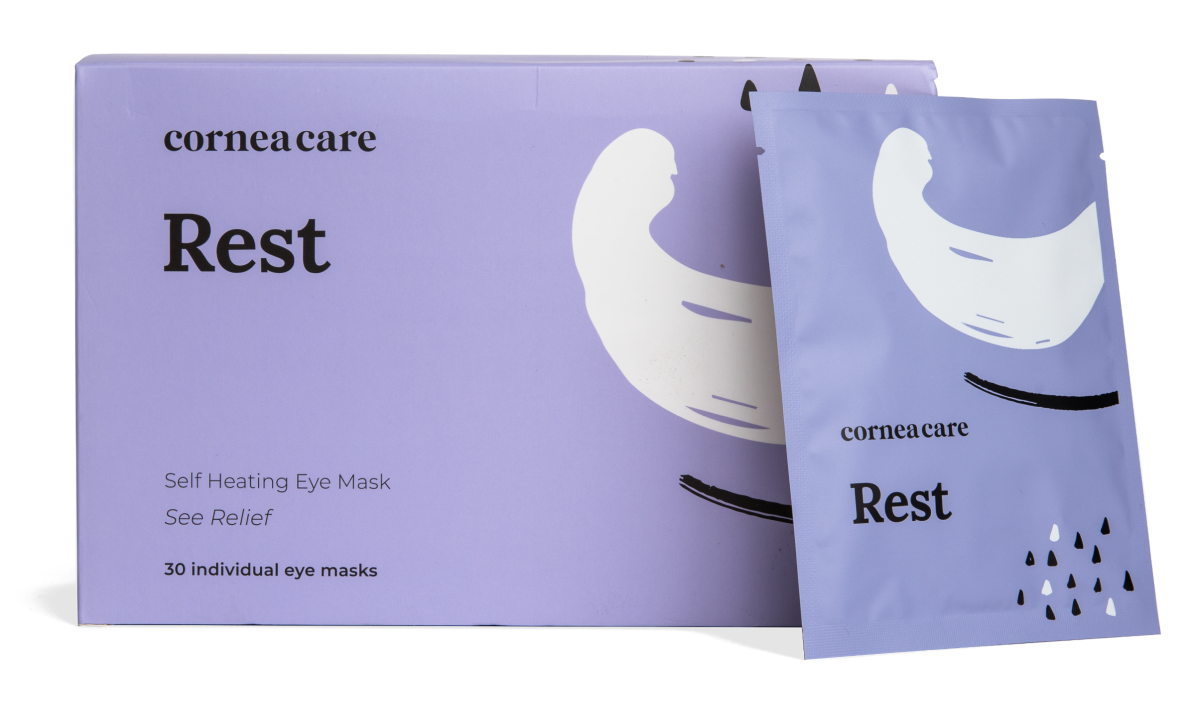 Perfect for eye dryness, fatigue, tearing, and puffiness of the eyelids. Free shipping 📦.
Cold Compress
Applying a cold compress to your eyelids throughout the day when experiencing DED symptoms is a great way to care for your eyelids and rejuvenate your eyes. A cold compress can be made by wetting a soft cloth with cold water and applying it to your eyelids for 5-10 minutes. Ice cubes or cold packs in skin-safe packaging is another option. For a more convenient option, you can try CorneaCare's self-cooling Rescue Cold Compress eye mask that doesn't require water, ice, or a freezer.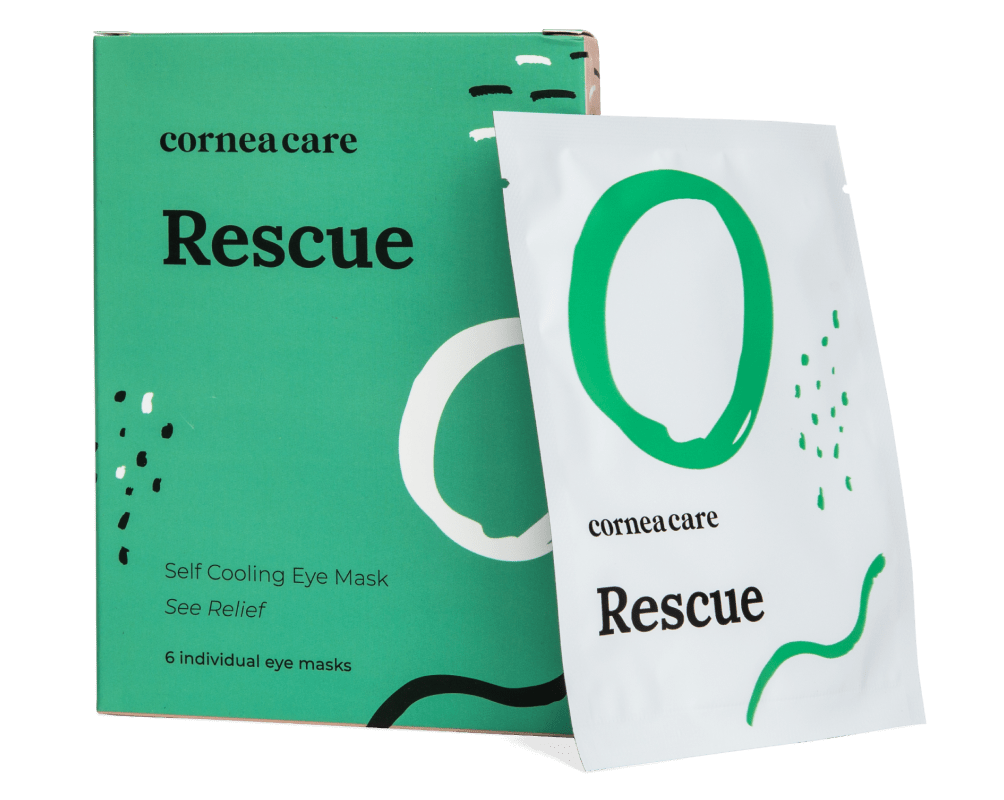 Perfect for sudden flare-ups of eye dryness, pain, burning, and swollen/inflamed eyelids. Free shipping 📦.
Eyelid Wipes
Many eyelid wipes are available on the market intended to cleanse and moisturize the eyelids. CorneaCare's Rise Eyelid Wipes contain hyaluronic acid and tea tree oil that work together to combat DED, MGD and blepharitis by clearing up debris caused by oil back-up and by alleviating inflammation. Use in the morning or whenever works best as part of your routine.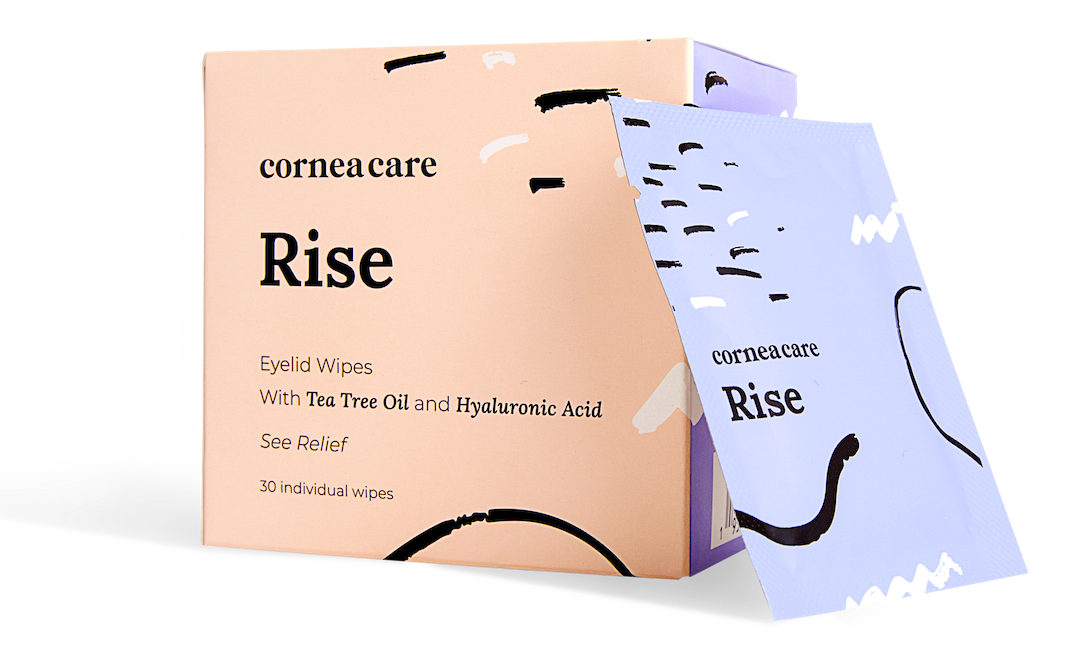 Perfect for eye dryness, itching, burning, and crusting/flaking of eyelashes. Free shipping 📦
Artificial Tears
Most DED patients find that using over-the-counter or prescription artificial tears consistently helps bring comfort to their dry eyes. Lubricating eye drops, ointments and gels replenish your tear film. Preservative-free artificial tears are better for the ocular surface than those containing preservatives. Unfortunately, there is no "one" best eye drop because everyone experiences DED differently. The best artificial tear is the one you use consistently, as instructed by your eye doctor (optometrist or ophthalmologist). Most eye doctors recommend using artificial tears 4-6 times a day and sticking with the same product for 1-2 months before moving to another.⁹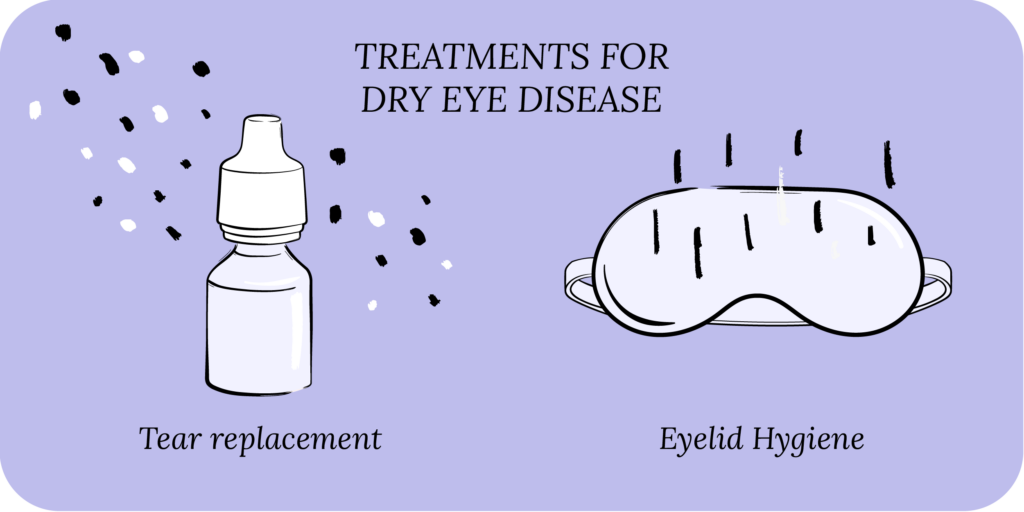 Putting It All Together
Baby shampoo likely won't effectively alleviate your dry eye symptoms. Because DED has many causes, it's important to understand what is leading to your dry eye symptoms in the first place. Making small lifestyle modifications can make a significant difference in tackling your DED. Eating a balanced diet, drinking enough water, avoiding cigarette smoke, and humidifying your indoor environment may ease your symptoms. Practicing good eyelid hygiene is an effective way to improve your natural tears and address dry eye symptoms. If you can incorporate these tips into your daily self-care routine, you might just notice that not only do your eyes feel more comfortable, but you feel better overall.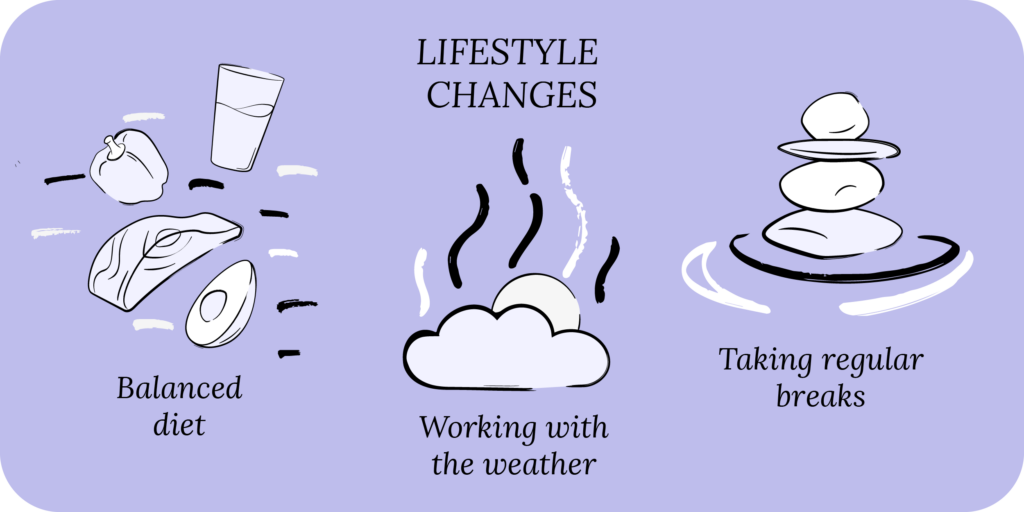 What's Next
To learn more about dry eye disease, sign up for our Dry Eye 101.
Want to take care of your dry eyes but not sure where to start?