We know you focus on maintaining clear vision, but you may overlook the important role your eyes play in maintaining balance and spatial orientation. There are many causes of dizziness, and some are related to your vision and related eye problems. By understanding the connection between eye health and dizziness, you can take proactive steps to protect your vision and overall health.
Dizziness is a common sensation you've likely experienced at some point. It's characterized by a feeling of lightheadedness, unsteadiness, or a false sense of spinning or movement, even when you're stationary. Dizziness can vary in intensity and duration, ranging from mild and momentary to severe and prolonged.
In this article, we're going to explore the connection between vision problems and dizziness. You'll discover how your eyes and inner ears work together to help you remain balanced.
Key Points
Vision and other eye problems could be the cause of your dizziness.
Your eyes work together with your inner ear to keep you balanced.
Eye conditions, including untreated refractive errors, as well as inner ear disorders such as benign paroxysmal positional vertigo (BPPV), can contribute to dizziness.1,2
You brush your teeth,
moisturize your skin,
what about your eyes?
Common Symptoms of Dizziness
Dizziness can manifest in various ways. It may be mild and occur rarely and cause you no bother. However, dizziness that recurs frequently or in combination with other symptoms shouldn't be ignored.
Some of the symptoms of dizziness include:3
Lightheadedness or feeling faint
Vertigo (spinning sensation)
Unsteadiness
Floating or rocking sensation
Nausea or vomiting
Sweating
Headache
Common Causes of Dizziness
The focus of this article is the link between dizziness and eye problems. However, there are many other causes of dizziness including underlying conditions that may require diagnosis and treatment, such as:3
Low blood pressure
Dehydration
Anemia
Medication side effects
Heart conditions
Neurological issues
Anxiety or panic attacks
If you're experiencing severe dizziness, consult a healthcare professional for proper evaluation and diagnosis immediately.
How Your Eyes and Inner Ear Work Together
To understand the connection between eye problems and dizziness, we must look at the intricate relationship between the visual and vestibular systems. Visual information plays a pivotal role in various aspects of our daily lives, including movement and maintaining optimal posture and balance.
The vestibular system, located in the inner ear, is responsible for maintaining balance and spatial orientation. It works in tandem with your eyes, providing essential information to your brain about your body's position in space. When any element of this system is compromised, it can lead to dizziness and balance issues.4
The link between the eyes and the vestibular system means eye problems can have a detrimental impact on balance.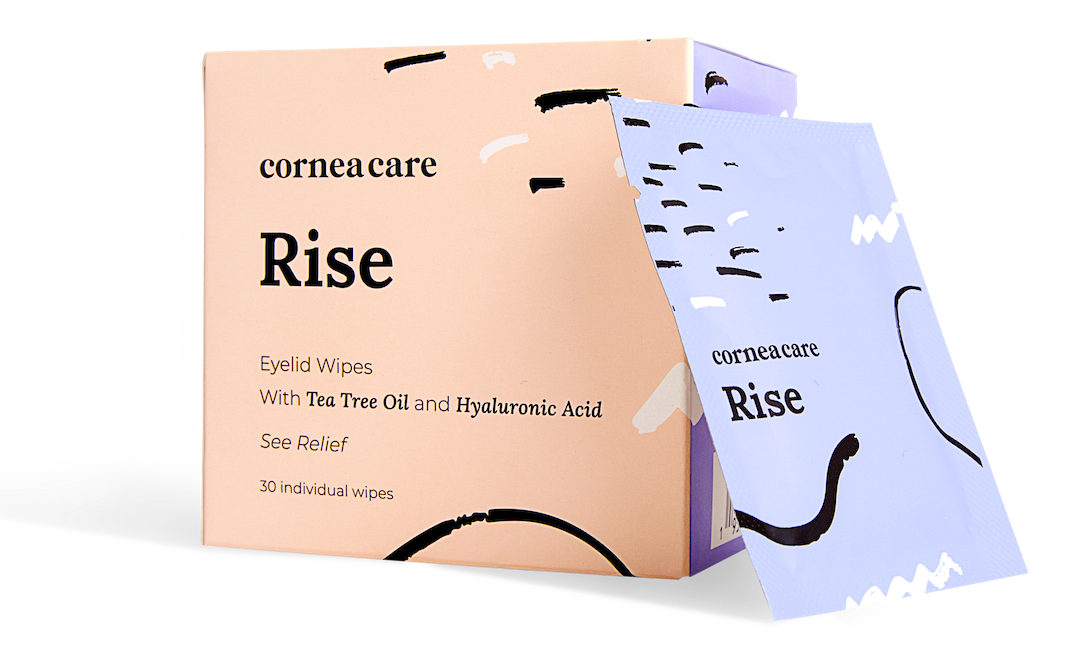 Perfect for eye dryness, itching, burning, and crusting/flaking of eyelashes. Free shipping 📦
Eye Problems that Can Cause Dizziness
Among the common causes of dizziness are visual problems, such as refractive errors and age-related macular degeneration. Identifying the root cause of dizziness is essential in determining the appropriate treatment.
Let's take a closer look at the eye problems that can cause dizziness.
Double vision
Experiencing double vision can be disorienting and lead to problems with balance and spatial awareness. Misalignment of the eyes, known as strabismus, can cause double vision and negatively affect the brain's ability to interpret visual information correctly5, potentially leading to dizziness.
Eye strain
Prolonged eye strain due to excessive screen time or near work can cause light-headedness and dizziness. Taking regular breaks and using the 20-20-20 rule (looking at something 20 feet away for 20 seconds every 20 minutes) can help alleviate eye strain and reduce the risk of dizziness.6
Motion sickness
Motion sickness often occurs when there is a disconnect between the visual system and the vestibular system. In certain situations, such as reading in a moving vehicle, the brain receives conflicting sensory inputs, leading to dizziness and nausea.
Binocular vision dysfunction (BVD)
BVD occurs when the eyes struggle to work together as a team, resulting in symptoms like dizziness and loss of balance. This visual dysfunction can be effectively diagnosed and treated by your eye doctor (optometrist or ophthalmologist).
Head injuries
Head injuries, including traumatic brain injuries (TBI), can affect the visual system, leading to issues like blurry vision, light sensitivity, and loss of balance. Prompt medical evaluation is vital in cases of TBI to prevent further complications.7
Neck problems
Conditions like cervical vertigo, which arises from neck problems, can be linked to vision-related dizziness. It requires proper assessment from both an eye specialist and a medical professional.
Poor depth perception
Adequate depth perception relies on the eyes' ability to work in sync, allowing us to judge distances accurately. When depth perception is compromised, it can lead to imbalance and dizziness.

Perfect for eye dryness, burning, itching, grittiness, crusting/flaking of eyelashes and inflamed/swollen eyelids. Free shipping 📦.
Eye Conditions Associated with Dizziness
Our eyes are a critical component in maintaining balance, providing visual cues to the brain about our surroundings. When our vision is impaired due to eye problems the brain struggles to integrate sensory information from the eyes and the inner ear, resulting in balance disorders and symptoms of dizziness.
Nystagmus
Nystagmus, characterized by involuntary eye movements, is often associated with inner ear problems. These eye movements can cause a sense of dizziness or vertigo. Identifying and treating the underlying cause of nystagmus is essential in alleviating dizziness.2
Vestibulo-ocular reflex (VOR) dysfunction
VOR is responsible for stabilizing vision during head movements. Dysfunction in the VOR can lead to a mismatch between visual and vestibular input, causing dizziness. Vestibular rehabilitation therapy can be effective in treating VOR-related issues.1
Refractive errors
Refractive errors, such as myopia (nearsightedness), hyperopia (farsightedness), and astigmatism, can have a significant impact on our visual acuity. Uncorrected refractive errors may result in difficulty focusing, which can, in turn, cause dizziness and balance disturbances. The good news is that these issues are easily detectable and correctable with the right prescription eyewear.1
Glaucoma
Glaucoma, a condition characterized by increased intraocular pressure, can gradually damage the optic nerve and lead to vision loss. This compromised visual input can contribute to dizziness and imbalance. Regular eye exams and early detection are crucial to managing glaucoma effectively and preserving vision.8
Cataracts
Cataracts, which cloud the eye's natural lens, can significantly impact the amount of light reaching the retina. This can affect our perception of the surrounding environment and lead to difficulties with spatial orientation, ultimately causing dizziness. Fortunately, cataract surgery can restore clear vision and improve balance.9
Age-related macular degeneration (AMD)
AMD affects central vision and can hinder our ability to navigate our surroundings confidently. When our central vision is compromised, it can result in disorientation and feelings of unsteadiness. Early detection and regular eye check-ups are crucial in managing AMD and preventing further vision loss.10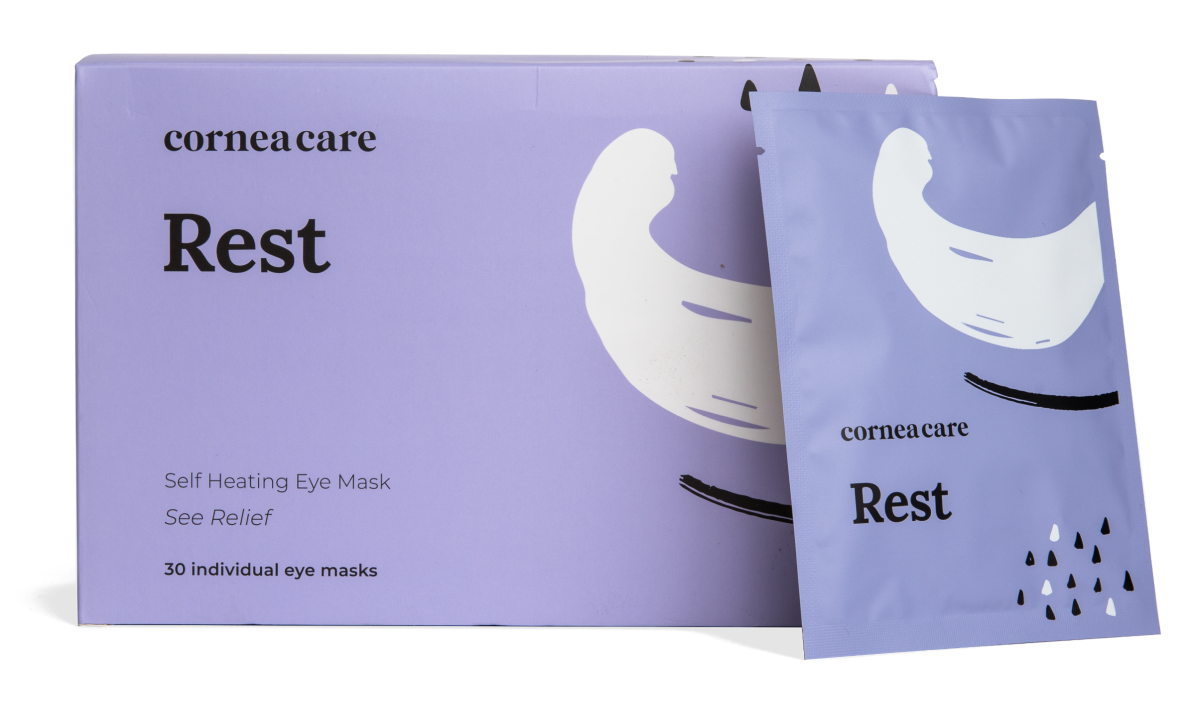 Perfect for eye dryness, fatigue, tearing, and puffiness of the eyelids. Free shipping 📦.
When to See Your Eye Doctor about Eye Problems that Cause Dizziness
It's important to recognize the warning signs of eye-related dizziness and see your doctor. Blurred vision, sensitivity to light, frequent headaches, and unexplained dizziness are potential red flags that warrant an eye examination. If you experience any of these symptoms, consult an optometrist or ophthalmologist.
When it comes to diagnosing eye problems related to dizziness, eye specialists employ a range of comprehensive eye exams and vestibular testing. Collaborative efforts between eye specialists and ear-nose-throat (ENT) doctors can ensure a holistic approach to diagnosing and treating eye-related dizziness. Depending on the underlying cause, treatment options may include prescription eyeglasses or contact lenses, eye surgeries, medication, or vestibular rehabilitation therapy.4,5,9,10
Safeguarding Your Eye Health and Balance
Taking proactive steps to protect your eye health can significantly reduce the risk of eye problems that cause dizziness. The following tips can help:
Have regular eye exams, at least yearly
Eat a balanced diet and include CorneaCare eye vitamins to fill any nutritional gaps
Get regular exercise
Practice good eyelid hygiene
Ensure proper lighting when reading and working
Take regular screen breaks
If you wear contacts, take care to follow instructions for proper use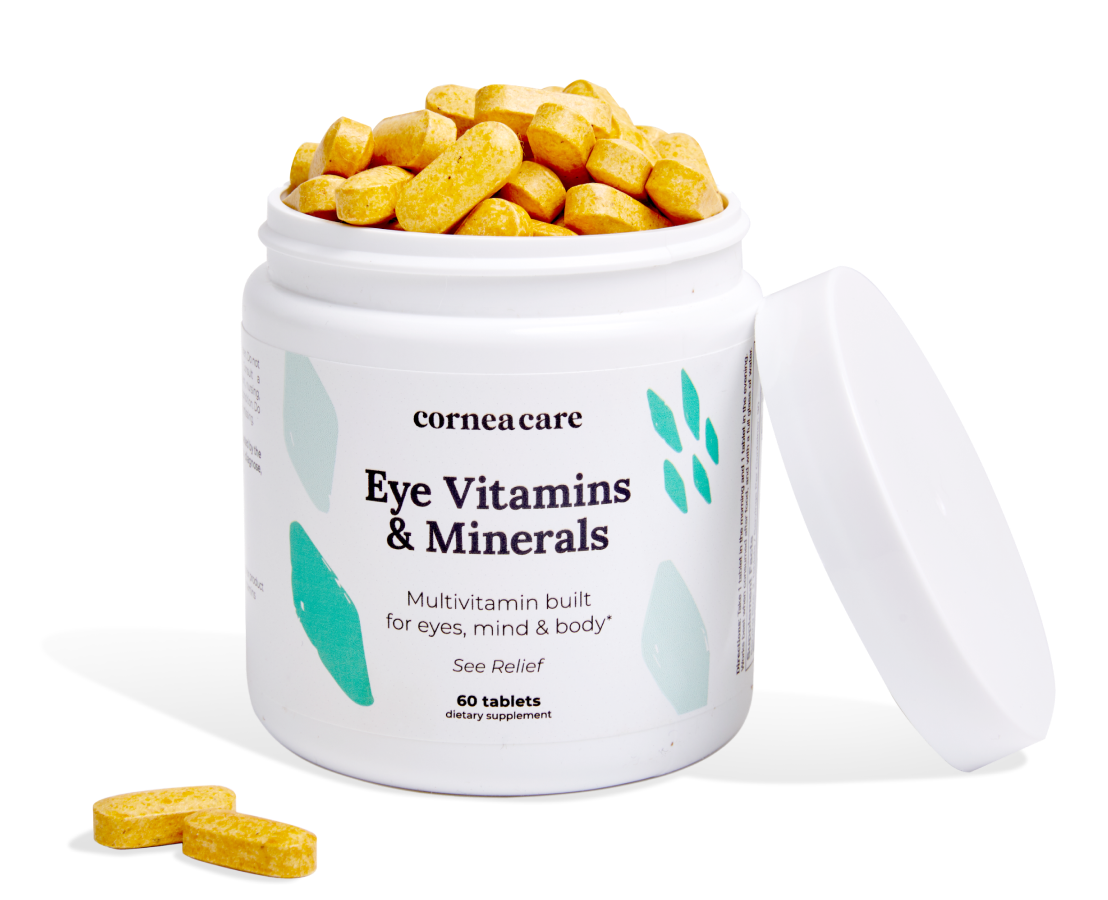 A single multivitamin to address the nutritional needs of your eyes, mind and body. 📦 Free shipping.
Can Eye Problems Cause Dizziness FAQ
Can eye problems cause vertigo?
Yes, certain eye problems can cause vertigo. Issues like binocular vision dysfunction (BVD), nystagmus, and eye misalignments can disrupt the coordination between the eyes and the vestibular system, leading to vertigo. Seek evaluation from an eye specialist and healthcare professional to identify and treat the underlying problem for improved balance.
Can bad eyesight cause dizziness?
Yes, bad eyesight can cause dizziness. Uncorrected refractive errors and conditions like cataracts and age-related macular degeneration can affect vision clarity, leading to spatial disorientation and dizziness. Regular eye exams and wearing appropriate eyewear can address these issues and reduce dizziness risk.
What eye conditions cause dizziness?
Several eye conditions can cause dizziness, including binocular vision dysfunction (BVD), nystagmus, eye misalignments, cataracts, age-related macular degeneration (AMD), and glaucoma. Early recognition and evaluation by an eye specialist are essential for effective treatment and symptom relief. If you experience dizziness with visual symptoms, seek a comprehensive eye examination.
Putting It All Together
Understanding the link between eye problems and dizziness can empower you to prioritize your eye health and overall well-being. By recognizing the signs, seeking timely medical evaluation, and following preventive measures, you can protect your vision and reduce the risk of experiencing dizziness.
Remember, your eyes play a crucial role in maintaining balance and spatial orientation. By taking care of your eyes, you are investing in a future filled with clarity and balance.
Want to take care of your eyes but not sure where to start?
What's Next
Eye care is an important part of self-care. Learn more about keeping your eyes healthy for life on the eye health & wellness blog now!