Dry Eyes and Blurry Vision
When it comes to your eye health, clear and sharp vision is a precious asset. Yet, for many adults, the discomfort of dry eyes and the frustration of blurry vision are all too familiar.
We're here to help you address the annoying symptom of blurry vision and the dry eye disease that may be behind it. In this article, we'll explore the link between dry eye disease and blurry vision and the many solutions available to help you see clearly and comfortably.
Key Points
Dry eye disease, marked by tear film instability, can lead to discomfort and blurry vision.
Various factors, including age, health conditions, and environment, can contribute to the onset of dry eye disease.
Lifestyle changes and other treatments can effectively address dry eyes and improve vision clarity.
No one taking your
dry eyes seriously?
Understanding Dry Eyes
Dry eye disease, also known as dry eye syndrome, is a common condition characterized by the inability of your tears to provide adequate lubrication for your eyes. Insufficient tear production or poor-quality tears can lead to inflammation and damage to the eye's surface, resulting in discomfort and potentially, blurry vision.1
Causes of Dry Eyes
Dry eye disease has various risk factors and underlying causes which include:1,2
Age: Individuals over 50 are more susceptible to developing dry eyes as the natural production of tears diminishes.
Medical conditions: Conditions such as diabetes, thyroid disorders, Rheumatoid arthritis, and Sjogren's syndrome can be associated with dry eye syndrome.
Eye conditions: Meibomian gland dysfunction, LASIK surgery, blepharitis, contact lens use, or glaucoma medication can lead to dry eye disease.
Hormones: Hormonal changes during pregnancy or menopause can elevate the risk of experiencing dry eyes.
Medication usage: Certain medications like antihistamines, decongestants, blood pressure medications, and antidepressants may affect tear production and exacerbate dry eye symptoms.
Environmental factors: Wind, smoke, dry air, arid climates, or prolonged computer use can contribute to increased tear evaporation and the development of dry eyes.
In many dry eye patients, the cause is not limited to just one factor.
Symptoms of Dry Eye Disease
If you experience the discomfort of dry eyes you may encounter a range of common symptoms such as:1,2
Blurred vision
Irritation such as grittiness, itchiness, or burning
Excessive tearing
Stringy mucus
Light sensitivity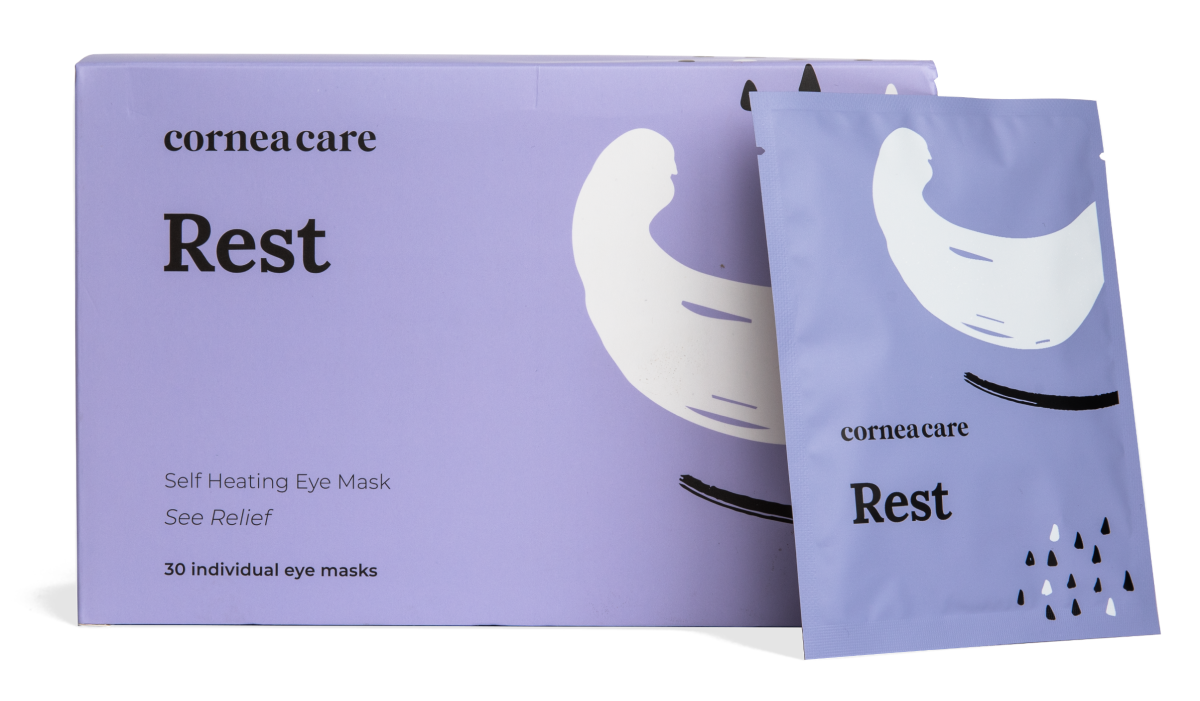 Perfect for eye dryness, fatigue, tearing, and puffiness of the eyelids. Free shipping 📦.
The Connection Between Dry Eyes and Blurry Vision
Now that we're clear on the causes and symptoms of dry eye disease, let's consider how dry eyes and blurry vision are connected.
What is Blurred Vision?
Blurred vision occurs when objects and images appear unclear and lack sharpness. Blurry vision often necessitates squinting to try and bring things into focus. In most cases, blurred vision tends to progressively deteriorate over time, but there are instances where it can suddenly manifest.3
It's worth noting that blurred vision is the most frequently reported visual symptom to healthcare providers.3
How Dry Eyes Can Cause Blurry Vision
When you have dry eyes, your eyes are not producing enough tears or the tears evaporate too quickly. This lack of proper lubrication of the eye's surface can lead to a range of symptoms, including blurry vision.1
Your tears consist of three layers: an outer oily layer, a middle watery layer, and an inner mucous layer. Together these layers make up the tear film, which plays a vital role in maintaining the clarity of your vision. Each layer has a specific function, with the watery layer providing a smooth surface for clear vision.2 When there's an imbalance in these tear layers due to dry eyes, the eye's surface becomes irregular, causing light to scatter instead of focusing correctly on the retina, resulting in blurry vision.4
Blurred vision in dry eye patients can also occur because of corneal damage.2 The friction and irritation from insufficient lubrication can lead to micro-abrasions on the cornea's surface, making it less smooth. A smooth corneal surface is essential for proper light refraction, which is necessary for clear vision.5 Additionally, the lack of tears can cause inflammation on the eye's surface, leading to discomfort and further vision problems.2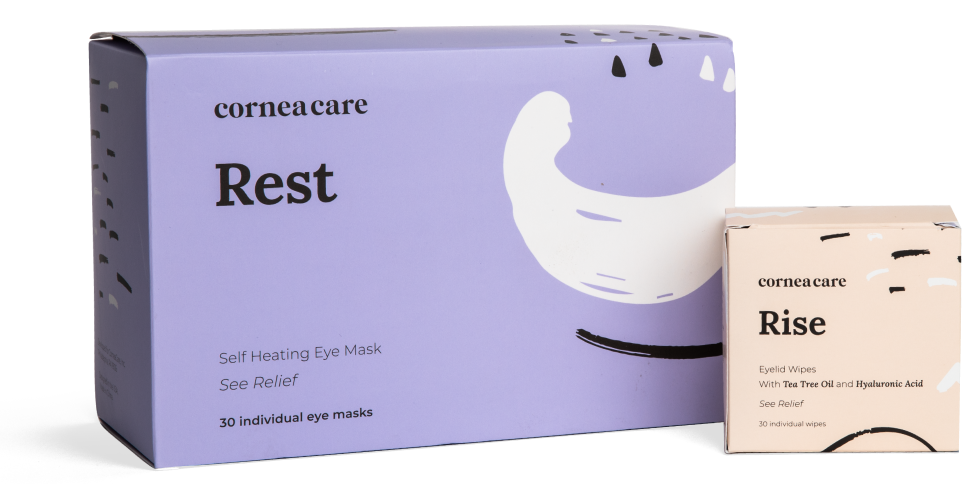 Perfect for eye dryness, burning, itching, crusting/flaking of eyelashes and inflamed eyelids. Free shipping 📦.
Other Factors that Cause or Worsen Blurry Vision
In addition to dry eye disease, other factors can cause or worsen blurred vision. Refractive errors are the most frequent cause of blurred vision. These errors include astigmatism, farsightedness, and nearsightedness, resulting in the eyes struggling to focus images correctly. Eyeglasses, contact lenses, or surgery can often correct these issues.3
Other causes of blurry vision include eye infections, medications with vision-related side effects, systemic health issues such as diabetes or high blood pressure, age-related changes in the eyes, and underlying eye diseases such as glaucoma or cataracts.3
Blurry vision can be worsened by several factors, including eye strain from prolonged screen use and environmental factors like poor lighting or irritants in the air.3
While blurred vision commonly worsens over time, there are instances where it can occur suddenly. These abrupt cases are often associated with medical conditions such as stroke, a spike in blood pressure, concussion, or trauma to the eye. If you experience a rapid onset of blurry vision or sudden vision loss, seek immediate medical attention.3
Managing Dry Eyes and Blurry Vision
Having dry eye disease increases your risk of various complications, including eye infections, eye surface damage, and reduced quality of life. Addressing dry eyes promptly and effectively is essential for optimal eye health and comfort.2
Thankfully, numerous effective treatments are available depending on your specific needs. Potential dry eye treatment options include:2,6
To address dry eye disease and blurry vision effectively, it's important to have an eye exam to identify the underlying cause and get a tailored approach from your eye doctor (optometrist or ophthalmologist).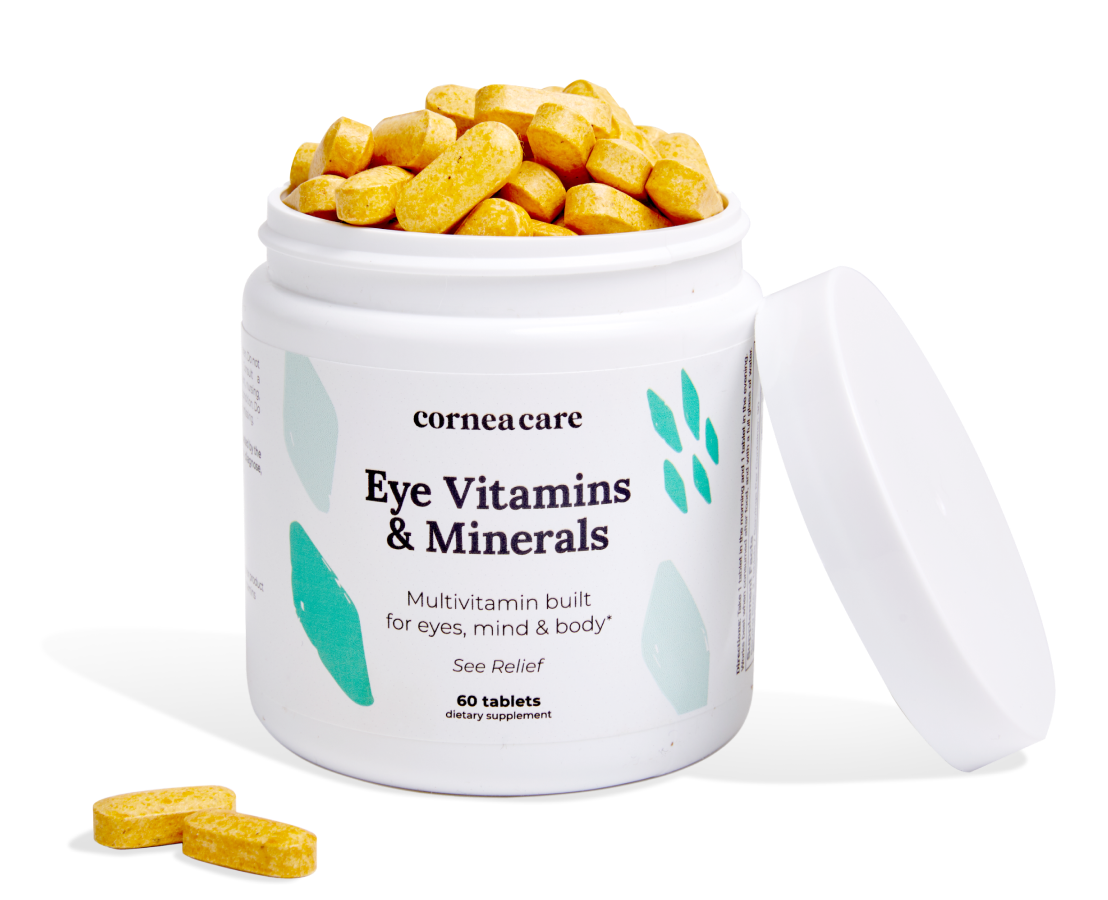 A single multivitamin to address the nutritional needs of your eyes, mind and body. 📦 Free shipping.
Lifestyle Changes to Prevent or Improve Dry Eyes
There are many steps you can take to prevent dry eye disease or reduce your symptoms. Try these tips:1
Frequent blinking: Make a conscious effort to blink regularly, especially during extended periods of reading or staring at a smartphone, computer or TV screen.
Humidify the air: Use a humidifier at work and home to help maintain adequate moisture in the air.
Sunglasses: Wear sunglasses to shield your eyes from drying winds and sunlight.
Good nutrition: Choose whole foods such as lean proteins (chicken, fish, and beans are good choices), whole grains, healthy fats (like avocado and olive oil), and a variety of fruits and vegetables to support your overall health.
Dietary supplements: Fill any nutritional gaps with supplements such as CorneaCare omega-3 fatty acids and specially formulated CorneaCare eye vitamins.
Stay hydrated: Prevent dehydration by consuming an ample amount of water each day, aiming for 8 to 10 glasses.
Air vent placement: Ensure that car heaters, fans, and air conditioning vents are directed away from your face.
Avoid dry environments: When possible, steer clear of excessively dry environments, such as deserts, airplanes, and high-altitude locations.
With these simple changes, you may be able to prevent and reduce the symptoms of dry eye disease, enhancing your overall eye comfort and well-being.
Can Dry Eyes Cause Blurry Vision FAQ
How do you get rid of blurry vision from dry eyes?
Blurry vision from dry eyes can often be relieved by practicing daily eyelid hygiene including the use of eyelid wipes, warm compresses, and lubricating artificial tears to keep the eyes moist. Taking regular screen breaks, blinking frequently, and protecting your eyes from forced air, can also help. For a proper diagnosis and a treatment plan to address the underlying cause of your blurry vision and dry eyes, visit your eye doctor.
What are the visual symptoms of dry eye?
Visual symptoms of dry eye can include blurry vision, fluctuating vision, and sensitivity to light. Other symptoms of dry eye include redness, itching, burning or stinging sensations, and the feeling of something gritty in the eye. Watery eyes can also be a symptom as the body tries to compensate for the dryness.
Can eye drops help blurry vision?
Eye drops, particularly lubricating eye drops or artificial tears, can often help alleviate blurry vision associated with dry eyes. These drops help to moisten the surface of the eye, improving vision clarity and comfort. However, starting a regular eyelid hygiene routine should be your first step, rather than relying on eye drops alone.

Perfect for eye dryness, burning, itching, grittiness, crusting/flaking of eyelashes and inflamed/swollen eyelids. Free shipping 📦.
Putting It All Together
By looking closely at the link between dry eyes and blurry vision, we understand that the delicate balance of the tear film is essential for maintaining visual clarity, and any disruption caused by dry eyes can result in blurriness. Based on the severity of your condition and its underlying cause, solutions like simple lifestyle changes, specialized products, and medical treatments, are available to manage your dry eyes and alleviate blurry vision.
By seeking guidance from your trusted eye care professional and implementing appropriate measures, you can safeguard the precious gift of clear and sharp vision. Take steps to care for your eyes, and remember, the world appears brighter and more vivid through the lens of healthy eyes.
Want to take care of your dry eyes but not sure where to start?
What's Next
If dry eyes are causing your blurry vision, learn more about the causes and treatments in our free Dry Eye 101 course!