If you have been diagnosed with diabetes, there are a number of eye issues to be concerned with, including dry eyes.
Dry eyes can be a nuisance that causes eye discomfort. It can also become a chronic condition known as dry eye disease or dry eye syndrome which interferes with many areas of your daily life.
Dry eye disease can also lead to damage to the eye without proper treatment.
In this article, you'll learn more about how dry eye disease is related to diabetes. We'll also go over the symptoms of dry eye, how it's treated, and what you can do to manage your dry eye symptoms.
Key Points
Dry eye disease is one of many eye conditions associated with diabetes.
Managing your blood sugar levels can help reduce dry eye symptoms.
Work with your healthcare professional to manage diabetes and dry eyes.
No one taking your
dry eyes seriously?
The Connection between Diabetes and Dry Eyes
If you have diabetes, you may be aware of certain potential complications related to your eye health. These may include diabetic retinopathy, glaucoma, and diabetic cataracts, caused by chronically high blood glucose.
Less commonly known however is that dry eye disease, also referred to as keratoconjunctivitis sicca and dry eye syndrome, is also common among both type 1 and type 2 diabetes patients.1
Research has discovered that diabetes mellitus is a major risk factor for dry eye disease. In people over the age of 65 with diabetes, 15-33% suffer from dry eye disease. Further, women are twice as likely to have dry eye disease, and the risk increases with age in both genders.1
It appears that neuropathy, a condition related to nerve damage in diabetic patients, could be at the root of the connection between diabetes and dry eyes.2
In fact, high blood sugar levels cause dysfunction in the lacrimal gland. This gland is essential to producing your eye's tear film and damage to the lacrimal gland decreases tear production leading to dry eye syndrome.3
Without treatment by an eye care professional, dry eye disease may lead to:
Fortunately, managing your blood sugar within a healthy range can reduce your risk of dry eye syndrome.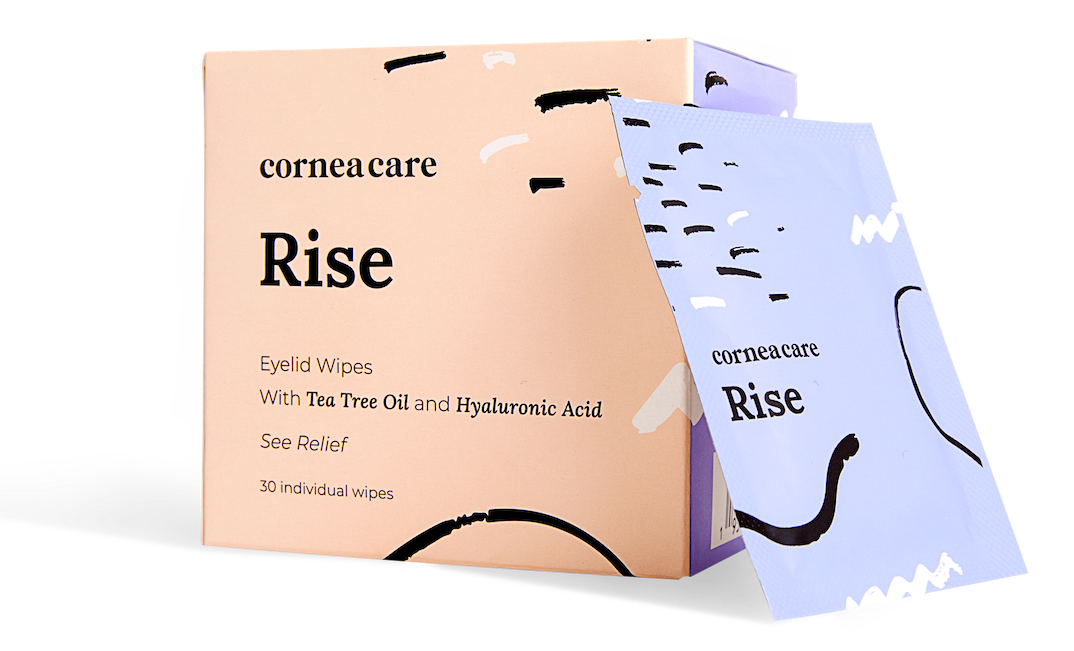 Perfect for eye dryness, itching, burning, and crusting/flaking of eyelashes. Free shipping 📦
Symptoms of Dry Eye Syndrome
Your eyes are always producing tears, which are made up of aqueous (water), oil, and mucus. Dry eye symptoms occur when your eyes lack enough tears to maintain the lubrication needed to stay healthy.
When there is a dysfunction in tear production or an increase in tear evaporation, your eyes become irritated and you may experience symptoms of dry eyes which include:
Your dry eye symptoms may be mild, short-lived, and clear up on their own. For example, if you remove your contact lenses and switch to glasses.
However, in cases of dry eye disease caused by diabetes, you will most likely need a treatment plan from your eye doctor (optometrist or ophthalmologist) as well as the support of your healthcare professional to manage your diabetes.

Perfect for eye dryness, burning, itching, grittiness, crusting/flaking of eyelashes and inflamed/swollen eyelids. Free shipping 📦.
Diabetes and Other Eye Problems
Diabetes can have serious negative impacts on your eyes and chronically elevated high blood sugar levels can even lead to vision loss. According to the American Diabetes Association, diabetes is the leading cause of vision loss in people 18–64 years old.4
In addition to dry eye, diabetes can cause other eye issues such as:
Diabetic retinopathy is a common eye problem related to diabetes. High blood sugar levels damage the blood vessels in your retina.
Glaucoma is an eye disease that starts slowly with peripheral vision loss, and may gradually lead to blindness if untreated.
Diabetic macular edema causes distorted vision and may lead to severe vision loss, caused by swelling related to leakage of the blood vessels in the macula.
Cataracts cause blurry, cloudy vision as proteins clump together inside the lens of your eye.5
Treatment Options with Diabetes and Dry Eye Disease
It's important to see a healthcare professional and your eye doctor (optometrist or ophthalmologist) to discuss your dry eye symptoms, especially if you also have diabetes.
Your eye doctor will work with you to develop the best treatment options for your dry eye disease depending on the severity of your symptoms. When diabetes and dry eyes are linked, how you manage your diabetes may also impact your dry eye disease treatment plan. In fact, in some cases managing blood sugar levels can help reduce your dry eye symptoms.
Consistent eyelid hygiene should be the first step in dry eye symptom management. Artificial tears to lubricate your eyes throughout the day can also make a difference. However, many over-the-counter artificial tears products contain preservatives. Instead, try CorneaCare's Recover preservative-free artificial tears.
Treatment options for severe dry eye condition might include:
Antibiotic eye drops to help reduce risk for infection
Corticosteroids eye drops may be prescribed to treat severe eye inflammation
Tear duct plugs may be used if other treatment options do not improve your dry eye symptoms
Tips for Managing Dry Eyes
In addition to following your doctor's advice, there are simple lifestyle changes you can make to improve the symptoms of dry eye disease: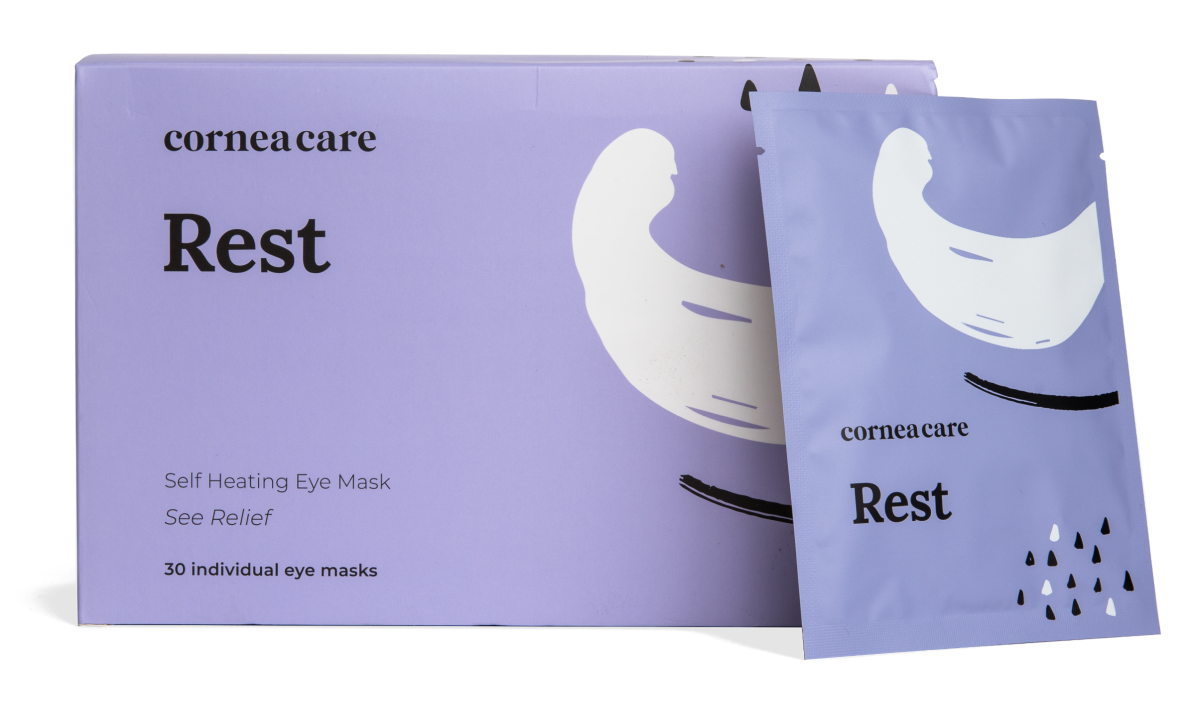 Perfect for eye dryness, fatigue, tearing, and puffiness of the eyelids. Free shipping 📦.
Other Causes of Dry Eyes
While high blood sugar levels can cause your eyes to not produce enough tears, diabetes is not the only cause of dry eye disease.
Common causes of dry eye symptoms include:
Excessive digital screen use including your computer, TV, or smartphone
Regular exposure to dry or windy environments
Prolonged contact lens use
Eye injuries, infections, or surgeries
Autoimmune conditions such as rheumatoid arthritis, Sjögren's syndrome, and certain thyroid conditions
Some prescription medications including blood pressure medications, antihistamines and allergy medications, and antidepressants and anxiety medications
Putting It All Together
If you have diabetes, it's important to schedule a comprehensive eye exam with dilation annually. A thorough eye exam with an eye care professional (optometrist or ophthalmologist) can detect conditions early. This will allow you to start treatment early before permanent damage to your eye health.
The best way to manage diabetes and dry eyes is with the help of your healthcare professional to manage your blood sugar levels. The recommendations above can also put you in control of your eye health and relieve some of your dry eye symptoms.
Want to take care of your dry eyes but not sure where to start?
What's Next
At CorneaCare, we specialize in dry eye and invite you to check out our free Dry Eye 101 course to learn more about the condition and the many treatment options for your dry eye symptoms.