Dry Eye Disease Affects the Entire Body — But Can Dry Eyes Cause Headaches?
Dry eye sufferers experience not only physical symptoms but also emotional. The constant dryness, watery eyes, and pain associated with dry eye disease lead many people to experience emotional distress such as anxiety and depression, and even insomnia.
But can dry eyes cause headaches?
With headaches affecting half of the world's population yearly, and dry eye disease affecting over 300 million people worldwide, it's easy to associate the two conditions.¹ But, current research does not support the claim that dry eyes cause headaches, at least not directly.
"Dry eye disease is a multifactorial condition and can impact your physical and mental health," says Dr. Jovi Boparai, Ophthalmologic Surgeon. "While dry eyes don't directly cause headaches, the blurry vision and other dry eye symptoms may provoke a headache. Moreover, research shows that inflammation and pain dysregulation may underpin dry eyes and headaches/migraines."
When dry eye sufferers experience headaches, an underlying condition (or multiple conditions) may play a role in stimulating those associated symptoms.
In this article, we share what dry eye disease is, why some people get it, and some of the reasons why dry eyes and headaches coincide.
No one taking your
dry eyes seriously?
Key Points
While no studies show that dry eyes directly cause headaches, many people experience the two conditions simultaneously.
Some of the same conditions that cause dry eye disease can also cause headaches.
Treating underlying and chronic health conditions and managing dry eye disease can improve your overall health.
Keywords
Chronic pain, computer vision syndrome, dry eye disease, eye strain, headaches, migraines
Taking the First Step
When it comes to ongoing health concerns, you desperately want answers.
It is often difficult for doctors to properly diagnose dry eye disease and pinpoint why someone experiences frequent headaches. There are many variables that contribute to both conditions.
Getting to know your body and understanding how various medications, conditions, and lifestyle habits impact your health is the first step to getting well. Not just with dry eyes and headaches but for overall health.
With the proper knowledge, you can work with your doctor and make modifications in your life that may address both headaches and dry eyes.
Let's explore.
Chat, share, and learn from our doctors, coaches and others like yourself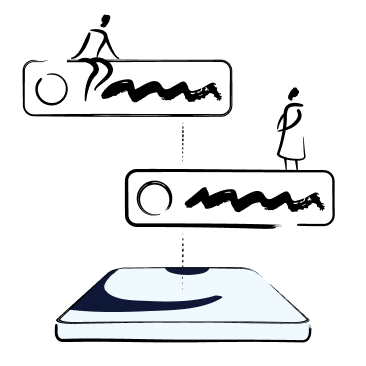 What is Dry Eye Disease?
Dry eye disease (DED) (sometimes referred to as dry eye syndrome, keratoconjunctivitis sicca, and ocular surface disease) is a chronic condition that affects more people than you may think!
30 million Americans suffer from DED.² It's likely that you or someone close to you has DED.
While DED has many causes, it occurs because of tear film dysfunction. Your tear film covers your cornea, which, along with your lacrimal gland, provides lubrication, protection, and comfort to your eyes. With DED, either your eyes don't produce enough tears (aqueous deficient DED) or your tears evaporate too quickly (evaporative DED).³
For some people, DED comes on gradually from the prolonged or incorrect use of contact lenses or lifestyle habits like smoking or living in a dry environment. For others, they may experience dry eyes after eye surgeries like cataract surgery or refractive surgery like LASIK.³
In addition to debilitating physical symptoms, DED can negatively impact your emotional, mental, and social health.⁴ Like severe headaches and migraines, DED sufferers often experience such intense symptoms that they are unable to perform the daily functions of their life, including work, leisure, and even sleep.⁵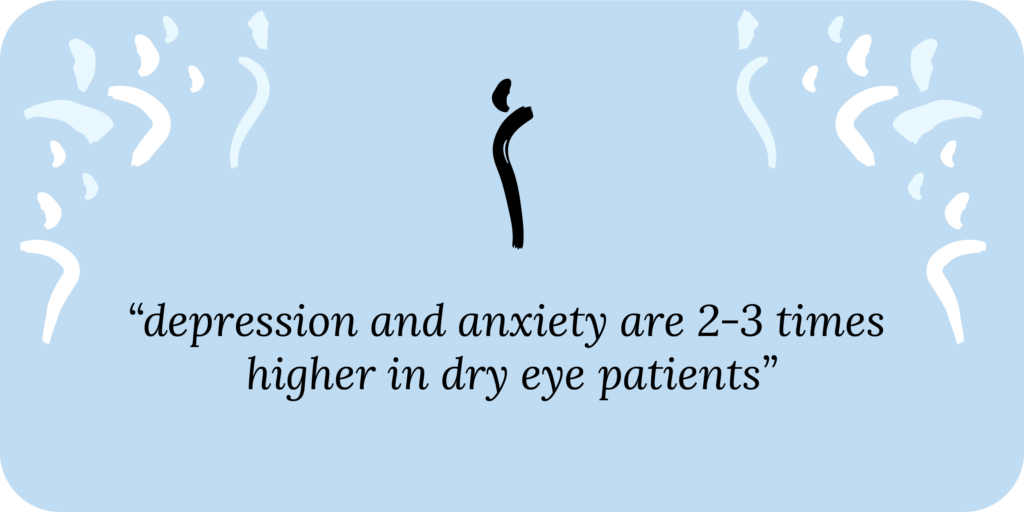 Symptoms of Dry Eye Disease
Everyone experiences DED symptoms differently. However, some characteristic signs and symptoms of DED occur on most days for DED sufferers.
Common symptoms of DED include:³
Burning
Redness
Excess tearing
Gritty sensation or a feeling that something is in your eye
Light sensitivity
Pain
Blurred vision
Tired eyes
Increased blinking
Itchiness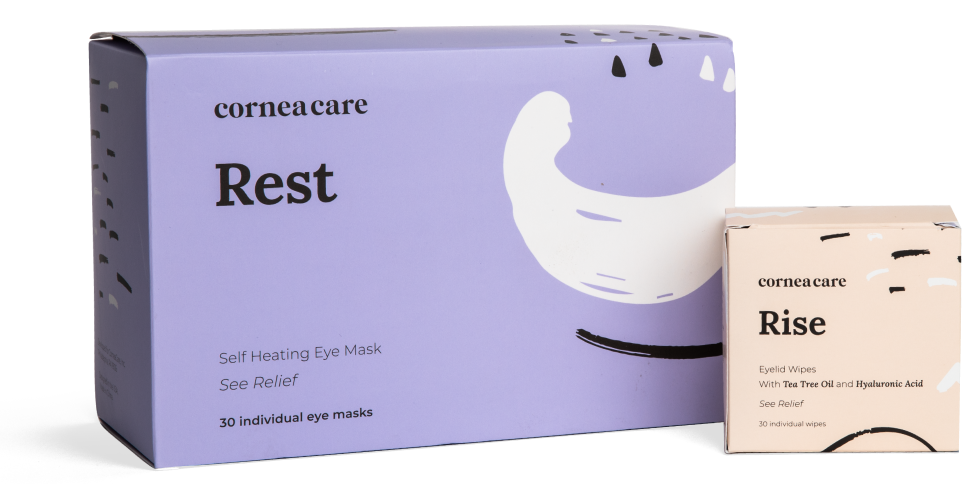 Perfect for eye dryness, burning, itching, crusting/flaking of eyelashes and inflamed eyelids. Free shipping 📦.
Causes of Dry Eye Disease that Can Also Cause Headaches
If you've spent time researching chronic health conditions, you'll see that many of them have similar risk factors, like increasing age, gender, and past medical history. This can lead people to assume that two conditions are related or that one is causing the other.
The truth is that many conditions may have similar risk factors and symptoms but different underlying causes.
Below are some things that can lead to DED and also cause headaches. This isn't to say that if you experience both symptoms you have any of these conditions, but it's good to be aware so that you can begin to chart a management plan.
Other Eye Conditions
Other eye problems can contribute to dry eye symptoms and induce headaches for some people.
These include:
Eye allergies (allergic conjunctivitis): Usually occur seasonally, but some people experience symptoms year-round due to contact lens irritation or other toxins.⁶
Eye strain from uncorrected vision problems: Straining to see due to farsightedness, nearsightedness or astigmatism may cause dry eyes and headaches. Seeing an eye doctor (ophthalmologist or optometrist) for regular eye exams is the best way to stay on top of this.
Computer vision syndrome: Eye strain caused by extended use of digital devices. Constantly straining to read small text on a computer screen, smartphone, or tablet with low contrast can cause eye dryness and tension headaches.⁷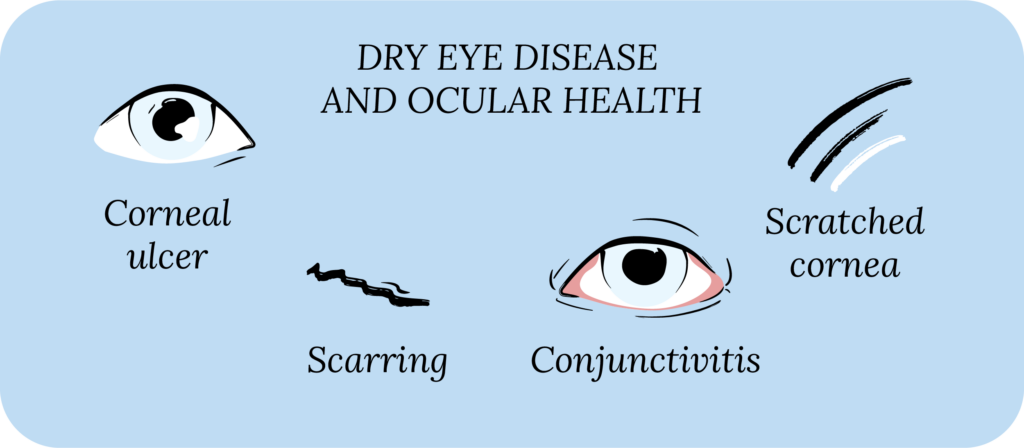 Medical Conditions
Certain medical conditions lead to dry eye symptoms and the development of DED. Some of these conditions can also cause headaches for some people.
Sjögren's Syndrome: Autoimmune diseases like Sjögren's Syndrome can cause dryness all over the body, especially in the eyes and mouth. Many people with Sjögren's also have headaches and other neurological symptoms that impact their daily functions.⁸
Pregnancy and menopause: Hormonal changes can trigger dry eye symptoms. Many women complain of dry eyes during pregnancy and while going through menopause, and both of these conditions can also cause headaches.³
Diabetes: Due to issues with blood sugar regulation, diabetes causes some people to experience dry eyes.³ A rapid increase or decrease in blood sugar can also lead to headaches and other long-term health problems.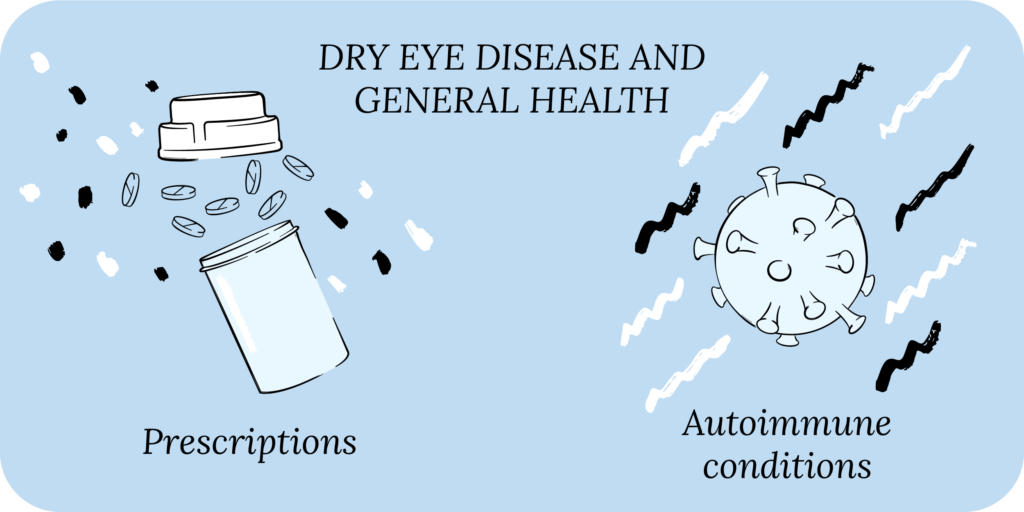 Medications
Prescription and over-the-counter (OTC) medications can have long lists of side effects.
These side effects can overlap, causing a myriad of symptoms. Taking certain medications daily to treat health problems can lead to frequent headaches and dry eye symptoms (if those are side effects of the drug).
Never stop taking a medication or reducing your dose before consulting with your doctor or healthcare provider.
Some medications with side effects of dry eyes and headaches include antihistamines, antidepressants, birth control pills, oral acne treatments, and pain medicines.³
Lifestyle and environment
Often overlooked, your lifestyle and the environment in which you live or spend most of your time can lead to the onset of health problems.
For people who suffer from headaches and also have dry eyes, your lifestyle and where you live should be some of the first areas you evaluate.
People who smoke, drink a lot of caffeine, or eat a poor diet can experience frequent headaches and also persistent dry eyes. The same goes for people who live in dry, sunny climates or sleep under a fan or air conditioner.
Not drinking enough water or being chronically dehydrated from excessive sweating or activities can lead to headaches and decreased tear production, contributing to dry eyes.
The Link Between Dry Eyes and Migraine Headaches
A recent ten-year study among 73,000 patients at multiple ophthalmology clinics found that people with chronic migraines were 20 percent more likely to experience DED.⁹
While the research does not prove which condition causes the other, it shows a strong link between the two.
The researchers theorize that inflammation due to dry eye disease triggers events in neuromuscular tissue, which can cause migraines.⁹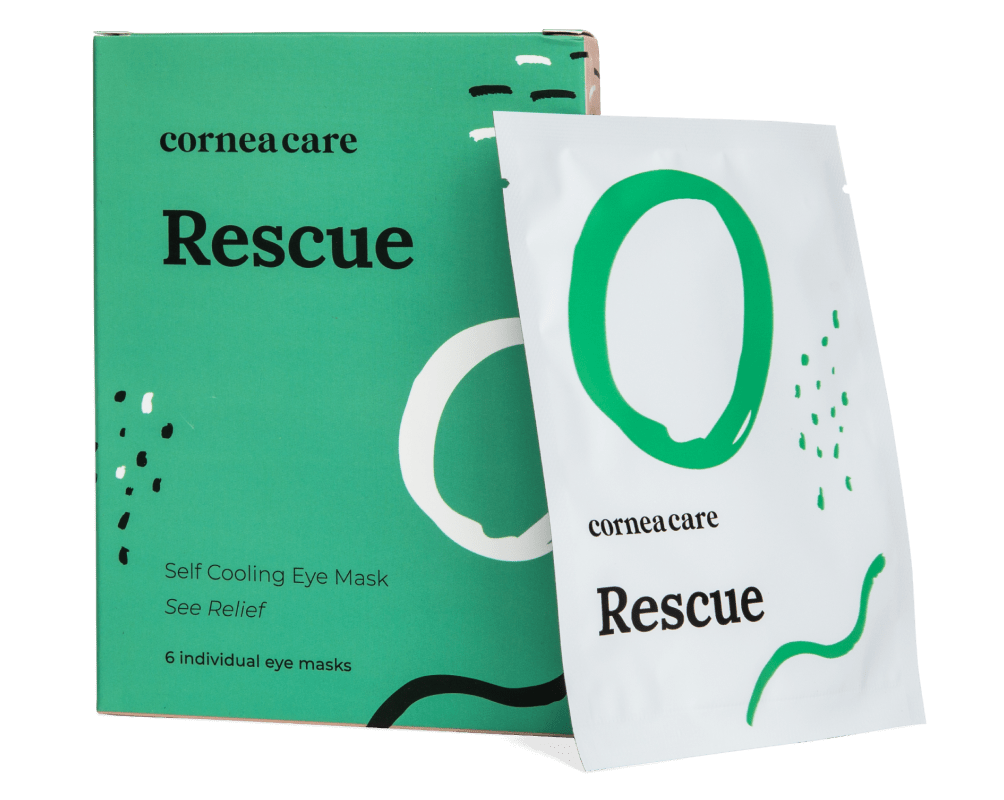 Perfect for sudden flare-ups of eye dryness, pain, burning, and swollen/inflamed eyelids. Free shipping 📦.
Dry Eyes as a Condition of Chronic Pain
People with chronic pain conditions have issues where their body does not process pain as it should.10
A cluster of medical conditions with chronic pain tends to co-exist with DED. These are known as chronic overlapping pain conditions and include chronic headaches and migraines, chronic fatigue, temporomandibular joint disorder, irritable bowel syndrome, osteoarthritis, interstitial cystitis, endometriosis, fibromyalgia/chronic widespread pain, and chronic low back pain.¹⁰
These conditions, like DED, have serious negative consequences on mental, physical, and emotional health.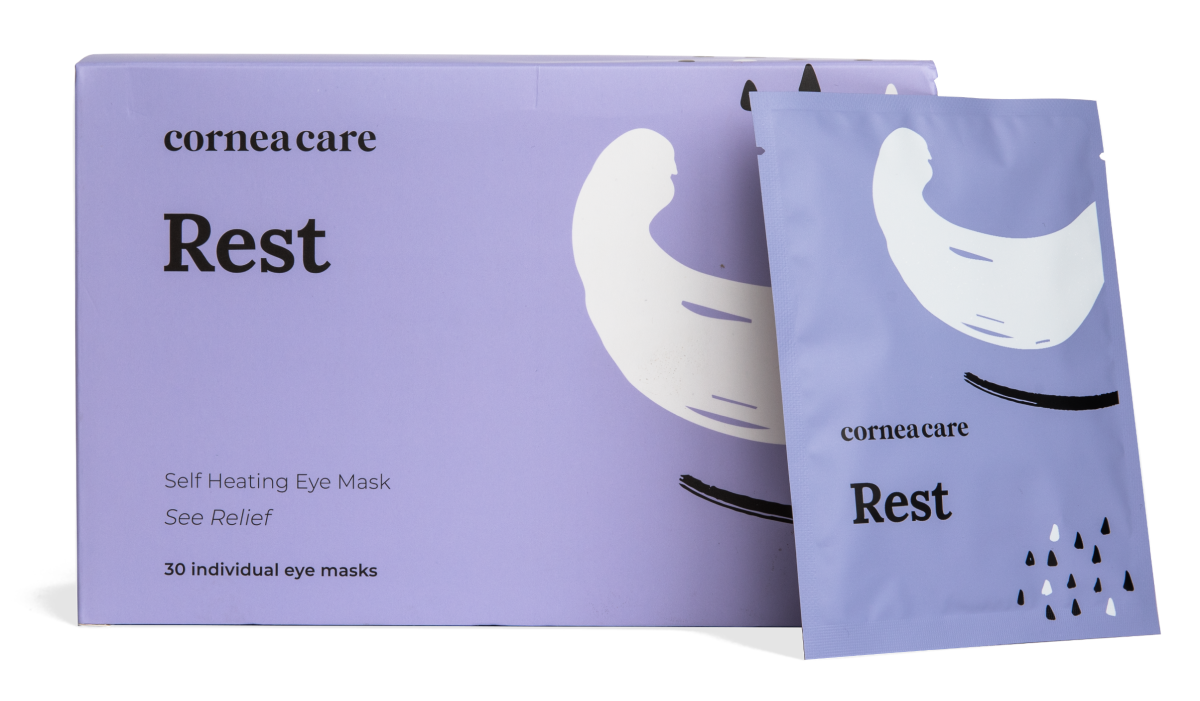 Perfect for eye dryness, fatigue, tearing, and puffiness of the eyelids. Free shipping 📦.
Treating Underlying Causes of Dry Eyes May Help Your Headaches and Vice Versa
Getting to the root of chronic health conditions is no easy task. It takes a lot of trial and error and patience and will likely leave you feeling frustrated until you get a proper diagnosis and treatment plan
You could start by assessing your medical conditions, observing your lifestyle habits, and reviewing medications you frequently take to see what may be causing you to experience headaches and dry eyes.
If you live in an arid climate or sleep under an air conditioner or in front of a fan, using a humidifier may be an easy modification to make as a first step. Of course, stopping smoking and changing your diet, like eating more Omega 3 Fatty Acids, taking a multivitamin designed for eye health, and drinking more water, can help ease headaches and dry eyes and improve your overall health.
If you spend a lot of time in front of digital screens, you may find that taking proper rest breaks, using artificial tears to lubricate your eyes, and limiting screen time may lessen eye strain and thus decrease dry eye symptoms and headaches.
Be sure to discuss all this with your doctors and collectively come up with a treatment plan that addresses your eyes, headaches and overall health and wellbeing.

Perfect for eye dryness, burning, itching, grittiness, crusting/flaking of eyelashes and inflamed/swollen eyelids. Free shipping 📦.
Putting It All Together
We know that dealing with chronic conditions like dry eye disease and headaches can take a toll on you mentally and physically.
Once you understand that you can take control of your symptoms by learning about your body and being an advocate of your health, you can start to live with less pain.
You may also find that addressing the causes of headaches and dry eyes will improve other parts of your health and life as well – a total win all around!
Want to take care of your dry eyes but not sure where to start?
What's Next
Learn more about how lifestyle affects dry eye disease here.