Why Do I Have a Stabbing Pain in My Eye that Comes and Goes?
A sharp stabbing pain in your eye that comes and goes can be worrying. There are many possible causes ranging from debris in your eye to serious conditions like glaucoma. Without treatment, your eye pain could result in vision loss. We don't want that to happen!
In this article, we'll cover the most common causes of eye pain as well as some of the rare conditions that may lead to sharp stabbing pain in the eye that comes and goes.
Key Points
Most cases of sharp stabbing pain in the eye are caused by a foreign body in the eye or inflammation.
Less common causes of sharp stabbing pain in the eye that comes and goes are cluster headaches and angle-closure glaucoma.
See a doctor immediately if you experience sudden severe eye pain.
Want to take care of your eyes but not sure where to start?
Causes of Sharp Stabbing Pain in Eye that Comes and Goes
Your sharp eye pain may be caused by a number of factors such as debris, a missing contact lens, inflammation, cluster headache, or glaucoma.
The only way to know for sure what's causing your stabbing eye pain and how to treat it is with a visit to your eye doctor (optometrist or ophthalmologist). To understand more about your symptoms, read on to learn about the many possible causes of eye pain.
However, if you're experiencing sudden severe eye pain, especially if it occurs with a severe headache, contact your doctor immediately.
Pain Caused by Debris in the Eye
One common cause of sharp pain in the eye is when debris enters and gets stuck temporarily in the corners of the eye or under an eyelid. You may feel a sharp stabbing pain in the eye that comes and goes as you blink, or it may be constant.
To treat, wash your hands and splash water or saline solution into the eye affected by debris. This helps your eye wash out the foreign object naturally. The debris in your eye may be something minor like an eyelash. However, if you get potentially harmful debris in your eye in the workplace, you may need a more thorough eye flush. You should see your on-site health care provider or your own eye doctor.
While you're outdoors during the summer months, take caution to avoid firework debris or sand getting in your eyes. Your children can experience eye pain while playing with unsafe toys, especially around the holidays.
If debris remains in your eye, it can scratch the cornea (the clear part of the eye in front of your iris) and cause a corneal abrasion. A corneal abrasion is a painful scratch on the cornea that requires a visit to your optometrist or ophthalmologist. Without treatment, a corneal abrasion can cause increasing pain and eye infection.
Contact Lens Stuck in Your Eye
Millions of people wear contact lenses, and most will get a lens stuck in their eye at some point. It's frustrating and can cause some mild eye pain and discomfort such as burning and redness. There's no need to panic though because your contact lens can't get lost behind your eye.1
To remove a contact lens stuck in your eye, first wash your hands and then moisten your eye with artificial tears. The lubrication may loosen the lens and move it to a place where you can easily remove it. If not, gently stretch your eyelid upwards and to one side and look underneath. When you find the lens, gently nudge it out of your eye with a clean fingertip.
For more on removing soft or hard contact lenses, read How to Tell if a Contact Lens is Still in Your Eye.
To avoid eye pain caused by wearing contact lenses:
Only wear contact lenses fitted by your eye doctor
Avoid colored lenses purchased without a prescription
Rest your eyes occasionally by switching to eyeglasses
Follow all care and replacement instructions provided by your eye doctor
Sleeping with contact lenses can cause a corneal ulcer. A corneal ulcer is a painful open sore on the cornea that can lead to vision loss. Treatment for corneal ulcers may include antibiotic drops and steroids.2
Eye Pain Caused by Dry Eye Disease
Dry eye disease is a common condition caused by not having enough tears or tears evaporating too quickly, or in most cases, both.3
With dry eye disease, you may experience burning or stinging eye pain, as well as blurry vision or excessive tearing. Dry eye disease can be caused by age, certain oral medications, hormonal changes, glaucoma drops, contact lens wear, use of digital screens, low-humidity environments, eye surgery, and certain medical conditions.3
Treatment starts with a daily eyelid hygiene routine. You may also try preservative-free artificial tears to lubricate dry eyes and ease symptoms and make a few simple lifestyle changes as well. Eat a balanced diet, drink plenty of water, and fill any dietary gaps with CorneaCare eye vitamins and omega-3 supplements to keep your eyes healthy.3
Here at CorneaCare, we specialize in dry eye and invite you to take our free Dry Eye 101 course to learn more about this chronic, yet treatable condition.

Perfect for eye dryness, burning, itching, grittiness, crusting/flaking of eyelashes and inflamed/swollen eyelids. Free shipping 📦.
Migraine Headaches
Sharp stabbing pain in the eye that comes and goes may occur with migraine, a common condition affecting 39 million Americans. Migraine symptoms may last a day or up to a week during each episode.4
You may have additional symptoms with a migraine headache, including:4
Sensitivity to light and sound
Flashing lights in vision
Dizziness
Loss of coordination or weakness
Nausea and vomiting
Mood changes
Difficulty concentrating
Though the cause of migraine isn't fully understood, certain triggers have been identified. These include stress, sleep deprivation, certain foods, alcohol, and weather changes. Treatment of migraine involves a combination of therapies to reduce and prevent symptoms.4
Painful Cluster Headaches
Cluster headache is a less common headache disorder that causes severe sharp pain often around the eye. Cluster headaches are considered the most painful of headaches causing burning, stabbing pain above or behind one eye or at the temple on one side of the head.5
With cluster headaches, the pain is so bad you may find it hard to rest. By contrast, a migraine sufferer is more likely to retire to a darkened room to lie down. Cluster headaches, and related eye pain, can last 15 minutes to 3 hours and recur frequently over days or weeks. Pain-free periods can be months to years in length.5,6
Treatment for cluster headaches includes corticosteroids, high-flow oxygen, or medication.6
Eye Pain Caused by Inflammation
Inflammation in part of your eye can cause sharp stabbing pain that comes and goes. Swelling and fluid buildup can cause tissue damage and vision loss. There are many different types of eye inflammation you may experience which we'll cover below.
Optic neuritis
Optic neuritis is inflammation of your eye's optic nerve. This eye condition is often caused by damage to the optic nerve by an abnormal immune response.7
With optic neuritis, you may notice your eye pain increases when you're hot, such as during exercise. You may also have the following symptoms:7
Pain with eye movement
Eye pain at the back of the eye
Blurred or dimmed vision
Colors appear faded
If you experience these symptoms, it's important to see your eye doctor right away to prevent vision loss. Optic neuritis typically requires intravenous and oral steroids to treat. It's also important to manage the underlying condition that caused optic neuritis.7
Uveitis
Uveitis is inflammation of the uvea (the middle layer of the eye) occurring in one or both eyes. This condition may also affect the lens, retina, optic nerve, and vitreous humor (the gel-like substance that gives your eye its shape).8
There are different types of uveitis including the less serious iritis, also called anterior uveitis, and the less common posterior uveitis.8
In addition to eye pain, swelling of the uvea can cause redness, blurred vision, light sensitivity, and floaters in your vision. Uveitis can cause damage resulting in vision loss.8
Your eye doctor may prescribe steroids to reduce swelling and eye pain while preventing further vision problems.
Scleritis and Episcleritis
Scleritis is severe inflammation of the sclera (the white outer area of the eye). While rare, scleritis can develop due to medication side effects, infection, or autoimmune diseases such as Lyme's or Rheumatoid arthritis.9
A similar condition called episcleritis is much more common and usually milder. Inflammation of the episclera (the thin layer between the sclera and the surface of the eye) causes mild to severe eye pain. Your eye pain may be worse with eye movement or during the night. Other symptoms of episcleritis may include light sensitivity, watering eyes, blurred vision, and redness.9
Treatment depends on the underlying cause and the severity of symptoms. In general, artificial tears will resolve episcleritis while treatments for scleritis may include corticosteroids, NSAIDs, immunosuppressives, or biologics.9
Blepharitis
Blepharitis is inflammation of the eyelid often caused by allergies, an overgrowth of bacteria, or an infestation of mites. Symptoms include mild discomfort, crusty eyelashes, redness, and itchiness. However, blepharitis can flare up and cause more intense pain due to the development of a stye or chalazion.10
Consistent eyelid hygiene can help reduce eye pain and discomfort related to blepharitis. When blepharitis fails to respond to treatment, Demodex (parasitic mites in your eyelashes and tear glands) may be the cause. Continue your eyelid hygiene routine and see your eye doctor for treatment, which may include antibiotic eye drops.10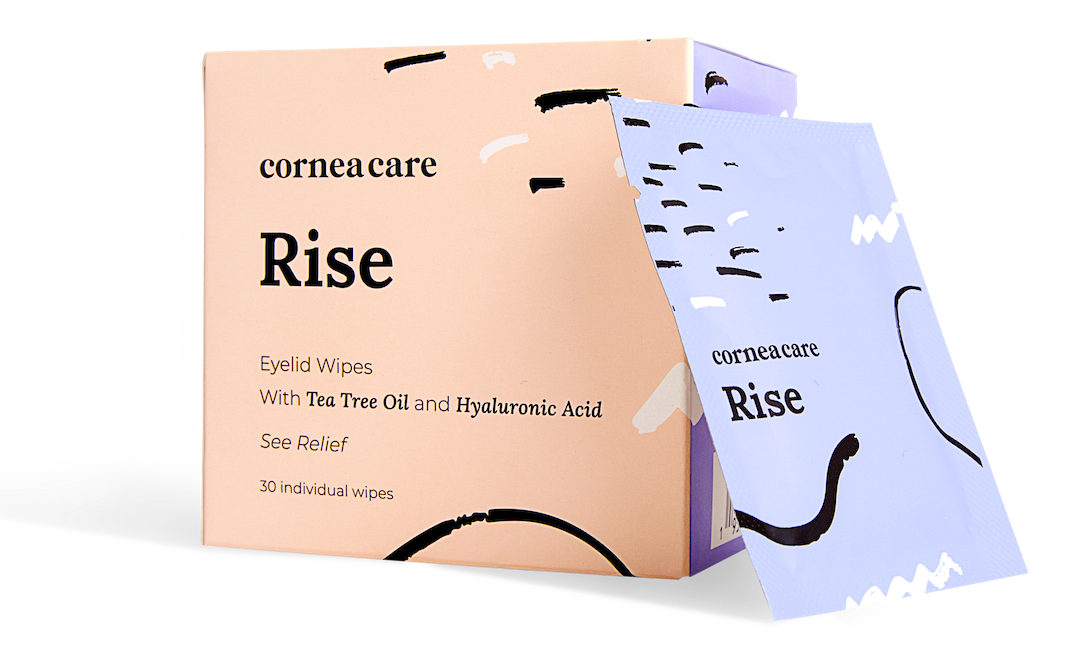 Perfect for eye dryness, itching, burning, and crusting/flaking of eyelashes. Free shipping 📦
Sinus infection
Sinusitis, or inflammation of the sinuses, is usually caused by the common cold. While not an eye condition, acute sinusitis can cause pain around the eyes as well as nasal congestion and discharge. You may also have symptoms such as headache, earache, cough, fever, and fatigue.11
Acute sinusitis usually resolves in 7-10 days.11 If your symptoms persist for 12 weeks or more, you may have chronic sinusitis. Chronic sinusitis will require treatment by your doctor to relieve symptoms and prevent vision loss and further infection.12
Tolosa-Hunt syndrome
Tolosa-Hunt syndrome is a rare medical condition that may be due to eye inflammation in certain areas. Symptoms include severe eye pain that occurs randomly. In most cases, only one eye is affected.13
You may experience pain with eye movement or even temporary paralysis in the eye. With Tolosa-Hunt syndrome, you may also have headaches, double vision, fatigue, or a drooping eyelid. Treatment usually involves oral steroids taken over a period of 3-4 months.13
Eye Pain Related to Glaucoma
Glaucoma causes damage to the optic nerve and can lead to vision loss and blindness. There are three forms of glaucoma: open-angle, normal-tension, and angle-closure glaucoma. In the U.S., the most common type is open-angle glaucoma with symptoms that develop slowly.14
However, with the less common angle-closure glaucoma, fluid builds up in the front of the eye quickly causing intense and sudden pain due to elevated eye pressure. Symptoms develop rapidly and you may also experience a severe headache, blurred vision, nausea, and see halos around bright lights.14
Angle-closure glaucoma is a medical emergency requiring immediate medical attention. An eye doctor may drain the excess fluid, do a laser procedure, and prescribe medication to reduce eye pressure and prevent further damage to the eye.
When to See Your Doctor for Sharp Stabbing Pain in Eye that Comes and Goes
Contact your eye doctor immediately if you experience sudden severe eye pain with headache, nausea, or vomiting. Intense or persistent eye pain can indicate a serious medical condition that requires treatment.
Having regular eye exams can help prevent problems.
Putting It All Together
Sharp stabbing pain in the eye that comes and goes can be annoying and cause concern. If severe eye pain occurs or persists, see your eye doctor immediately.
For a daily eyelid hygiene routine to soothe your symptoms, try CorneaCare's Rest Self-Heating Warm Compress and CorneaCare's Rise Eyelid Wipes.
When you take good care of your eyes and your overall health, you reduce your risk of experiencing serious eye pain.
You brush your teeth,
moisturize your skin,
what about your eyes?
What's Next
For more on eye pain, check out Feels Like Something in My Eye and My Eye Hurts When I Blink.