Can Dry Eyes Cause Floaters in Your Eyes?
While relatively harmless, eye floaters can be quite annoying as they cloud your vision and make it hard to focus.¹ If you suffer from dry eye disease (DED) and wonder, "Can dry eyes cause floaters?," you may be surprised to learn the answer. 
Because dry eye disease and floaters share some of the same risk factors like eye injuries, eye surgery (like cataract surgery), age, and certain medical conditions, patients often think they are linked. Moreover, you can experience floaters and dry eye disease at the same time. However, it's important to remember that floaters and DED are different conditions, and require different management.
Key Points
While some people experience symptoms of dry eye disease and floaters simultaneously, they are likely not connected.
Dry eye disease is caused by unstable tear film and leads to symptoms such as burning, redness, blurry vision, itchiness, dryness, pain and watery eyes. Eye floaters are caused by natural eye aging, and are typically harmless, but could rarely occur due to serious eye and medical conditions.
Dry eye disease treatment will depend on your unique set of symptoms. Floaters typically do not require treatment.
No one taking your
dry eyes seriously?
What Causes Dry Eyes?
To understand what may be causing your floaters versus your dry eye symptoms, let's first learn about dry eye disease.
Dry eye disease (DED), also known as dry eye syndrome, is chronic. Patients often experience physical symptoms like redness, blurry vision, dryness, and itchy eyes so severely that they have difficulty functioning in their daily lives.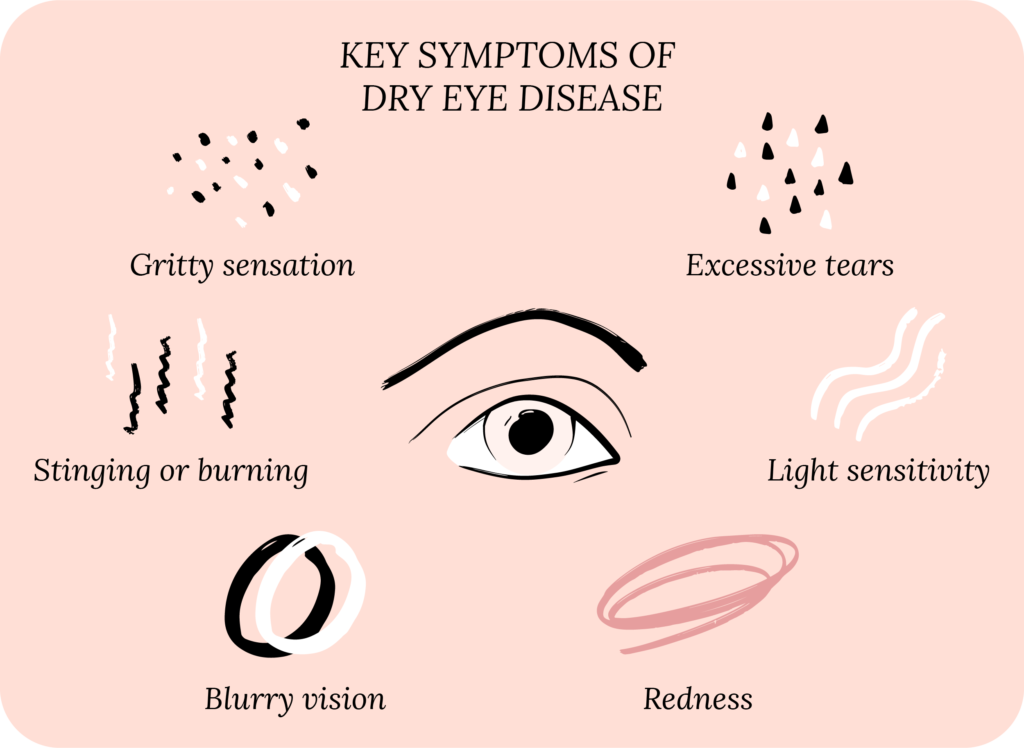 Thirty million Americans and over 300 million people worldwide suffer from DED.
There are many causes of dry eye disease, including certain medical conditions, other eye diseases and lifestyle. People often have poor quality tears or their eyes do not produce enough tears.²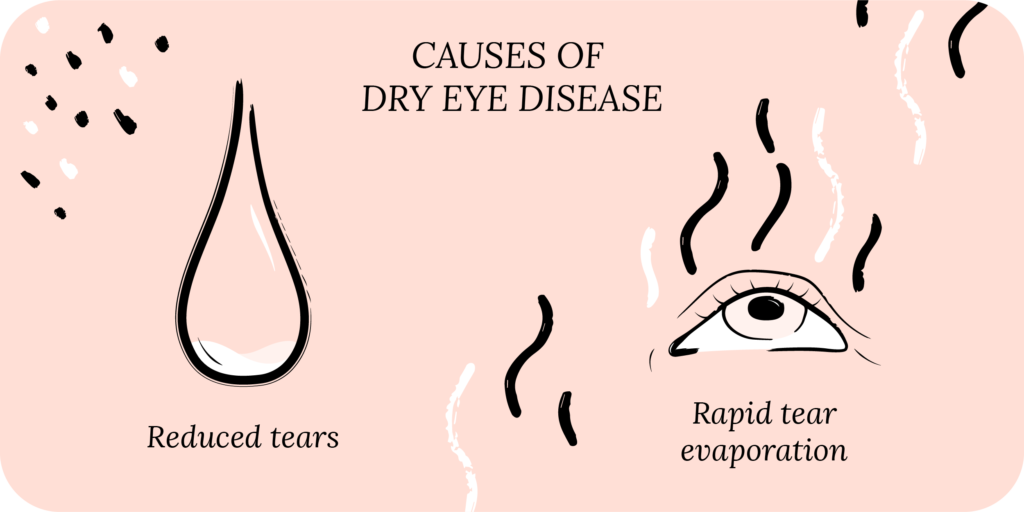 Poor quality tears (evaporative deficient dry eye)
Your tear film is made up of three layers that work together to stabilize your tears and keep them from drying up too quickly. Your tear film is made up of three layers: mucin (the "glue"), aqueous (the "water") and lipid (the "oil")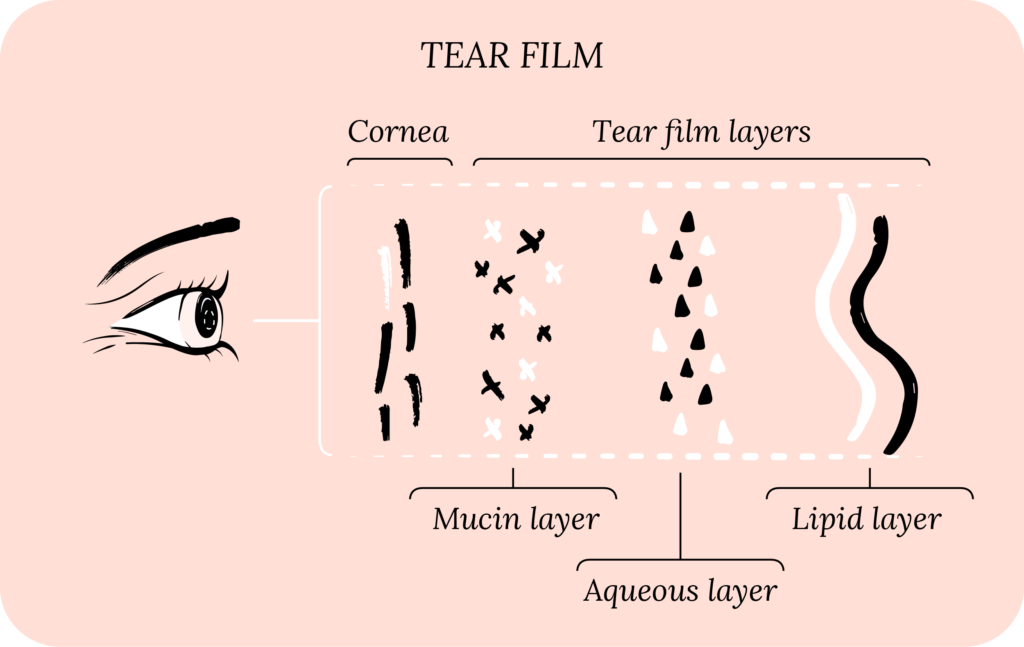 Certain eye conditions, like blepharitis and meibomian gland dysfunction (MGD), can lead to DED. These conditions affect the secretion of oils in the eyelid glands that lead to tears evaporating quickly.⁶
Not producing enough tears (aqueous deficient dry eye)
Your natural tears come from the lacrimal gland, located in your eye socket above the top, lateral part of your upper eyelid, deep beneath the skin. Anything that causes your lacrimal glands to dysfunction (like an eye injury, certain autoimmune conditions like Sjögren's disease, and corneal surgeries) can decrease tear production.⁷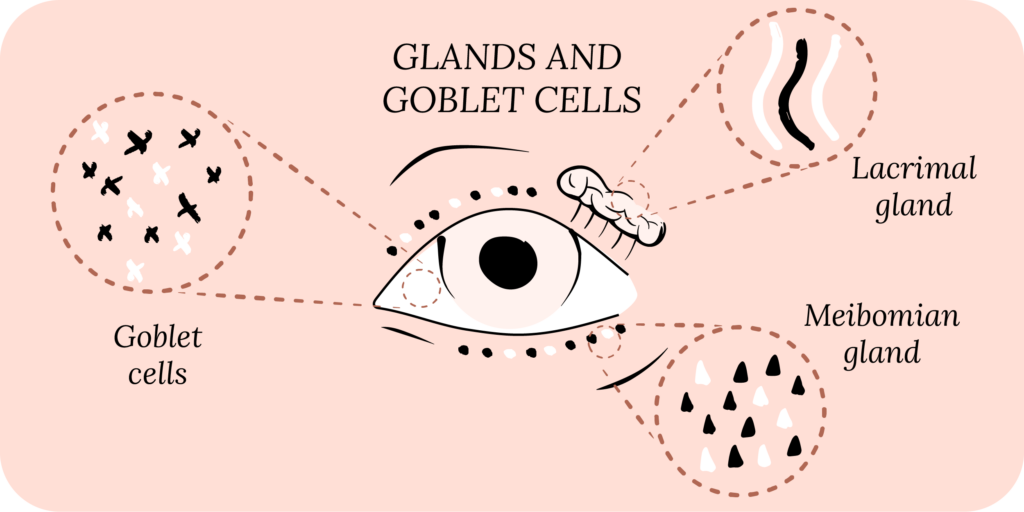 Medical conditions, medication and dry eyes
Other medical conditions, like menopause, pregnancy, thyroid eye disease and even cancer, can contribute to DED symptoms. Certain medications like birth control, antihistamines and wearing contact lenses can dry out the eyes.²
Understanding what is causing your dry eyes is the first step to properly treating your DED.
How to Treat Dry Eye Disease
Treating dry eyes goes much further than just using eye drops. CorneaCare emphasizes building a treatment plan that includes education, implementation and consistency as part of your overall eye care. If you suffer from dry eyes, you know that the cost of treatment can add up quickly, and you still may not experience much relief from symptoms. 
As part of CorneaCare's commitment to education, we have a library of resources dedicated to dry eye treatment to help you identify an approach that works for your unique symptoms. 
A good dry eye treatment regime includes:

Perfect for eye dryness, burning, itching, grittiness, crusting/flaking of eyelashes and inflamed/swollen eyelids. Free shipping 📦.
Artificial tears: While artificial tears alone may not solve your dry eye problems, they can replenish your tears throughout the day if used consistently. Preservative-free artificial tears are better for the ocular surface (surface of the eye), because preservatives can damage the cornea over time. Most eye doctors recommend using eye drops 4-6 times a day. Sometimes prescription eye drops may be required. It may take 1-2 months to see relief.⁸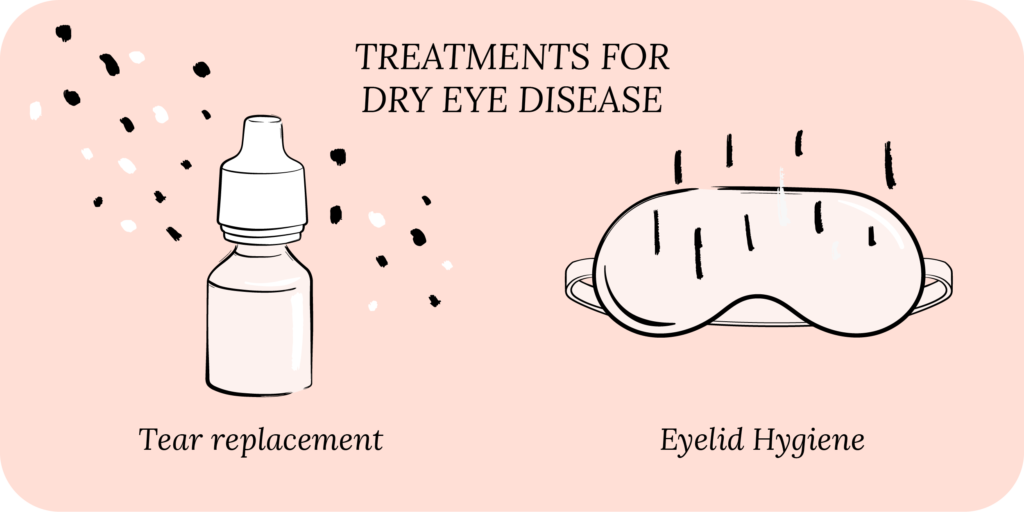 Lifestyle: Dry conditions in your home or the environment where you live can worsen dry eye symptoms. Protect your eyes when you go out by wearing a hat and sunglasses to block ultraviolet rays and wind. Indoors, use a humidifier and move your bed away from air vents and fans. Practice good digital eye health when using screens to prevent dryness.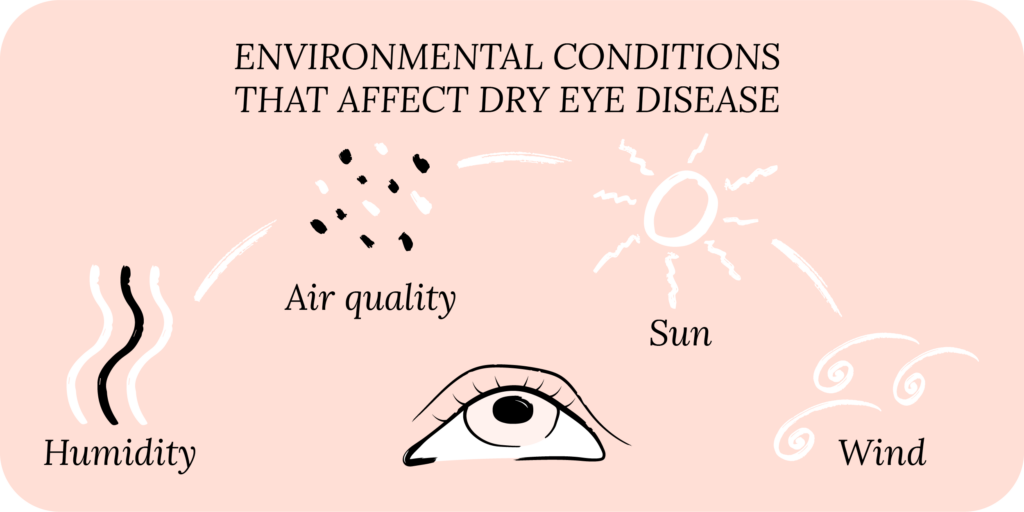 Nutrition: A healthy diet is good for your overall health, and for your eyes! A diet high in Vitamins A, B, C, D, E and essential fatty acids may protect your eyes and improve dry eye symptoms. Whole grains, wild-caught fish, and dark vegetables are a great addition to any healthy eye care routine. Supplements that include the appropriate mix of vitamins and nutrients can be taken when necessary.
What Are Eye Floaters?
Floaters are spots that cloud your field of vision. They typically appear as dark, squiggly lines or threadlike strands. They may look like cobwebs that float across your line of sight. Floaters move as your eye moves, which is why when you try to look at them directly, they move away.¹ 
You just can't seem to catch them!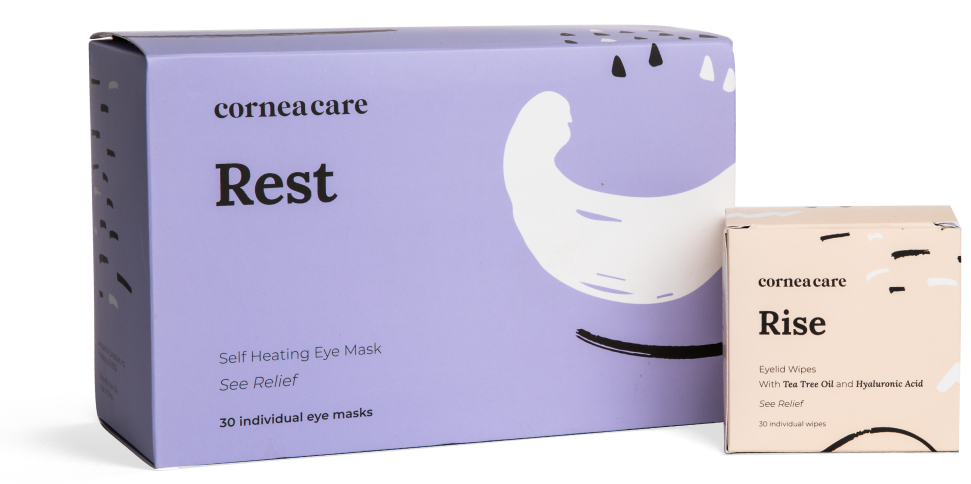 Perfect for eye dryness, burning, itching, crusting/flaking of eyelashes and inflamed eyelids. Free shipping 📦.
Can dry eyes cause floaters?
So, to answer "Can dry eyes cause floaters," there is no current research that supports a link between the two. Eye floaters are neither a cause nor a symptom of DED.
Floaters occur because of the normal aging of your eyes. As you get older, tiny fibers of your vitreous (the gel-like substance that fills your eyeball) stick together and cast shadows on your retina (the part of the eye towards the back that senses light). This process is called vitreous degeneration.³
If you notice a sudden increase in new floaters, start to experience "flashes" of light or feel like a curtain or veil is coming over your vision, see an eye doctor immediately. Your optometrist or ophthalmologist can rule out more serious causes of floaters, including:⁴
Diabetic retinopathy (caused by too much sugar in the blood due to diabetes)
Hypertensive retinopathy (caused by high blood pressure)
Bleeding in the eye
Vitreous detachment (when vitreous pulls away from the retina)
Retinal tear (a hole in the retina caused by vitreous detachment)
Retinal detachment (retina detaches from the back of the eye and can cause flashes of light in your vision and, if not treated quickly, vision loss)
How to treat floaters
If your floaters aren't interfering with your daily life, you don't need to seek treatment. Over time your eyes adjust to them, and you only notice them rarely. If floaters are interfering with your vision and daily functioning, talk to your eye doctor about available options.⁴
Putting It All Together
Dry eyes do not cause floaters, but you may experience symptoms of dry eye disease along with floaters caused by other medical or eye conditions. 
There are many treatments for DED, but your unique plan will depend on your specific symptoms. While treatment isn't necessary for floaters if they aren't interfering with your vision, you should talk to your eye doctor if you are concerned about new floaters or other eye conditions.
Want to take care of your dry eyes but not sure where to start?
What's Next
Expand your dry eye knowledge by taking a tour of our education section!