The journey through menopause is a profound transition that brings about a multitude of changes, both expected and unexpected. While hot flashes and mood swings often take center stage, the impact of menopause on eye health is a facet that deserves attention. In fact, research has revealed that the rate of dry eye disease in the United States is nearly two times higher in women over 50 compared to men in the same age group.1
In this article, we explore the relationship between menopause and the risk of dry eyes. With expert insights and solutions you can use, we aim to support you through this aspect of your health journey.
Key Points
Fluctuating hormone levels in perimenopausal and menopausal women can lead to dry eye symptoms.
Starting an eyelid hygiene routine, as well as eating a balanced diet including eye vitamins to fill any nutritional gaps, can help prevent or reduce symptoms of dry eye in menopause.
No one taking your
dry eyes seriously?
Hormonal Changes and Menopause
Menopause, typically occurring between the ages of 45 and 55, signifies the end of your reproductive cycles. Central to this transition are hormonal changes, specifically the decline in estrogen and progesterone levels. During perimenopause, the years leading up to menopause, hormone levels can fluctuate dramatically triggering an array of physical and emotional shifts.2
Symptoms of Menopause
Perimenopause usually begins in your mid- to late 40s with irregular periods. Other symptoms during the following years leading to menopause include:2
Shorter or longer periods
Skipped periods
Hot flashes
Trouble sleeping
Vaginal dryness
Mood swings or irritability
Menopause happens after a full year without a period. Hot flashes, vaginal dryness, and the symptoms of dry eye can continue into the postmenopausal years.1,2
How Sex Hormones Affect Your Eyes
We know that women have a higher chance of getting dry eyes as they get older, in part because the levels of hormones like estrogen plummet as you approach menopause. Extending beyond the realm of fertility, estrogen plays a role in maintaining the delicate balance of the tear film – a complex structure composed of water, mucus, and oil. During and after menopause, this balance is disrupted, leading to reduced tear production and dry eyes.1 If you're pregnant or taking birth control pills, you're also more likely to get dry eyes because of changes in your hormones.3
While scientists have long linked low estrogen levels with dry eyes in women after menopause, recent studies are considering the impact of androgens. Androgens are sex hormones found in both men and women. Women naturally have lower androgen levels, which drop even more after menopause. Researchers think androgens may have a part in maintaining the careful balance of tear production. Testosterone levels may also be a part of the puzzle, though scientists are not yet clear on what role they play.1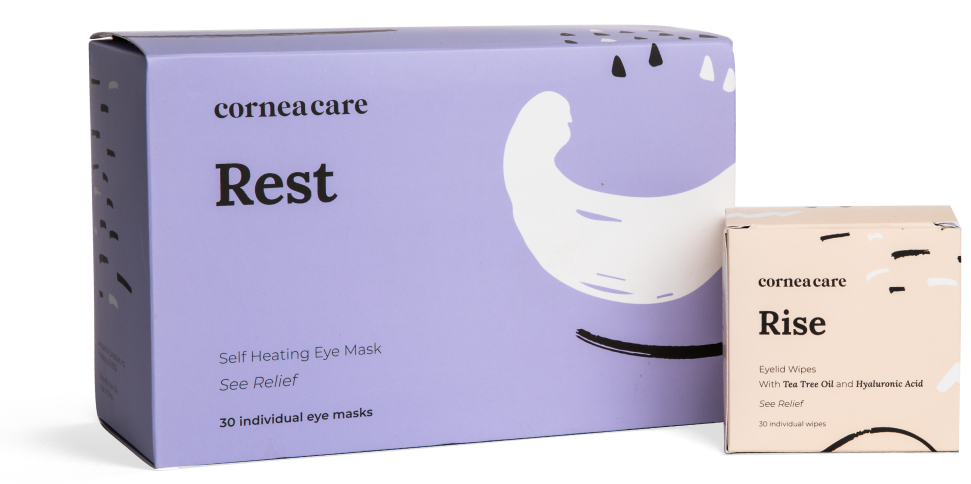 Perfect for eye dryness, burning, itching, crusting/flaking of eyelashes and inflamed eyelids. Free shipping 📦.
Understanding Dry Eye Syndrome
Dry eye syndrome, known medically as keratoconjunctivitis sicca, is a common and often bothersome concern for the perimenopausal age group, as well as after menopause. Also called dry eye disease, this condition arises when the eyes fail to produce enough tears or when the tears evaporate too quickly. The result is dryness, discomfort and other symptoms such as:2
Sandy or gritty feeling
Burning or stinging sensation
Red eyes
Blurred or fluctuating vision
Sensitivity to light
Excessive tearing
Eye fatigue after prolonged reading or screen use
Foreign body sensation (feeling like something is in the eye)
Eye irritation, especially in windy or dry environments
Difficulty wearing contact lenses comfortably
Stringy mucus around the eyes
Eye pain or aching sensation
In addition to hormone changes, other factors can contribute to the development of dry eye. These include medications like antidepressants, antihistamines, and high blood pressure medicines, smoking, environmental exposure to wind or pollutants, contact lens use, and certain autoimmune conditions such as Sjogren's syndrome.2
The discomfort of dry eyes can progress beyond occasional annoyance, impacting your overall quality of life. If the condition persists, dry eye disease can increase your chance of eye infections, damage the cornea, cause scarring, and reduce the quality of your vision.2
Dry Eye Prevention and Lifestyle Strategies
While menopausal dry eyes can be challenging, a few simple changes may offer some relief.
A balanced diet and adequate hydration
A diet rich in essential nutrients, such as vitamin A from leafy greens and carrots, supports ocular health and tear function. Drinking enough water supports tear production, while omega-3 fatty acids, found in fatty fish and flaxseeds, contribute to tear quality and possess anti-inflammatory properties.4
CorneaCare eye vitamins can make up any nutritional gaps in your diet while our omega-3 supplements can help prevent or reduce the symptoms of dry eye disease.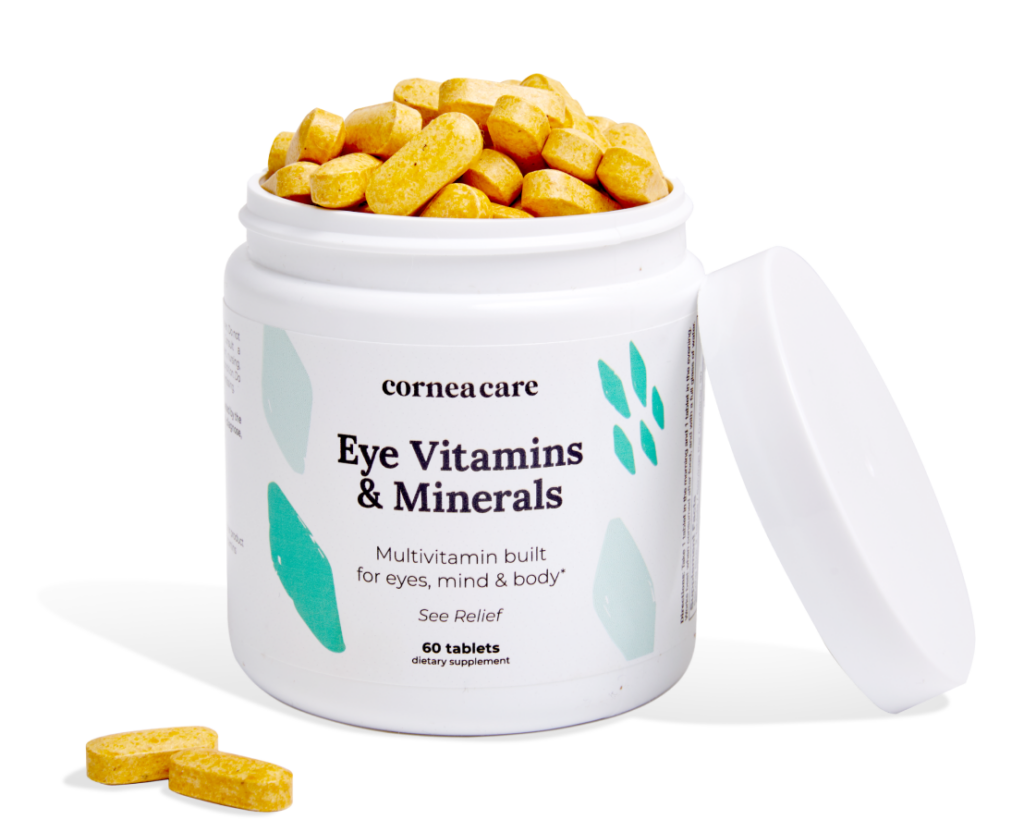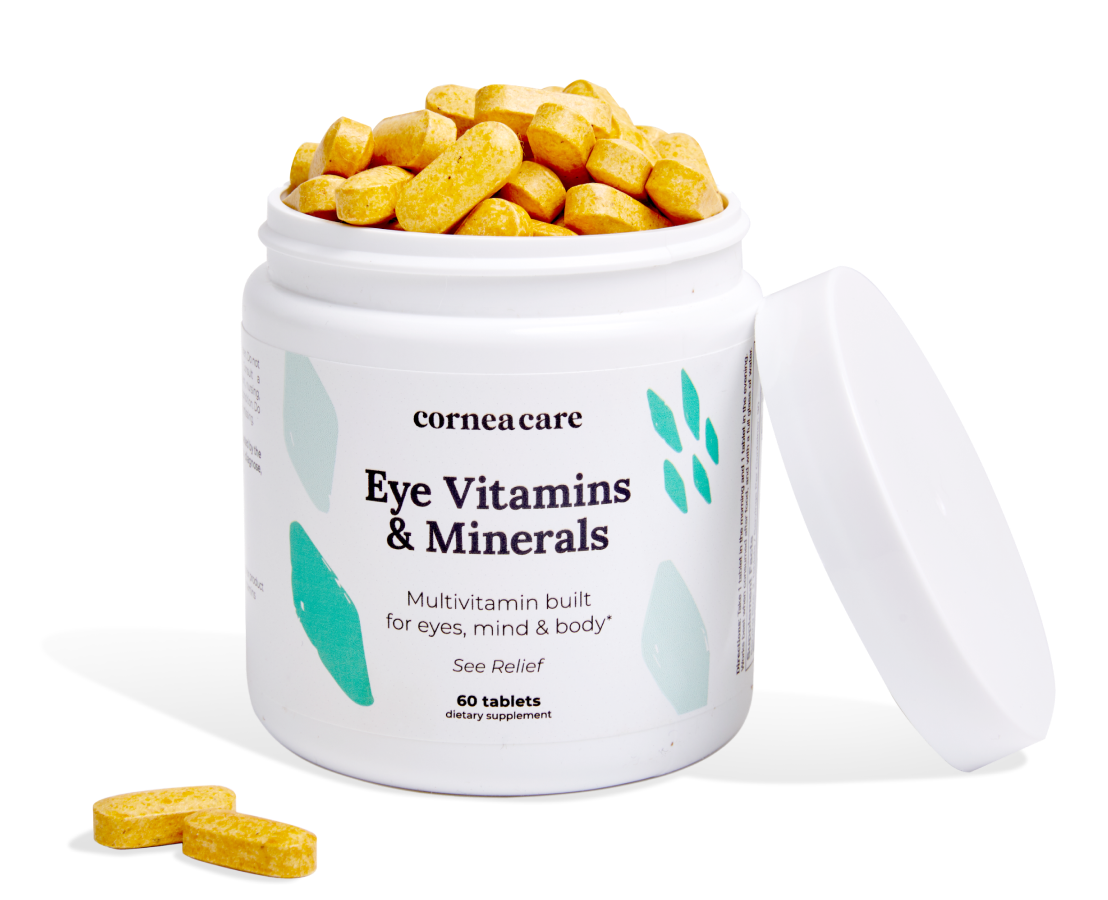 A single multivitamin to address the nutritional needs of your eyes, mind and body. 📦 Free shipping.
Humidity and airflow management
Use a humidifier to counteract the drying effects of indoor environments. Make an effort to point your fans, heater vents, and air conditioners away from your face, and avoid using hair dryers. When dry, forced air hits your eyes at home, at work, and even in your car, it speeds up the evaporation of your tears causing irritation and other dry eye symptoms.4
Screen time awareness
Consistently blinking and adhering to the 20-20-20 rule (taking a 20-second break every 20 minutes to look at something 20 feet away) can alleviate eye strain during prolonged TV, computer screen, tablet, or smartphone use.5
Minimized contact lens use
The use of contact lenses can exacerbate dry eye symptoms, particularly during menopause, by interfering with the tear film's stability. If you wear contact lenses, check with your eye care professional for guidance on managing dry eyes effectively. You may find relief by switching to glasses at least part of the time.4
Getting enough sleep
While the hot flashes and night sweats associated with menopause can lead to poor sleep and frequent waking, a lack of adequate sleep may also contribute to dry eye symptoms. Try turning off screens an hour before bedtime, going to bed at the same time each night, practicing yoga or meditation before bed, and ensuring your bedroom is cool and dark.6
Treatment Options for Dry Eyes in Menopause
The first step is a visit to your eye doctor (optometrist or ophthalmologist) for a proper diagnosis of dry eye disease. Managing menopausal dry eyes offers a number of treatment options.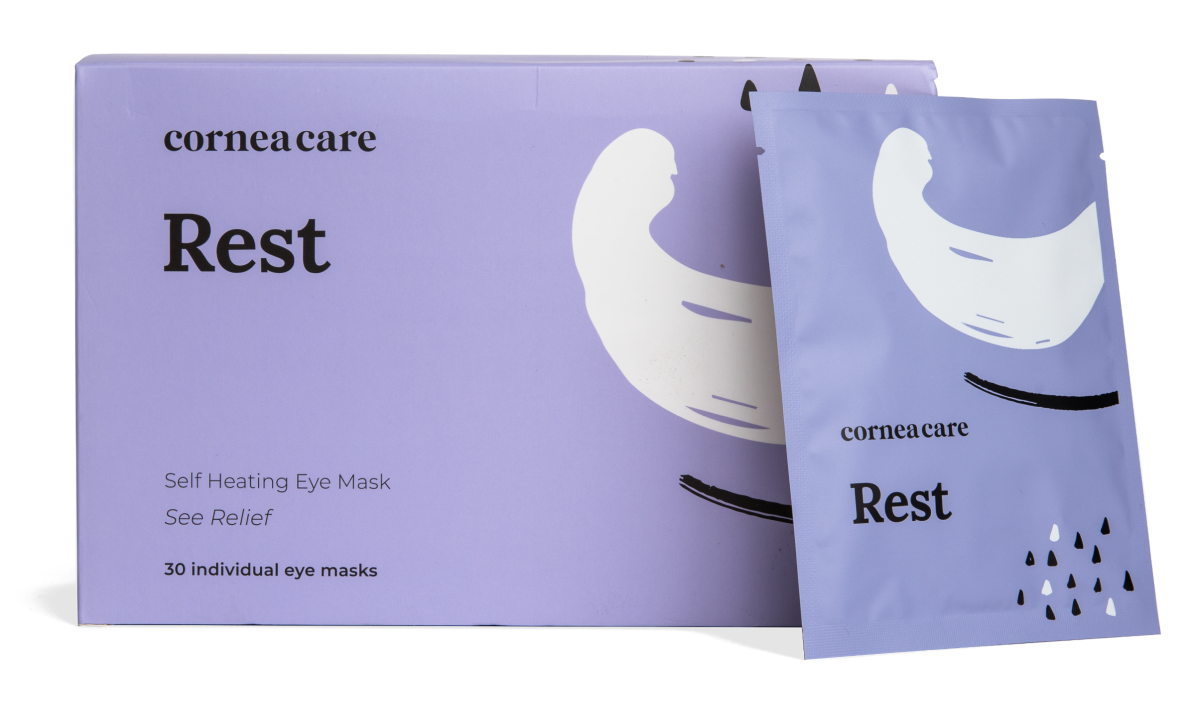 Perfect for eye dryness, fatigue, tearing, and puffiness of the eyelids. Free shipping 📦.
Eyelid hygiene
Starting a proper eyelid hygiene routine can serve as an effective treatment approach to dry eye symptoms. Regularly cleansing your eyelids can help address inflammation that might be blocking the necessary oil flow to your eyes.4,7
Gently cleanse your eyelids regularly with CorneaCare eyelid wipes. Rest with a warm, damp washcloth or a CorneaCare self-heating warm compress over your closed eyes. Together, these practices can reduce symptoms of dry eye when maintained consistently.
Artificial tears and lubricating eye drops
Over-the-counter eye drops, also called artificial tears, can provide immediate relief by supplementing natural tear production.4 Opting for CorneaCare preservative-free artificial tears minimizes the risk of additional irritation caused by preservatives.
Hormone replacement therapy
Hormone replacement therapy (HRT) holds the potential to alleviate dry eye symptoms by restoring hormonal balance.8 However, other research suggests HRT can increase dry eye symptoms in some women.1 The decision to pursue HRT should be made with your doctor, considering potential side effects and risks.
Advanced interventions
For chronic dry eye or severe dry eye symptoms, your eye doctor may consider advanced interventions and medical approaches. Your provider could prescribe anti-inflammatory eye drops, or try punctal plugs which are small devices inserted into tear drainage ducts to conserve natural tears. Another option is meibomian gland expression which can help clear blockages, improving the oil layer of tears.4
See your eye doctor
Regular eye exams play a pivotal role in maintaining your eye health. In the years during perimenopause and menopause, regular eye exams take on heightened importance. An annual visit to your optometrist or ophthalmologist ensures early detection and personalized treatment plans for age-related eye conditions such as meibomian gland dysfunction, cataracts, and glaucoma.

Perfect for eye dryness, burning, itching, grittiness, crusting/flaking of eyelashes and inflamed/swollen eyelids. Free shipping 📦.
Dry Eyes in Menopause FAQs
Dry Eyes in Menopause FAQs
For many women, menopause can lead to dry eyes. Hormonal changes, particularly the decrease in estrogen levels, can disrupt the balance of tear production and their quality, resulting in dryness and discomfort in the eyes. Some research also suggests androgen and testosterone levels may play a part.
What are the symptoms of menopause eyes?
Symptoms of menopause-related dry eyes may include dryness, irritation, burning sensations, sensitivity to light, blurred vision, and a gritty feeling in the eyes. Some women may also experience excessive tearing as a result of the eyes trying to compensate for dryness.
Are dry eyes common in menopause?
Yes, dry eyes are common during menopause. The hormonal fluctuations that occur during this phase can lead to changes in tear production and composition, contributing to the development of dry eye symptoms. Many women experience varying degrees of dry eyes as they go through menopause.
Putting It All Together
Menopause marks the cessation of the menstrual cycle with a shift in the balance of sex hormones within the body. This can lead to an array of symptoms, including dry eyes, though the nature and intensity of symptoms can vary significantly. Thankfully, many treatment options exist to address dry eye and ease your discomfort.
At CorneaCare, we specialize in supporting you to understand and manage the symptoms of dry eye disease. If your symptoms are impacting your quality of life, it's important to seek the expertise of an eye doctor. Proper diagnosis and a personalized treatment plan can alleviate discomfort and preserve your eye health for years to come.
Want to take care of your dry eyes but not sure where to start?
What's Next
Continue learning more about dry eye disease and the many prevention and treatment options available with our free Dry Eye 101 course!