Choosing the Best Eye Drops for Dry Eyes
If you're like most dry eye patients, you've already spent weeks or months trying to relieve your irritating dry eye symptoms. Maybe you've already used a number of over-the-counter (OTC) eye products trying to find the best dry eye drops, and you're feeling frustrated.
While eye drops, also known as artificial tears, are an important part of dry eye treatment, finding the best dry eye drops can be difficult. Eye drops can replenish your tear film and supplement your natural tears, making your eyes feel more comfortable while protecting your cornea and keeping your vision clear.
At CorneaCare, we specialize in dry eye treatment and in this article we want to help make it easier for you to get the relief you need.
Key Points
Dry eye sufferers often spend months to years struggling with symptoms before seeing an eye doctor.
The best dry eye treatment plan includes a good eyelid hygiene routine to stabilize your tear film and artificial tears to replenish your tear film.
You'll find that the best dry eye drops are preservative-free and used consistently for meaningful results.
No one taking your
dry eyes seriously?
Understanding Dry Eye Disease
Dry eye disease is also called keratoconjunctivitis sicca, ocular surface disease, and dry eye syndrome. A common condition, dry eye disease is caused by inadequate tear production or rapid tear evaporation. In many cases, dry eye patients don't have enough tears staying in their eyes to keep them lubricated properly.1
There are two types of dry eye disease called aqueous deficient (not enough tears) and evaporative (tears evaporate too quickly. Evaporative dry eye disease is more common. However, most patients have a combination of both types which leads to tear film dysfunction.1
If you'd like to learn more about dry eye disease, check out our free course Dry Eye 101.
Causes of Dry Eye Disease
Eye conditions such as meibomian gland dysfunction, blepharitis and glaucoma increase your risk of developing dry eye symptoms. Having LASIK surgery or wearing contact lenses can also contribute to the development of dry eye disease.1
If you take certain medications, such as antihistamines, antidepressants, birth control pills, decongestants, or medications used to treat glaucoma, you are more likely to experience dry eyes. Certain medical conditions, such as Sjögren's syndrome, rheumatoid arthritis, menopause, and diabetes can lead to dry eye symptoms.1
There are also lifestyle and environmental factors that contribute to the symptoms of dry eye syndrome including excessive use of digital screens, living or working around dry, smoky or polluted air, and prolonged exposure to forced air or wind directed at the eyes. Finally, aging is also a risk factor for dry eyes.2
For more on the causes of dry eye disease, read What Causes Dry Eye Disease?
Symptoms of Dry Eye Disease
Your eyes are constantly producing tears made of water, oil and mucus to lubricate your eyes and keep them healthy. If your eyes don't have enough natural tears, dry eye symptoms occur.1
Whether caused by a dysfunction in tear production or rapid tear evaporation, your eyes can become irritated. You may experience dryness and other symptoms of dry eyes such as:2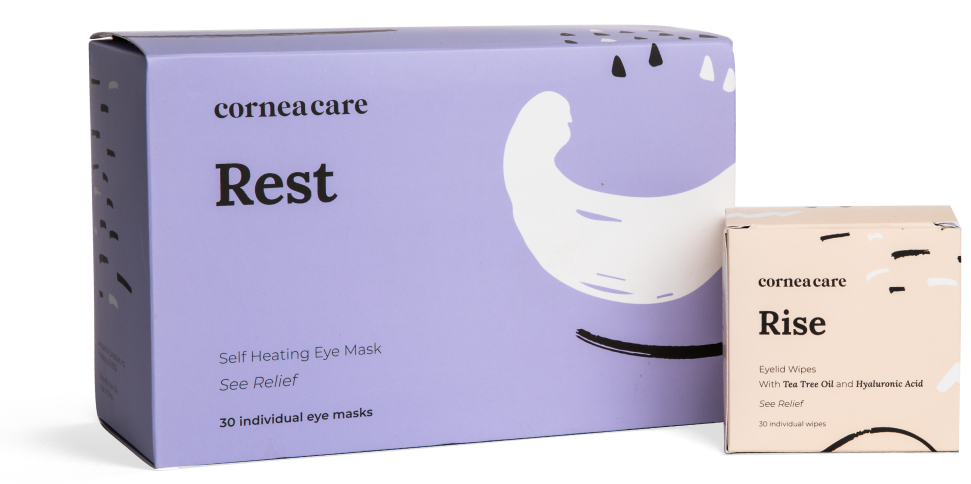 Perfect for eye dryness, burning, itching, crusting/flaking of eyelashes and inflamed eyelids. Free shipping 📦.
Treatment for Dry Eye Disease
Over time, the symptoms of dry eye can be debilitating and impact your well-being in many ways including at work and socially. Dry eye treatment works to increase tears while preventing tear film evaporation so that your eyes feel more comfortable and remain healthy.
The best lubricating eye drops for dry eyes can help make up for decreased tear production, while eyelid hygiene stabilizes your tear film preventing rapid tear evaporation. Since evaporative dry eye disease is the more common type of dry eye disease, we recommend eyelid hygiene as the first step toward finding relief for your symptoms.
You may have already tried some over-the-counter eye drops you found at the local pharmacy or on Amazon. If your symptoms are persisting, it's time to make an appointment with your eye doctor (ophthalmologist or optometrist) for a proper eye exam. Your eye care professional will work with you to devise the best course of treatment depending on the cause and severity of your dry eye symptoms.
For severe dry eye, a procedure to insert tear duct plugs may be suggested.2
If there are underlying medical conditions at the root of your dry eye disease, your healthcare provider may want to focus on managing those conditions first. However, you can start getting relief from your symptoms with an eyelid hygiene routine and the best dry eye drops.
Prescription Eye Drops
In the case of severe dry eye, your doctor may recommend a prescription medication such as Restasis® (cyclosporine 0.05%). Cyclosporine reduces inflammation while increasing natural tear production. There are other brands of cyclosporine on the market as well as a new generic form.3
Side effects of cyclosporine include tearing, stinging, redness, itchiness, foreign body sensation, and light sensitivity.3 Refrigerating the bottle and using artificial tears before placing the prescribed drops in your eyes may help reduce side effects.
Prescription eye drops generally work best alongside an overall treatment plan that includes eyelid hygiene, artificial tears, and a healthy diet and lifestyle.
To learn more about medicated eye drops to treat dry eye, read Best Prescription Eye Drops for Dry Eyes.
Eyelid Hygiene and Lifestyle Changes
Effective dry eye treatment starts with eyelid hygiene and lubricating eye drops. The following simple lifestyle changes can also have a positive impact on your dry eye symptoms:2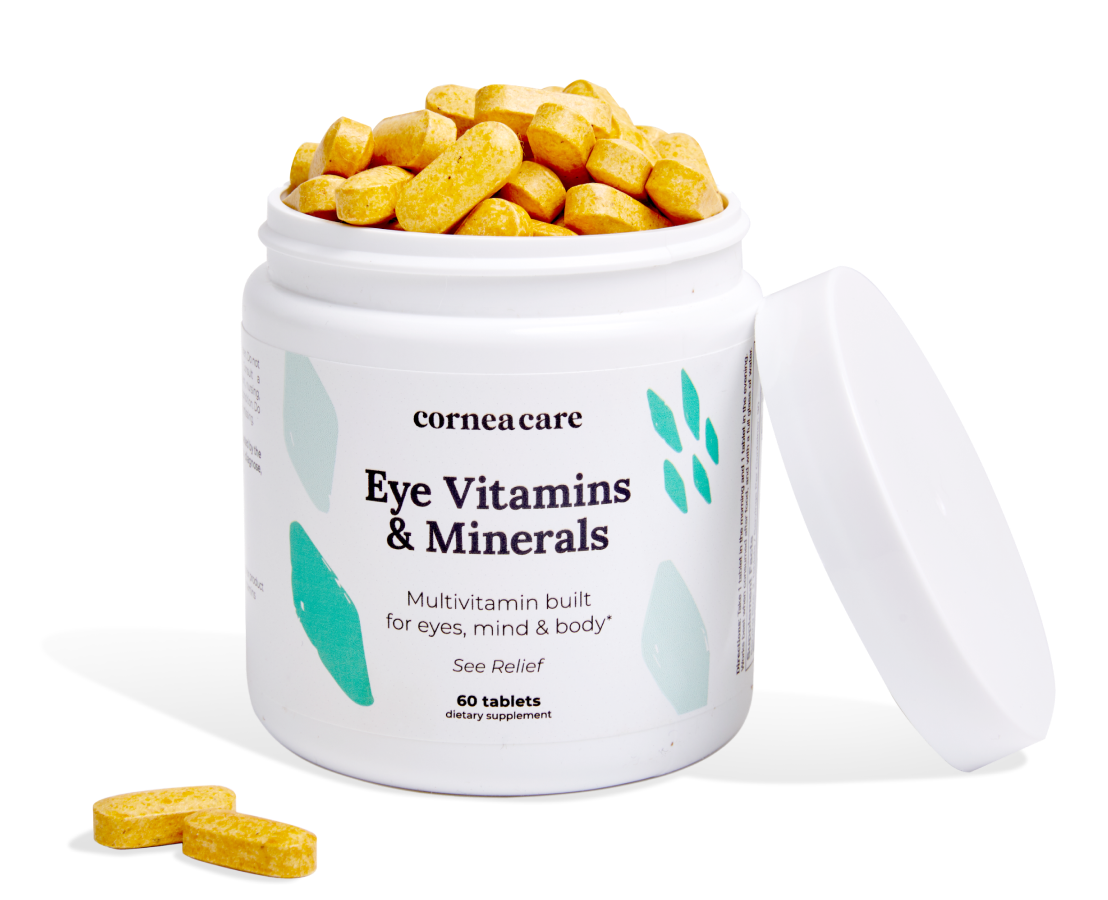 A single multivitamin to address the nutritional needs of your eyes, mind and body. 📦 Free shipping.
The Best Dry Eye Drops
Like most dry eye patients you just want to know: what are the best dry eye drops? The honest answer is that the best eye drop for your dry eyes is the one you use consistently.
Of course, you want instant lasting relief and if that's what you expect you'll feel frustrated when your dry eye drops don't deliver. Instead of using one product consistently for at least 1-2 months, you give up and try another. The result of this expensive process is not dry eye relief, but ongoing symptoms and greater frustration.
Dry eye disease is a chronic condition. It took time to develop and it will take some time for treatment to work. Choose the best dry eye drops and plan to use them consistently multiple times each day (typically 4-6 times a day) over 1-2 months. Once you experience dry eye relief, keep using your artificial tears regularly. You may be able to decrease the frequency of use, but if you stop completely you may find your dry eye symptoms return.
Eye drops aren't the only product that can be used to lubricate the eyes. Your eye doctor may also recommend eye gels and eye ointments which work in much the same way as eye drops. However, eye gels and ointments can cause blurred vision, so they're less convenient to use during the day and best used at bedtime.
CorneaCare Recover™ Preservative-Free Artificial Tears
Artificial tears are eye drops used to lubricate dry eyes and help keep moisture on the outer surface of your eyes. We are proud to offer our very own CorneaCare Recover™ Preservative-Free Artificial Tears, which could be the best dry eye drops for you. CorneaCare's artificial tears contain three key active ingredients for dry eye relief: hyaluronic acid, glycerin, and povidone. Together these ingredients combine to provide fast-acting hydration, lubrication, and relief of dry eye symptoms.
Hyaluronic acid and glycerin are humectants, which hydrate and moisturize by attracting, binding, and holding onto water. In this way, they supplement the aqueous layer of your eye's tear film.4
Povidone is both a demulcent and an emollient. This powerful ingredient soothes and protects the irritated tissues of your eyes while softening and smoothing the ocular surface for increased comfort. Povidone also helps improve the effectiveness of hyaluronic acid and glycerin, making these three lubricants the ideal solution to lock in moisture.4
Preservatives in Dry Eye Drops
Artificial tears fall into two different categories: eye drops with preservatives and those without. The most common preservative found in artificial tear products is called benzalkonium chloride (BAK). Many types of eye drops contain damaging preservatives that can worsen dry eye symptoms and lead to additional eye problems.5
While preservatives mean your artificial tears have a longer shelf life, they can cause harm to the surface of the eye. This damage can worsen your dry eye disease symptoms with long-term use.5
It's the amount of exposure to preservatives that determines the risk of damage to the ocular surface. When using eyelid wipes, for example, only your eyelids are exposed (rather than the eyeball itself) and only once or twice each day. With dry eye drops, you're placing drops directly in your eyes multiple times throughout the day. With that much exposure, it's important to choose preservative-free eye drops and it's why CorneaCare's proprietary artificial tears formula doesn't contain harmful preservatives.
Preservative-free artificial tears usually come in small single-use vials. Now there are new multi-dose bottles designed to dispense preservative-free artificial tears over 90 days without contamination. CorneaCare Recover™ Eye Drops come in a clean and convenient multi-dose bottle that delivers up to 500 drops without the hassle of carrying multiple single-use vials. The patented one-way valve technology allows healing artificial tears to flow out while preventing pathogens from getting inside.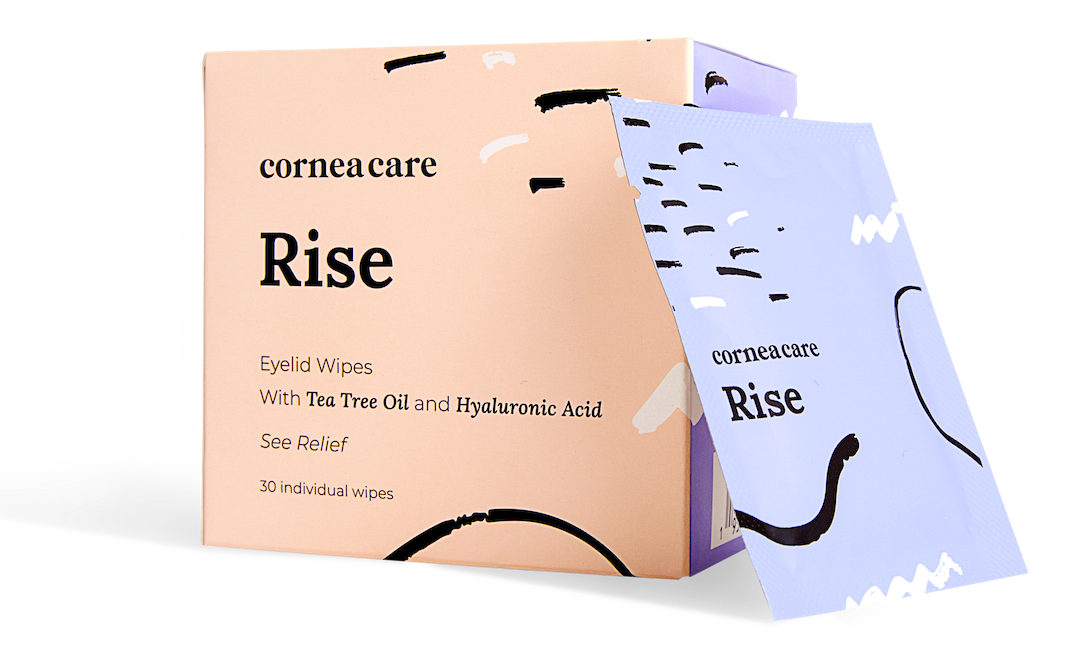 Perfect for eye dryness, itching, burning, and crusting/flaking of eyelashes. Free shipping 📦
How to Use Dry Eye Drops
It may take a little practice to get good at applying dry eye drops, so don't worry. Be consistent and the results will be worth it!
The first thing to remember is that cleanliness matters. Always wash your hands before touching your eyes or any products for your eyes. Be careful not to ever touch the bottle tip to any surface, including your fingertips or your eyes.
To use eye drops, first, tilt your head back, then gently pull your lower eyelid down and place a drop into your eye. You can place 1-2 drops in each eye at regular intervals 4-6 times per day.
If you have trouble keeping your eye open, another option is to apply drops in the corner of your eye where your upper and lower eyelids meet closest to your nose. To do this, tilt your head back, close your eyes, and place a drop in the corner. Then open your eye and let the drop flow in. It may not work quite as well as having a drop land on the surface of your eye, but it can still be effective.
When you're done, close the bottle without touching the tip and store as instructed.
Putting It All Together
Living with dry eye symptoms is hard. Dealing with the hassle and expense of trying dozens of products before you find the best dry eye drops for your eyes just makes it worse. For lasting relief, remember the first step to treating dry eye symptoms is proper eyelid hygiene to help stabilize your tear film. Artificial tears will bring temporary relief, but it's eyelid hygiene that can give you dry eye relief that lasts.
For gentle lubrication that comforts dry eyes, we recommend trying our CorneaCare Recover™ Eye Drops. They are safe for contact lens wearers and glaucoma patients. In addition to soothing dry eye symptoms, our eye drops are also perfect for relieving eye irritation caused by allergies, pink eye, styes, and chalazion. With consistent use, they could be the best dry eye drops for you!
Want to take care of your dry eyes but not sure where to start?
What's Next
At CorneaCare, we specialize in dry eye and invite you to check out our free Dry Eye 101 course to learn more about how we can help you choose the best treatment options for your dry eye symptoms.